A country is known for its bountiful nature with beaches and woods, its metropolitan culture and for its delicious street food,
Thailand
is a delight for the tourists no matter what they are seeking for. It is especially a favourite place for the foodies who like to try different cuisines and dishes they have never heard of before.

When you think of food in Thailand, the street food of Thailand is probably what you're looking for. And, here's a fun fact: There are seven Thai dishes enlisted in the World's best 50 foods by CNN travel. Now, it leaves no room for doubt how great Thai food can be. It has streets filled with the aroma of delicious local delicacies and the ingredients that go straight to your soul. The Thai food is inspired by different regions and every corner of the country has something special and unique to offer. Every traveller who comes to Thailand has to savour the delicious dishes from the street stalls to have a taste of the authentic dishes of the country. To take you further through the street food of Thailand we have a guide that will explain it all!
Best Street Food in Thailand
If you are looking forward to eating the best street food Thailand has to offer, we have a few suggestions that would satiate the foodie in you. Here are 11 best street food dishes of Thailand. And, you must try as many as you can! Promise, you won't regret!
1. Som Tum (Spicy Green Papaya Salad)

Who would have thought papaya would make such a delicious salad? Not until you go and try Spicy Green Papaya Salad which is called Som Tum in the local language. Famous street food in Thailand, Som Tum is made from shredded unripe papaya added with loads of local spices and making it a heavenly and super healthy meal. The dish is very spicy so much so that some people can't handle it. The unripe papaya is shredded into fine pieces and on top of that, it is sprinkled with sour lime, hot chilli, salty, savoury fish sauce and palm sugar for the sweetness. In a few regions, it gets the addition of salted crabs and dry shrimp to get another variant of the dish.
2. Pad See Eiw (flat noodles)

Pad See Eiw has the signature Thai flat noodles made from rice, which is one of the main ingredients of Thai cuisine. The noodles are dipped and nicely stirred in the soy sauce and the taste is added by its main meat ingredient which consists of either chicken or pork. The dish is not as spicy as compared to other Thai dishes and makes up for a good choice of street food in Thailand for those who can't take spicy food. The taste of the dish further deepened by the vinegar and dry chilli flakes which add the aroma and spicy and tangy twist to it.
3. Kai Jeow (Omelette with rice)

You might have seen many variants of the omelette but I bet nothing like Kai Jeow of Thailand. Kai Jeow is one of the most popular and cheap dishes among Thailand's street food. Kai Jeow is basically the Thai omelette served over rice (Since rice is one thing they have experimented with). The omelette which is fluffy from the inside and golden and crispy from the outside is served as the top layer over the aromatic rice. It is cooked in red chillies and fish sauce to give it the staple Thai touch. It is prefered mostly as the breakfast, but I won't blame you if you are seen savouring this dish for your dinner.
4. Moo Ping (grilled pork skewers)

Moo Ping is definitely one of the most popular and delicious go-to snacks for the Thai people, and a trending dish of street food in Thailand. Moo Ping is the grilled pork skewers served with rice at some places and served alone at others. The flavour of this dish lies in the marinating, which depends on the cook. Generally, the marinating ingredients are garlic, soy sauce, and sugar, that gives it both sweet and tangy taste. It is served best in streets so don't go to restaurants looking for it.
5. Guay Teow (noodle soup)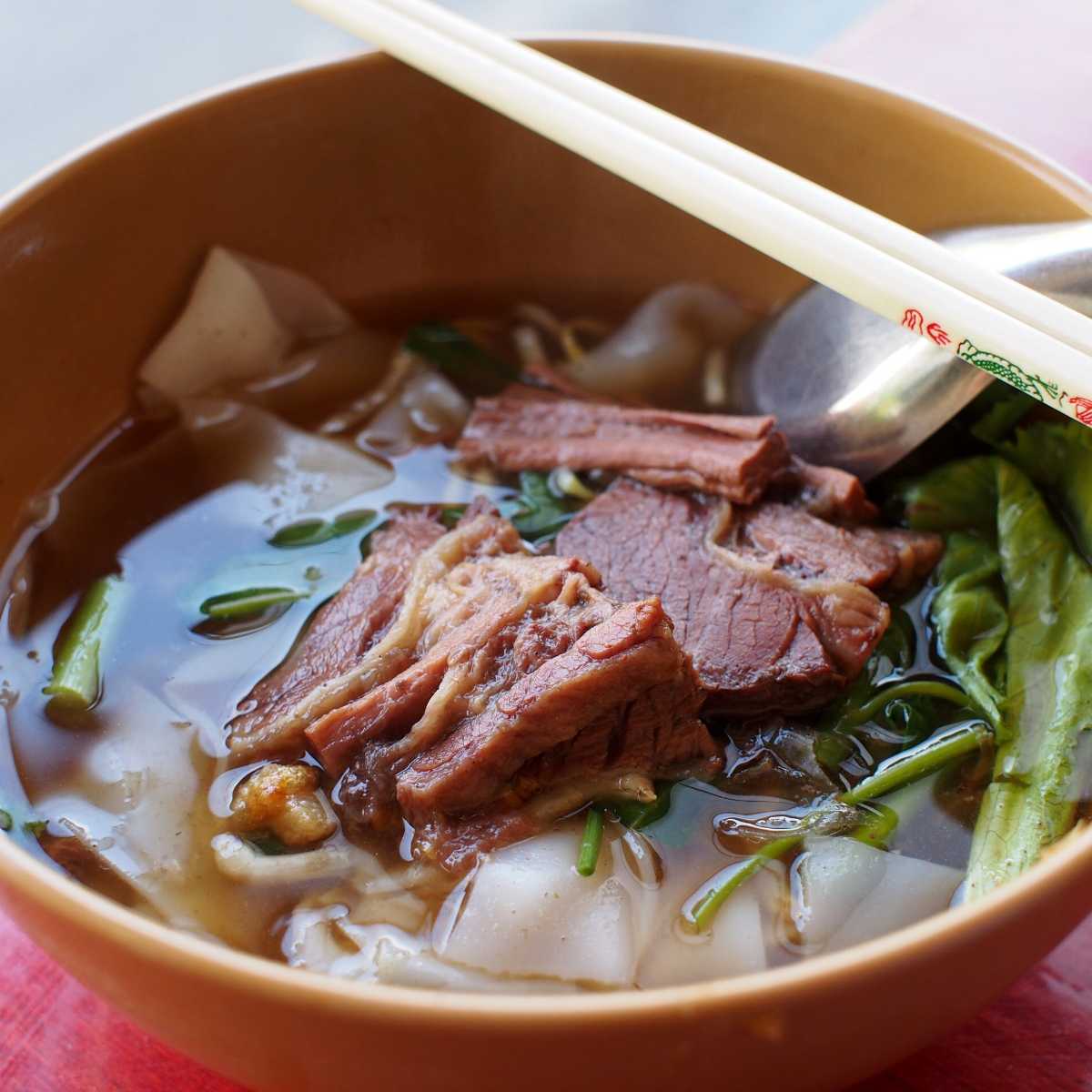 Guar Teow is one of the varieties of noodle soup in Thailand, and a common delicacy among the street food in Thailand. Although, you can try as many varieties of noodle soup in Thailand, but this one particular you shouldn't miss. Guay Teow is either prepared from the flat rice noodles or the egg noodles that makes for the main ingredient of the dish. It has delicious sauce from fish sauce, dry red chillies, lime juice and sugar to equalize the spice. Guay Teow is prepared from different meats and you can find anything from beef, pork or chicken making up for the yum sauce with noodles.
6. Kluay Tod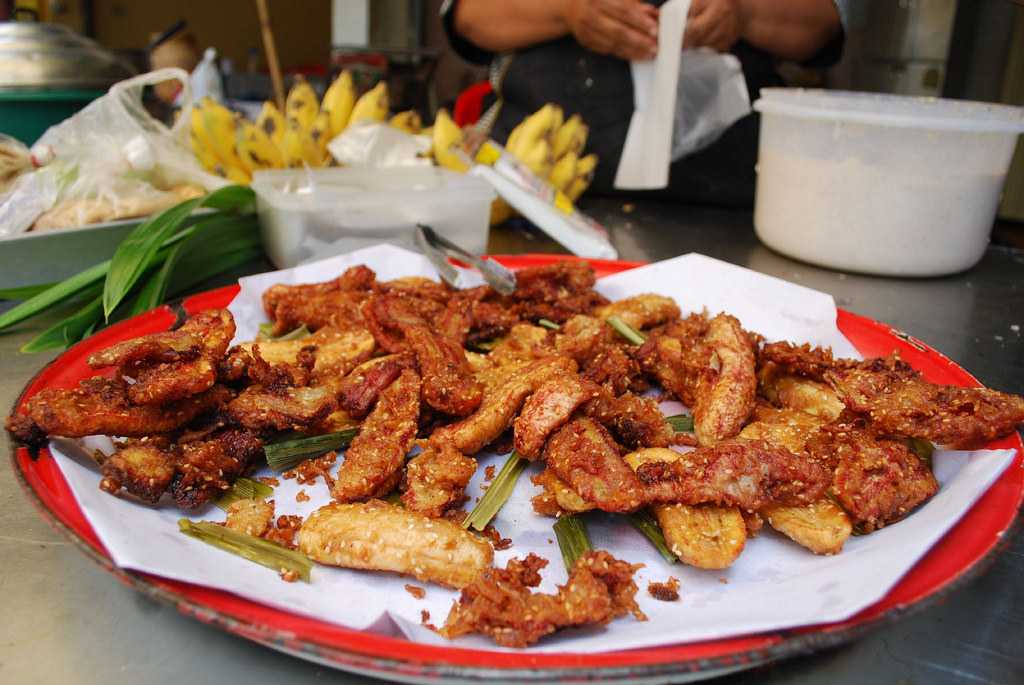 Kluay Tod is when the banana gets a new twist. It is all-time favourite snack among
Bangkok
street food in Thailand. Kluay Tod is prepared from the unripe small banana, by deep frying them. The bananas are first put into the batter of desiccated coconut and sesame seeds and then allowed to deep fry. It is one of the go-to snacks in Thailand and if you are a vegetarian then there is no way you should let this pass.
7. Tom Yum Goong (Spicy Thai Seafood Soup)

Make sure you have a bowl of soup for sure when you are exploring the street food of Thailand. Tom Yum Goong could be a good try. The hot and spicy soup is cooked with shrimps. The gravy of the soup is prepared with a paste called Nam Prik Pao in the local language. The gravy is made from a variety of spices which includes lemongrass, kaffir lime leaves, galangal, lime juice, fish sauce, and crushed chilli peppers all added to the paste with coconut milk. The main ingredient of the soup is shrimps which are added to the soup after the soup boils making it into a hot and sour bowl of spicy seafood soup.
8. Gai Tod (Fried Chicken)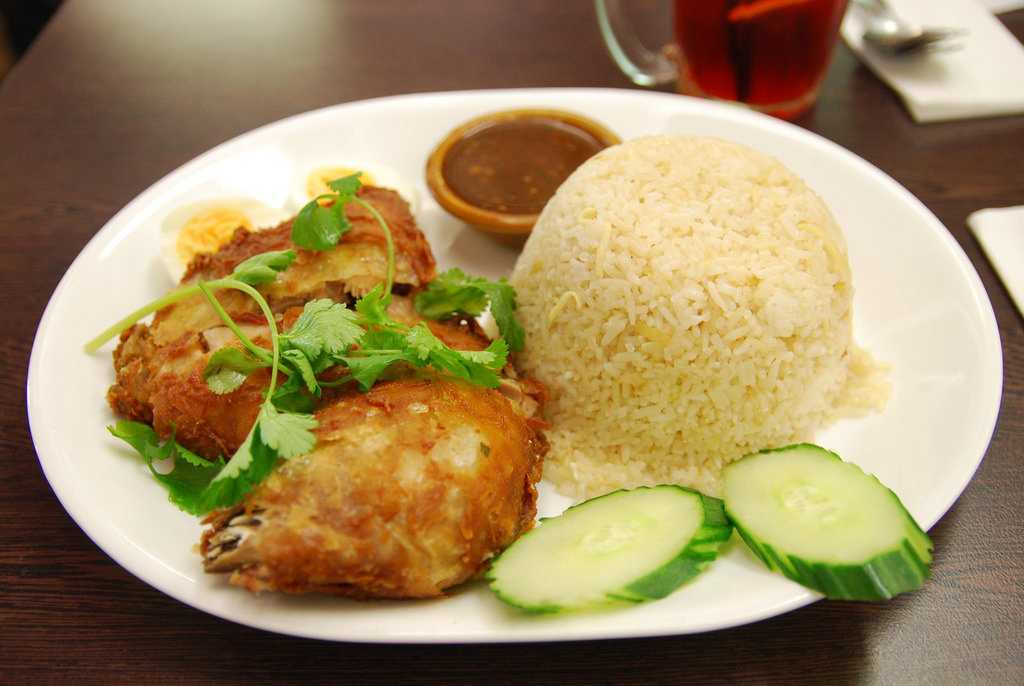 If you want to try fried chicken in all-new style and here is something for you. Gai Tod is the Thailand version of fried chicken which will make you forget all you had before. It is prepared from marinating the chicken breasts or chicken drums in the blend of spices and rice flour. To add the spicy and tangy flavour to the chicken, Thai chilli paste and spicy sauce are mixed with the chicken. This dish is very popular among Thailand's street food, especially preferred by the local people, and is served with rice.
9. Poh Pia Tod (spring rolls)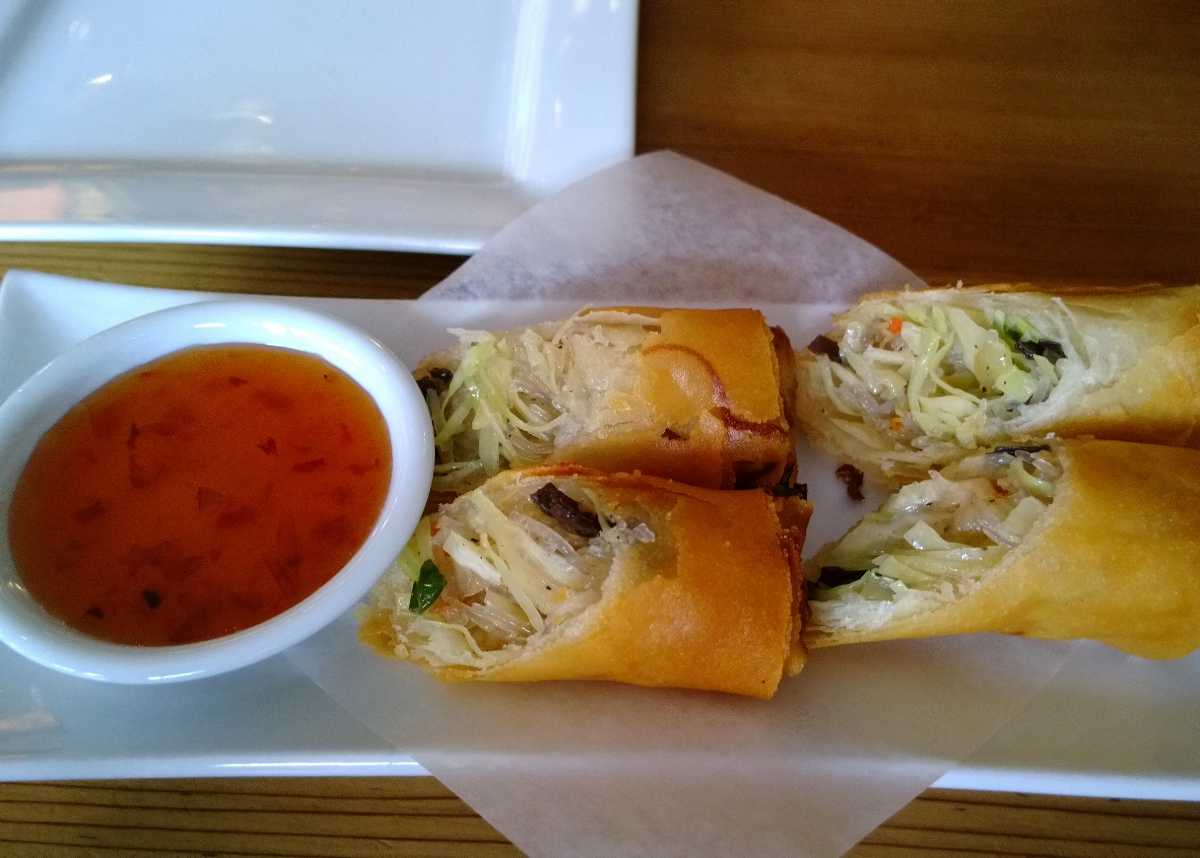 What have you done in life if you have come to Thailand and not gulp down a plate of authentic spring rolls? Springs rolls or Poh Pia Tod, as they call it in the local language, is Thailand's famous spring rolls. You will find them everywhere, be it a fancy restaurant or a Thailand street food stall. The filling of these spring rolls can be of anything from meat, vegetables or rice noodles. Make sure you ask the vendor before you eat. It is served with chilli sauce to give the spicy touch to the dish.
10. Massaman Gai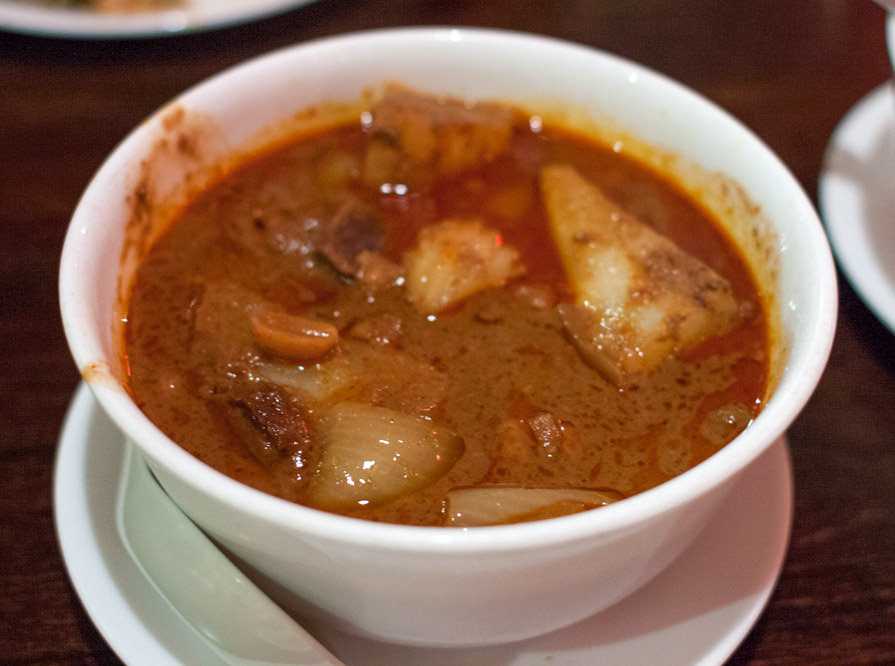 Massaman Gai is another Thai curry dish which has got its influence from Persian cuisine. The dish is prepared from chicken and potatoes, making it one of the dishes you will find in Thailand's street food scene. Chicken can be replaced with tofu for those looking for a vegetarian version. The delicious gravy of the dish is made from coconut milk with the additions of peanuts, cinnamon, bay leaves, tamarind sauce, and sugar to give it a mix flavour of sweet, tangy and spicy. It is not that spicy as compared to the Thai curry dishes and is served with rice for the complete meal.
11. Kao Niew Ma Muang

You must have eaten a lot of dishes in a lot of places, but wait you eat this one in Thailand. It is made from ingredients that you can't imagine together. Kao Niew Ma Muang is a popular dessert of Thailand made from sticky rice, fresh mango slices and coconut cream syrup. The dish has a sweet and soft texture due to the rice mixed with the coconut cream. It tastes better during the mango season but you can find in all around the year at some places. You can find Kao Niew Ma Muang among Thailand's street food stalls as a popular dessert option.
Where to Go for Street Food in Thailand
If you are visiting Thailand anytime soon, here are a few suggested streets and areas where you can find the best of Thailand street food. The neighbourhood streets in Thailand are called "Sois" in the local language and so let's take you through the Sois where you will find the finger licking food.
1. Chinatown

Chinatown
, also known as Yaowarat Road, is without a doubt one of the best places to find typical Thailand street food in Bangkok. It is also one of the oldest areas in Bangkok and is the world's largest and most authentic Chinatown in the world. The daytime in Chinatown is usual with the street vendors and local shops brimming the streets, but as the night approaches, the Chinatown becomes the hot spot for the foodies with local people and travellers coming to try the variety of street food dishes in the market. Chinatown is famous for two of popular Thailand's dishes called Bird's nest soup or suckling pig.
How to reach?
Take an MRT to Hua Lamphong station. From there the Chinatown is located at a walking distance of 10 minutes. You can also get a tuk-tuk or electric motorbike from the metro to Chinatown.
Places to Visit in Chinatown for Best Thai Street Food:
1. Mung Korn Khao Noodle
2. Nai Mong Hoi Thod
3. Jek Pui Curry
2. Bang Rak

Bang Rak is the area in Bangkok where you will find the different food cultures blending together. It is largely populated by immigrants coming from different parts of the world, particularly other Asian countries. It has a food culture inspired from Indian, Chinese and Western cuisines, and over time, it has blended with Thai cuisine to produce some marvellous street food in Thailand. Bang Rak street is famous for Pork dishes, duck ducks and the authentic Thai curry dishes with roti.
Bang Rak is also known for its shopping experience and some open terrace rooftop bar where you can enjoy delicious food with the city's view.
How to reach?
The best way to reach Bang Rak is by taking a cab. You can also take BTS to Chong Nonsi station or take an MRT to an MRT to Hua Lamphong station. From there it is a walking distance to the street.
3. Victory Monument

Victory Monument is one of the popular tourist areas in Bangkok. It is one of the most crowded places in the city due to the easy transport facilities. You can easily get a train, bus or cab to reach here as eat as many varieties of Thailand's street food dishes as you possibly can. There is a main roundabout in the area with several other Sois where you can find everything from shopping vendors, food stalls to clubs, pubs and bars. Two of the famous streets of Victory monument known for their food are Phahon Yothin Soi and Rangnam.
How to reach?
Take a BTS to Victory Monument station and take the exit and you will end up in the locality with the lively people all around.
Places to Visit at Victory Monument for Best Thai Street Food:
1. Doy Kuay Teow Reua
2. Boat Noodle Alley
3. Kuay Jab Jaedang
4. Bang Khun Non

Bang Khun Non is one of the best Thai communities in Bangkok serving the most delicious street food in Thailand. It is located across the river and hence it offers quite a peaceful ambience. The best part about this street food market is that you won't find a lot of crowds here and no worries of hitting thousands of people on your way. Bang Khun Non is best known to serve the delicious noodle soup, pork dishes and duck dishes. You will also come across a lot of restaurant serving the same authentic Thai food in case you want to enjoy your meal in peace.
How to reach?
The best way to reach Bang Khun Non is by hiring your own taxi.
Places to Visit in Bang Khun Non for Best Thai Street Food
:
1. Som Tam Boo Maa
5. Tha Pran Chan and Banglamphu

Tha Pran Chan and Banglamphu are amongst the oldest street food markets in Thailand, serving the most authentic Thai cuisines. You will also find a number of centuries-old restaurants with their signature dishes who have created the legacy over the span of time. The market is full of street vendors and food stalls which will give you tons of options to choose from. Make sure you take an empty stomach here because you don't want to miss out on the authenticity of Thai food!
How to reach?
There is no MRT and BTS station nearby, It is suggested that you take a taxi to reach here. You can also take a boat from Saphan Taksin as it is located close to the river bank.
Places to Visit at Pran Chan and Banglamphu for Best Thai Street Food:
1. Khao Kluk Kapi
2. Aisa Lote Dee
6. Ratchawat Market

Rachawat market is one of the traditional street markets in Thailand where you will not only get to savour the amazing street food of Thailand, but enjoy it with the historic edifices and traditions. Rachawat street is located a little far from the city's crowd and you will surely get to enjoy your meal here in peace. The stalls vendors are old and authentic here. The best dishes to find at this street are soup noodles and roast duck and Kobe beef noodles. There is also a chain of old and fine dining restaurants at this market but the show stealer is definitely the street food stalls that fill this street with life.
A street close to Rachawat is Sriyan Market, which is another hub for street food in Thailand
How to reach?
The nearest MRT station to Rachawat is Victory Station. From there you need to take a cab for a 10-minute ride to reach the main street.
Places to Visit in Rachawat for Best Thai Street Food:
1. Ran Gaeng Pa Sriyan
2. Duck at Ratchawat
3. Pad See Ew at Ratchawat
Don't you just feel your mouth watering with all that you have just read? Don't you want to bring out the foodie in you and eat them all? When it comes to street food in Thailand, you are sure to eat as much as you can without puking! And trust us, it's worth it.