Known as Mamuang in Thai, the Mango, king of fruits, is one of the most popular fruits in Thailand. Used in both, sweet and savoury dishes, mangoes in
Thailand
have attracted tourists from all over the world. Tourists cannot wait to get on the streets of
Bangkok
or
Phuket
and indulge in a dish of mango with sticky rice or a mango chicken salad. Thai mango is unique in flavour from the rest of the world, and that's what makes it such a crowd favourite.
Origins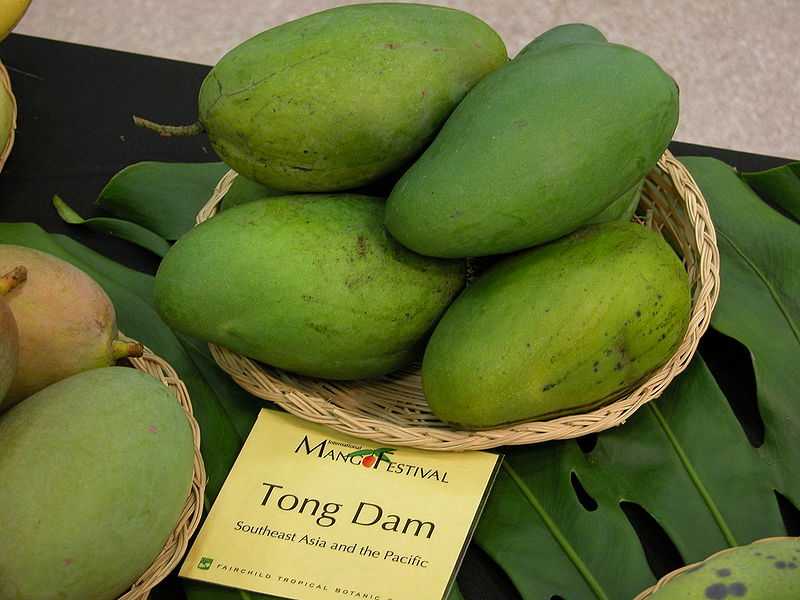 Cultivated more than 4000 years ago, mangoes were originated in
Tamil Nadu
,
India
. Slowly they spread over the rest of south and south-east Asia,
Australia
, East Africa and Central America. This subtropical fruit is widely grown in Thailand and represents a precious part of their culture. Thai people not only use mango as a fruit but also medicinal purposes by boiling it or creating various drinks to reduce fever, stomach ache or even to clean wounds.
Mango Season in Thailand
Late March through July
is the season for mangoes in Thailand. During this, the streets are filled with vendors selling raw mangoes or using the mangoes in a variety of dishes.
Types of Mangoes in Thailand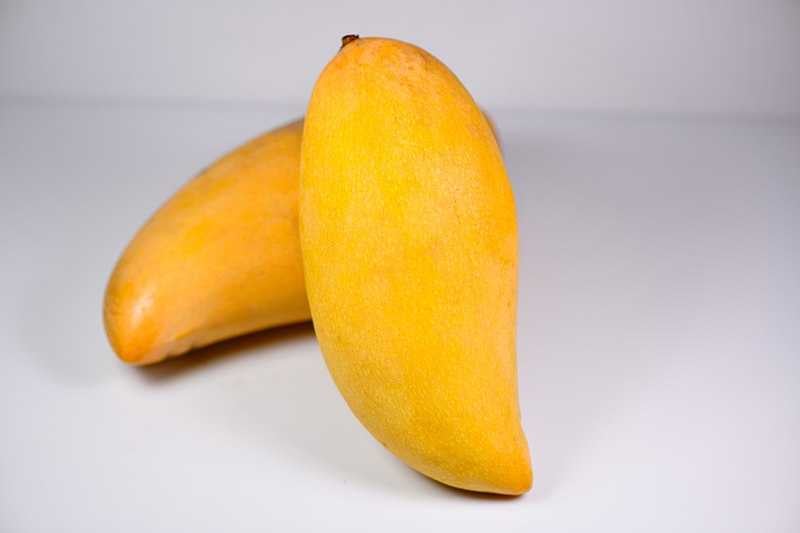 There are many varieties of mangoes grown in Thailand. These are different on the basis of colour, flavour, fragrance, size, shape and the soil they grow in. The four main breeds are:
1. Nam Dok Mai
Light yellow in colour with a golden-yellow and thick flesh, this breed has a sweet fragrance and is usually eaten when fully ripe. Huge in size, elongated with a sharp end, this is the most popular variety of mango grown in Thailand. It can be found everywhere in the country in the months of March to June.
2. Khieo Sawoei Sampran  
Literally meaning 'green eating', this is a mature, green-skin mango with an elongated shape, that has a crunchy and raw flavour and fragrance when green, and sweet flavour once ripe. You can eat it, either way, the choice is yours. With a high price in the local markets, this mango usually is harvested during the month of October.
3. Ok Rhong Damnoen  
Specially used for the crowd favourite' mango with sticky rice' dish, the Ok Rhong Damnoen is a beautiful looking yellow-orange coloured mango. It has an extremely sweet flavour and sweet fragrance too. This can be found all over Thailand's streets in the summer months of March till June and is one of the most popular species of mangoes in Thailand.
4. Raed Paet  
The name of this mango means 'Rhinoceros' due to the little pointed horn that protrudes out of the fruit. With a sharp and sweet flavour, this mango is usually eaten as a sour snack along with dips. It's light green in colour and famously grown in the province of Chachoengsao.
5. Tong Dam
Tong Dam means 'black gold'. With the fruit being green and a little lighter, it is very sweet and the skin stays green even when ripe. The green skin of the mango prevents from pest attacks. 
Where to Find Mangoes in Thailand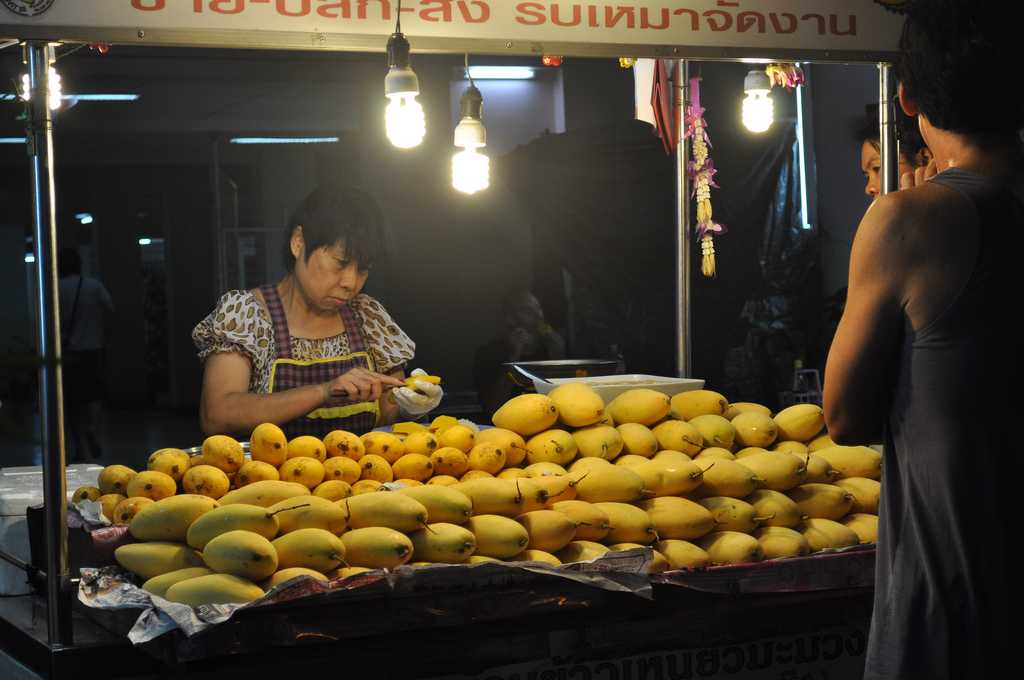 During the peak months of March to June, mangoes can be found all across Thailand. Almost every street in Bangkok, Phuket,
Chiang Mai
, all the eastern and western coast islands, and all other towns of Thailand will have at least one vendor selling mangoes on a cart. Every supermarket will boast a section of mangoes. Restaurants across the country serve a vast range of desserts and other food items including mango as the core ingredient. Some of the tourist favourite restaurants and street stalls in Thailand serving delicious mango dishes are Boonsap Thai Dessert, Sukhumvit Soi 38 Street, The Sixth, Mango Tree Bistro and the Golden Mango Cafe among others. There are also many food tours conducted around Bangkok and other cities that will give you a taste of delicious authentic Thai food, besides mango desserts.
Festivals & Fairs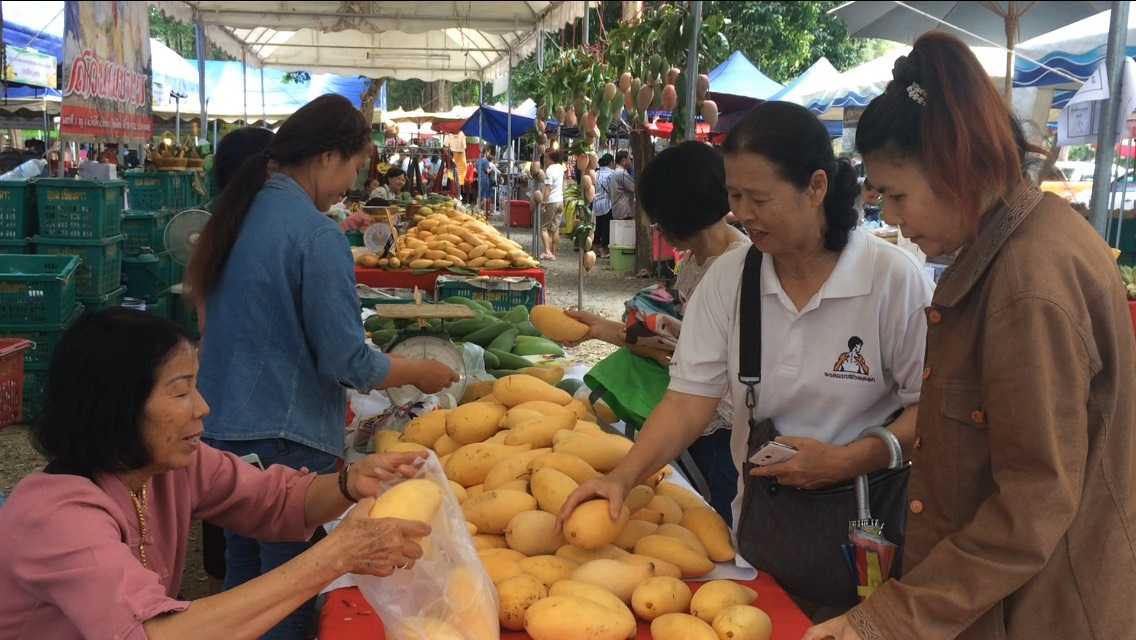 1. Chiang Mai Mango Fair  
Organized annually in Chiang Mai during the month of May, this mango fair is where locals and tourists flock to enjoy their share of Thailand's mango madness. The festival is mainly about celebrating the harvest and it involves a beauty contest to crown the 'Mango Queen', local families coming for picnics, and of course, a lot of mango eating.
2. Chachoengsao Mango Festival 
Organized in the month of April, Chachoengsao, a province just east of Bangkok, hosts the annual Mango festival of Thailand. This province is known to be the best mango growing regions of Thailand, and hence, this festival attracts visitors from all over the country and world. Focused mainly on organic varieties of mangoes in Thailand, this festival involves street vendors selling raw fresh mangoes, mango with sticky rice and green mango salad. There are many other agricultural products on sale too, there are stage performances and competitions held too.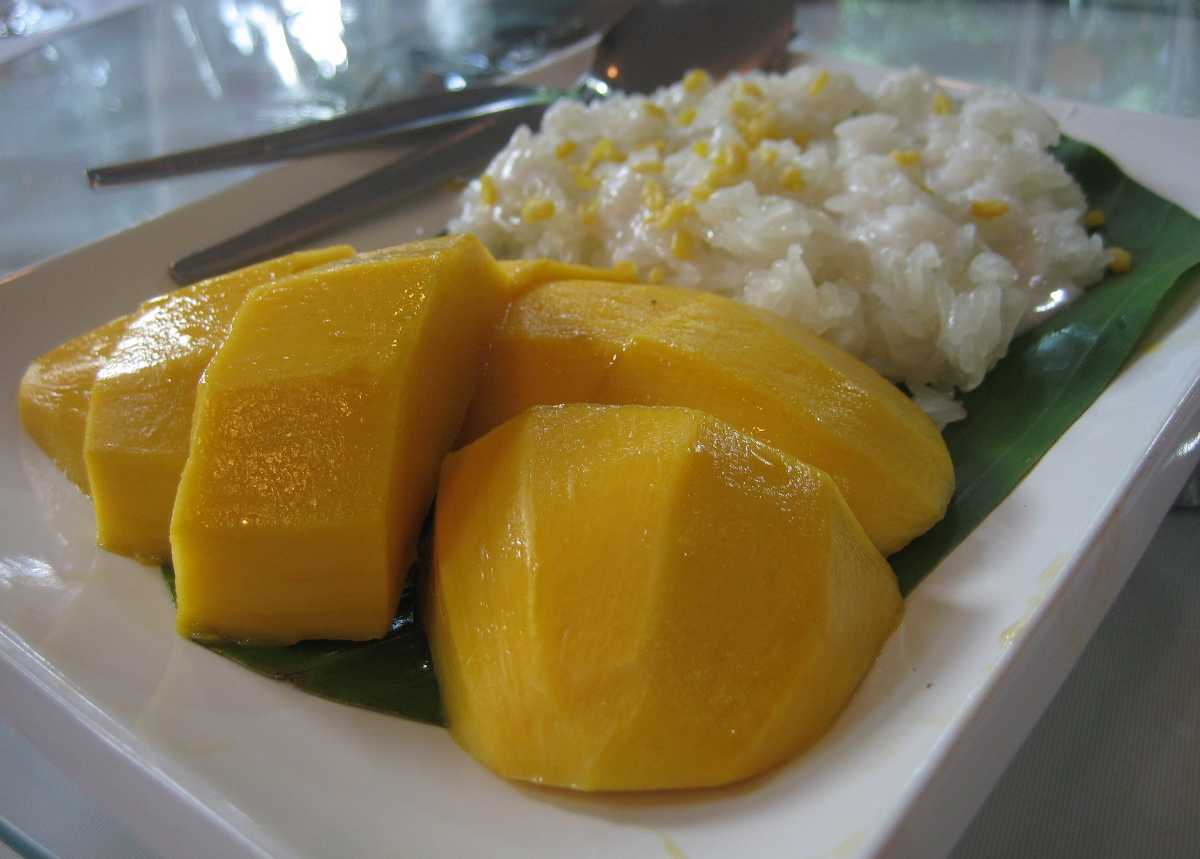 A part of their culture, society, history and daily life, the Thai people deeply value the mango fruit. Today, tourists from all over the world flock to get a taste of the mangoes in Thailand which is also one of the best mangoes in the world.