Thai cuisine is a Pan-Asian phenomenon that is renowned for its unique blend of delectable spices, universally palatable flavors, rich textures, and the freshest, most sought-after ingredients. From the versatile street foods to the epicurean delights served at luxury dining restaurants, Thai food has become an eminent part of the world food culture. Vegetarian and vegan food options are aplenty in
Thailand
and easily available too. But, did you know that there is some rather scrumptious Halal Food in Thailand as well? Yes, if you are an ardent believer in Halal-cut, non-vegetarian food, then traveling to Thailand will be nothing less than a dream come true for you. Here is a list of the 12 best dishes of Halal food in Thailand, and the best places to find them:
1. Tom Yum - Traditional Thai Soup

The classic soup of Thailand, Tom Yum is a famous delicacy and a quintessential dish in most Thai restaurants. The rich, tongue-tingling flavors of this appetizing soup are packed with the goodness of veggies, herbs, and prawns. A perfect beginning to exploring Halal food in Thailand, you will experience a foodgasm while slurping this hot starter that blends in spice and mild-sweetness perfectly.
2. Som Tam - Thailand's Famous Papaya Salad

Som Tam is delicious and healthy Papaya salad in Thailand, and a good choice for those looking for Halal Food or Vegetarian food in Thailand. It is made out of fresh green papaya, garlic, chillies, green beans, cherry tomatoes, crunchy peanuts, and dry shrimp or salted crab. You will be surprised to discover that something as simple as a salad can be transformed into a divine delicacy.
3. Tom Kha Gai - Creamy Chicken Soup in Thailand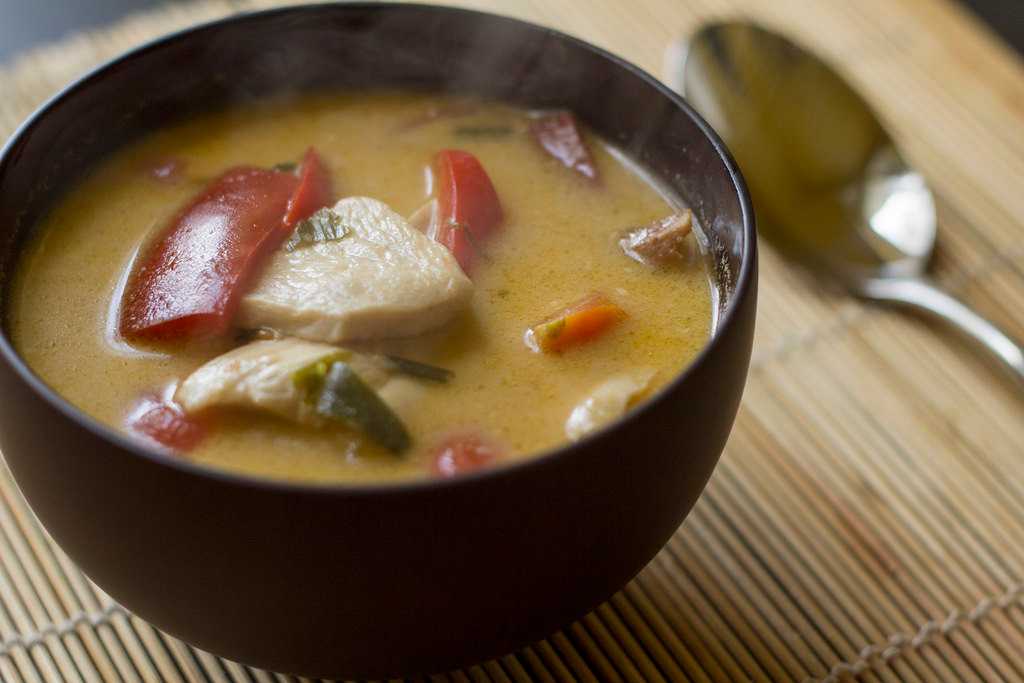 Chicken lovers will find heaven in the Tom Kha Gai. This stew-like soup uses rich, creamy coconut milk is served with spicy chillies, pungent lemongrass, crushed shallots, baby galangal, and a generous serving of chicken strips to create a concoction of mild sensory gratification. For those looking for a perfect meal of Halal food in Thailand involving this dish, head on over to Usman Muslim Thai Restaurant in Bangkok.
Read more about
Halal Restaurants in Bangkok
4. Kai Med Ma Muang - A Thai Dish Promising a Mouthful of Flavour

Trust us, this appetizer is going to blow your mind! Kai Med Ma Muang involves chicken sautéed with garlic, cashew nuts, sweet soy sauce, mushrooms, onions, carrots, chillies, pepper, and a list of other veggies to bring you a plateful of flabour, leaving you wanting more. Sweet, spicy, salty, crunchy, and chewy, all in one magical bite is Kai Med Ma Muang, a mouth-watering dish of Halal food in Thailand you can't afford to miss!
5. Khanom Buang - Thai Crepes

Khanom Buang is the Thai version of crepes, a classic street Halal food in Thailand. Resembling a taco, it has a sweet and a savoury version. The sweet version has a mixture of foi thong (egg yolk), coconut, and sweet gourd on a pandan base, while the savoury version has egg, shrimp, and cilantro, in Thai sauce on a crepe/taco shaped shell. Every bit of this product is handmade which makes it all the more delicious.
6. Khao Mok Gai - Thai Biryani

Biryani is a cross-cultural fiesta with its multiple versions available throughout different countries in Asia. Thailand has its own version too. Khao Mok Gai is probably one of the most famous Halal food in Thailand, made of halal-cut chicken/mutton. This dish is a wealth of local spices and ingredients that is mixed with flavoured yellow rice and slow-cooked in a pot. You can find this delicacy in the street food stalls of Bangkok or in the restaurant menus across Thailand.
7. Pad Thai - Thailand's Famous Stir-Fried Noodles

Pad Thai is another universal Thai delicacy that has brought Thailand to the forefront in the world dining scene. Pad Thai is stir-fried noodles that can be prepared according to the customers' needs. You could add almost anything in the noodles like Tofu, bean sprouts, eggs, chicken, onions, fish, fish sauce, peanuts, chilli, sugar, etc. and it would taste just amazing. It could be a quick snack or a part of an elaborate four-course menu, an essential of any Thai meal, even if you're looking for Halal food in Thailand.
8. Massaman Curry - Halal Food in Thailand From the Thai Muslim Community

Massaman Curry is among the typical Halal food in Thailand, named after the creators of it. "Massaman" means Muslim and was created by the Muslim community in Thailand. The dish is made of chicken or beef in coconut milk, roasted peanuts, potatoes, sugar, cinnamon, bay leaves, and the super ingredient tamarind for that sweet-n-sour taste. It is all yummy in the tummy, this curry.
9. Gaeng Keow Wan Gai - Green Curry from Central Thailand

Gaeng Keow Wan Gai is one of the most classic dishes of the country, and a great optionf for Halal food in Thailand. This Green curry has Thai written all over it. From the ingredients, cooking style, flavors, texture, and taste, the exuberance of Thailand's culinary culture is best represented by this curry. It has eggplant, basil, coriander, bamboo, and other traditional Thai spices with chicken and veggies making it nothing less than soul food for connoisseurs
10. Kao Pad - Thai Fried Rice

Kao Pad is Thai dish that takes the conventional fried rice and gives it a Thai twist with flavorful rice. A made-to-order dish, this one has a plethora of ingredient choices that you can add up, toss up, and serve piping hot. Greens, veggies, peppers, chicken, prawns, crab, chilli, shallots, eggs, and more come together and make this an extravagant delicacy, and a suitable choice for Halal food in Thailand.
11. Phat Kaphrao Khai - Halal Version of Thailand's Stir Fried Rice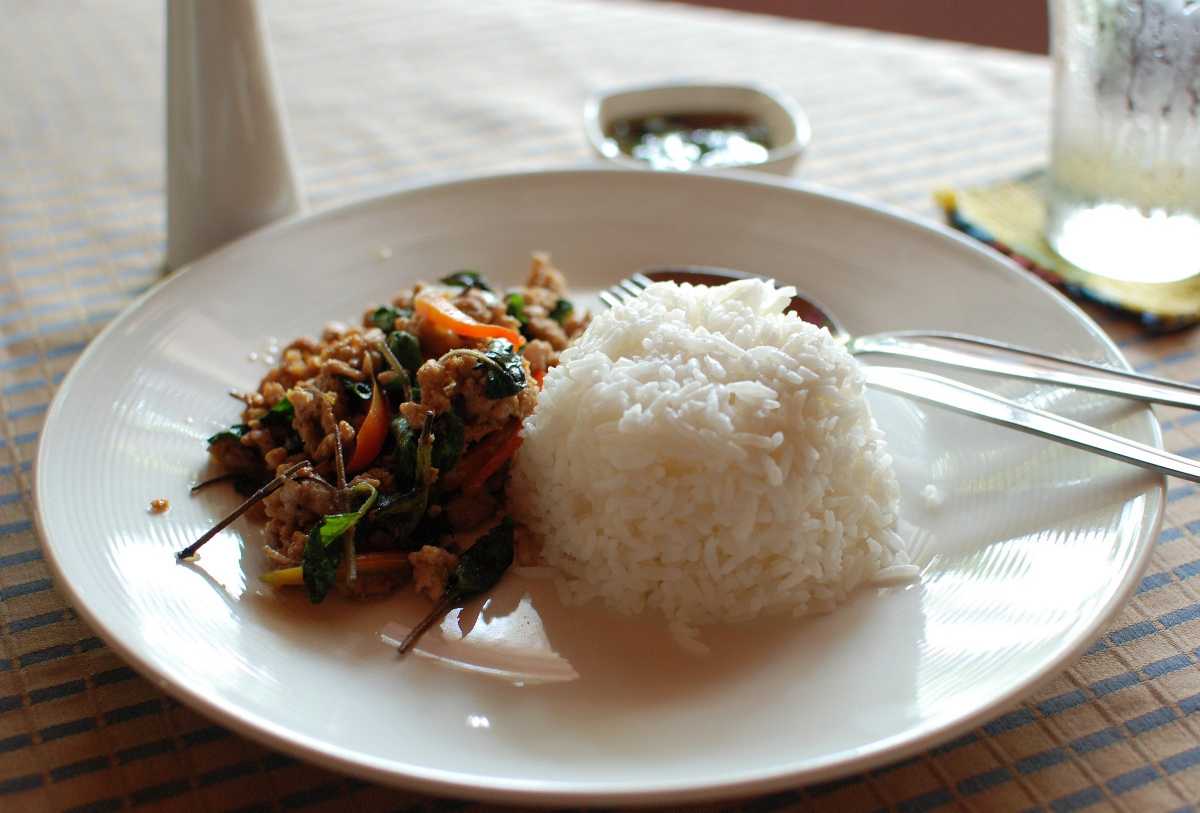 Take our word for it, Phat Kaphrao Khai is the ultimate soul street Halal food of Thailand that is worth every penny, or rather Baht. A variant of the popular Phat Kaphrao that uses pork, the aroma of basil compliments the well marinated and stir-fried tender chicken chunks that melt in your mouth. The marinade consists primarily of garlic, chilli, pepper, and lime. Served with white steamed rice and fried egg that complete the dish, your taste buds won't get enough of this delicious Thai treat.
12. Pla Muek Yang - Halal Food in Thailand for Seafood Lovers

Squid is made trendy with this Thai delicacy that bursts with flavors. Pla Muek Yang uses soft squid that is generously sprinkled with oil and charcoal-grilled to give it a burnt aroma. The squid is then topped with crunchy nuts and a mixture of lime, ginger, and crushed herbs that brings in a new spirit to the dish. Simple sophistication is the idea behind this Thai victual. If you're looking for Halal food in Thailand while still wanting to relish the amazing Thai cuisine, look no further than this mouth-watering seafood treat.
Hopefully, you now have a better idea of what to expect when looking for Halal Food in Thailand. The best way to sink into the local culture is to indulge in the great local food, and Thailand's diverse cuisine is sure to leave you wanting more. Bon Appetit!