dotAn archipelago of 99 islands across the Malaysian mainland northwest coast, Langkawi offers stellar snorkelling opportunities for watersport lovers. While not all beaches in Langkawi are best for snorkelling due to sea sediments and low visibility, the sparkling, turquoise blue sea surrounding some of the offshore islands holds plenty of coral reefs and vivid marine life. 
Best Time for Snorkelling in Langkawi
October to May is the perfect time for snorkelling in Langkawi; owing to lovely weather, an abundance of marine life and clear visibility underwater. June to September are the monsoon months here, which keeps the skies clouded and the sea murky. Moreover, August and September is the time for southerly winds, which make the waters rough. Temperature varies between 25°C to 30°C all year long, and drops a few degrees in December and January but not so much that one cannot get into the water.
Top Snorkelling Sites 
1. Pulau Payar Marine Park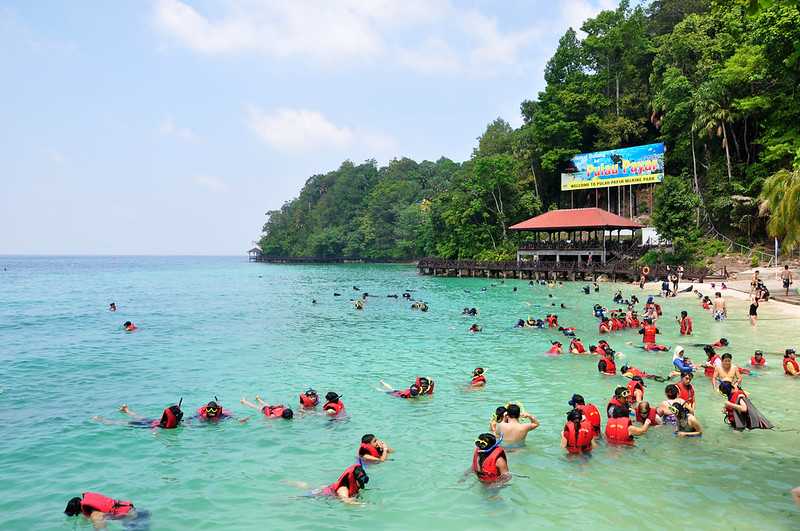 Malaysia's oldest water sanctuary, Pulau Payar Marine Park comprises of four uninhabited islands namely Payar, Lembu, Kaca and Segantang. Located 30 km south of the main island of Langkawi, this Marine Park is hailed as the best offshore site for snorkelling in Langkawi, along the west coast of Malay Peninsula. There are artificial reefs too, built from construction materials and old, wrecked boats which now house fully grown coral ecosystems like brain corals, boulder corals, stony corals, and knob corals.
The black-tipped baby sharks which swim alongside the divers are the main attraction here, and so are the other colourful ones like pink anemones, Moorish idols, damselfish, barracuda, snappers, clownfish, butterflyfish and the rare rabbitfish. Before setting off, one has to find the Marine Park Centre operated by the Fisheries Department at the Payar island for payment of charges and obtaining permission. 
How to reach: A speedboat or catamaran from Kuah Jetty in Langkawi main island is the fastest way to reach Pulau Payar Marine Park. It takes about 45 minutes to an hour to reach. 
2. Pulau Beras Basah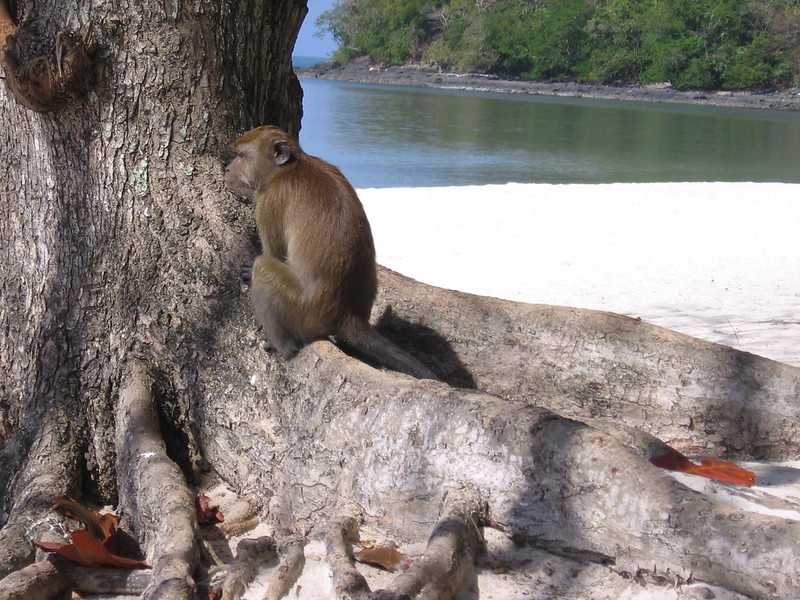 Located much nearer to Langkawi, Pulau Beras Basah is a very popular site for snorkelling in Langkawi. This small untouched island, situated to the south of Langkawi offers crystal clear waters. Snorkelers can cover the island as part of the Island Hopping Boat Tour offered by most operators in Langkawi or visit it separately for a longer, whole-day experience. In the case of the latter, visitors are suggested to carry their own snorkelling gear and eatables. But be careful of the monkeys here, who often tend to mishandle any food, clothes or gear if left around.
How to reach: Take a water taxi or speedboat from Awana Porto Malai Terminal dock at Pantai Tengah beach of Langkawi. It takes only about 15-20 minutes on the water to reach. 
3. Pulau Timun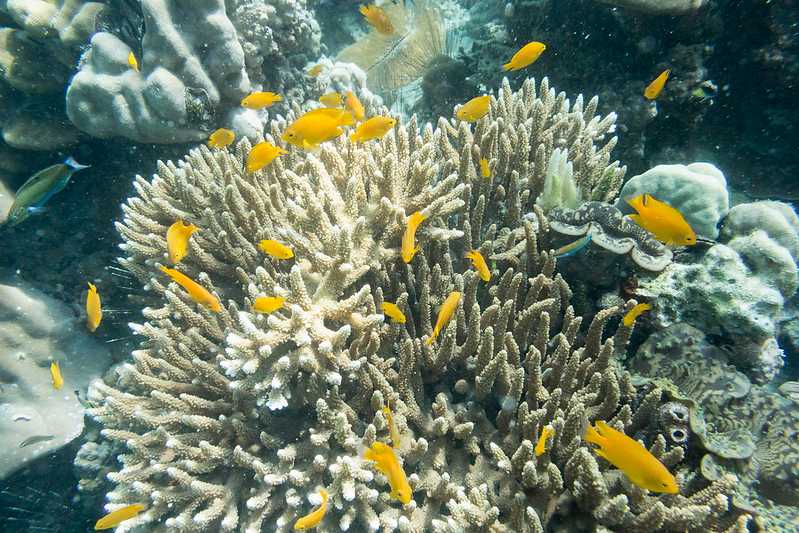 The areas around Langkawi are full of small, unexplored islands and one such is Pulau Timun. This T-shaped island floating on the Andaman Sea has not only excellent opportunities for snorkelling in Langkawi but also jungle trails and secluded coves with the waves splashing, making great scenes for a small picnic. However, one needs to carry their own food, water and snorkelling gear if not visiting with an operator, since there are no facilities or centres here. There are multitudes of wild pigs and bats here as well. 
How to reach: Hiring a boat would be wise from Kuah Jetty in Langkawi to reach Pulau Timun in a fifteen minute ride. 
4. Pulau Dangli Beach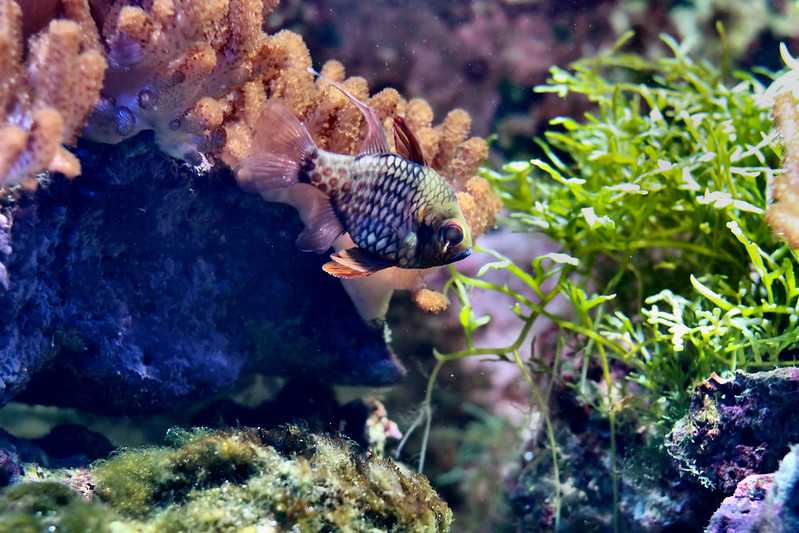 Located 2 miles off the northern shore of Langkawi, Pulau Dangli is yet another crowd-pleaser with lots of vibrant aquatic life and coral reefs on offer. One can expect the scintillating views of large groupers and if lucky, some rare ones as well. Calm seas and high visibility make it very easy to snorkel at Pulau Dangli Beach, which is usually a part of Kilim Geopark and Mangrove Boat Tour offered by many operators. Snorkelling in Langkawi here can be made separately as well by hiring several operating companies, with prices ranging between RM 400 - RM450 per boat of 8 pax capacity. 
How to reach: Operators can be hired from Tanjung Rhu Beach jetty for a short boat ride to Pulau Dangli and the provision of snorkelling gear. 
5. Pulau Bumbon Besar and Pulau Bombon Kecil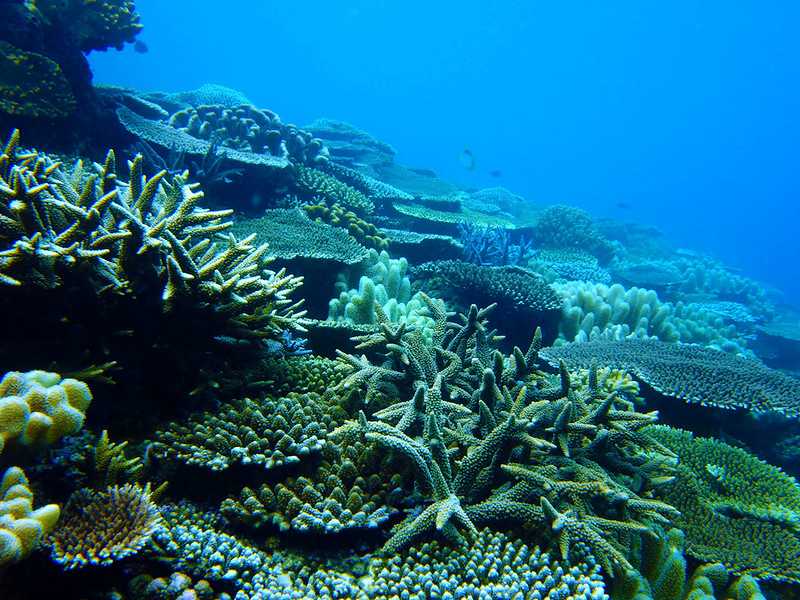 These are two twin islands perfect for a quiet, tranquil snorkelling in Langkawi. The C-shaped Pulau Bumbon Besar faces the southeast of Langkawi, which is why most operators start their trips here. Along with scintillating snorkelling experiences, the island also has clean, sunny beaches perfect for swimming, sunbathing and relaxing. Pulau Bumbon Kecil, on the other hand, is M-shaped and has a couple of coves on offer to the more solitary minded visitors. Island hopping trips to the twin islands cost around RM 80 - RM 100 in groups and for a private speedboat, it jumps up to RM 500 - RM 600. The islands do not have facilities or refreshment options, so snorkelers would need to carry their own gear, food and water. 
How to reach: Like most locations, the Pulau Bumbon Besar, which has a jetty among the two, can be reached in a ten-minute boat ride from Kuah Jetty. 
Top Operators for Snorkelling in Langkawi
There are numerous operators which conduct tours to the popular snorkelling locations. The tours offered by most companies are easy for veteran divers. For the amateur and inexperienced snorkelers, there are floating reef platforms for introductory lessons. Snorkelling gears and the day's lunch is part of the day's tour, but one still should clarify that before booking a trip. Some of the top agencies operating for snorkelling in Langkawi are:
1. East Marine Holidays
Website: http://www.eastmarine.com.my/en/
Phone: +019 409 3966
Email: [email protected]
2. Langkawi Coral 
Website: http://www.langkawicoral.com/
Phone: +60 4-966 7318
Other small operators that dot the beaches of Langkawi mostly specialise in scuba diving, these two operators offer snorkelling tours at large at the islands in and around Langkawi.
Approximate Cost
Single island beach snorkelling tours can cost between RM 180 - RM 200, while the special platform snorkelling by Langkawi Coral can charge visitors around RM 300 - RM 330. Island hopping packages cost much more - approximately RM 500 - RM 700 per person for a combination of around four islands.
Tips While Snorkelling in Langkawi
Check up on the weather forecast beforehand to make sure you visit the islands on a day with clear and sunny skies for good underwater visibility.
When travelling to isolated islands personally without the guidance of any tour operator, make sure to carry your own gear, eatables, drinking water and other necessary items. 
Confirm with the tour operator precisely what is included in the package they are offering. In most cases, one meal, snorkelling gear, hotel transfer, boat ride and coverage of any additional fees are covered by the agency.
Snorkelling can be one of the most fulfilling activities to partake in a while visiting Malaysia, and Langkawi one of the perfect locations for that. Despite all the fear and inhibition, one might have about getting underwater and close to the creatures that reside there, snorkelling in Langkawi is an exceptional experience to have and undoubtedly unmissable!