With today's hectic life, couples rarely get an opportunity to spend some quality time together. And when they do, a major chunk of the time is spent deciding the place. By the time it is decided, the urge to do anything is gone. So, the next time, when you finally get an opportunity to take your loved one on a date, head out to one of these places, which definitely won't disappoint either of you.
Delhi
has a myriad beautiful place for couples for you to choose from to spend some private and romantic moments with your special one. There is something for all kind of couples out there, right from quaint little cafes to adventure parks and bustling markets.
Here is a list of the Best Romantic Places in Delhi to take your partner out on the next date:
1. Romantically Themed Garden of Five Senses, Saidul Ajaib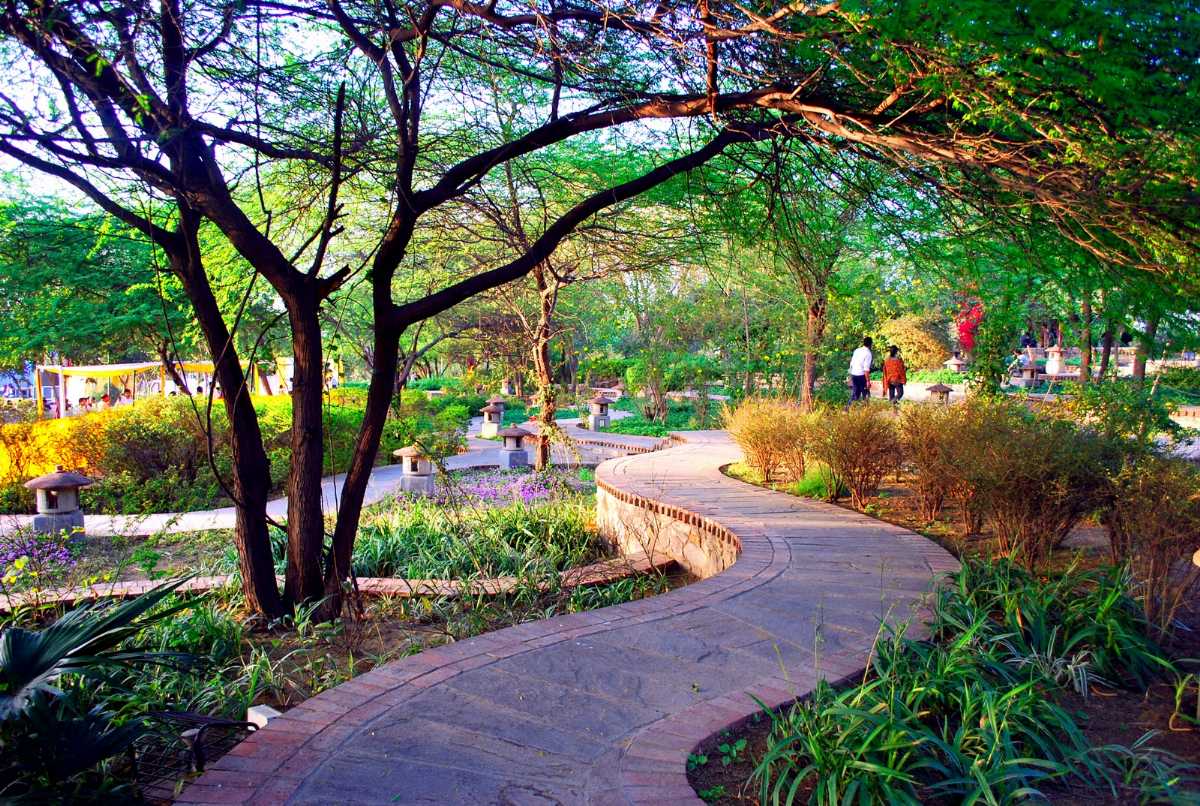 With numerous theme areas, including a section along the lines of Mughal
Gardens
, pools with water lilies, bamboo courts, herb garden and solar energy park, the Garden of Five Senses is one the best places for couples in Delhi to share a long romantic walk with your loved one. With beautifully designed landscapes and a variety of restaurants to choose from, the Garden is the perfect place to spend some quality time with your partner.
2. Lodhi Gardens near Khan Market- An idyllic place for couples in Delhi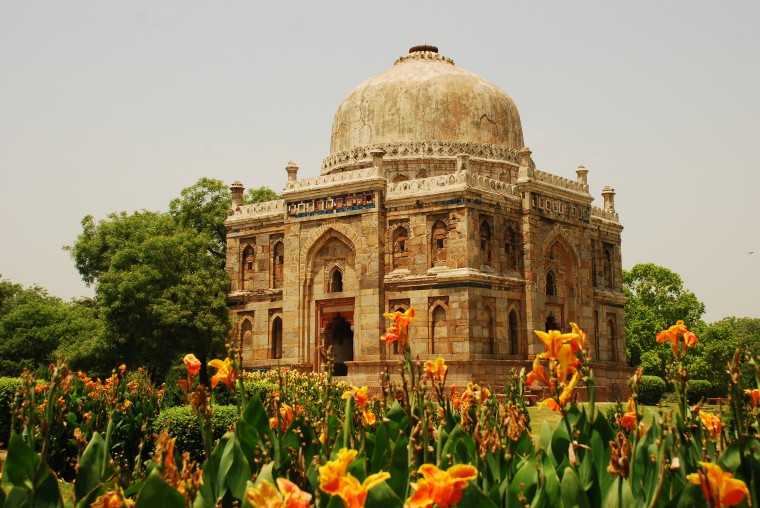 A peaceful afternoon among the gorgeous flower beds and beautiful scenery in the archaic ruins of
Lodhi Garden
is what you need with your better-half after a dreary day. Being the best couple park in Delhi, couples can spend time talking or just enjoy the tranquillity of the gardens while lying down on the wide-spread green lawn. The Garden also has a lot of famous food joints to end your day with some mouth-watering delicacies. However, Lodhi Garden restaurant is permanently closed now.
3. Hauz Khas Village for a Memorable Date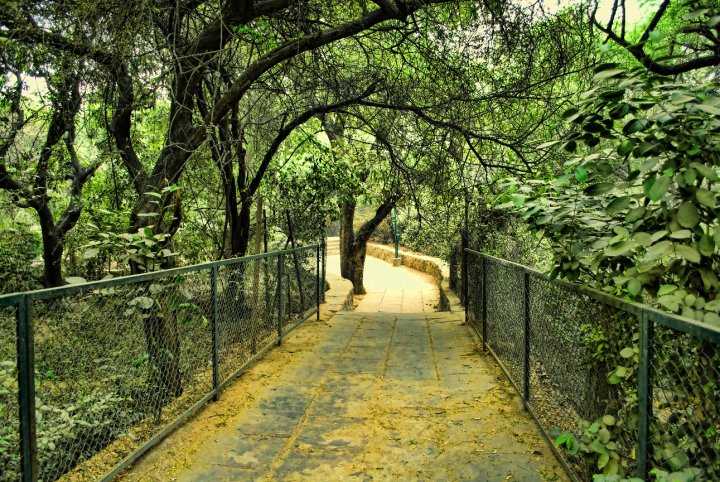 Hauz Khas Village
is one of the best places for couples in Delhi that fulfils all the needs for a fun-filled date. Start your Special Day by choosing one of the cafes that you both would have a delicious brunch and have a great conversation in. Take a walk through the Hauz Khas
Deer Park
. You can occasionally spot deer, rabbits, peacocks and guinea pigs while taking a stroll among the well-trimmed lawns and pretty flower beds. The place also has various small rooftop cafes like Amour which offers you a beautiful view of the lake from above along with delicious food. The Hauz Khas Fort is filled with remnants of Islamic Architecture, and the lake with sparkling water that gives you a sense of tranquillity. As the sun goes down, view of the fort during sunset is beyond words. The place gets even more lively for couples after the sunset with the replete number of Pubs and Restaurants. Isn't that a perfect date now?
4. Rose Cafe, Saket


A lovely Victorian themed café with pastel interiors, Rose Café, although situated in the boring and dreary Said-ul-Ajab locality, Saket, is still an apt place for a romantic rendezvous. This little café offers you delicious food along with cosy interiors, the perfect setting for a first date.
5. Romantic Sunsets at Parthasarathy Rocks, JNU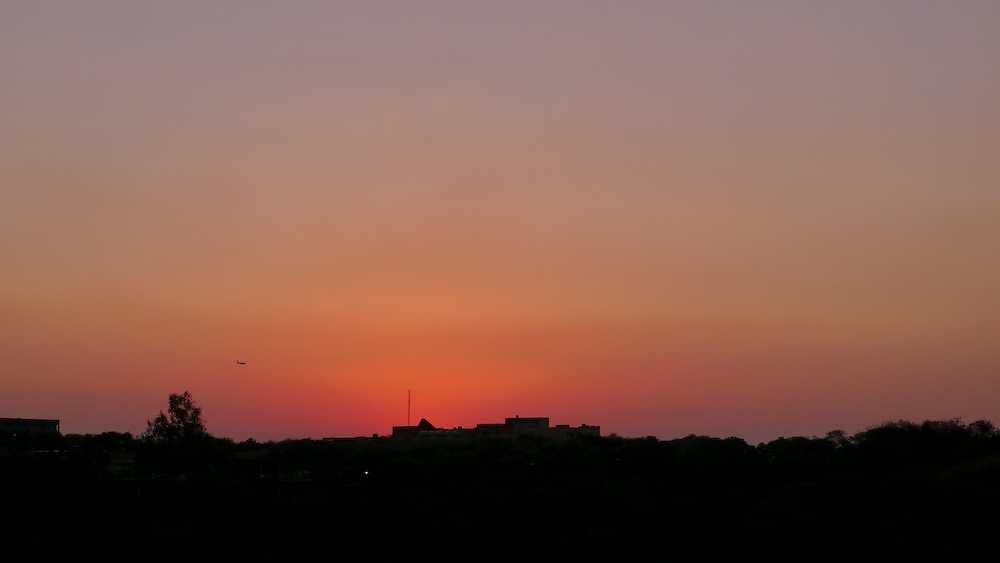 No matter how cliché sunsets are, nothing beats their beauty and the golden and violet hues that colour the sky post the sun is off to sleep. The Parthasarathy Rocks is an open-air auditorium in the JNU Campus surrounded by some rocky hills. Gazing at the horizon with ton amour, while the sun drowns below it is a sight to behold here and to be locked away in your memories for eternity.
6. Shop and Dine at Delhi Haat, INA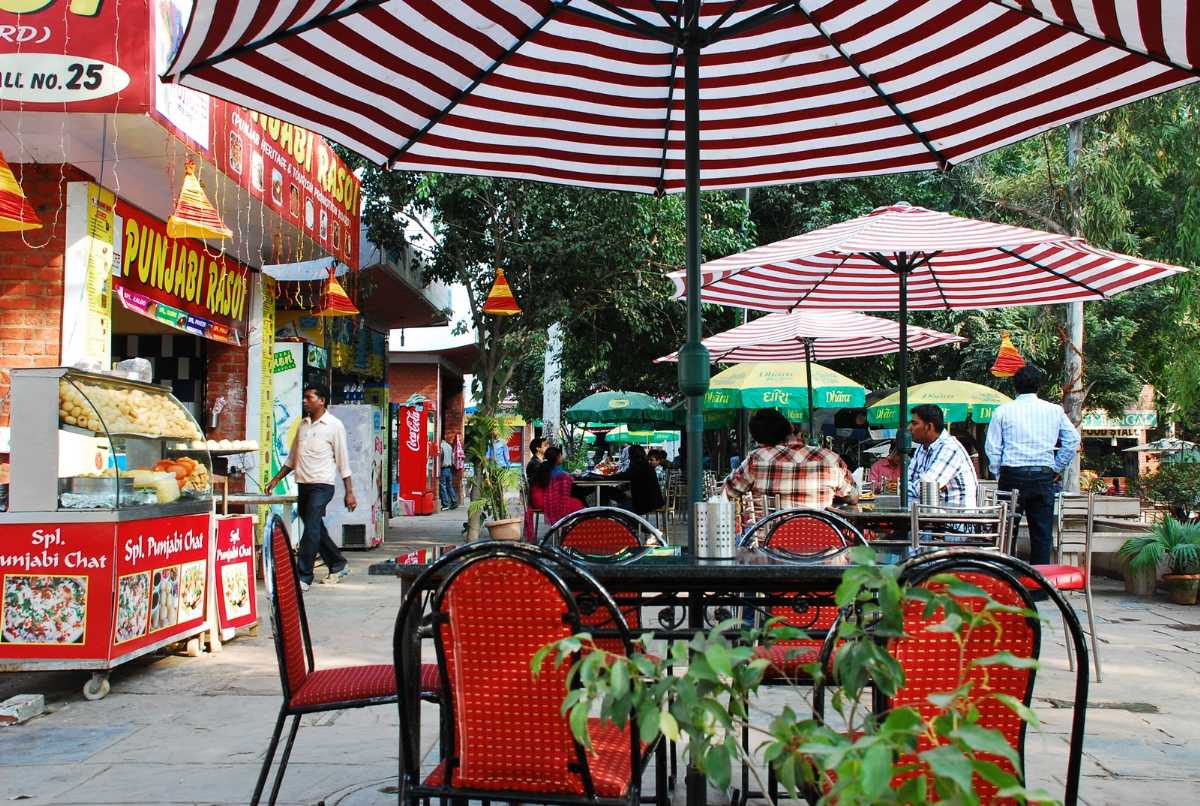 The saying "Shop until you drop" is indeed true when it comes to
Dilli Haat
. Although crowded and noisy, one cannot deny the place is lively and vibrant with beautiful handicraft shops and delicious cuisines from around the country. Although you may be deprived of privacy here, the pair of you will have the time of your lives while tasting different cuisines and simply talking. There is also Bengal and Naga Pavilion for a quiet stroll after dinner.
7. A Quiet Stroll Along Ridge Road, North Campus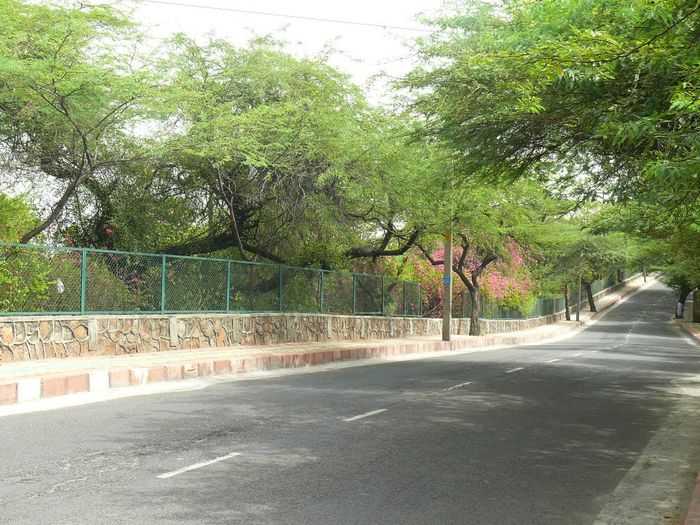 A long drive or a stroll along a quiet, deserted road is among the top to-do lists of any couple, and the Ridge Road provides you just that. Ridge Road is a tranquil as well as a beautiful place unlike the usual hustle-bustle of the city. You can explore the Mutiny Memorial and the Baoli near Pir Ghalib after a long, peaceful walk.
8. A Bit of History in the Qutub Minar Complex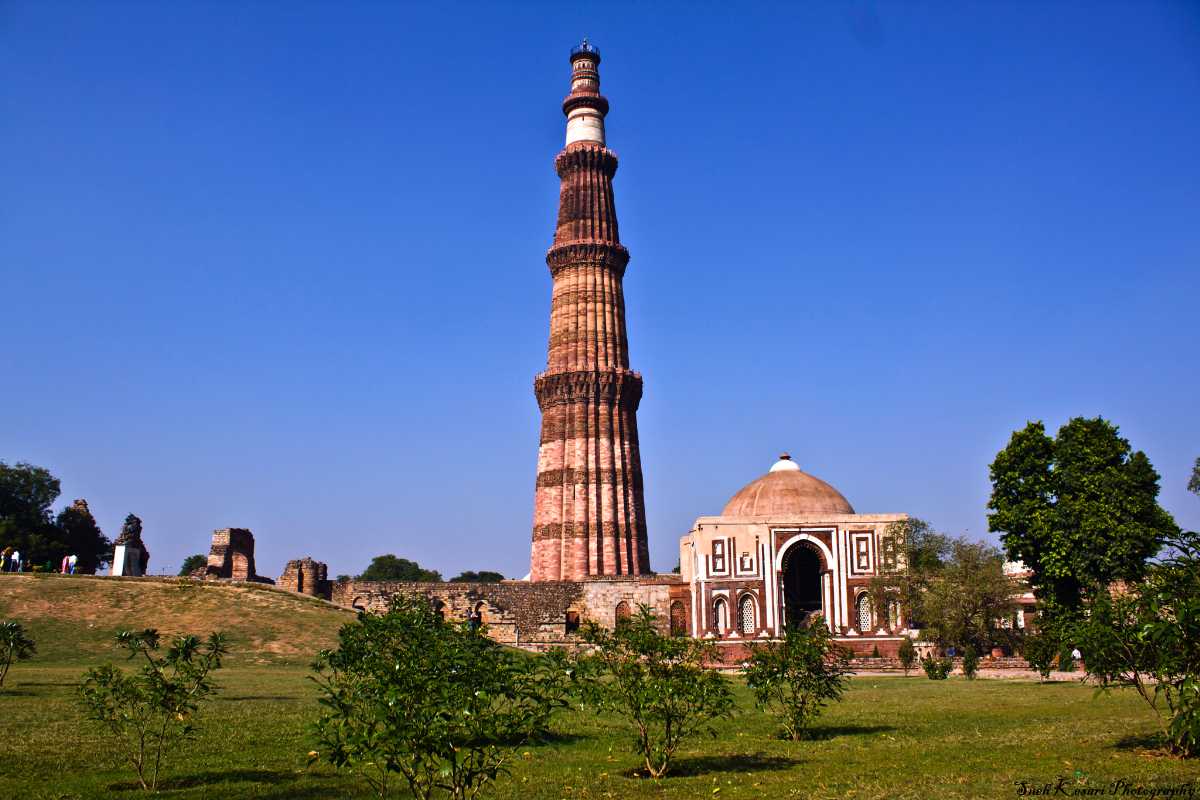 Relive a part of the past in the
Qutub Minar Complex
in Mehrauli, which has a lot of other historical monuments too. Spend an evening here with your loved one discussing your future, while being surrounded by the historical past.
9. Connaught Place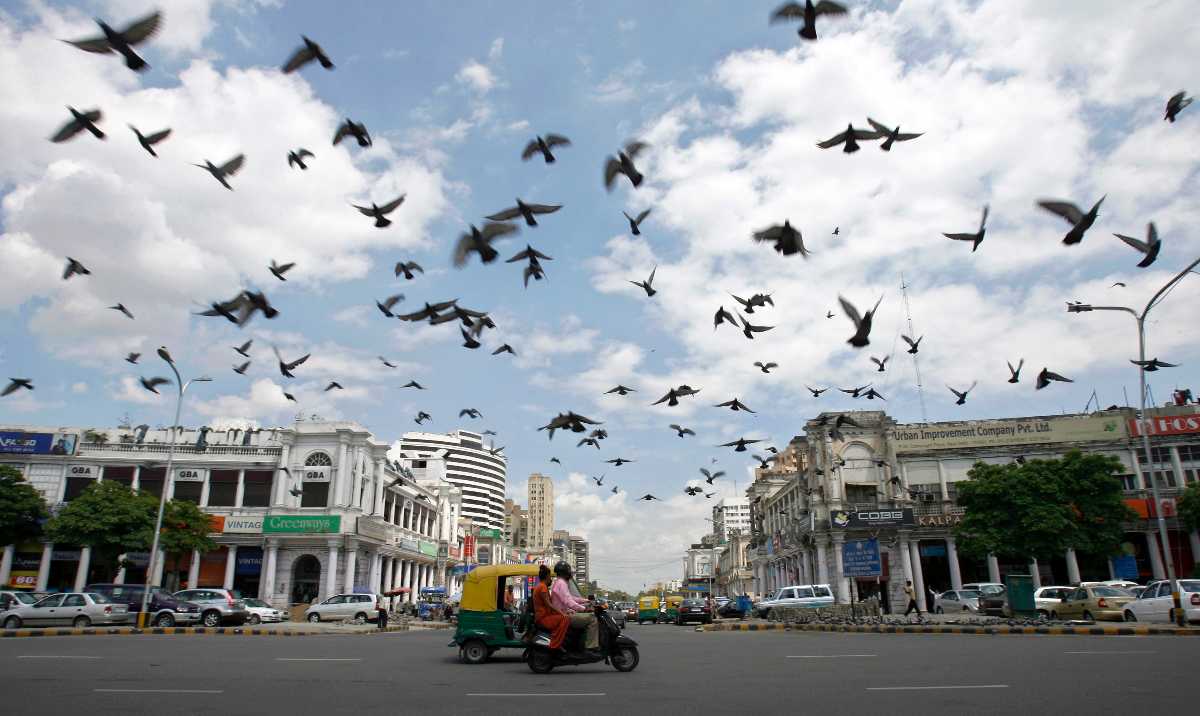 With stunning white colonial structures and various shopping and eating outlets,
Connaught Place
is a popular hangout spot for the couples. Sitting in the
Central Park
and simply enjoying each other's company is one of the top things to do here.
10. Be Adventurous at the Indian Mountaineering Foundation, Moti Bagh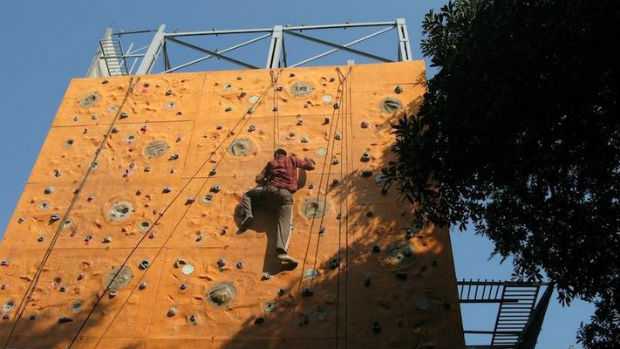 If you're a couple who loves adventure and trying new things, the Indian Mountaineering Foundation is the place for you. Here, you can try various sports such as rock climbing, Burma Bridge, rope ladder and tyre swing. It doesn't matter if you're a novice or an expert at it, the place promises you fun and adventure.
11. World of Wonder Theme Water Park, Noida


Fulfil your quest for adventure at one of the best amusement parks in NCR. Spend a day here trying out all the rides and activities with your partner and create everlasting memories while reliving your childhood with them.
12. Hispanic Love at Sevilla By The Claridges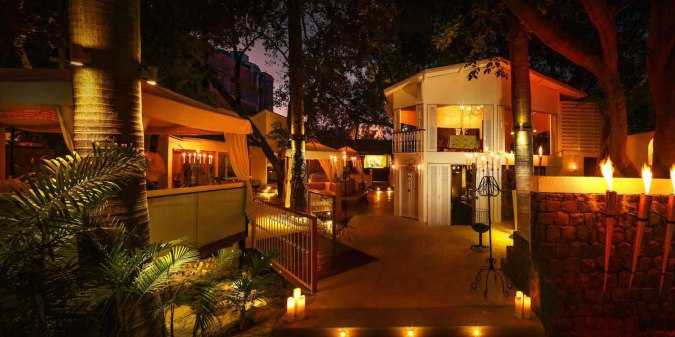 An extremely cosy and romantic Hispanic themed restaurant, the Sevilla, gives you a taste of
Spain
in the Capital. The place serves delicious Moroccan and Southern European cuisine. With soft yellow lights and candle-lit dining under the tents, The Sevilla is one of the most romantic places in Delhi.
13. Thai High in Mehrauli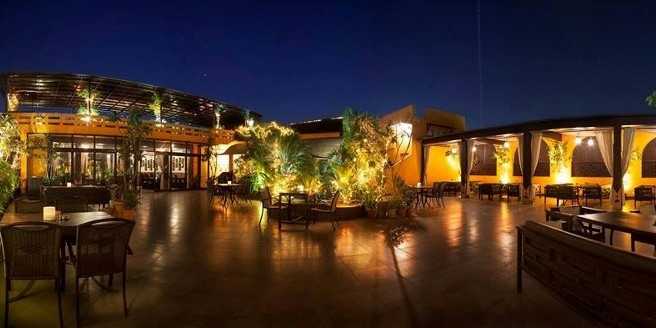 A romantic rooftop restaurant with fairy lights and the city lights below, Thai High is an apt place for a peaceful dinner with your loved one where you can talk about each other's long day while enjoying authentic Thai food and beautiful view from the top.
14. Bird's Eye View At Delhi Eye, Kalindi Kunj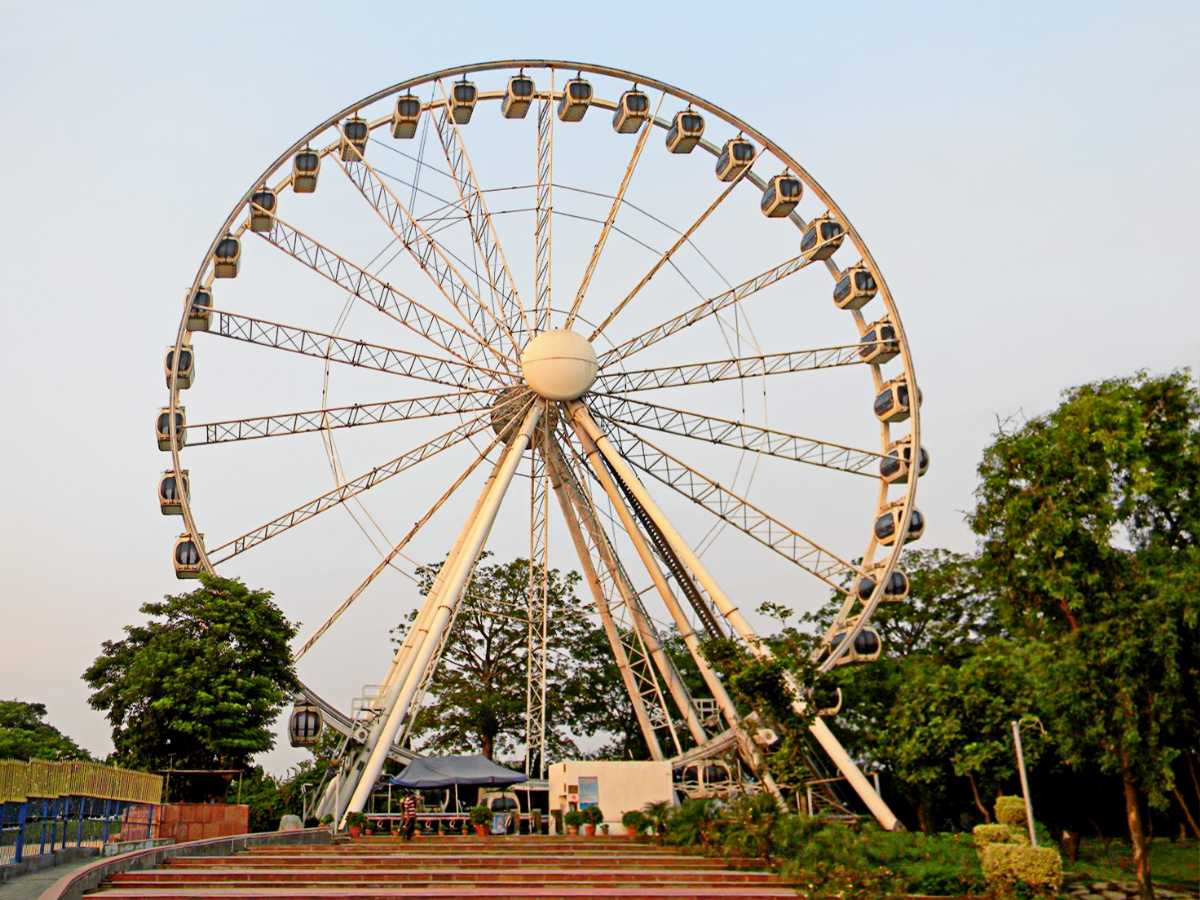 Being in love feels like being on top of the world, yes? Delhi Eye gives you the opportunity to experience the feeling both, literally and figuratively, while giving you a view of the entire city below with the beautiful horizon above, in air-conditioned capsules.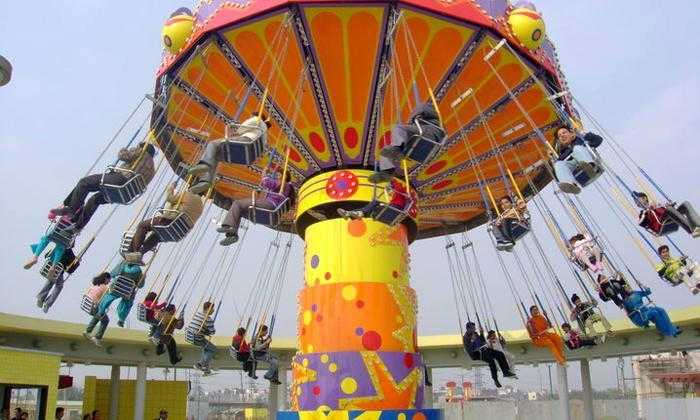 Another theme park for the pair of you to recreate your childhood memories, this time together! Located in one of the biggest malls in Delhi, Metro Walk, Adventure Island has not only thrilling rides but also entertaining events occasionally, such as belly dancing, hula-hoop, fire acts and magic shows.
16. Live Up Your Dream in The Kingdom of Dreams, Gurgaon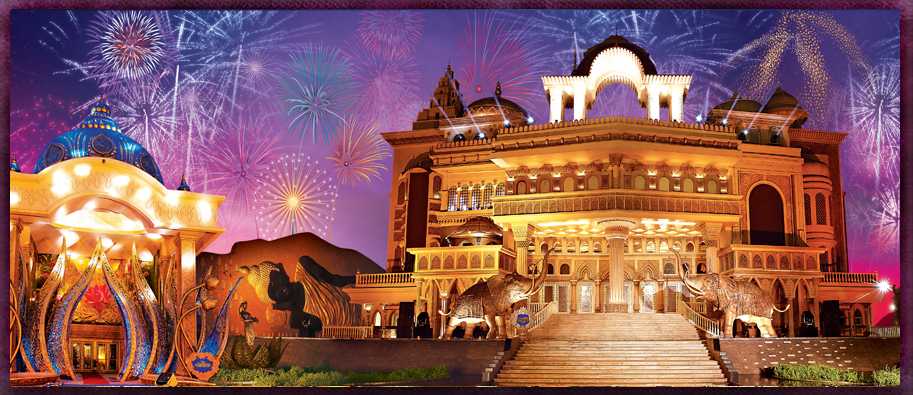 Kingdom of Dreams is where you get to live the Bollywood life you both always dreamed of and can be the Hero-Heroine of your own story. The place is a mixture of inspiring art, cultural performances and lip-smacking food. The setup is as grand as Bollywood movies!
17. Under The Stars at Nehru Planetarium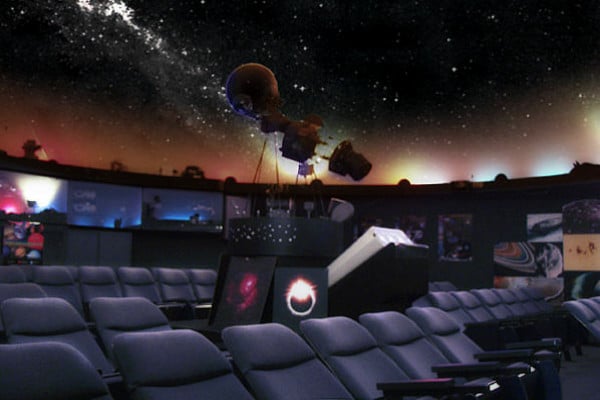 Spend your day with your love below the moon and stars, up and close. After all, nothing is more beautiful than gazing at the twinkling stars and the bright moon, during the daytime at that. Lose yourself in your own universe with your partner.

A stroll in the green lawns of the Purana Qila while gazing at the ancient but beautiful red sandstone Fort, gives you a sense of being away from the city while being in the city. You can also go boating on the lake or visit the nearby zoo to spend some quality time with your soulmate.
19. Cafe Lota - An Old School Love Story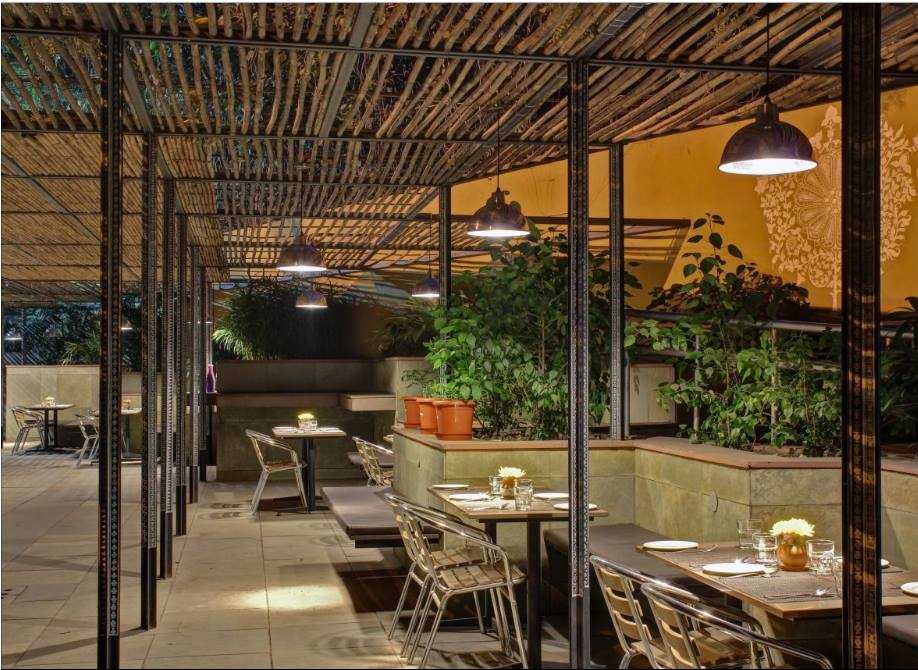 Cafe Lota is no doubt the place for all the old school Romantics to be if they have to be somewhere in Delhi. Located in the compound of National
Crafts Museum
, Cafe Lota offers an all North Indian menu with a healthy twist. The Cafe is dear to the school and college crowds and couples who love the old school setting with the classical music of All India Radio playing in the background.
20. Street Food Hopping - A Delicious Love Triangle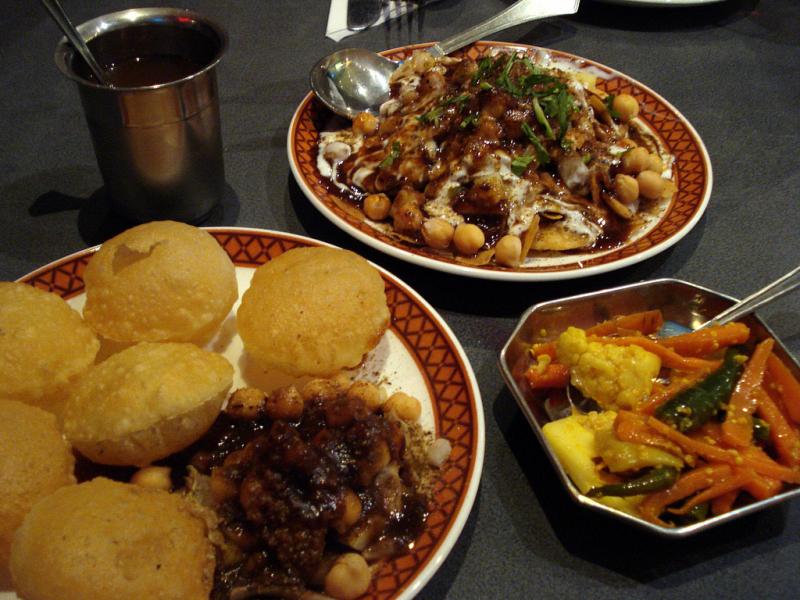 When there is a love triangle, where you both love food, then the best way to get that bond together is to hop around the streets of Delhi discovering the wonderful taste that the City streets offer. Explore the
Street Food in Delhi
together hand in hand, coz a couple that eats together stays together.
21. Mehrauli Archeological Park - A Historical Romance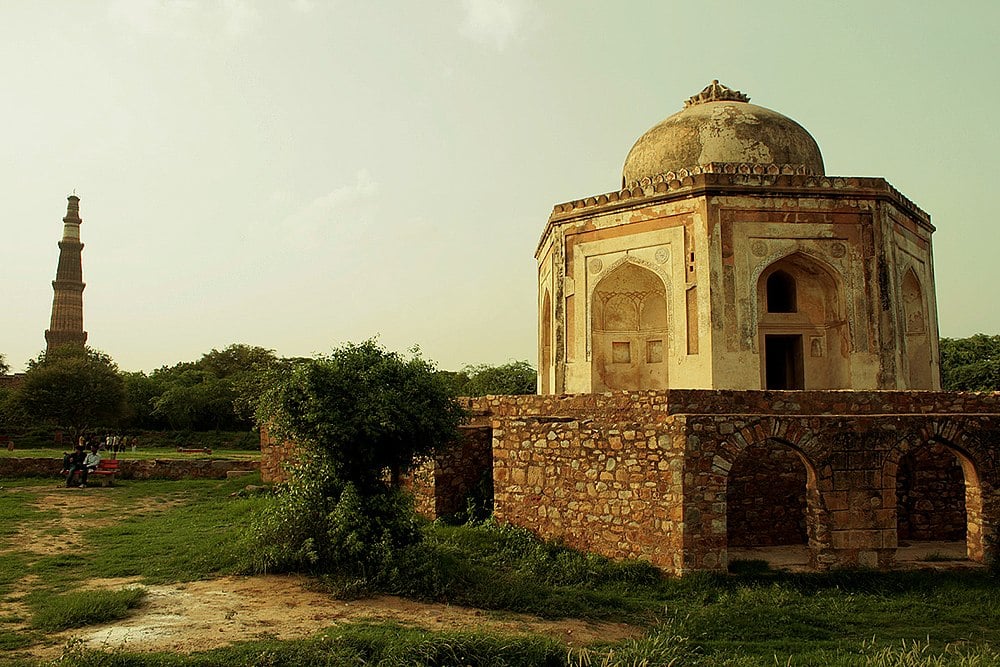 Mehrauli is one of the seven ancient cities that comprise the present state of Delhi, and the archaeological park here is a testament to the richness of its past. Knowing the history of the Dehli would be a great idea for those who fell in love in this very own city. The park presents its visitors with a peaceful time together, proving to be a good place to have some great conversations. Apart from your partner and the 100 plus scattered monuments here, no one else will hear you out.
22. India Habitat Centre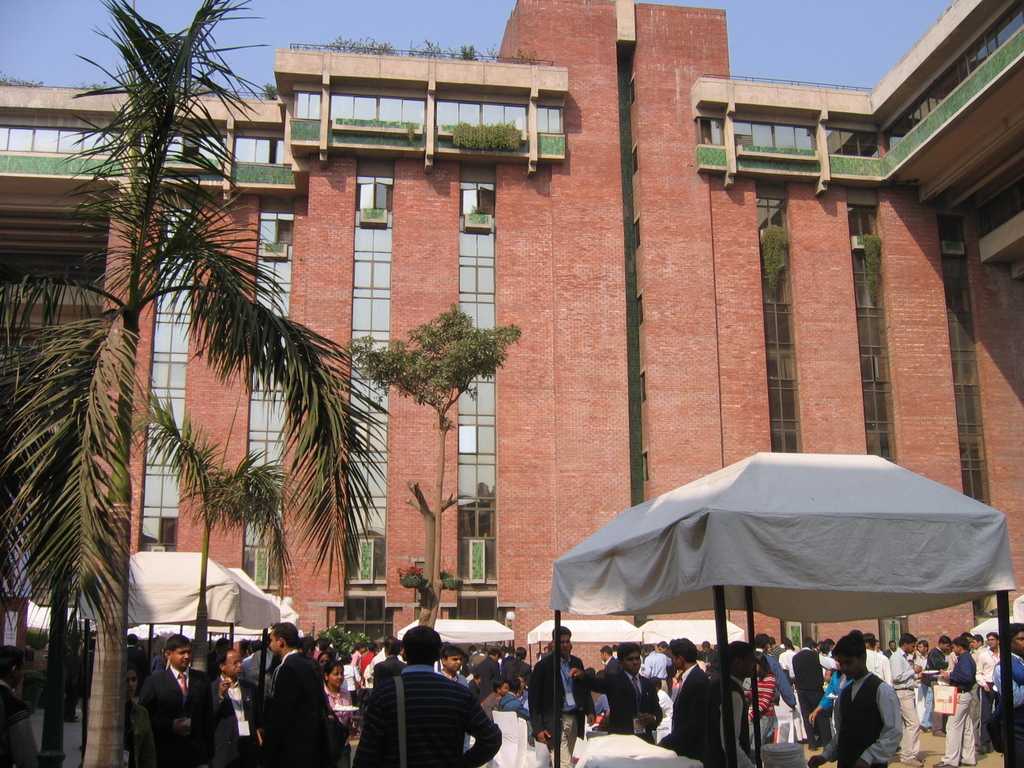 A campus situated on the plush Lodhi Road forms a multipurpose environment for cultural events, Commercial space, Food joints and Social Spots, India Habitat Centre is the heart of a happening Delhi. The place is an example of Architectural, designed to be an overwhelming environment for Social Interactions. In simple words, it is a great place to plan your next date.
23. Satya Niketan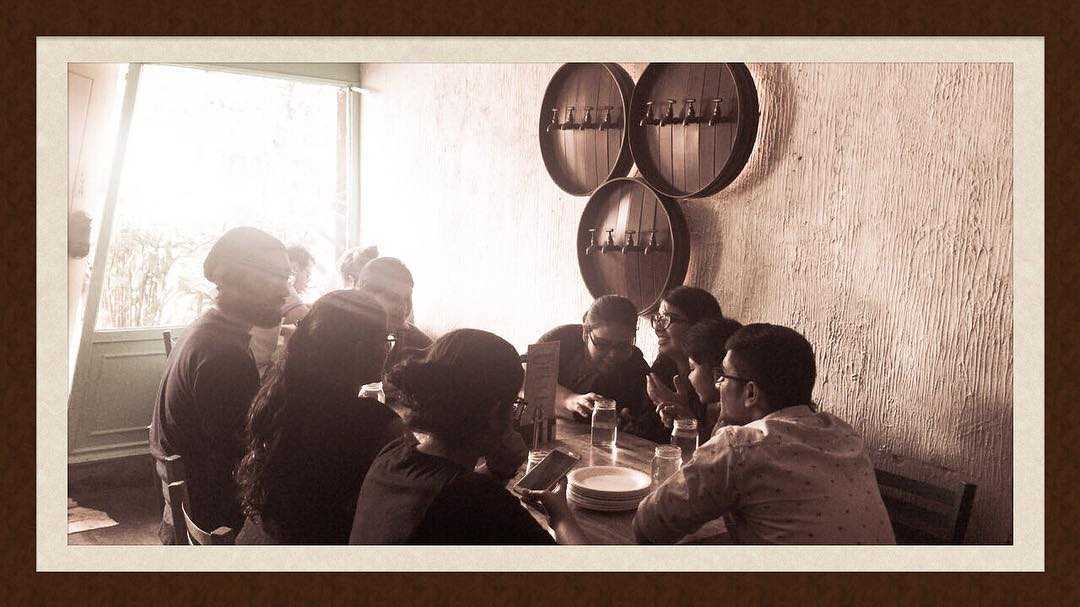 This neighbourhood is the most famous among the youth of Delhi for both the number as well as the uniqueness of cafes here. The names of the cafes are as unique as the cafes themselves. The locale has transformed itself into a cluster of rendezvous for perfect hangouts as the South Campus of Delhi University makes up for a major part of the crowd. It is one of those places meant for pocket-friendly Birthday Parties and Fun & Romantic Dates.
24. Kylin Sky Bar - Open Sky Opens Hearts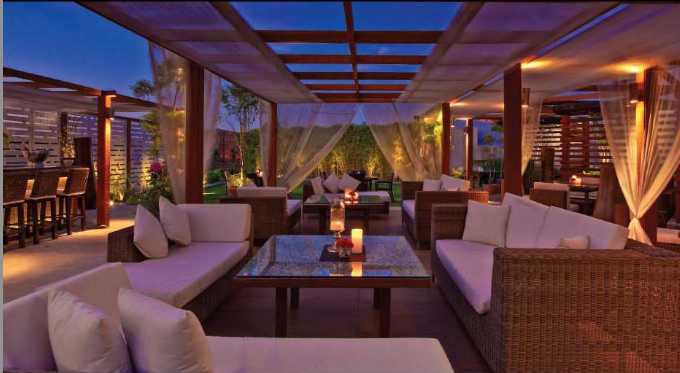 One of the most expensive bars of Delhi, Kylin premier's Sky Bar sets the bar up high for the Ambience that it serves. The place is well known for its authentic oriental cuisine with Sushi and Teppanyaki. The menu has authentic ingredients and herbs with uniquely delicious combinations of food and wine. Star of the show is undoubtedly the ambience created by the setting that includes Candle lights and plush sofas along with the open-air lounge. Kylin Sky Bar truly serves a Romantic vibe for a perfect date.
25. Olive Bar & Kitchen


Olive Bar & Kitchen nests a spectacular ambience and an amazing outdoor setting along with an Excellent taste in its food. The place is a haven for couples who love to spend lazy Sunday mornings over a classic Sunday brunch having some beautiful conversations. The open-air outdoor seating turns even more romantic in the evenings with the dusk hitting the place with some melodiously warm colours.
26. Le Cirque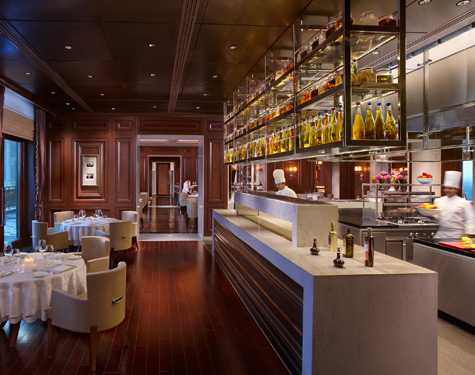 With a name that is a brand in itself, Le Cirque Delhi is a branch of the New York's Le Cirque that has proven to be among the top contenders to serve extravagant food in the world. Le Cirque Delhi has morphed itself according to the needs of Delhi and has been the go-to place for all the celebrity get-togethers in the city. A Lavish Date here over a candlelight dinner would mean so much for any couple. The tenacious vibe of the place will keep you strung to the place, maybe keep both of you strung to each other.
27. Long Drive To Murthal - From Parathas, With Love
A place that is known for its Parathas, lives for the Parathas and offers nothing but Parathas. Murthal is situated on National Highway 1 connecting Delhi to
Amritsar
, is a step away from being the Paratha capital of India. A long, windy drive, few kilometres away from the city, Murthal is a highly recommended place for couples to have some privacy and peace of mind, with beautiful monuments and roadside dhabas that serve delicious paranthas. The ride here, while singing along your favourite songs or just simply talking, is worth it. Murthal, being away from the city, is comparatively less polluted and populated. You can spend the much-needed quality time with your partner & take home some Memories of Desi Romance with your partner around some of the most delicious Parathas.
28. Damdama Lake - To Calm Your Hearts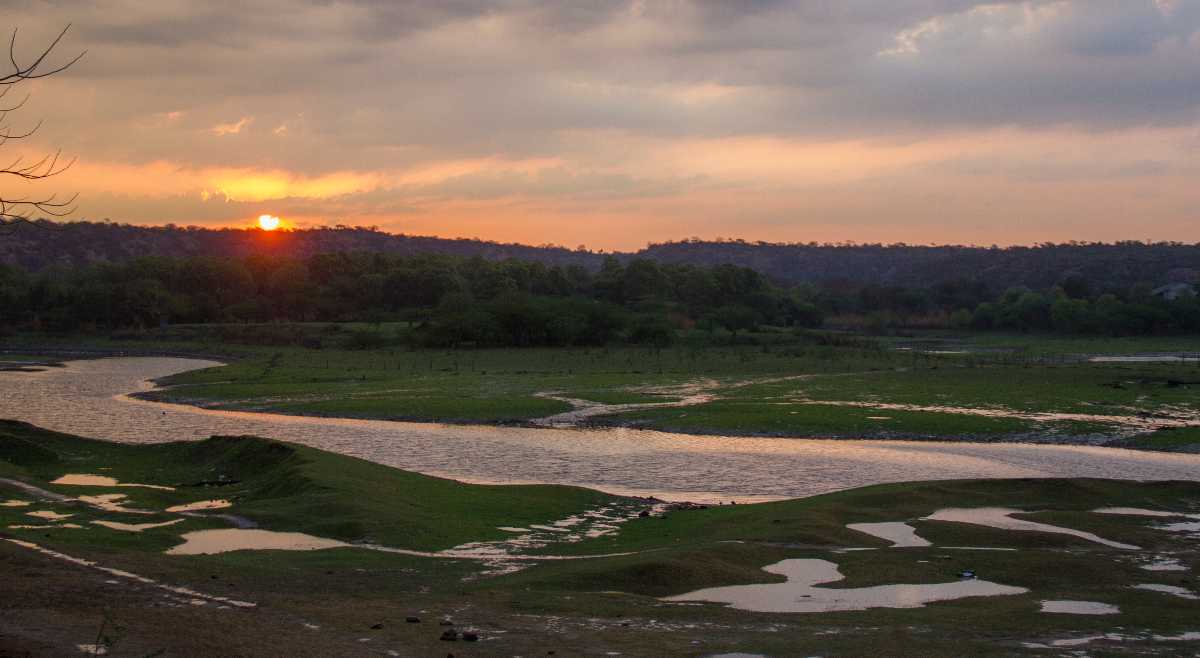 An hour drive away from New Delhi, it has a calm, rural and peaceful vibe about it. Home to over a hundred and ninety species of native and migratory birds, water levels reach as high as fifty feet during monsoons and winters and most of the migratory birds are spotted during these seasons. You can enjoy the lovely view when boating in paddle boats, row boats and motorboats.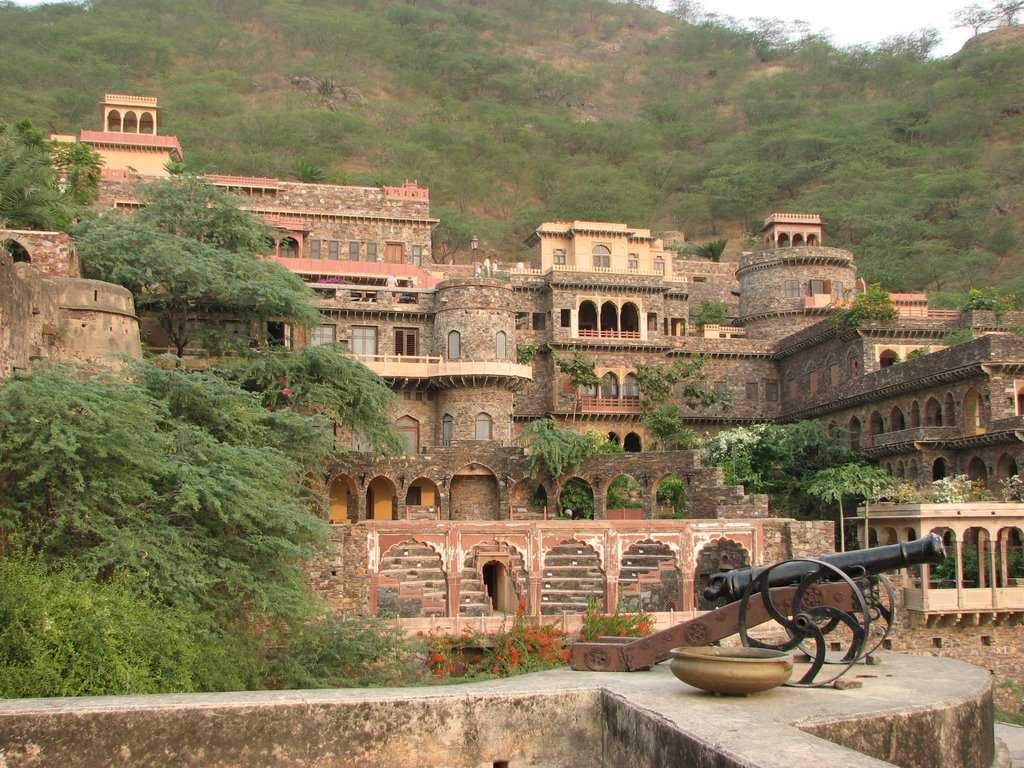 Neemrana town is located in
Alwar
in Rajasthan on Delhi-Jaipur highway. It is famous for its magnificent Neemrana Fort Palace, which is now converted into one of the Rajasthan's oldest heritage luxury hotels. The place is popular among Delhi crowd as a perfect place to visit just for a day to enjoy the heritage resort and also other activities including zip-lining, swimming, etc. The vibe of Neemrana gets romantic in the evenings, attracting many couples from Delhi to spend some time together away from the world.
30. Champa Gali

Delhi has never failed to come up with cute little surprises every now and then. So if you are looking to drive away Monday blues or vie for a taco Tuesday or just want an endearing dinky locale to take twee pictures and post it on your Instagrams, we at Holidify have come to your rescue. The newly established locale is gaining momentum and significant popularity not only for its scrummy food cafes but also for its Parisian alleys and glitzy labyrinthian setting. The spot offers a rustic old-world charm and is a blend of itsy bitsy cafeterias, coffee shops, art galleries and some organic knick-knack stores. The once ramshackle area of Saidulajaib next to Saket has been revived and is now adorned with tinsel light, cultural decor, fancy thematic setting and tiny seating spaces which are sure to take to you back to lanes and gullies of 'Midnight in Paris'.
31. Tonino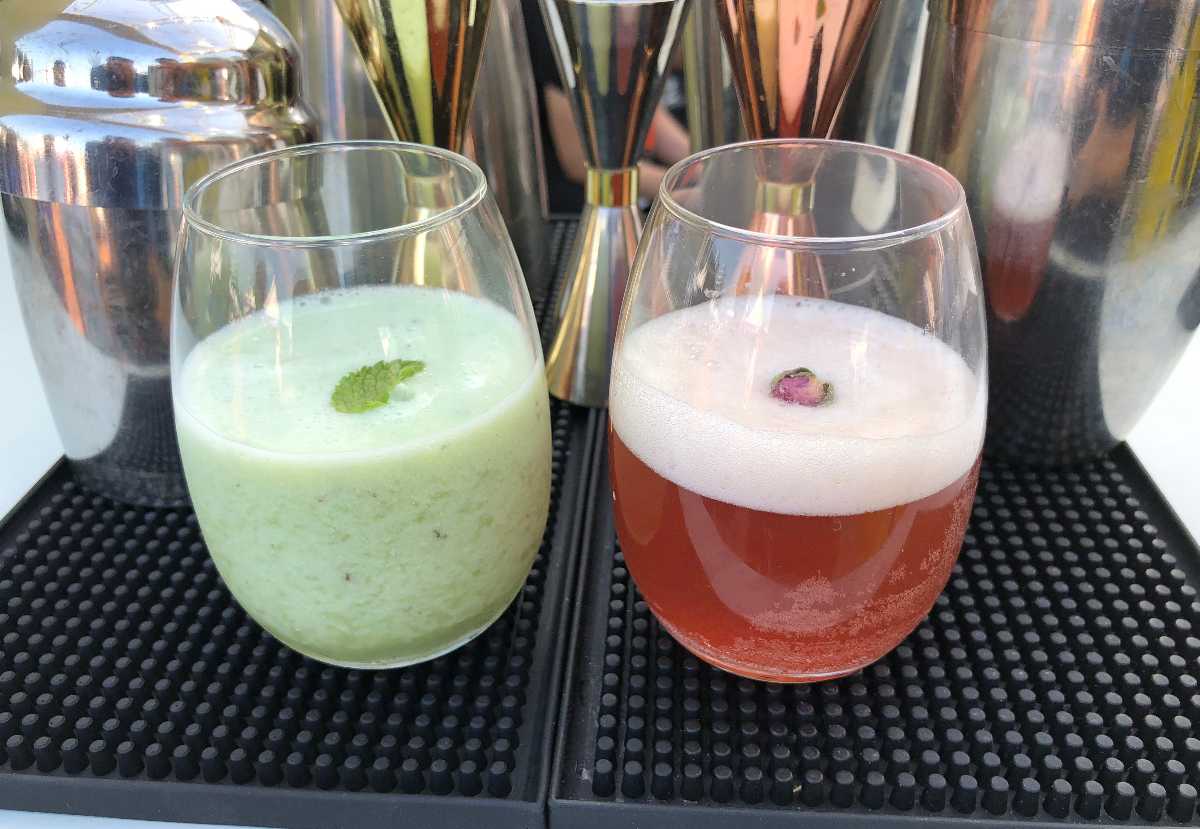 If you and your partner crave for some fine Italian wine and dine, then this place is just a must-visit. Moreover, the cosy ambience in a Tuscan Villa, classic wooden furniture and outdoor seating in the midst of mango trees calls for a perfect date!
32. Music & Mountains Hillside Cafe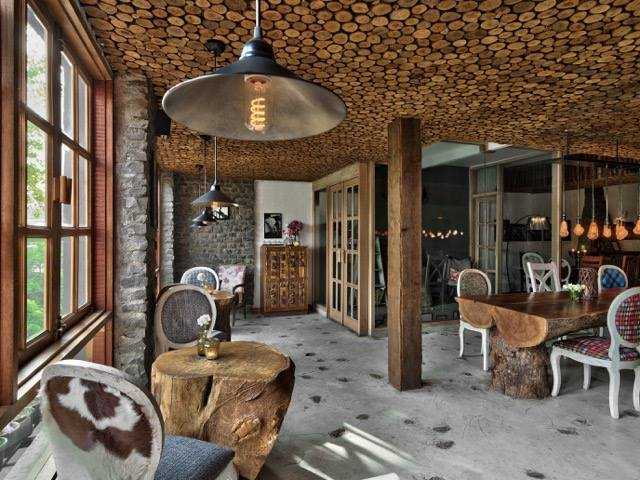 This Cafe in GK M Block resembles a rustic mountain Lodge! They serve continental food but the ambience would remind you of an old English cafe. This quiet corner in the otherwise busy city is an amazing place to simply sit and talk for hours with your partner. This is a great place for a first date actually!
33. Canvas Laugh Club, Gurgaon and Noida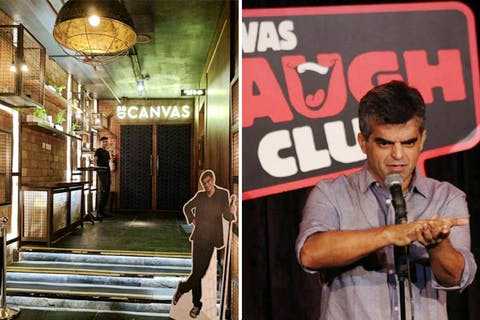 Couples that laugh together, stay together. So drop in at the Canvas Laugh Club for the perfect date that's not your regular dinner or candlelit experience. With some of the biggest names in comedy performing almost every night here, even a spontaneous date night plan at this club will be a memorable one with line-ups like Pratyush Chaubey, Aakash Gupta and more. They even have Open Mic nights.
Delhi is indeed a city which gives you a large variety of places to choose from to spend the day with your loved one and make them feel special. Be it for a first date or the 10th one, these places in Delhi are sure to make your partner feel loved, and they won't disappoint either of you.