The 72nd Republic Day of India is right around the corner. Every year has something special about it. The spectacular Republic Day parade is always the highlight of the day and there are several reasons why anyone would want to watch it live instead of staying at home and watching it on their televisions.
Here's a guide on how you can watch the action live at Rajpath, New Delhi.
Chief Guest for Republic Day 2021
To be decided
Republic Day Tickets
There are a couple of ways to get tickets to this year's Republic Day parade. You can either use your contacts (must be senior government officers or VIPs) to help you get a front-row seat or you can buy it as other normal people would do.
Now, buying tickets for the parade is not as easy as it sounds. The tickets are sold only at selected offline counters. So if you do find some websites online, don't buy from them as it's a scam. Here's a list of all offline counters. Tickets will be available from
January 7
to
January 25
.
1. North Block Roundabout
2. Sena Bhawan (Gate no. 2).
3. Jantar Mantar (Main Gate).
4. Shastri Bhawan (near Gate no. 3).
5. Pragati Maidan ( Bhairon Road - gate no. 1).
6. Red Fort (located opposite Jain Temple inside August 15 Park)
7. Jamnagar House (located opposite India Gate)
8. Parliament House Reception Office, ( a special counter only for the Members of Parliament)
Timings:
The counters will be open daily (except January 23 due to full dress rehearsal) from 10:00 AM Â to 12.30 PM and 2:00 PM to 4:30 PM Shastri Bhavan, Jantar Mantar, Jamnagar House, and Sena Bhavan counters will remain open till 7:00 PM from January 23 to 25.
Ticket Prices
1. Reserved: INR 500
2. Unreserved: INR 100
3. Unreserved: INR 20
Reserved seats are located closer to the parade. Unreserved tickets are first come first serve basis.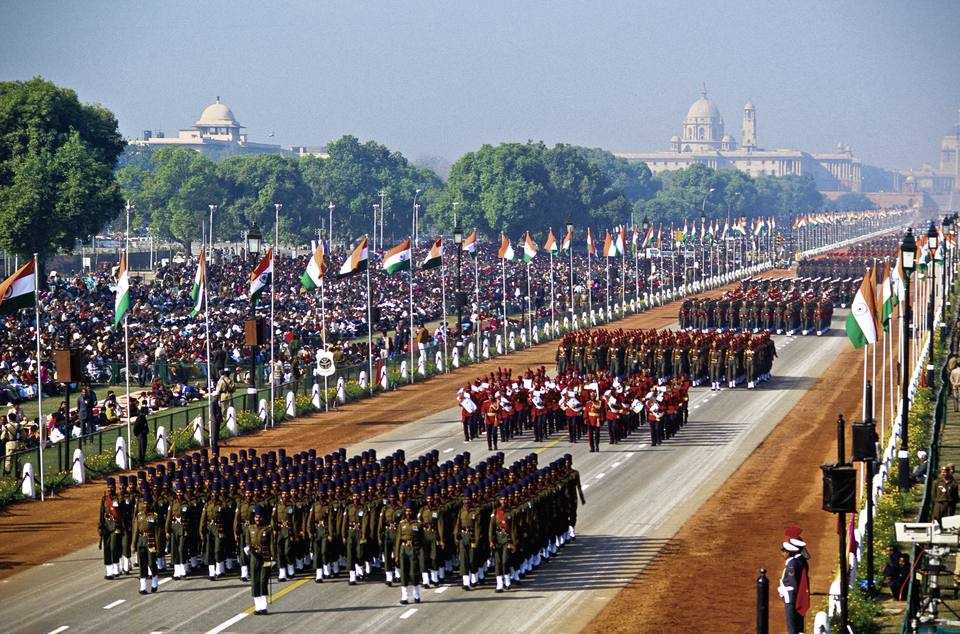 Tips for Buying Tickets for Republic Day

1. Get ready to stand in line for several hours if need be.
2. Any government identified card such as Aadhar card or Voter id must be presented while buying the ticket
3. The task can get taxing as there are limited tickets sold at each counter and some counter don't receive tickets till a long time. Make sure to arrive at the counter early.
4. The INR 500 tickets are the most in-demand and are the least in supply. So if you want to get hands on them, make sure to arrive super early (at around 8:00 AM). Do note that only one ticket can be purchased on one id.
5. The INR 100 tickets have a decent view and their availability is more as well. Two tickets can be purchased on one id in this case.
6. The INR 20 tickets are readily available but you won't get a good view from here.
Beating Retreat Ceremony
A Beating Retreat Ceremony follows the Republic Day Parade. The ceremony is held at Vijay Chowk on January 29th. It symbolizes the pinnacle of the four days long Republic Day celebrations. Tickets for the same can be purchased at the same counters before 28th January afternoon.
Ticket Price:
1. Unreserved: INR 50
2. Unreserved: INR 20
Things to Carry
1. A warm jacket as the weather will be cold.
2. Don't carry a camera or any other video recorder as it is strictly prohibited.
Getting There
The parade is a high-security affair. The area between Red Fort and Vijay Chowk is kept free from traffic. Use public transport as there will be a lot of traffic and no parking space unless you have a "Park & Ride" label on your vehicle. In that case, you get to park your own vehicle in the designated spot. The label is only for special invitees. Also, note that metro stations near the parade area are closed. So you will have to get down at the nearest open metro station and board a shuttle service run for that particular day or walk to the venue.
Accommodations Nearby
Coming to Delhi especially for the parade? Fret not, as there are several accommodation options in the area.
1. Hotel The Royal Plaza (4 stars) - 2.8 km from New Delhi Railway Station. Rooms start at INR 5500
2. The Claridges New Delhi (5 stars) - located at APJ Abdul Kalam Road. Rooms start at INR 8000
3. OYO 11594 Hotel TVS (3 stars) - 0.4km from Sadar Bazar. Rooms start at INR 3000
4. Hotel Metropolis Tourist Home (3 stars) - 2 km from New Delhi Railway Station. Rooms start at INR 2000
Contact
For any queries, you can call the officer in charge of ticket sales on (011) 23793918.
Join the celebration and watch the Republic Day Parade live this patriotic day in New Delhi