It is said that no age bars one from indulging in what one truly loves. As children, we celebrate nonchalance, togetherness and are least inhibited to let ourselves to adventure, experimentation and fun. The daily lives in urban cities with all its stress and deadlines tend to take a toll on us. While we may not have the time to plan out a vacation to a beautiful beach, we could definitely spare a weekend to head out to adventure parks located in
Delhi
and its nearby regions. These amusement parks have spectacular water parks, adventure rides and activities and even hands-on old-school activities such as hide and seek, hopscotch etc. that give us an adrenaline-pumping experience. Not only that, but they also offer us an opportunity to take a break from our automated lives and go back to the days of human connectedness and organic games that make us one with our natural surroundings and allow our senses to be rejuvenated and kindled.
Read on to know about some of the best Amusement Parks in Delhi NCR and what all they have got to offer:
1. Worlds of Wonder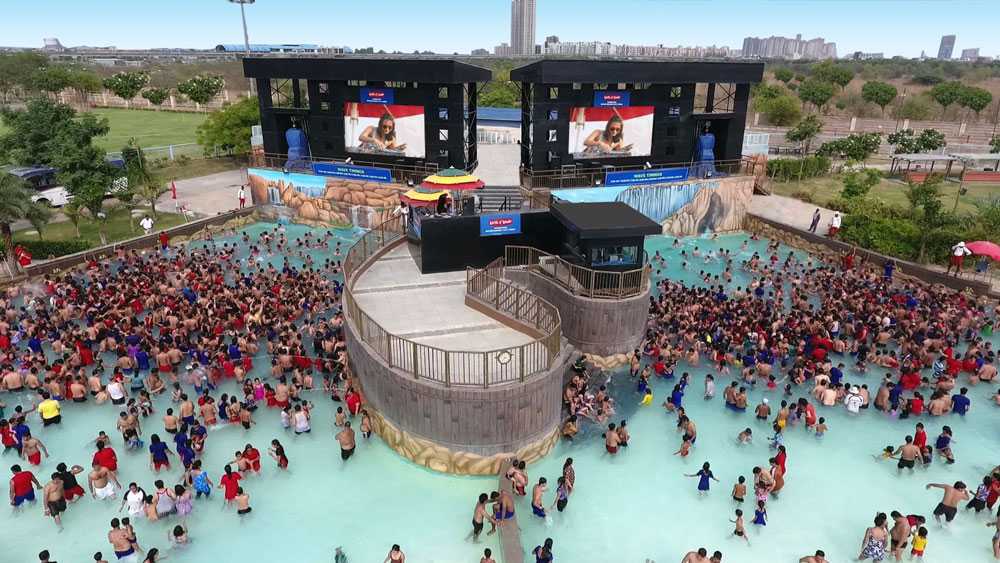 Worlds of Wonder
is divided into two sections - La Fiesta, i.e. the family zone and a Teen Zone. It is a world-class combination of the adventure park, go-karting track and water park. A regular ticket offers unlimited access to all the rides in the parks. Rip Curl,
Underwater World
, Wave Pool, Boomerango, Rapid Racer, amongst others are sure to give you a cool experience to beat the Delhi heat the thrilling way. Rocking Roller and Mega Disco are some of the other electrifying rides that the adventurous ones must try out.
Address:
Sector 38A, Gate no. 11, Entertainment City, Adjacent to Great
India
Place,
Noida
Timings:
11:00 AM - 8:00 PM
Entry Rates: 
Weekdays: Children- 599 INR; Adults- 899 INR; Senior Citizens- 499 INR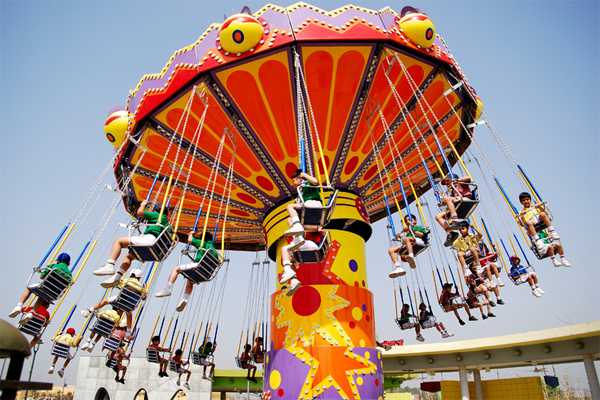 Probably the most famous of all adventure parks in Delhi NCR, Adventure Island is a one-stop haunt for all the dose of thrill and enjoyment. It is a super-hit with kids and adults alike, and couples find it a refreshing change to head to for spending an exciting date! It has a vast array of adult rides, rides for kids, water rides as well as special events that are organised from time to time. Feel the adrenaline pumping as you head for a ride on 'Butterfly Feeling' or 'Twister' meant for adults; alternatively, you could let your inner child have fun on less scary rides such as Wild Wheels, Sky Riders or Splash Down. Wave Rocker, It's a Ringa Ringa Thing, Bush Buggies, Splash Dunk and Bumper Cars are loved by families and large friends' groups. In addition to the adventure park, you could dabble in some window-shopping experience at the Metro Walk, which is dotted with all the latest brands, and finally, head towards a satisfying lunch or dinner at plenty of culinary options available. The best part about this place is its super convenient connectivity by metro as it is located bang opposite to Rithala station on the red line.
Address:
Adventure Island, Opposite Rithala Metro Station, Sector 10-Rohini
Timings:
11:00 AM- 7:00 PM, Retail area is open till 11:00
Entry Rate: 
Unlimited Rides
Ticket- INR 600, Happy Hours Ticket- INR 350, Couples Ticket (Rides + Food)- INR 1250
Appu Ghar is a name synonymous with introducing entertainment and amusement parks to a whole generation since the 90s. It was relocated to Gurugram behind Huda City Centre where it houses the Oyster Beach and Great India Place,
Gurgaon
. Their Skyfall is the tallest ride in India, and along with rides like OMG (Oh My Gurgaon), Rapid Racer, Typhoon Tunnel and Lazy and Crazy River, you are sure to experience some real thunder! You can also have a feel of an actual beach while lazying on the loungers put up next to the wave pool or even avail of privacy while enjoying the activities of the park in your personal cabana. It has a wonderful food court that serves up refreshing mocktails and has four multi-speciality restaurants - Southern Bay, Aroma Coast, Tidal Tadka and Langkawi Bay. Head out to Appu Ghar to snap out from the daily buzz and din of the city and spend a day all to yourself with your loved ones in the super-entertaining and relaxing ambience of this place!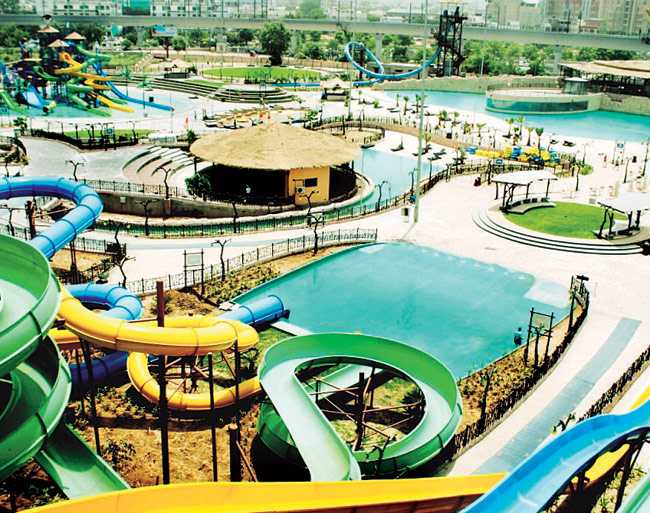 Address:
Leisure Valley Road, Sector 29, Gurgaon
Timings:
 Weekdays- 11:00 AM - 7:00 PM, Weekends- 10:00 AM - 7:00 PM
Entry Rate:
Children and Senior Citizens- INR 799, Adults (Weekdays)- INR 1299, Adults (Weekends)- INR 1399
4. Delhi Eye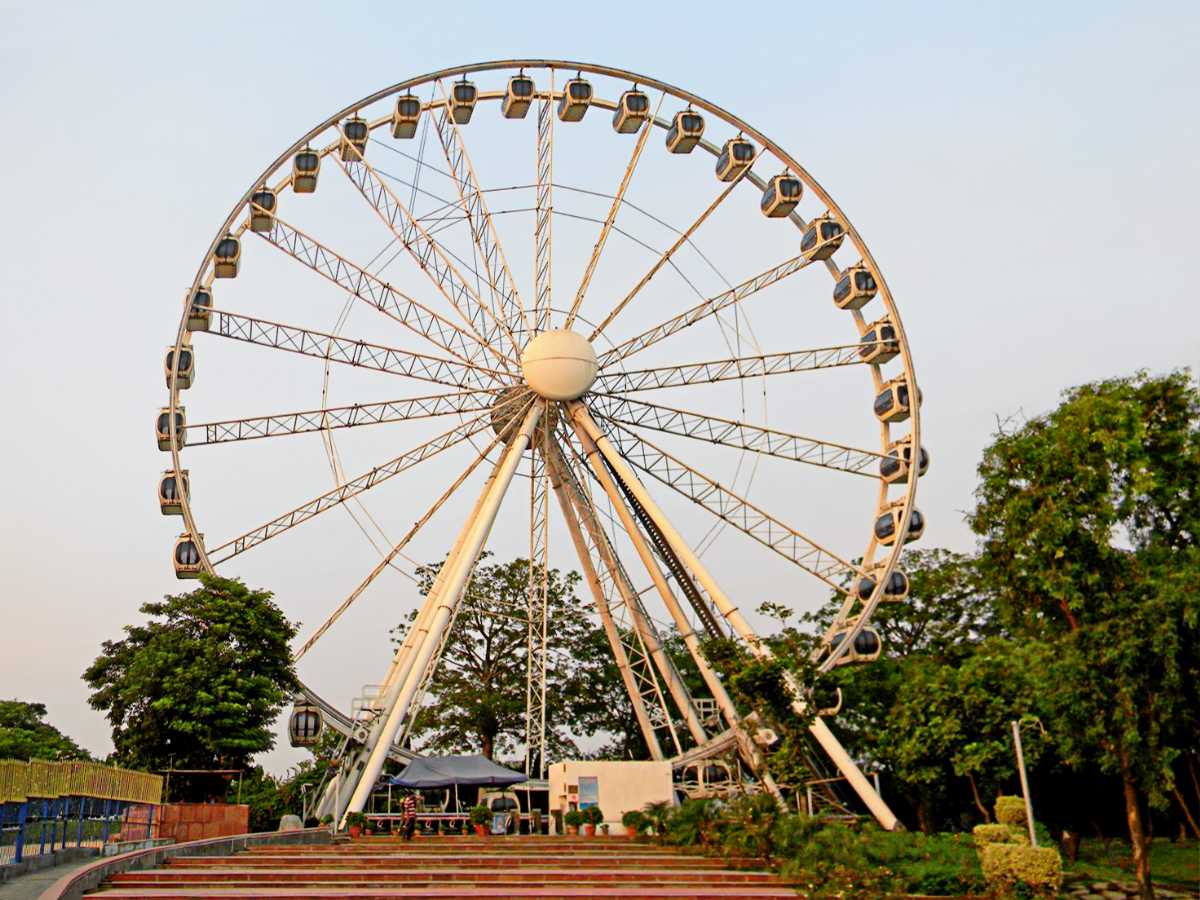 Situated in the
Atlantic Water World
which is the largest water park in the city, Delhi Eye is the largest wheel housed here. The city of Delhi has a lot to cater to the tourists, but the locals become tourists too when they enter Delhi Eye. With more than 20 slides and a capacity of approx 3000 people, it is a great place to hang out in terms of space and scope. Delhi Eye is located on the lush green spaces of Kalindi Kunj and meant to provide panoramic views of the city and the famous monuments. This giant wheel rotates around to give you views of all the big names in Delhi - Qutb Minar,
Red Fort
, Akshardham,
Lotus Temple
, Humayun's tomb and also a panoramic view of the
Connaught Place
. This whole thing happens in a time span of 20 minutes. Best 20 minutes, ever, isn't it? Wondering what would be the size of this giant wheel? For the starters, it is as high as a 15 storeyed building, that is 45 metres high. Space is great, with 36 cabins and each cabin accommodating 8 people in them. This means that a total of 288 people can go around in the wheel at one go. The maximum speed of the wheel is 4 metres per second. The cabins are luxurious too, with air conditioning, intercoms, manual brakes, power backup and LCD screens. Afraid of heights? They have a solution for this as well. If you start to panic because of any issue such as height scares, you can immediately press the Help button provided in your cabin and you shall be catered with proper help. The giant wheel is maintained and started by the same company that operates the
Singapore Flyer
, the largest observation wheel in the world. The ride, Delhi Eye started in 2014 and it has been only a few years, but the popularity it has received is massive. This is the fifth largest Ferris wheel in the world, which is all the more reason why you should be visiting it, when in Delhi. The speed is not too much because it is not meant for the thrill. As the name suggests, it is simply meant to 'eye' the city of Delhi. Your day doesn't end with just a ride on the Delhi Eye. There are plenty of things around to make your day enjoyable. Delhi Eye is not the only big thing in this amusement park. The water park is wholesome, with amazing slides, all of the varying heights. The location of Delhi Eye is strategic, making it accessible for people from not just Delhi but also
Faridabad
,
Ghaziabad
and Gurgaon.
Address:
Kalindi Kunj Park, Okhla,
New Delhi
Timings:
11 AM - 6 PM
Entry fee:
 Park Entry- Senior Citizen- INR 150, Adults- INR 250
Ride entry starts from INR 600
5. Fun N Food Village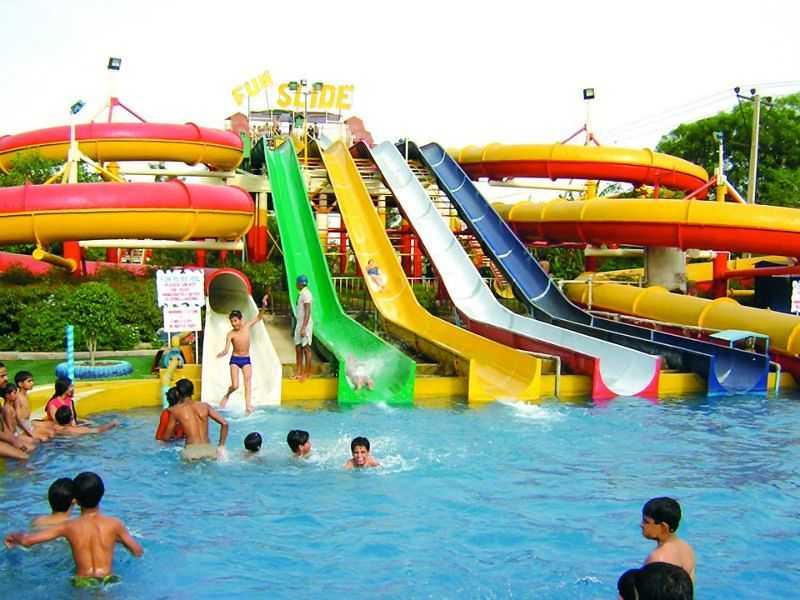 Fun n Food Village is one of the oldest amusement parks in Delhi NCR. The major attraction of this place is a 400 feet long water channel known as 'Lazy River' right in the middle of the park. It also boasts of having the largest wave pool in Delhi which makes you feel as if being swept by the soft waves of the sea. Kiddies area, Fresh Water Pool, Merry go Round, Rain Dance and Aqua Ball Slide are some of its main attractions.
Address:
Fun n Food Village, Old Delhi Gurgaon Road, Kapashera
Timings:
10:00 AM - 7:00 PM 
Entry Rate:
Adults- INR 1000, Children- INR 600 
6. Aapno Ghar
This dream-land leaves you spoilt for choices for family entertainment. Lush green grounds, adorned with fountains interspersed with 21 joyrides, Aapno Ghar, is an entertainment haven for all those living in Delhi NCR. It has special rides for small kids and also special video games parlour, puppet show, musical stage programmes and fast food corners such as Baza restaurant and Madhushala bar. Their live entertainment team also performs on the weekends. Flying Bob, Jet Plane, Caterpillar, Commando Net and Columbus are some of the rides that one must try. It also has a resort where outstation people can book rooms for their stay.
Address: 
Aapno Ghar Resort, 43rd Milestone, Delhi-Jaipur Expressway, Sector 77
Timings:
10:00 AM - 10:00 PM  
Entry Rate (Per Head):
 Adults- INR 1199, Children- INR 699
7. Drizzling Land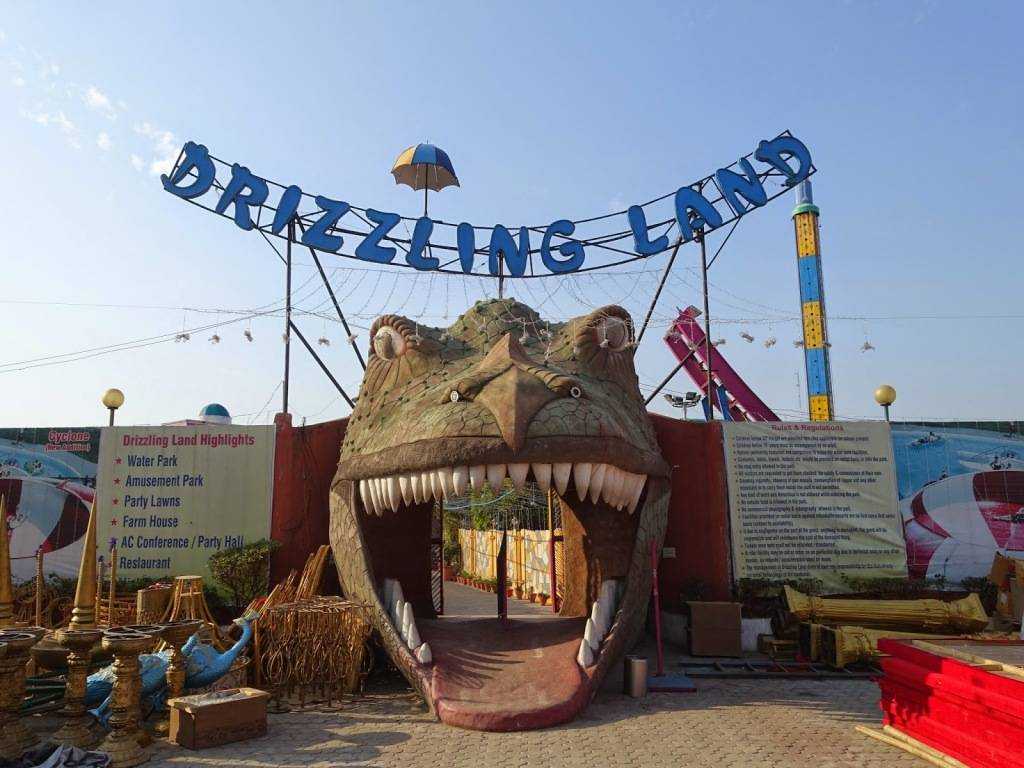 Drizzling Land houses an
Adventure Sports
Club, Amusement Park and Water Park. They are also going to launch Mud
Adventure activities
for the first time in India. Drizzling Land also boasts of having the biggest roller-coaster in Delhi NCR which is sure to send shivers down your spine with its twists and turns. Fly from one end to the other through the Zipline or try out wall climbing, rappelling or walking through the Burma Bridge in their Adventure Club. Soak in the showers of
Kempty Falls
and indulge in some hilarious and fun-filled experiences in their range of water slides such as Pendulum slide and Cyclone slide. Let the soft waves of the wave pool take you over as you spend your picnic day at this chilled-out place. Lots of options for the adventure rides as well as an amazing food court makes Drizzling Land a hot favourite with families, especially kids. It also offers rooms for overnight stay.
Address:
8 km Milestone, Delhi-Meerut Road, Duhai, Ghaziabad
Timings:
10:00 AM - 6:30 PM
Entry Rates: 
Children and Senior Citizen- INR 550, Adults- INR 850, Stags- INR 899 
8. Splash Water Park
Splash is located at main GT Karnal Road and is a huge attraction for people not only from Delhi but also from places such as Sonipat,
Panipat
and
Murthal
. Multilane slides, Harakiri, Mushroom Fall, splash pools along with adventure rides such as Ferris Wheel and Mini Columbus are huge crowd-pullers. Splash is also famous for school picnics as it is conveniently situated and also relatively cheaper than other parks. Some of the popular rides include Cyclone Family Slide, Mushroom Fall, Harakiri and Multilane slides.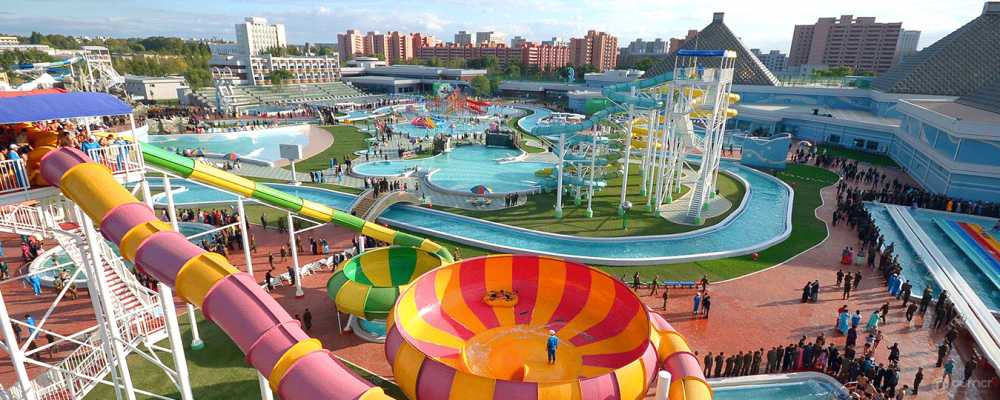 Address:
Main GT Karnal Road, Palla Moad, Alipur
Timings:
10:00 AM - 5:00 PM (Water Rides); 5:00 PM - 7:00 PM (Amusement Park) 
Entry Rate: 
Weekdays: Children- INR 400; Adults- INR 500; Stags- INR 700 
Weekends: Children-INR 500; Adults- INR 600; Stags- INR 800
9. Atlantic Water World
Atlantic Water World is located on the Yamuna waterfront near Okhla barrage and attracts crowd from Delhi, Noida and Faridabad. This family fun zone is just ten minutes away from Apollo metro station on the violet line. DJ performances, rain dance, food options, selfie spots, toddler sections, water coasters, wave pool and family pools - this all comes under one exciting place that is open to people of all age groups and even non-swimmers. Some of their most heart-racing rides are Storm-Eye, Tornado, Wave Attack and Yippee Land. They are open on all days including public holidays.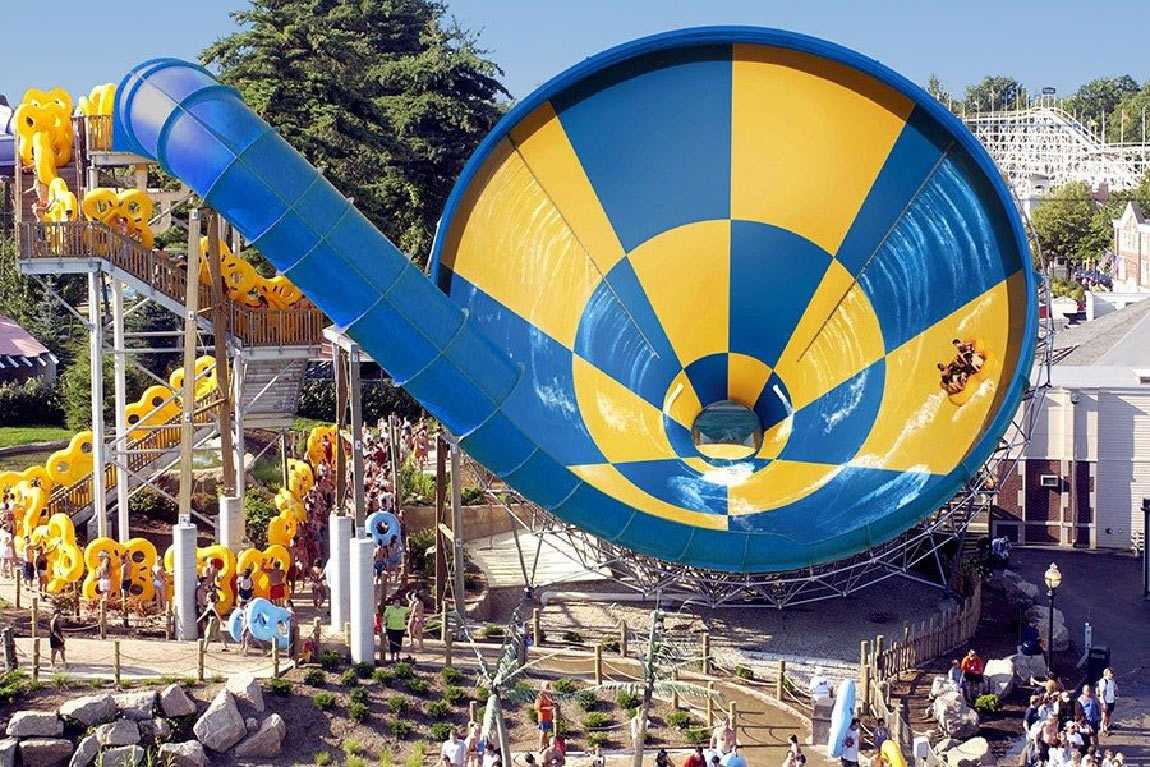 Address:
Kalindi Kunj Park, New Delhi
Timings:
11:00 AM - 6:00 PM
Entry Rates:
 Children- INR 600 
Adults- INR 1200 
Couples- INR 2200  
Senior Citizens- INR 600
Group (5 to 25)- INR 1050
INR 500 for (children INR 400) extra if lunch buffet is opted for
10. Jurasik Park Inn
Get transported to the wild, prehistoric world of the dinosaurs in this unique jungle-themed adventure park located on NH 1, 16 km to Delhi-Kundli border. Boogie Woogie rain dance, Lazy River, Spin n Whirl and Droom Box water slides, wave pools and kids pool and a magnificent 70 feet tall waterfall in their water park is sure to swipe off all your worries of hectic everyday life. Kids are sure to fall in love with their rides in the adventure park such as Octopus Ride, Bump Cars, Free Fall, Frisbee, Roller Coaster and Swing Chairs. Additionally, they also have go-karting and zip line on offer apart from a wide range of adventure activities such as Burma Bridge, Plank Bridge, Hanging Tunnel, Rifle Shooting, Balance Beam, Zorbing Ball, Dart Throw, Archery, Tyre Net and Swinging Blocks.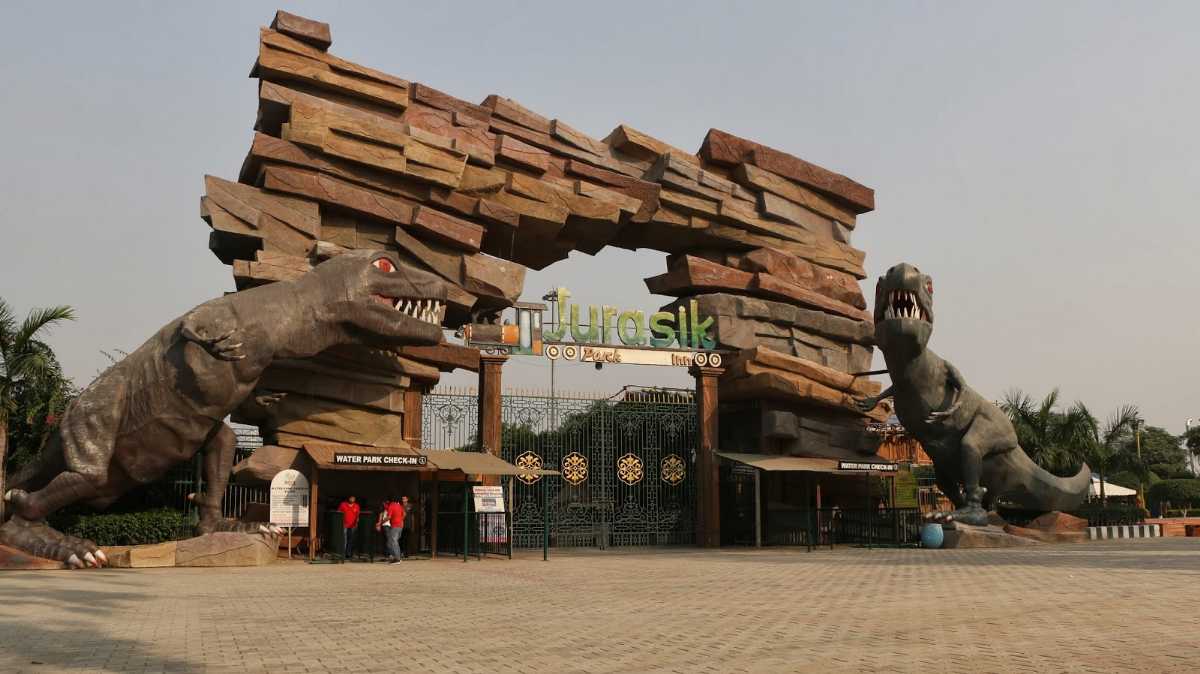 Address:
GT Karnal Road, NH1, Near Omaxe City, Sonipat
Timings:
10:30 AM - 6:30 PM
Entry Rates: 
Weekends: Adults- INR 750;  Kids and Senior Citizens- INR 500
Weekdays: Adults- INR 600; Kids and Senior Citizens- INR 400
11. Entertainment City Amusement Park 
Located in Noida, entertainment city is an amusement park of wonders. It's the perfect spot for a weekend getaway as it is a world of its own. The entire park is divided into three zones- children, teens and adults and thus you can be sure to find something of interest for all age groups. Each of these sections has special rides, stores and eateries.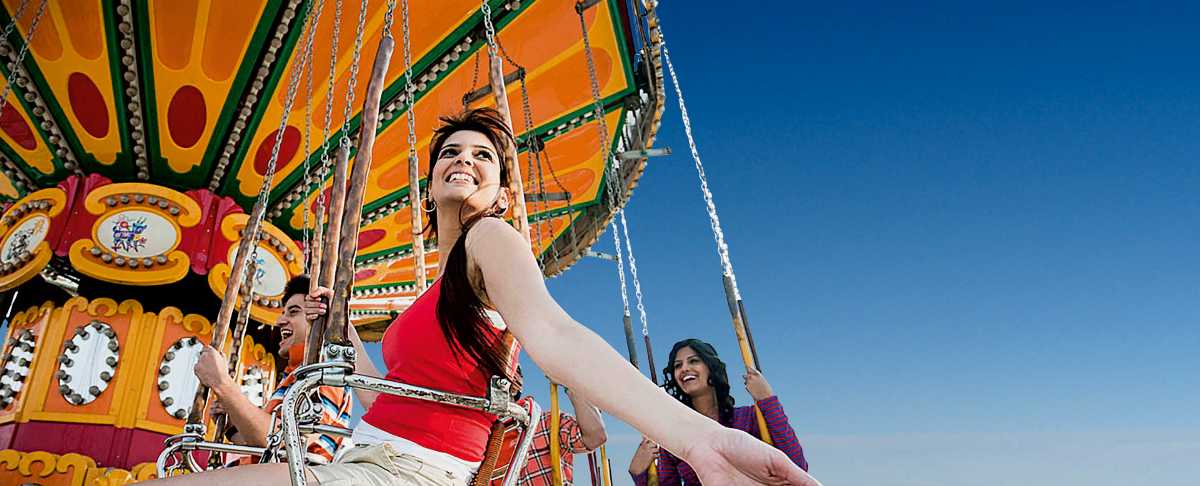 Address:
Film city, sector 16 A, Noida
Timing:
10 AM to 11 PM 
Entry Rates:
Kids INR 500, Adult INR 750
12. Ffunmax
If you're looking for fun at reasonable prices, head onto Ffunmax because that is the perfect spot. They offer their customers affordable rates and quality rides. Some of the most popular rides in Ffunmax include a wave pool, cyclone ride, family slide, rainbow showers, animal showers and many more.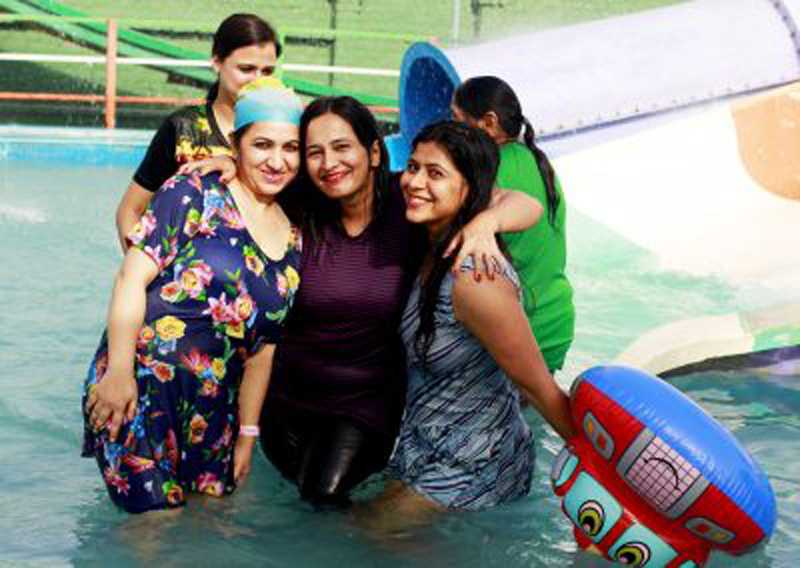 Address:
Main Mathura Road, Faridabad, behind royal villa banquet hall  
Timing:
10 AM to 6 PM 
Entry rates:
Child 4ft / 120 cms Monday to Friday: Rs.500/child(Saturday/Sundays & Holiday are Rs.550)
Child/Adult(above 4Ft) Monday to Friday: Rs.600/person(Saturday/Sundays & Holiday are Rs.650)
Stag Entry (Gents / Boys) Single Entry (Male): Rs.700/person(Saturday/Sundays & Holiday are Rs.800)
Senior Citizen(above 60 Years age): Rs.500/person(Saturday/Sundays & Holiday are Rs.550)
13. Wet n Wild
Looking for a complete package where every money spent is worth it? Head straight to Wet n Wild because it is not just a simple experience but a carefully tailored one to make your family time the best spent ever! One of their main highlights is that they try to incorporate amusement and entertainment options with a smart blend of the latest technological innovations.
Address:
Southern side of Gurugram near Delhi Ajmer expressway. Particularly it is located in Sector 78 in Naurangpur.
Timing:
10 AM to 8 PM
Entry fee:
For children below 3 years, tickets and entry are free.
For 3 to 10 years old children, the entry fee is Rs. 300
For adults, the entry fee is Rupees 400 per person.
Some Points to Remember while Visiting Adventure Parks
1. Always carry your ID proofs for checking at the entry. Do remember that the tickets are usually non-transferable and non-refundable.
2. Always note age criteria to ensure eligibility for park entry. For this, height specifications must be followed. Usually, children below 2.9 feet are allowed free entry while height between 2.9 - 4.6 feet is counted as a child entry.
3. Always make sure that you follow the guidelines and safety instructions meant for each and every ride. Many rides forbid the entry of small kids or senior citizens as well as people with medical conditions such as high blood pressure or heart ailments.
4. Almost all the parks provide costumes and gear on a rental basis. However, if you wish to carry your own, make sure to check whether the park allows it or not. Almost all the parks provide lockers on a rental basis too.
5. Carry sunscreen and sunglasses to beat the sunlight and tanning while outdoors.
6. Always wear proper swimming costume while at the water park.
7. Many parks do not allow outside food to be taken inside. All these parks have food courts where you could have your lunch or snacks. Alternatively, you could check out haunts nearby and avoid carrying food along with you.
8. Most of these parks offer packages and discounted options for school picnics and even corporate group outings. Do check out their websites or contact them for more details.
9. Finally, never hesitate to reach out for help in case of need.
So what are you guys waiting for? Just gear up and plan for a day trip to any of these parks above along with your loved ones leaving behind the cares of everyday life. Snap out of the technological mode, switch off that mobile phone and let the inner child in you take over!!