Delhi and Delhi-ites are known as much for their insatiable appetites as they are for the unending variety of food found in the city. Any cuisine, Indian or international, you name it, we have it. But what really captures the essence of the city is the street food that changes colour and taste but gets only better with discovering the city.
Here is an (in)exhaustive list of the best of Delhi Street food:
1. Chache Di Hatti, Kamla Nagar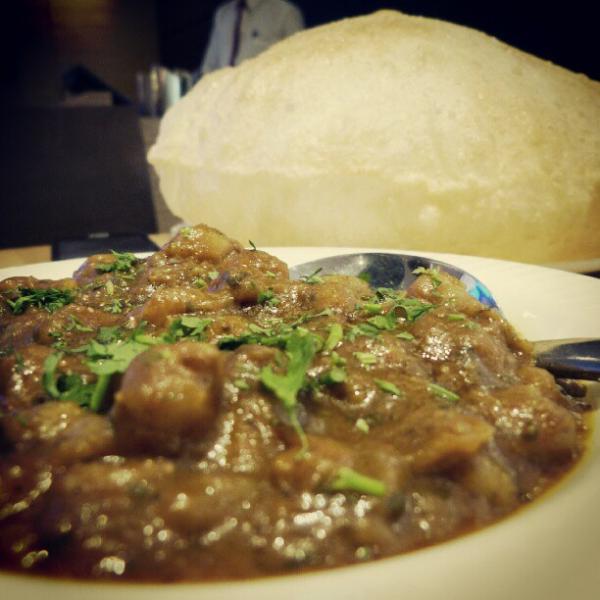 Chhole Bhature - The Best Street Food in Delhi (Source)
Riding on high on reviews that can even put 5-star restaurants to shame, Chache di Hatti is one of the oldest joints in the heart of the north campus of Delhi University. They are known for serving the best chole bhature in Delhi University's North Campus. Stuffed, melt-in-mouth bhaturas with optimally spiced chhole and special pickled salad is gonna make you go mmmm.  But one has to wait for a while here to be served, sometimes as long as an hour to get their own slice of heaven. Make sure to make a dash for this Delhi street food joint, for they sell out every day by noon!
Open Timings: 9:30 AM to 4:00 PM
Location: 32, Near All Smile Dental Clinic, Kamla Nagar, New Delhi
Cost for two: INR 100
2. Juneja's, Amar Colony Market, Lajpat Nagar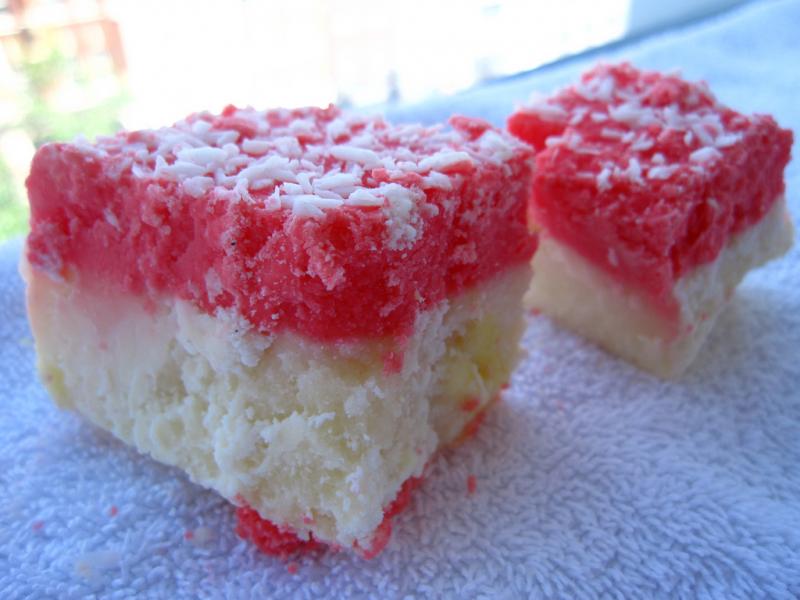 Barfi (Source)
A tiny little shop tucked away in the busy Amar Colony Market, you can easily spot Juneja's by the swarm of people huddled in their chaat corner for an evening cup of tea and steaming snack staples of samosa, gol gappas and chaat. Juneja's is known for having an enormous variety of sweets, which are actually worth dying for, especially their warq laden barfis. A must visit place for the ones who crave for yummy Indian sweets to satisfy their sweet tooth.
Open Timings: 12:00 PM to 4:00 PM, 6:30 PM to 11:00 PM
Location: 74, Mehar Chand Market, Lodhi Colony, New Delhi
Cost for two: INR 700
3. Prince Paan, Greater Kailash and Gurgaon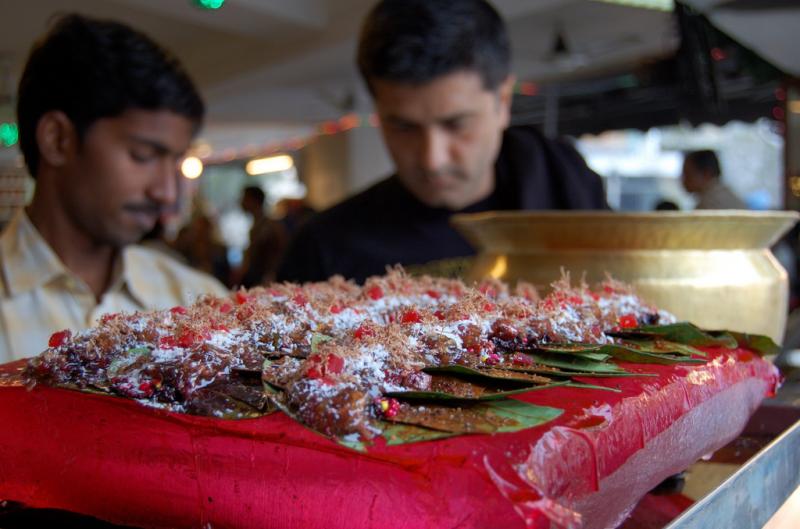 Paan (Source)
Stereotypes are not restricted to people but also to food. If you are a Delhi street food enthusiast with an ironical knack for hygiene, look no further. Prince Paan serves an array of paan flavours like Butterscotch Paan, Strawberry Paan and even Paan ki Chaat! As for those obsessed with hygiene, they even serve Gol Gappe made in mineral water! Don't miss their nimbu masala paan which is a raging hit among their regulars.
Open Timings: 10:00 AM to 10:00 PM
Location: M-29, Greater Kailash (GK) 1, New Delhi
Cost for two: INR 250
4. Atul Chaat, Rajouri Garden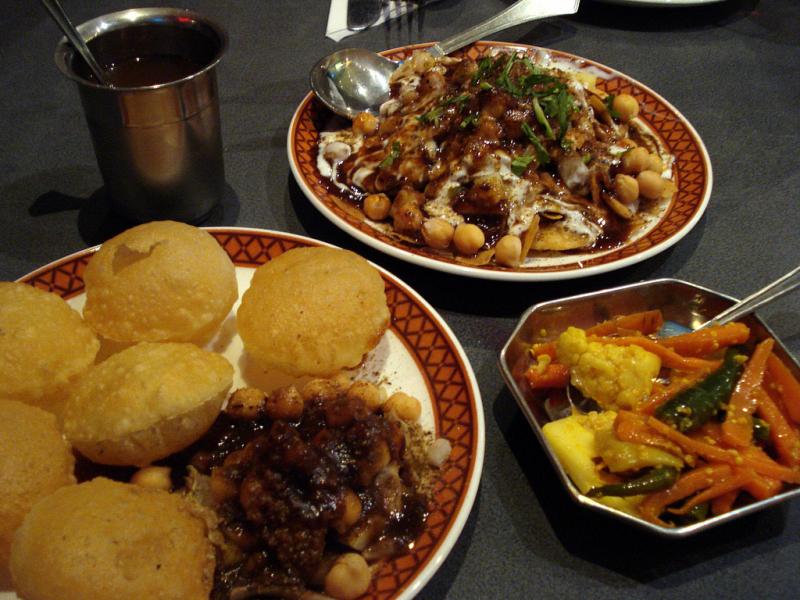 Gol Gappe - The Most Famous Street Food in Delhi(Source)
What was a run of the mill shop lost in the shopper's lanes of Rajouri Garden Market, is now a landmark for Delhi street food lovers. While the most popular treats are the aloo chaat and the tikki, it is the gol gappas and their sheer size that has every chaat lover raving about Atul Chaat. Since its inception eras back, this no-frills outlet's food is their one and only showstopper. Stop by at this popular Delhi street food joint for a quick and affordable yet delectable bite.
Open Timings: 11:00 AM - 10:00 PM
Location: H-44, Main Market, Rajouri Garden, New Delhi
Cost for two: INR 100
5. Roshan ki Kulfi, Karol Bagh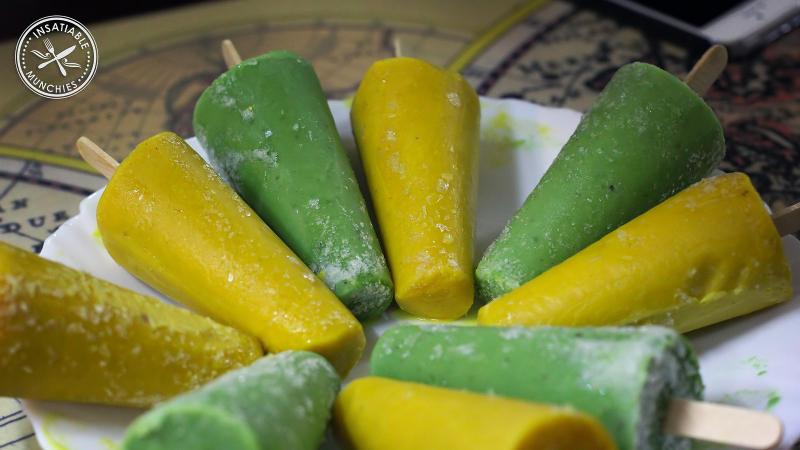 Kulfi (Source)
Shopping in the buzzing marketplace of Karol Bagh is incomplete without the quintessential lunch at Roshan ki Kulfi. The speciality of the outlet is, no points for guessing, the kulfi-faluda, which is particularly a respite in the blistering and intolerable heat of Delhi. It serves one of the best kulfis in Delhi. Another Delhi staple of chhole bhature with a long tumbler of lassi is what has all the customers smacking their lips.
Open Timings: 8:00 AM - 10:00 PM
Location: 2816, Ajmal Khan Road, Karol Bagh, New Delhi
Cost for two: INR 500
6. Odeon/Shukla Pan Shop, Connaught Place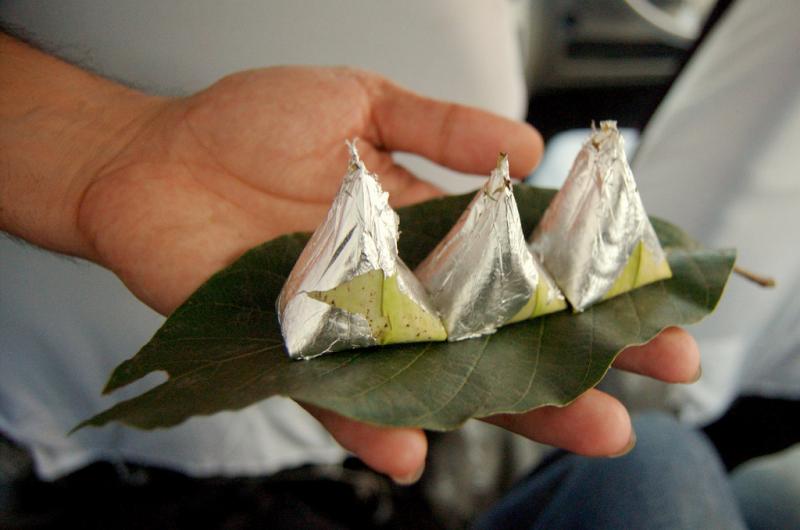 Paan (Source)
Named so because it is located straight from the plush Odeon theatre in Connaught Place, Shukla Pan Shop is probably the only place that can compete with Prince. The most popular speciality of this place is the chuski pan, and if you're worried about staining your hands with the syrup, don't fret. The paan is stuffed into your mouth with oodles of syrupy ice to give you the most flavoursome brain freeze. Abuzz with paan lovers from the city, the tiny shop also serves diet paan for the calorie-conscious.
Open Timings: 10:00 AM - 12:30 AM
Location: 23, 1st Floor, Odeon Building, Radial 5, D Block, Connaught Place, New Delhi
Cost for two: INR 1300
7. Chaina Ram Sindhi Confectioners, Chandni Chowk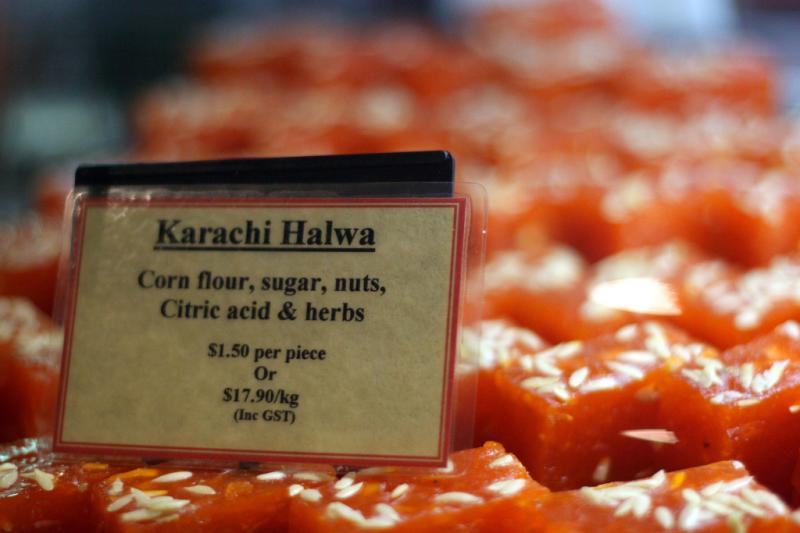 Karachi Halwa (Source)
Every confectionary makes Indian sweets, but only few master them to the levels of becoming legends. Chaina Ram is one such legendary outlet in the Delhi street food business, that has been covered by major national dailies for their consistently mind-blowing sweets. While every mithai here is a showstopper, the jewel in the crown is the Karachi Halwa, loaded with dry fruits locked in an amber-coloured cube of sugar and cornflour.
Open Timings: 8:00 AM - 8:30 PM
Location: 6499, Fathepuri Chowk, Chandni Chowk, New Delhi
Cost for two: INR 200
8. Spice Aangan, SDA Market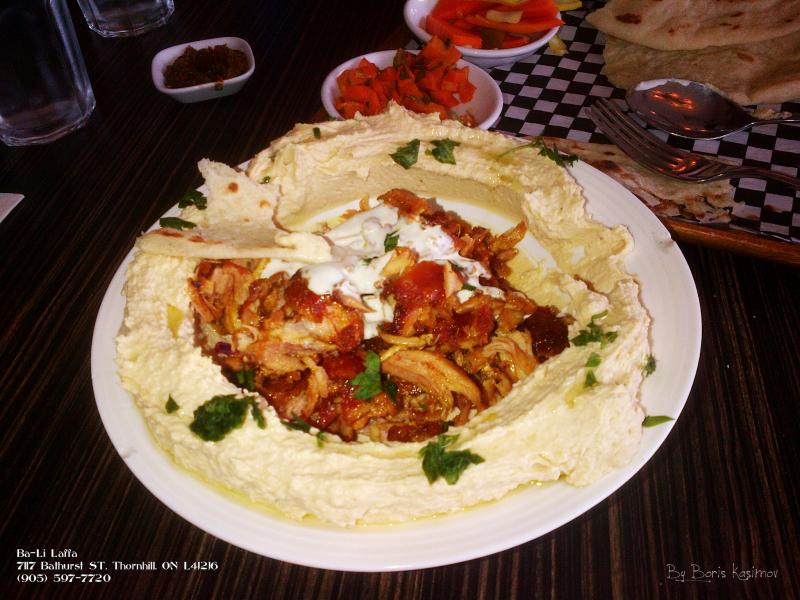 Shawarma with hummus (Source)
Shawarma lovers, did you think we'd leave you stranded? With service faster than the speed of light and yet uncompromising on quality and light on the pocket, Spice Aangan leaves meat lovers asking for more. Melt in mouth meat, oozing with juices and flavours, the shawarma rolls are a departure from tradition, served with mayonnaise and green chutney, but that only adds to their charm. You're sure to keep coming back for more, all the regulars do!
Open Timings: 11:00 AM - 11:00 PM
Location: C-21/2, Opposite IIT Main Gate, SDA Market, SDA, New Delhi
Cost for two: INR 450
9. Moolchand Parathewala, under Moolchand Flyover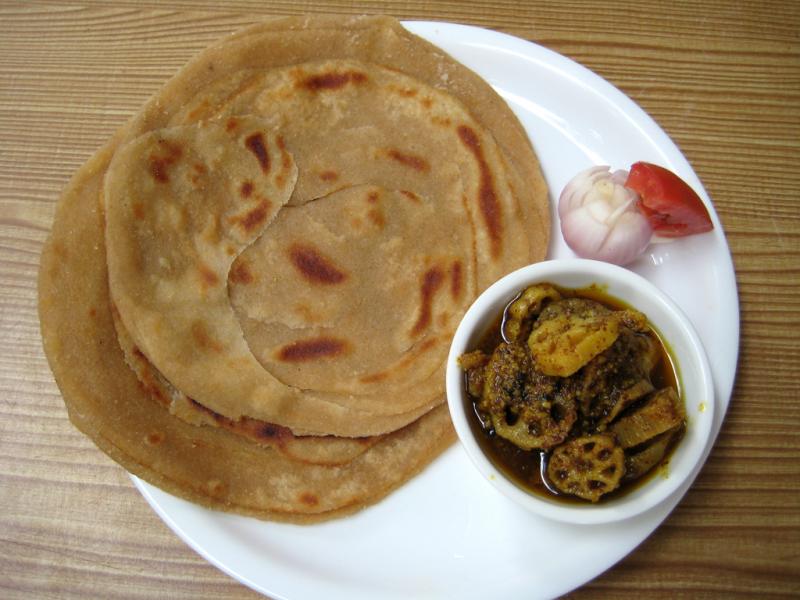 Lachcha Paratha - The Best Food in Delhi (Source)
Otherwise called as Paratha which is the staple food of many regions is also a famous unleavened flatbread in the Indian subcontinent. Paranthe in Delhi is an all-time snack that's eaten for breakfast, lunch, dinner or even evening tea time. There are famous shops also a lane that sells Paranthe in Delhi.
You need sleuth skills to spot this one. Nights of boozing and partying have sent Delhiites in search of filling and butter loaded parathas here. With no significant pointer to this place except a huge swarm of people, all Delhiites who love their parathas have been here in the late hours. This Delhi street food place serves the best parathas ever.
Open Timings: 9:00 AM - 11:30 PM
Location: Moolchand Metro Station, Lajpat Nagar 4, New Delhi
Cost for two: INR 300
Where else to eat: Gali Paranthe Wali, Not Just Parathas, Kake di Hatti
10. Khandani Pakode Wala, Sarojini Nagar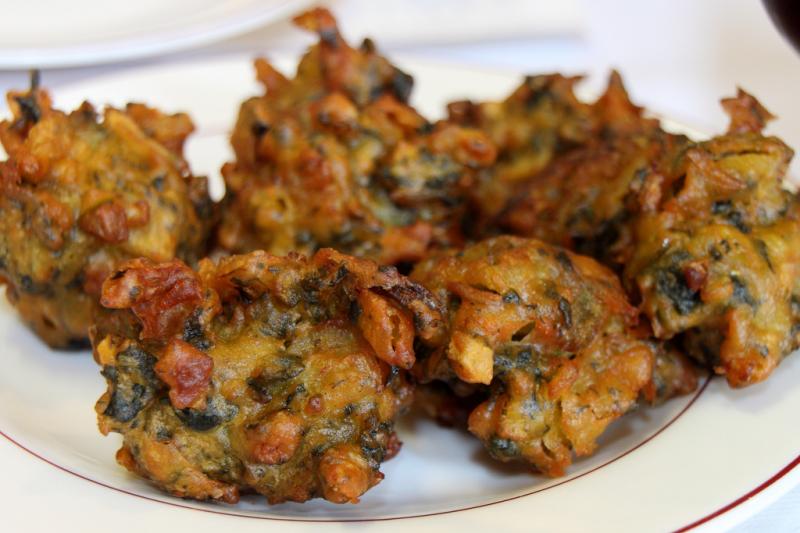 Stuffed  Pakode (Source)
The name itself suggests the heritage linked to this place. Khadani Pakodewala is one of the Delhi street food joints where the quality of the food has not degraded with time. The crispy batter covering with the soft filling is still as scrumptious as before. Apart from the common potato, cauliflower and onion pakoras, they're also made from paneer, baby corn and lotus stem too. For regulars, Khandani is akin to a foodie's must-stop on their way to or from Sarojini Nagar.
Open Timings: 10:00 AM - 10:00 PM
Location: Shop 14-15, Central Market, Malviya Nagar, New Delhi
Cost for two: INR 200
11. Sitaram Diwan Chand, Paharganj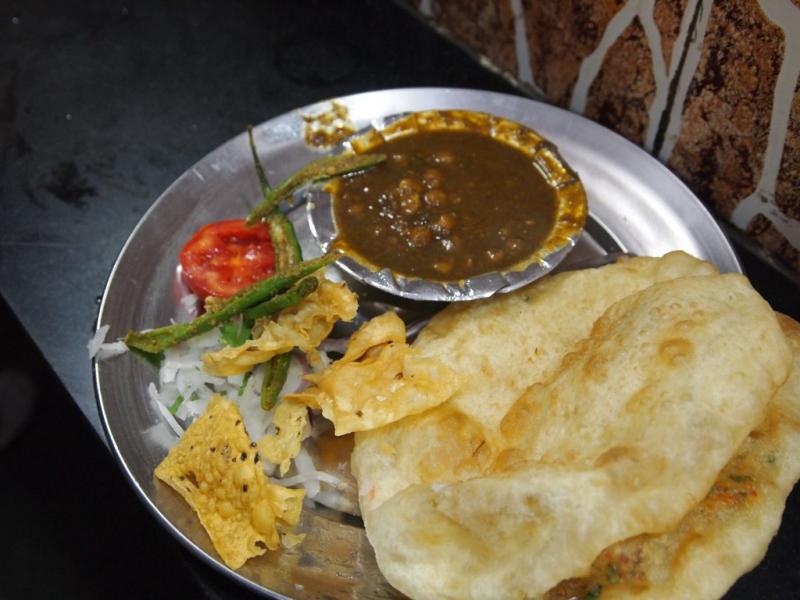 Chhole Bhature (Source)
The infamous streets of Paharganj are also known for a couple of other things that are popular among budget travellers and city folks, like-leather goods, cafes and Sitaram Diwan Chand for their chhole bhature, the only item on their list. The bhature are pre-cooked and heated as per service, but that does not alter their taste in any way. It is in fact, a healthier option for the diet conscious since the oil has already been drained out.
Open Timings: 8:00 AM - 6:30 PM
Location: 2246, Chuna Mandi, Paharganj, New Delhi
Cost for two: INR 100
12. Laxman Dhaba, Qutab Industrial Area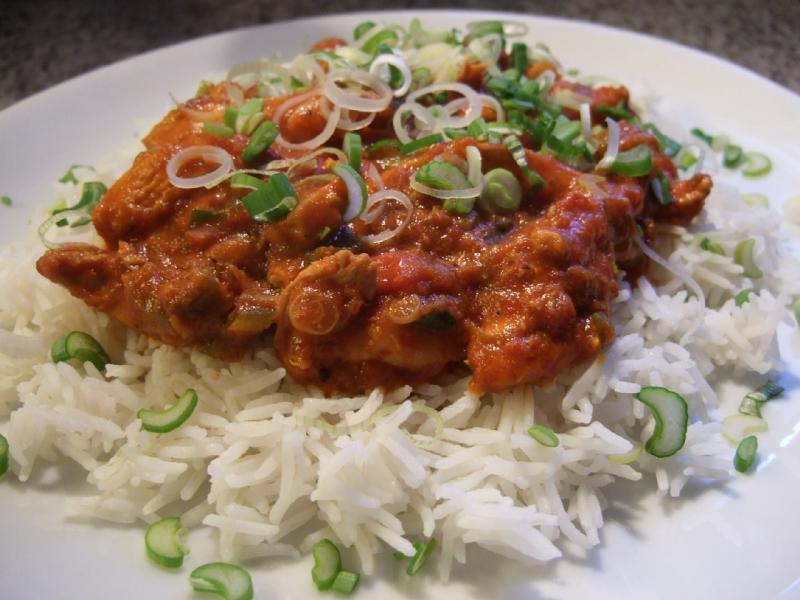 Rice with Kadhai Chicken (Source)
Thronged by non-vegetarian lovers, and especially during winters, the Laxman Dhaba is also known as the IIFT Dhaba, for its proximity to the college campus. Kadhai chicken and keema parathas are the more popular dishes at this Delhi street food joint. Apart from these, the dhaba is thronged by college-goers who ditch malls for a more flavoursome ride for their taste buds, that the dhaba always delivers on point.
Open Timings: 11:00 AM - 11:00 PM
Location: F-113, Opposite Indian Institute of Foreign Trade, Qutab Institutional Area, New Delhi
Cost for two: INR 600
13. Natraj Dahi Bhalle Wala, Chandni Chowk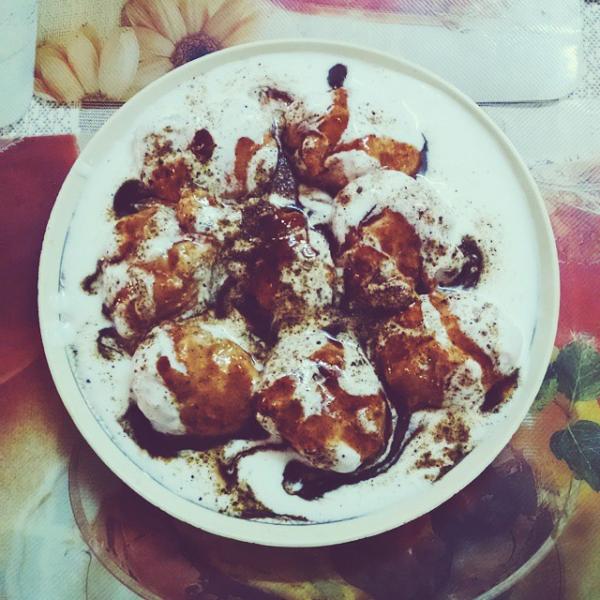 Dahi Bhalle (Source)
Think of a burst of flavours and textures coupled with some incredibly well-spiced chaat, and Natraj will not disappoint you ever. Located just about 2 minutes from the Chandni Chowk metro station, the shop has only 2 menu items- the incredibly soft, melt in your mouth Dahi bhallas and the crispy fried daal-filled tikkis, both of which have an almost infinite number of takers all day, every day. A mecca for chaat lovers in the city, be sure to try it out at least once in your lifetime.
Open Timings: 10:30 AM - 9:30 PM
Location: 1396, Main Road Near Central Bank, Opposite Paranthe Wali Gali, Chandni Chowk, New Delhi
Cost for two: INR 100
14. Salim's Kebab, Defence Colony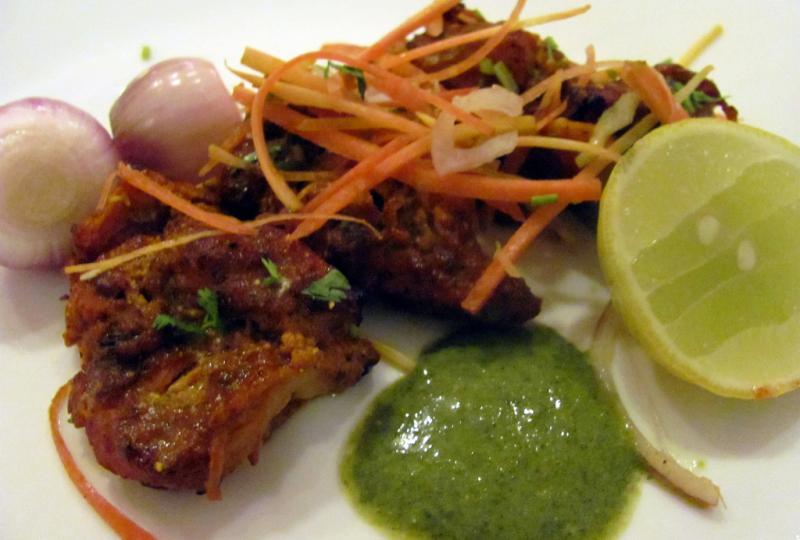 Afghani Chicken Kebab (Source)
A regular haunt of the Mughlai chicken lovers? whose loyalty also gravitates towards street food, Salim's is a blessing in disguise. The mutton seekh kebab and the chicken tikkas are purely heavenly if the reviewers are to be believed. The Afghani chicken is also a delight to those who actually enjoy Mughlai cuisine. For a first-timer though, this Delhi street food joint is sure to delight and keep them coming back for more. Kebabs even otherwise are famous food in Delhi.
Open Timings: 11:00 AM - 11:00 PM
Location: 91-93, Flyover Market, Defence Colony, New Delhi
Cost for Two: INR 800
15. Ashok and Ashok, Sadar Bazar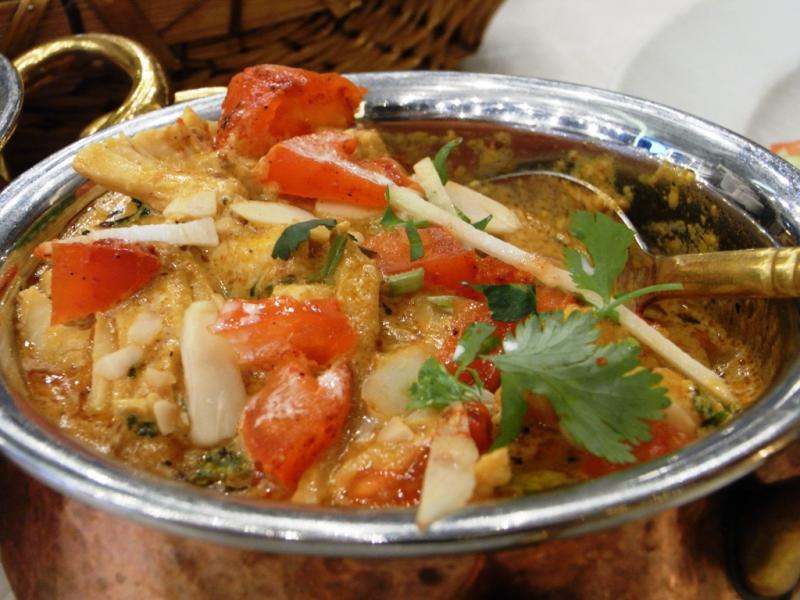 Chicken Korma (Source)
Korma lovers, and generally meat lovers, if you haven't discovered this gastronomical delight yet, you may have been having your meat all wrong. For a place that serves food for exactly 2.5 hours a day, at a fixed rate, and an unbeatable chicken korma, Ashok and Ashok has a strong loyal following that can put any other outlet to shame. Not your run of the mill ghee dripping chicken, but a delectably heavy and filling meal with a full-flavoured korma. May we suggest you reach well in time to look for this elusive spot as the stock runs out by 3-4 PM.
Open Timings: 11:00 AM - 11:00 PM
Location: Shop 35, GH 10, Sunder Plaza Market, DDA Market, Paschim Vihar, New Delhi
Cost for Two: INR 650
16. Karim's, Chandni Chowk: Legendary Delhi Street Food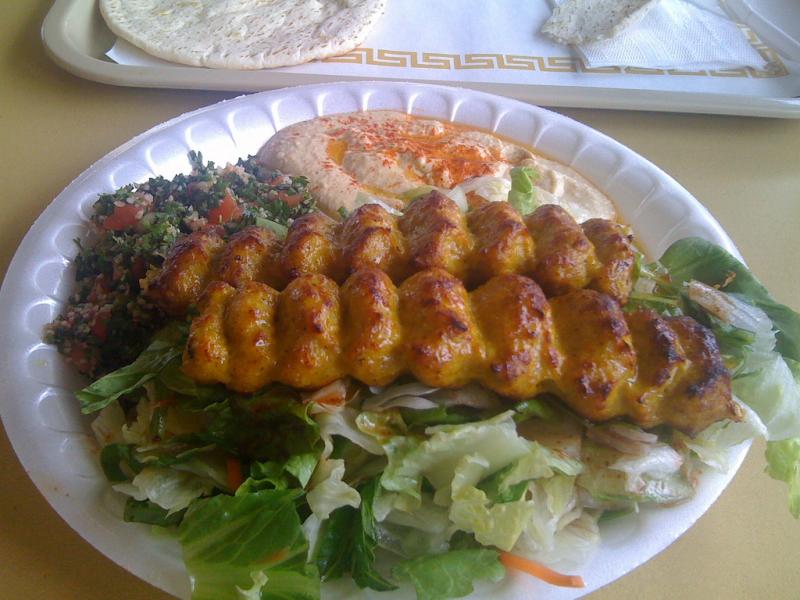 Lule Kebab (Source)
Leaving this legend out would be sheer injustice. Karim's is known for its Mughlai, non-vegetarian delicacies. The popular dishes here are the kebabs, mutton korma, mutton burra, and the brain curry. For its age-old authentic flavours that only get better with time, Karim's is the one place you cannot miss while in Chandni Chowk. Karim's is one of the best places to eat in Delhi for Non-Veg lovers.
Open Timings: 8:00 AM - 8:30 PM
Location: 6499, Fathepuri Chowk, Chandni Chowk, New Delhi
Cost for two: INR 200
17. Al Jawahar, Chandni Chowk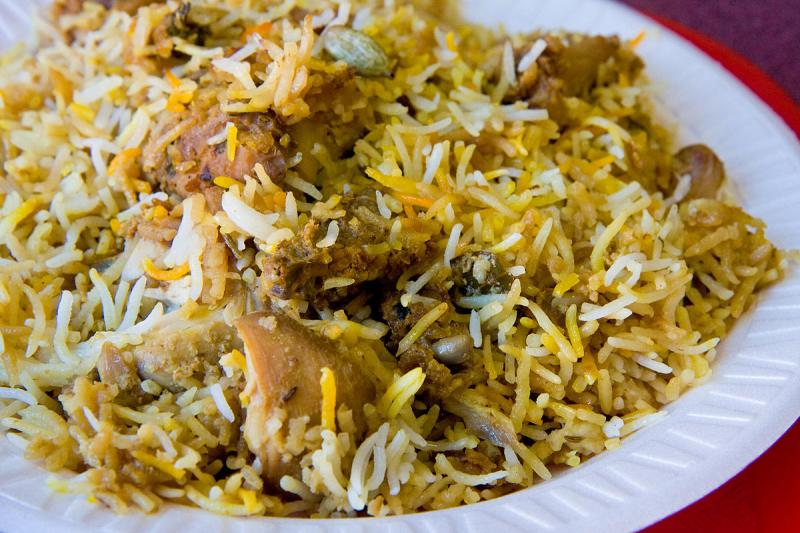 Chicken Biryani (Source)
Aggressively competing and often succeeding is the Al Jawahar which is a couple of outlets away from Karim's. If customers are to be believed, Al Jawahar is where Karim's fan base is slowly drifting to. Priced very competitively, it is a haven for mutton and chicken lovers. The Kaleji gurda, chicken biryani and chicken changezi are some of the star dishes. While the khameeri roti is said to be a unique amalgamation of pouffy insides and crisp outside, it is only second to the shammi kebabs that give you blocked arteries but are worth the shot!
Open Timings: 7:00 AM - 1:00 AM
Location: No.8, Jama Masjid Matia Mahal Road, Matia Mahal, Opp Gate No.1, New Delhi
Cost for two: INR 200
18. Bengali Sweet House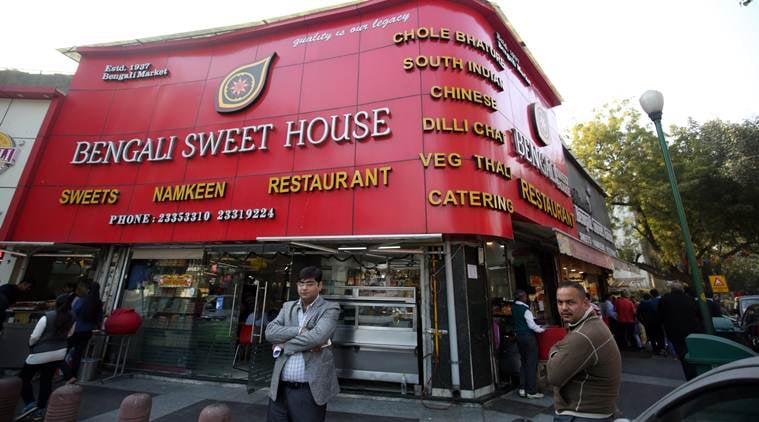 Bengali Sweet House is located in Connaught Palace in the heart of the city. It is the most preferred street food place among locals for their pocket-friendly dishes. They are also famous for their Chinese and north Indian cuisines. The blend of sweet and tangy dishes will make anyone's mouth drool.
Open Timings: 8:00 AM - 11:00 PM
Location: 30-33, Bengali Market, Mandi House, New Delhi
Cost for two:  INR 400
19. Kakke de Hatti
If you're looking for scrumptious Punjabi cuisine, then head to Kakke di Hatti. They don't serve Punjabi dishes but also varieties of kulfis and faloodas. Delicious paranthas, kulchas and chole bhature makes this place a throbbing centre for food lovers. It is a paradise for Punjabis.
Open timings: 8:00 AM - 1:00 AM
Location: 654-666, Church Mission Road, Fatehpuri, Chandni Chowk, New Delhi
Cost for two: INR 300
20. Bishan Swaroop Chaat Corner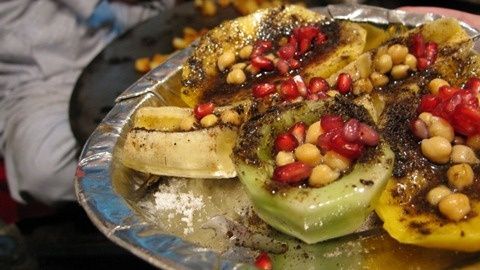 If you want the most tastiest Aloo-Kachaloo chat, then head to Bishan Swaroop Chaat Corner. This chat corner is exclusively put up for the Aloo-Kachaloo chat.
Open Timings: 10:00 AM - 9:00 PM
Location: 1421, Near Ashish Medicos, Chandni Chowk, New Delhi
Cost for two:  INR 400
21. Ashok Chat Bhandar in Chawri Bazaar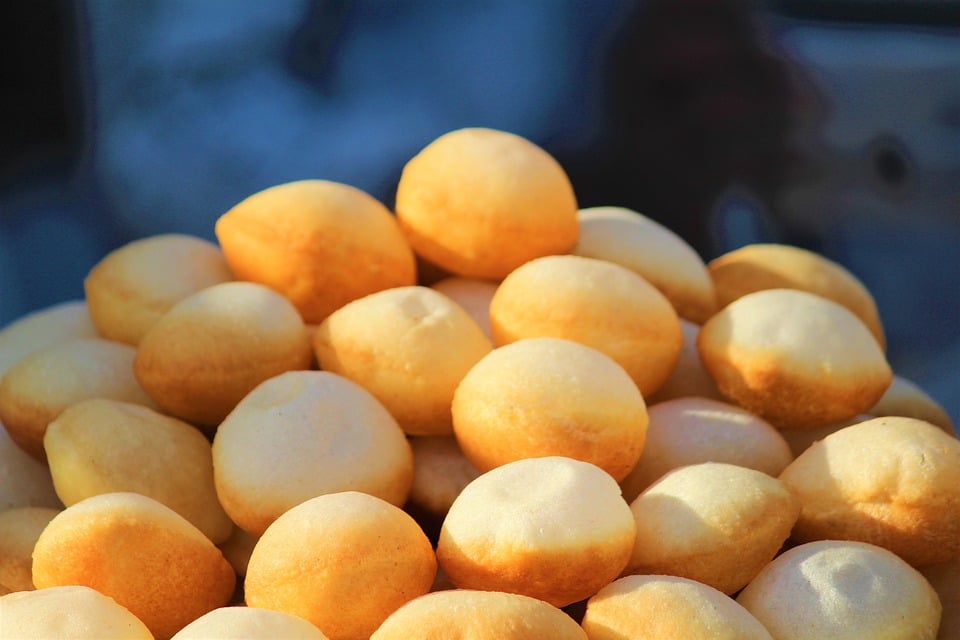 It is a roadside corner shop that isn't cornered. In the famous Chawri Bazaar among the crowd and the rush, Ashok Chat is a popular adda of visitors. If you want to much on some spicy Indian chats and masalas, then head to Ashok Chat Bhandar.
Open Timings: 10:00 AM - 11:00 PM
Location: Shop 3488, Chowk Hauz Qazi, Near Chawri Bazar, New Delhi
Cost for Two: INR 100
22. Phirni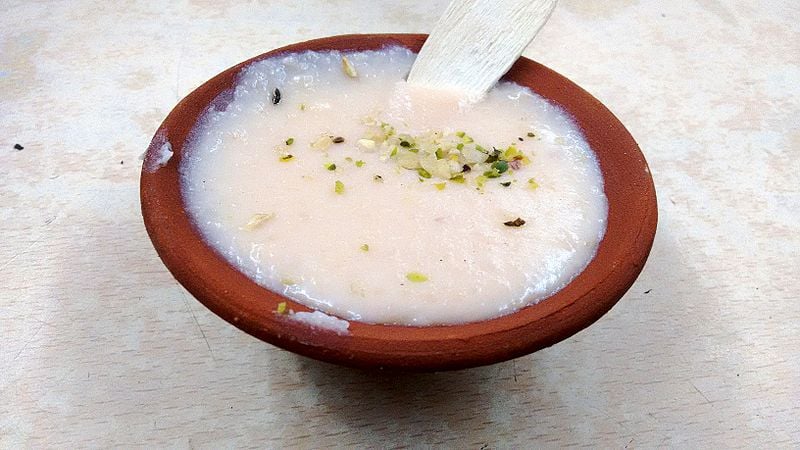 Phirni is a creamy rice flour pudding that's originated from Kashmir. The yellow Kesar Phirni is flavoured with saffron which is a favourite dessert of Kashmiris. Although adapted from Kashmir, Phirni is quite famous on the streets of Delhi.
Where to eat: Nizamuddin and Chandni Chowk
23. Aloo Puri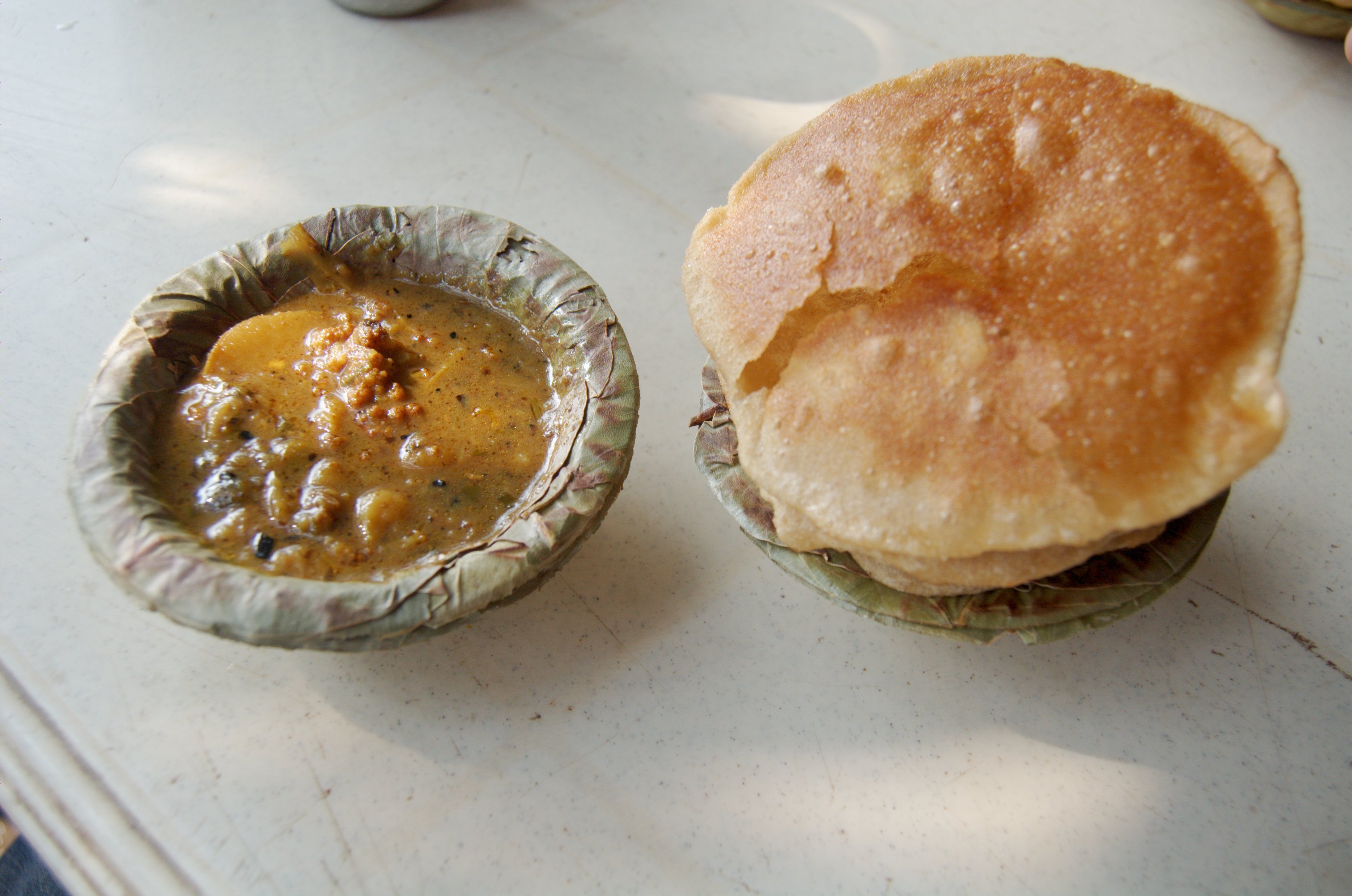 A typical all time dish that can be eaten any time of the day. Whole wheat bread fried in hot oil (puri) and spicy potato with gravy makes up Aloo Puri.
Where to eat: Shyam Sweets, Gopal foods, Gujarat Bhawan restaurants, Bille di Hatti, Chaina Ram Sindhi confectioners
24. Ram Ladoo
A favourite tea time snack for every Delhi-ite is Ram Ladoo. This scrumptious crispy fritters are topped with shredded radish and dipped in chutney to add a tangy taste. Ram Ladoo is a yummy-spicy delight that's a pure bliss during the rains.
Where to eat: Chandni Chowk, Lajpat Nagar
25. Daulat ki Chaat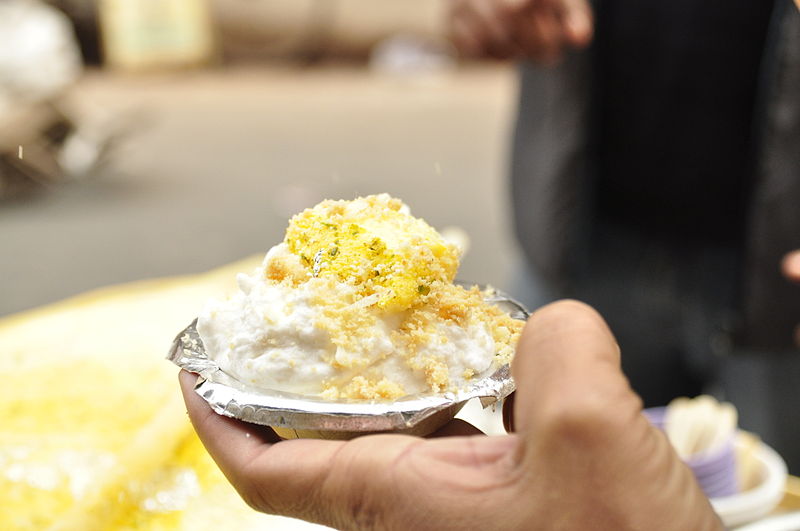 Imagine fresh creamy milk that's churned and the thick foam is separated which is later mixed with sugar and flavouring; that's Daulat ki Chaat. Yes, it's not a dish with chutney and masala rather a heavenly creamy milk chaat that's a sweet-savoury.
Where to eat: Chandni Chowk
26. Kulfi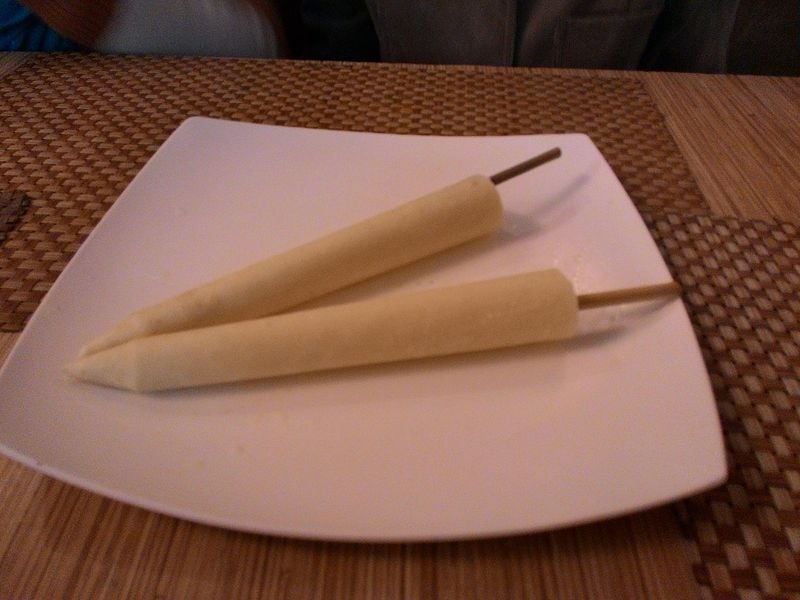 A flavoured ice cream made of milk and badam garnished with pistachio/almond flakes. One of the most loved desserts in India, Kulfi is famous during the scorching summers. It is much denser than ice cream made with sweetened sugar and evaporated milk.
Where to eat: Roshan di Kulfi in Karol Bagh, Kuremal at Chawri Bazaar, Siya Ram Nannumal at Ajmeri Gate, Ravi Raj di Kulfi at Karol Bagh and Jain Kulfi Bhandar at Shahdara
27. Falooda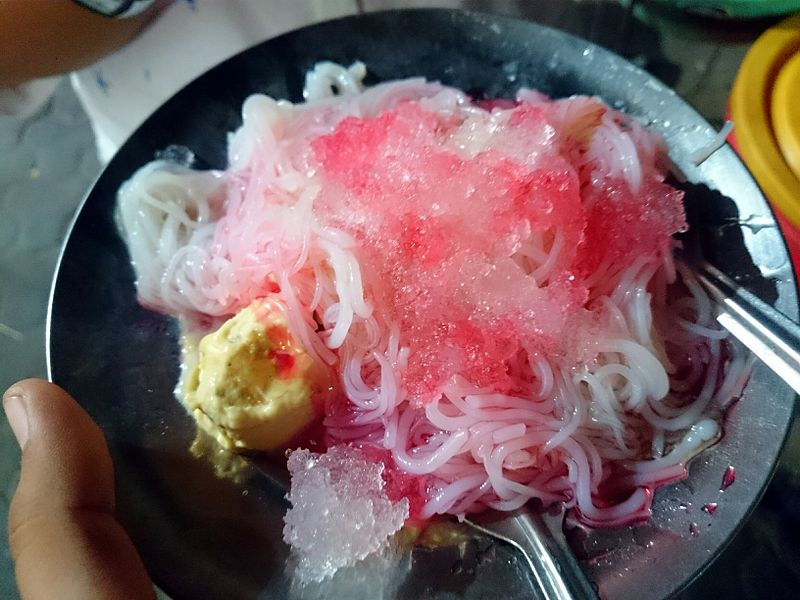 A favourite cold dessert in the Indian subcontinent which is traditionally made from mixing vermicelli, rose syrup and sweet basil seeds with jelly pieces topped with a scoop of ice cream.
Where to eat: Giani's, Roshan di kulfi, Krishna di kulfi
28. Moth Kachori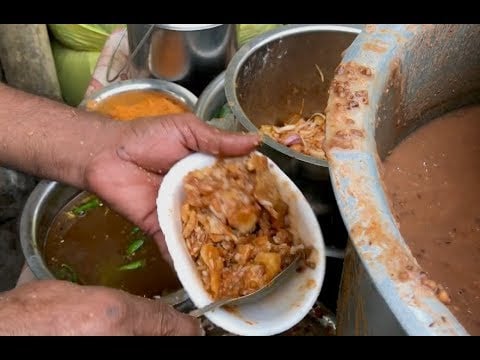 This is a very popular street food that's made with ready-made moth dal and papdis. It is a favourite street dish that has a right blend of sweet and spices.
Where to eat: Multan Moth Bhandar, Moth Kachori Corner, Gera's Moth Kachori Shop
29. Chole Kulche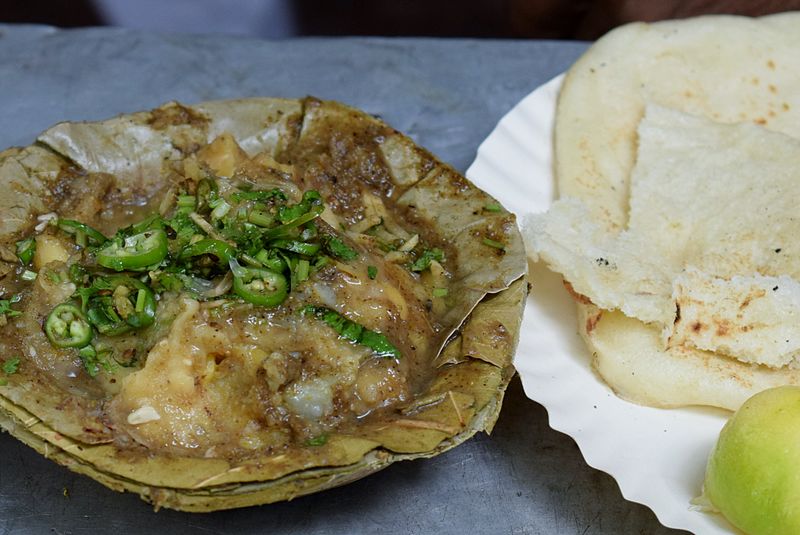 It is also popularly called as Matar Kulche often served with white peas curry and plain kulcha. Chole Kulche is popular among street foods in Delhi. This curry is usually found on streets than top restaurants hence it is called as Matar Chaat or Matar ki Chat.
Where to eat: Lotan Kulche Wala, Ratan Lal chole kulche wala, Haldirams, Banta ke mashoor chole kulche, Nathu's sweets, Kulche wala outside arts faculty.
30. Gupta Burger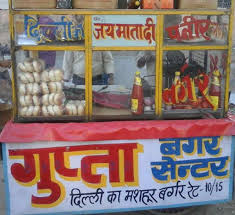 Vada pavs are everyone's favourite. How about give it a desi twist and turn it into a burger. That's how Gupta Burgers were made. They are a fast-food chain that's on every street in Delhi. The vendors sell the burgers in a portable cart for INR 15 - 25.
Where to eat: Gupta Burger Centre, Gupta foods, Gupta chat corner, Kent's fast food, Gupta Fast food.
31. Banta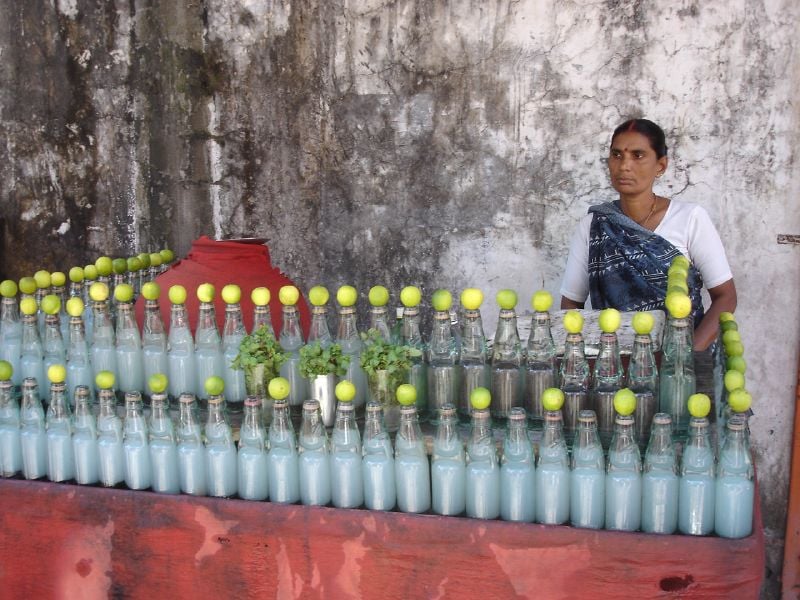 Banta is a cool-drink that's served in a codd-necked bottle. Banta is preserved in a glass bottle that's sealed by a round marble and not a cap hence it's popularly known as Goli Soda. The drink is often mixed with lemon/ orange juice, chat masala, crushed ice, jal-jeera and Kala namak.
Where to drink: Anywhere on the streets of Delhi
32. Momos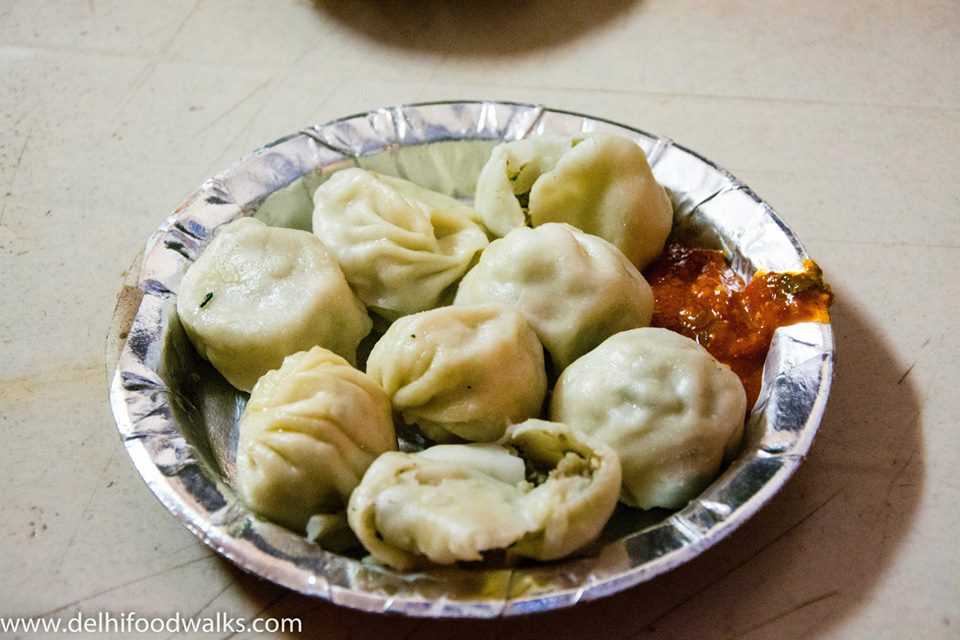 Momos have gained a lot of popularity when it comes to the street food of Delhi. You can find momos anywhere on the streets of Delhi. However, we recommend you to try them at the Nagaland, Sikkim and Manipur stalls of
Dilli Haat
. You'll find amazing momos even at Majnu ka Tila.
33. Tibetan Food at Majnu Ka Tilla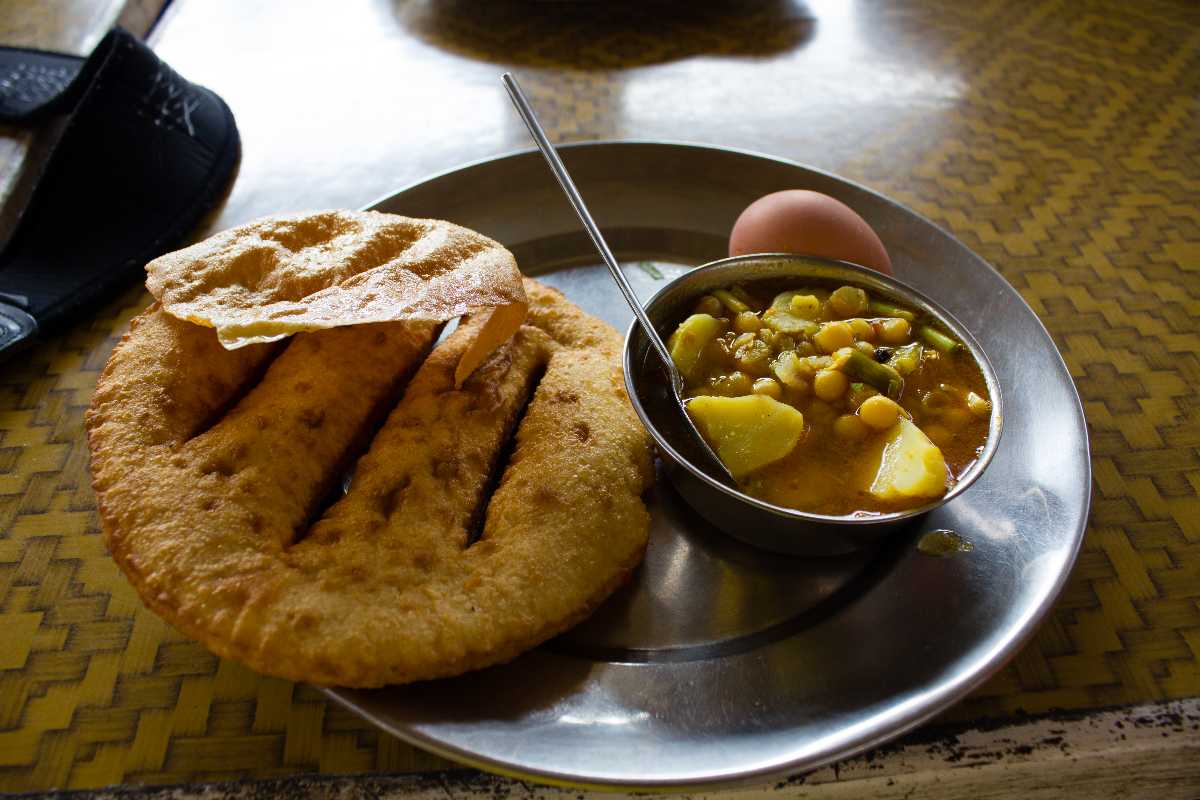 Looking for some authentic Tibetan food? Well, you won't be disappointed as Delhi has a Tibetan settlement at Majnu ka Tilla. Through the bylanes of Majnu ka Tilla, you will find food joints serving Tibetan Delicacies like Laping, Thenthuk, Momos and Butter Tea.
Delhi is a city brimming with culture and diversity and it is indeed a foodie's paradise. While there are many more places that can satiate your appetite, these are the ones from the list of Delhi street food joints, that you must NOT miss!