Hosting parties is something that every Delhiite loves doing. But sometimes your home is not the right place to throw your exotic party. So here is a list of exotic Airbnb where you can hold your occasional or weekend-overnight parties for your loved ones and take the feel of a vacation alongside, at these picture-perfect Airbnbs in Delhi:
1. SimBliss Farm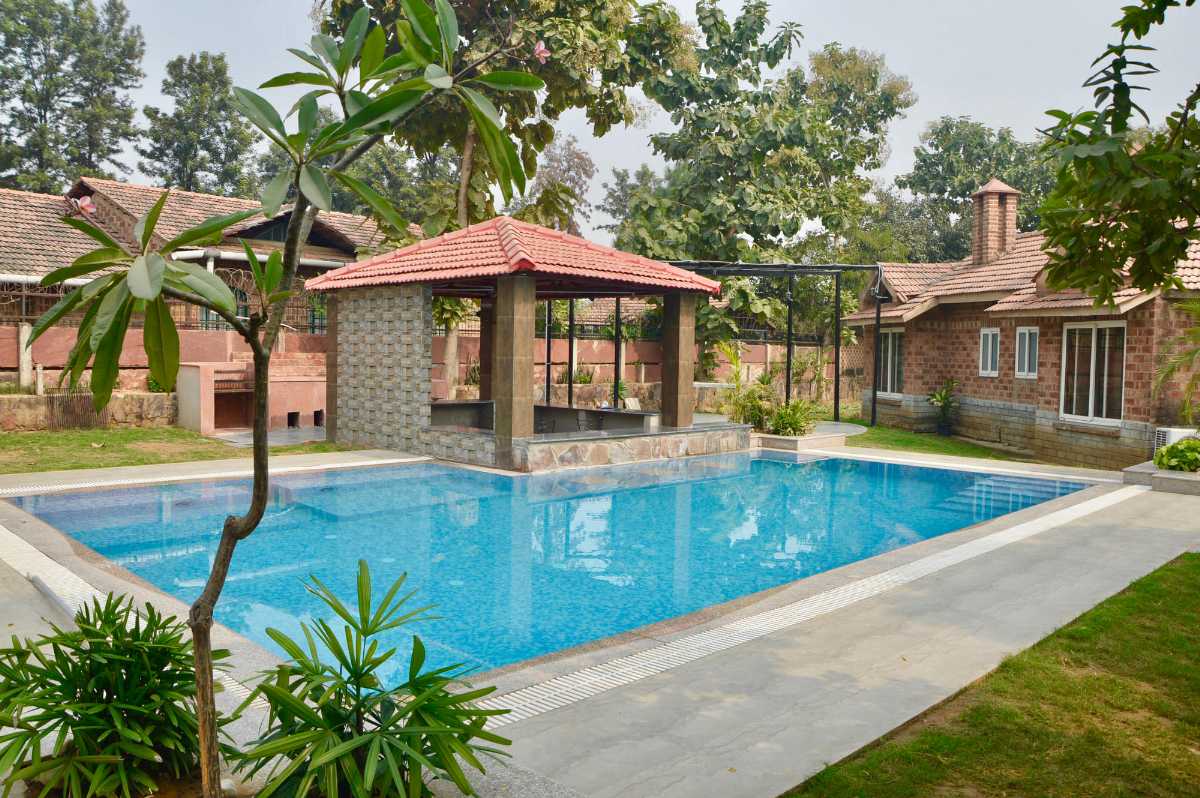 A very rustic villa atmosphere and a scenic view of lush green lawns are what SimBliss Farm offers you. The atmosphere in this farmhouse in Delhi is blissful and you can enjoy the best of it at night in the open lawn area. Sit in the area overlooking the lawn with your loved ones around a barbecue pit and enjoy a nice jamming session on your holiday. SimBliss has been a five star rated property by 90 per cent of the guests who've checked-in here. It's a beautiful Airbnb and a stay that will definitely be worth it. 
Address: C-62 122052, Pachgaon - Mohammadpur Road, Manesar, Gurugram
No. of Guests: 15 guests 
Bedrooms: 4 bedrooms,15 beds,4 baths
Cost for One Night: INR 22,024
Attractions: Swimming pool with a deck and gazebo, barbecue pits, Carrom board, pool inflatable floats, Jenga, Connect 4, football, volleyball and badminton rackets available upon request. 
Distance: It is located at a distance of 30 minutes from Gurgaon. It is a 5-minute drive from Best Western Country Club Resort in Manesar.
Book This Homestay
2. Beautiful Farm House Delhi 
Beautiful Farm House is indeed a beautiful home which opens its arms with a green landscape. It is a spacious house which is perfectly suited to invite a huge party. The farmhouse has a luxurious space with a clean and polished atmosphere. The rooms are well furnished with modern amenities. The check-in was given a five-star rating from all its residents. The tranquil atmosphere draws a lot of tourists to this Airbnb.
Address: 9, E Circular Rd, Dera Village, Dera Mandi, New Delhi
No. of Guests: 16+ guests 
Bedrooms: 1 bedroom,1 bed, 2 baths
Cost for One Night: INR 14,529
Attractions: Television with Tata Sky connection, free WiFi, fully air-conditioned
Distance: It is a 15-minute drive away from Delhi's domestic and international airport and at a distance of 20 minutes from Gurgaon. 
Book This Homestay
3. Pulkavalia- Farm Villa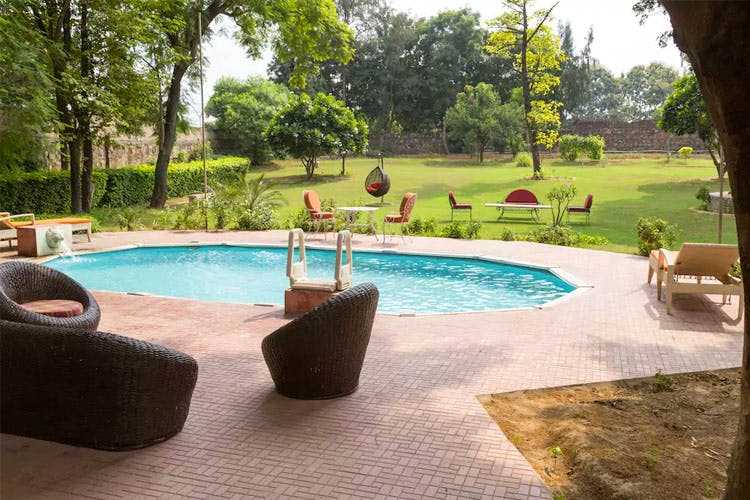 Pulkavalia is a modern property with up to date interiors and facilities. It has a very soothing approach to it and the surrounding definitely transport you to another city making one feel like they're vacationing along some coastal region. It's a peaceful haven in the midst of Delhi's metropolis hustle-bustle. It is situated in the center of 2 acres of greenery which makes it a spacious area to have an outdoor party too. The guests have given a starred review to the Villa for its cleanliness. 
Address: Farm Villa 18 A, Gwal Valley View Greens, Opp. Valley View Estate, Gwal Pahari, Village Bhaliawas, Gurgaon
No. of Guests:  16+ guests
Bedrooms: 4 bedrooms, 5 beds, 4.5 baths
Cost for One Night: INR 18,320
Attractions: Badminton Court & Equipment, Swimming pool, Board games, Wifi (4G), pool table, bridge table, fully air-conditioned 
Distance: It is at a distance of 5 Kilometers from Sector 56 Metro station/Golf Course Road, and if is a 15 minutes drive from Cyber Hub/Mandi farms of Delhi.
Book This Homestay
4. Baweja Farms- Boutique Farmhouse near Manesar
Want to get a staycation with a feel of Scotland's brick-walled palaces and interiors. Well, this farmhouse somewhat gives out that vibe. It is so picturesque and spacious that it makes it a vacation in itself. The lush green landscape garden is a gateway to the property. It has all the modern-day amenities and it is embellished with unique decors. It is a space you should definitely consider for your family get-togethers and parties with a very homely yet vacation feel. 
Address: Farm No.63, PachGaon, Mohammadpur Road Behind Best Western Resort Country Club, Manesar, Gurugram
No. of Guests:  16+ guests 
Bedrooms: 4 bedrooms, 4 beds, 5 baths
Cost for One Night: INR 22,010
Attractions: Swimming Pool, Deck, Bar and Gazebo, Games like Table Tennis, Badminton rackets and Dart Board, pool inflatable toys. 
Distance: Five minutes drive from Best Western Country Resort Country Club
Book This Homestay
5. Best Outdoor Farm Party Stay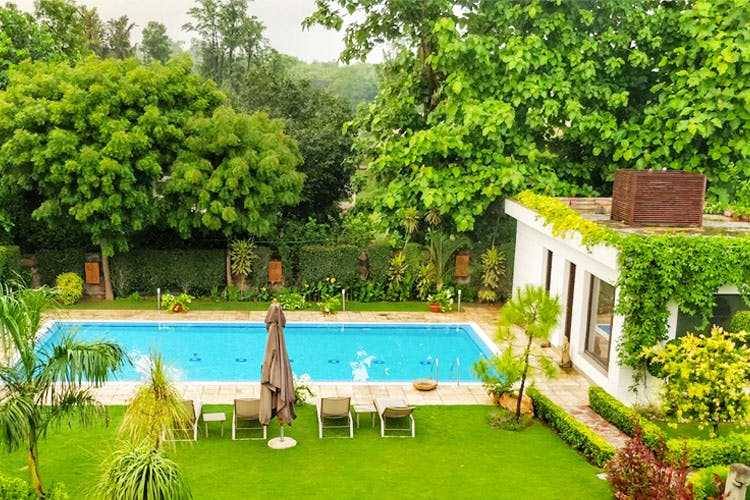 A beautiful and humongous farm space stay for your outdoor parties. The place has different areas to host your parties as per what suits you. It looks like a gaming and party space in one wherein you can enjoy with all your friends and family. The farmhouse is studded with pop culture painting and charms which make it more attractive, drawing the youth to this farm stay. The place has been appreciated for its indoor bonfire attraction which is great for winters. 
Address: Acharya Shree tulsi Marg, on the route of Chattarpur Metro station, near DLF farms, Acharya Shree Tulsi Marg, Ghitorni, New Delhi
No. of Guests:  16+ guests
Bedrooms: 3 bedrooms, 4 beds, 3 baths
Cost for One Night: INR 15,963
Attractions: Swimming pool, fireplace, air-conditioned, outdoor seatings, small banquet seating, bonfire area
Distance: It takes about twenty minutes to get here from Hauz Khas
Book This Homestay
6. Weekend Villa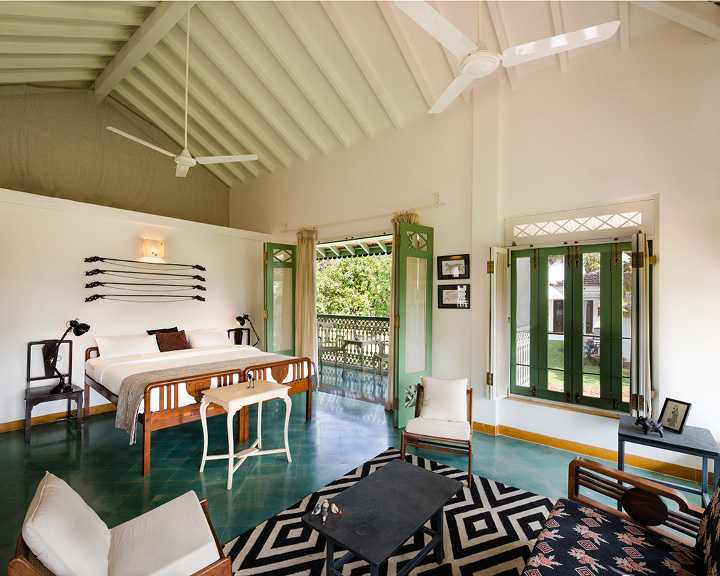 If you want to experience a very opulent stay with luxurious interiors, this Villa is just the right place for you. It is one of the best-reviewed Airbnb for its hospitality and its in-house chef who spins-up some irresistible delicacies. The place has fine attractions like a huge lawn around the property, some cycles to take a ride along and other clubhouse facilities. The ambiance makes you feel like you're vacationing in a foreign country. It is a perfect place for your family to get along and rejoice. With a golf course around, you can indulge in a game of golf with your family. This Villa gives you an elite lifestyle experience. 
Address: Tarudhan Golf Resort, Village Dadu, Tehsil, Manesar, Tauru, Haryana
No. of Guests:  8 guests 
Bedrooms: 2 bedrooms, 2 beds,3 baths
Cost for One Night: INR 13,943
Attractions: All areas are air-conditioned, WiFi Dongle/Connection, TV with all HD channels, BYOB (all bar essentials available ), Music system with Bluetooth/aux cable, Swimming Pool, and 3 Cycles along with the Villa. 
Distance: It takes only a thirty minutes to drive to get here from Gurgaon
Book This Homestay
7. 4BHK Luxury Farmville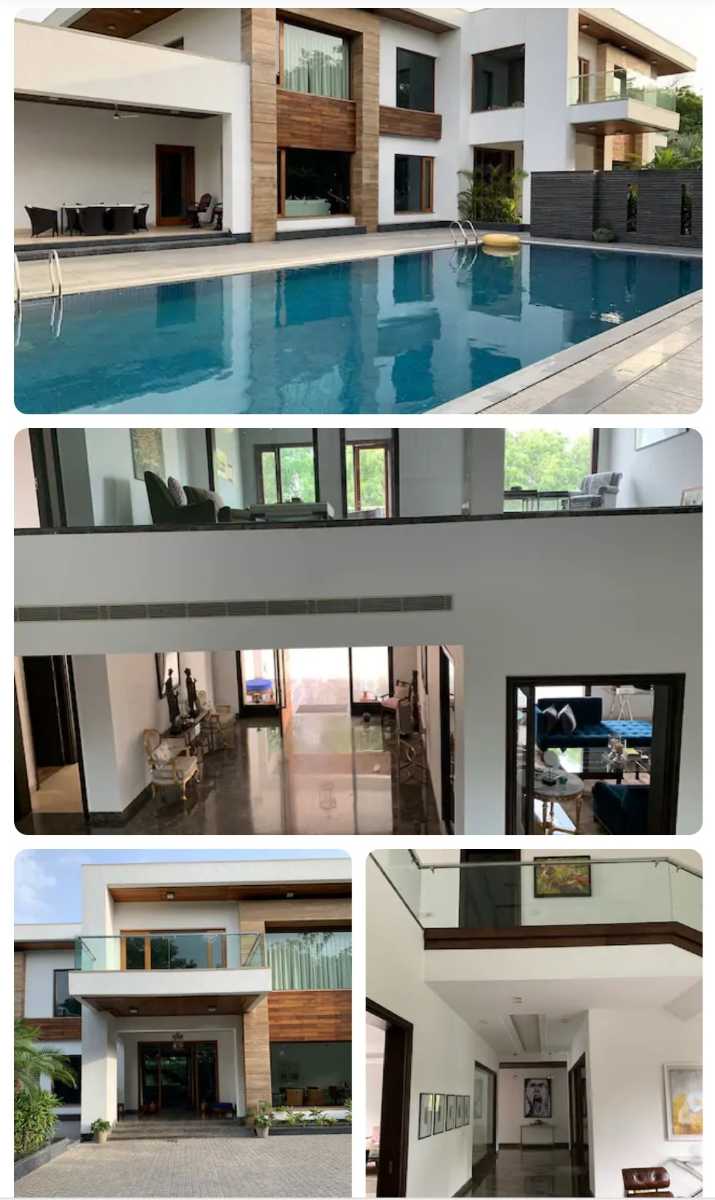 Want a luxurious villa stay for a getaway? This one's just the right place to experience it. It is a modern home with see-through glass walls, studio structure, and charming interiors. There are some great antiques to admire around and the vibe is pleasant and positive. Just the look of it will attract you towards this Farmvilla. It is a perfectly grand home to hold your gatherings 
Address: Near DLF farms, Ghitorni, New Delhi
No. of Guests:  8 guests 
Bedrooms: 4 beds 6 baths
Cost for One Night: INR 34,912
Attractions: fully air-conditioned and a swimming pool 
Distance: It takes around twenty minutes to get here from Hauz Khas
Book This Homestay
8. Plush Private Farmhouse 
It is very posh and tastefully built farmhouse on a 2 acres Greenland is a perfect place to host your stay or gatherings. It reflects a grandeur with its interiors and the white walls add a touch of serenity to the stay. It has all modern amenities, it is well located and is well suited for nature lovers. It has been rated exceptionally well for its cleanliness and surroundings. Visitors have loved their stay and the host too. This place transports you from the very claustrophobic city space to a serene landscape. 
Address: Mehrauli-Gurgaon Rd, Ghitorni, New Delhi
No. of Guests:  5 guests
Bedrooms: 2 bedrooms, 2 beds, 2 baths
Cost for One Night: INR 5795
Attractions: fully air-conditioned, extended garden, and television with cable connection.
Distance: twenty minutes from Hauz Khas
Book This Homestay
9. Cozy Home, Gated Community Delhi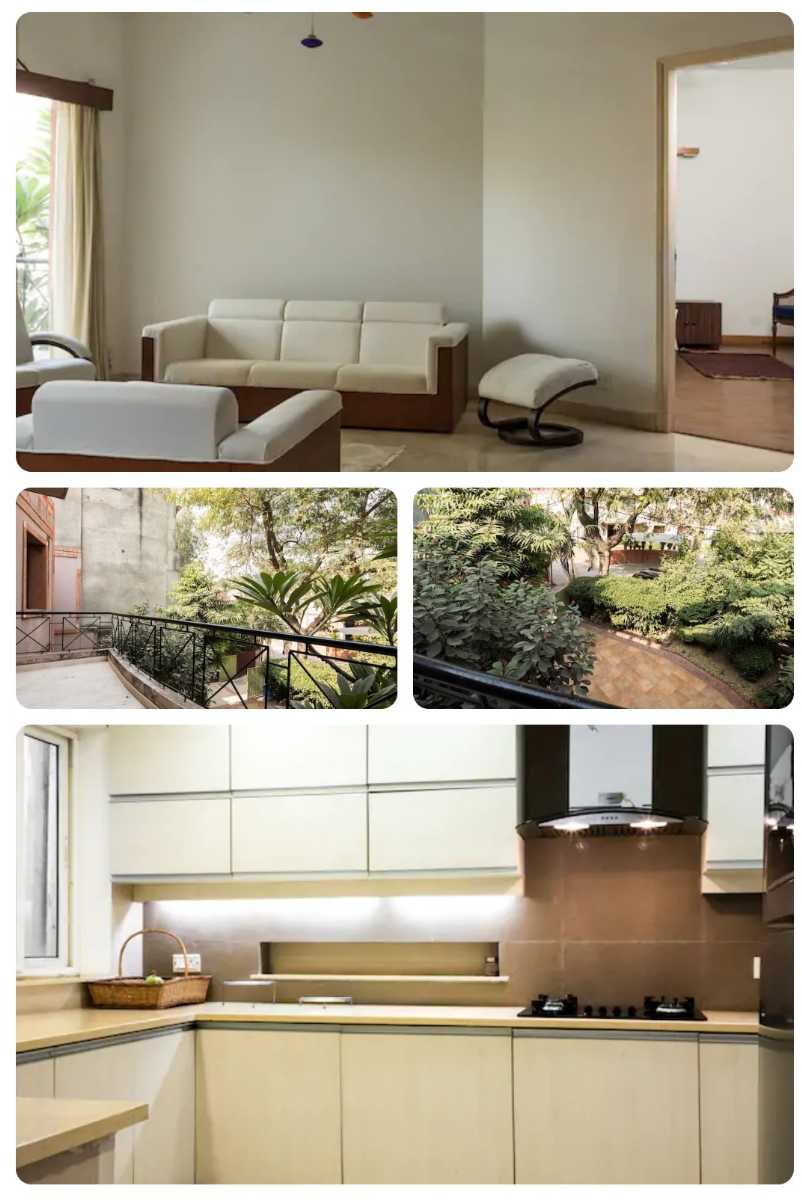 It is a very secluded property and tranquil home space well equipped with modern amenities is perfect to throw your private get-togethers. The place is diversely and tastefully decorated from room to room that each space you walk into, offers a surprise. The place has a moderately spacious front and backyard and it is located in a posh locality. The ambience is very calming and relaxing. The guests reviewed it well for its check-in and cleanliness. It is a property which has been much loved by visitors. 
Address: Near Sultanpur Metro Station, Mehrauli-Gurgaon Rd, Ghitorni, New Delhi
No. of Guests:  6 guests 
Bedrooms: 3 Bedrooms, 6 Beds, 3 Baths
Cost for One Night: INR 3006
Attractions: Centrally air-conditioned and indoor fireplace 
Distance: At a distance of 15 minutes from Central Delhi and Gurgaon. 
Book This Homestay
So if you're looking for either a staycation or a place to host your night-long parties in Delhi, these properties are just the right ones to invest in. They're some of the best picks of the range of Airbnb in town. 
Have you stayed at any of these Airbnb in Delhi? Let us know your reviews in the comments below.