India
is a melting pot of cultures, and one such hub is
Delhi
. An amalgamation of modernity and tradition, the city offers an array of delicacies ranging from the typical "Dilli" street food, traditional desserts, and western cuisines to full meals rooted in the Delhi culture and history.
Here are the top twelve cafes in Delhi that would not fail to impress:
1. Hauz Khas Social, Hauz Khas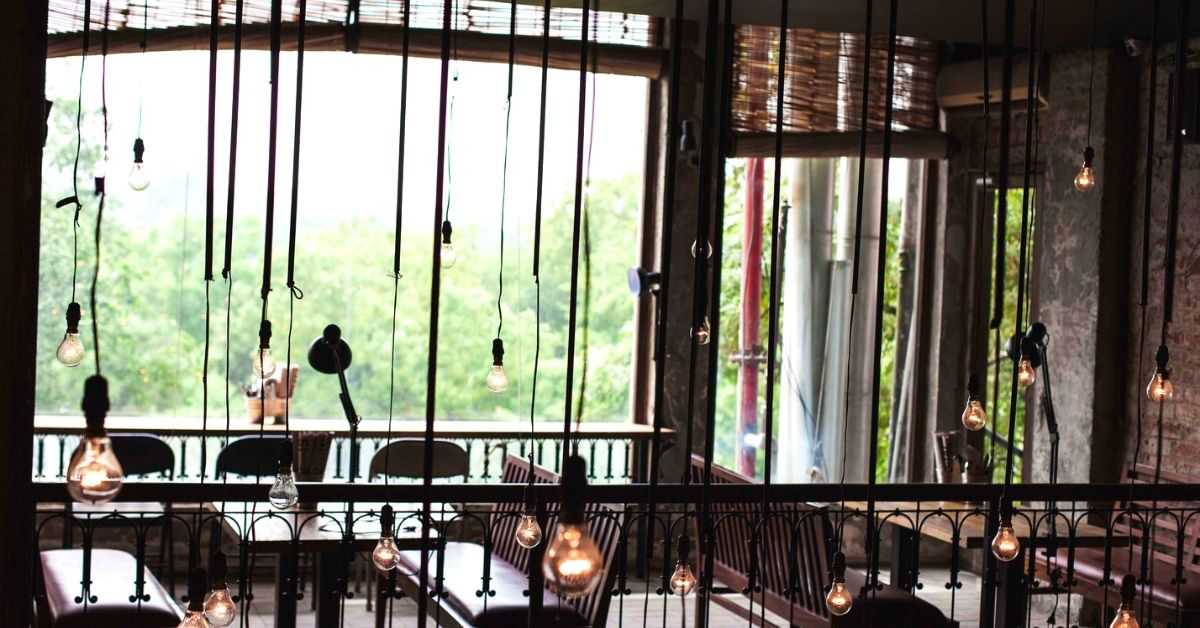 The Social chain of cafes in Delhi all over the city has been about positive vibes and lots and lots of alcohol. Which is perfect because what more do you want on a weekend night? Sit back and relax, order a couple of beers and some comfort food or you can always grab a drink at the bar and groove to the upbeat music playing in the background. It's fun either way. There's a lot to choose from when it comes to food. If breakfast food has always been your favourite, they also have an all-day breakfast section. Social has truly localised its menu for the Delhitis. American burgers and sandwiches, Biryanis, Sizzlers, you can literally never run out of options here. To top it off, they have quick service, great sports screening sessions, and plenty of good offers on alcohol that would make you keep coming back to the place.
Cost for two: INR 1300
Location: 9-A & 12, Hauz Khas Village, New Delhi
Timings: 11:00 AM to 12:00 AM
Things to do nearby: Explore art at Delhi Art Gallery, indulge in some street shopping at the Hauz Khas market.
Must Try: Momos From Hell, Mutton Seekh, Egg Tikka, Punjabi Chole, Dal Makhni, Chicken Tikka

The famed Farzi Café, one of the oldest in the town, is popular for its unique fusion cuisine combined and an ambience combined of large dancing area, a stage, rustic backgrounds, and groovy tunes. Experiment with some of their distinctive dishes such as duck samosa, pav in wada, and Malaya prawns. To help you gulp down the amazing food, order a refreshing cocktail.
Cost for two: INR 2000
Location: E-38/39, Level 1, Inner Circle, Connaught Place, New Delhi. The nearest Metro station is Rajiv Chowk
Timings: 12:00 PM to 1:00 AM
Things to do nearby: Shop till you drop at hundreds of outlets located in the area. Visit the famous Jantar Mantar
Must Try: Sex on the Beach, Pina Colada, Santa-Banta, Mast Malang, Chai-Pani
3. Raasta, Hauz Khas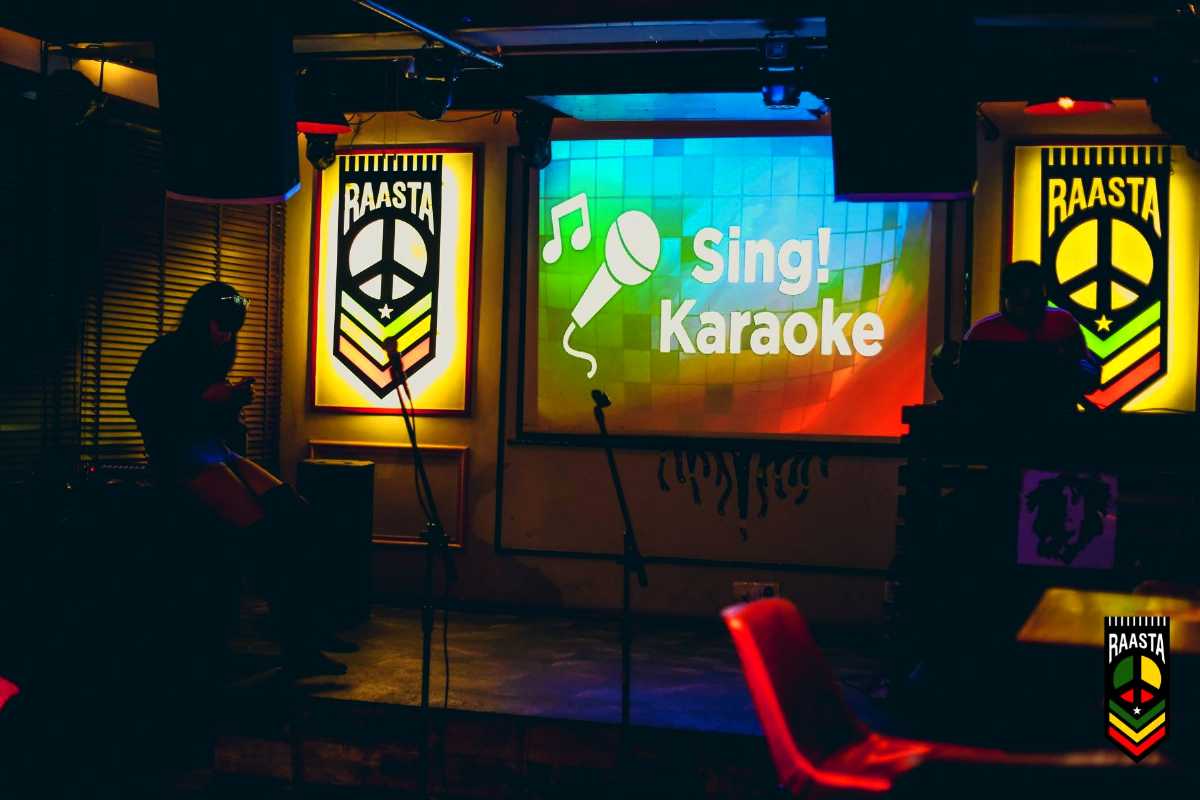 The interior over at Hauz Khas Village's Raasta is a gateway to a charming Caribbean island. You will be in a relaxing and easy mood the moment you step in. Sit back and chill at the spacious lounge while classics from Bob Marley and other legendary artists play in the background. This cafe in Delhi adds to Hauz's swarming nightlife by inviting Reggae and Dubstep music lovers to the floor and creating the perfect Saturday night vibe. The food they serve is a mix of Oriental, Indian, and Middle Eastern, cuisine. You can choose from light nibbles, bar snacks to full-fledged heavy meals.
Cost for two: INR 1500
Location: 30, First Floor, Hauz Khas Village, New Delhi- 110016
Timings: 12:00 PM to 12:00 AM
Things to do nearby: Famous monuments such as Hauz Khas Fort and Char Minar are located only 2 km away from the cafe.
Must Try: Corn Pastellos, Falafels, Afghani Murg, Panko Prawns, and Fettuccine Pasta
4. Soho Bistro & Cafe, Saket
With an airy outdoor space filled with colourful seatings and fun board games, Soho Bistro and Cafe in Delhi is the ideal place to hang out with your squad on the weekends. There are plants hanging from the ceilings, wooden chairs and tables, and blue-tinted windows, giving out a chill kind of vibe. Head over to Soho at any time of the day as they have special menus for breakfast, lunch, and dinner.
Cost for two: INR 1500
Location: Khasra 264, Ground Floor, Westend Marg, Said Ul Ajab, Saket, New Delhi
Timings: Weekdays - 8:00 AM to 11:00 PM; Weekends - 8:00 AM to 11:30 PM
Things to do nearby: Take a walk in the peaceful Saket park, visit the historical Qutub Minar, Red Fort, and Humayun's Tomb.
Must Try: Dishoom's Bombay Omelet, Chicken Fingers, Cheesy French Toast, and Grilled Chicken with French fries, classic Oreo shake
5. Diggin, Chanakyapuri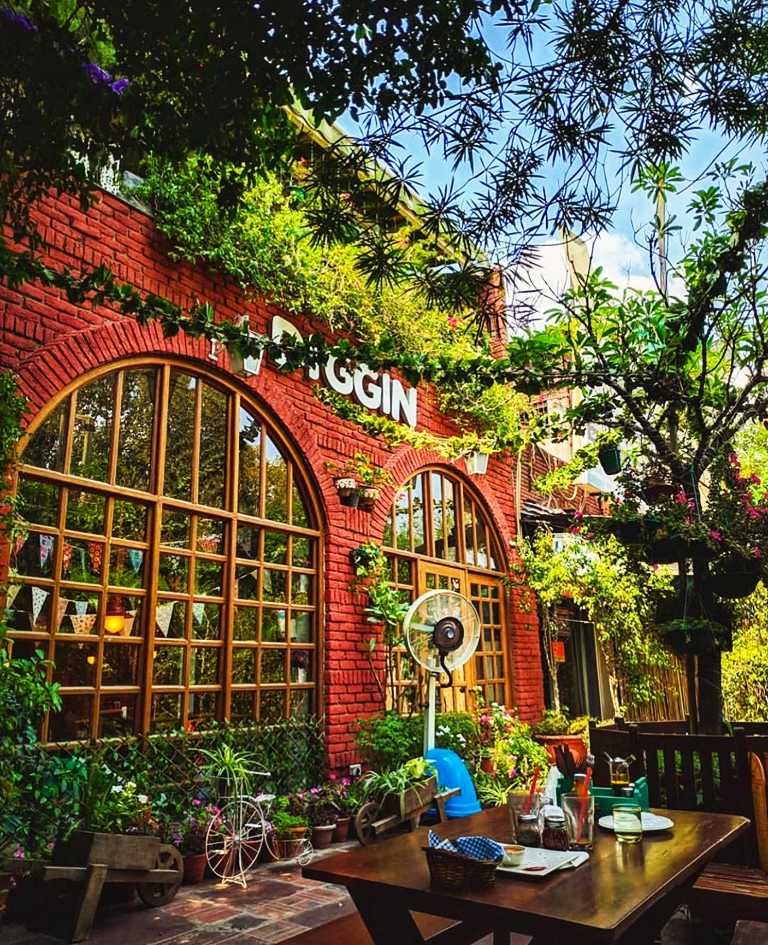 Looking for a perfect date spot? Stop digging around. Diggin, a picturesque cafe located in Chanakyapuri, is perfect for an evening with bae. With roses hanging on the walls and dim lights, creating a romantic ambience, you and your partner are sure to enjoy the vibe of this place. They don't serve alcohol here, but that surely won't be a problem because there are plenty of other stuff to get high on (Belgian chocolate overload shake, for instance). Tucked away near Santushti
Shopping
Center, this cafe serves the best Aglio-e-Olio in the area.
Cost for two: INR 1300
Location: Santushti Shopping Complex, 10, Race Course Road, Chanakyapuri, New Delhi
Timings: 11:00 PM to 9:30 PM
Things to do nearby: After a romantic meal, take a stroll in the Indo-African Friendship Rose Garden located only 2 km away.
Must Try: Aglio-e-Olio, Zucchini Fries, Bacon pizza, cafe mocha, lemonade, cold coffee
6. Amalfi, Greater Kailash 2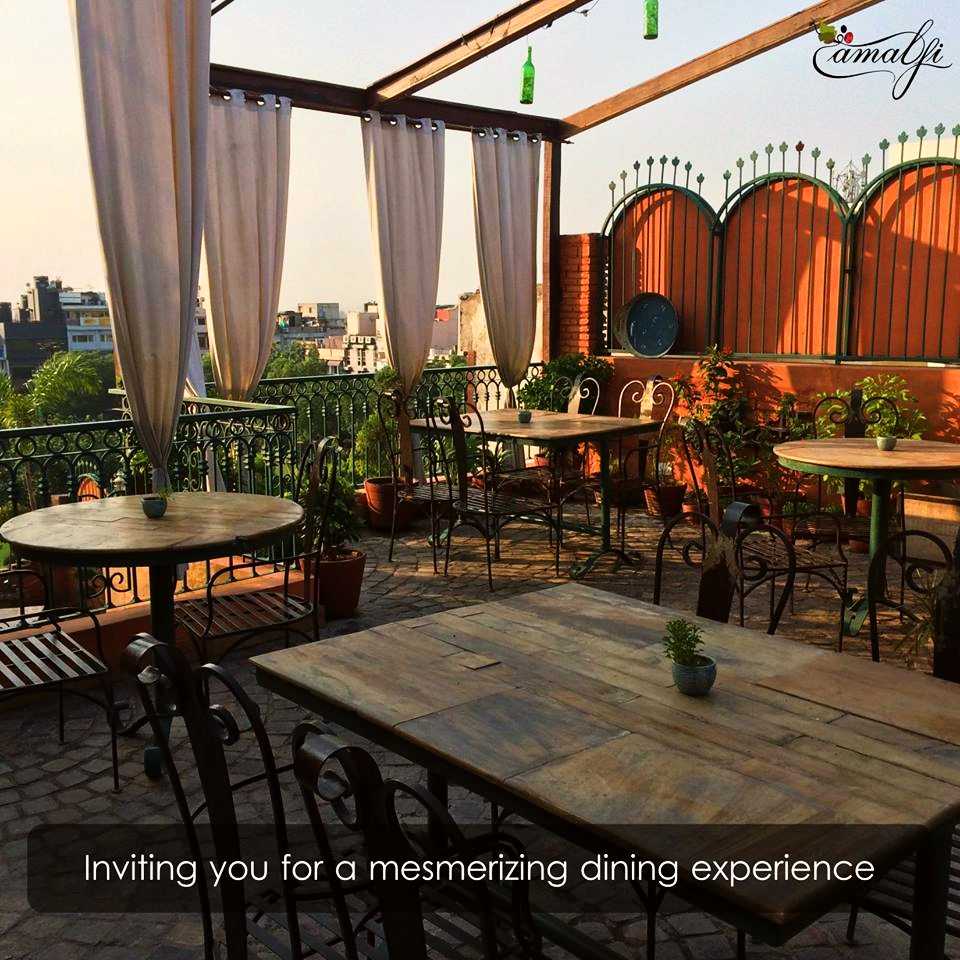 Amalfi offers authentic Italian cuisine, which is much more than just pizzas and pasta. With minimal and aesthetic setting, beautiful rooftop seating, and food that would make you salivate for more. The soothing tunes played at this cafe in Delhi are a treat to your earbuds. The rustic Italian interiors and dim lights would transport you to Amalfi itself, a town located on Italy's southwest coast. You might not be able to pronounce the name of the dishes (don't worry, we've all been there) but you would surely love the taste.
Cost for two: INR 1800
Location: M-82, 1st Floor, Greater Kailash 2, New Delhi
Timings: 12:00 PM to 12:00 AM
Things to do nearby: There are tons of great spa services in the block. So why not go for a couple's massage after your meal.
Must Try: Salmone Alla Griglia, vegetable risotto, Gnoochi di Patate, Italian wine
7. Cha Bar, Connaught Place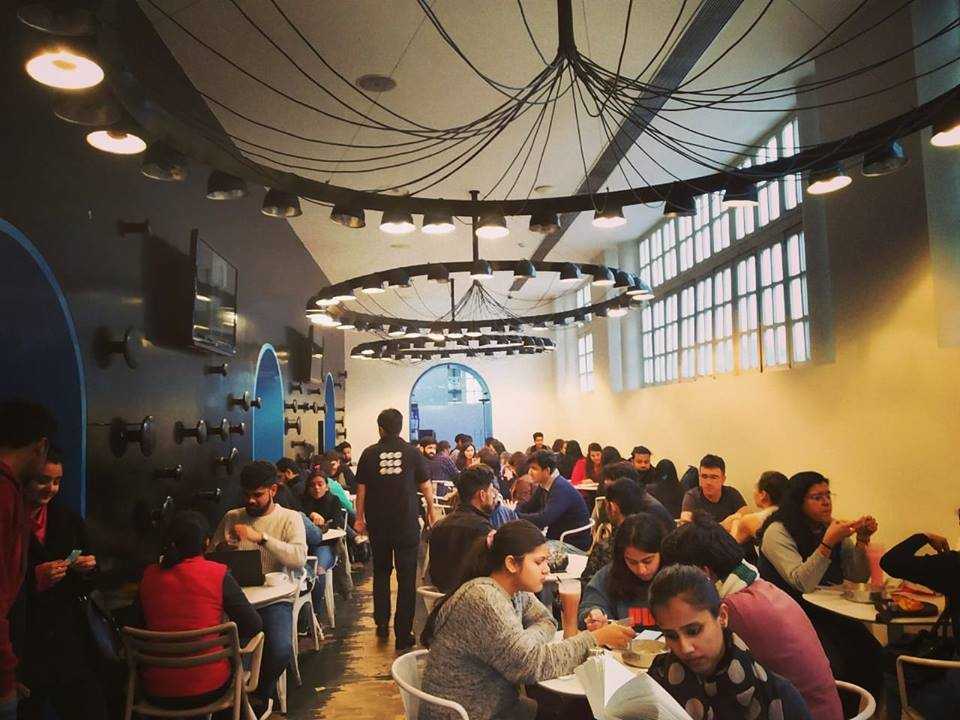 Who says books and food can't be your best friends never visited Cha Bar in Connaught Place. Part of the Oxford book store, the place is ideal for catching up on a novel while sipping on a tea and snacking on something flavourful. The aroma of fresh tea and new pages of the books would linger in your head long after you have left the place (one reason to revisit the place I guess). They present you with several options of tea to choose from. Namely, Nilgiri,
Darjeeling
, Assamese, and even herbal, Ayurvedic, and organic. Have a sandwich or dessert for the ultimate book, reading pleasure. They don't just help you with your food order, the kind staff over at the cafe would also help you pick up your next read. So what's next? Spend hours and hours with your nose buried in the book while you disconnect with the real world, hog on the delicacies and drink warm and comforting tea. Keep in mind that other book lovers are dying to get a good reading spot in the bustling city. Make sure to grab a table as early as you can or wait for a few minutes before one gets empty.
Cost for two: INR 500
Location: N-81, Near Oxford Bookstore, Connaught Place, New Delhi. They have other outlets in Gurgaon and Kamla Nagar too.
Timings: 9:30 AM to 9:30 PM
Things to do nearby: After you are done with your book spend your evening shopping at the gorgeous CP.
Must Try: Variety of tea
8. Blue Tokai Coffee Roasters, Saket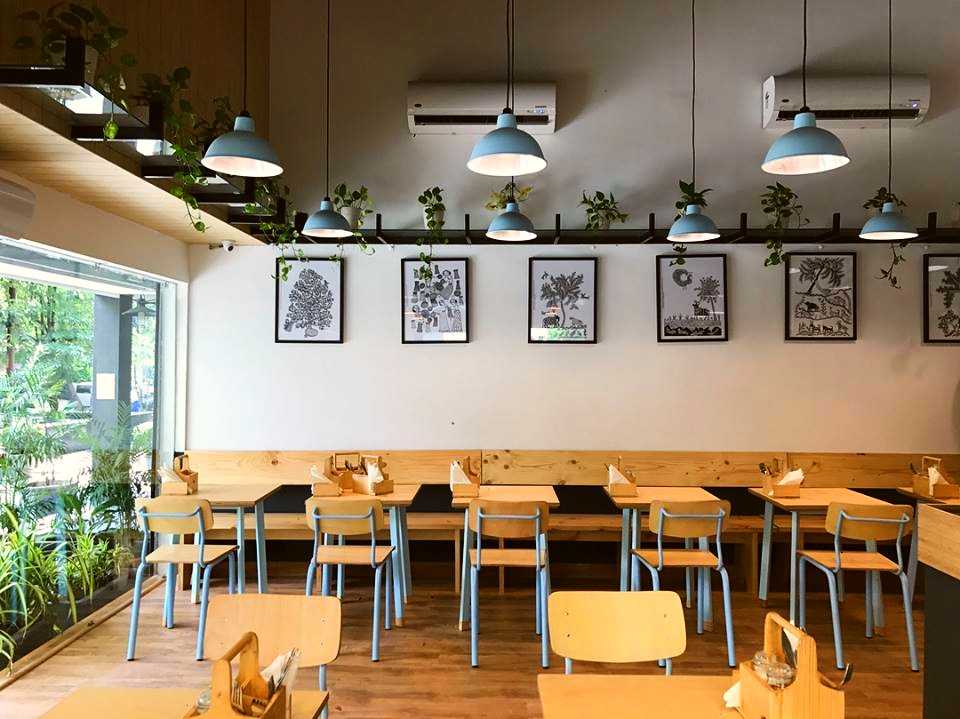 If you are a coffee enthusiast or someone who can't live without coffee, you probably know about this adorable cafe in Delhi. Blue Tokai is a coffee roasting company who grow fresh coffee with the help of coffee farmers in the country and then distribute it as well. Blue Tokai opened its first cafe in Delhi a few years ago. They have also revolutionised the coffee scene in the capital by introducing the 3rd wave of coffee. You can google the last part if you don't know about it. There's a large variety of drinks to choose from. The good staff over at Blue Tokai knows their coffee well and would gladly help you select one. Though their main focus is on the coffee, there are few good snacks you can pair with your drink.
Cost for two: INR 750
Location: Khasra 258, Lane 3, Westend Marg, Said Ul Ajaib, Saket, New Delhi
Timings: 9:00 AM to 10:00 PM
Things to do nearby: Engage in an exciting match of soap football at an area nearby. You can also shop or catch a movie at the Select Mall, Saket.
Must Try: Coffee range like Flat White, Coffee Tonic, Cortado, Pour-over, Selection Tonic, French Press, Open faced Sandwich, Cheese Croissant.
9. All American Diner, Lodhi Road

Ah, good old American diners. You have seen them in cult movies (Pulp fiction), you have seen them in comics (Pop Tates in Archies Comics), and even in prime time TV shows (Riverdale). A retro 1950s themed American diner is always a delight, and All American Diner is just that. There's a jukebox playing swell tunes, seats covered in red leather, and a menu full of thick shakes, burgers, waffles, and soft and fluffy pancakes. There are only a few breakfast spots in the city which open as early as 7 AM, and All American Diner is one of them. So next time you are out partying till the sun rises, you know where to go to satiate your hunger and cure the hangover.
Cost for two: INR 1300
Location: India Habitat Centre (IHC), Ground Floor, Lodhi Road, New Delhi
Timings: 7:00 AM to 12:00 AM
Things to do nearby: You won't be bored if you are at the India Habitat Centre (IHC). There are plenty of places to go to. There is a visual arts gallery, a library, and resource center, a tranquil and beautiful pond, and last but not the least, an amphitheatre as well.
Must Try: Denver Omelette, Rock & Roll Cappuccino and the breakfast buffet during weekends.
10. Potbelly Rooftop Cafe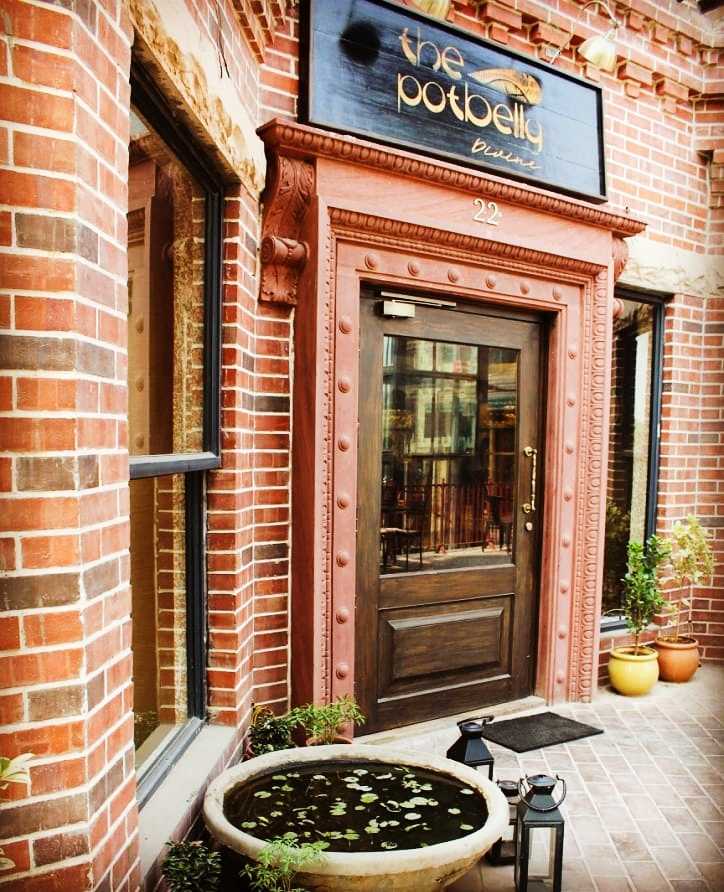 When was the last time you ate the Bihari cuisine that too at a Rooftop Cafe in Delhi? Potbelly Cafe is one of a kind place that serves authentic Bihari and fusion Bihari cuisine. It's a quaint place but cosy enough to have a full-fledged meal while enjoying the evening breeze. Whether it be a shopper coming from the nearby market, a tourist wanting to try this eatery, or a local tired of the home-cooked food, the place is loved by all.
Cost for two: INR 1000
Location: 116-C, 4th Floor, Shahpur Jat, New Delhi
Timings: 12:30 PM to 10:30 AM
Things to do nearby: Shahpur Jat may sound like a village on the outskirts but it is indeed a tiny urban area filled with hip and bohemian studios, quirky restaurants and shops, and designer studios. Taking a walk in this area would surely be insta-worthy.
Must Try: Khada Masala Mutton, Dehati Fish n Chips, Pakora Baskets, Poori Baskets (Pooris stuffed with spicy Sattu), Bhojpuri Thali and Tarkari Thali.
We hope that this list of the best cafes in Delhi will make it easier for you to sort those Sunday brunch plans. Know any more cafes that deserve to be in the top list? Tell us in the comments.