Whether you're happy, sad, furious, or just bored, a road trip solves everything. And this has been a topic for a lot of movies ever since there were cars and roads. So get ready with your backpacks because we are going to tell you about 11 Bollywood road-trip movies that will inspire you to embark on your own journey. Enjoy!
This post is curated by our friends at
FlickZee
. They help you find where to watch your favourite Movie or TV show on the streaming platforms like Netflix, Amazon Prime, HotStar, Zee5, AltBalaji, ErosNow & many more.
1. Zindagi Na Milegi Dobara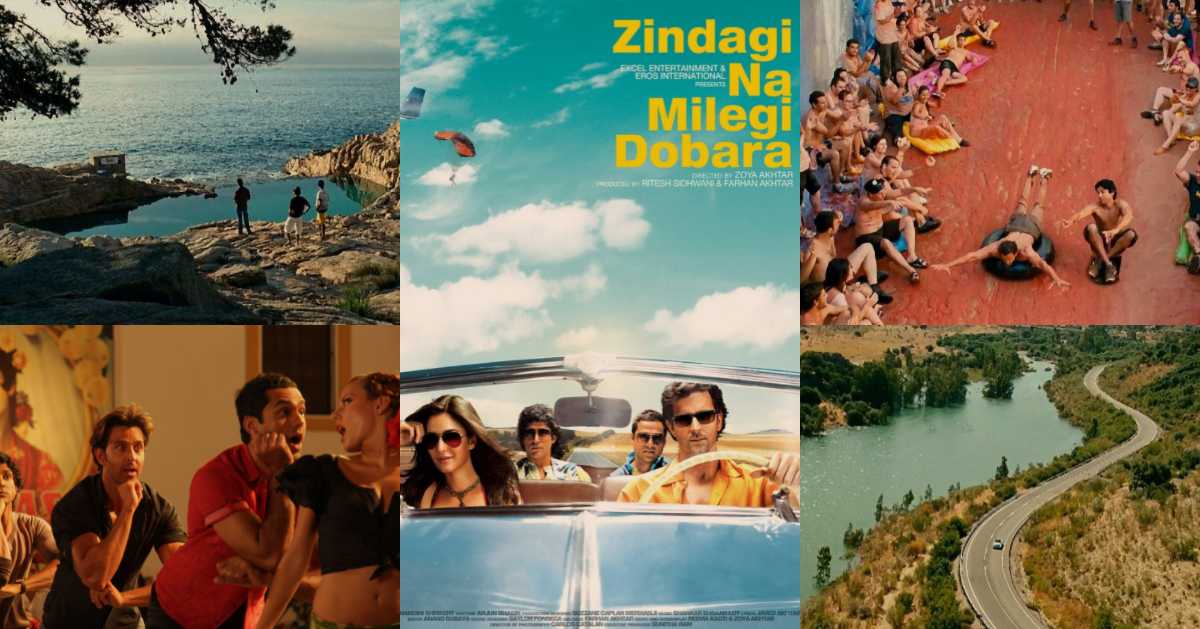 IMDB rating:
8.1/10
Storyline:
Three childhood friends - Kabir, Imran and Arjun set out on a 3-week long bachelor trip across Spain after Kabir proposes to his girlfriend. The '3 Musketeers' had made a pact that each one of them has to pick an adventure sport that the other 2 have to compulsorily do. It turns out to be a self-exploratory and an adventurous trip as they face their pasts and fears which teach them about life.
ZNMD takes you on an adventure trip across Spain. You get to see the famous La Tomatina of Buñol town, the beautiful Barcelona; Scuba and Sky Diving in Costa Brava, Spanish dance and music show in Andalucia, and the Bull Racing festival in Pamplona. This is a perfect watch with your buddies and who knows, it might excite you for your own crazy trip.
2. Highway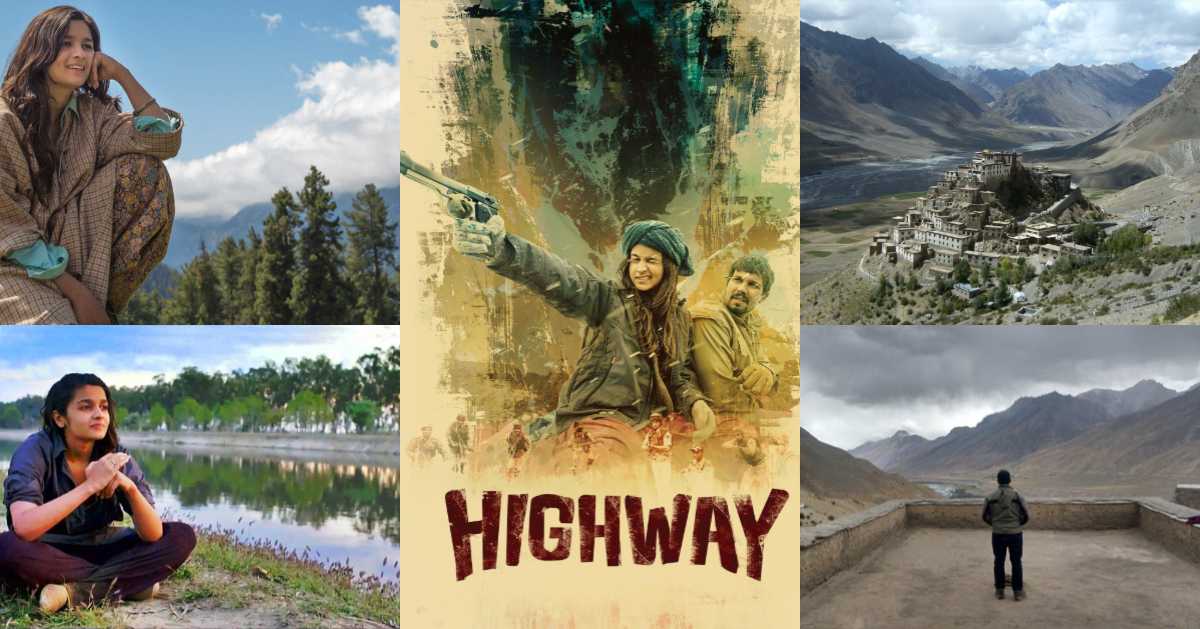 IMDB rating:
7.7/10
Storyline:
One night before her wedding, Veera is abducted from a highway where she was with her fiancé. The kidnappers & their leader Mahabir, panic when they discover that she is the daughter of a very famous industrialist. So as not to get caught, they decide to be on the move and hop through cities from Mumbai to Kashmir. Surprisingly, Veera feels liberated in her abduction and confides her dark childhood secrets in Mahabir.
"Highway" will give you serious motivation to get up and get going with its shooting locations. You'll experience the chilling weather of Kaza, the walk in the Spiti Valley of Himachal, the trekking in Pahalgam Mountains and Aru Valley, inner peace in the Tabo Monastery, the vastness of Sambhar Lake in Rajasthan, the canals of Punjab, the devotion in Ajmer Sharif Dargah, the solitude of Nurmahal in Faridkot, Punjab and the beauty of the countryside.
3. Jab we Met
IMDB rating:
7.9/10
Storyline:
Aditya is heartbroken after his father's death and losing his girlfriend. He randomly boards a train and meets Geet, a chirpy happy-go-lucky girl. Aditya gets off the train and a concerned Geet tries to get him on board again. She misses her train, blames Aditya for it and persists him to take her to Bhatinda, her home. After missing the train twice, they get on a road trip from Ratlam to Bhatinda. He realises Geet's plan to elope for Anshuman, her love, with the help of Aditya and the duo once again get on a road trip from Bhatinda to Manali. Through their journey, Geet and Aditya find themselves, what they want in life and who they want to be with.
The film is majorly shot at popular destinations of Northern and Western India. Before Eloping, they do a road trip from Ratlam to Bhatinda around the rich heritage of Rajasthan like the Havelis and Forts of Mandawa Village, Mandawa Fort, Jhunjhunu. After they run away for Shimla, they travel through the soul-soothing locations of Himachal like Naggar Castle, Manali, Mall Road and Toy Train in Shimla and Rohtang Pass.
4. Karwaan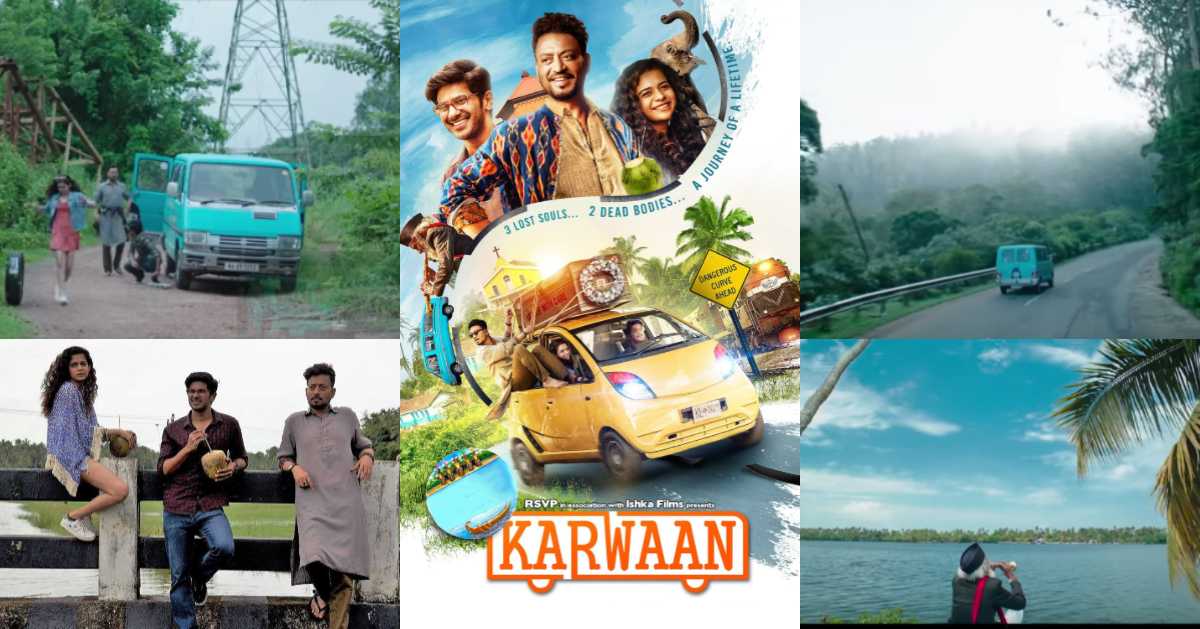 IMDB rating: 7.5/10
Storyline:
Avinash, a frustrated IT employee, receives the tragic news of his father's death in a road accident. There is a mix-up and Avinash gets the body of an old lady who died in the same bus accident. So Avinash and his friend Shaukat set out on a road trip from Bangalore to Kochi. On their way, they take a few detours, to pick the carefree and rebellious granddaughter of the old lady from Coimbatore, then to a friend's marriage to deliver a package before finally reaching Kochi.
Karwaan is a light-hearted story that turns into an unanticipated journey through South India, filled with soothing music and scenes with lush green surroundings. You'll witness the beauty of Ooty, the ocean surrounding roads of Kerala, and the lakes of Thrissur. All in all, this movie is a full diet for a wanderlust appetite.
5. Piku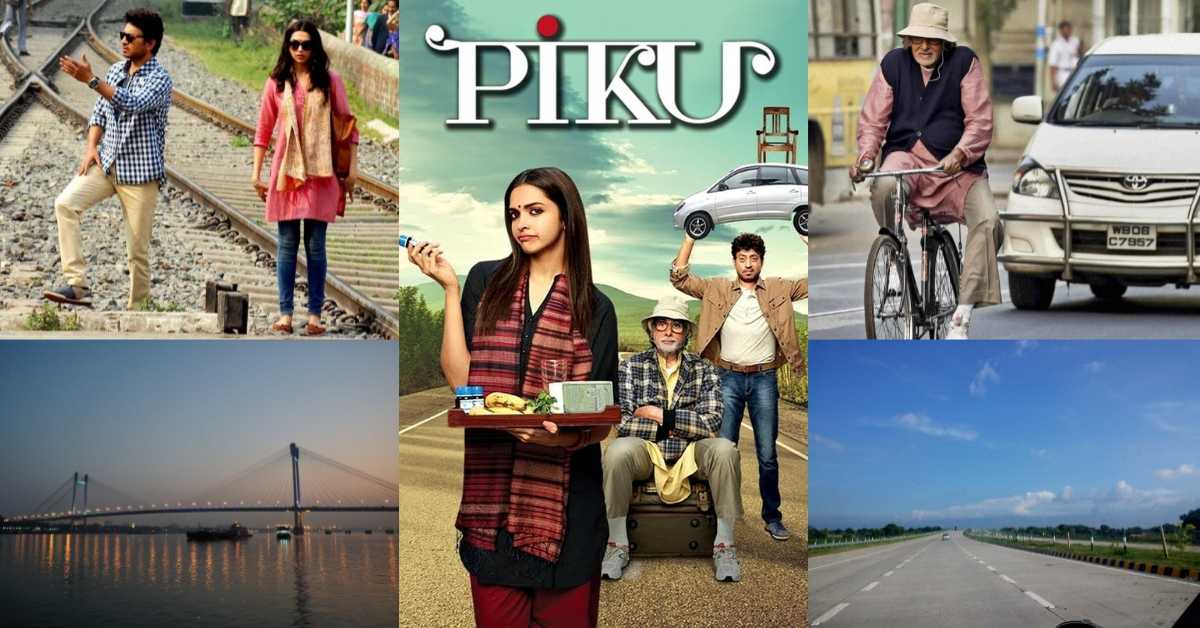 IMDB rating: 7.6/10
Storyline:
Bhaskor is an old nagging father, with chronic constipation who lives with his daughter, Piku. Bhaskor is obsessed with his health and is constantly worried about his constipation. When they learn that their family home is in talks of being sold to a builder, Piku decides to take him from Delhi to Calcutta. Since Bhaskor feels sick in train or flight, Piku books a cab and sets out on a journey from Delhi to Kolkata with her eccentric father. When all his drivers step back, Rana, the cab company owner takes them on the trip.
Piku is a sweet tale of a father and daughter's relationship filled with serene moments throughout the journey like the night stay at Varanasi, a smooth ride through Yamuna Expressway, a cycle ride through the narrow lanes of Kolkata, and a peaceful walk alongside the Hooghly river.
6. Dhanak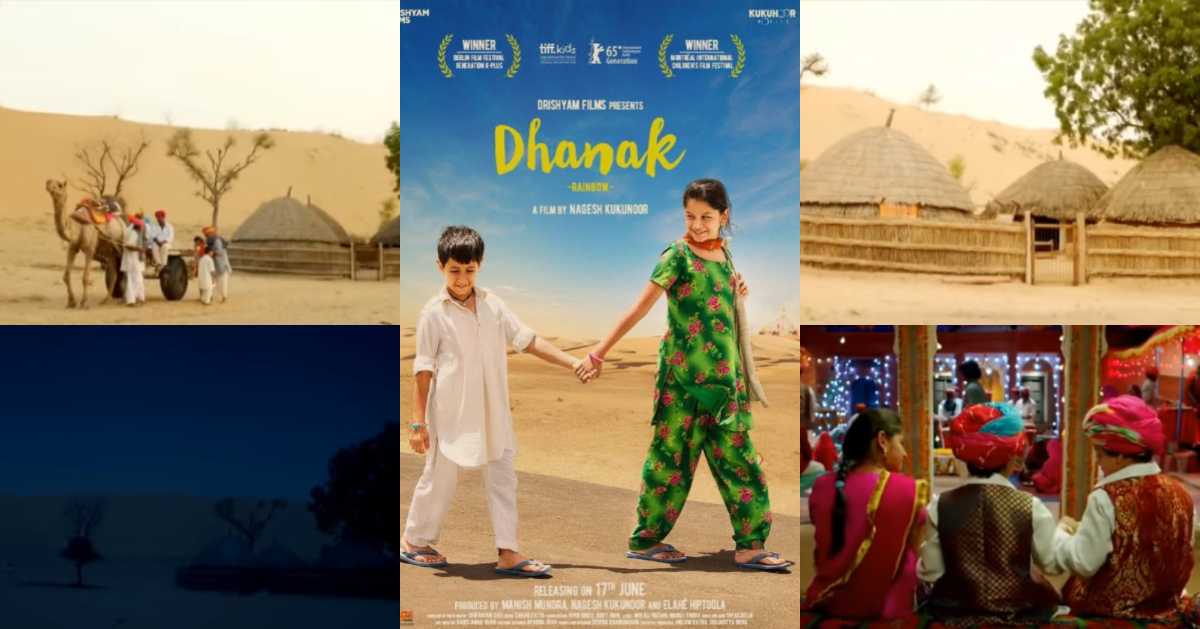 IMDB rating: 8/10
Storyline:
Dhanak is a beautiful story of a blind brother and his sister who wants to give him eyesight before he turns 9 years old. They set on a hitchhiking journey from a village in Jaitaran to Jaisalmer in Rajasthan, hopeful that the Bollywood megastar Shah Rukh Khan, who is shooting in Jaisalmer, will help in getting the boy's sight back as the sister has seen him in a poster of eye-donation advertisement. On their hitchhiking journey, these little kids face difficulties in their own naive and innocent ways.
Dhanak takes you closer to the typical rural culture and lifestyle of Rajasthan including the life in huts, falling asleep under the starry sky, the food cooked on wood-fired mud oven, the blue city of Jodhpur, and the deserts of Jaisalmer. The whole journey is filled with memorable moments, music, philosophies, and of course, the famous Kalbelia dance.
7. Road, Movie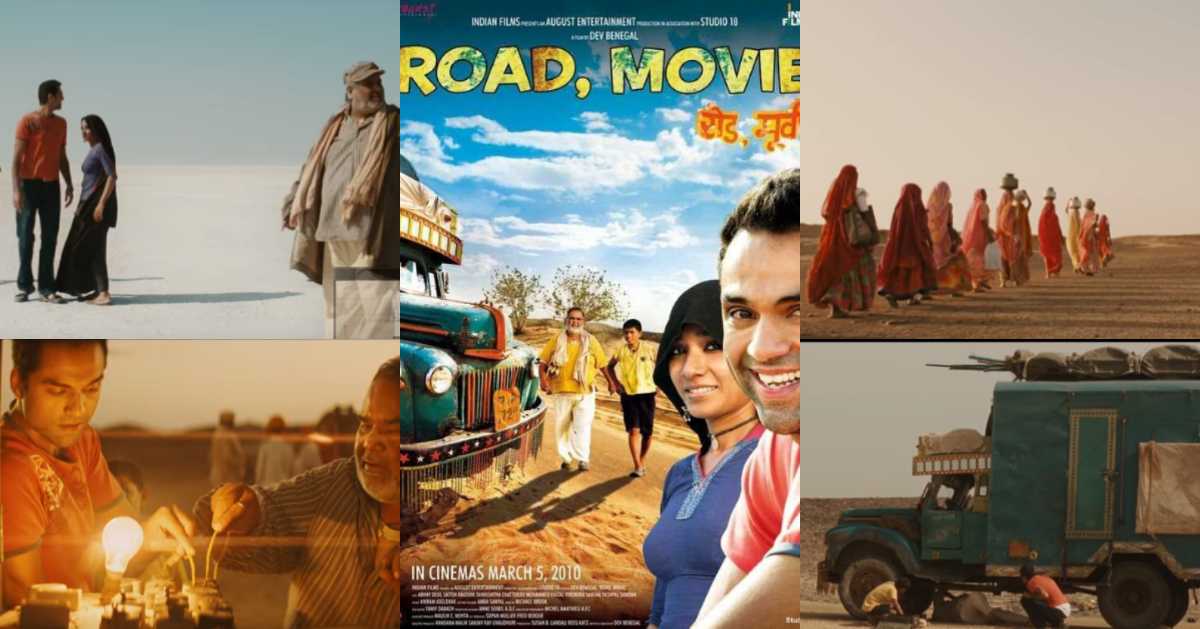 IMDB rating: 6.9/10
Storyline:
Vishnu, a young carefree guy, seeks a way to escape his father's Oil Business by taking a journey in an old truck that his neighbours have sold to a local museum. Vishnu takes the responsibility to drive the truck across the desert of Rajasthan to a local museum near the sea. The truck is actually a touring cinema with 40-year-old projectors. On his way, he picks up other passengers; an orphaned boy, a widowed gypsy woman, and an old mechanic. Together, they face difficulties and gain new experiences about life.
'Road, Movie' is a colourful and engaging road trip that shows you contemporary India, the culture of rural areas of Rajasthan, the vast deserts, and the love of cinema among the remote areas of India.
8. Finding Fanny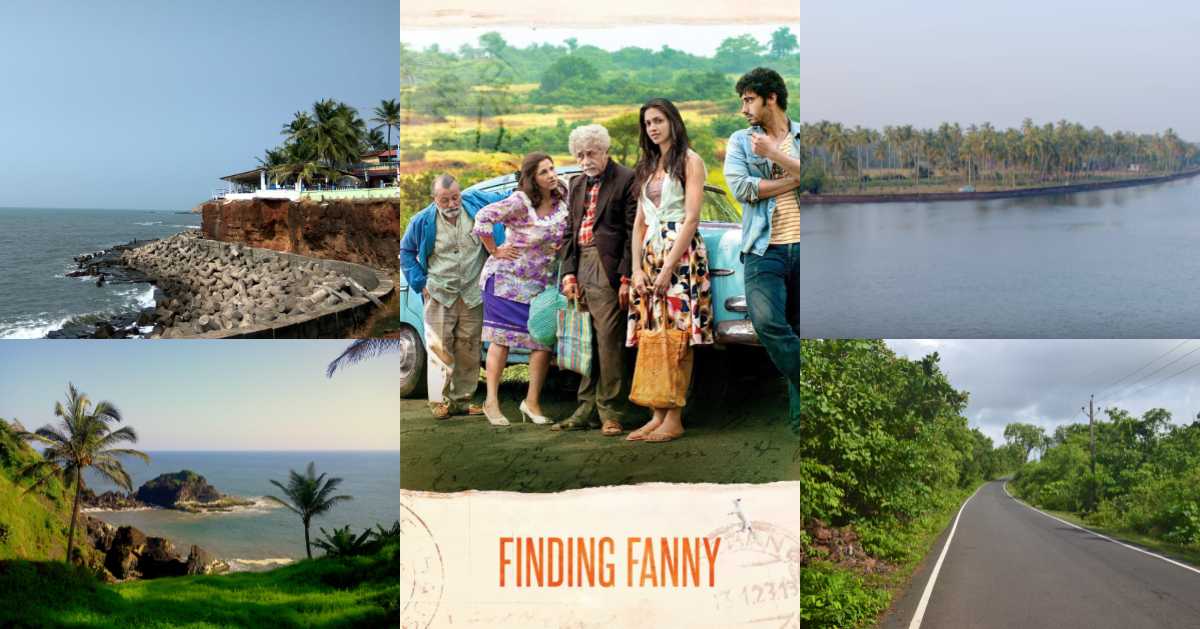 IMDB rating: 5.8/10
Ferdie receives an undelivered letter which was a marriage proposal that he had sent to his then sweetheart, Fanny. He realises that Fanny never got to know about his feelings for her. Angie, a young widow decides to help him in finding Fanny along with her childhood friend, her mother-in-law, and an old artist named Don Pedro. They set on a road trip to find fanny but it turns out to be a life-changing journey for each one of them.
"Finding Fanny" will take you through the unseen side of Goa as the film is shot at various locations including the Three King's Church, Lisbon House in Assagao, Divar island, St Jacinto Bridge and Siolim bridge.
9. Kabul Express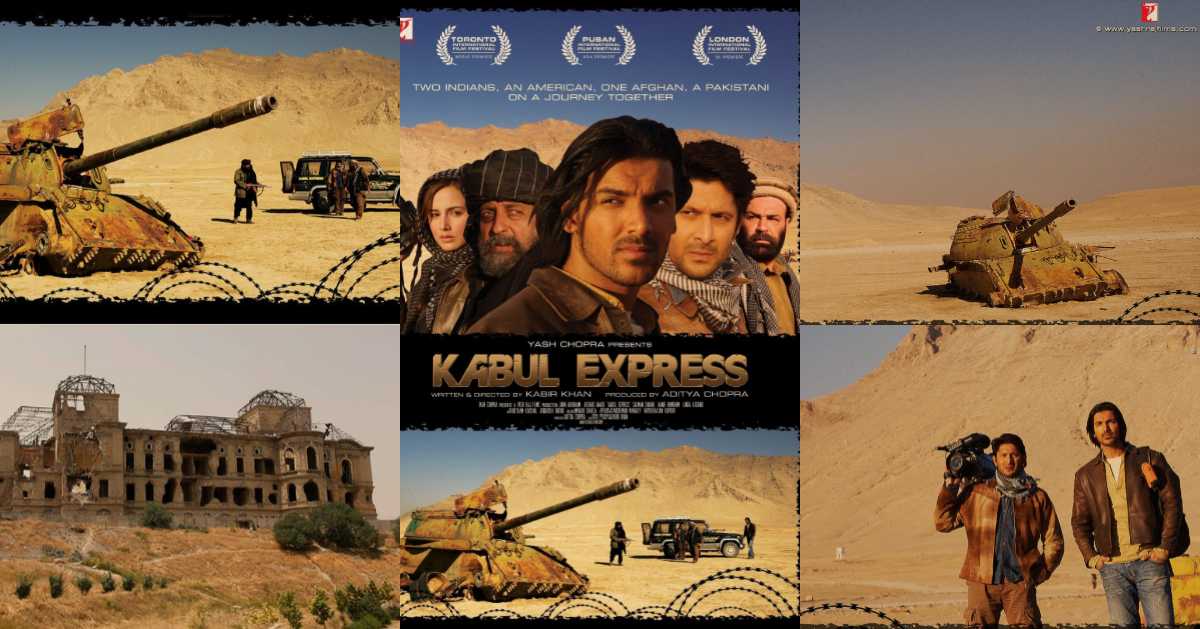 IMDB rating: 6.8/10
Storyline:
Two Indian Journalists, Jai and Suhel go to Afghanistan to cover the life in Kabul and interview a Talibani after the invasion of America. An American journalist who wants to interview the US troops joins them in their expedition. But things go south when they get hijacked by a Talibani who wants to go to Pakistan and insists to drive to the Pakistani border. The movie is actually shot in Kabul and portrays the hardships of the locals after the invasion of the Taliban and eventually America.
Definitely not one of those all-good road trip movies, "Kabul Express" is, in fact, a thoughtful journey that makes you think about the situations around you. In this road trip, you'll witness the remains of what used to be the pride of Kabul and beautiful Afghanistan at one time like the Darul-Aman-Palace in Kabul, the Green Palace, along with Buzkashi game in Bala Hissar Fort, and the Panjshir Valley of Afghanistan, the one depicted in Saib-e-Tabrizi's poem.
10. Qarib Qarib Singlle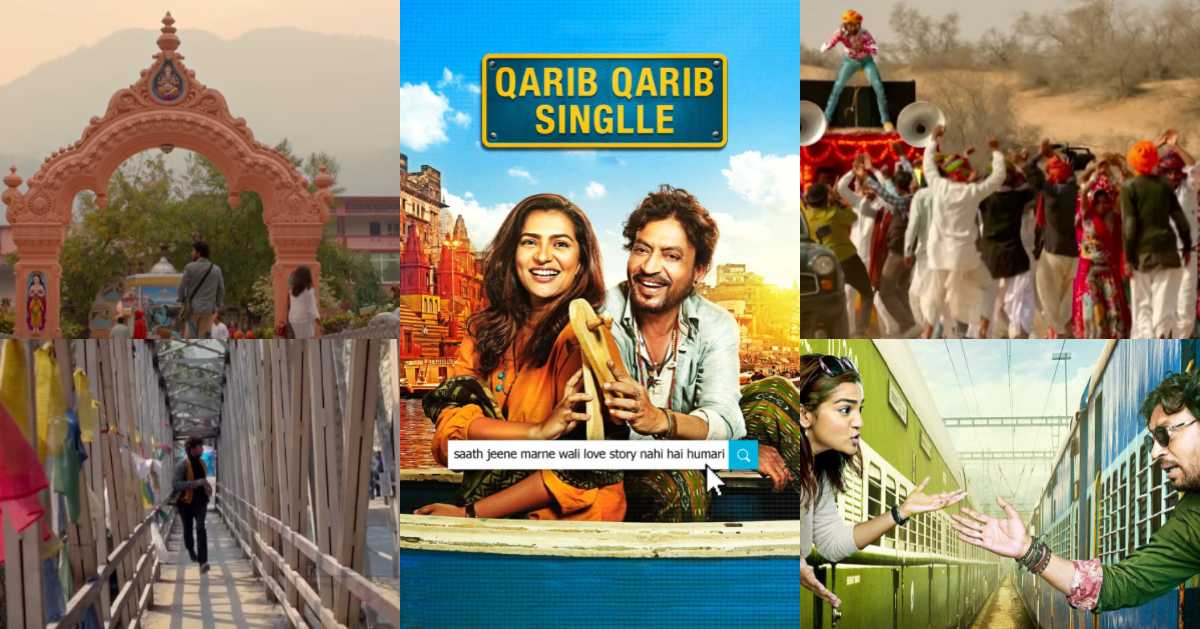 IMDB rating: 7/10
Storyline:
Yogi and Jayashree are like the north and the south pole, complete opposites. Both, deprived of love in their lives join a dating app in desperation. On their first date after connecting online, the poor sense of humour of Yogi sets Jaya off and makes her realise that she has landed herself in big trouble. However, Yogi tells Jaya about his 3 ex-girlfriends and that they still yearn for him. To prove this, Yogi convinces Jaya to set out on a road trip across India from Bikaner to Gangtok. Due to their polar personalities, they face a hard time getting along with each other which creates some really entertaining moments throughout their unusual romantic journey.
'Qarib Qarib Singlle' is a mini traveller's guide that gives you a tour of some of the beautiful destinations in India. You will experience the hospitality of Rajasthan in Bikaner and Alwar, the adventures of Dehradun and Rishikesh, and the stillness of Gangtok along with a cute and not-so-cliche love story.
11. Chalo Dilli
IMDB rating: 6.8/10
Storyline:
On her trip from Mumbai to Delhi, a high-class businesswoman, Mihika misses her flight due to a traffic jam. Similar is the case with the irritating Manu Gupta, her co-passenger in the shared rickshaw. Now they both have to board another flight which gets diverted to Jaipur. There's no flight for several hours from Jaipur to Delhi, so they both resort to travel by road, in a rental taxi. The movie gets interesting when a high-class businesswoman has to deal with middle-class problems.
"Chalo Dilli" is a road trip through the urban and the rural parts of India. You'll find yourself in a small village of Rajasthan soon after facing the traffic problems in Mumbai. The camel cart rides, train rides, and the road trip will take you one step closer to rural India and its contrast with the urban and crowded Metros.
Find an approaching weekend, book a hotel beforehand and indulge in the little pleasures of a road trip. If you have more such road trip movies in your list, let everyone know in the comments below.