Dussehra is one of the most popular and awaited festivals in India and especially in Delhi, it is celebrated with great pomp and splendour as the capital is a place of diversity and warmth. Delhi holds a lot of significance for Dussehra as the city welcomes the festival with lights and colours everywhere and being one of the historical towns it does live up to everyone's expectations and follows all the rituals and traditions. The place sees an immediate rise in the incoming of tourists from all around the globe and grabs everyone's attention with its beautiful events and festivities.
Dates of Dussehra in 2020
Navratri – Kickstarts on 17th October 2020
It's a nine day long celebrations preparing for Dussehra.
Dussehra - 25th October 2020It is the tenth and the last day of the festival.
Ravan Dahan during Dussehra in Delhi
Dussehra is a festival that commemorates the victory of Lord Rama with his brother Lakshmana over King Ravana in an intense battle. On the last day of this great festival after Navratri, tourists from all over the world gather in Delhi to watch Ramlila, a mythological tale of Rama and later to witness Ravan Dahan where life-sized effigies of Ravana, his son Meghnada and brother Kumbhakarna are set up for display and are burned in an enactment with firecrackers sparkling in the sky with people chanting Jai Shree Ram is quite a delight for people to watch.

Highlights of Dussehra in Delhi
· Watching Ravan Dahan is the best way to commemorate the festival in Delhi as the place is well known for this ancient tradition.
· Dandiya Nights in Delhi adds fun in celebrations.
· Budget-friendly shopping in Chandni Chowk and tasting the street food in Old Delhi with festive specials make your festival extra unique and leaves you with a memorable experience.
· Exploring famous tourist sites like Red Fort, Akshardham temple, Lotus Temple, Jantar Mantar etc., in October is an added advantage as it is also considered as the best time to visit Delhi because of its pleasant weather.

Organisers and Venues of Ramlila in Delhi
Some various committees and venues organise this Ramlila musical in Delhi. People come to visit the events as it also features some Bollywood biggies and personalities from the entertainment industry. The following list mentions the organisers and the venues of the events.
1. Shri Dharmik Leela Committee at Subhash Maidan
2. Shri Ramlila Committee at Ramlila Maidan
3. Shriram Bharatiya Kala Kendra at 1, Copernicus Marg.
4. Nav Shri Dharmik Leela Committee at Red Fort Lawns
5. Lav – Kush Ramlila Committee at Lal Qila Maidan, Red Fort
6. DDA ground, NSP, Pitampura
7. Dwaraka Ground sector 10.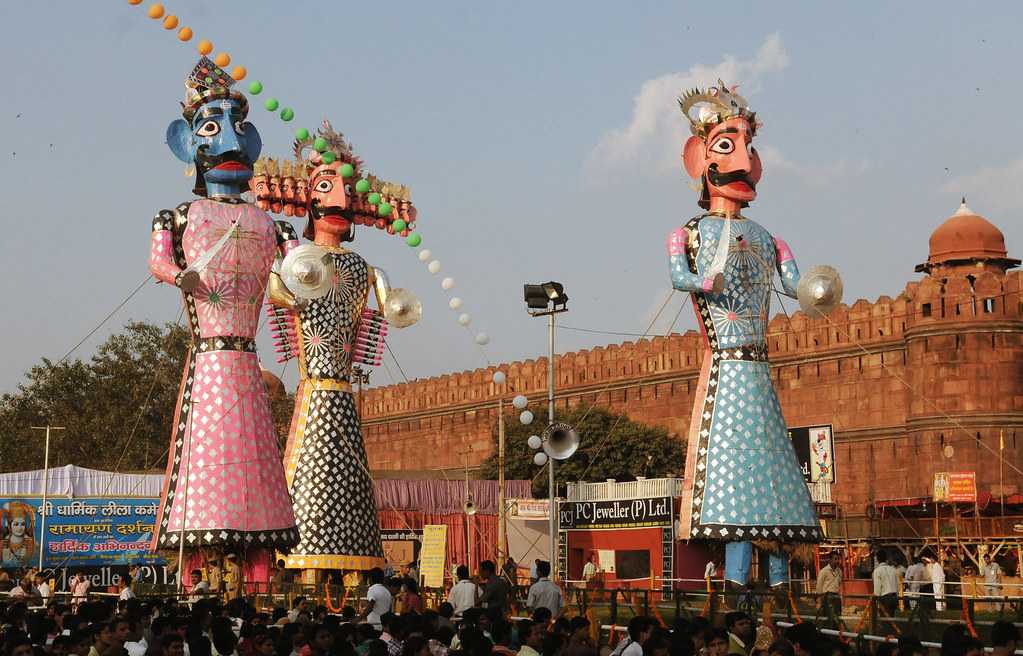 Things You Do Not Want to Miss During Dussehra in Delhi
1. Ramlila Musical
It is the re-enactment of the mythology Ramayana and has it all. From the start till the end, it never fails to cease your eyes. It includes narration of the story, music, dance, drama and whatnot. One can feel the characters coming to life with the actor's performances. Many organisers conduct this during the festive season, and it's a must on your to-do list as it completes your Dussehra celebration.
2. Ravan Dahan

This takes place after the Ramlila Musical at some venues like Ramlila Maidan. It's an age-old tradition where the sky-high effigies of Ravana, Meghnadh and Kumbhkaran along with bursting firecrackers. People gather in huge numbers and witness this mesmerising event as it also reminds you of the victory of good over evil.
3. Dandiya Nights

What's a festival without dance and music? Isn't it? Some amazing Dandiya nights happen in Delhi every year with Bollywood music adding some sizzle to it. People come along with their family and friends and take part in the celebrations.
4. Attend Durga Puja

Durga puja is also a part of the Dussehra traditions and customs where people install enormous Goddess Durga Pratimas and offer prayers to her. It is held all around in Delhi and is called as Pandal. These Pandals host a vast number of guests from all over the place. Durga Puja at Kali Mandir, Kashmir Gate, Arambagh Durga Puja Samithi is the most sought after events.
5. Let's Go on a Shopping Spree

Shopping in Delhi markets is very exciting and so much fun. These Delhi markets like Chandni Chowk, Lajpat Nagar, Sarojini Market, Khan Market are immensely popular. These places are known for silk textiles, handicrafts, puppets, artefacts, street food etc.., although these markets are often crowded, especially during festivals but worth the struggle and time. For luxurious shopping do not miss Pacific Mall and DLF Emporio in New Delhi.
6. Try the Street Food

Delhi is very famous for its street food and does not miss out dishing on some of the best street food in the world as the capital of India is also considered as a paradise by all the food lovers. Foods like Golgappe, Chole Bhature, Paranthe, Faluda, Kebab etc.., are some of the mouth-watering dishes. Also, the Ramleela maidans have food stalls to attract its visitors. So you can try there too.
The spirit of Dussehra is all in the air in Delhi from day one as people are very excited and offers prayers and sweets to gods and goddesses. During this season of triumph over evil, you cannot afford to miss these larger than life celebrations in Delhi.