Christmas is one of the biggest festivals in India, especially for Christians. Christmas is celebrated with the same warmth and excitement as Diwali, Eid or any other festival. This is one of the things that ascertain our unity in diversity. Delhi, being India's capital state is the heart of the celebration. Be it through Christmas special cakes, bakes, desserts or delicious savoury food; or fancy and upbeat Christmas carnivals, markets and fests at various hotels and shopping malls, Delhi offers it ALL!
Here are some of the things to do in Delhi, during Christmas; especially in terms of food, shopping and activities:

1. Sacred Heart Cathedral Church
2. St. Alphonsa's Church
3. Cathedral Church of the Redemption
4. St. James Church
5. St. Mary's Church
6. German Christmas Market
7. Oz Haat Mela
8. Select City Walk
9. American Welcome Association
10. Nappa Dori
1. Theobroma
12. Georgia Dakota
13. Wenger's
14. The Brown Box
15. Elma's
Some of the Churches in Delhi to visit during Christmas 
1. Sacred Heart Cathedral Church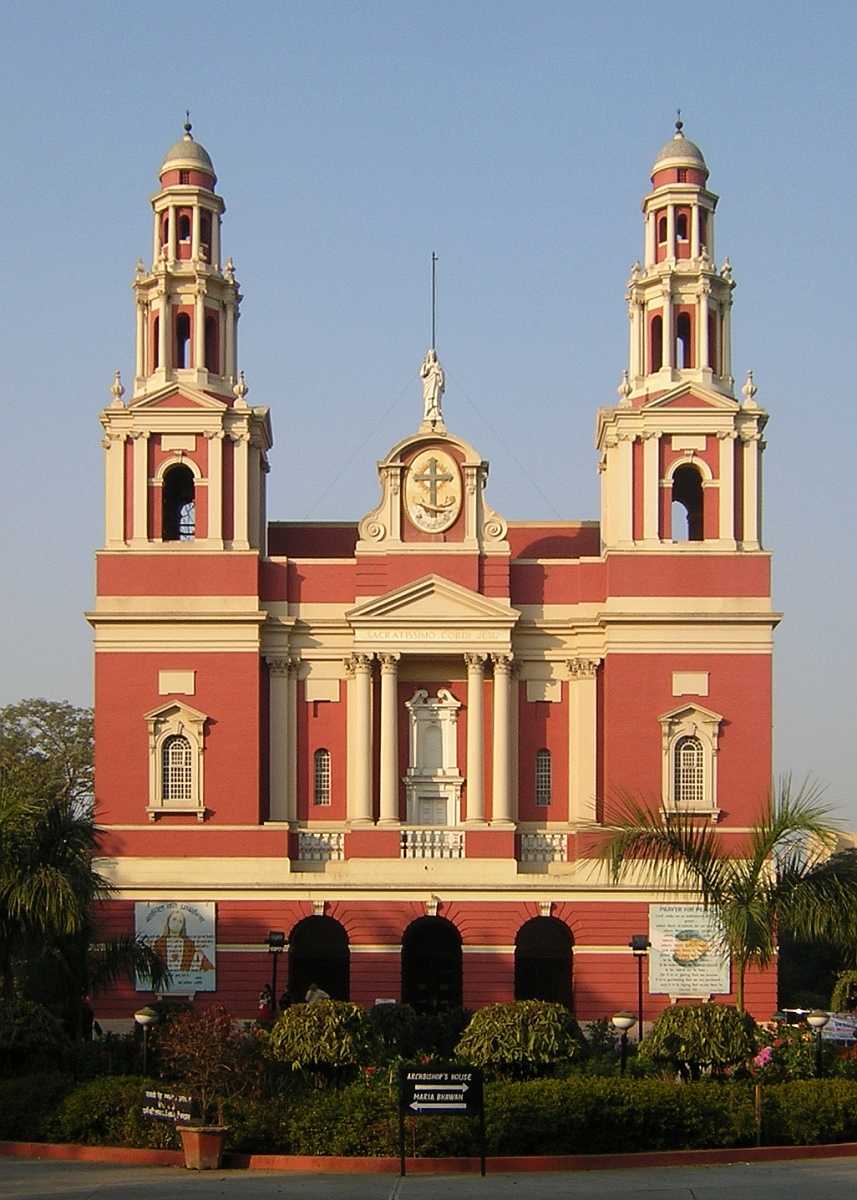 The Sacred Heart Cathedral Church is one of the oldest and beautiful churches in the city. It is massive and has a significant place in the hearts of people; especially around Christmas. Fairy lights, colourful items, shiny stars, wreaths etc. are used to adorn the entire church. Huge crowds of people gather to celebrate Christmas eve. There is the midnight mass, Carol singing, prayer singing and more. A cake is cut post-midnight and distributed amongst everyone. There are fun stalls and activities set up beside the church's entrance. 
Location: 1, Ashok Place, Sector 4, Gole Market, New Delhi, Delhi 110001.
2. St. Alphonsa's Church
St. Alphonsa's Church is situated at one of the most beautiful locations in the city, amidst lush greenery. It is named after saint Alphonsa (first Indian woman saint). The church's interiors have a dominant wooden and white theme. The architectural carvings and sculptures look mesmerising and aesthetic. The interiors also reflect the teachings and stories of the Holy Bible in a rather interesting way. In order to experience pristine divinity and calm, make sure you pay a visit to this church this Christmas. The decor and vibe is majestic and the beauty is unmatched. 
Location: 9, Green Ave Rd, Vasant Kunj, New Delhi.
3. Cathedral Church of the Redemption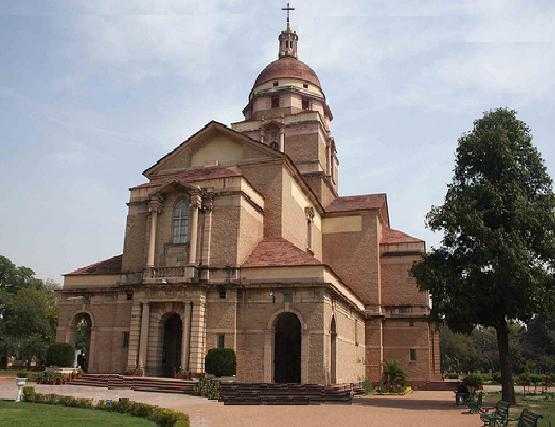 The Cathedral Church of the Redemption is also known as the Viceroy Church. Apparently, it has existed for about 80 decades! The entire architecture of this place; exteriors and interiors exude a warm vibe. The warm tones of colour shades, domes and carvings reflect royalty and divinity. During Christmas, expect to be a part of a wonderful and unforgettable midnight mass (in 3 different languages). 
Location: Church Road, 1, North Ave, New Delhi - 110001.
4. St. James Church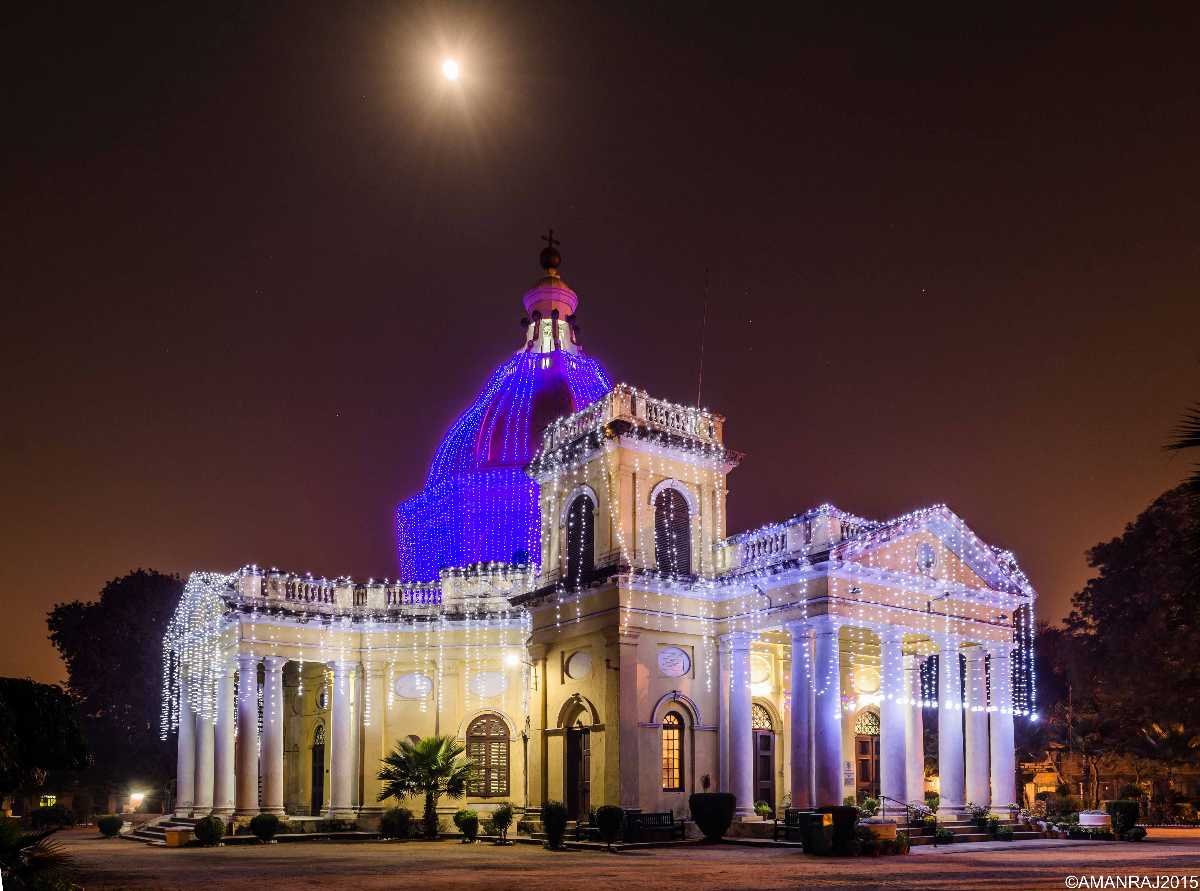 St. James Church is also one of the most renowned churches in Delhi. Located near the Kashmiri Gate, this bright golden-yellow structure stands tall as a beautiful place to be in. It was built by Colonel James Skinner in the year 1836. This is the reason it is also known as Skinner's Church. Apparently, it is Delhi's first-ever church. Christmas vibes are at its peak here. Many people gather in order to attend masses and be a part of this amazingly decorated and lit space that exudes beauty and tranquillity.
Location: St. James' Church, Church Rd, Mori Gate, New Delhi - 110006.
5. St. Mary's Church
St. Mary's Catholic Church offers to be another amazing spot that you must visit during Christmas days. It is one of the oldest churches in Delhi, located near the iconic Chandni Chowk. Well maintained till date; St. Mary's is an epitome of beauty, tranquillity and divinity. This charming structure has been winning hearts through its aesthetic interiors and soothing ambience. Its vibe completely contrasts the hustle-bustle of Chandni Chowk. It is filled with visitors on Christmas Eve, and this makes the ambience super lively!
Location: 2417, SP Mukherjee Marg, Delhi - 110006.
Apart from the above-mentioned names, there are a whole lot of other churches as well. Some instances are the St. Thomas Church, St. Stephen's Church, St. Luke's Church, St. Michael's Church etc.
Worth-Visiting Christmas Markets in Delhi
6. German Christmas Market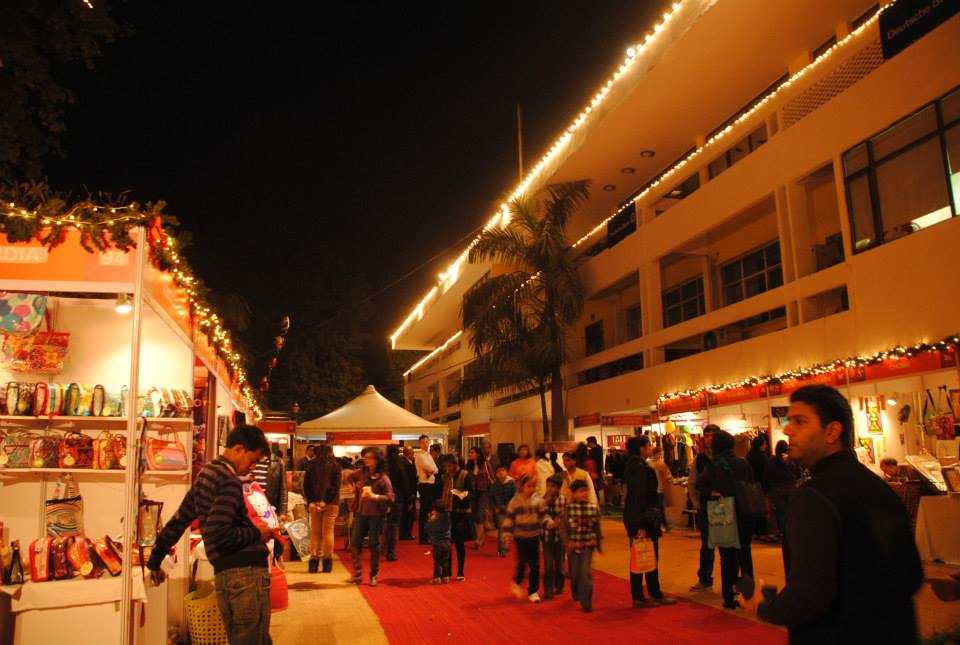 German Christmas Market, as the name suggests, brings about a German Street Market vibe around Christmas. It is usually a two-day market-fest that has a specific venue and timings. In 2019, the venue was Sundar Nursery opposite Humayun's Tomb. In food, one can have brownies, sausages, waffles, mulled wine and bread etc. For shopping, you get to buy small little eco-friendly Christmas trees, Christmas decor, warm blankets, boots, mufflers etc. The kids can have a whole lot of fun with magic shows, drawing, painting contests, and especially playing around Santa Claus!
The entry fee is usually something around INR 350. 
7. Oz Haat Mela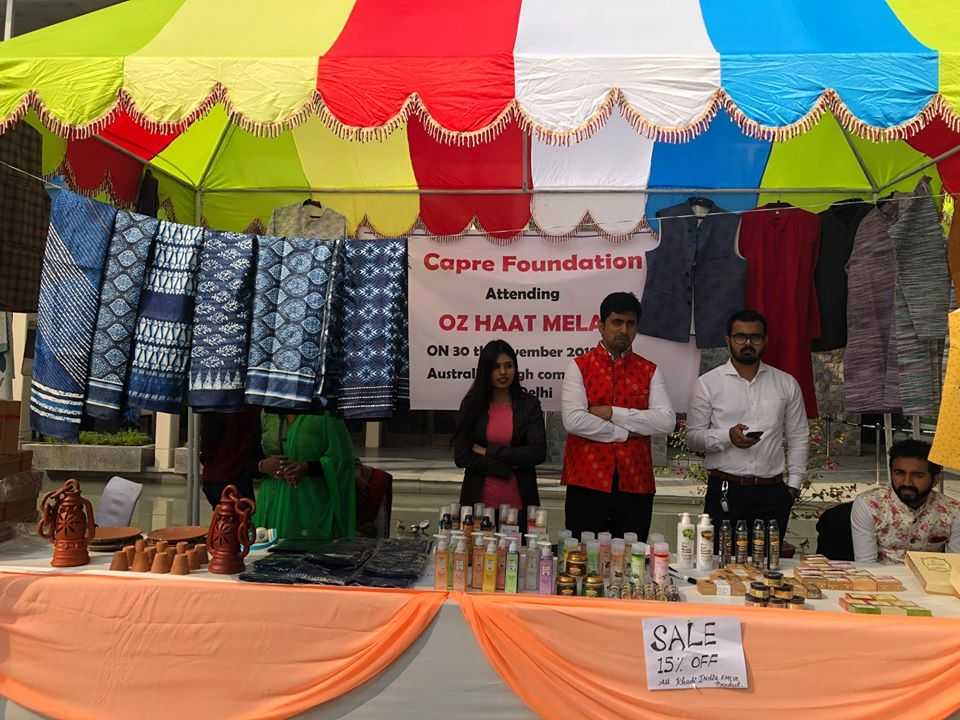 Oz Haat Mela is an annual winter market hosted by the Australian High Commission. It has various stalls offering an array of handmade and other goods. Jewellery, clothing, accessories, homeware, artefacts, decor and many other products are found in various stalls. In terms of food, there are a lot of Gourmet, BBQ snacks, Australian wine and more. The fact that many of the stalls are held by Indian NGOs; it leads to many Indian food stalls as well. The vibe is pretty appealing with colourful draped stalls spread on a lawn. There is live dance, music shows as well. Children can indulge in storytelling, magic shows etc. This fair will have its 20th edition in the year 2020. 
Fact:
All the income earned in this market goes straight to charity, for the welfare of various participating and other NGOs. Plus, the entry is free!
8. Select City Walk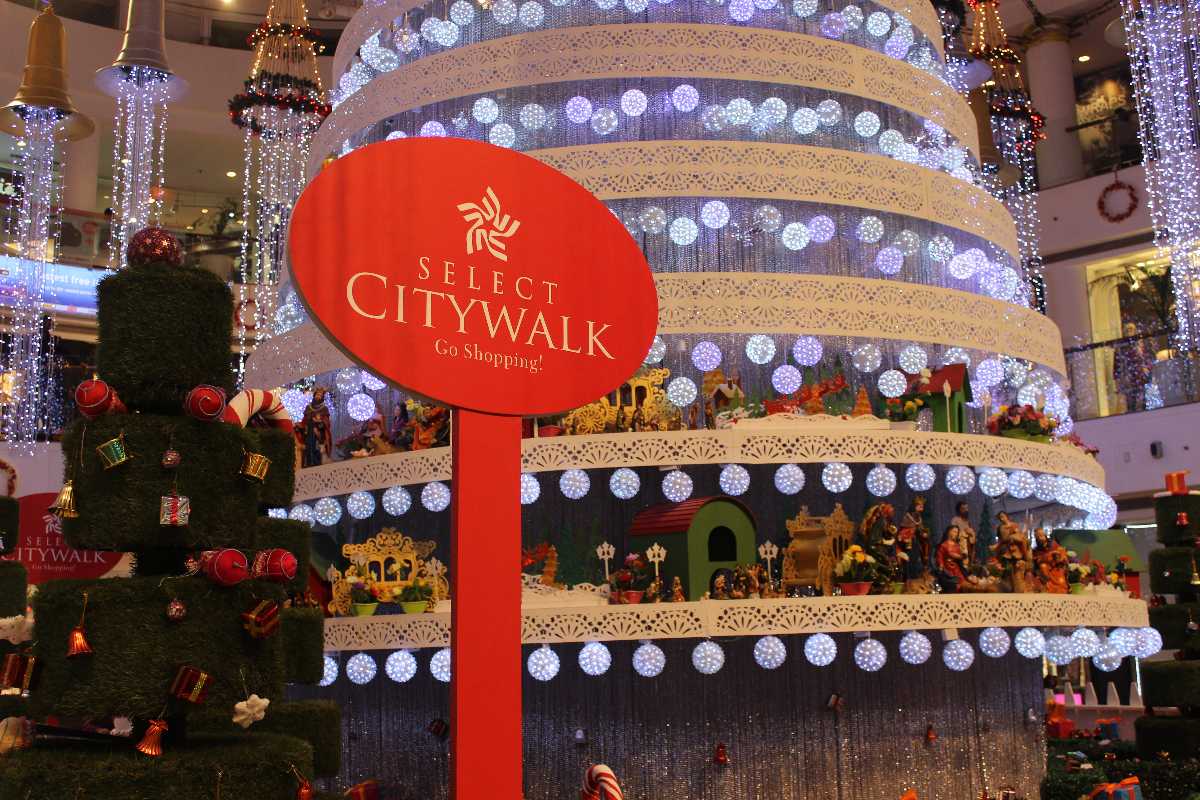 Select City Walk mall in Delhi has an annual Christmas carnival. It is quite a happening event, owing to the grand scale at which it is organised and held. A massive Christmas tree is adorned with glistening lights and amazing decor. The entire space is adorned with adorable, fancy and beautiful decorations. Every year, many events and fun activities are organised that attract huge crowds of people. You can shop for a wide range of products like clothing, watches, decor, fragrances etc. and get a chance to win goodies and gifts through offers. You can also attend live music shows and savour delicious Christmas desserts!
9. American Welcome Association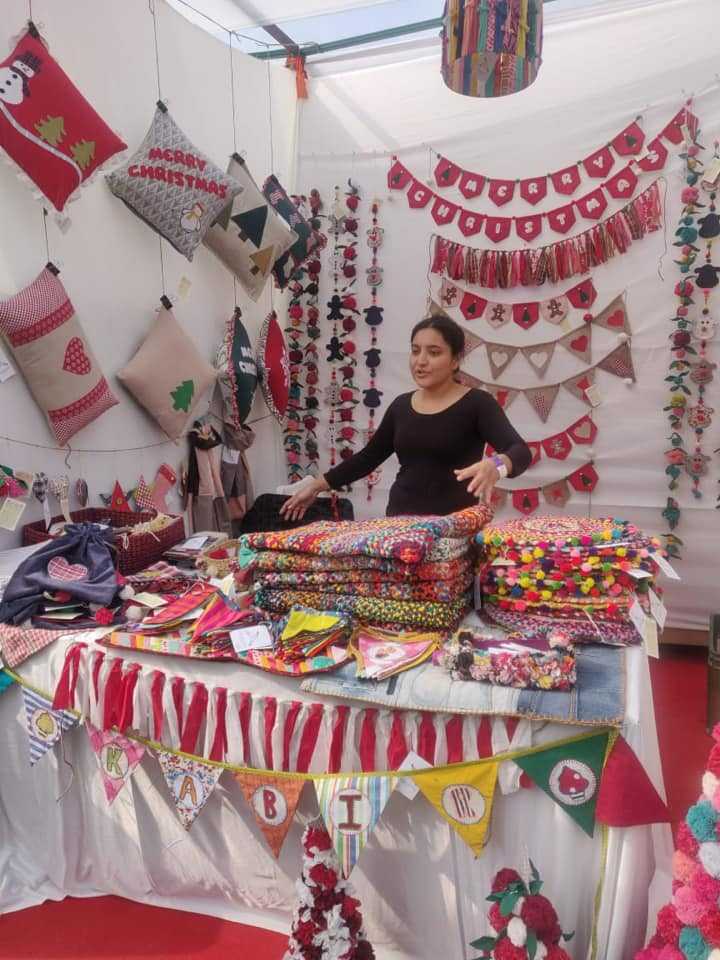 American Welcome Association, also known as the AWA, holds a Holiday Mela around Christmas. It is held at American Embassy School in Chanakyapuri. A large number (about 200) of vendors put up stalls of a range of different products such as jewellery, handicrafts, organic food products and more. The idea is to help the small businesses by buying local and thus, helping the NGOs as well. Kids can get entertained by engaging in fun activities like puppet shows, art & craft etc. There are dance workshops and sing-along sessions as well. Food items involve Indian, Continental food etc. The entry ticket prices are pretty affordable. 
10. Nappa Dori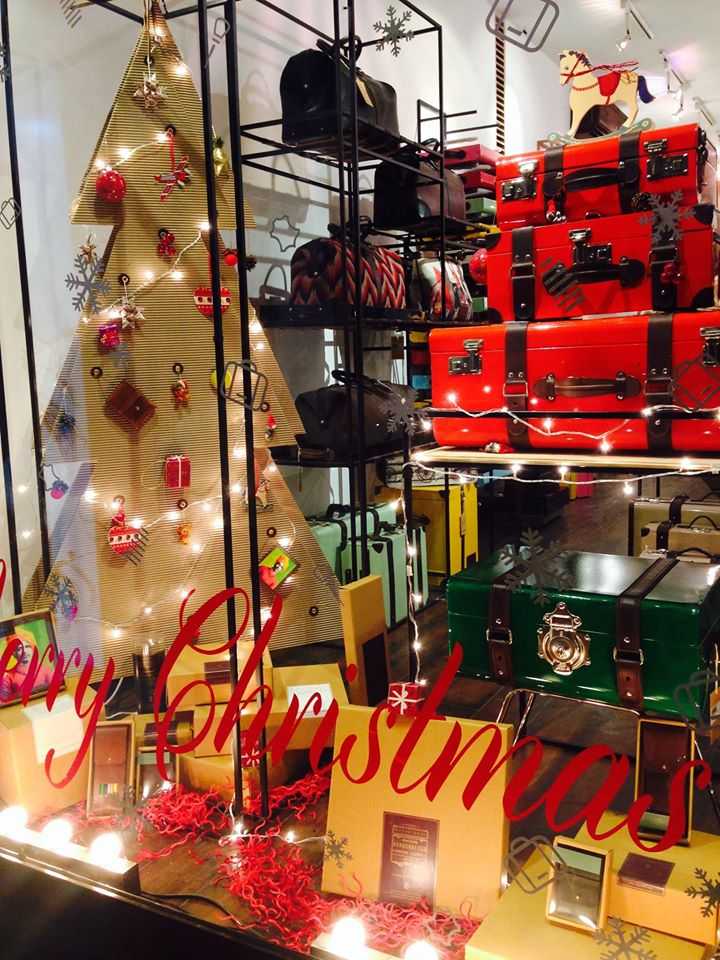 Nappa Dori is one of the finest leather goods brands. Their annual market held around Christmas, at Cafe Dori is all things amazing. With the team-up of best brands under various product categories and the right mix of fun and food. Cafe Dori doesn't just look immensely fabulous, but also offers yummy food and beverages. A Christmas special menu exists as well. They also make it a point to avail the right music partner for the event. It is usually a 2-day affair with no entry charges as such. Definitely, a must-visit Christmas market.
Apart from these, there are other markets such as INA Market, Dilli Haat, Pit Stop Christmas Market (DLF Mall), Swiss-German Christkindl market etc. 
Note:
The timings and venues of most markets change every year. The charges and entry fees are subject to changes as well. 
Christmas Special Eateries and Bakeries in Delhi
11. Theobroma
Theobroma Patisserie has been around for years. With many outlets across various cities and some of the finest menus around cakes, bakes, cookies, drinks and more; they are deservingly well-known. Their Christmas collection offers interesting pastries, doughnuts, chocolates, cookies, brownies, confections, marshmallows, Christmas tarts, carac, Santa-themed chocolates, jujubes, puddings, gingerbread cookies. The pastel interiors, soothing decor and extensive sweet menu make this place all the more irresistible during the festive season!
Address: Plot No 10, Block A, Defence Colony, New Delhi, Delhi 110024
Timing: 8:00 a.m to 12:00 a.m.
12. Georgia Dakota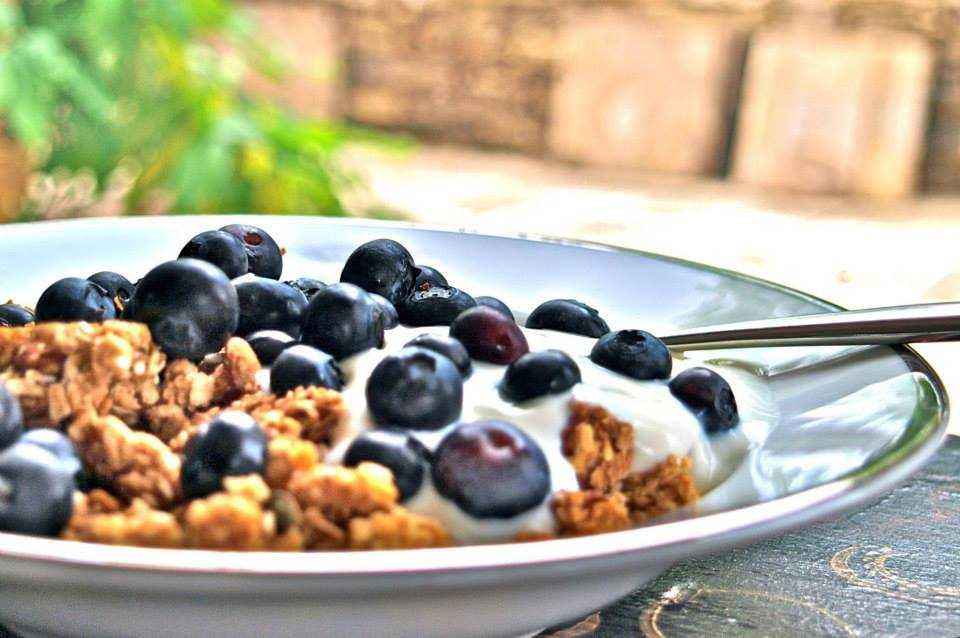 Georgia Dakota is one of the finest bakeries and cakes shops in Delhi. Its extensive menu featuring delectable, warm and beautiful cakes, pastries, bars, cookies and a lot more; having something in store for everyone. There are other sweet goodnesses such as tea cakes, muffins, brownies and a bunch of healthy snacks as well. The Christmas-sy delights include flavoured hot chocolate variants, gingerbread shortcakes, rum cakes, a lot of molten chocolate madness, Christmas sugar cookies, peppermint slates, pumpkin pies and a lot more. 
Address: Shop No. 5, D block market, Vasant Vihar, New Delhi, Delhi 110057.
Timings: 11 a.m to 9:00 p.m.
13. Wenger's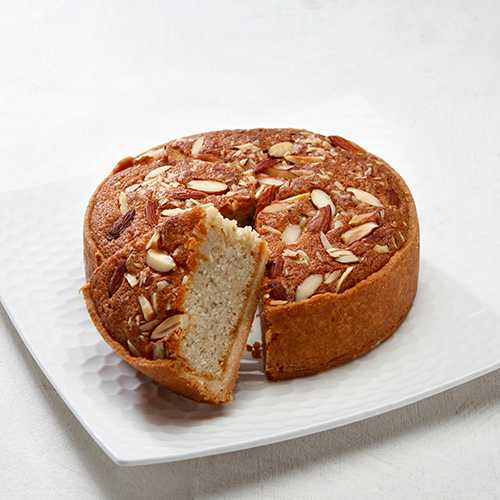 Wenger's is one of those landmark places around Connaught Place that has been existing since a very long time now. Their extensive sweet menu consists of everything from cakes, pastries, croissants, tarts, cookies, waffles, chocolates, caramel toffees, mousse, and a lot more. Apart from all things sweet and fancy, they serve fresh bread loaves, patties and some other veg and non-veg snacks as well. It is almost always super crowded, yet a must-visit place during Christmas. 
Address: Shop No. A/16 Near Inner Circle Road, Rajiv Chowk, Connaught Place, New Delhi, Delhi 110001.
Timing: 10:45 a.m to 7:45 p.m.
14. The Brown Box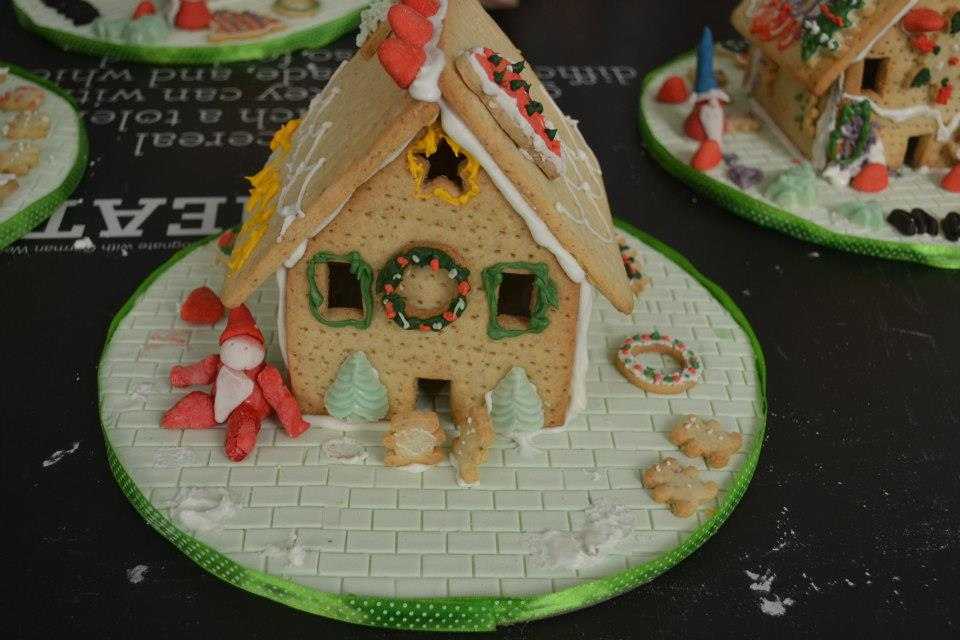 The Brown Box is another special place that deserves to be visited, especially around Christmas. It's a small cafe sort, amidst the market area. With a wide range of handmade cakes, cupcakes, cookies, chocolates and bread; they have a lot in store for everyone. Along with Christmas goodies, the must-try delights are Tiramisu, brownies, red velvet cake, chocolate nougat, banana chocolate cakes and the very special Irish Rum Cheesecake! You can also binge on some delicious snacks such as veg and non-veg sandwiches, burgers and pasta. Along with a beautiful, festive vibe with pretty Christmas decor; they also have an 'Angeethi!' 
Address: Shop No. 2, DDA Market, S Block, Panchsheel Park, New Delhi, Delhi 110017.
Timings: 10:00 a.m to 9:00 p.m. 
15. Elma's 
Elma's cafe is immensely popular for all the right reasons. It is an extremely aesthetic, cosy cafe that has a vintage vibe to it. The decor is elegant, classy and pretty picturesque. British and American influence can be seen on their menu. Right from a range of breakfast items like crepes, pancakes, fruit dishes to exotic pizzas, sausage rolls, and crispy potatoes Right around Christmas, you can find all sorts of festive specials such as the Christmas pudding, Shepherd's Pie, Plum Cake, Roast Turkey, Hot chocolate and a lot more. Coffee Walnut and Red Velvet Cake are also worth trying.  
Address: 2nd Floor, 31, Hauz Khas Rd, Above Chumbak, Hauz Khas Village, Deer Park, Hauz Khas, New Delhi, Delhi 110016. 
Timings: 10:00 a.m to 12:00 a.m.
 

To feel the delightful vibe of Winters and Christmas in Delhi; you can surely visit these eateries, markets, churches etc. But you can also visit animal shelters, the Christmas eve marathon, Carnivals at places like the Grand Hyatt, trade fairs, night clubs, a plethora of lounges and also the Vatican Embassy Chapel. The list is endless; all you need to do is step out and follow your heart!
Merry Christmas!