When someone says 'New Years' what usually comes to our mind is parties, DJs, fireworks and a lot of excitement. Expectations regarding a great start to the year always persist. Well, if you are optimistic about this in Bangkok, you won't be disappointed at all. From amazing parties to dinner venues, you shall be spoiled with a wide variety of all these. Rest assured, your new year is going to start with a bang!
Here are quite a few suggestions and information which would make your new year in Bangkok worth remembering.

New Year in Bangkok Countdown Party Locations:

If you are looking for a countdown party in Bangkok, then nothing beats the one happening at Central World Plaza. A fantastic fireworks display, enthusiastic crowds, the beer garden and the live DJs is what you get at this mall on New Year's Eve. The location of the place is well suited as there the BTS Skytrain that runs until after midnight on New Year's Eve, and it's just a 5-minute walk from the station.
Timings: 7:00 pm-12:30 am
Address: BTS, Chit Lom/Siam

Khao San Road in Bangkok is famous for hosting events all around the year and executing them to absolute perfection. On the eve of the new year in Bangkok, a big screen and stage are set to mark the countdown at the southern end of the Soi. The street is filled with people partying, dancing, drinking, and enjoying the evening to the fullest.
Timings: 8:00 pm- 1:30am
Address: Khwaeng Talat Yot, Khet Phra Nakhon

If you prefer a relaxed atmosphere and a calm New Year's Eve, then this park is the place for you. The park once used for the cremation of kings, queens and high-ranking princes is now considered as a popular historic centre of Bangkok. Also known as 'The Royal Field' the place is now a popular tourist location and hugely responsive to numerous events throughout the year.
The place also hosts New Year's eve, in a comparatively calm and serene manner. It is the best place to witness traditional Thailand's New Year celebrations. Sanam Luang has a massive stage with Thai country music singers, traditional Thai dancers and some great Thai food stalls. You can find local Thai people praying, just sitting around taking in the festivities and launching sky lanterns.
Timings: 6:00 pm- 12:30 am
Address: Ratchadamnoen Avenue, Khwaeng Phra Borom Maha Ratchawang; It is a 10 mins walk from Khaosan Road.
Rooftops
4. Sky Bar at Lebua

Lebua is the perfect answer if you wish to have a luxurious new year in Bangkok. Ranging from lavish suites to breathtaking views, it possesses all of them. It is a great place to enjoy your last sip of the year. Also, this is the perfect place to witness the fireworks during new years in the city as it is Bangkok's highest rooftop bar! But do make prior booking before visiting as the bar is always booked out, especially on New years eve night.
Highlights:A New York inspired ball drop.
Address: 1055 State Tower Silom, Khwaeng Silom, Khet Bang Rak
5. Sirocco

The world's highest alfresco restaurant is an example of absolute perfection in terms of food, wine, ambience and service. With the city view of Bangkok below, it sure to provide a splendid dining experience accompanied by fantastic views and cheery spirits!

Highlights:The seven-course dinner on the roof of the Banyan Tree Hotel
Address: State Tower, 1055 lebua at SiLom, Silom, Bang Rak
6. Octave Rooftop Bar-Marriott at Hotel Sukhumvit

What more could you demand than a 360-degree panoramic view of a city like this when spending your new year in Bangkok? Cool, right? Make sure to keep this place on your to-do list to elevate your senses in the stunning rooftop bar and lounge. You can start your party in the early evening to get a table and watch the sunset as well as it is one of the best places to see it in Bangkok. And I think we know what a rooftop view of new years in going o be like? You get the best seat in the house when it comes to watching the fireworks displays here!
Highlights: This place provides the highest spot, on the 45th floor, in the city favourable for a party.

Address:2 Ban Kluai Nuea Alley, Khwaeng Khlong Tan Nuea, Khet Watthana
7. Park Society-Society So on Sathorn

This is probably the only rooftop restaurant in Bangkok offering unobstructed views of the
Lumpini Park
. The place serves some great food combined with exquisite flavours and a magnificent view, come sun or shower.
Highlights: The place overlooks the green immensity of Lumpini Park and beyond the striking glass-and-metal skyline of Siam and Silom.
Address: 2 N Sathon Rd, Khwaeng Silom, Khet Bang Rak
Welcome the New Year With a Feast

If you are a foodie and feasting is your only way to celebrate each occasion, then here goes a list for each of you guys. The following dining options are sure to fill your appetite in the perfect relishing fashion.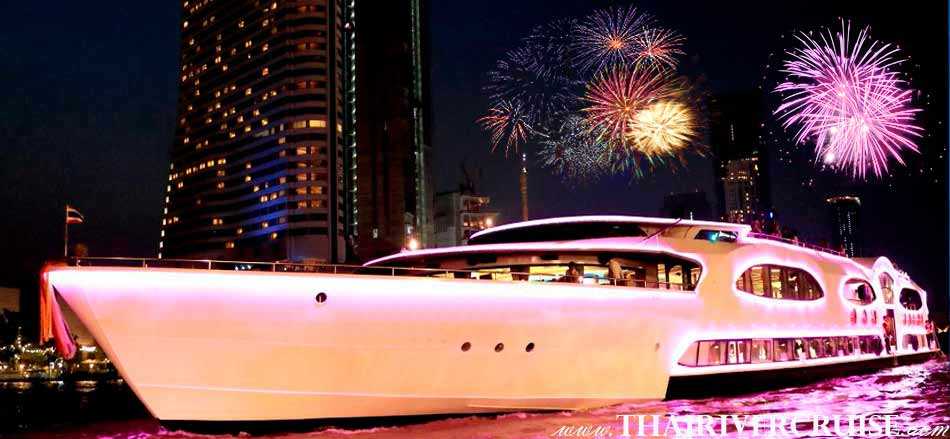 Celebrate this new year in Bangkok on the River Star Princess Cruise! It's going to be an extravaganza with welcome drinks, Thai and International buffet and grilled seafood, entertainment, live music,
Thai classical dancing
and a lot more on one fantastic cruise. Get indulged by the beauty of the city at night through a riverside view of the magnificent Bangkok skyline.

Price: 4500 Bahts for an adult and 3500 Bahts for a child
Address: Yof Pirmarn RiverWalk Pier( Pakklong Tarad Area)
9. Brasserie Cordonnier

Bangkok does provide options for family outings as well. If you are looking forward to starting the new year with your family, then here is your chance to sort things out and mark a fresh start at the Brasserie Cordonnier. Being a family-friendly French bistro on Sukhumvit's party strip, this place offers a special four-course menu with oysters, foie gras and lobster.
Price for two: 2,500 Bahts
Address: 33/30 Sukhumvit Soi 11, 02-038-5113
10. Apsara Dining Cruise

If you are spending your new year in Bangkok with your partner, then this is the perfect option for you. The new year offer allows a Royal Thai set dinner cruise along with transport facilities which take you to the river port. This romantic restaurant on a rice barge is sure to light up your romantic new year in Bangkok.

Price for two: 3,800 Bahts
Address: Banyan Tree, 100 Sathorn Rd., 02-679-1200
11. The Dining Room at the House on Sathorn

You know that you're looking forward to a lavish start to the year if you find yourself at this place on the 31st of December. The beautiful mansion which happened to be at the Russian Embassy hosts a grand colonial east-meets-west restaurant. The place is famous for serving a delicious 14-course tasting menu ranging from Modern Thai Seafood, soft drinks to sumptuous continental food and virgin mixologies. The place can be used for weddings to intimate dinners, cocktail parties, and private meetings.
Price for two: From B5,200/7,400 with wine pairing
Address: The House on Sathorn, 106 Sathorn Rd., 02-344-4025
12. Cantina Wine Bar & Italian Kitchen

Cantina Wine Bar is a casual pizza and pasta house with an Italian wine cellar theme. This place serves a three-course Italian set dinner, including a glass of prosecco wine and oysters at extremely affordable prices only on new year's eve. Spend your new year in Bangkok with that special someone sipping on the finest wine and food as you welcome the new year on a more serene note.

Price for two: 1,499 Bahts
Address: 4 Ari Samphan Soi 3, 02-278-0250
New Year Parties in Bangkok
13. White Party

Concerning gender/homosexuality rights, this party is a perfect example of how much Bangkok has made significant progress in social issues like this. The white party is one of the biggest gay parties of the year that goes on for four days. Spending your new years eve here is a guaranteed way to have a blast and bring in the new year in Bangkok with a bang!
Date: Dec 28, 30, 31, 7:00 pm; Dec 29, 3:00 pm-7:00 pm
Address: GMM Live House, 8/F Central World, Ratchadamri Rd., 02-101-6881;
On December 29th: Hi-So Rooftop Bar, 29-30/F, So Sofitel Bangkok, North Sathorn Rd., 02-624-0000;
Cost: 900 bahts entry fee
14. Meta Music Festival

The Meta Music festival is organised by Thailand's largest electronic dance music event organisation- Zapp Party. It is a great place to enjoy an electronic dance music festival trickling down to an ultimate New Year's countdown featuring popular DJs. Instead of just a usual one-day affair, this is a two-day extravaganza! Want to do something this new year in Bangkok? Hit this crazy music festival!
Date: December 30th - December 31st
Address: Oasis Arena, Show DC, Rama 9 Rd.
Cost:1,500 Baht for a two-day ticket
15. Beam NYE

An attraction for hip hop DJs, beam NYE, has a lot more to offer in terms of food and drinks as well. The place gets heated up with a multitude of DJs. To top it up with some more thrill, there is no regular play, but a cool mashup of all you have expected.
Date: December 31st, 9:00 pm onwards
Address: Beam, 1/F, 72 Courtyard, Sukhumvit Soi 55 (Thonglor), 02-392-7750.
Cost: 700-800 Baht via Ticketmelon, or 900 Baht on the door (includes one drink).
16. Glitter & Glam

A place is featuring non-stop entertainment from famous DJs and aerial dance performances, the Glitter and Glam are renowned for its countdown as well as celebrations. It is a night packed with uplifting dance music, glitter dance crew and wild fun. Be fully charged up and head to this place to dance away your time experiencing the new year in Bangkok!
Date: December 31st, 9:00 pm onwards
Address: Insanity Nightclub, 234 Sukhumvit Soi 12, 02-653-2923.
Cost: 800 Baht for ladies and 1000 baht for men inclusive of 1 drink
17. N Player's Ball Edition

It is a hip hop New Year's party featuring star performances from star guest DJs. Dance like there is no tomorrow. Enjoy to your fullest extent to end the year on a high note. The thing with the new year eve music concerts is that everyone at the venue is pumped up as much as you are to welcome the new year with lots of dancing, partying and fun!
Date: December 31st
Address: Sugar Club, 37 Sukhumvit Soi 11, 082-308-3246.
Cost: 800 bahts inclusive one drink
With all these options at your disposal make it a point to celebrate your new year in Bangkok this year. Have a rocking end to this year and have a great start to a fresh New Year!