Bangkok
is a great place to venture around and have lots of fun. However, when it comes to commuting, the transportation system in Bangkok can be a little chaotic. Although the city deals with a lot of overbridges, smooth highways and well-maintained roads, traffic jams and confusing routes can be quite intimidating to the tourists.
So, let's simplify the massive public transportation system in Bangkok. The following are the modes of public transport in Bangkok and their details which will come in handy when visiting the ever-so-bustling city:
1. Taxis in Bangkok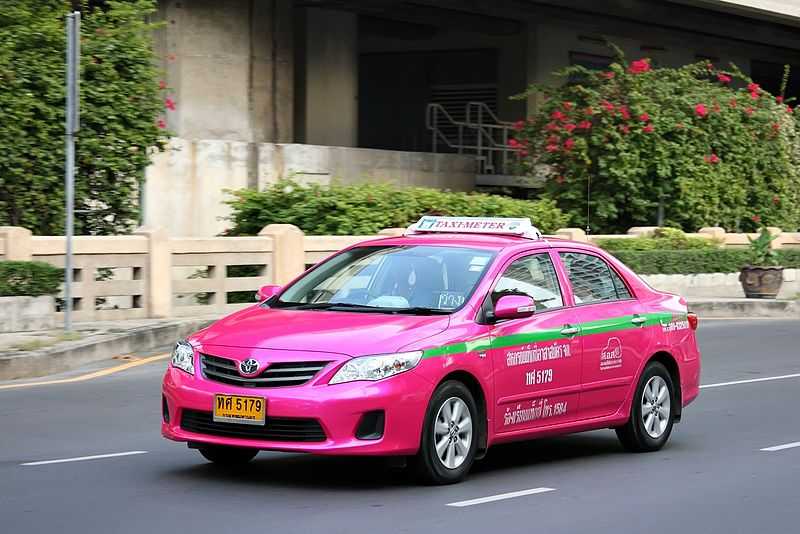 Taxis exist all over the world and are a very popular and convenient mode of transportation. Bangkok is clearly not an exception to this, for the city is flooded with air-conditioned taxis whizzing through the highways. At present, there are about 1,50,000 taxis in Bangkok in a combination of many colours which do not really have any such significance.
A taxi with a red neon light turned on in the front window indicates that it is available for a ride.
Things to Keep in Mind when Hiring a Taxi in Bangkok

1. Most of the Thai taxi drivers are not so proficient in English, so it is advisable to note down the destination name on a piece of paper and show it to the guy.
2. Do make it a point to travel using the taxi meter. Refuse to hop in if the driver asks a random fare instead.
3. The taxi helpline number is 1164 which helps passengers if they are stuck in any tussle with the driver.
4. Try to avoid taking a taxi during rush hours(7 AM - 9 AM; 5 PM - 8 PM)

Taxi Fares in Bangkok: It starts from 35 BAHT and increments at a rate of 5 BAHT per kilometre. Once you are stuck in traffic, the rate boils down to 2 BAHT per minute.
2. Tuk-Tuks in Bangkok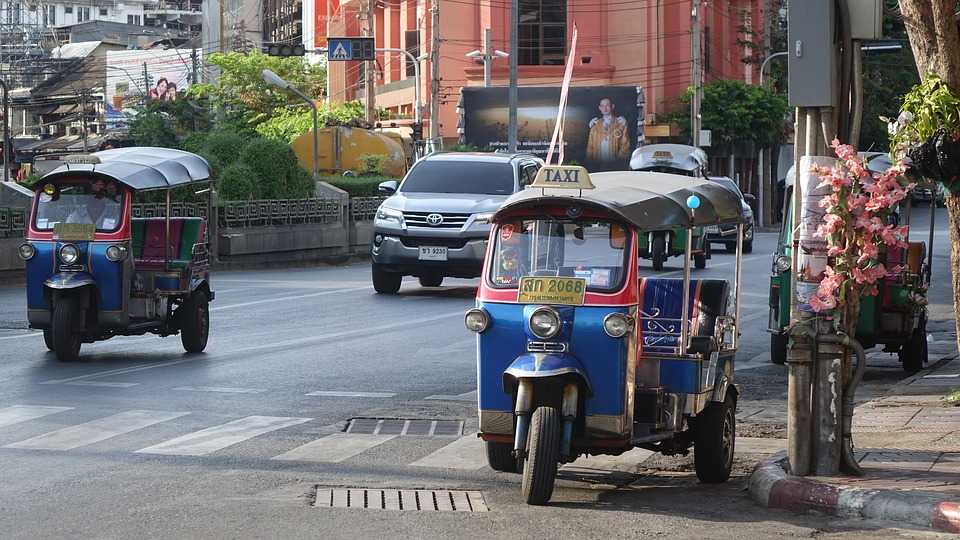 As cute as it sounds, tuk-tuks are a unique option for short-distance public transport in Bangkok. It's eco-friendly and quite a fun and unique commuting experience for tourists. It is the most suitable for those having a lot of luggage with them. Tuk-tuks are really spacious and allow a lot of cargo to be kept.
Things to Keep in Mind when Hiring a Tuk Tuk in Bangkok


1. Keep your belongings safely in between your legs and watch out for notorious snatchers who sway around the city of Bangkok.
2. Sometimes they can be more expensive than taxis and it is thus highly recommended to explore all the options and compare the fares before booking a ride.
3. There always lies a risk of potential scams as the drivers could go to any extent to somehow take extra money from their passengers.

Tuk Tuk Fare in Bangkok: Hone your bargaining skills up to the mark for you need a lot of it! Before getting into a tuk Tuk, set a price skilfully, for there exists not standard, predetermined fare in such a ride.
3. BTS (Sky Train), MRT (Subway) and Airport Link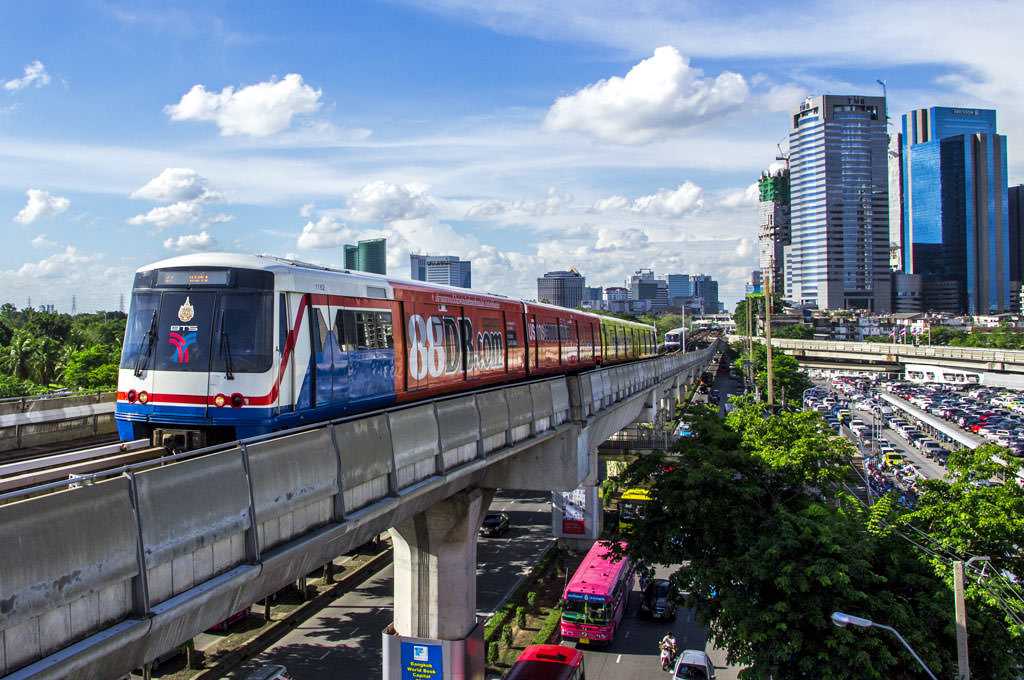 Getting stuck in traffic can be a heck lot annoying and frustrating at times, especially when you are in a rush. Worry not, for your desire to skip all that and sail over the massive congestion is made possible by the BTS(Sky Train), MRT(Subway) and Airport Link of Bangkok. It may seem to be a little confusing at first glance, but it's reliable, safe and convenient unlike the other modes of public transport in Bangkok.
Things to Keep in Mind when Taking BTS and MRT in Bangkok


1. The BTS trains operate from 5 AM to 12 AM all throughout.
2. The MRT trains operate from 5 AM to 12 AM as well. It runs every 10 minutes. However during the rush hours(6 AM - 9 AM; 5 PM - 8 PM), it runs every 5 minutes!
3. The Airport link trains operate from 6 AM to 12 AM.
4. The BTS has 2 lines:

The Sukhumvit Line: It runs from North to South starting Mo Chit and ending at Samrong. It sweeps through important areas like Victory Monument, Siam which happens to be the Central Station, Nana, Asok, and all the other stations on the street Sukhumvit.
The Silom Line: The terminal stations for this line are the National Stadium and the Bang Wa in Thonburi.

5. There are two lines in the MRT- the Blue Line and the Purple Line. The Blue line starts at Hua Lamphong. THe purple line connects outer Bangkok with the central Bangkok and is mainly used by the locals. The essential stops covered by the MRT includes the airport, Chatuchak Market and the Sukhumvit
6. The airport rail Link has only one line which connects the city to the airport.


MRT, BTS and Airport Express Link Fare in Bangkok: All rates and standardise and pre-determined. The ticket machine lists all the rates along with its destinations.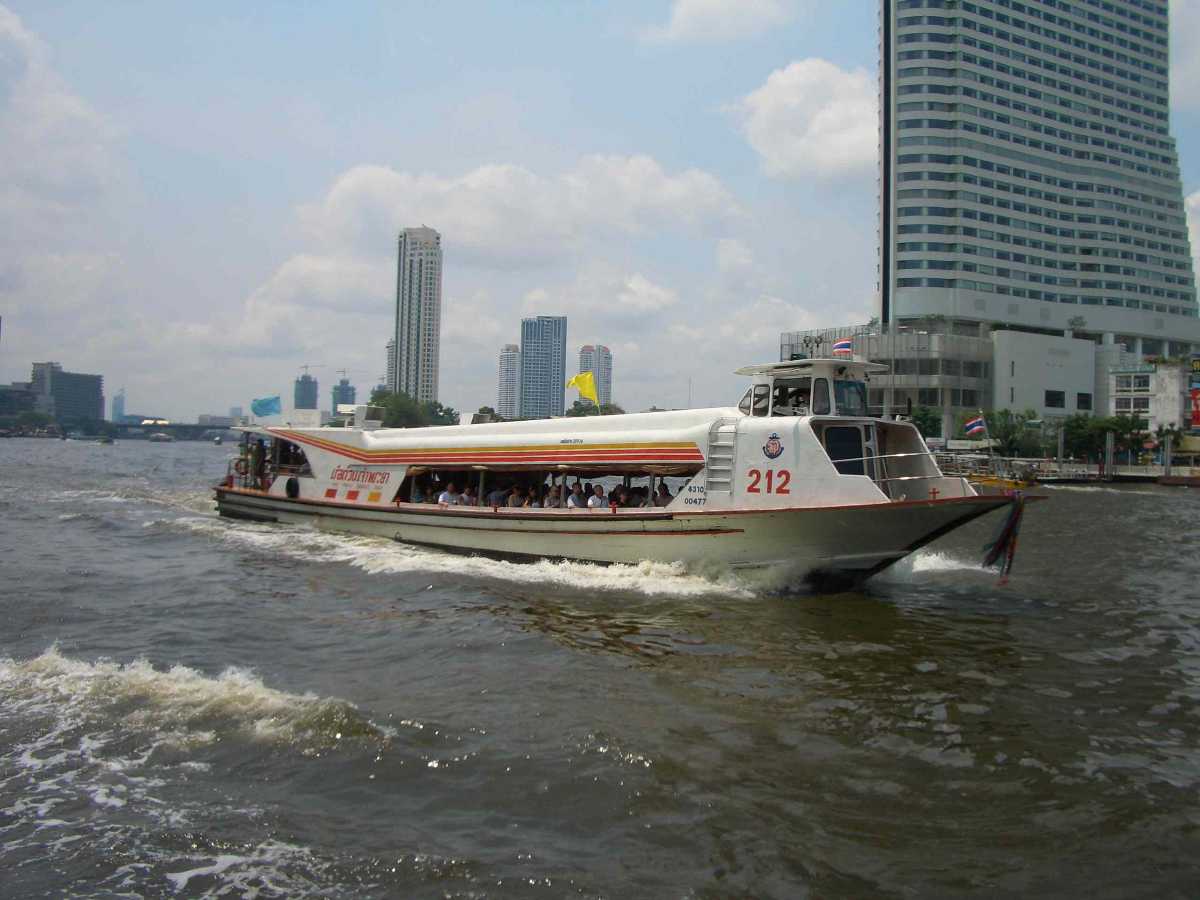 The Chao Phraya express is a feasible replacement for the heavy traffic on the roads of Bangkok. It provides a great experience of travelling along the waterway alongside providing the view of the whole city from the river. It is a relaxing journey unless they get caught in the overcrowded rush hour madness.
Things to Keep in Mind when Taking an Express Boat in Bangkok


1. The orange flag boat operates from 6 AM to 7 PM. It arrives every 20 minutes. They are the most common types starting from the central peer and goes till the 30th peer which is the Nonthaburi.
2. The blue flag boat operates from 9 AM to 6 PM. It connects the 9 main tourist spots of Bangkok.

Express Boat Fare in Bangkok: The orange boat costs 15 BAHTS per person, no matter how long one travels. The blue flag boat costs 50 BAHTS per person for a one time travel.
5. App Operated Transportation Services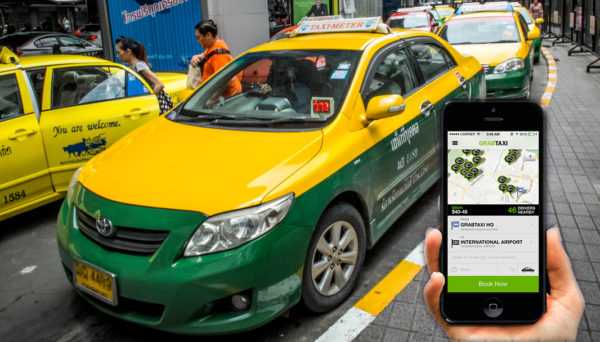 Nowadays, with the advent of technology, public transport in Bangkok has become relatively easier. You can definitely worry less about intra-city commuting if you have your smartphone with you. The following two are an extremely convenient mode of online taxi services in Bangkok, which have come into existence in recent days.
a. Grab Taxi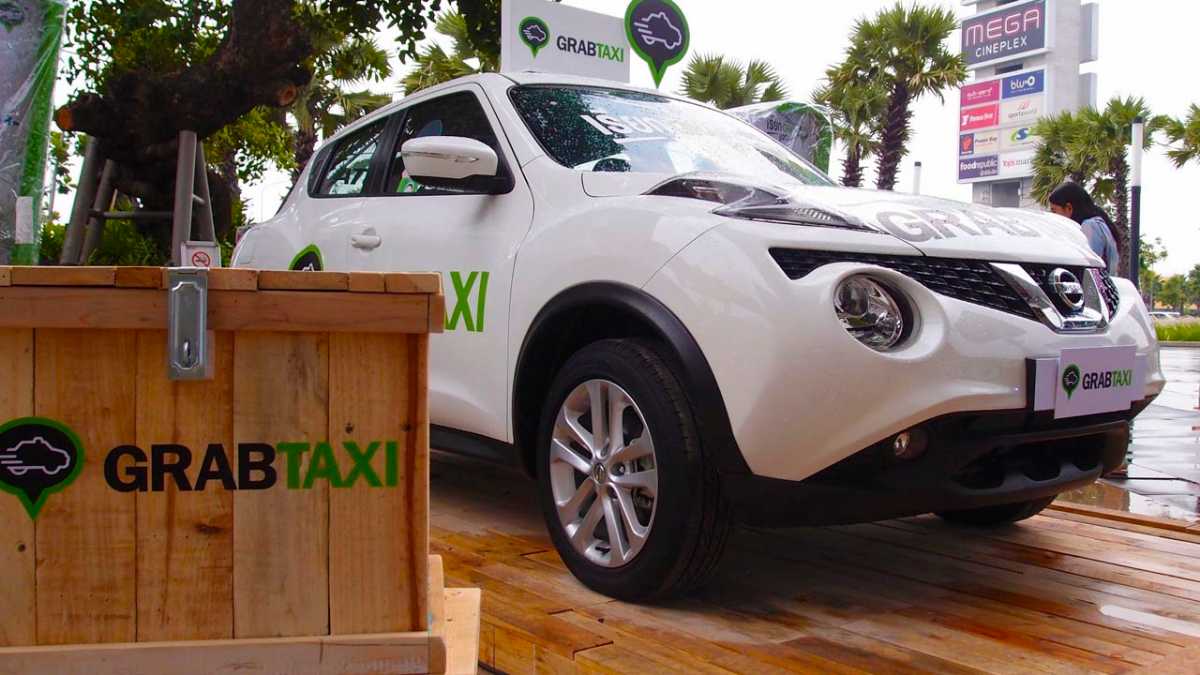 The Grab-taxi application allows the user to put their pickup and drop locations on the application through their smartphones and enjoy a smooth ride. It is a great alternative than regular taxis since it bridges the language barrier between the traveller and the driver.
Note:

1. You have to pay 70 BAHTS more to take the express highway in order to skip the traffic.
2. Do check for promo codes that are available as it reduces the fare.
b. Go Bike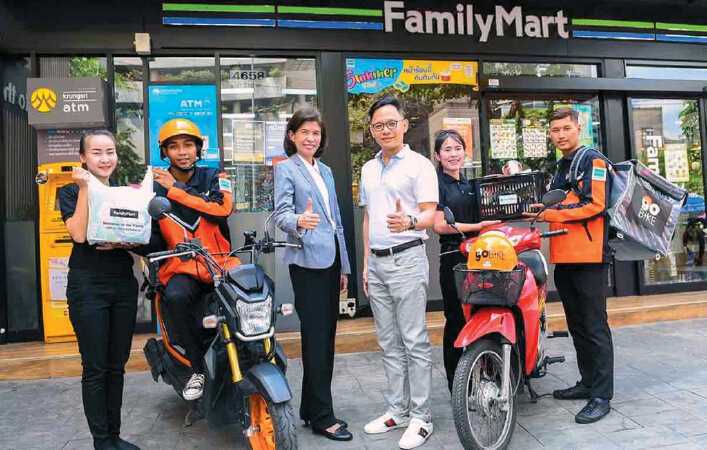 This application is said to be an initiative by the Thai government for the convenience of the tourists. It is usually featured by the bikers in orange uniform which picks up and drops the traveller at standard rates.
Note

1. Do check for promo codes that are available as it reduces the fare.
So with a wide range of alternatives at your disposal, it is pretty much assumable that you are going to have a great time there thanks to the fantastic options for public transport in Bangkok, travelling from one tourist spot to another.