Planning a trip for the first time can be stressful and confusing, especially if you are not well-versed in the ways of the new place. Spending money, paper or plastic, in a new place and with a new currency using notes and coins you have probably never seen before, can be particularly daunting. Here is a complete guide to the currency of
Mauritius
, so that you can make the most of your money's worth in this lovely island country.
Local Mauritius Currency
The local and official currency of Mauritius is known as the Mauritian Rupee, with one rupee divided into 100 cents. The currency code is MUR and the symbol used is 'Rs.' Although Mauritius is an African country, its currency uses the rupee, which is commonly seen in several Asian countries, including
India
, Pakistan,
Sri Lanka
,
Nepal
, and
Indonesia
. At present, the currency circulates in the country in a total of thirteen face values, i.e., seven in the form of paper notes and the remaining six in coin form.
The currency of Mauritius originated from the Indian rupee. There was an influx of Indian rupees into the island that occurred after the immigration of Indian workers to work in sugar plantations. The Mauritian rupee came into existence as the official currency in 1876 and has been in circulation in the country since 1877, replacing the Indian Rupee, the Mauritian Dollar, and the British Pound Sterling.
Mauritius Currency Symbol: Mauritian Rupee
Symbol: Rs
Unique to Mauritius alone, this currency consists of banknotes as well as coins. Currency notes of MUR 25, MUR 50, MUR 100, MUR 200, MUR 500, MUR 1,000 and MUR 2,000 are widely accepted and circulated, although the MUR 2000 note can be quite rare. The currency notes vary in size and colour.
Each of the notes has an image of the Bank of Mauritius building and statue of justice on one side. They also feature portrait pictures of various historically significant people of Mauritius on this side. The reverse side depicts different aspects of Mauritius, as well as the value of the notes written in Indian languages such as Hindi and Tamil. For example, the MUR 200 note features a portrait image of Abdool Razack Mohamed, an important Mauritian minister, and the Mauritian Market on the reverse side. This pattern can be seen in all the notes, with each of them having different pictures.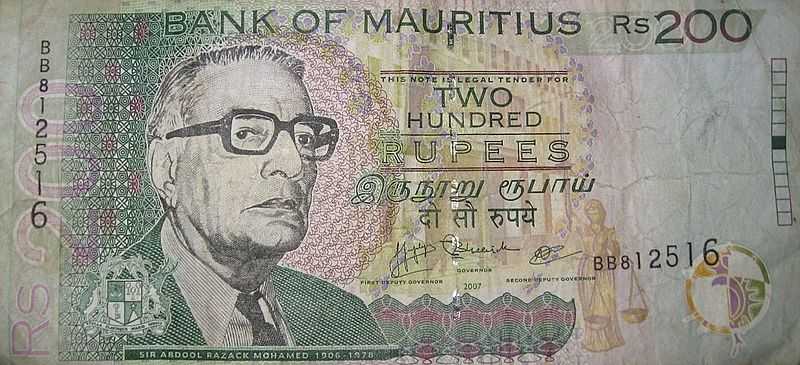 The currency of Mauritius uses coins for its smaller denominations, and mainly includes the MUR 1, MUR 5, MUR 10 and MUR 20 coins. There also exist the 5, 20 and 50 (or ½ rupee) cents coins, but these are hardly circulated anymore. All the coins have a portrait image of Seewoosagur Ramgoolam or the 'Father of the Nation,' with symbolic representations on the reverse side. For example, the MUR 5 coin features an image of a sea and palm trees on its reverse side, while the MUR 10 coin shows a labourer cutting sugarcane in the field.

What is the Exchange Rate in Mauritius?
Since 1994, the Mauritius Rupee (MUR) has used the 'managed float' or 'dirty float' exchange rate, to set the value of the Mauritius currency against other currencies. This means that the currency floats regarding the value of other currencies, and the central bank of the country is free to intervene to manage the fluctuations of the currency value.
Mauritian Rupee Exchange Rate at Airport
Currently, MUR 34.8 is approximately equal to USD 1 and MUR 39.92 is equivalent to
EUR
1. MUR 44.92 equates to GBP 1. MUR 1.99 exchanges for INR 1.
Can I Pay using Foreign Currency?

Most places in Mauritius do not accept foreign currency, and Mauritians prefer being paid in the local currency. However, even if some currencies like USD or EUR are accepted by a few significant establishments such as hotels, the rate of exchange will not be very favourable, and you will lose some amount of money in the process. Also, the change will be paid to you in Mauritian rupees, rather than in the currency of your choice.
Is Indian rupee accepted in Mauritius?
No, however, you can exchange it at a reasonable rate.
How Much Mauritius Money Should I Carry?
The amount you wish to carry with you would vary from budget to budget. It also depends on the duration of the trip, the accommodation, a preferred mode of transportation and the activities you choose to do during your vacation. While some people may prefer to spend little on shopping and food and spend more on activities like water-sports, some others may choose to spend their holiday in luxury while staying in a 5-star hotel, dining in gourmet restaurants and shopping for hours. Thus, the amount you would need is subjective.
The major expenses for your holiday include accommodation, travel, activities, and food. Since the hotel and flights are covered, you must budget for activities, food, and travel within the country. To give you an idea of the various basic expenses you would incur, here is a list of several essential items and their costs in Mauritius:
Meal (at an inexpensive restaurant): MUR 150-300

A bottle of water: MUR 15-40 (However, tap water is safe for drinking.)

A bottle of beer: MUR 50-150

Milk (1 litre): MUR 35-60

A loaf of white bread (500 grams): MUR 10-35

Taxi (for 1 kilometre): MUR 60-100

Gasoline (1 litre): MUR 40-52
ATMs and Credit Card Facilities in Mauritius
All major debit and credit cards are widely used and accepted in Mauritius, such as Visa, MasterCard, Amex and American Express. However, it is always best to ensure with your bank that your card will be accepted in Mauritius. It is a good idea to use a credit card for large purchases, instead of cash.
There are also plenty of ATMs located within convenient reaches, such as State Bank of Mauritius (SBM) ATM and Mauritius Commercial Bank (MCB) ATM. These can be found in the main town areas, outside banks and inside supermarkets, malls, and the airport. One can withdraw money from one of these accessible ATMs using an international debit card. However, some banks may charge an extra fee to process cash withdrawals from ATMs overseas.

Since the introduction of more convenient options like credit cards and ATMs, the use of traveller's cheques have reduced drastically, and they are slowly being phased out. Although a few banks and hotels, they are no longer easily accepted and will be difficult to cash in Mauritius.
Places to Exchange Foreign Currency
There are plenty of exchange bureaus located at the Sir Seewoosagur Ramgoolam International Airport in Mauritius at the arrival and departure areas, where one can exchange their currency to the local currency on arrival for a better deal. You can also withdraw money or exchange foreign currency at one of the available ATMs (Automated Teller Machine) available at the airport, including Barclays Bank, HSBC, and Mauritius Commercial Bank.
If you wish to exchange money to local Mauritius currency outside the airport, there are some branches of exchange bureaus all over the island, such as Thomas Cook and Shibani Finance. All major currencies are accepted here.

At banks such as Barclays Bank, Mauritius Commercial Bank and State Bank of Mauritius, you can get money using foreign currency, traveller's cheques, bank debit card and credit card.
Currency Exchange: Tips and Tricks
It is recommended to exchange your money in Mauritius on arrival, rather than in your home country to avail of lower exchange rates.
Try to visit a local private money exchange bureau such as Shibani Finance or Thomas Cook, as these will offer you better rates than banks or hotels.
Keep in mind a budget for your trip, and how much you wish to exchange into the local currency, so you can do so at one go and thus, avail a better rate. (The more significant the amount, the better the price!)
Converting the Mauritian currency back to your local currency will prove to be a loss for you. So if you are unsure of how much money you will require, it is best to convert the currency bit by bit. There are plenty of accessible exchange bureaus in Mauritius, should you run out of the local currency at some point.
Due to some regulations, make sure to check with your bank if your credit card will be accepted in Mauritius and whether they charge a fee to process cash withdrawals overseas.
Be sure to have your passport with you, as a valid passport is required for almost any money transaction, including withdrawal, transfer, and exchange.
Facts About the Currency of Mauritius
The Mauritian rupee is one of the only three rupee-denominated currencies in the world that uses Cent as a subunit since cent is commonly a subunit of dollar currencies. The other two currencies are the Sri Lankan rupee and the Seychellois rupee.
The currency was used in Seychelles until 1914, after which the official currency of Mauritius is the Rupee.

With fast-growing financial, industrial and tourism sectors, Mauritius is considered by most as one of the rapidly developing nations in the world. The beauty and charm of the island make it a paradise for tourists from all over the world, and a popular honeymoon destination. With the tips, tricks and information listed above on the Mauritius currency and budgetary factors, you can enjoy your vacation hassle-free! Bon Voyage!