Food Trucks are the latest trends not only in
Mumbai
but also in all the metropolitan cities of
India
. The culture is derived from its Western counterpart. For several decades, we saw people feasting on the food trucks in many Western movies. And all the times we have cherished their tradition. But worry not, the trend has finally come to India. The craze has hit the film city of India- Mumbai. If you are a foodie and you are tired of eating out at the elaborate restaurants and quaint cafes, you can resort to these fabulous food trucks serving delicious food on the go.
So, we at Holidify, have curated a list of the best food trucks in Mumbai to satiate your food cravings. Have a look at them below. 
1. Bombay Food Truck
Inspired by Western cuisine, Bombay Food Truck specialises in American and Indian breakfast food. Known to be the biggest and the most popular food trucks in Mumbai, Bombay Food Truck has a diverse menu where most popular items include cheeseburgers, sandwiches, nachos, hot dogs, lemonades, and shakes etc. The chefs keep customising and changing their menus every now and then to maintain the variety. You can even try Pav Bhaji and Chole Bhature at their truck.
Address: ONE, E) Mumbai 400 051, G Block BKC, Bandra Kurla Complex, Bandra East, Mumbai
Cost for Two: INR 500
Timings: 11:30 AM - 7:30 PM, Closed on Saturday and Sunday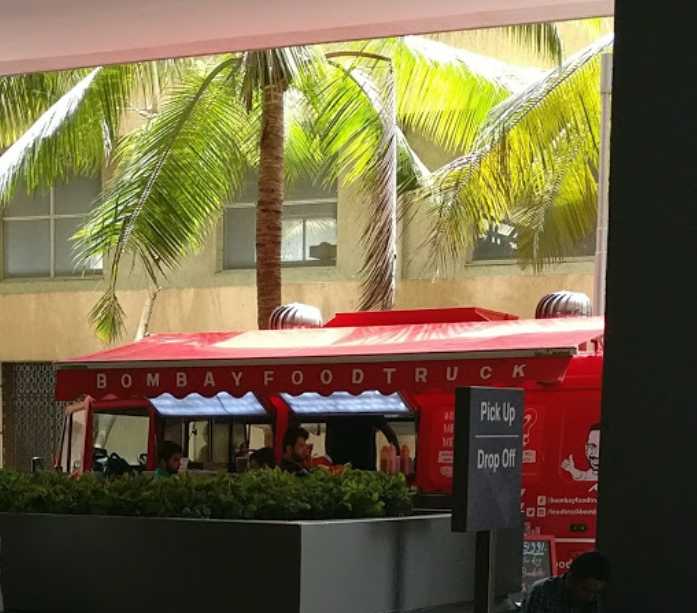 2. Street Food Co.
Street Food Co. or Street Food Company is known to be one of the most pocket-friendly trucks in Mumbai. And for the same reason, the truck is ever so crowded by college students who are looking for delicious yet pocket-friendly meals. They specialise in concoctions of Indian and gourmet food. The diverse menu comprises of several items that are Indianized versions of authentic western food items. Among the most popular items are keema hotdog, chilli chicken nachos, cheese dosa, fries and the like.
Address: Near Hotel Kolsa, Virar West, Mumbai
Cost for Two: INR 250
Timings: 12:00 PM - 12:00 AM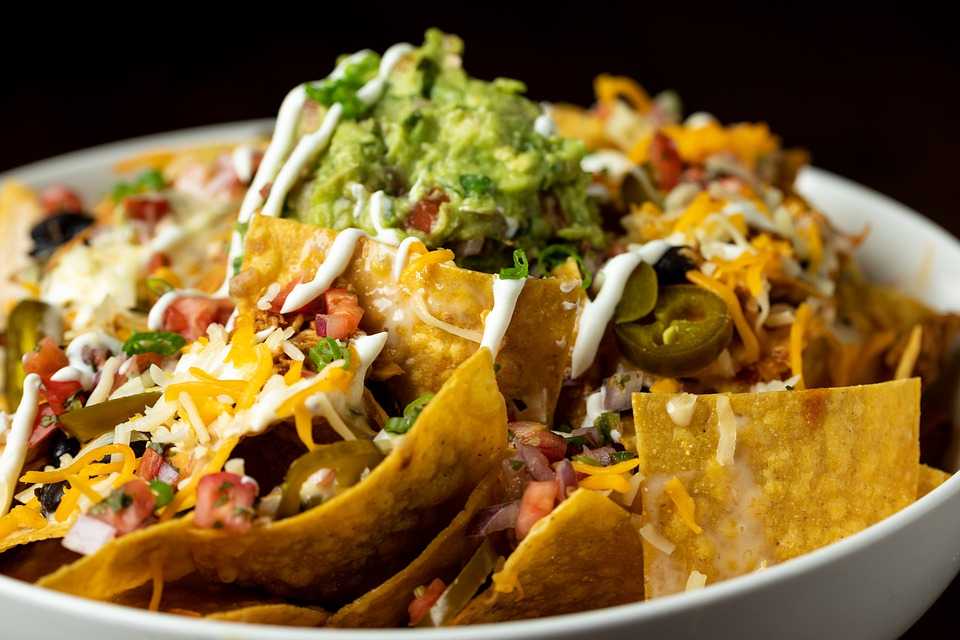 Momos are turning out to be the most loved food in the country lately. Darjeeling Momo's and More offers a diverse variety of momos from steamed to fried, marinated and baked. And every single one of them is finger-licking delicious. The remarkable food truck is lately the talk of the town for its extensive menu and its delectable dishes. You should definitely visit here if you are a momos fan.
Address: Vasant Vihar, Thane West
Cost for Two: INR 300
Timings: 6:00 PM - 11:00 PM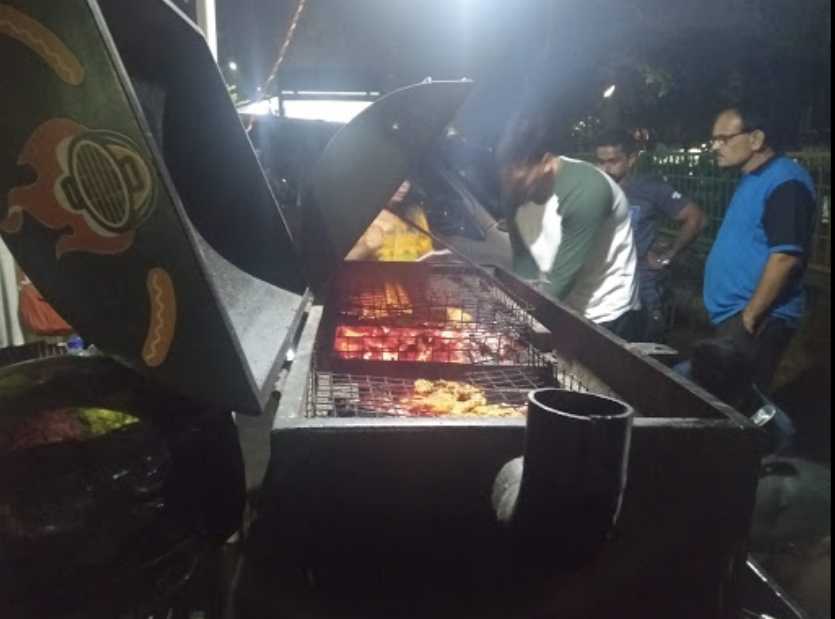 4. Sweetish House Mafia
Sweetish House Mafia is less of a food truck and more of a car that drives down the roads delivering the best cookies and muffins. Known for its ever so yummy desserts, the place is a haven for the sweet tooth holders. Among their best items are Nutella Sea Salties, Chocolate Chip Cookie Dough Sandwiches and Red Velvet Sandwiches etc.
Address: Unit No 1, Summer House Cafe, Mathuradas Mill Compound, The New Mahalakshmi Silk Mill Premises, Near, NM Joshi Marg, Lower Parel
Cost for Two: INR 350
Timings: Monday to Wednesday – 9:00 AM to 12:00 PM, Thursday to Sunday – 9:00 AM to 1:00 AM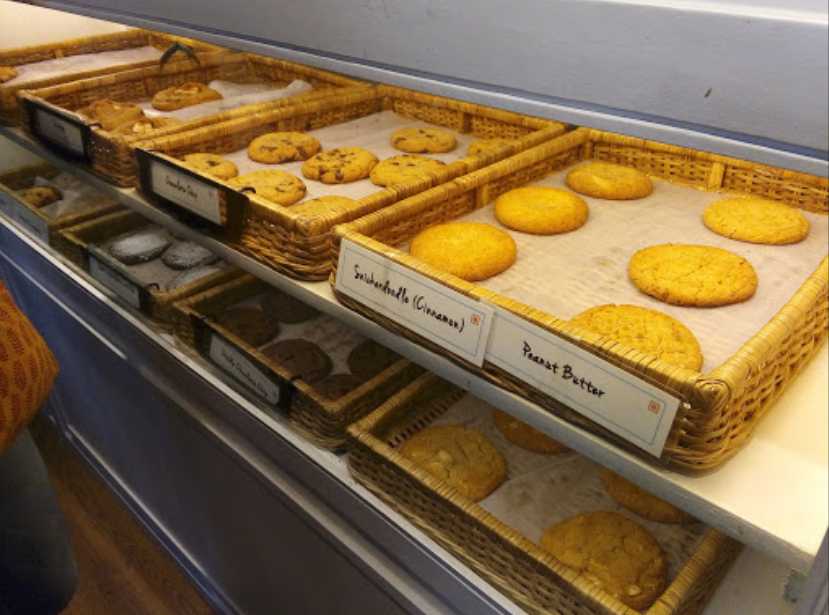 5. Yummy Wheels
Yummy Wheels is one of the top food trucks in Mumbai that specializes in delicious wraps. One of their other specialities is their mouth-watering kulcha pizza. Boasting of sumptuous food that is light on the pocket as well, the food truck is forever crowded with people and you might also have to wait in a queue to await your turn.
Address: Mahavir Nagar, Siddhivinayak Nagar, Kandivali, Mumbai
Cost for Two: INR 300
Timings: Monday to Saturday – 7:00 PM to 11:00 PM, Sunday – 6:30 AM to 11:30 PM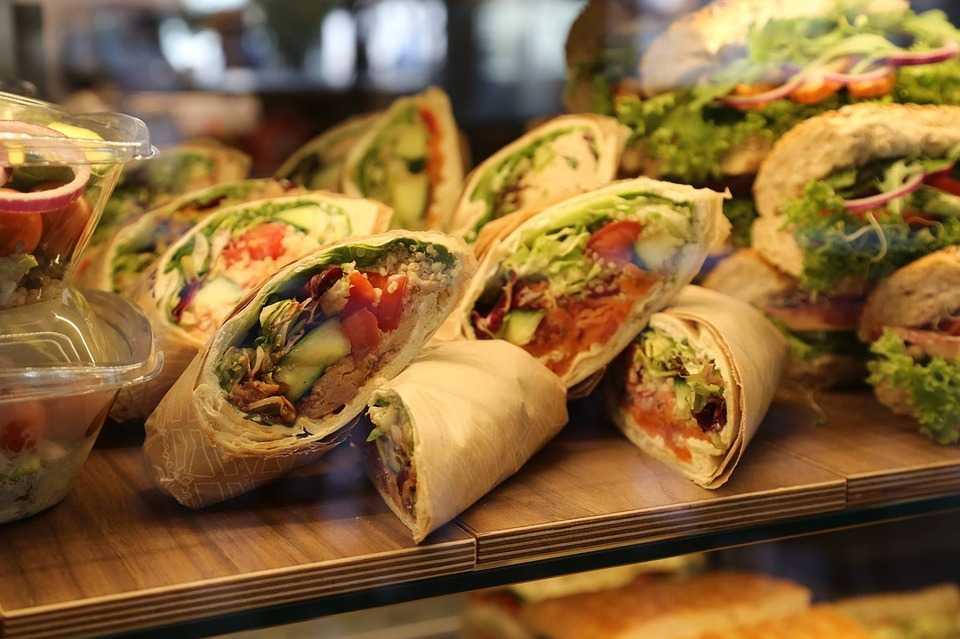 6. Vanderlust
Known to be one of the best food trucks in Mumbai, Vanderlust serves the best breakfast all day long. The dishes are a concoction of western and Indian cuisines and dishes like sandwiches and hot dogs are also customised with a tinge of Indian flavours. Some of their best dishes are hot dogs, sandwiches and waffles, etc. They also change and innovate their menu time and again which is inspired by American fast food.
Address: Bandra West, Bandstand, Mumbai
Cost for Two: INR 400
Timings: Tuesday to Friday – 4:00 PM to 10:00 PM, Saturday and Sunday – 2:00 AM to 1:00 PM, Closed on Monday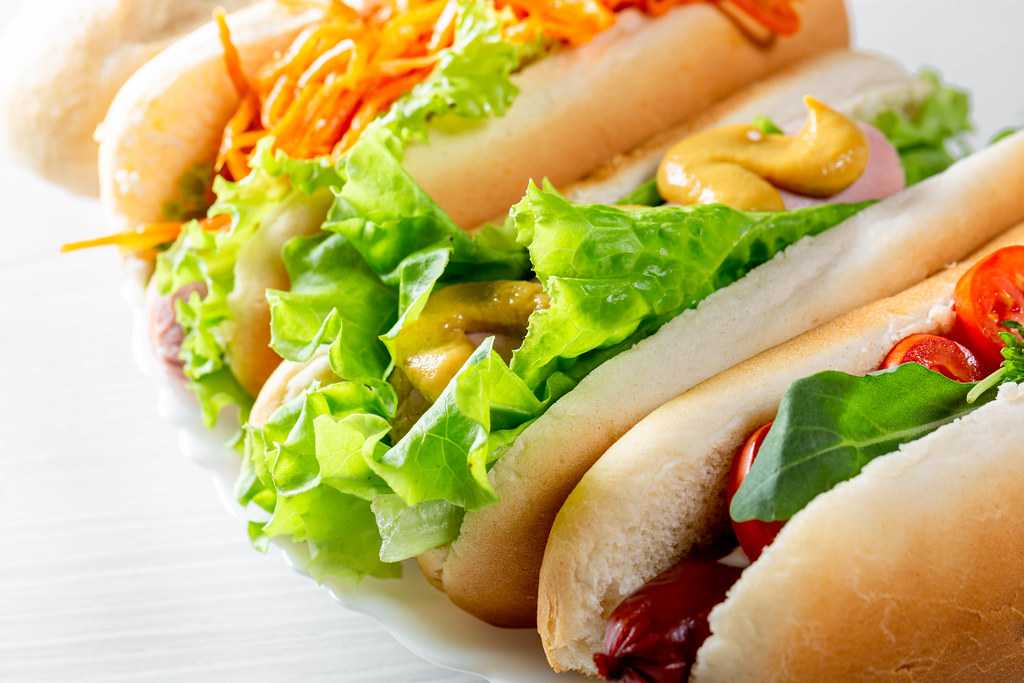 7. Rocksalt Food Truck
Rocksalt Food Truck is not only one of the oldest but also one of the most loved food trucks in Mumbai. It is known for its delicious pesto pasta, iced tea and sugary waffles. Boasting of good quality food at shoestring prices, the dishes are to die for. Besides other dishes, their best ones are waffles that are prepared in several ways and come with different toppings.
Address: Wayle Nagar, Swanand Colony, Gandhar Nagar, Khadakpada, Kalyan
Cost for Two: INR 300
Timings: 5:00 PM - 11:00 PM

8. Bar Bank
Bar Bank is a haven for all the foodies out there. It is not a food truck per se but an open ground that is facilitated with a number of food trucks, some of which are Ministry of Eggs, Phat Fork,
Punjab
Da Chulah, Paleteria, Native Food Truck, Shake Republic, Waffle House, The J, Indigo Burger Project and more. Here you can find a number of cuisines ranging from Asian to American, Mexican, Indian and Italian etc. The best part about this is also that you can gorge all the food down with a gulp of beer that is available here. It is an excellent place to relax and unwind with your friends.
Address: Hotel Beach Garden, Juhu Tara Road, Opp Hotel Ramada Plaza, Juhu, Mumbai
Cost for Two: INR 800 - INR 1000
Timings: 6:00 PM - 1:15 AM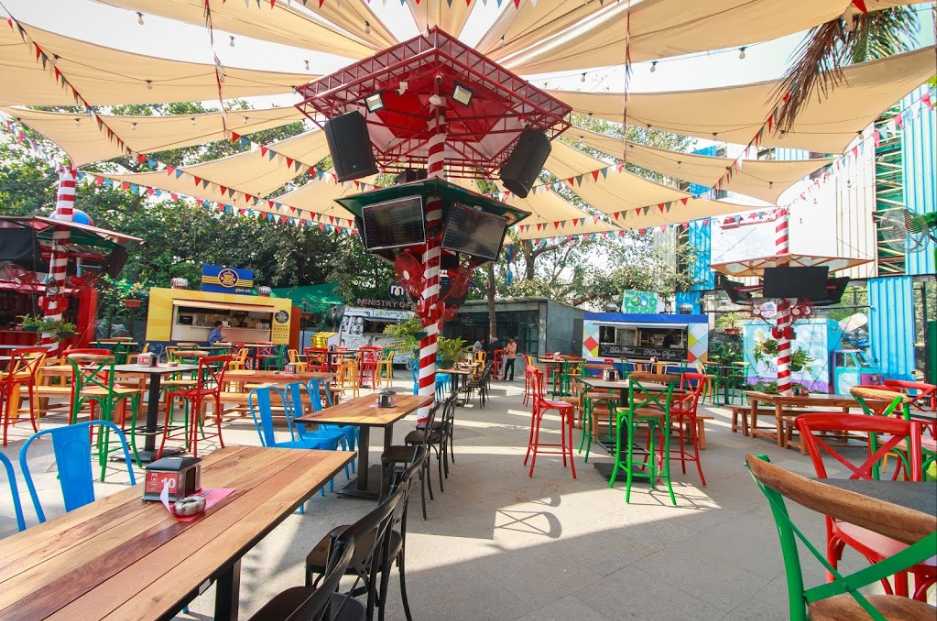 9. Dumpling Delights
Dumping Delights is a yellow funky looking food truck that serves a wide variety of momos at pocket-friendly prices. Offering more than 10 vegetarian and non-vegetarian options in momos such as deep-fried momos, cheese soup dumpling, tandoori momos, chicken chili momos, and steamed momos. With it being situated in Matunga where Podar and Ruia College are located, Dumping Delights attracts a lot of college-going students. Also, this place is a family-run business so one can expect a warm atmosphere and amazing hospitality with all of them working and serving in a coordinated fashion with high spirits. Chocolate dumplings and Tandoori momos, stuffed with vegetables and cheese, are two of the must-try dishes here.
Address: Near Ruia College, Matunga East, Mumbai
Cost for Two: INR 200
Timings: 4:30 PM - 9 PM (Mon-Sun)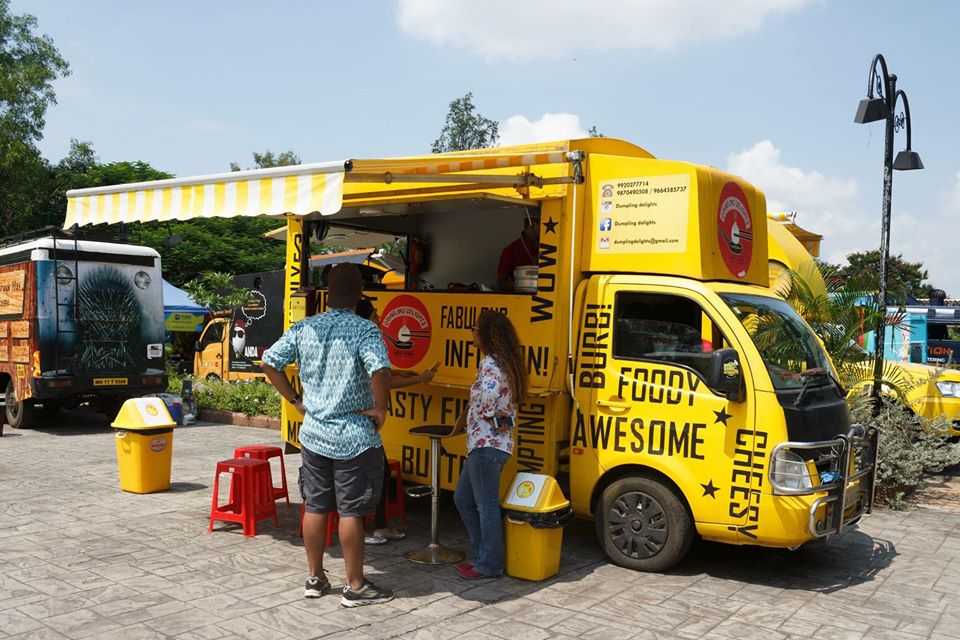 10. Honey's Delights
Located in Kandivali East in Mumbai, Honey's Delights is a food truck that is known for serving one of the best burgers in the area. The best part about Honey Delights food truck is how cost-effective it is; with burgers starting from merely 50 bucks. Some of the food options that make up the menu of this place are Veg Classic burger, Cheese Schezwan Grill burger, Basil Pesto Pasta, Veg Salad, Fries, Nuggets, Chicken Tandoori Steak, Cookie Shake, and Cold Coffee, among others. Apart from the diverse and delectable taste of the dishes, polite and helpful staff is of this place is one of the reasons that it attracts so many foodies. 
Address: Flat 202, Building 61, Evershine Millenium Paradise, N.R. Evershine Dream Park, Thakur Village, Kandi, Kandivali East, Mumbai
Cost for Two: INR 100
Timings: 5 PM - 6 AM (Mon-Sun)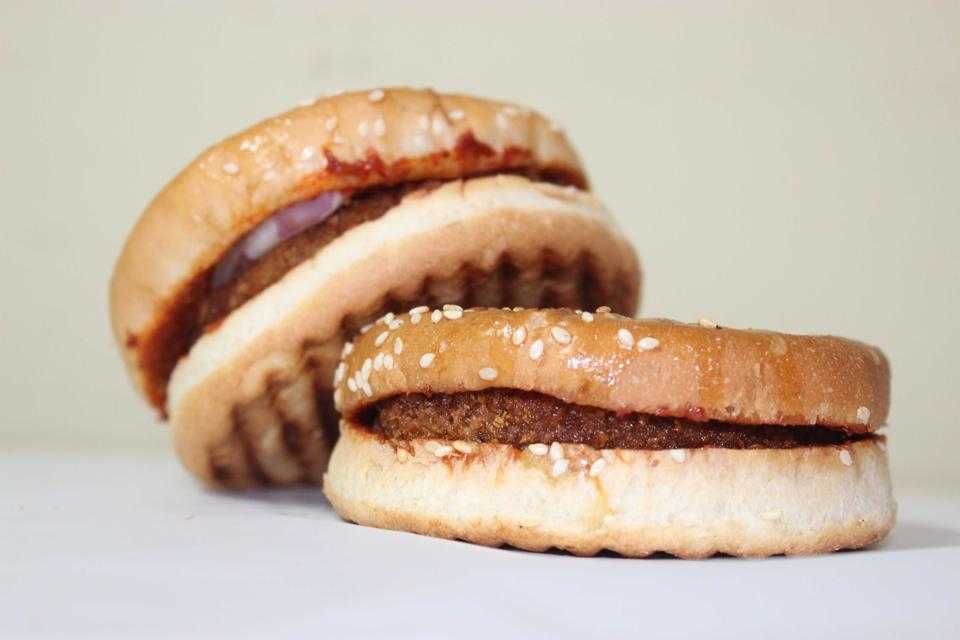 11. Truckila
Known for its multi-cuisine kitchen that serves cuisines ranging from Continental, Mexican, North Indian to Chinese, Truckila is a well-lit food truck located in Malad West in Mumbai. Since this food truck stands in the parking lot of Inorbit mall, it is widely visited by tired and hungry shoppers of all ages. The extensive menu of this place includes delicacies such as Butter Paneer Pockets, Chipotle Tikka Nachos, Honey Chilli Chicken, and several options for rice bowls, barbeque bowls, and beverages. Also, apart from its amazing food and hospitality, one of the other noteworthy aspects of Truckila is its large size, which pleasantly makes it one of the biggest food trucks in Mumbai.
Address:  P5, Open Parking Area Inorbit Mall, Malad West, Maharashtra
Cost for Two: INR 500
Timings: 4 PM - 11 PM (Mon-Sun)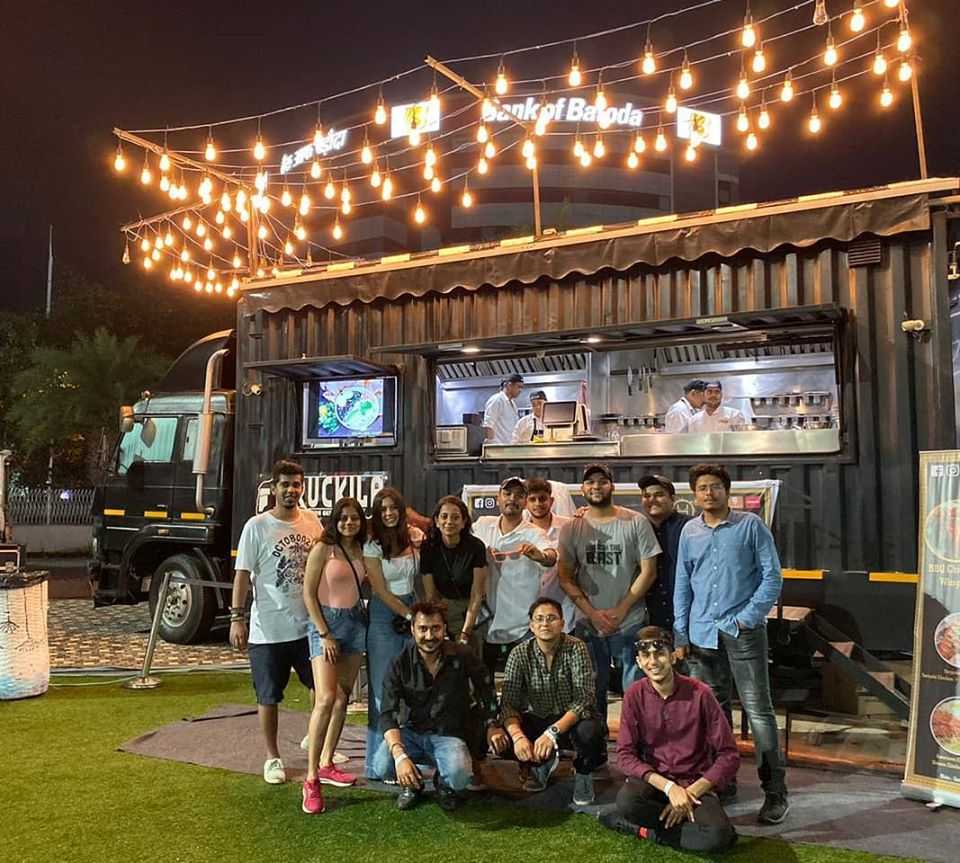 12. Da'caar Jumbo Wraps
Da'caar Jumbo Wraps Food Truck is an extremely feasible fast food place that stands in Vasai West in Mumbai. As its name implies, Da'caar Jumbo Wraps offers a number of Veg and Non-Veg Wrap options that include Mushroom- Baby Corn, Paneer, Veg Kebab, Chicken, and Prawn Wraps. There are also many options available for beverages with cool names such as 'Bloody Cool', 'Brain Twister', and 'Boombastic'. In accordance with how tasty all the wraps served at this place are, it is very cheap; with the most expensive beverage and wrap costing merely INR 30 and INR 110 respectively.
Address: Suyog Nagar, Vasai West, Kiravali, Maharashtra
Cost for Two: INR 300
Timings: 6 PM - 10:30 PM (Mon-Sun)
13. The Better Butler
Located in Thane West in Mumbai, The Better Butler is a small and cute food truck that you should definitely visit if you are in the area and are looking to have a quick bite. While the options that make up the menu of this place are limited, each and every item is worth trying. Their menu consists of Veg and Non-veg options for Sandwiches, Burgers, and Fries. Several shakes such as Mango, Blueberry, Kit-Kat, and Oreo shakes, and Sides such as Corn-cheese balls are also served at this food truck. The range of the food items falls around INR 100 so it can be counted as one of the pocket-friendly fast food places in Mumbai.
Address: Opposite to Bull Neck Fitness Gym, Swastik palms, near Brahmand, phase 7, Thane West, Thane, Maharashtra 
Cost for Two: INR 450
Timings: 5 PM - 10:30 PM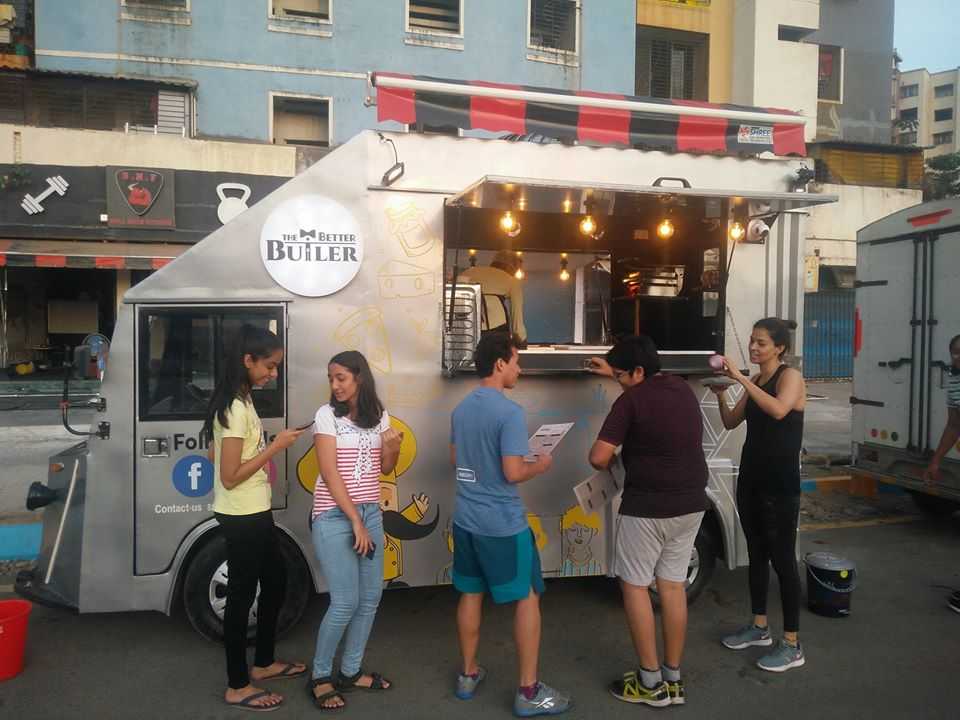 So, which of these food trucks in Mumbai are you heading to next?