The undisputed commercial capital of
India
and home to one of the world's biggest film industries,
Mumbai
is a dreamy metropolis always on its toes. The city never sleeps and is always bustling with activity. Both the prince and the pauper inhabit Mumbai. Some wealthiest Indian personalities reside in this glamorous city along with people surviving on little resources. This contrast has rendered the city an exciting mix of culture. Some of the most
famous international fashion brands and labels
can be easily spotted here along with a
wide range of local markets
that sell almost everything that a regular person needs. These markets are located in the suburbs and run on bargaining, offering cheap yet trendy stuff and fulfilling the shopping desires of those who cannot splurge money on international labels. Mumbai is a shopper's paradise and has many streets and markets that brim with quirky treasures.
Listed below are the best markets in Mumbai: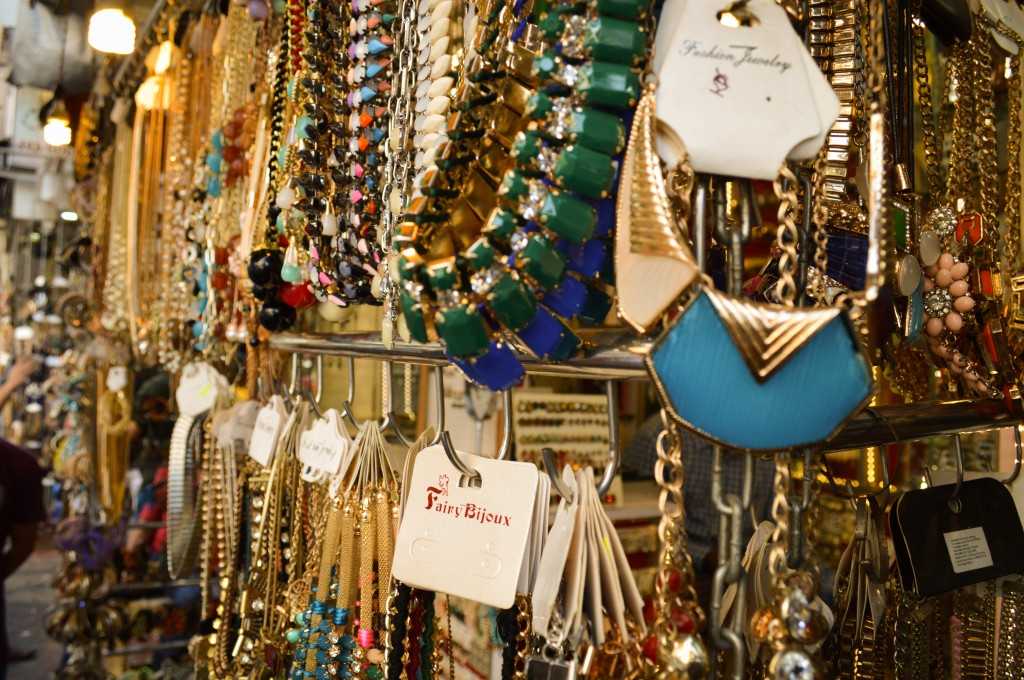 The walk into Colaba Causeway starts from a scattered array of stalls selling irresistible bags, exotic shawls, amusing household items, T-shirts sporting mottos and slogans, vibrant clothes and accessories, which all seem to be never-ending. A shopaholic's dream, the Colaba Causeway is cramped up with stalls selling many
hidden treasures
. To find your treasure, keep digging deeper. Bargaining is a vital part of the shopping act; never agree to the first three prices the seller offers you. The market runs mainly for tourists, and almost everything and anything can be found here making it one of the top markets for shopping in Mumbai.
Location: South Mumbai
Timings: Morning to night
What to Buy: Handicrafts, fashion jewellery, brass items, clothes, bags, incense sticks
2. Chor Bazaar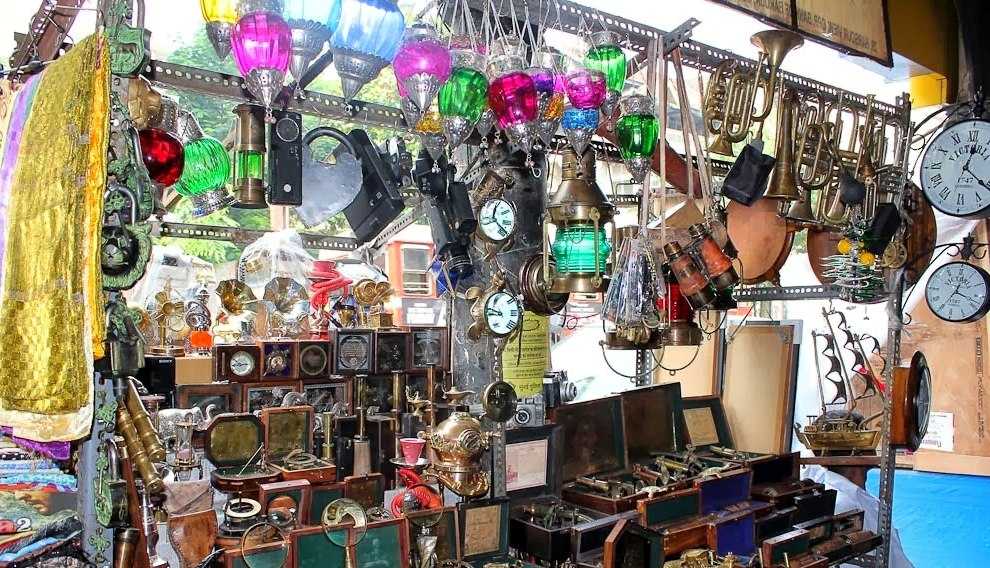 Crowded streets and crumbling buildings make up the premise of Chor Bazaar's history that dates back to 150 years. The market has a famous image of a "thieves market" however, not everything sold here is stolen or illegal. Chor Bazaar derived its name from the originally known - Shor Bazaar or "noisy market" (as the Britishers liked to call it). Many kinds of fancy goods can be found here at unbelievably low prices, making it one of the most popular markets for shopping at Mumbai. It is a must-visit place if you like collecting vintage items like lamps, old devices, antiques and rusty belongings. If you aren't interested in shopping, visit this place for relishing the beauty of antiquity. This is definitely the cheapest market in Mumbai.
Location: South Mumbai - Mutton Street, near Mohammad Ali Road 
Timings: 11:00 AM - 7:30 PM Everyday except Fridays.
What to Buy: Antiques, vintage and antique items, and trash
3. Crawford Market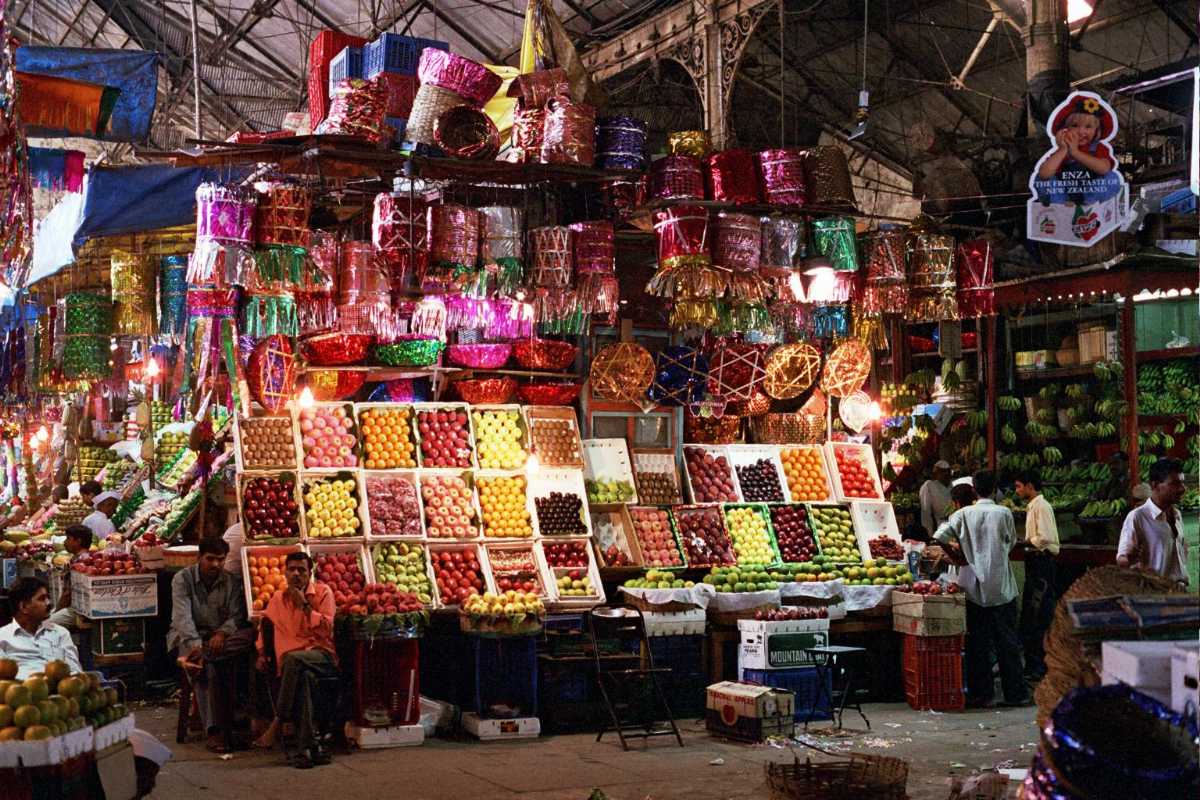 Crawford Market, also known as
Mahatma Jyotiba Phule Mandai
, is a profoundly Muslim populated area, with flags of green and red hanging overhead and the melodic sounds of the azan filling the air. If you stand still, you can notice nothing but crowds of people getting drowned in the chaos of Crawford Market. The market is famous for its
wholesale supply of fresh fruits and vegetables
. The market has numerous stalls selling new props for parties, toys for all ages and beautiful figurines of dolls by remarkable artisans. On the sidewalk, you can spot local artists making henna handprints. The old-style market is in a historic colonial building that oozes of ancient charm and simple times of olden days.
Location: Lokmanya Tilak Marg, Near CST Railway Station, Fort area, South Mumbai
Timings: Morning until night; On Sunday it opens only in the morning
What to Buy: Spices, flowers, fruit, vegetables, food, birds, fish and other pets
4. Mangaldas and Mulji Jetha Market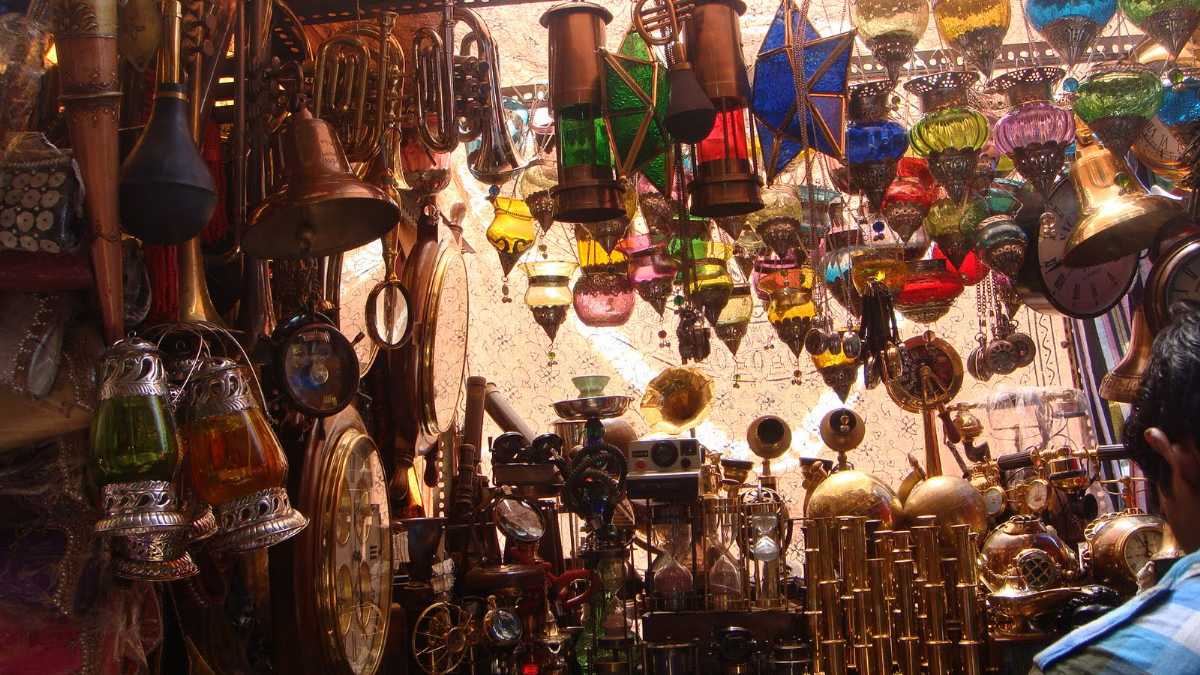 The market specializes in selling cloth pieces of all kinds and colours. If you wish to buy cloth for an un-stitched garment or to design Indian outfits, Mangaldas Market and Mulji Jetha Market is the best bet for you. Located close to the Crawford Market, this sprawling wholesale market is amongst the largest textile markets in Asia. You'll find rows and rows of stalls stacked to the brim with a diverse range of fabrics. The bustling market has everything you need for your wedding which makes it a popular place for wedding shopping in Mumbai. The products offered are for all budgets. Don't be amazed to see young to be brides sweating out in the Mumbai heat with their mothers trying to bargain in this colourful market.
Location: Near Zaveri Bazaar, Kalbadevi, South Mumbai
Timings: Daily from morning until night, except Sundays
What to Buy: Clothes
5. CP Tank -  Cawasji Patel Tank - The Bangles Market in Mumbai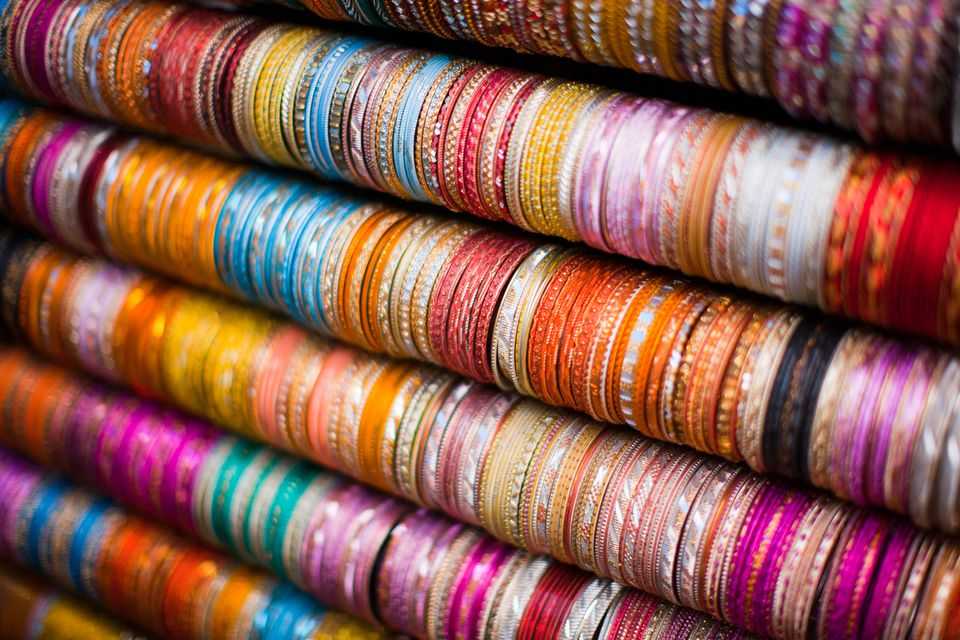 Walking a bit further from Crawford Market and Mangaldas Market, you will enter an area known as C.P. Tank or Cawasji Patel Tank. The market is famous for its exquisite collection of bangles. Be it bangles to go with a sari or any other Indian or western outfit, this is the right place for you. There are shops selling bangles made of plastic, glass, copper, brass, iron, and alloy by a process locally known as casting. The bracelets are globally exported, thus maintain excellent quality and durability at reasonable prices. Make sure to bring your dress along with you to get the perfect match of bangles.
Location: Bhuleshwar Road, South Mumbai
Timings: Daily from morning until night, except Sundays
What to Buy: Bangles and jewellery
6. Kala Ghoda Pavement Gallery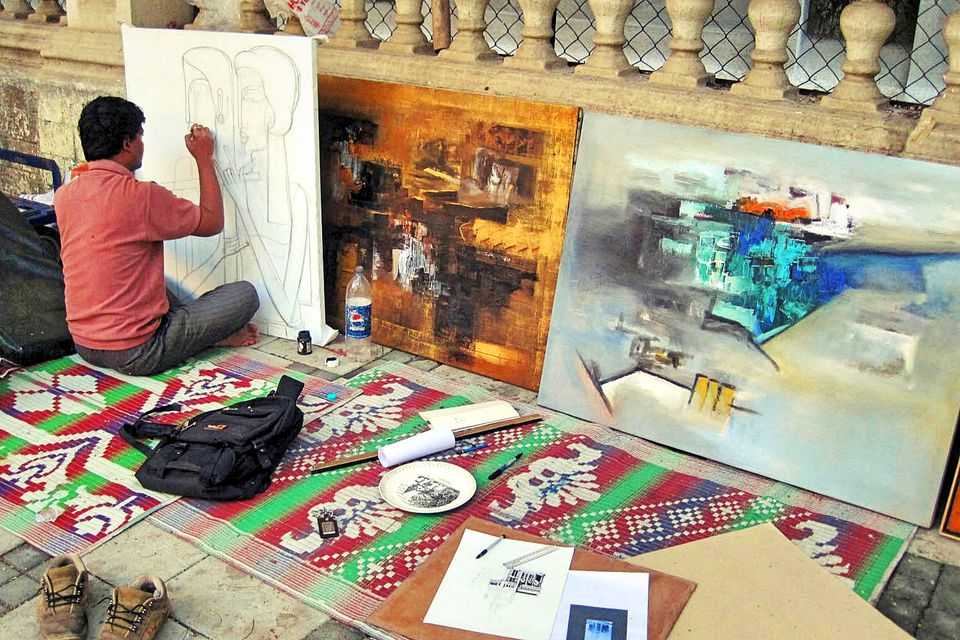 The leafy pavement on both sides of the famous Jehangir Art Gallery makes up for the Kala Ghoda Pavement Gallery which is dotted with the artwork of promising young artists, who showcase their artwork on the local platform and sell it at original prices. It is the best bet for art enthusiasts who are always in search of exciting artworks but are unable to find them at affordable prices. The best thing about the Kala Ghoda pavement is that you get to interact with the artists themselves and get an opportunity to learn more about their art stories and techniques and even spot them in action. Buy
Location: MG Road, Fort, South Mumbai
Timings: Daily from around 11:00 AM until 7:00 PM
What to Buy: Everything from portraits to religious paintings. Buy Art directly from the Artists!
7. Linking Road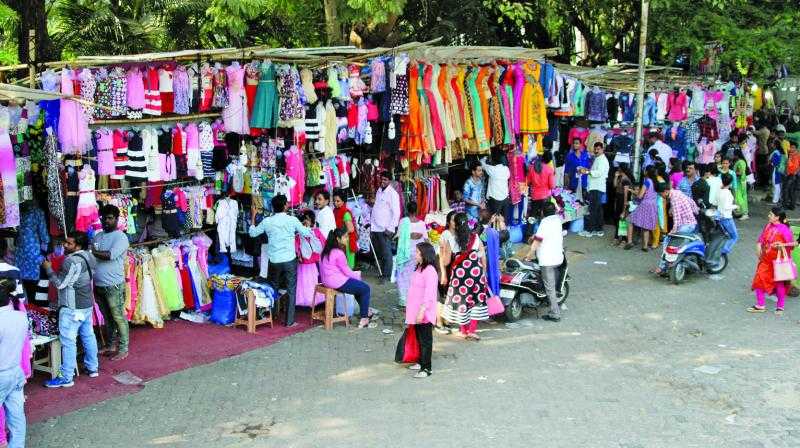 A perfect amalgamation of modern and traditional, East meets West; Linking Road is one of hippest suburbs for shopping in Mumbai. Here street stalls contrast with branded showrooms, and you can find both worlds merging perfectly with each other. The street stalls are clustered together as per the type of goods they sell. Firstly, you will come across extensive collections of shoes, bags, and belts followed by traditional Indian clothes. Further along, you will come across the wide variety of merchandise stores displaying styles that may be bewildering. Watch out before you buy something. The market stays densely crowded on Sundays and visiting here on weekdays is better if you wish to beat the crowd.
Location: Linking Road, Bandra West
Timings: 10:00 AM - 10:00 PM
What to Buy: Shoes, bags, belts, traditional Indian clothes, children's clothes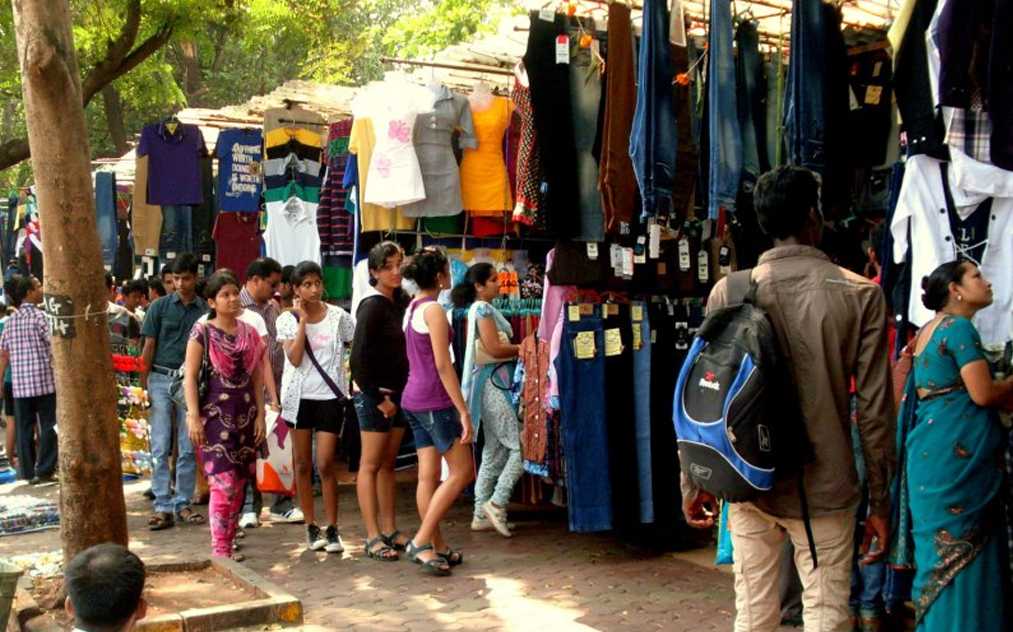 Are you looking for the best Gucci rip-offs or knockoffs of sportswear brands like Puma, Nike? Think no further, visit the Fashion Street Market where you find them at low prices. It is a shopping street with a hilarious touch to it. The market is famous for fake 'real' branded clothes, bags, clutches and accessories making it a hugely popular place for shopping in Mumbai. Fashion Street is the place to go if you want to buy what's trendy in a pocket-friendly manner. There are around 150 stalls here, and the market mainly attracts teenagers and college students, who come to grab the latest western clothes and fake brand names at low prices.
Location: MG Road, South Mumbai
Timings: Daily from morning until night
What to Buy: Clothes, shoes, belts
9. Zaveri Bazaar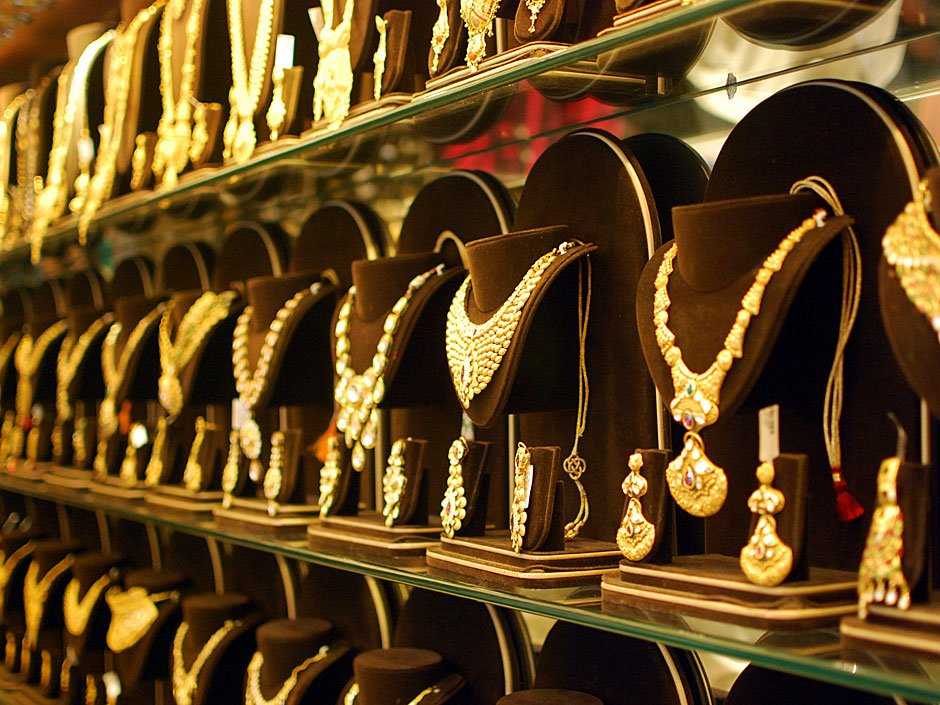 Popularly known as the glittering market, Zaveri Bazaar is home to most prominent names in jewellery like Tribhovandas Bhimji Zaveri, Dwarkadas Chandumal, UTZ and Dhirajlal Bhimji Zaveri, as well as various independent boutiques. Zaveri Bazaar is a jewellery market with rows and rows of shops trading in precious gemstones and jewels of all kinds making it one of the biggest markets for jewellery shopping in Mumbai. The Bazaar is located north of the Crawford Market and requires at least a day to explore all the treasures offered in it. Moreover, the chaotic Zaveri Bazaar houses some of the oldest buildings in Mumbai. Built in the 19th century, these buildings stand as a testament to the changing face of Mumbai since the time of colonial rule. The bazaar brinks with an old-world Victorian charm as most of its buildings are designed in Victorian-Gothic style.
Location: Bhuleshwar, South Mumbai
Timings: All days from 10:00 AM to 7.30 PM, Except Sundays
What to Buy: Jewellery
10. Flora Fountain Book Street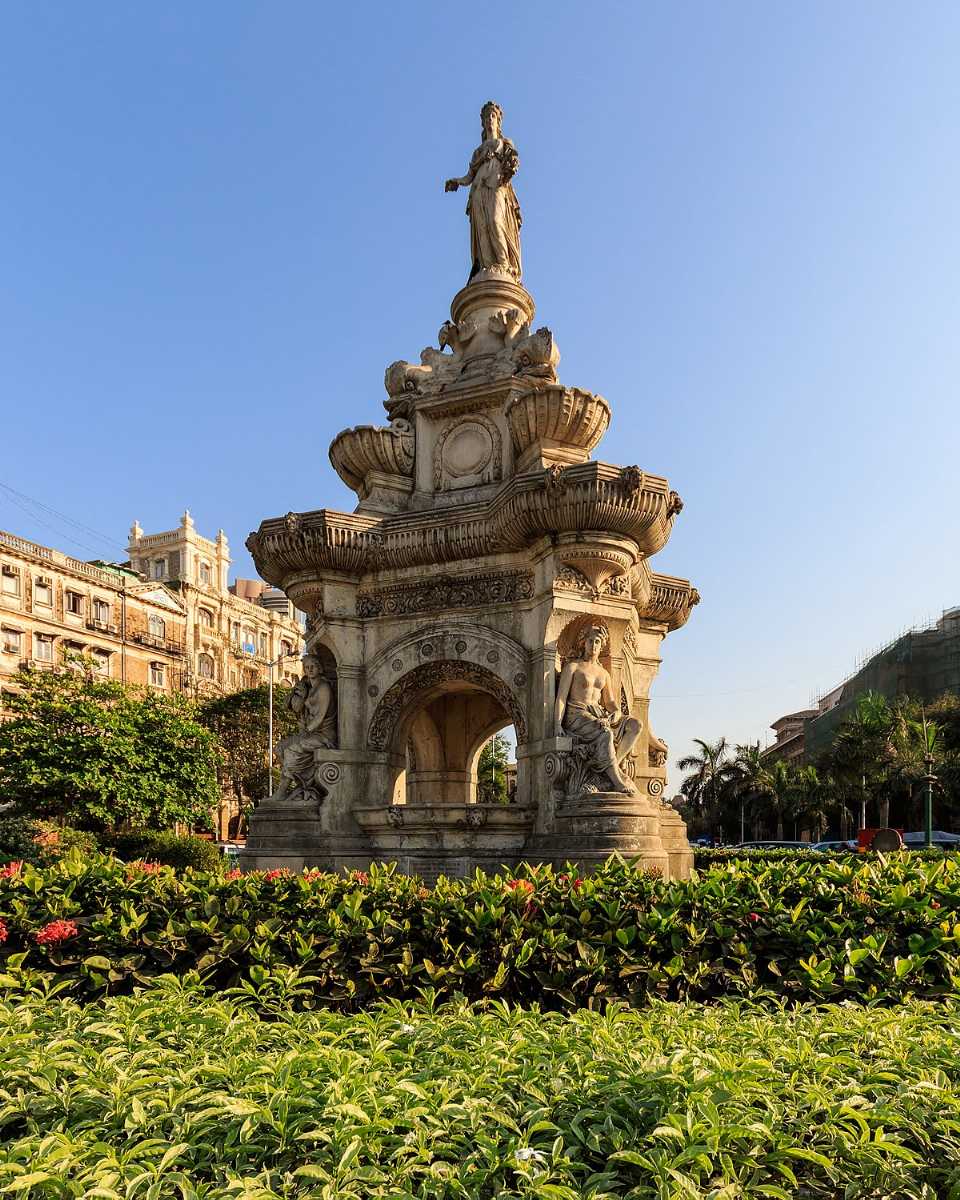 Flora Fountain is the gate to heaven for any passionate bibliophile. The market houses piles of books, being sold in narrow pathways, which readers can browse through to get any book of their liking. Be it classics, thrillers, erotica, encyclopedias, academia, romance, or self-help books, dating back decades; Flora Fountain has something to please everyone. The place is also fondly called 'Book Street' by patrons, and it is adjacent to the iconic structure of Flora Fountain which was erected in 1864 and is sculpted from Portland stone, coated with white oil paint.
Location: MG Road, Kala Ghoda Fort, Mumbai
Timings: All days, morning till evening
What to Buy: Books of all genres
11. Mirchi Galli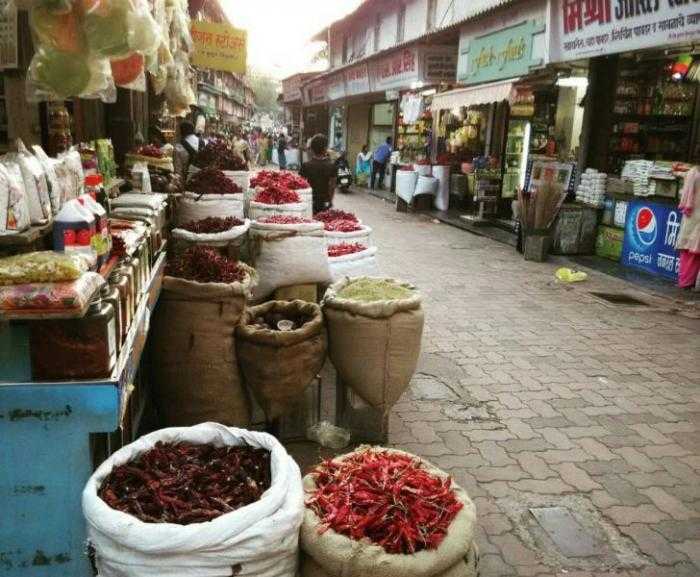 Mirchi Galli is Mumbai's most prominent spice and condiment market and is known among Mumbaikars for premium quality nuts, dry fruits, sweets, namkeens, after-meal digestive or mukhwas, and other spices. The market specializes in a variety of chilli products from which it gets its name. The condiments and dry fruits are sourced from authentic dealers, and the full range of savouries leave the buyers spoilt for extensive choice. This exotic bazaar for shopping at Mumbai has attracted millions of buyers over the years and has stood in the city for over 100 years. Even today, it is flocked with local as well as tourist buyers all times of the year.
Location: At the end of the lane from Crawford Market leading to Jama Masjid
Timings: Monday-Saturday, 10:00 AM to 8:00 PM
What to Buy: Spices
12. Dadar Flower Market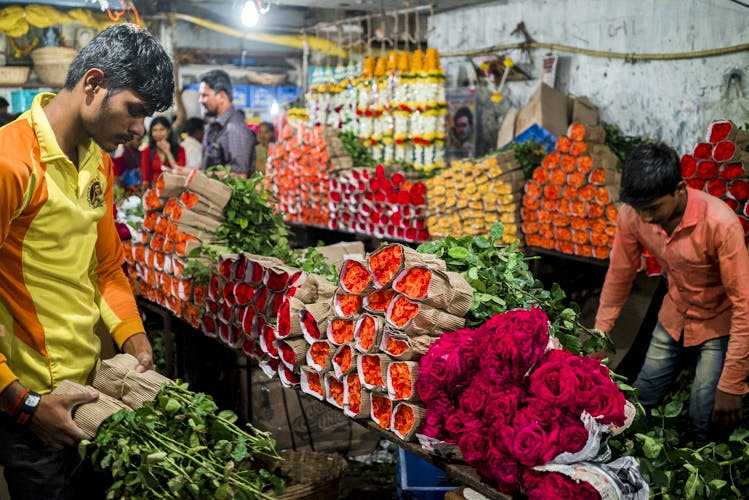 The colourful Dadar flower market, also known as Phool Gully, is a sight to behold as early as 6 in the morning. The narrow lane soothes the eyes with a splash of colours as you make your way through this wholesale market which brings you flowers from every variety. From roses to Mogra, daisies to orchids and lotus to peonies, the types of domestic as well as imported flowers will simply astonish your senses. Besides wholesale flowers, you can also purchase 'Tulsi' leaves for rituals and poojas. Garlands for wedding and temples are also sold here on a wholesale basis making one it the biggest markets for flower shopping in Mumbai.
Location: Senapati Bapat Marg, Dadar
Timings: All days, 5:00 AM till 8:00 PM
What to Buy: Flowers and garlands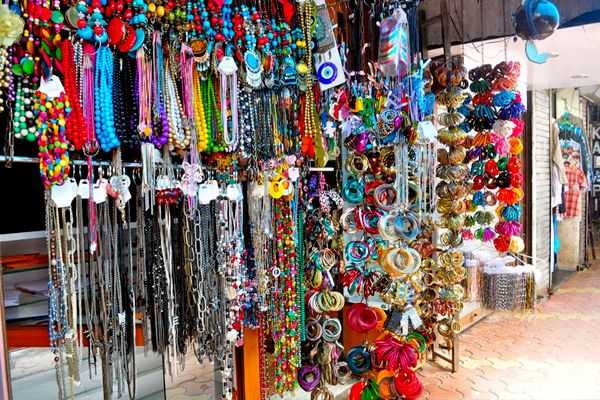 Lokhandwala Market oozes of the city's vibrant spirit and high energy as is a popular and absorbing market for shopping in Mumbai. Mostly women-centric, it is a perfect endeavour for girls and ladies looking out for fashion clothes, jewellery and footwear. That's not all, from fruits to flowers, electronics to household items; Lokhandwala has something for every kind of buyer. One of the oldest open-air markets, it is also dotted with vendors selling delicious Mumbai street food specialities like Pani Puri, Sev Puri and Bhelpuri.
Location: Lokhandwala Complex, Andheri West
Timings: 12:00 PM - 12:00 AM
What to Buy: Women fashion apparels, jewellery and footwear
14. Sassoon Docks Fish Market

The oldest dock in Mumbai is known for its overwhelming smell, crowded lanes and seafood buffet. This wholesale seafood sanctuary opens around 5 AM as the boats bring back fresh stocks from the sea. By 6 AM, Sassoon is bustling with vendors and buyers.
Sir Albert Abdullah David Sassoon, a Jewish merchant, built it in 1875 on reclaimed land in Colaba. Koli Maratha's have worked here since then. You can see Koli women crouched on both sides of the lanes and shelling prawns while catching up on the latest gossip. 20 tonnes of a fresh catch is unloaded at the dock every day as wholesalers and chefs from leading hotels grab their stock for the day.
Bombil, Pomfret, prawns, baby sharks, octopus, blue crab, Indian red snapper, stingray
etc., are sold there every day in great quantities. Even though the market targets wholesalers and bulk buyers, it is the best place to purchase fresh seafood at lower prices than supermarkets. The entire setting is an experience on its own but is on the verge of collapse due to overfishing and inflation.
Location: Sassoon dock road, Azad Nagar, Colaba
Timings: 5 AM - 11 AM
What to Buy: Bombils, prawns, red snapper and Pomfret
15. Lalbaug Market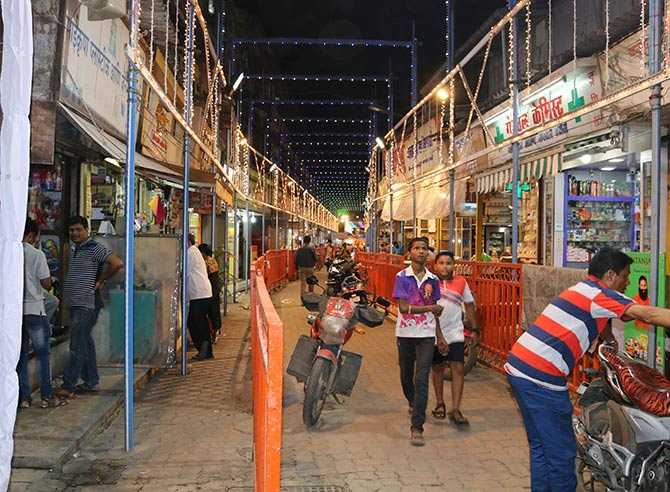 Lalbaug spice market feeds every dish one thing that makes it Indian - aromatic spices. Narrow lanes are flooded with shops that stimulate your sensory organs and there's a good chance that you might end up craving the famous Indian curry. Small shops are stacked next to one another in the crowded neighbourhood of Lalbaug. You can pick out from a large variety of freshly grounded spices or get them grounded right in front of you.
Sun-dried red chillies, turmeric, coriander powder, garam masala
and many other popular culinary essentials are displayed outside the shops. You can choose your favourite combination from the racks by looking at the date they were grounded on. This is the perfect spot for curating your personalised spice fusion or just stacking up your monthly quota with the best quality spice that the city offers.
Location: Chivda Gali, Dr Ambedkar Road, Lalbaug East
Timings: 11 AM - 9 PM
What to buy: freshly grounded red chillies
16. Dharavi Leather Market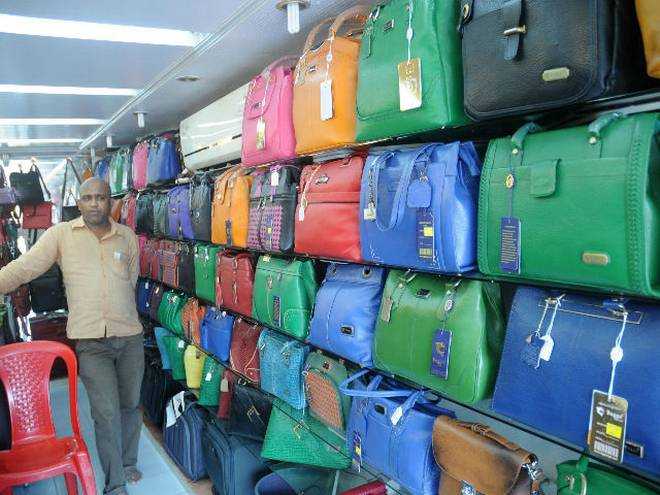 Leather has dominated the fashion industry for decades. High-quality leather goods usually cost thousands of rupees in showrooms and have a limited customer base. Dharavi leather market, on the other hand, is famous for low-cost decent quality leather products. The extensive wavelength of products ranging from backpacks, boots, trolly bags, laptop bags, wallets, belts and jackets will leave you amazed.
High Design, Torro, Maaz leather, Excellent bag works and Hidestuff are some of the most popular shops for leather accessories and clothes. Majority of the products are priced within a range of INR 500 to INR 15,000. There are frequent discounts that can swing the prices even low. If you don't find anything you like, you ask them to
customize a product based on your size, budget, quality and colour
.
It is usually very crowded on weekends, so if you want to avoid clumsy roads and flooded shops, plan your visit on a weekday during the daytime.
Location: 90 feet road, Dharavi
Timings: 10 AM - 9 PM
What to buy: backpacks, handbags, boots and wallets
17. Hill Road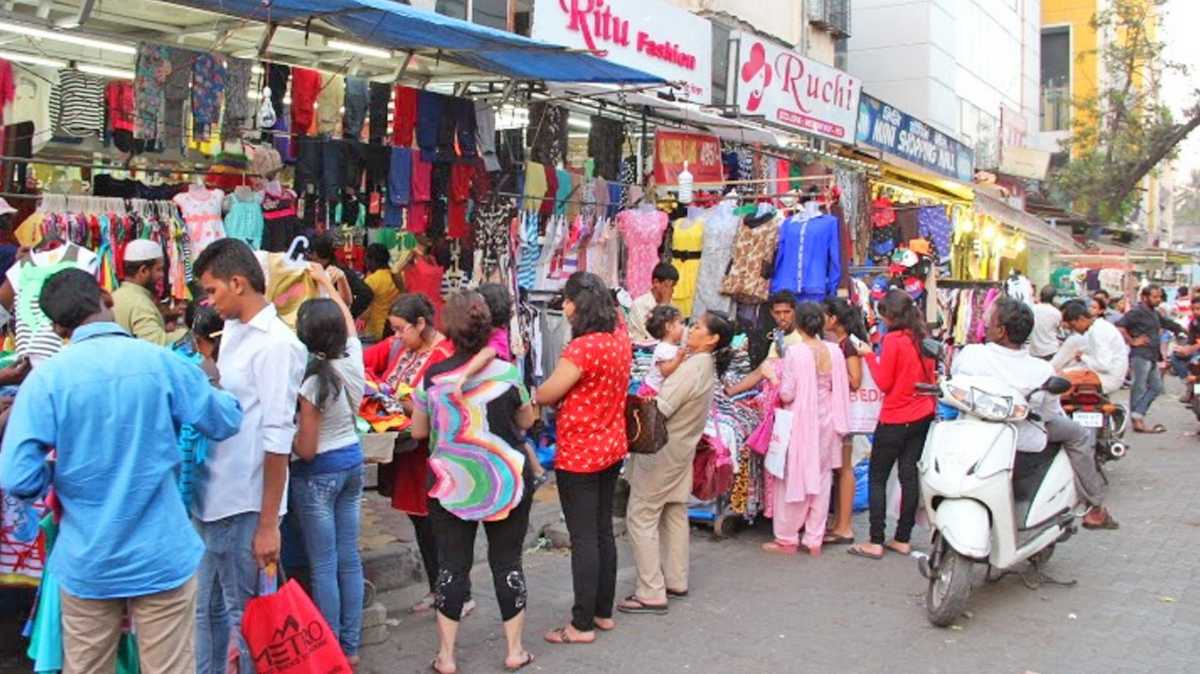 Hill road market in Bandra is casually called Sarojini Nagar of Mumbai. Bargain shoppers and tourists alike, flock in hundreds every week to shop at Hill road market. It stretches from Bandra station road to Mehboob studies. Affordable fashion is redefined here as latest trends ooze out of small shops, filling the narrow streets countless options and happy customers.
Seasonal collections dominate the market while festival shopping is equally popular, Christmas being the most crowded time of the year. Clothes, footwear, accessories, decorative items and food stalls fill the lanes up to the brim. Besides local shops, international brand stores are also available in the area. Whether you're looking for lingerie, oxidized silver jewellery, scarves, boots or good old street food, Hill road is the perfect flea market to satisfy all your needs.
Location: Hill Road, Bandra
Timings: 11 AM - 9 PM
What to buy: casual clothing, footwear and accessories
18. Hindmata Market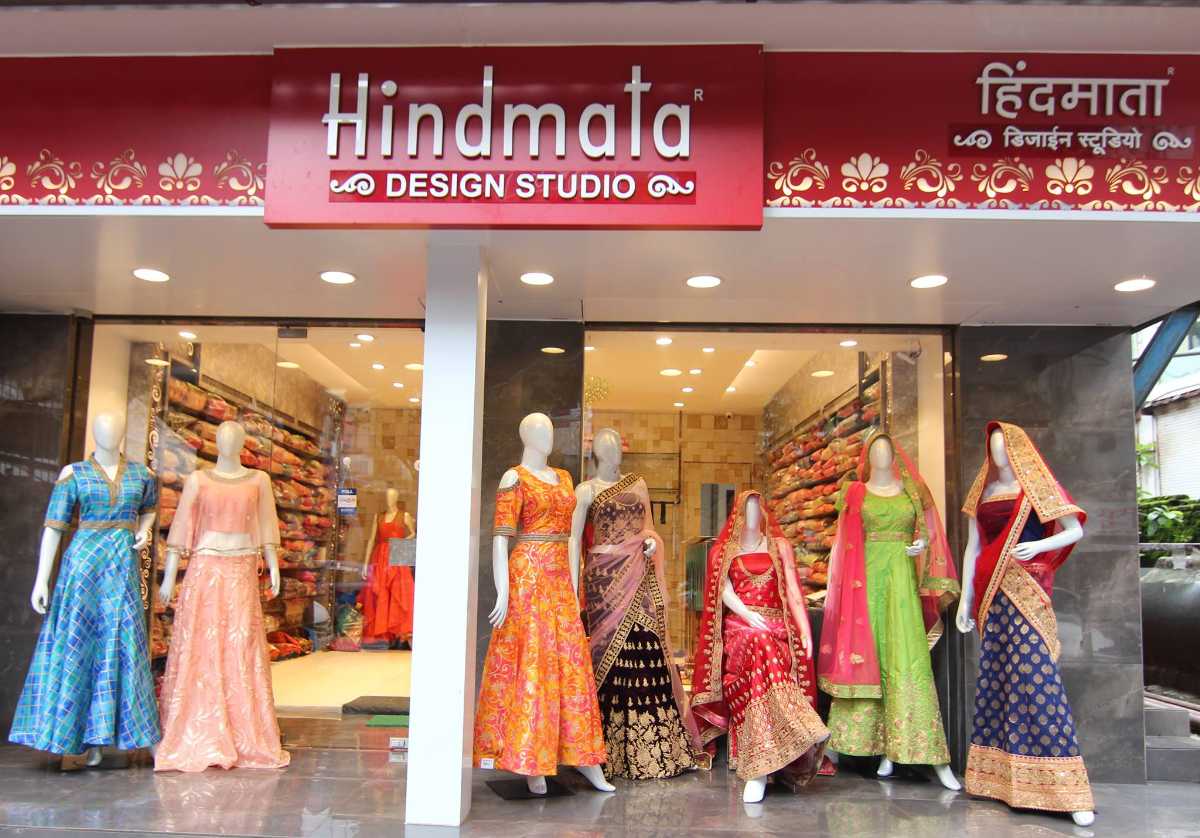 Hindmata market is famous for ethnic wear. The exhibits at the market speak wonders about the Indian handloom industry as varieties are showcased from all over India. Suits, lehengas, sarees, men's ethnic wear, etc. are stocked inside medium-sized shops and cater to wholesalers and customers from all over Mumbai.
Banarasi silk, Bhagalpuri silk, chanderi, cotton, synthetic, chiffon
and many other fabrics are lined up neatly on the walls, utilizing every inch around you. You can choose from a wide range of designs and materials or get custom-tailored gowns, lehengas or sherwanis based on your size and requirements. You can also customize floral-printed or denim fabrics into western wear.
Prices range anywhere between INR 1000 to INR 20,000. Big stores like BharatKshetra and Poojan Sarees deal with the expensive category while there are numerous budget shops that have stunning designs and suit the price range of a much wider customer base.
Location: Baba Saheb Ambedkar Marg, Dadar East
Timings: 10 AM - 10 PM
What to buy: lehengas, suits or fabrics
The 'City of Dreams', Mumbai is the ultimate fashion hub, vintage suburb and truly a shopper's delight. There are hordes of designer shops and malls, but the true essence of shopping lies in the city's various open markets that give the big malls a run for their money. With good bargaining tactics and some research, shopping in Mumbai is something everyone can and would love to do. Next time when you are in this classic city, pick out any names from these famous markets as per your shopping requirements and grab the best treasures sold in the town at unbelievably low prices. Happy shopping!