Formerly known as Bombay,
Mumbai
is aptly nicknamed as 'the city of dreams'. Full of dreamers and artists, Mumbai surely never disappoints a wanderlust. With a plethora of tourist attractions and a prolific coastline, Mumbai can prove to be a haven for the tourists. To give the visitors a fantastic tour of the city the government has launched a Mumbai Darshan Tour. Organized by MTDC, this city tour is one of the most enriching, comfortable, convenient and affordable ways to visit all the tourist destinations in the Mumbai city.
This one-day city tour covers about 60 tourist attractions that include 14 sightseeing spots and rest are the drive-past spots. The tour takes place in air-conditioned buses, and there are professionally trained and licensed guides to introduce you to the mesmerizing history associated with these locations. These packages are affordable and a brilliant way to get acquainted with Mumbai city. Currently, this city tour is operated only on the weekends- Saturday and Sunday. Also, you can choose from the 2 itineraries MTDC offers for the city tour depending on your pick up location. The itineraries only differ in the bus journey and starting pick-up point; the attractions are similar, and hence you can choose among them according to your convenience.

Mumbai Darshan Tour
Mumbai Darshan city tour begins at 9:00 AM and ends at 6:00 PM. You can make the bookings through the official website of MTDC or any travel agency. The accompanying guides on the air-conditioned buses are well trained and speak Hindi, Marathi, and English; so that all people (including foreign nationals) can understand the descriptions of the locations given by them. There are no meals included in the package, according to MTDC. Also, make sure to go through some description about these destinations as no official brochure is handed out to the visitors. Doing so will get you acquainted with the city and the various locations you will visit.
Itinerary 1- CST to South Mumbai to CST
The tour starts by picking up tourists from Chhatrapati Shivaji Bus Terminus at around 9:00 AM. The bus then heads to the various tourist spots. The accompanying guide will show you some of the places from a distance while you can visit the other tourist attractions.
Itinerary 2- Dadar to South Mumbai to Dadar
The tour starts by picking up tourists from Dadar East MTDC Counter at around 9:00 AM. The bus then heads to the various tourist spots. The accompanying guide will show you some of the places from a distance while you can visit the other tourist attractions.

Mumbai Darshan Places
The attractions generally include-
Bandra Bandstand
Mani Bhavan
Taj Mahal Hotel
Nehru Science Center
Nehru Center
Taraporewala Aquarium
Mahalaxmi Race Course
Dr. Bhau Daji Lad Museum Dhobi Ghat
Chhatrapati Shivaji Vastu Sangrahalaya
Apart from these attractions, you can also spot many attractions while on your bus ride. Be alert and don't miss these must-see attractions in Mumbai city. You can ask your accompanying guide to alert you while you cross these spots and also tell you about the whereabouts of these places. The drive-by locations on the way include-
Haji Ali Dargah (located near Mahalaxmi Race Course and Before Nehru Center)
Makhdooom Ali Mahimi Dargah (located on the left side while crossing Mahim, before junction)
Mahim Church (located to the right of Makhdoom Ali Mahimi Dargah)
Bandra Reclamation (spot this while heading to Bandra Bandstand)
Celebrity homes (catch a glimpse of Salman Khan's Galaxy Apartment and Shahrukh Khan's Mannat)
Worli Fishing Village (located near Bandra Worli Sea Link)
Nariman Point and Queen's Necklace (located near Taraporewala Aquarium)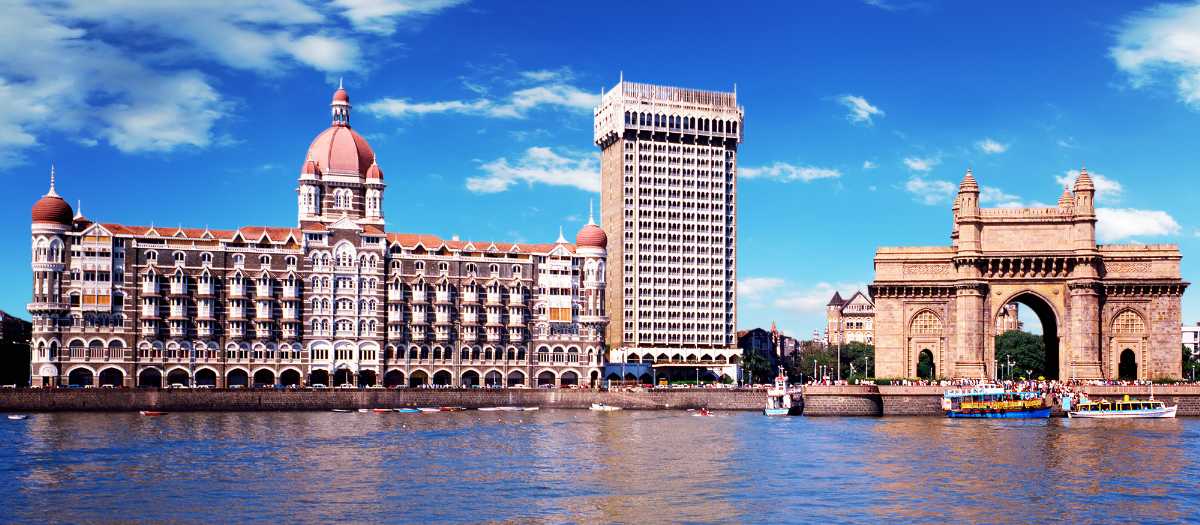 Mumbai Darshan Packages
There are three categories of packages available for Mumbai Darshan by MTDC. They are as follows-
1.
Gold Package for Indian Nationals including Entry Fees-
INR 735 for adults and INR 667 for children.
2. Gold Package for Foreign Nationals (that includes NRI, PIO, and OCI) including Entry Fees-
INR 1440 for adults and INR 786 for children.
3. Silver Package-
INR 499/- for all
If due to certain reason, you have to cancel your bookings for the Mumbai Darshan Tour then the cancellations would be subjected to deductions, depending on the number of days left on tour. If the cancellation is made-
Before 15 days of the Darshan tour, then the deduction would be 5% of the cost.Before 8 to the 14th day of the Darshan tour, then the deduction would be 25% of the cost.Before 4 to the 7th day of the Darshan tour, then the deduction would be 50% of the cost.Less than 4 days to the Darshan tour, then no refunds would be granted.
Mumbai Darshan Buses
Maharashtra Tourism and Development Corporation has introduced air-conditioned buses to facilitate visitors to enjoy a comfortable city tour. These buses offer a memorable ride to the visitors by providing an excellent view of various prominent landmarks. They have two pick up points- CST and Dadar. Their service starts at 9: 00 AM (Confirm timings with MTDC) and ends at 6:00 PM, on all Saturdays and Sundays. Their bookings can be easily done via the MTDC official website for a convenient Mumbai Darshan.
Contact Number for Bookings
Tel No: 022-22845678 - MTDC Reservation Center, Mumbai

This package organised by the Maharashtra Tourism provides an excellent opportunity for the visitors to witness the grandeur of the city. This one-day city tour provides a broad insight into the heritage of Mumbai in a very affordable manner. This package focuses on the attractions of South Mumbai because of its importance. Mumbai originated as Bombay from this location and then further grew into its present state. This part of Mumbai is the prime locations and holds a plethora of heritage sites, old monuments and other significant pieces of our ancient history. Opt for this convenient way to catch a glimpse of the major attractions of this city of dreams!