The food culture of Mumbai is defined by its street food. People from all economic classes, eat from the roadside food stalls in Mumbai, which serve some of the best local food, even better than many restaurants. The most famous street food in Mumbai includes Vada Pav, bhelpuri, panipuri, sevpuri, Bombay sandwich, ragda-pattice, pav bhaji, omlette pav and kebabs. Among the popular desserts of Mumbai are Kulfi and Ice Gola.
Here is the ultimate list of 41 must-try street food in Mumbai -
1. Kheema Pav at Gulshan-e-Iran, Crawford Market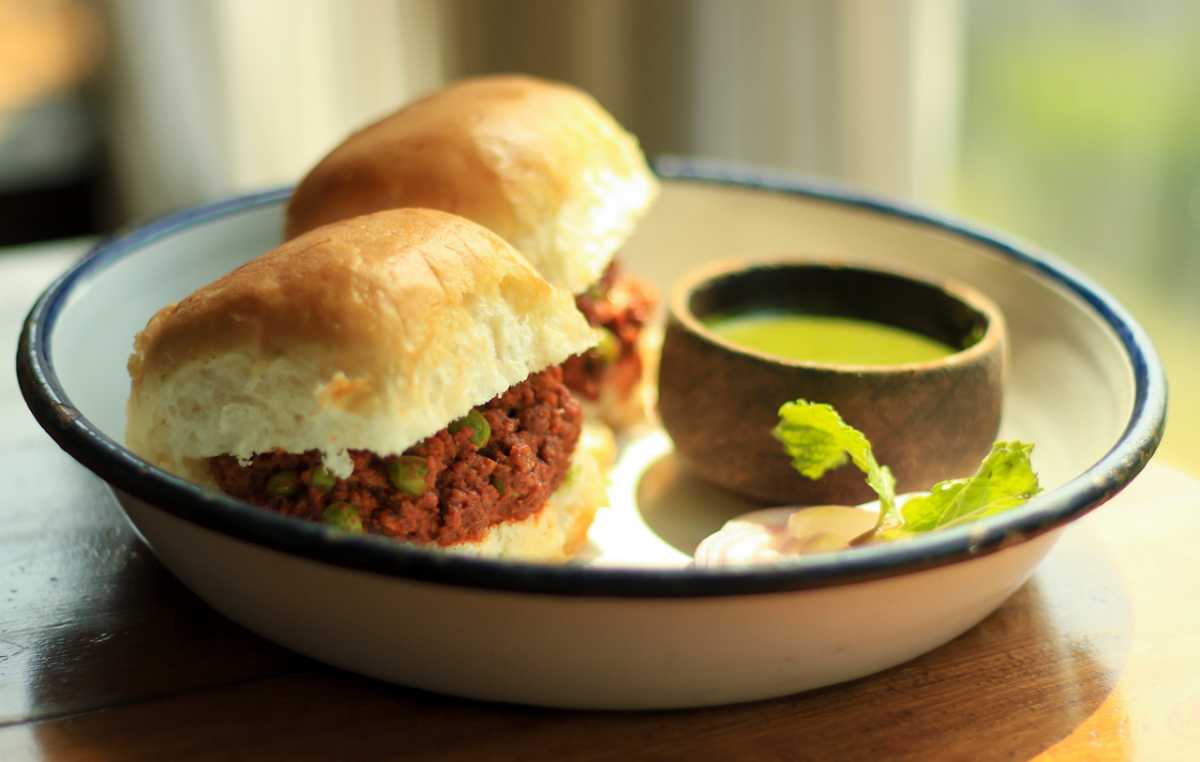 Known best for its extremely delicious Mughlai specialities at maddeningly low prices, the best food items to try at Gulshan-e-Iran range from their Kheema pav, to the chicken tikka masala, Garlic Naan, Rabdi Kulfi and Firni for dessert. It's beautiful how after a full stomach you can ask for the bill and wonder how it's not crossing the thousand unit mark. Not even close. Gulshan-e-Iran is one of the best street food places in Mumbai and is a must-visit.
Where: 15, Corner Of MRA Marg, Musafir Khana Road, Crawford Market, Mumbai CST Area, Mumbai
Price: INR 450 for two
What you must try: Chicken tikka masala, Garlic naan, Firni, Rabdi Kulfi
2. White Biryani at Noor Mohmaddi, Bhendi Bazaar

Bhendi Bazaar is home to some of the best street food places in Mumbai. The best time to visit Mohammad Ali road (where Noor Mohmaddi is, along with a lot of other great restaurants and roadside Kabab joints) is during Ramadan. This is the time when you can actually spot Bollywood stars roaming the streets and tasting the yumminess beside you. But you're going to be too busy with your face in the plate to notice them.
Where: 179, Wazir Building, Abdul Hakim Chowk, Bhendi Bazar, Near Girgaum, Mumbai
Price: INR 300 for two
What you must try:

Chicken Hakimi, White biryani
3. Bun Maska and Mava Samosa of Mervan's, Grant Road - The Ultimate Mumbai Famous Food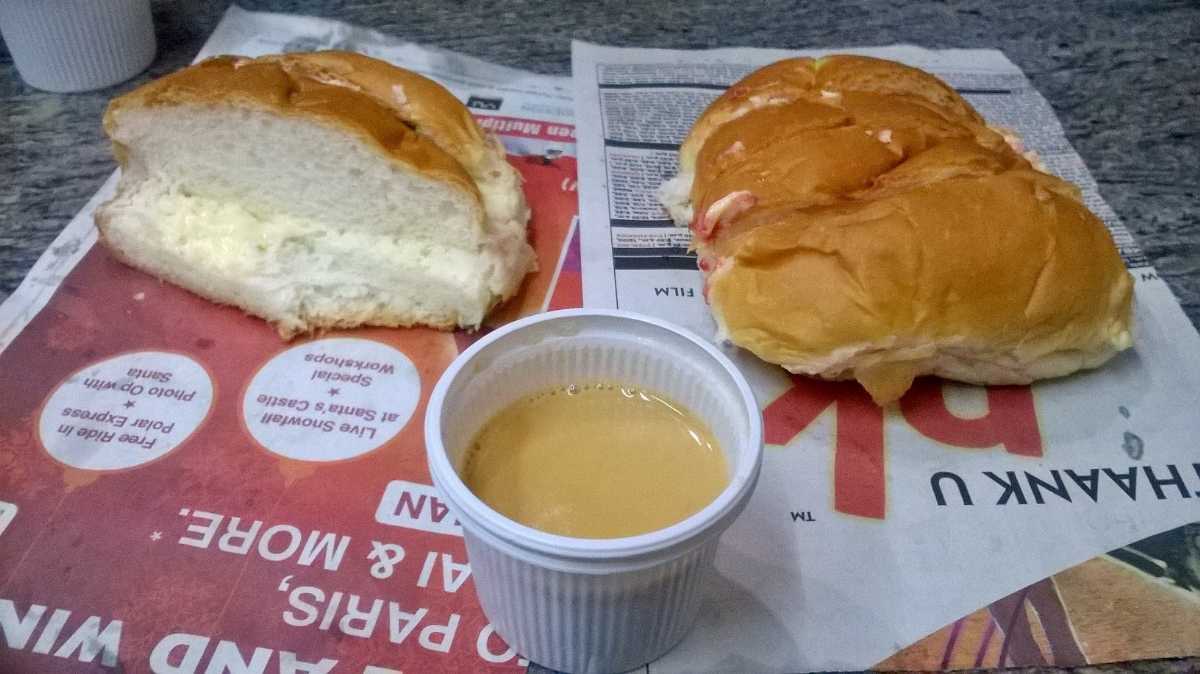 Run into Merwan's for some mouth-watering pastries, tea cakes and cookies to soothe your sweet tooth! A big name on this side of town, Merwans is frequently visited by people who come here just to collect a package of baked goods for the home and also is a place people come to after work for an Irani chai and some freshly baked cookies.
Where: Ali Bhai Remji Road, Opposite Station, Grant Road East, Mumbai
Price: INR 150 for two
What you must try: Pastries, Irani chai, Bun Maska pav
4. Samosa with Chola at Guru Kripa, Sion

Known as Mumbai's most famous samosa, this dish is served with a gravy of chickpea and is tamarind-y in taste. Onion and coriander bits are sprinkled to garnish. A must-try for those who love to experiment with Mumbai street food.
Where: 40, Guru Kripa Building, Road 24, Near SIES College, Sion, Mumbai
Price: INR 300 for two
What you must try:

Gulab Jamun, Sweet Lassi, Chole – Bhature, Samosa Chole, Chole tikki
5. Tandoori Delicacies at Jai Jawan
After a long day shopping on Hill road, people stop at Jai Jawan, a crowd favourite for non-veg snacks. It has the best non-veg dishes on that side and is hardly ever forgotten. Once you eat here, you become a loyal customer!
Where: Opposite National College, Next to Chappal Market, Linking Road, Bandra West, Mumbai
Price: INR 600 for two
What you must try:

Tandoori Chicken, Punjabi Prawns Masala, Punjabi Prawn Fry
6. The Ultimate Chinese Thali at Sahibaan, Worli
A hidden gem, Sahibaan is one place that's always waiting to surprise you after you find it. Its famous Chinese thali comes armed with soup, fried rice, starters, Manchurian, and Ice Tea, all at a price that will leave you ogling at the bill. The food comes in great quantities and its dumplings and soups are not to miss out on. Sahibaan also has more outlets in Bandra, Oshiwara and Colaba.
Where: Near Atria Mall, Annie Besant Road, Worli, Mumbai
Price: INR 900 for two people.
What you must try:

Chicken Shashlik Sizzler, Chicken Hot Garlic Sizzler, Prawns Hot Garlic Sizzler, Chinese Thali
7. Strawberry and Cream (Seasonal) at Bachelorr's, Charni Road
Even though the strawberry and cream is on the slightly expensive side, it is totally worth it. The cream is fresh, the strawberries are fresher and you just cannot get enough of the delicacy. There are more options such as thick shakes, other fruit creams and ice creams. Late Nighters swear by the Mumbai Street Food special that is Bachelorrs!
Where: 45, Sattar Sea View, Chowpatty Sea Face, Dr. Purandare Road, Marine Drive, Chowpatty, Mumbai
Price: INR 199 for the Strawberry and Cream.
8. Panaki, Veg.Malpoa, Khichdi at Swati Snacks, Tardeo
Ever heard of a Gujarati version of a Falafel? You get it at Swati and it is anything but boring. Swati's panki and khichdi delicacies are the ones that make the Mumbai Street Food place worth it. If you want to head for a quiet, and simple lunch, head here for they will not disappoint you.
Where: 248, Karai Estate, Opposite Bhatia Hospital, Tardeo Road, Mumbai
Price: INR 700 for two
What you must try:

Pav Bhaji, Pav Vada, Panki Chatni, Satpadi Roti- Gatta Nu Shak, Rava Dosa
9. Chinese Specials at Babu Chinese, Worli
It gets very difficult to find good Indian-Chinese food among all the roadside stalls and shops that dot the place, so we thought it would be great if we gave you trusted names for the best in taste and here it is!
Where: 872, Subhedar Nagar, A.G Khan Raod, Worli, Mumbai
Price: INR 750 for two
What you must try: Everything on the menu!
10. Non Veg Snacks at Aaron's, Orlem Church, Malad
Aaron's Bake and brew go easy on your pocket and violent on your taste buds and you will be far ahead from satisfied after an afternoon spent here snacking on its yummy pastries and other simple and light delicacies.
Where: 5, Lourdes Heritage, MarveRoad, Orlem, Marve, Mumbai
Price: INR 250 for two
What you must try: Chicken Mayo Sandwich, Chicken Makhanwala rolls
11. Ice Cream Sandwich/Biscuit at K. Rustom, Churchgate
Find an abundance of flavours ranging from Black currant to coffee, kacchi kairi, almond crunch, raspberry, strawberry, chocolate and many many more nestled between two wafers. One of the most legendary ice cream parlours of Mumbai, K Rustom has been serving hundreds of happy customers every day and its fans just keep increasing! Mumbai Street Food is incomplete without hopping to K Rustom!
Where: 87 Stadium House, Opposite Ambassador Hotel, Veer Nariman Road, Churchgate, Mumbai
Price: INR 150 for two
What you must try: Almond Crunch and raspberry! Don't shy from experimenting!
12. Rajesh Corn Corner

Serving the excellent quality of corn, they have gained quite a popularity among the Mumbaikars. They make over a hundred flavours of corn and baby corn. Their menu is purely dedicated to corn and corn lovers. Also, the menu is available in Jain alternatives so that no one misses out to taste their delicious flavours of corn. Try corn flavours like never before!!!
Where: Jeevan Saurabh Building, Road 10, Jawahar Nagar, Goregaon West, Mumbai
Price: INR 100 for two
What you must try: Pizza Pasta Roasted Corn, Spicy Cheese Corn, Mexican Corn, Sriracha Corn.
13. Pav Bhaji at Amar Juice Center, Vile Parle

Craving for Pav Bhaji and also want to go easy on your pocket? Your answer to this question will be Yes. Visit Amar Juice Center. You can have over 15 varieties of Pav Bhaji including Cheese Pav Bhaji, Amar Special Pav Bhaji.
Where: 3, RN Cooper Hospital Compound, Gulmohar Road, Vile Parle West, Mumbai
Price: INR 600 for two
What you must try: Pav Sandwich, Tomato Cheese Pav Bhaji, Amar Special Pav Bhaji
14. Frankies at Breadkraft, Lokhandwala

The shop seems to be very simple, but trust me they are the FRANKIE SPECIALIST. It is a small, cosy place with a variety of veg as well as non-veg Frankies and Shawarmas. Highly Recommended.
Where: 15, Sun Swept Building, Lokhandwala Complex, Andheri Lokhandwala, Andheri West, Mumbai
Price: INR 300 for two
What you must try: Paneer Chilli Frankie, Chicken Chilli Cheese Frankie, Veg Mix Mayo Shawarma, Egg Paneer Tikka Frankie, Butter Chicken Chipotle Frankie.
15. Anand Dosa and Vada Pav Stall near Mithibai College, Vile Parle

Hunting for a good street food stall? Visit Anand Stall near Mithibai College. Their Dosa and Vada Pav are loved by all. You can have a variety of dosa including Pizza Dosa, Jinny Dosa, Pasta Dosa here. They have so tasty Vada Pavs too. Some of them are- Grilled Vada Pav, Butter Vada Pav, Samosa Vada Pav, Cheese Vada Pav. If you haven't tasted them yet, what are you waiting for?
Where: Opposite Mithibai College, Gulmohar Road 1, Vile Parle West, Mumbai.
Price: INR 200 for two.
What you must try: Paneer Masala Dosa, Pizza Dosa, Grilled Vada Pav, Jinny Dosa.
16. Black Pav Bhaji at Maruti Pav Bhaji, Vile Parle

It has a different blend of spices in different dishes. They serve around 10 different types of Pavs, choosing one of which would be unfair. They have separate dishes for Jain people too. You will surely enjoy every bit of the piece.
Where: Ground Floor, Angelina Apartment, Shop No:24, Old Police Station Rd, Kamala Nagar, Vile Parle, Mumbai, Maharashtra 400056
Price: INR 250 for two
What you must try: Kali Pav Bhaji, Maruti Pav Bhaji, Spicy Pav Bhaji, Khada Pav Bhaji, Cheese Pav Bhaji
17. Sandwiches at Vasu's Laxmi Balaji Snacks and Fast Food Corner, Goregaon

This is one of the go-to places for your Sandwich cravings. The flavours will definitely make you want to come back for more.
Where: Opposite Cinemax Multiplex, SV Road, Goregaon West, Mumbai
Price: INR 300
What you must try: Bahubali Sandwich, Chocolate Sandwich
18. Chilli Cheese Toast at Raju Sandwich Stall near KC College, Churchgate

Raju Sandwich Stall is a small shop near HR college which is famous among youngsters for its Sandwiches, Pizza, Rolls and many more. It is a reasonable stall with quick bites and a unique taste.
Where: Behind Samrat Hotel, near to HR College, Churchgate, Mumbai, Maharashtra 400020
Price: INR 250
What you must try: Bombay Sandwich, Cheese Chilli Toast
19. Malai Kulfi/Milan Kulfi at Kapoor Kulfi, Marine lines Station

When you're looking for the best Kulfi in town among all the choices offered to you, look no further than Kapoor's Kulfi at Marine lines. The Kulfi has a texture that is the thing that will make you visit them again and again.
Where: 75/D, Opp. C Ward Municipal Office, Shree Kant Palekar Marg, Chandanwadi, Marine Lines, Mumbai
Price: INR 200 for two
What you must try: All the kulfis!
20. Pav Bhaji and Masala Pav at Sardar, AC Market Tardeo
Melt in the mouth pav and bhaji that is steamy, spicy and tangy, Sardar is featured in Zomato's Legendary and perfect pav bhaji collections, and take our word for it, this pav bhaji is dressed to impress. Pav Bhaji is definitely that best veg street food in Mumbai.
Where: Tardeo Road Junction, Opposite Bus Depot, Tardeo, Mumbai
Price: INR 250 for two
What you must try:

Butter Pav Bhaaji, Cheese Pav Bhaaji
21. Kung Pao potatoes, momos, and everything Mexican and Asian at Kurries and Burries, Girgaum Chowpatty
Kurries and Burries is a relatively new Cafe at the Girgaum Chowpatty that is a favourite among the students of The Wilson College. The fact that it serves pure Vegetarian food is not a disappointment at all because of the way they craft their food. A joint that serves a nice blend of Asian food to all kinds, it also has Mexican food and desserts. Worth a visit!
Where: 29/A, Jethabhai Govindji Building, Opposite Merchants Club, Metro Motors Lane, Rangekar Road, Chowpatty, Mumbai
Price: INR 400 for two
What you must try: The Kung pao potatoes, Paneer Chilli wrap
22. Falooda at Baadshah, Crawford Market
Baadshah at Crawford Market has been around for quite a while. Serving great, value for money food, they're especially known for their amazing falooda. Their pav bhaji is also worth a try.
Where: Dr DN Road, Crawford Market, Mumbai CST Area, Mumbai
Price: INR 450 for two
What you must try:

Royal Falooda, Special Pav Bhaji
23. Parsi Cuisine at Kyaani and Co.
Kyaani & Co has now sort of becoming the go-to place when no one knows where to eat. A perfect day at Kyaani includes some bun maska, a few glasses of Chai, desserts and drooling at the baked goodies. And Jujubes, oh my food, Jujubes! (Jelly candies covered in sugar)
Where: JSS Road, Jer Mahal Estate, Opposite Metro Cinema, Marine Lines, Mumbai
Price: INR 300 for two
What you must try: Chocolate mousse, Rose Jelly,

Khari, Cheese Scrambled Eggs, Irani Chai, Kheema, Mawa Cake
24. Mughlai food at Delhi Zaika, 2 tanki, Mohammed Ali Road
Mughlai food is something which tingles the taste buds of almost everybody. Delhi Zaika is one of the best places in Mumbai to have authentic Mughlai food.
Where: Near A.P College, Chapra Hotel, M.S Ali Road, Near Nishat Cinema, Grant Road, Mumbai
Price: INR 800 for two
What you must try:

Chicken Kepsa,

Malai Chicken,

Chicken Reshmi Kabab and Tandoor dishes
25. Farhid's Seekh Kabab, Jogeshwari
Soft, melt in the mouth kebabs and buttery paranthas. If this is what you're craving for, then head over to Farhid's, an iconic Mumbai street food joint located in Jogeshwari.
Where: Behram Baug, Jogeshwari West, Mumbai
Price: INR 250 for two
What you must try: Kebabs and Parathas
26. Bademiya's rolls

A Mumbai street food joint located in Colaba, needing no introduction, Bademiya's is the perfect place if you're looking to satisfy your late night hunger pangs. though you might have to wait a bit before getting a table, the food here makes it worth the while.
Where: Apollo Bunder, Colaba, Mumbai
Price: I

NR

700 for two
What you must try: Kebabs, Rolls
27. Sadguru Pav Bhaji, Chembur
Though it's small and usually always crowded, it's one of the most popular vegetarian street food outlets in Mumbai. The Pav bhaji served here is indeed out of the world.
Where: Acharya Shopping Centre, Dr CG Road, Chembur, Mumbai
Price: INR 600 for two people
What you must try: Pav Bhaji, juices
28. Snacks at Monginis

We would call Monginis the most underrated snack store in town. This place has been around for years and has been a saviour in times of extreme hunger with its super low prices and super yummy food. The little pizzas and pastries are to die for and they're there everywhere! Mind you, some outlets are better than the others.
Where: Everywhere!
Price: INR 200 for two
What you must try: Chicken pan pizza, puffs
29. Jalebis at Panchratna Jalebi House
This is the place to be for the ones who simply love having hot and sweet jalebis! Throughout the day jalebis are served along with Fafda and other condiments!
Where: Opera House, Near Roxy Cinema, Tata Road 1, Girgaum, Mumbai
Price: INR 100 for two people
What you must try: Anything from the namkeens that are freshly fried to the Jalebis.
30. Chilled Spicy Bhel at M.G Road, Mulund West.
A mix of everything spicy, tangy and tantalizing to your tongue, the mixture is made heaven;y with the addition of ice and sev. Have it during Monsoon for extended food orgasms and delightful repertoires with Mumbai Street food.
Where: MG Road, Vidya Vihar, Mulund West, Mumbai
Price: INR 100 for two
What you must try: Icy Bhel
31. Masala papad at Kalbadevi
Freshly made crispy papad topped with masala has become a favourite snack among Mumbaikars who opt for everything more than vada pav. An uncomplicated delicacy in itself, the Masala papad is simple yet tantalizing in its ways.
Where: Kalbadevi, Mumbai
What you must try: Masala Papad
32. Bun Maska at Qutuz (Stays Open All Night)
A saviour for people who work in Malad, Qutus is an Iranian joint that stays open all night and has people drinking Irani chai and munching on Maska pav all the time. Qutuz is near Infiniti Mall, Malad and is one of the best places in Mumbai for Street food.
Where: Qutuz, Chincholi Bunder Road, Mindspace, Malad West, Mumbai
Price: Rs 150 for 2 (approx)
What you must try: Bun Maska
33. Chocolate Sandwich at Mamaji near Ruia College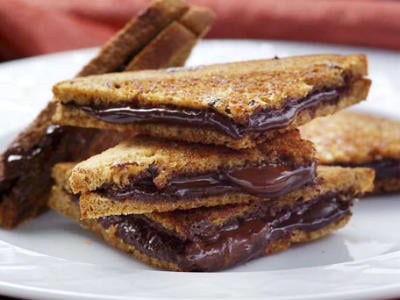 Chocolate sandwiches are really common in the Mumbai street food scene but this one, sold near the park opposite Ruia college has the best. They use Hersheys syrup and some really really good quality dark chocolate. It is heaven in your mouth for 50 rupees.
Where: Nand Deep Building, L.N. Road, Oppo. Ruia College, Matunga East
Price: INR 350 for two
What you must try: Chocolate grill, cheese chocolate grill
34. Samosas at 5 am, Mumbai Local Train
Not a common thing to write in a list, these samosas sold by homemakers who sell it in the trains during rush hour are some of the best. Even though they don't sell you chutney, you get two samosas for 12 rupees and it can fill your stomach for the next two hours. Most people travelling back home at rush hour buy these fresh and hot samosas and relish it waiting for their destination to arrive. Other snacks like Poha, vadapav, pakodas and bhajis also come around and you have a wide variety to choose from. Dig deep, and it is a Mumbai street food delight hard to ignore!
35. Kokum Sharbat at Vinay Health Home

Not all the snacks and juices that you get on the Mumbai local platforms are yummy (or safe), but the kokum juice that you have to specifically ask for costs 5 rupees and is one of the most refreshing drinks you will have. Mix some nice masala to give it a twist.
Where: Jawar Mansion, Dr BA Jaikar Marg, Charni Road, Mumbai
Price: INR 300 for two
What you must try: Thali Pit, Misal Pav, Kokum sharbat
36. Kulfis at Kandivali, near the HP petrol pump
At this kulfi stall, the kulfis are prepared right in front of you and frozen fresh within two minutes. Of course you need to see it to believe it!
What you must have: Their famed kulfis
37. Kala Khatta Sharbat at Kalingar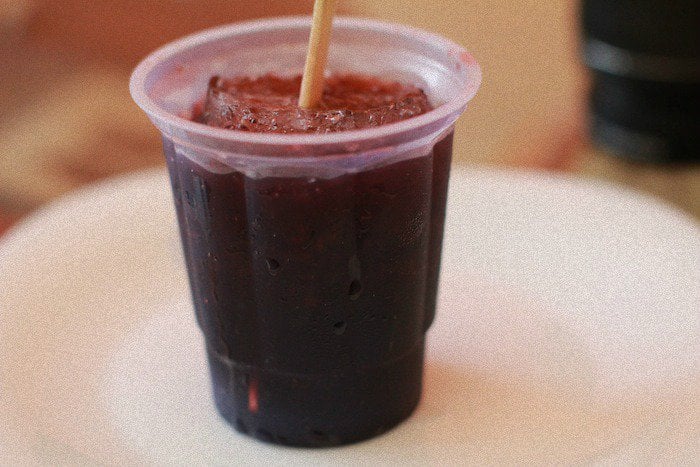 Kala Khatta in Mumbai is a must try, be it as a flavour in gola (Ice candy) or as a sharbat (drink). Kalingar serves one of the best Kala Khatta sherbets in the city.
Where: Opposite Chatrapathi Shivaji Station (Victoria Terminus)
38. Vada Pav at CTO, Fountain, (Victoria Terminus), South Mumbai
If you are confused by which Vada pav to try among all the options in front of you, head to the Central Telegraph Office area at Fountain in South Mumbai to taste one of Mumbai's best (and safest) vada pavs.
Where: Opposite Flora Fountain, Mumbai, Maharashtra, India
What to try: Spicy vada pav
39. Shiv Sagar ka Meetha Paan
Ending this wonderful list on a sweet, mouth freshening note, the paan we get at Shiv Sagar in Girgaum is one of the best you will have. It roughly costs 20 rupees and is filled with a number of great ingredients and then refrigerated. having cold paan in your mouth is one of the best feelings in the world!
Where: 66/68, VP Road, CP Tank Circle, Girgaum, Mumbai
Price: INR 450 for two
What to have: Their yummy vegetarian food and of course, the famed cold paan!
40. Bombay Sandwich from Mafco Farm Fair

These amazingly tangy sandwiches are made of white sandwich bread stuffed with boiled potatoes, cucumber, tomatoes, beetroot, onions and mint chutney. They can be toasted too. But in both cases, the mix of flavours is just heavenly. Again, one of the hidden food gems in Mumbai!
Where: Khan Abdul Gaffar Khan, Marg, Siddharth Nagar, Worli
What to have: Bombay Sandwich, Pizza, French Fries and a variety of juices.
41. Dabeli at Kapil Dabeli Centre

Dabeli is nothing but mashed potatoes, tamarind chutney and spices stuffed into a pav like a burger. It is then garnished with pomegranate, peanuts and sev. Often a slice of cheese is also added. One bite and it melts in the mouth.
Where: 21, Vivek Vidyalaya Marg, Siddharth Nagar 4, Shri Nagar, Goregaon West
What to have: Dancing Dabeli, Jain Dabeli
If this list doesn't make your mouth water then we don't know what will. The street food in Mumbai is a melting pot of many cultures and even today continues to amaze locals and tourists alike. many. Any trip to Mumbai is incomplete without feasting on these local delicacies. Have we missed out any of your favourite street food joints? Let us know in the comments below!