Mumbai
beckons almost every Indian for its cosmopolitanism, an eclectic mix of people who proudly call themselves 'Mumbaikars'. The crowded but full of life local trains, the spicy and chatpata local food scene, the delightful and colourful markets and a whole lot of history that its monuments tell, the city of Bollywood- Mumbai calls not only a curious traveler but also the locals who can discover something new here each day of the year. While the local and traditional markets have held their own till day, Mumbai has also, over the years, built a reputation for being one of the most modern Indian cities, a hub of fashion and style and the launching pad of everything international and global. It is one of the first Indian cities to bring in the concept of shopping malls and living up to this image, it has some of the best ones in the country.
Read below to make a bucket list of Shopping Malls in Mumbai that are a must-visit:
1. Palladium
In a city that never sleeps, Palladium is a shopping landmark that defines luxury, sophistication and a coming together of world's best in fashion, food and lifestyle under one roof. This south Mumbai mall attracts elite clientele not only from Mumbai but the entire country for its super-luxurious St. Regis Hotel and uber-luxury brands such as Coach, Ermenegildo Zegna, Gucci, Chanel, Jimmy Choo and lots others spread over four levels. The mall spells a feel-good factor, and even if one doesn't necessarily end up buying something, window-shopping in this elegant and luxurious mall is an experience in itself. It also houses a stand-up comedy venue and a host of salons and spas. Its range of restaurants and cafés boasts of names such as Pa Pa Ya and British Brewing Company. It, therefore, goes without saying that if in Mumbai, definitely do NOT miss a visit to Palladium!
Highlights: Luxury Fashion Brands
Location: 462, High Street Phoenix, Senapati Bapat Marg, Lower Parel
Timings: 11:00 AM - 10:00 PM (Retail); 12:00 PM - 12:00 AM (Restaurants); 1:00 PM - 12:30 AM (Entertainment)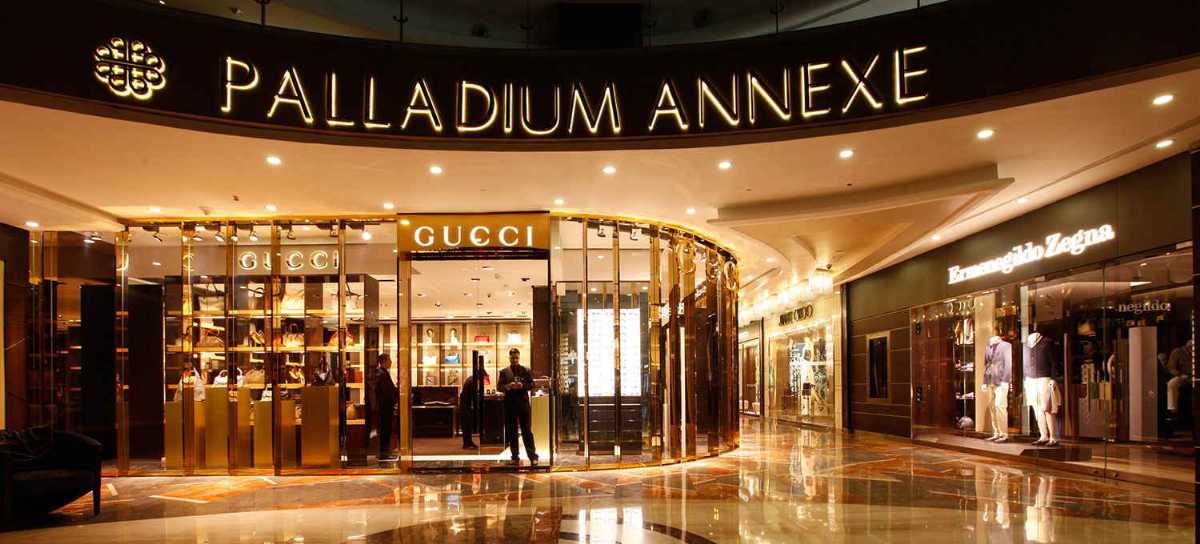 2. Phoenix Market City, Kurla
Phoenix Market City is spread across retail space of 2.1 million square feet and is arguably one of the largest malls in India. Boasting of over 600 Indian and international brands, Phoenix Market city is one of Mumbai's most famous malls. It has a European style Dublin Square where a host of events such as theatre, live performances and musical events are regularly organized in addition to the 16-lane bowling alley at Amoeba Bowling Alley, Snow World and What The Fun. With almost all the favourite brands offering a great mix of marketplace and luxury, Phoenix Market city is the most preferred destination when in the mood to shop till you drop! Finish it off at any of the fine dining restaurants or grab something on the go from the cool cafes and kiosks spread aplenty across the mall and in the food court.
Highlights: Theatre, Live-Performances, Musical Events
Location: Lal Bahadur Shastri Marg, Kurla West
Timings: Monday - Friday: 11:00 AM - 11:00 PM; Saturday/Sunday: 11:00 AM - 1:30 AM

3. Oberoi 
The USP of Oberoi mall, located in Goregaon, is its emphasis on 'affordable luxury'. Oberoi is particularly good for women's apparel, accessories and cosmetics range. It houses brands such as Ritu Kumar, Global Desi, Esbeda, AND, huge stores of Central and Lifestyle as well as unisex fashion stores such as Levis, Pepe and Aeropostale. In addition to a very satisfying food-court and dessert kiosks, it also has PVR Cinemas (6 screens) and NAMCO for gaming to add an entertainment quotient to a tiring day of shopping and walking around the mall. In short, this mall is perfect for catering to your everyday fashion and lifestyle needs that combine style with affordability, all at a single destination.
Highlights: PVR, Affordable Fashion Brands
Location: Oberoi Garden City, Off Western Express Highway, Goregaon (East)
Timings: Monday - Sunday: 11:00 AM - 9:30 PM; 11:00 AM - 11:30 PM (Food Court)
4. Viviana
Viviana is India's first and only visually impaired friendly mall and has even launched 'XRCVC- Viviana Extension' which is a resource centre for the visually impaired. Viviana is one of the most happening and fun places in Thane. It also has Cinepolis IMAX 4D, an upscale digital movie megaplex with 14 screens. Hosting brands such as Tissot, Fossil, Charles and Keith, Nalli, Chambor, MAC, Forest Essentials and Hamleys, Viviana brings together almost all the names associated with the everyday urban essentials. It even has an impressive range of restaurants such as Sodabottleopenerwala and Mainland China in addition to a huge food court comprising Malgudi, Taco Bell, Sbarro, Burger King and Only Paranthas. Viviana definitely lives up to its image as the 'Destination Mall'.
Highlights: IMAX 4D multiplex
Location: Eastern Express Highway, On Service Road, Next to Jupiter Hospital, Thane West
Timings: 11:00 AM - 11:00 PM.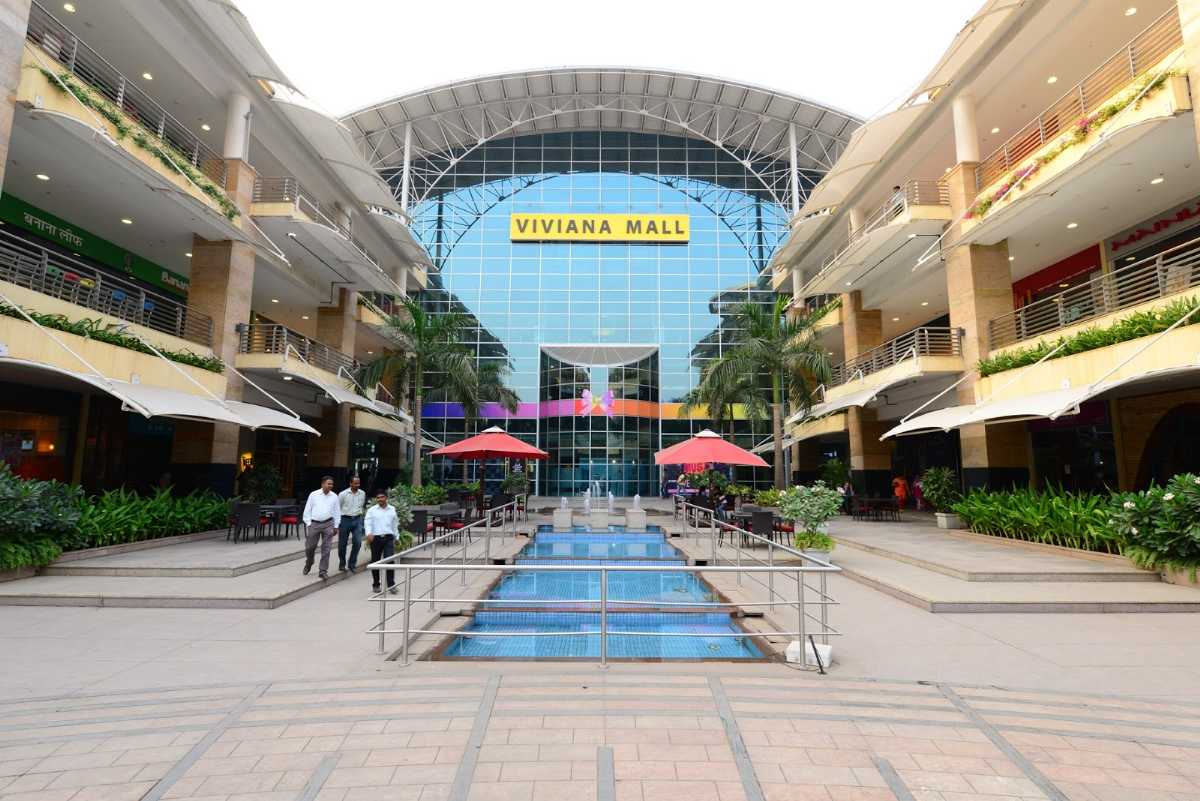 5. Infiniti Mall, Malad
Catering to a footfall from Andheri to Borivali, Infiniti Mall, is located in the vicinity of high-profile offices and call centres at New Link Road, Malad. This mall has an indoor gaming area named 'Planet Infiniti' of 60,000 square feet for kids. A special attraction is the indoor roller coaster that is a huge hit with children and adults, in addition to games like Playground Maze, Space Bubble, Alibaba and Horsin Around. It is one of the malls where there are stores of everyday utility such as Big Bazar along with fashion brands such as Zara and Calvin Klein. Shoppers' favourites include Pantaloons, Westside, Marks and Spencer, Sephora and the Body Shop. 
Highlights: 60,000 square feet Indoor Gaming Area for kids
Location: New Link Road, Malad (West)
Timings: Monday - Friday: 11:00 AM - 10:00 PM (Retail); 12:00 PM - 9:30 PM (Planet Infiniti); 11:00 AM - 11:00 PM (Food Court)Saturday/Sunday: 11:00 AM - 10:00 PM (Retail); 11:00 AM to 12:00 AM (Food Court); 11:00 AM - 10:00 PM (Planet Infiniti)

6. R-City Mall
With its galleria-like ambience, spread across 12 lakh square feet, R-City mall is yet another popular destination for people looking out for a wholesome experience of shopping, entertainment, and great dining. Sophisticated and relaxed at the same time, R-City is usually considered to be a mall that has something for everyone. Its Shoppers Stop is particularly liked by discerning customers. This mall has an advantage of housing several multi-brand and one-stop stores such as Pantaloons, Lifestyle, Max and Westside, all under a single roof. R-City also has niche international brands such as Hunkemoller, Steve Madden, Lamy, Rado and Parcos. Kidzania (an edutainment theme park), Escapalogy (live escape games) and INOX multiplex (with 9 screens) are huge crowd-pullers at R-City Mall.
Highlights: INOX Multiplex with 9 screens
Location: L.B.S. Marg, Ghatkopar West, Opposite Presidential Tower
Timings: 11:00 AM - 9:30 PM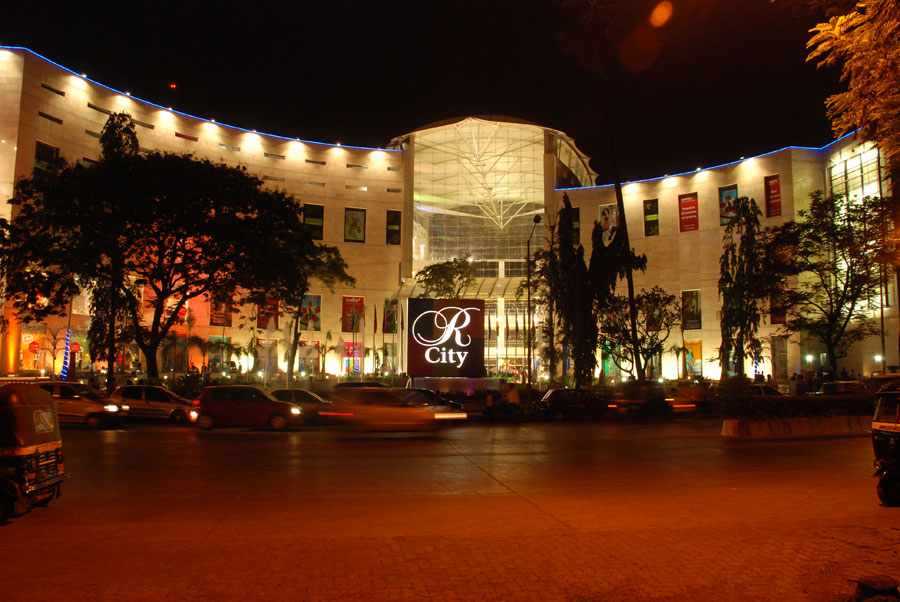 7. Inorbit
H&M, Fossil, Da Milano, Bobbi Brown, William Penn, Canon, The Irish House, Indigo Delicatessen - this mall can boast of having some of the best names in entertainment, fashion and food.  It has one more branch at Vashi, Navi Mumbai apart from being located in several other cities of the country. Inorbit is one of the few malls in the country that also give the option of shopping online at its stores. A fascinating feature of Inorbit is its convenience options such as 'Hands-Free Shopping' and 'Click and Collect' which allow you to drop your shopping bags at the delivery kiosk if you have a movie or dinner date lined up while the mall delivers these to you whenever you feel convenient. If running out of time, you could just click and choose your favourite products from the website or the app and have the goods delivered to your doorstep at a time suitable to you. Now, isn't that absolutely cool? Inorbit is one of the most sought-after names in the mall industry and is an extremely loved destination by its customers.
Highlights: 'Hands-Free Shopping' and 'Click and Collect'
Location: Link Road, Malad West
Timings: 11:00 AM - 9:30 PM (Retail); 11:00 AM - 11:00 PM.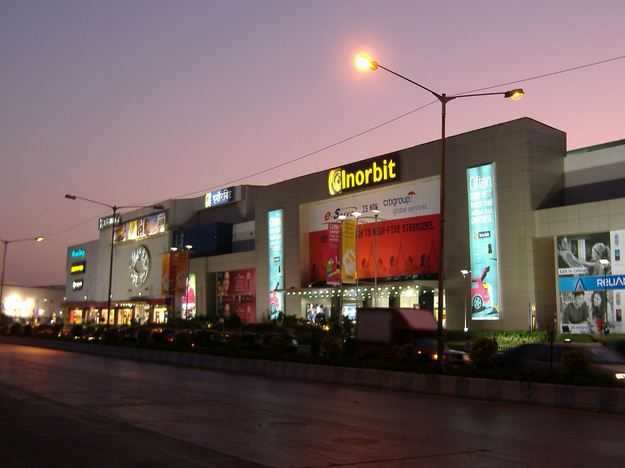 8. Korum Mall
Korum Mall is located on the Eastern Express Highway in the heart of Thane. It is spread over a huge retail space of 4.5 lacs square feet. Marketing events, lifestyle stores and ample brands to choose from, this mall, which had opened in 2009, has become a hot favourite amongst customers.  Hyperbazars such as Star Hyper, home décor stores such as Shehenaz Home Shop, spas and salons with the likes of BBlunt and Sakura, cosmetics and perfumes at Parcos and NewU, Crocs, Metro, Fabindia, Vision Express, Puma, Westside, Allen Solly, Starbucks and much more - you name it, and Korum has it. An exhaustive range of fine dining and café options and an enjoyable gaming zone further makes this mall perfect!
Highlights: Cafes and Fine Dining options
Location: Mangal Pandey Road, Near Cadbury Compound, Eastern Express Highway, Thane West
Timings: 11:00 AM - 9:30 PM (Restaurants and cinemas vary)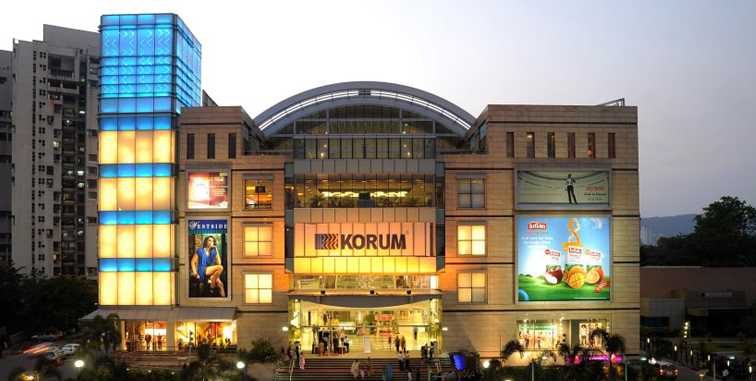 9. Growel's 101
If the modern vintage happens to be your taste, look no further than Growel's 101. Stoned floors, arches, colonnades, and a soft lighting gives you the feeling of being transported to an old European hill town. It is located in the western suburb of Mumbai, i.e., Kandivali and has customers flocking to its showrooms. Office Linc, Crossword and Kraft Idea stores here will satiate all your books and gifting needs. Go chunky at Rhysetta, Esbeda, Rasasi and Funkyard. Give yourself some much-needed pampering at Thai Elements Spa and tickle your taste buds at the Village, Zaffran or Eatalia. You surely could have a Sunday nicely spent over here.
Highlights: Modern Vintage Architecture
Location: Akurli Road, Off Western Express Highway, Kandivali East
Timings: 11:00 AM - 10:00 PM (Retail); 11:00 AM - 11:00 PM (Food Court and Family Entertainment Area-Timezone); 4:00 PM - 10:00 PM (Kids Carnival, Ground Floor)

10. Seawoods Grand Central
Located in Navi Mumbai and at a stone's throw from Seawoods Railway Station, SGC Mall is India's largest Transit Oriented Development projects, which converge around a transit station or stop. It has a good number of showrooms to cater to jewellery, watches and accessories such as Helios, Caratlane, Accessorize, Izaara, Swatch, Casio and Tanishq. Travel essentials collections consist of Wildcraft, Samsonite, Gute Reise and VIP while electronics stores such as Croma, Mobikins and Canon are a perfect stop for the gizmo lovers. You could splurge on Clarks or Rosso Brunello shoes and buy a luxury bag from Da Milano or Hidesign. Up your fashion quotient at Tommy Hilfiger, Label Ritu Kumar, Being Human or Marks and Spencer. You could visit Chambor or Kama Ayurveda to stock up on beauty and wellness essentials. You may choose to dine at Bhagat Tarachand, The Soup Bowl, Kailash Parbat or Olde Baileys.
Highlights: A variety of brands to choose from
Location: Sector 40, Seawoods Railway Station, Navi Mumbai
Timings: 10:00 AM - 10:30 PM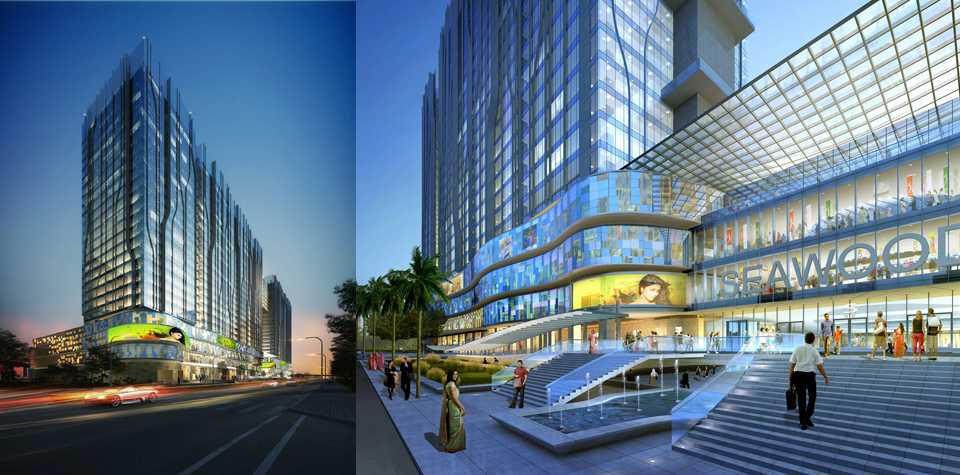 While the above list is by no means exhaustive, you could also take your pick from the ones below:
o   Raghuleela Mall, Kandivali.
o   R-Mall, Mulund.
o   Infiniti, Andheri.
o   Hypercity, Malad (West)
o   Inorbit, Vashi.
o   DB Mall, Juhu.
o   V Mall, Kandivali
o   R Odeon Mall, Ghatkopar East
Now that the above list might have tempted you enough don't hold yourself back and get ready to spend a few bucks to indulge and grab a deal here or there. Trust us, it would be worth an experience of being amongst the best and the most happening!