The most cosmopolitan city in
India
,
Mumbai
also has the most diverse food culture. From streetside vada pavs to authentic sashimi and everything in between, Mumbaikars are spoilt with choice. There are rich taste and impressive flavours for all types of eaters, from sensual to the greedy guts and everything in between. With a new cafe opening around the block every week, you have the option of not stepping inside the same place ever again and move on to a new one (literally).
Quirky interiors, lively crowd and lip-smacking food, here are the best cafes in Mumbai that put others to shame:  
1. Mirchi and Mime, Powai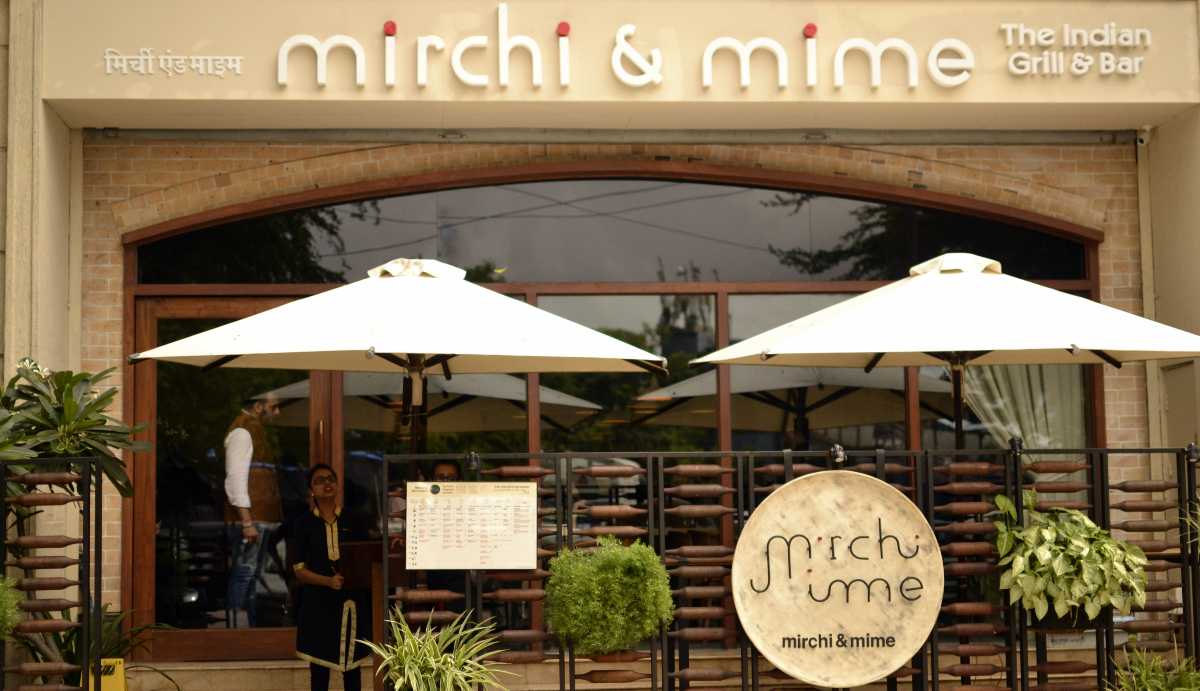 The beauty of this place not only lies in the fact the staff here are differently-abled (yes, they employ just deaf and dumb people) who greet and serve you with a big smile every time you step inside but also the mouthwatering food. They serve amazing prawns, kebabs, and curries that won't stop you from licking your fingers. Alongside a varied food menu, they also have great drinks (even crafted beers) to help gulp down the food. The pocket-friendly prices ensure that your experience stays unmatched. Make sure you go early as the restaurant is usually overbooked. Mirchi and Mime have also opened Madeira and Mime, a gastro-pub with the same concept in the same building. You might want to check that out too!
Location: Transocean House, Lake Boulevard, Hiranandani Business Park, Powai, Mumbai
Timings: 12:30 PM to 3:30 PM, 6:30 PM to 11:00 PM
Average Cost: INR 1500 for two people (approx.)
2. Prithvi Cafe, Juhu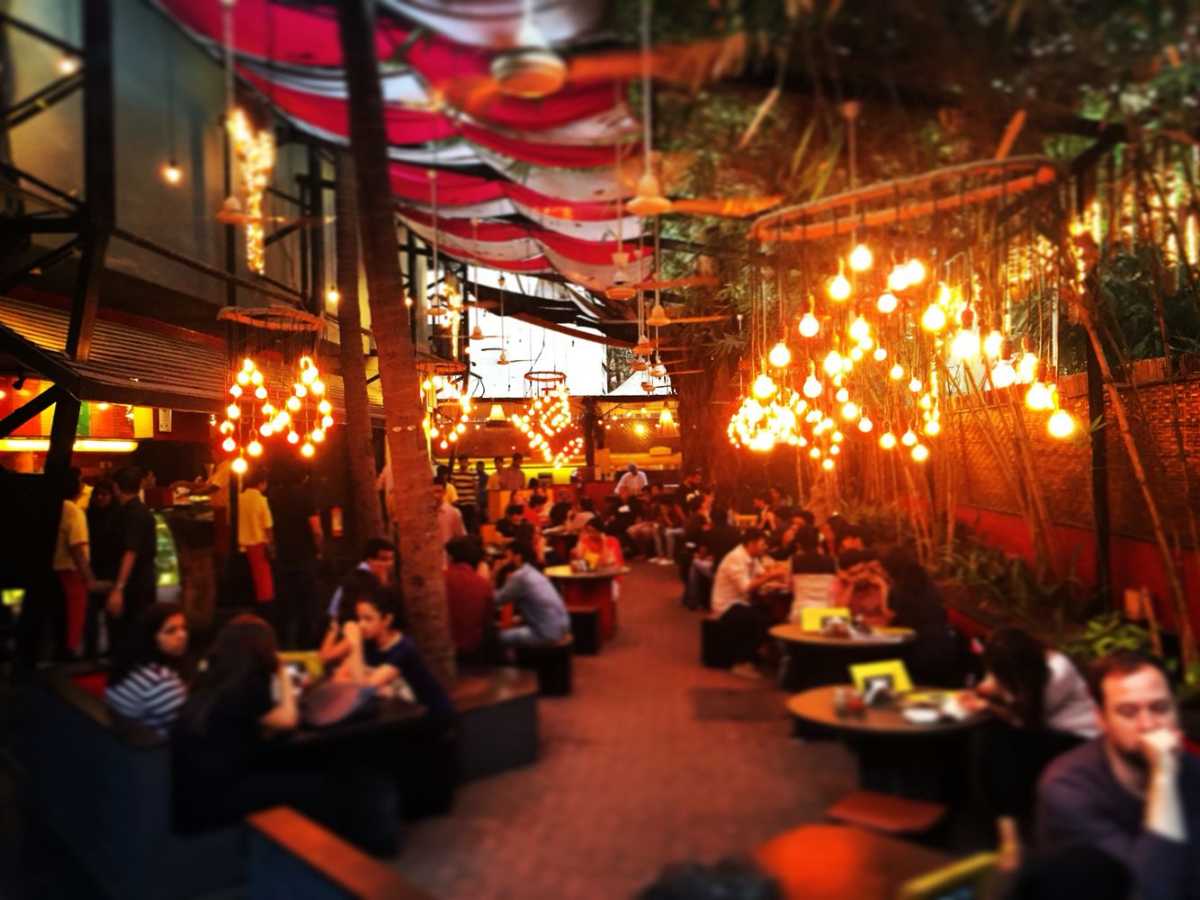 The legendary Prithvi Theatre (where art is celebrated graciously) also has a cafe which is frequented by celebrities too. It is an open-air cafe best known for its stuffed parathas and cutting chai (a match made in heaven). They serve all kinds of delicacies over here. The humongous trees surrounding this cosy place keep it fresh even during peak sunny hours of the day, although the best time to visit is at night when its lit (both regarding lights and crowd). This is one of the most famous cafes in Mumbai! Must visit!
Location: Prithvi Theatre, Janki Kutir, Juhu Church Road, Juhu, Mumbai
Timings: 10:00 AM to 10:30 PM
Average Cost: INR 700 for two people (approx.)
3. 145 Kala Ghoda, Kala Ghoda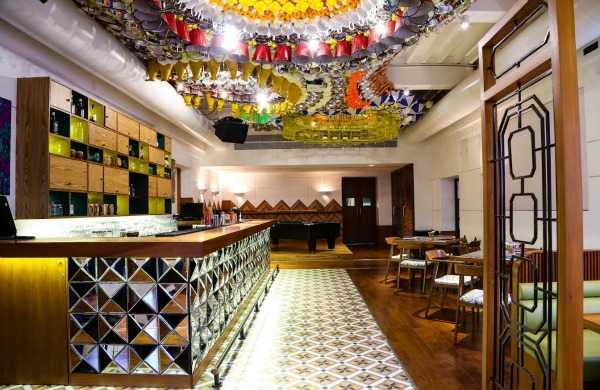 145 Kala Ghoda is the place when you can't figure out where to eat (so pretty much everytime!). This cafe doesn't disappoint even if you are visiting for the hundredth time. The spacious tiled flooring and vibrant interiors add to its lively ambience. Pick out any dish from over five cuisines, and I am sure you'll love it. You should try the Thai curry rice and the khow suey, prepared with chosen ingredients. The food pairs perfectly with their drinks. The salted caramel milkshake, for instance, is the best in the town.
Location: 145, Kala Ghoda, Fort, Mumbai
Timings: Monday - Friday: 12:30 PM to 01:30 AM
Saturday - Sunday: 10:00 AM to 01:30 AM
Average Cost: INR 1500 for two people (approx.)
4. Leopold Cafe, Colaba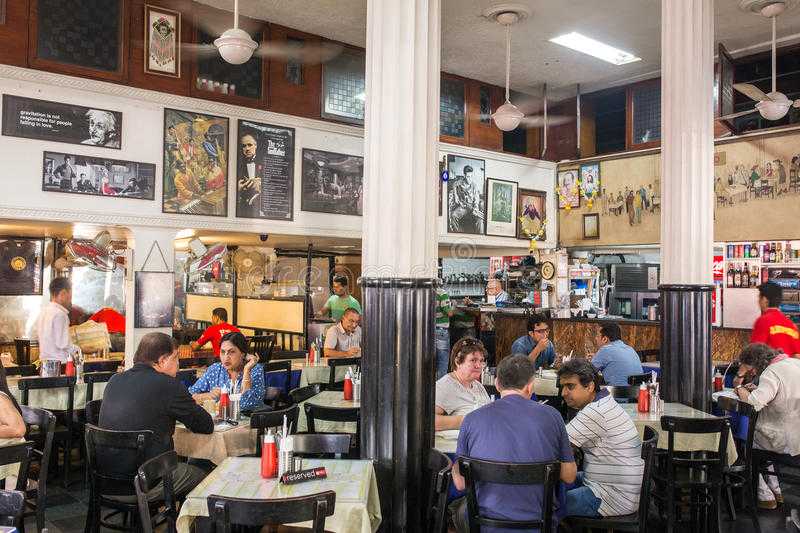 Walking into Leopold cafe is just like walking into your college canteen. This old-school yet funky walls are one amongst many things that will attract you in this cafe. The place is always packed with foreigners drinking beer, taking a break from street shopping in the Mumbai heat. Leopold packs a great menu. From snacks and appetisers to the main course and dessert, the cafe has everything one could ask for, all at a price not burning a hole in your pocket. This is one of the vintage cafes in Mumbai.
Location: S.B. Singh Road, Colaba Causeway, Colaba, Mumbai
Timings: 7:30 AM to 12:00 PM
Average Cost: INR 1600 for two people (approx.)
5. Grandmama's Cafe, Juhu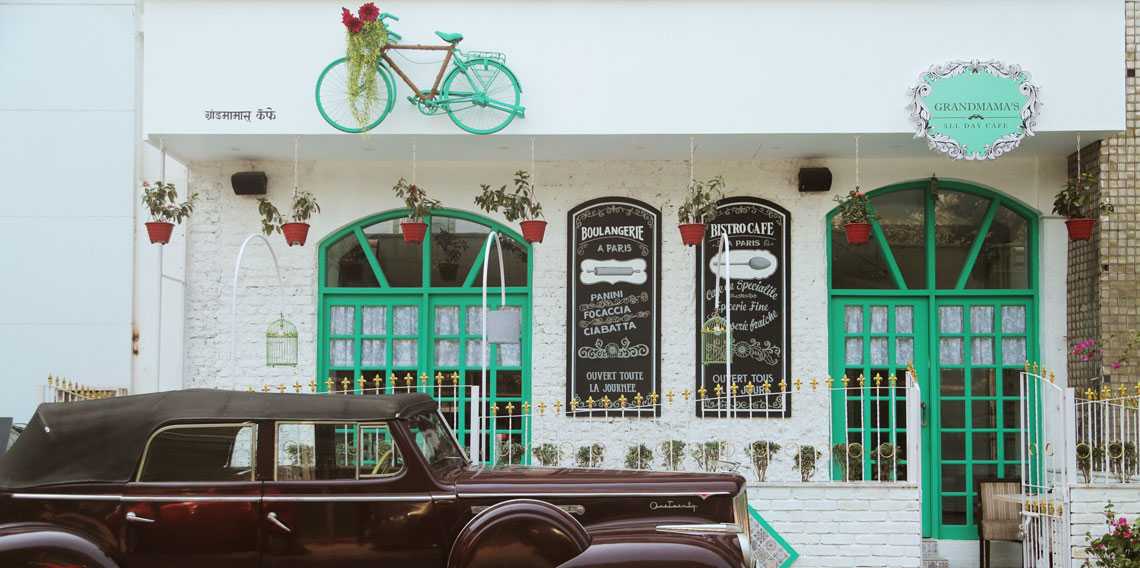 Grandmama's cafe is an ode to grandmothers all over the world. This explains why the cafe has rajma chawal and Shepherd's pie under the same menu. The bright white walls and cute decor would lighten up your mood immediately when you step foot inside. Apart from the unique dishes made especially by grandmothers, you will also get dishes from varied cuisines such as spaghetti, burgers, and nachos.
Location: Hotel Royal Garden, Juhu Tara Road, Shivaji Nagar, Juhu, Mumbai
Timings: 9:00 AM to 12:00 PM
Average Cost: INR 1100 for two people (approx.)
6.  Blue Tokai Coffee Roasters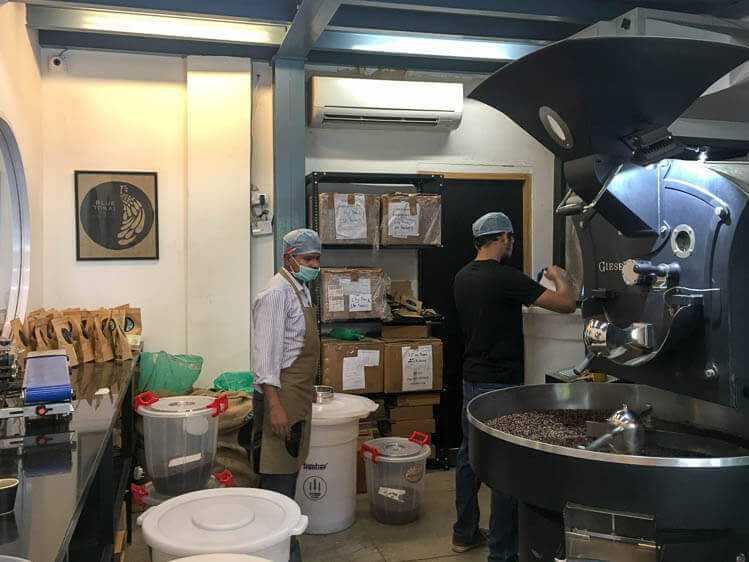 Blue Tokai Coffee Roasters are the first ones to bring the third wave of coffee to India. The interiors of the cafe are soft-toned. The peacock blue and white walls give you a sense of tranquillity in the air. How is this place different from any other coffee house? They have their roastery where they roast and pack coffee. Probably why this best for its authentic and organic taste. Try the coppery coloured and bubbly Espresso Tonic which is fruity in flavour or the cold brew, for the ones who want a coffee sans the bitter taste. Although the place is known for the unmatched taste of its coffees, you can also try their croissants, and energy bars, which go along well with your cup of joe.
Location: Multiple places- Mahalaxmi, Pali Hill, Oshiwara, Versova, Bandra Kurla Complex, Nariman Point, Fort
Timings: 09:00 AM to 10:00 PM
Average Cost: INR 350 for two people (approx.)
7. Leaping Windows, Andheri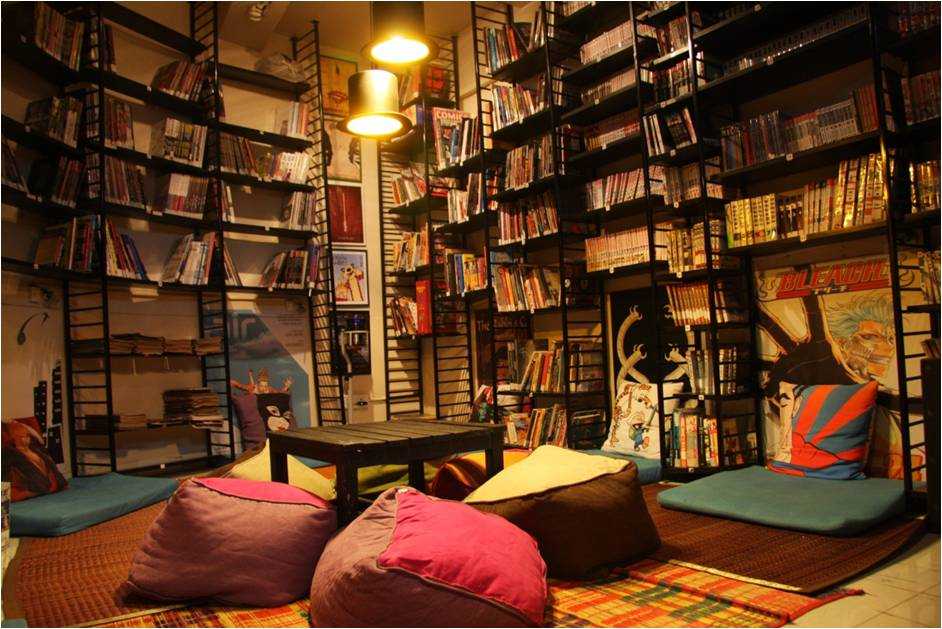 Leaping windows combine the two best things in the world: books and food. This cosy cafe has two floors and a basement. The two floors house a quirky cafe and the basement is a reading room where you'll find complete silence and an impressive (and massive) collection of comic books. They have the best of Marvel and DC universe, and a great collection of Tinkle too. Looking for a regular hearty meal with a book? Leaping Windows is the place to be. This is one of the unique cafes in Mumbai. 
Location: 2 & 3, Corner View, Dr Ashok Chopra Marg, Opp. Bianca Towers, Amit Nagar, Versova, Andheri West
Timings: 10:00 AM to 12:00 AM
Average Cost: INR 1200 for two people (approx.)
8. Candies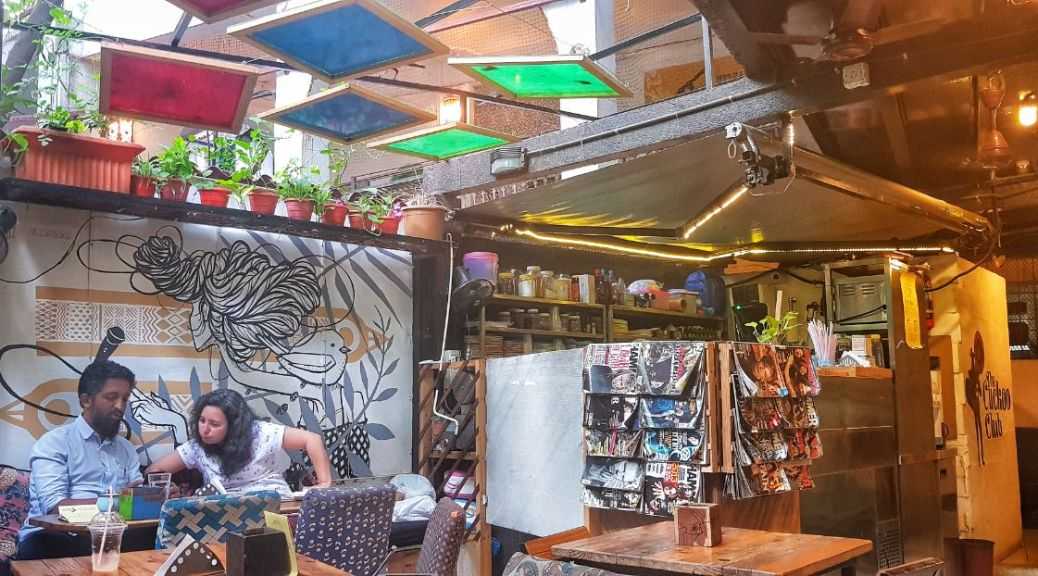 No matter how many new Cafes in Mumbai open up, Candies is Mumbaikars' all-time favourite. And that is probably why the place is packed in on weekdays. When a newly moved person or a tourist in Mumbai asks, "where should I go to eat?" Candies are always the answer. Pretty much everything on the menu is worth ordering but if you are still looking for specifics, go for their chicken sandwiches and classic cold coffee. They also have an adorable gift store inside the cafe. Now that's a rare sight to see. The store named "Marry Me" has a collection of stationeries, home décor items, accessories and more.
Location: Multiple places in Bandra West
Timings: 08:30 AM to 10:00 PM
Average Cost: INR 700 for two people (approx.)
9. Tea Villa Cafe, All Over Mumbai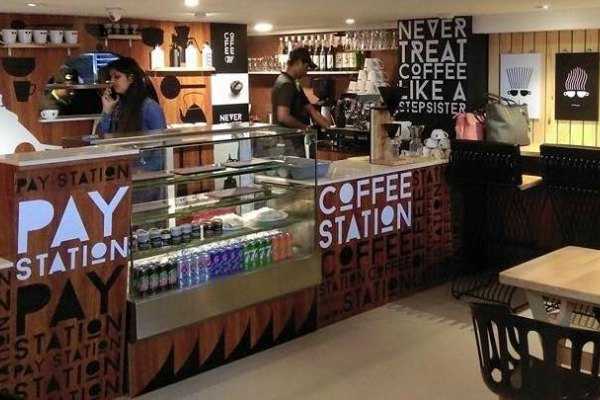 You'll spot many Tea Villa Cafes placed all over the city. Hop into any for a delightful yet quick coffee, hearty breakfast (do try their pancakes), lunch or dinner - pretty much every meal. With colourful and vibrant interiors, you are in for a pleasant time. Their chocolate waffles are worth dying for so call your friends and plan a waffle date. The dishes are priced on the costlier side, but it's worth keeping in mind the quantity and quality they offer.
Location: All over the city
Timings: 08:00 AM to 01:00 AM
Average Cost: INR 1000 for two people (approx.)
10. The Nutcracker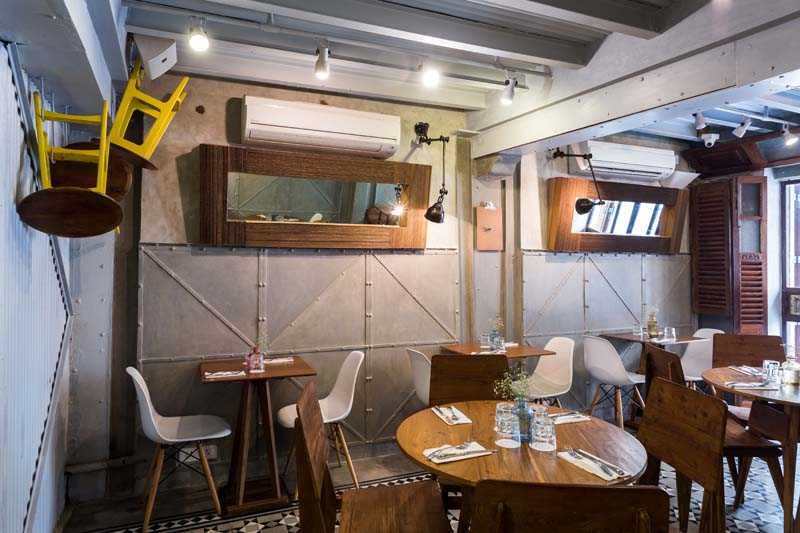 This Cafe in Mumbai is the place to be for a fulfilling breakfast with a book in your palms. Kickstart your day with their Turkish eggs, eggs akuri, dark chocolate waffles, pancakes, and eggs Kejriwal. These are a few of the many items you can order from their vast menu. Pair these dishes with a mint cooler or tea, and you'll be no less than satiated with your meal.
Location: Multiple places- Fort, Bandra West
Timings: 09:30 AM to 11:00 PM
Average Cost: INR 1200 for two people (approx.)
11. Le 15
With its attractive art deco, the cane chairs, and sophisticated simplicity, Le 15 is a doorway to
Paris
. Located in Colaba, this casual chic place hits the right cord with everything, from the menu to the curated playlists. The menu offers an eclectic mix of courses with favourites for good measure. Le 15 Cafe is the place to be as time here often lead to interesting conversations and ideas. There's a lot to pick from their breakfast, salad, and main course menu. A macaroon or waffle of your choice, combined with a cold americano or hot chocolate will be an ideal meal to make your day. People over at Le 15 emphasise quality, and attention to detail, and delivers little joys of everyday life.
Must-Try Dishes: Vanilla Waffles, Pooja's Omelette
Location: Multiple places- Colaba, Bandra West, Parel
Timings: 9:00 AM to 11:00 PM
Average cost: INR 1200 for two people (approx.)
12. The Bombay Canteen, Senapati Bapat Marg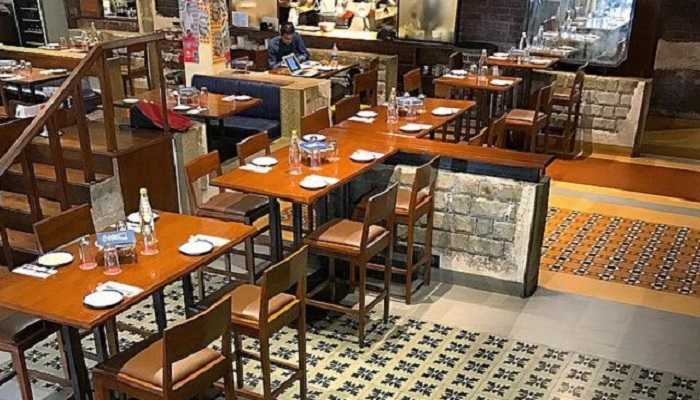 In the monotony of life, something new here and there is always a delightful surprise. Head over to this Cafe in Mumbai for the unique dishes out there. The Bombay Canteen is a cafe at heart but also turns into a dinner date spot and a casual party space. Nestled in the bustling metropolis of Bombay, it prides itself on reinterpreting age-old Indian traditions and creating local dishes. The result? A complete experience that celebrates both, the old times and the new. The kitchen presents the classic charm of Indian flavours, showcasing the diverse regions of the country with a modern twist. Each dish in here has a story to tell. Start your journey with their pulled pork theplas, arguably the best dish they serve. This is a new-age dish created from a fusion of two classic recipes. They also offer quirky reimagined cocktails which perfectly compliments the small plates.
Must-try dishes: Pulled Pork Theplas, Pav Bhaji Rolls, Egg Kejriwal
Location: Process House, Ground Floor, Kamala Mills, Near Radio Mirchi Office, Senapati Bapat Marg, Lower Parel, Mumbai
Timings: 12:00 PM to 1:00 AM
Average Cost: INR 2000 for two people (approx.)
13. Taj Mahal Tea House, Bandra West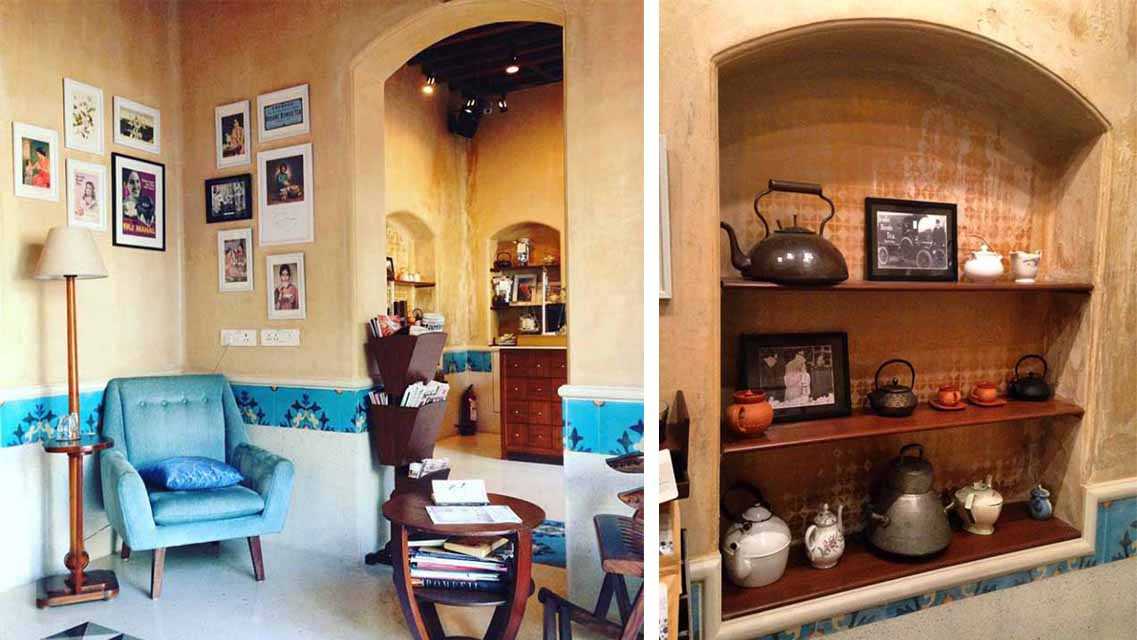 What would be better than a cafe that serves a gazillion kinds of tea for you to sip on all day long? Taj Mahal Tea House is an old-school Indian tea cafe that is as blissful as it can get. With its soothing and soft yellow lights, calming classical (Indian) music, and the scent of freshly prepared tea in the air, this vintage cafe is a tea lover's paradise. They have a great selection of books to choose from for you to read while sipping on your favourite cup of chai. One of their best offerings, the tropical matcha iced tea smoothie will give you a rush of flavours when you glide it down your throat. It's simply refreshing. You'll finish it before you know it! With just the right ambience, Taj Mahal Tea House is the ideal place to be at on a cold - sunny Sunday afternoon.
Must-Try Dishes: Matcha Smoothie, Chicken Salad,
Location: 36-A, Ground Floor, Sanatan Pereira Bungalow, St. John Baptist Road, Bandra West, Mumbai
Timings: 7:30 AM to 11:30 PM
Average Cost: INR 1000 for two people (approx.)
14. Mockingbird Café, Churchgate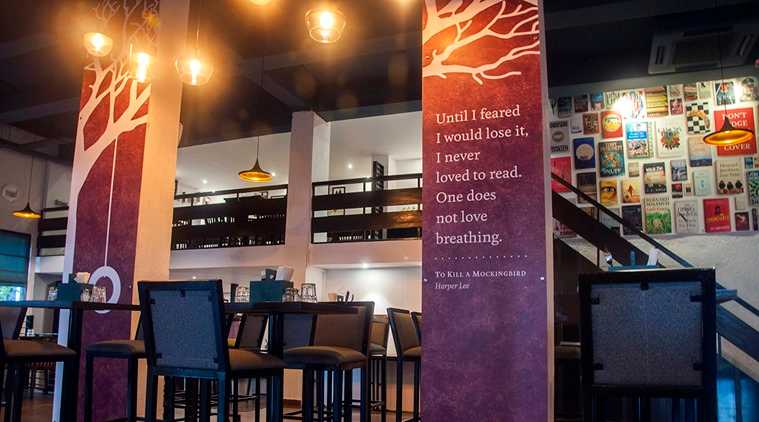 This Cafe in Mumbai is a refuge away from the madding crowd. Combining the romance of reading and love for comfort dishes and drinks, this Instagram worthy eatery is a place where you can unwind and indulge in a well-curated menu, offering an eclectic selection to choose from. The interiors of the place will undoubtedly stimulate your mind as well as the taste buds. They have a wide range of books to offer too, for the bibliophiles. All of it, combined with some great music adds to the laid-back ambience of the cafe. Start with their nachos, the best in town, and choose the Greek pizza for the main course. And if you don't prefer eating anything, just order their hot chocolate, sit back and relax and enjoy your read.
Must-Try Dishes: Chicken Chorizo, Nachos, Greek Pizza
Location: 80, Veer Nariman Road, Churchgate, Mumbai
Timings: 9:00 AM to 12:30 AM
Average Cost: INR 1700 for two people (approx.)
15. House Of Mandarin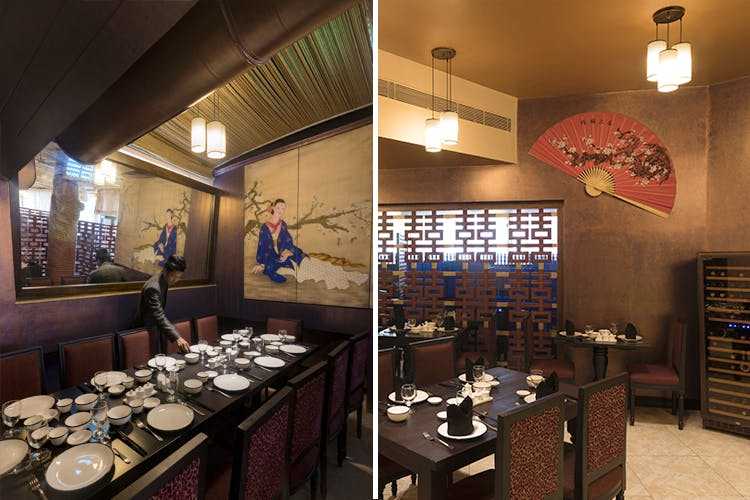 Remember Sassy Spoon? Everyone's favourite cafe tucked in the corner of Hill Road, Bandra closed down a while ago. But was soon replaced by House of Mandarin, created by the same people behind Sassy Spoon. With quirky interiors, serenading walls, wooden partitions, and handmade murals surely match up to the benchmark set by its predecessor. The menu over here sticks to Mandarin cuisine, tracing back to
Beijing
. The Roasted Pork - well-done pork which packs flavours - offered here is highly recommended. You can also try their BBQ ribs and crispy aromatic duck. There's a wide selection to choose from. The cafe also serves the finest cocktails at remarkable prices. Couple your food with the perfect drinks, Mandarin Mocha (a perfect blend of whiskey, and vanilla) or Zhenzhen (vodka infused with green tea - a one of a kind combination) for a time of the lifetime.
Must Try Dishes: Roasted Pork, BBQ Ribs, Prawn Dim Sum
Location: Multiple places- Hill Road, Powai 
Timings: 12:00 PM to 4:00 PM and  7:00 PM to 12:00 AM
Average Cost: INR 2100 for two people (approx.)
16. The Pantry, Kala Ghoda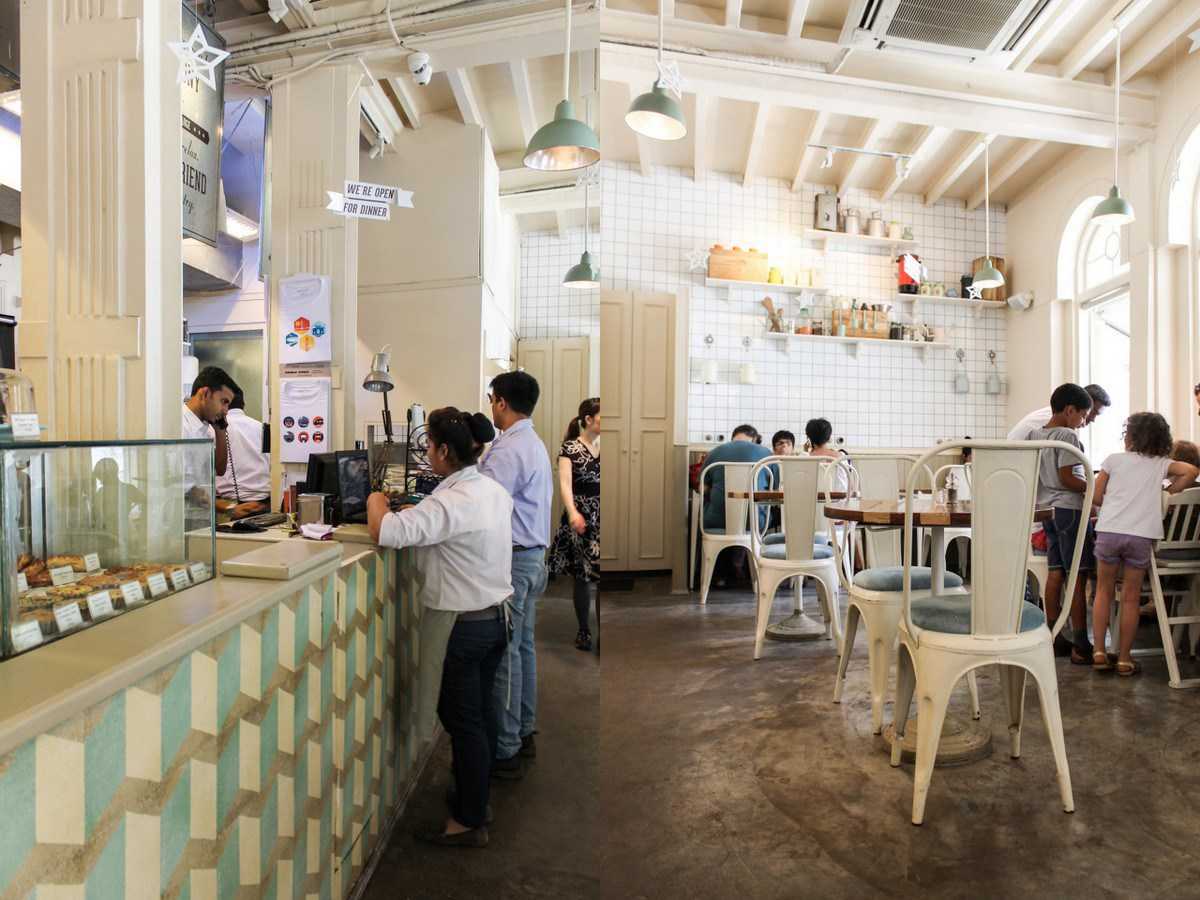 A simple, chic restaurant that is a gateway to the streetside cafes in Latin quarters of
France
, The Pantry, located in Fort is all about all day breakfast and healthy, nutritious salads. This eatery will surely help you in keeping up with your healthy eating goal. They say salads are not filling but that is not the deal with The Pantry. Their servings are huge and have a great variety of ingredients to turn your salad into a complete, satiating meal. Their Nutrition Boost Salad is highly recommended, which includes fresh veggies, sprouts, cottage cheese, and candied orange rind. You also have the option to add proteins ? chicken, bacon or ham to it for a more refreshing and zesty taste. The salad also comes along with a pesto sandwich on the side, prepared with fresh wheat bread. Another option to choose is their Citrus Salad if vegetables are not what you're looking for and wish to go all fruity way.
Must Try Dishes: Citrus Salad, Sandwiches, Nutrition Boost Salad
Location: 14, Ground Floor, Yeshwant Chambers, Military Square Lane, Near Trishna, Kala Ghoda, Fort, Mumbai
Timings: 8:30 AM to 11:30 PM
Average Cost: INR 1400 for two people (approx.)
17. Pali Village Cafe, Pali Hill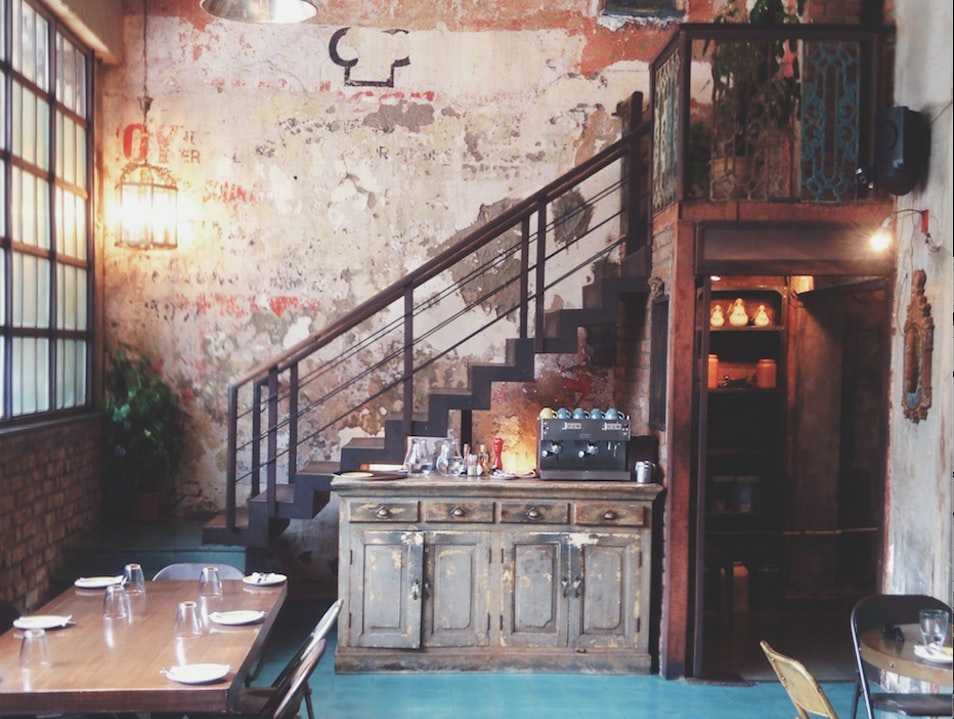 This Cafe in Mumbai, located in Bandra West, is just the place you need to go to when you're in the mood for a quiet, sophisticated meal combined with some amazing wine. The cafe is straight out of a French romantic film. With the look of ruined walls, rustic furnishing, low lighting, and easy going vibe, the cafe promises memorable times. If you go during the breakfast hours, the French toast is a must-try. Order the mushroom stuffed rolls and asparagus, which go really well with the drinks that they've got to offer. Try the watermelon sangrias, an incredibly refreshing drink. The prices on the menu are more towards the expensive side but it is totally worth it.
Must Try Dishes: Chicken Sliders, French Toast, Quinoa Salad with Wine
Location: 602, Ambedkar Road, Pali Naka, Pali Hill, Bandra West, Mumbai
Timings: 09:00 AM to 12:00 AM
Average Cost: INR 2700 for two people (approx.)
18. Starbucks, High Street Phoenix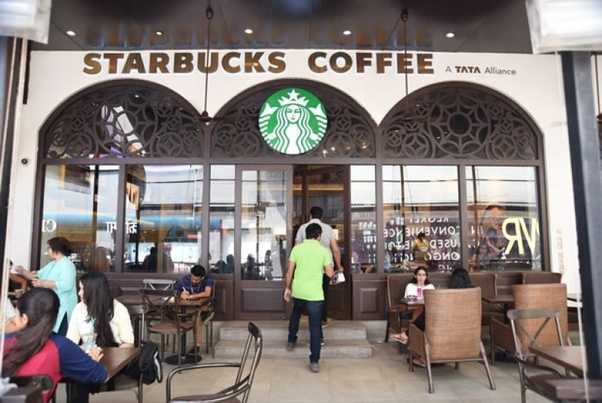 Who isn't familiar with this coffee giant? We know we all switch into zombie mode before that morning cup of joe and boy, do we love Starbucks to fuel us up. Grab a comfy seat when you enter this place. Make that long-pending meeting with your best friend happen, or get some work done, or finish that book you've been wanting to while sipping on your favourite coffee. There are a plethora of options with customizations of your choice to choose from, and there's a taste for every mood. Order the Double Tall Caramel Mocha if you're in the mood of something light that gives a sweet kick. The Double Blended Java Chip Frappuccino is another highly recommended drink to rejuvenate your body and send icy chills down the spine. Pair your drink with a sandwich or cake to double the gratification.
Must-Try Dishes: Lemon Loaf Cake, Caramel Mocha, Java Chip Frappuccino
Location: All over Mumbai. Although if you are looking for a specific one, head over to the Lower Parel cafe (Located at High Street Phoenix) for the best ambience, thanks to its interiors. And visit the one at the Taj Mahal Palace in Colaba for a breathtaking sea view nearby.
Lower Parel: Grand Galleria, Phoenix, Valet Parking Services, High Street, Extension of Entry Rd
Colaba: Hotel Taj Mahal Palace, Apollo Bunder Opp. Gateway of India, Mumbai, Maharashtra 400005
Timings: 8:30 AM to 1:00 AM
Average Cost: INR 650 for two people (approx.)
So whether you want to plan that long-overdue meeting with a friend or chill out with your fam, these are the best cafes in Mumbai to spend a wonderful time.