Delhi
is all about offbeat, unconventional and quirky hang out cafes. These places are known for their diversity and inclusivity. These cafes are LGBTQ friendly cafes and respect people in their original self. It is because of the melange of people housed in Delhi who've imbibed diversity in the Capital which thus reflects in the much urban and fusion spaces of the city. Want to know about some of the quirkiest yet amazingly themed cafes of Delhi? Take a look! 
1. Kitty Su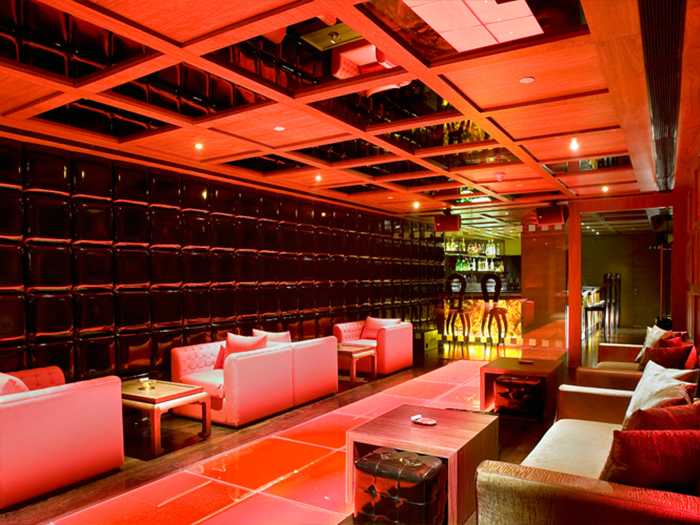 If you're a party freak and are hunting a quirky party space, head to Kitty Su. This place is super vibrant and lively. It hosts some great International music artists. The floor is set for you to dance at any time of the day. The place includes a number of bars and the interiors are pretty funky and jazzy. Because of its freaky atmosphere, but it has been tagged as one of Delhi's best night clubs and is also known for its inclusiveness and welcoming atmosphere for the LGBTQ communities. It often burns the midnight oil for its guests and holds events open to all (including LGBTQ and others) on Thursday Nights. You'll have a great time here. For Kitty Su, you might need to extend your budget as it's not so easy on your pocket. 
Address: Lobby Level The Lalit Hotel, Barakhamba Rd, Connaught Place, New Delhi, Delhi 110001
Price for two: INR 4,000
Recommended Dishes and Drinks: Cocktails, Sushi, Chaats, Chicken Wings. 
2. Summer House Cafe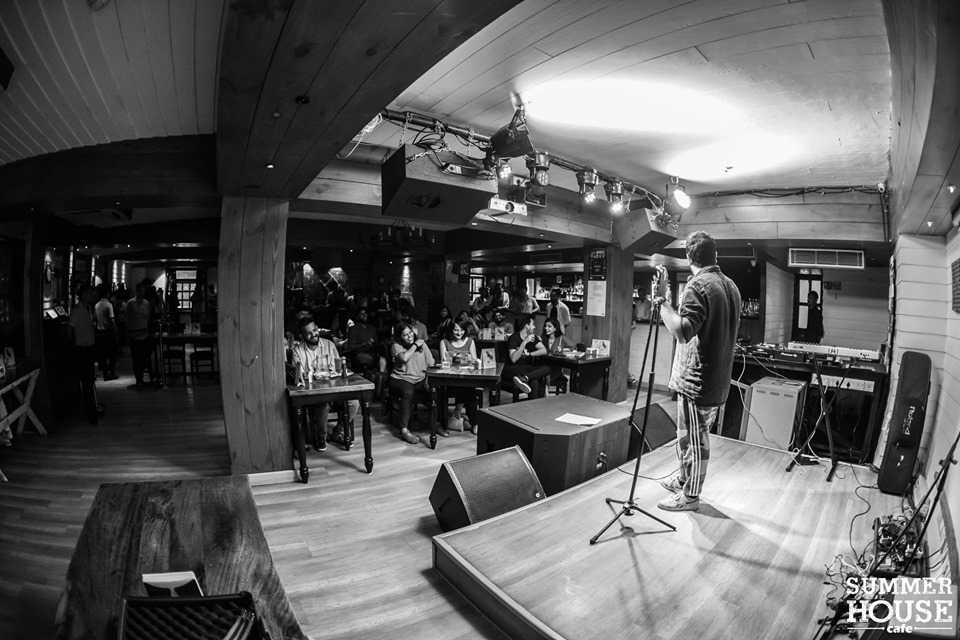 Summer House is the perfect place for cocktails, live music, and good food. The place is quite eclectic in its colours flanked by high-seated wooden chairs and wooden benches. The cafe has a bar which is made out of shells of a minibus. It's different and doesn't look bad at all. It has a chill vibe and an open-air balcony seating area as well. The weekends are pretty packed so head early. If you're a fan of live music, gigs and talks, the stage is set all throughout the week. Summer House also includes the queer community and holds LGBTQ+ galas which makes it even more special and welcoming.
Address: 1st Aurobindo Place Market, Sri Aurobindo Marg, Hauz Khas, New Delhi, Delhi 110016
Price for two: INR 2,300
Recommended Drinks and Dishes: Nachos, Chicken Strips, Jalapeno Cheese Fingers, Sangria 
3. Chez Jerome Q Cafe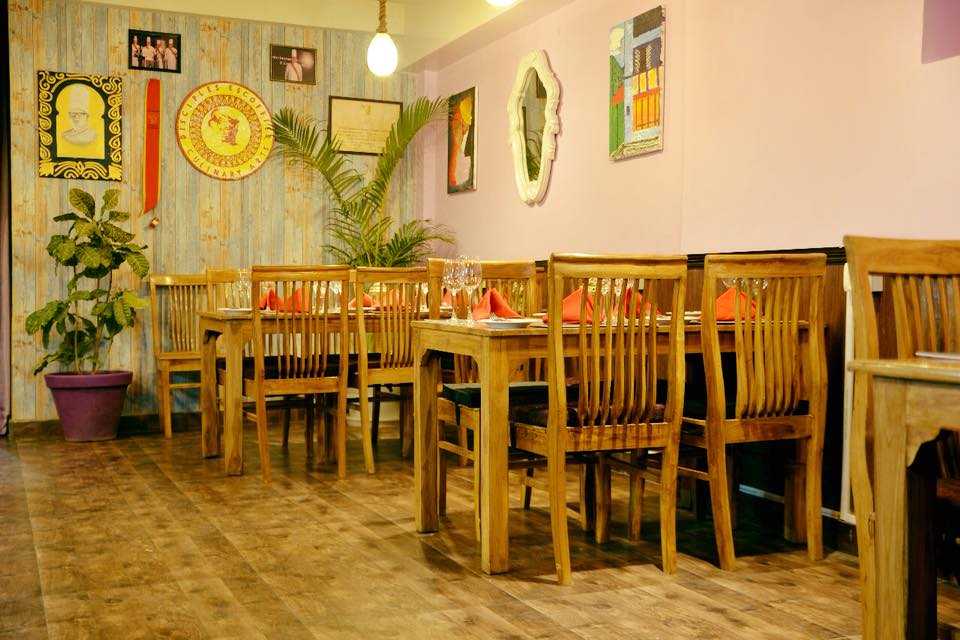 Chez Jerome Q Cafe is Delhi's first LGBTQ cafe. It welcomes the queer community and gives them a space to hang out freely without being judged and allows them to voice their feelings through the medium of art. It aims at letting the community feel secure and free in a public space when it comes to dining and enjoying the nightlife. The cafe was started by Chez Jerome in 2016. It's a pretty roof-top cafe with canopy sheds and a view of the city. It frequently hosts open mics for its guests. It holds events such as drag queen shows on some weekends while on the others, they screen gay love stories. This is a brilliant way of making people comfortable to the idea of it and including one and all, irrespective of their sexuality. 
Address: Mincha Wali Gali, Chatri Wala Kuan, Lado Sarai, New Delhi, Delhi 110016
Price for two: INR 700 
Recommended Dishes and Drinks: Pizzas and Mojitos. 
4. Depot 48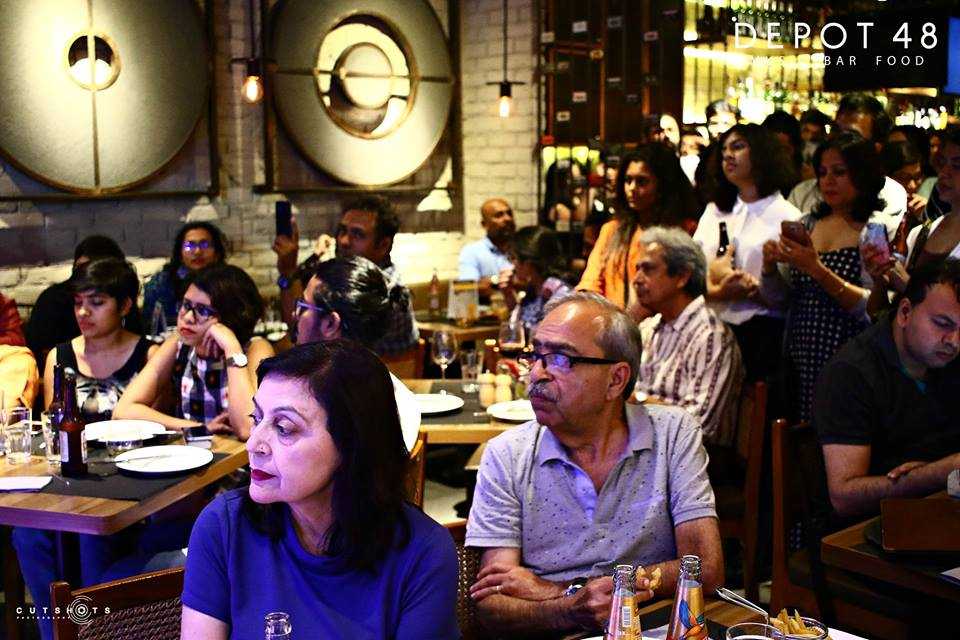 Depot 48 is a music-themed acoustic cafe holding live music tests for its guests and keep you grooving to it. It celebrates love and mankind in it's true form and hold events for the LGBTQ+ occasionally. The very recent event was the Pink Tuesday event.  The cafe has a Quesadilla and Guacamole bar, and there's nothing more quirkier about this cafe. The place comes alive during band performances and the crowd thoroughly enjoys the vibe here. It's pleasant and positive. The tex-mex themed cafe has gained a lot of popularity due to its musical theme.
Address: N3, 2nd Floor, N Block Market, Greater Kailash 1, New Delhi, Delhi 110048
Price for two: INR 1,800
Recommended Dishes and Drinks: Chipotle Chicken, Jalapenos, Cheese Empanadas, Burgers, waffles. 
5. PCO Bar/ Pass Code Only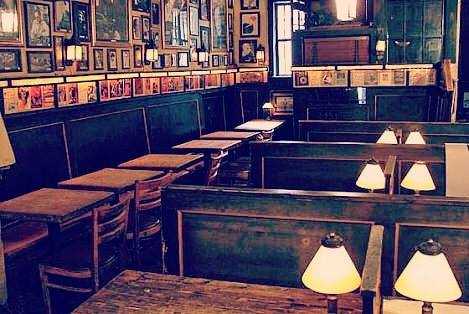 PCO is a quaint and rustic bar place. It looks shady from its first glance but it's pretty cool. The bar has vintage furnishings and a very American styled bar. It's impossible to go wrong with anything that you order at PCO. PCO is well known for its welcoming nature to one and all, including the LGBTQ+. The place is known for its cocktail preparations and its age old charm. It is popular among both foreigners and locals. The menu is simple but the food is irresistible. The speakeasy ambience makes it a delightful space to chill.
Address: D-4, D, Block A, Block Market, Vasant Vihar, New Delhi, Delhi 110057
Price for two: INR 2,500
Recommended Dishes and Drinks: Chicken Burrito, Goat cheese Salad, Cheese Board, Cold Cut Board, Goat Cheese Crostini 
6. Blue Tokai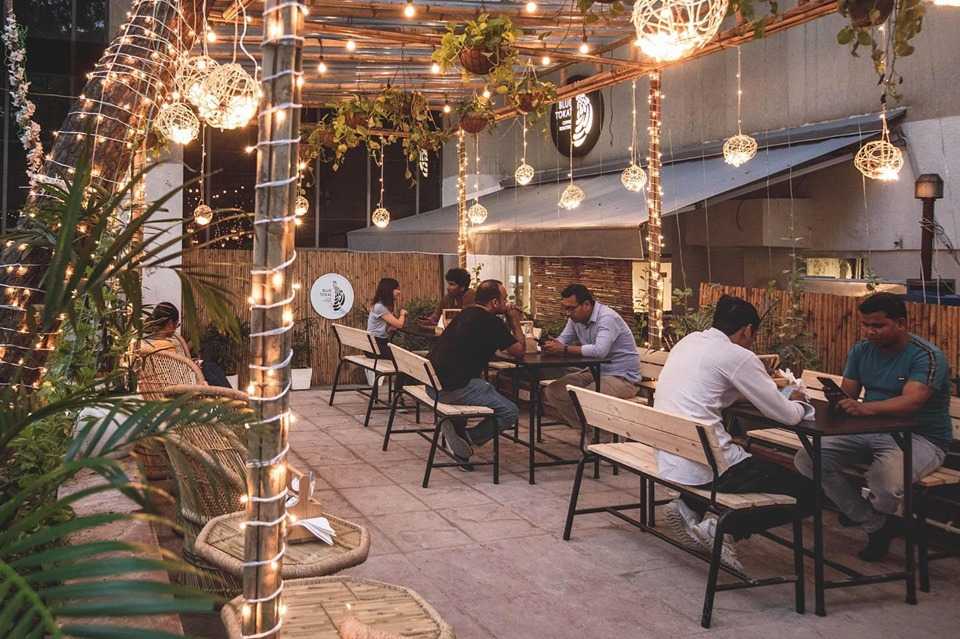 If you take your coffee very seriously, head to Blue Tokai. The place is pretty perfect for a fresh brew and a fresh takeaway batch of roasted coffee. If you know your brews well, you can head to the area where you can sit and enjoy the brews here. The serenity and calm atmosphere can help you grab a book, gorge on the delicacies and enjoy the roasteries here. Not just the coffee, but the food served is sinful too. What's great is that the staff here is trained to be sensitive and inclusive of all genders they aim to create a safe space for the community. 
Address: 15A, opposite Old Dr. Dangs Clinic, Block A, Hauz Khas, New Delhi, Delhi 110016
Price for two: INR 800 
Recommended Dishes and Drinks: Cinnamon Mocha, coffee tonic, garlic roasted pumpkin, Waffles, Open faced sandwich. 
7. Rose Cafe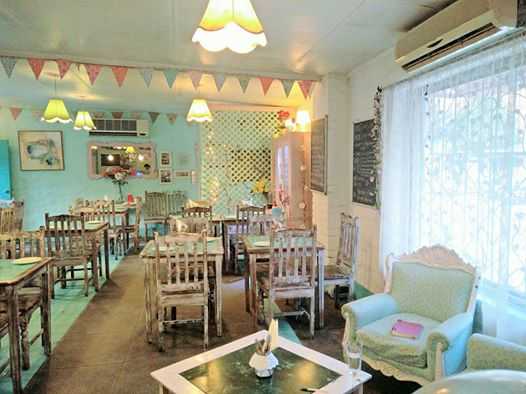 The ambience is to fall for here. The pretty shades of pastel pink and bright blue, ceilings with beautiful lamps and the night ambience makes its a perfect coffee and dine-out place. The decors are shabby but chic. It's an unforgettable date spot. Rose Cafe has pledged to treating any love and gender with equal and due respect, thus making an inclusive space for LGBTQ+. Matched with wooden furniture and a Victorian vibe, the place is absolutely charming and exotic. 
Address: 264, Westend Marg, Butterfly Park, Saiyad Ul Ajaib Extension, Saket, New Delhi, Delhi 110030
Price for two: INR 1,000
Recommended Dishes and Drinks: Pasta, waffles, Sangria, Spaghetti, Desserts, Mint Lemonade. 
8. Jug Mug Thela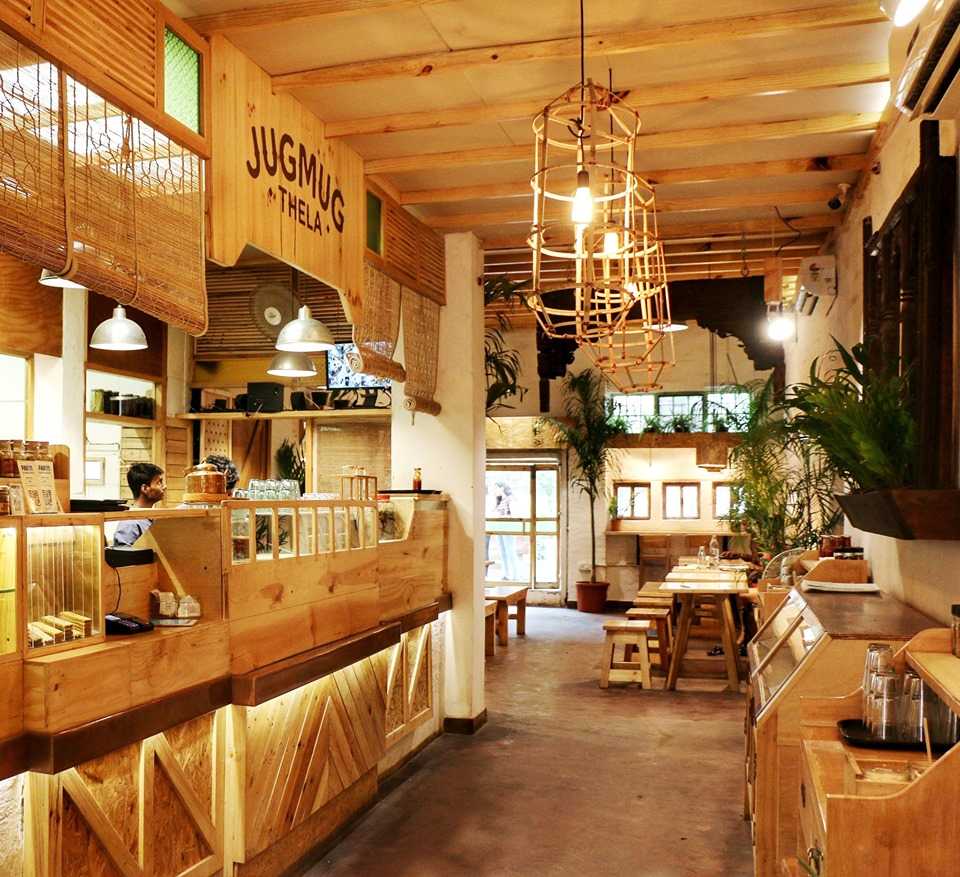 Nestled away in a street of Saket, this cafe is a secluded space, good for you to carry out work without any disturbance. It welcomes the LGTQ+ with all its heart. The rustic ambience, the quirky silence and calming feels of the cafe makes you want to hang out here more often. If you're a fan of a good cup of Chai, it will serve you some of the most delicious masala chai cups in town. It is flanked by wooden seatings, suspended lamps and green plants all around. If this cafe isn't serene, then what is. 
Address: Shed No 4, Khasra No 258, Champa gali, Lane No 3, Westend Marg, Saidulajab, Saket, New Delhi, Delhi 110030
Price for two: INR 600
Recommended Dishes and Drinks: Sandwich, Pizza, Tea, Hot chocolate, Banana cake. 
9. Ek Bar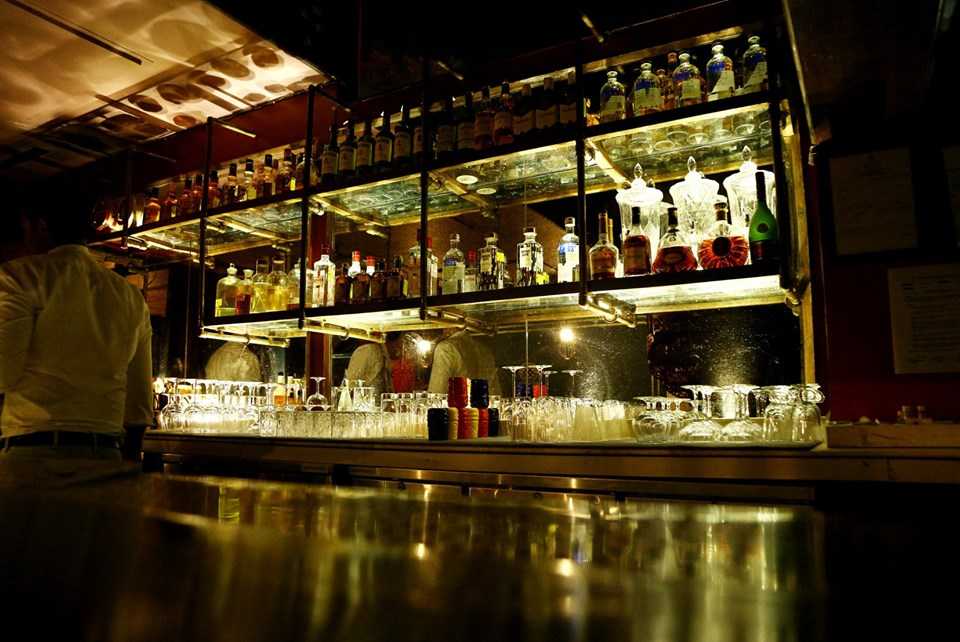 For its much Quirky Interiors, Ek Bar is to be visited at least more than ek bar! The decor is dominated by quirky elephants and large windows. You need to take the window seat here for the overlooking view of Defence Colony. The bar has a variety of interesting cocktails and some delicious food choice. Just like the interiors, the food also comes with a quirky twist. Each dish has a unique spin and surprise to it. Ek Bar aims to create a safe atmosphere for the LGBTQ+ and has signed a petition for the same which is pretty incredible. 
Address: D 17, First Floor, Defence Colony, New Delhi, Delhi 110024
Price for two: INR 2,400
Recommended Dishes and Drinks: Mutton Cutlets, Mocktails, Cocktails, Non-Veg Thali, Murabba Mule
10. Red Bricks Cafe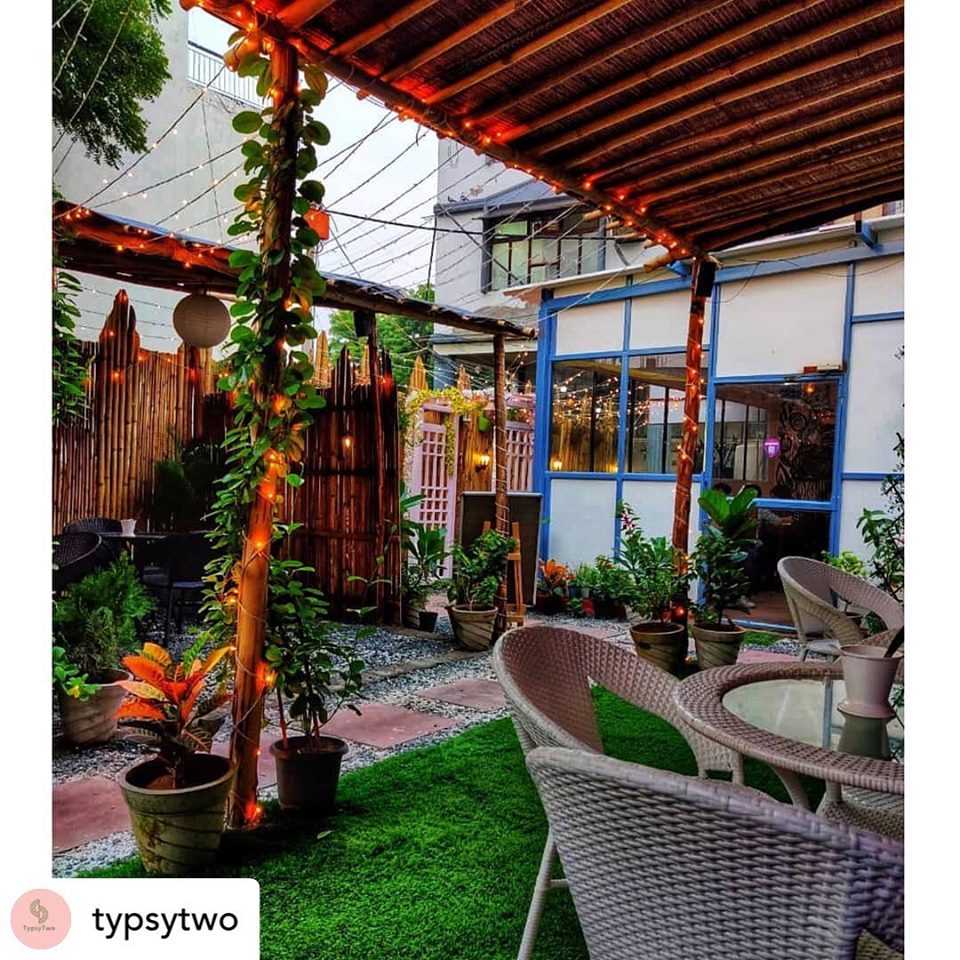 As the name suggests, the Red Bricks Cafe is actually a red brick walled cafe with quirky paintings on it. It has an open-air dining space and pretty lights all around. The cafe is pretty cool and quiet. You can head here for a private date or a meeting. The unusual decor is definitely a selling point of this rustic looking bricked space. The bricked cafe is also inclusive of the LGBTQ+ and welcomes one and all. 
Address: Khasra No 284/2, Champa Gali, Gali, No 3, Westend Marg, Saidulajab, New Delhi, Delhi 110030
Price for two: INR 1,300
Recommended Dishes and Drinks: Pizza, Ice Tea, Diet-food options. 
So here's a list of quirky cafes in Delhi. If you want an offbeat cafe experience, head to one of these spaces. None of them will disappoint you. Don't fall for the mainstream cafes, hit the unusual ones for a change sometimes. They offer an unconventional experience. If you think that inclusiveness is not safe, then you're mistaken. They are completely safe and secure spaces just treating people with equal respect and integrity. 
Have you visited any of these cafes? Leave us a review in the comments below!