Delhi has always been one of the most preferred destinations for food lovers. With its innumerable varieties and multiple cuisines along with delicious delicacies and exotic tastes, this city is a living legend from centuries. Right from preserving age-old traditional secrets of cooking to the proud innovator of exquisite signature dishes, this vibrant city has always attracted food-lovers from distant lands. Although famous for its amazing variety of options for non-vegetarians, Delhi has equally mouth-watering and exclusive food joints for vegetarians. So why wait? We bring you the top 15 places at Delhi that are a must try for vegetarians out there!
1. Kake Di Hatti
The delicious delicacies of Old Delhi have always been a foodie's delight! From traditional Punjabi cuisine to Kulfis and Faloodas, from hundreds of varieties of  Paranthas to Chhole bhatures and kulches, Old Delhi is a throbbing centre for food lovers. Kake Di Hatti, an authentic Punjabi eatery, is one such paradise. Located in Gali Batashan near Fatepuri Chowk, Kake Di Hatti serves traditional North Indian cuisine in pocket-friendly values. Their Dal Makhani and varieties of stuffed Naan are a must try.
Where: Old Delhi
Cost for 2: INR 400 approximately.
2. Veg Gulati
This vegetarian branch of the famous chain of Gulati restaurants is a vegetarian's delight! Gulati Restaurants are among the oldest and trusted names of the city. Veg Gulati is famous for their North Indian cuisine. Located at Pandara Road Market, their ambience and services are truly commendable. Must try dishes include Amritsari Churchur Paranthan and Dal Makhani. One of the fine diners of the city
Where: Khan Market
Cost for 2: INR 400 approximately.
3. Govinda's
The chanting of "Hare Rama Hare Krishna" echoes in the atmosphere of Govinda's. Located in the heart of Delhi's Iskcon temple, Govinda's is another famous place for pure vegetarians. They have a unique buffet system and the food is a Prasad of Lord Krishna. Famous for their North Indian cuisine along with Chinese cuisine, shakes and lassis, Govinda's is known for their simple and divine food. The must try Thalis include Chappan Bhog Special.
Where: Iskcon Temple, Nehru Place
Cost for 2: INR 1100 approximately.
4. Keventers
Also famous as Keventers, this place is known for their thick shakes and lip-smacking snacks. Located near Wenger 's, Inner Circle at CP, Shake Square is another pocket-friendly as well as refreshing food joint. Must try shakes include chocolate, coffee and strawberry flavours. Be ready for a long queue because this place is a crazy spot for shake-lovers.
Where: Connaught Place
Cost for 2: INR 300 approximately.
5. Chache Di Hatti
One of the most preferred food-joints of Delhi University's North Campus, Chache Di Hatti is known for their delicious and equally filling Chhole Bhatures. Located in Kamala Nagar, this eatery is easily accessible because of its fame and taste. This place is again a crowded one, so be prepared for a queue in order to have those delightful Chhole Bhatures. Also, prefer reaching the place before 2-3pm because they usually close the place after that.  You really don't want to miss those yummy bhatures!
Where: North Campus
Cost for 2: INR 80 approximately
6. Saravana Bhawan
Located in Janpath, Saravana Bhawan is famous for their authentic  South Indian cuisine. Their delicious Appam is widely famous as well as one of the exclusively available dishes in Delhi. Also, try their rava idli and masala dosa.
Where: Janpath
Cost for 2: INR 300 approximately
7. Indus Flavour
Located in Kingsway Camp, Hudson lane, Indus Flavour is one-of-its-kind vegetarian hotspot inspired by the delicacies of areas around Indus Valley civilisation. They are famous for their exotic North Indian and Chinese cuisine. The place claims to "tingle the taste buds of food connoisseurs". Must try dishes are Dahi ke sholay, Gilafi kebab, Dal Indus and Islamabadi paneer.
Where: Kingsway Camp, Hudson Lane
Cost for 2: INR 700 approximately
8. Rajdhani
Located in DLF Place Mall, Saket, Rajdhani is famous for their Gujarati-Rajasthani cuisine. Another fine dining restaurant, Rajdhani is known for their must-try dish- Rajasthani Thali.
Where: DLF Mall, Saket
Cost for 2: INR 900 approximately
9. Shree Baanke Bihari Brajwasi Rasgulle Waala
This branch of Shree Baanke Bihari Brajwasi is famous all over north campus for their Gulab Jamun, Ras-malai and Rabdi. Located in Kamala Nagar, Brajwasi is a hotspot for people with a sweet tooth. Also, try their Badam Milk which is equally heavenly in taste.
Where: Kamala Nagar
Cost for 2: INR 80 approximately
10. Sattvik
Sattvik restaurant is another famous fine dining restaurant for vegetarians. Located in DLF mall, Saket, Sattvik lives up to its name in the city. Famous for their North Indian cuisine, do try their exotic Til Waale Khatte Tandoori Aloo.
Where: DLF Mall, Saket
Cost for 2: INR 1400 approximately
11. Naivedyam
Located in Hauz Khaas Village, this vegetarian paradise is famous for its striking ambience and South Indian cuisine. Must try dishes include Rasam Vadai and South Indian Thali.
Where: Hauz Khas Village
Cost for 2: INR 800 approximately
12. Shraman- The Ashok
Shraman, located in Hotel Ashok is another vegetarian hotspot that offers a fine dining experience. They are famous for Rajasthani and North Indian cuisine. The ambience is equally attractive. Shraman's plain yet exotic food wins the loyalty of its customers. Must try their typical Dal Bati Churma.
Where: Hotel The Ashoka
Cost for 2: INR 1800 approximately
13. Bengali Sweet House
Located in the heart of the city at Connaught Place, Bengali Sweet House is another most preferred place for having a pocket-friendly vegetarian food experience. Famous for their desserts and street food along with North Indian and Chinese cuisine, Bengali Sweet house is exclusively loved for their crispy and tangy chaat as well as mouth-watering Gol-Gappe.
Where: Bengali Market
Cost for 2: INR 400 approximately
14. Shree Rathnam
Shree Rathnam is another exclusive South Indian restaurant, perfectly suitable for your family outings at a pocket-friendly price. Shree Rathnam chain of restaurants have their outlets across Delhi; in New Friends Colony, Preet Vihar and Rohini. They serve North Indian and Chinese cuisine too. Must try their Butter Masala Dosa.
Where: New Friends Colony, Preet Vihar and Rohini
Cost for 2: INR 400 approximately
15. Carnatic Cafe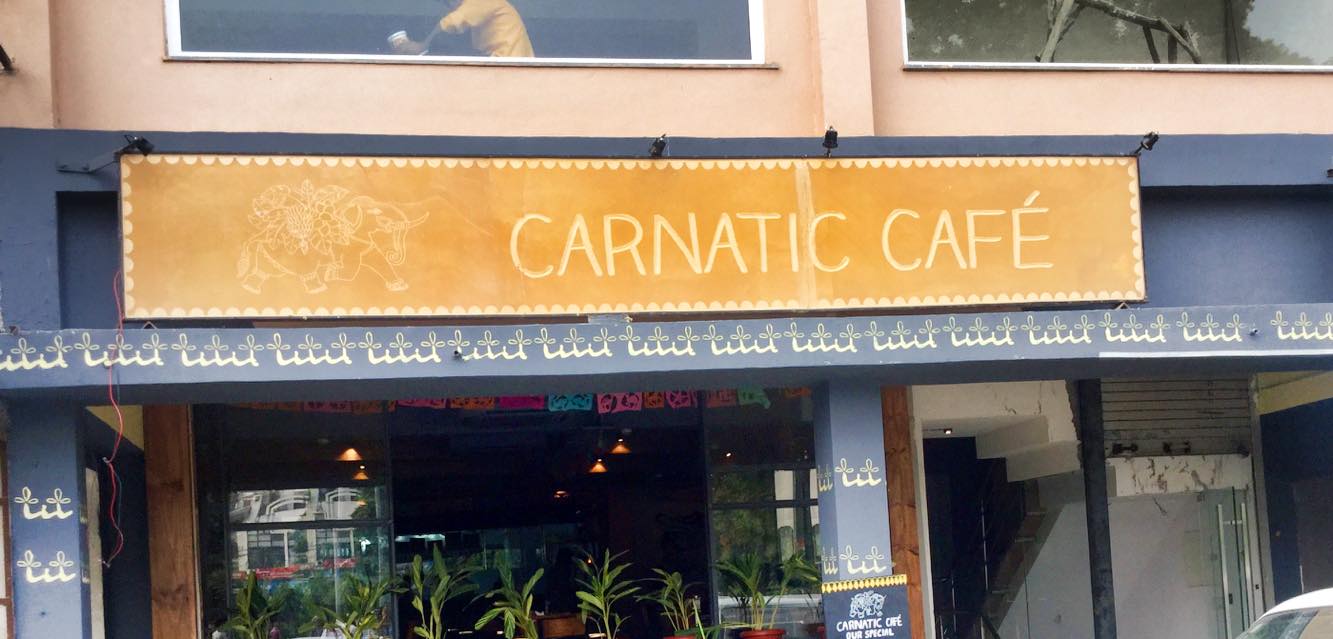 Carnatic Cafe is an authentic South Indian restaurant. Keeping with the South Indian theme, on entering their outlets you'll be greeted with the sound of sweet Kannada music and the aroma of curry leaves and coconut. The interiors are decorated with indoor plants and elegant artwork. The Malleshwaram 18th Cross is a local favourite that you have to try, it's a fluffy dosa that is served with sambar and three different chutneys. Apart from their dosas, also try their idlis, paddus (South Indian momos) or just a cup of their fantastic filter coffee.
Where: 2 Outlets – Greater Kailash 2 and The India Mall
Cost for 2: INR 500
16. Burma Burma
Burma Burma brings Burmese cuisine to the Capital. Inspired by surrounding countries and age-old tradition, Burmese cuisine is an amalgam of Chinese, Indian and Thai. The interior of the restaurant is designed with subtle mood lighting to complement the traditional wall art from Myanmar. As a first foray into Burmese food, try their Khao Suey and Samosa Soup. Being a tea-house as well, you cannot miss their collection of authentic teas. Even if you are a die-hard meat eater, you are bound to enjoy eating at this restaurant.
Where: 2 Outlets – DLF Cyber City and Select Citywalk Mall
Cost for 2: INR 1500
17. Kathputli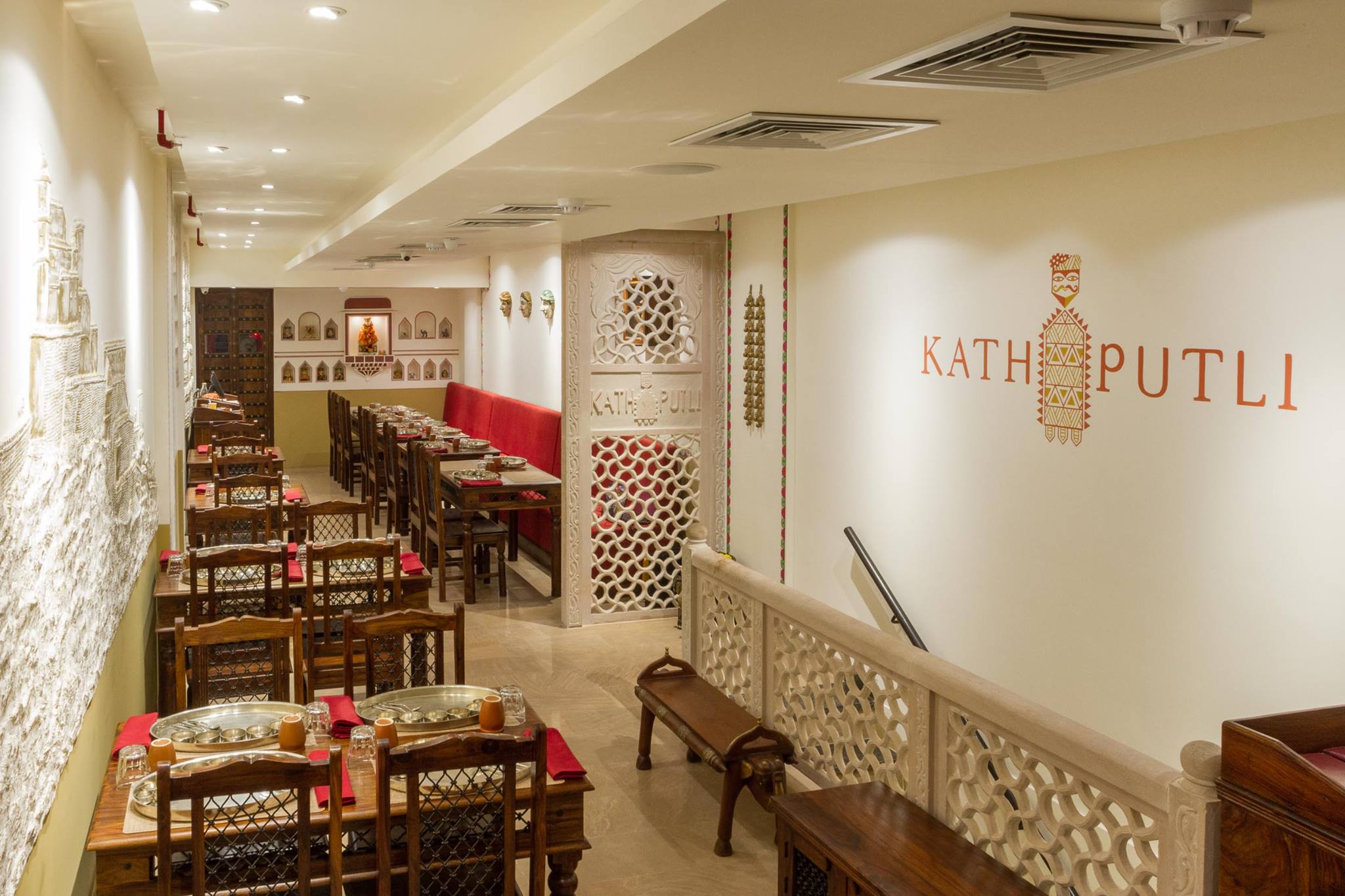 Kathputli serves up traditional Rajasthani cuisine. Keep your eyes wide open as it can be easy to miss, but once you find it and walk inside, you'll feel like you have entered a proper Rajasthani Haveli. Brightly lit and well decorated, your mood will be lifted instantaneously. Order the Rajasthani Thali for a true taste of the desert land. They serve 25 items on the plate and each one has its own importance in the Rajasthani cuisine. The friendly staff will guide you through each dish and how they are prepared. Another highlight of this restaurant is the doorman cum musician who plays a traditional Rajasthani instrument.
Where: Defence Colony
Cost for 2: INR 1000
18. Saravana Bhavan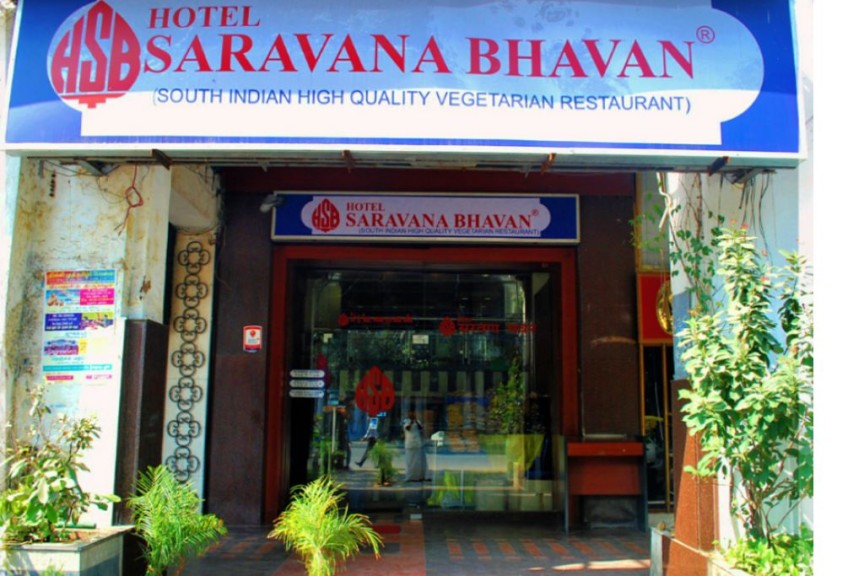 Saravana Bhavan is a South Indian restaurant chain that many swear by. It's one of the largest vegetarian restaurant chains in the world. You can get an idea of their authenticity from that fact that they serve their food atop banana leaves that are placed on the plates. Although the ambience might not be that special, it is made up for with their spectacular food. Their wafer thin dosas are a crowd favourite, as well as their scrumptious uttapams. Be sure to try their traditional South Indian filter coffee. If you are not a coffee person then fear not as they also serve up delicious mocktails to go with their food.
Where: 3 Outlets – Connaught Place, Select Citywalk Mall, and Janpath
Cost for 2: INR 500
19. Sita Ram Diwan Chand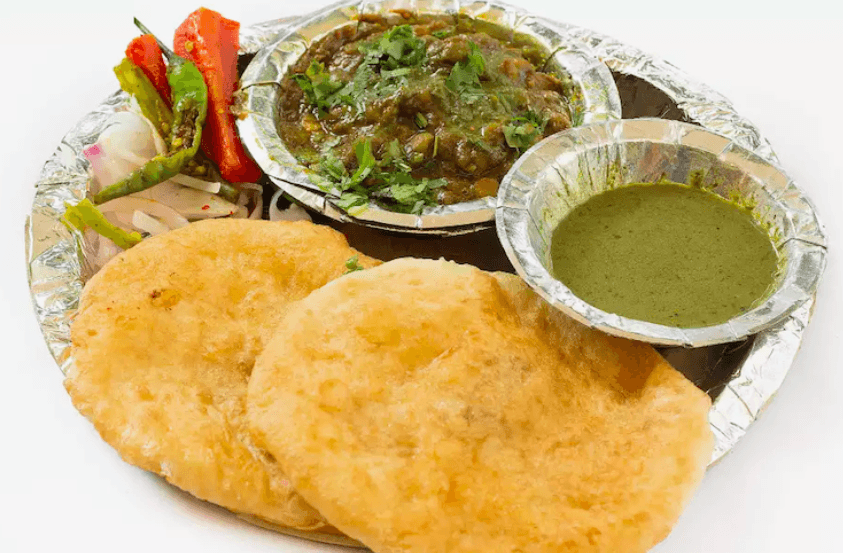 Sita Ram Diwan Chand is a small outlet that is famous throughout Delhi for its magnificent Chole Bathure. Considered by some as the best Chole Bathure in the country, if you're in Delhi and happen to be nearby, you simply must give this place a visit. The chole has a perfect texture and is served with a spicy curry, with delicious paneer stuffed bathure and a tangy chutney to accompany it. Being a street food joint, Sita Ram Diwan Chand is also dirt cheap and you will probably find yourself ordering more and more.
Where: 3 Outlets – Paharganj, Pitampura, and Paschim Vihar
Cost for 2: INR 100
20. Punjabi By Nature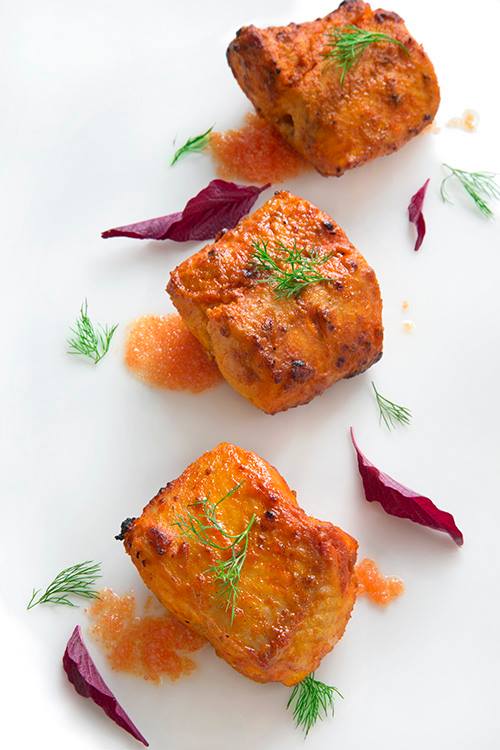 Although not a purely vegetarian restaurant, no mention of vegetarian food can be done justice without bringing up the name of Punjabi By Nature. The smell of Dal Makhani will have you salivating even before you place your order at this delightful eatery. The place is loud and energetic, sure to make you feel like an ecstatic Punjabi. Unlike the other restaurants on this list, Punjabi By Nature also serves alcohol. Get your daily dose of carbs with their fluffy Butter Naans and delicious Paneer Kulchas. Add to that the Chef's Special Kofta or the Lahori Masala Paneer and you are sure to be left completely content.
Where: 5 Main Outlets – Ambience Mall, Connaught Place, Sector 29 Gurgaon, Sector 18 Noida, City Centre Mall
Cost for 2: INR 1500
Similar Posts That You Might Like