The beautiful city of
Bangkok
can be explored through a large variety of ways and Boating is one of them. The mesmerising views of the town, accentuate to an exceptional level when viewed through the waterways of the city. There is an extensive network of boats and ferries spread all over the city that is used both by locals and tourists.
Here is a complete guide on Boating in Bangkok:
Waterways in Bangkok
The Waterways of Bangkok are divided into three major parts :
1. 
Chao Phraya River
2. Khlong (canal) Saen Saep that cuts the city into east and west and
3. Khlong (canal) Thornburi which has a network of two canals; Khlong Mon and Khlong Bangkok Noi.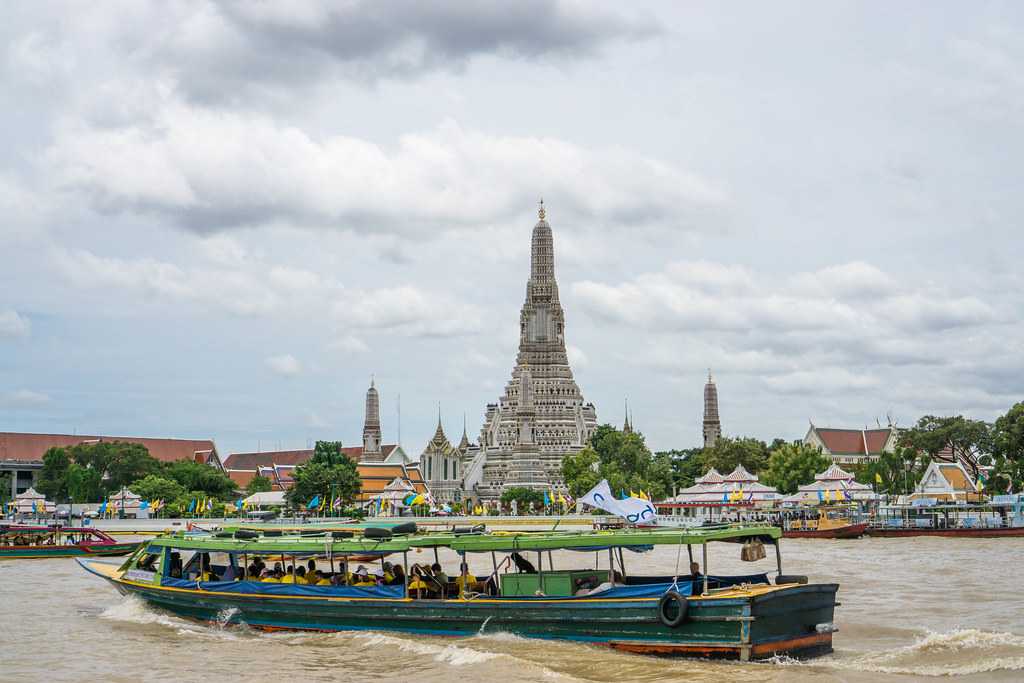 The Chao Phraya River, also known as 'The River of Kings' is of great historical significance as well as adds to the beauty of the city. There are wide varieties of boats and ferries all across the river for both locals and tourists alike. The river begins at the meeting point of Ping and Nan rivers in the Nakhon Sawan Province.
Public Boats in Chao Phraya River
Around five public boat lines are operated by the Chao Phraya Express Boat Company. The wide varieties of public boats are usually express taxis used most commonly by locals. Mostly identified by a yellow flag, orange flag, green flag and no flag.
Timings: 6:00 AM to 7:30 PM 
The timings of boats vary depending upon the type of boat chosen and the distance travelled.
Price: THB 15
Being a public transport, boats are much more crowded and cheaper, depending upon the destination and kind of boat chosen.
Most locals have a daily pass to travel to and from the area via boats.
Local Ticket Cost: THB 5 
Tourist Boats in Chao Phraya River
The 'Tourist Boats' widely operate on the Chao Phraya River, offering unlimited trips to all the tourists. These Blue Flag marked boats cover significant tourist attractions like
Wat Arun
, Tha Maharaj, Wat Pao, Thewet Market etc. One such tourist boat runs from Saphan Thaksin Sky Train Stop to Phra Athit near Khao San Road. The tourist boats run only at those piers where major tourist attractions are nearby with an announcer announcing about them on-boat for the convenience of the tourists.
Timings: 9:30 AM to 5:00 PM
If by chance you're not able to get on a tourist boat, you can travel by public boats which run in every 15 to 20 minutes.
Price: THB 40 to THB 150 (for an all-day pass).
2. The Khlongs of Thonburi - Canal Boating in Bangkok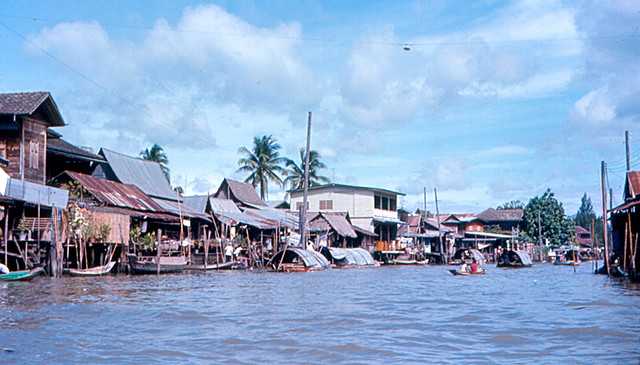 To avoid complicated networks of boats and ferries on the Chao Phraya River, most people travel through boats in the canals like in the Khlong of Thonburi and Khlong Saen Saep. 
The Khlong of Thonburi is opposite to Khaosan and the Phra Arhit area. These canals are reflective of the old and traditional views of the city of Bangkok. This canal has a network of man-made canals including, Khlong Mon and Khlong Bangkok Noi. The Khlong Mon provides the tourists with views of the old Bangkok city, comprising of old homes and shallow streets. However, the Khlong of Bangkok Noi has a more modern touch. The meeting point of this Khlong with the Chao Phraya River has a famous Royal Barges National Museum, another tourist spot.
You can find long-tail boats all over the area of Thonburi, which are usually a bit expensive.
Timings: 7:00 AM to 8:00 PM
Price: THB 100 to THB 150 
The prices of all tail-boats running in the area are variable and depend upon the price negotiated with the driver. These prices depend upon the duration and distance travelled.
3. Khlong Saen Saep - Canal Boating in Bangkok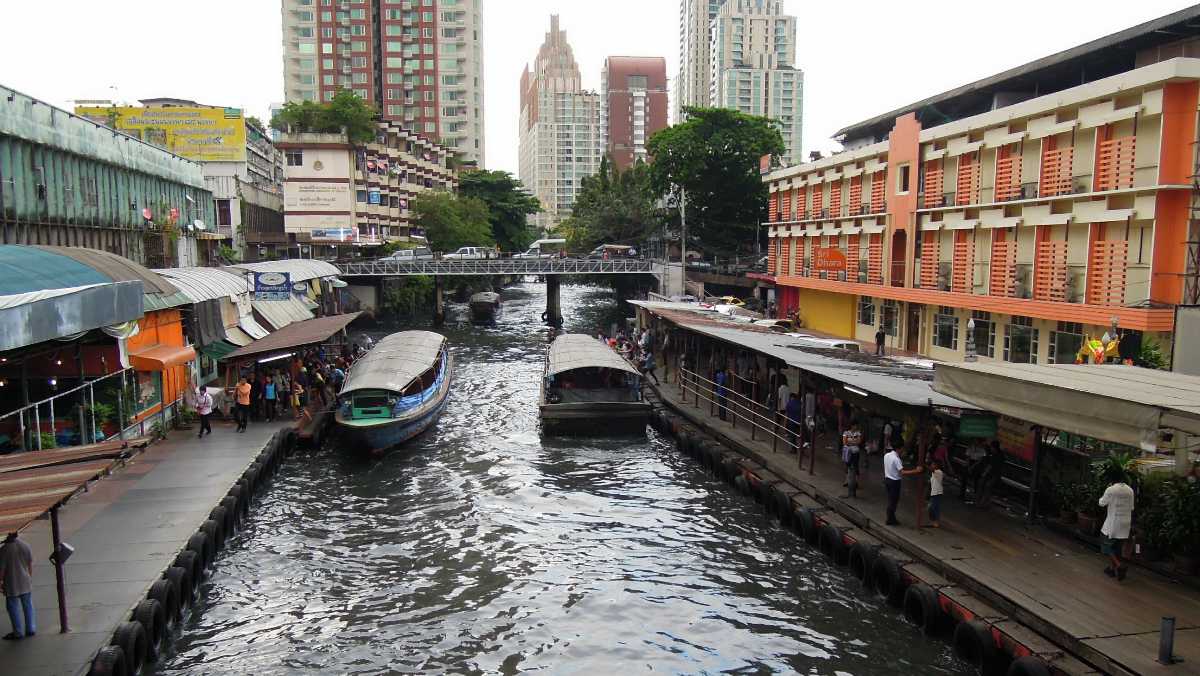 The most famous canal is Khlong Saen Saep which runs parallel to Petchaburi Road till Golden Mount. This Khlong covers major central areas of the city like Phayathai, Pratunam, Chitlom and Asok Road. There are two lines to this khlong; the eastern line and western line with one interchange at Pratunam pier. Most tourists prefer travelling via Khlong Saen Saep to go to temples, markets and major tourist attractions of the city. The Khlong Saen Saep boat service company manages the working of the boats here.
Timings: 5:00 AM to 8:30 PM
Price: THB 10 to THB 20
The price range increases with THB 2 depending upon the distance travelled.
Types of Boats Available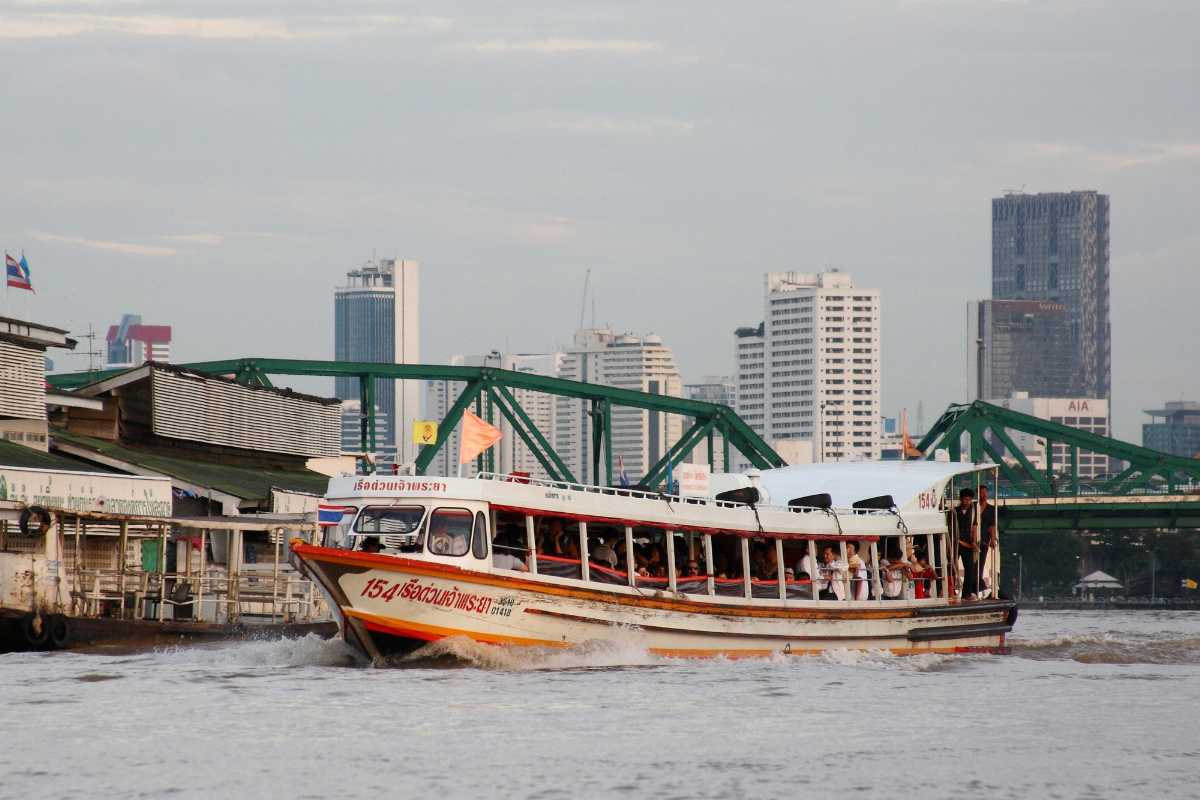 1.  Express Boat River Taxis
Most express boats come with flags on them i.e.
Blue flag
- Tourist line
This boat operates between Nonthaburi in the north to Sathorn Central Pier.
Orange flag line
- stops at central piers
This boat operates between Wat Rajsinkorn Pier S3 and Nonthaburi Pier N30 by stopping at only popular piers.
Yellow flag line
- large express boats for commuters
This line covers only ten piers and is designed to connect people to and from the northern outskirts of the city.
Green flag line
- express boat for commuters
Begins from Pier N13 to the northernmost pier of Pakkret (N30)
No flag line
- stopping at every pier
Begins from Wat Rajsingkorn (Pier S1) in the south to Nonthaburi (Pier N30)
Timings:
Monday to Friday (except blue boats) - 6:00 to 8:00 PM 
Price: The price of all express boats vary depending upon the line chosen
No Flag - THB 10 to THB 20
Blue Flag - THB 40 
2.  Long Tail Boats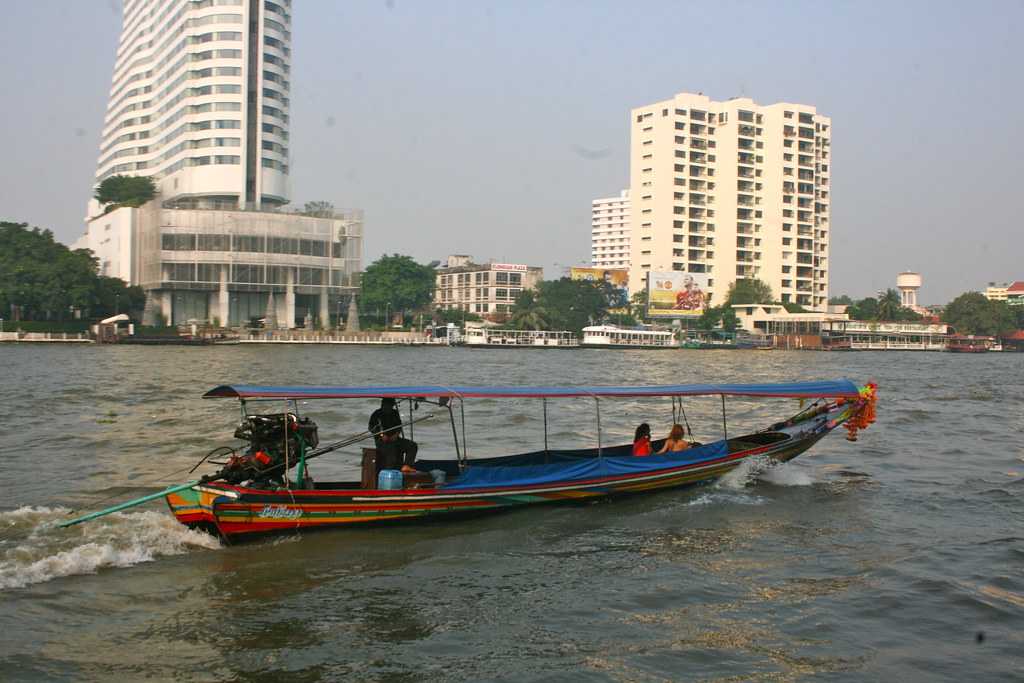 These are like tuk-tuk boats on the river. Such boats are narrow-long boats that can be rented privately. The costs can be negotiated with the driver on the spot, or one can get them booked prior. There is a lack of transparent pricing here; hence, chances of prices variation are very high. Beware of the scams or cons who may try to loot and fool you up.
Timings: 9:00 AM to 8:00 PM
Price: Negotiable
THB 5 to THB 30
3.  River Crossing Ferry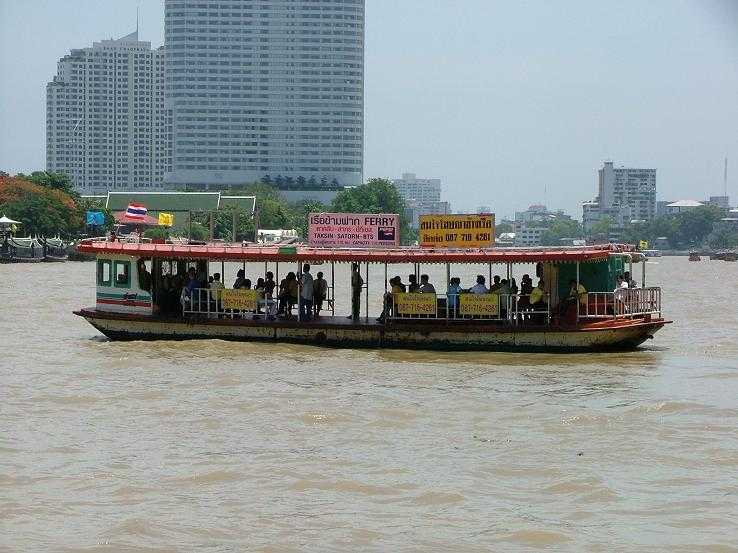 These ferries are flat raft-like boats with a roof on top. These operate at around 32 ferry crossings, transporting people from one end to the other. The most popular ferry for tourists is the crossing between Wat Pho Temple and Wat Arun providing visual treats to its tourists.
Timings: 7:00 AM to 6:00 PM
Price: Starts at THB 3
However, prices may vary depending upon the distance travelled.
4.  Canal Boats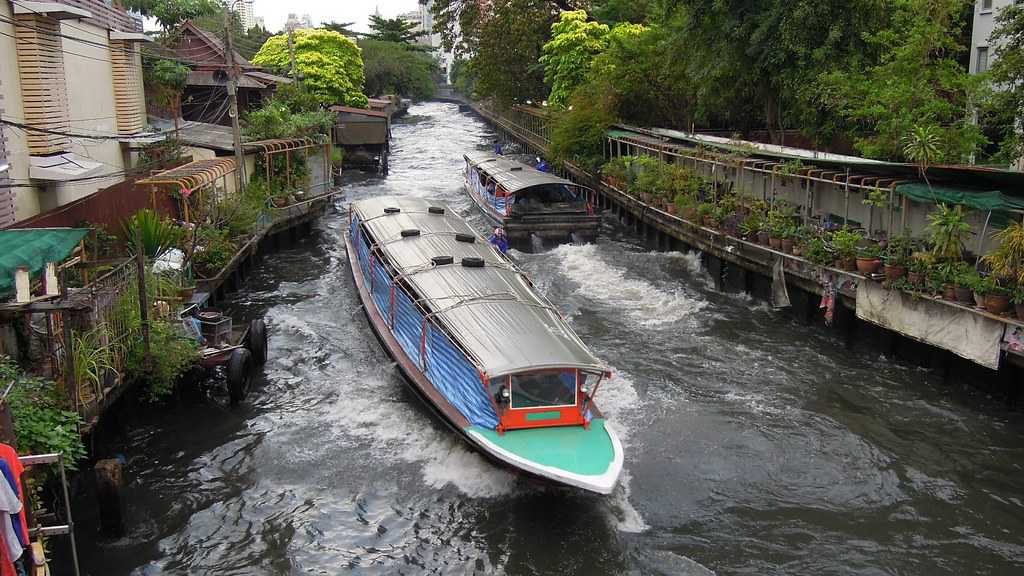 These massive bots are found on the Khlongs of Thonburi and the famous Khlong Saen Saeb connecting the west-old city to the east part of the town. The canal boats are usually free from traffic and cover significant journeys at a higher speed than other boats available.
Timings: 5:00 AM to 8:30 PM
The canal boats run within every 5 to 20 minutes.
Price: THB 9 to THB 19
5.  River Cruises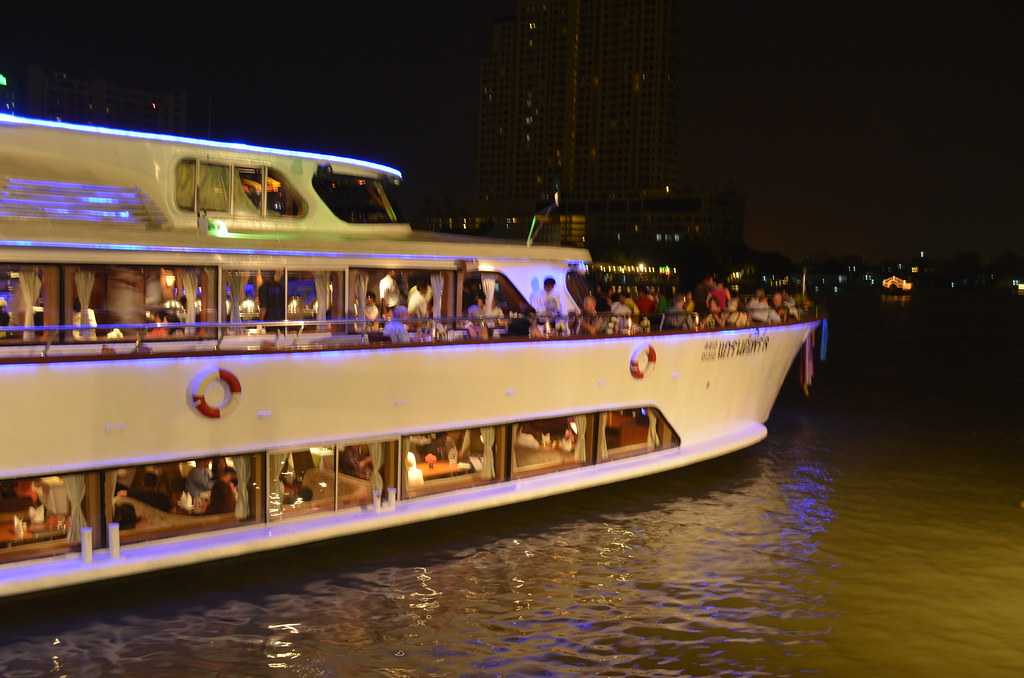 The huge cruises, most of which are '
dinner cruises
', are a lavish way to explore the city on the banks of rivers in the town. Most cruises begin at the River City Shopping Complex covering major tourist spots like the
Grand Palace
,
Wat Arun
and Santa Cruz Church. Along with splendid views, the cruises provide lavish buffet, delicious food and live shows like a live band, dance performances for the tourists.
Timings: (three to two-hour rides, depending on cruise choice)
7:00 PM to 9:00 PM or 10:00 PM
Price: THB 950 to THB 1000
Tips and Advice While Boating in Bangkok
The canal and riverboats are well-demarcated to differentiate for the tourists. However, it has been found that tourists are not able to identify canal boats quickly. Hence it's essential to know the boat before boarding, where is it heading to and where it will stop.
All boats have flags on them and a specified time in which they operate. When the day approaches its end, all boats fix a black flag on their which symbolises the end of boating services for the day.
It is crucial to arrive early when you're planning to board a boat as most of the times, the boating lines are jam-packed with long queues. Make use of wires and cables to get on and off the boat very cautiously. Falling anywhere here can prove to be fatal
Beware from all sorts of scams and frauds found on the boats in Bangkok. Most scams happen on these boats where some stranger can approach you by telling you that a major tourist destination is closed and offers you an alternative place to visit instead. Do not listen to such scams, as they may try to rob you with extra money and may fool you. Be careful of pickpockets, and save your valuables from being stolen.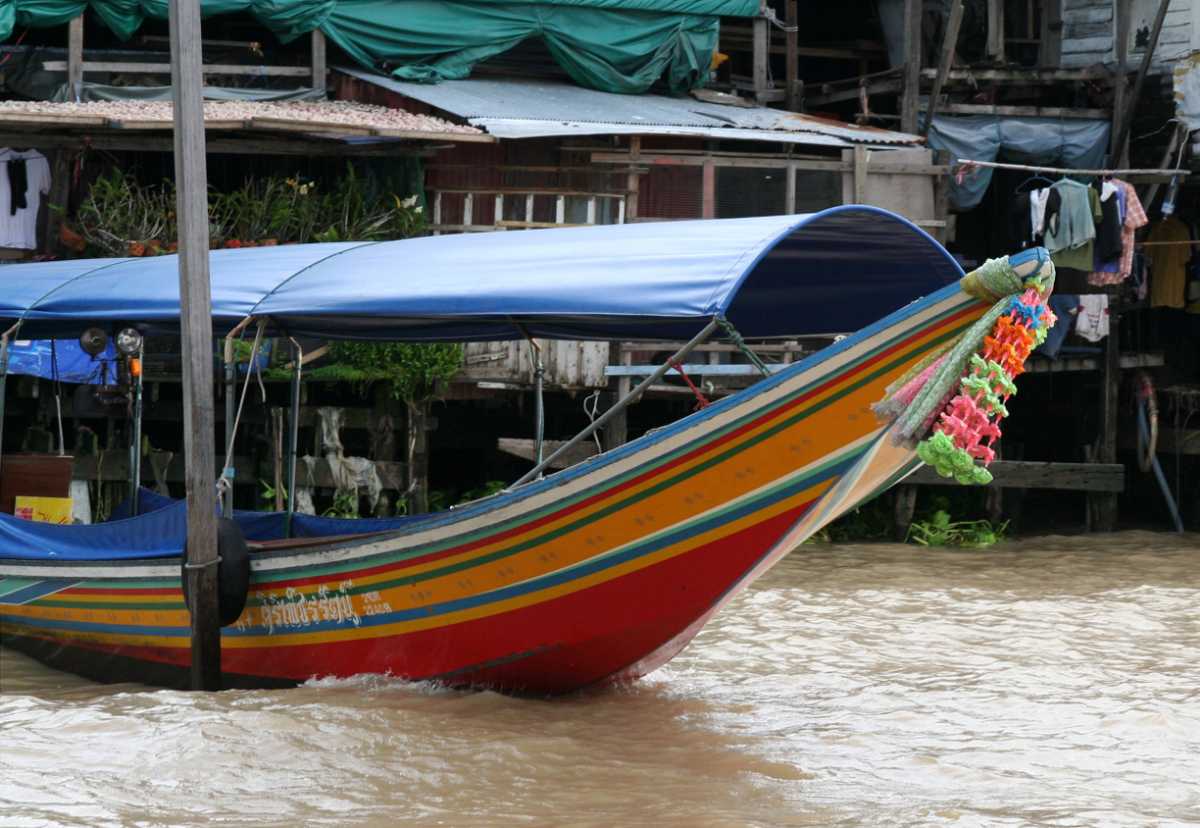 Exploring the city of Bangkok, through boats and waterways, can indeed prove to be adventurous. With a well-established boating system, tourists can reach even the unexplored parts of the city. So, if you're planning to go to Bangkok, then taking a boating tour needs to be on the top of your list, to make your trip memorable.