Sri Lanka
is synonymous for a paradise of wildlife. The elephants in Sri Lanka share their home with countless other species of flora and fauna, ranging from leopards and sloth bears to the migratory flamingoes and endemic Sri Lankan junglefowl. The population of elephants in Sri Lanka was a whopping 5,879 as of 2011! The Sri Lankan elephant is an endangered species and the largest among the Asian elephants.
Zoos and national parks provide glimpses of the elephants in Sri Lanka from afar, but for an opportunity to personally interact with the gentle giants, pay a visit to elephant orphanages and conservation sanctuaries. These places care for and protect wild elephants that have been orphaned or mistreated. Tourists can also chip in to increase the conservation efforts, either by monetary aid or volunteering.
Without further ado, here is a list of places where one can interact with elephants in Sri Lanka: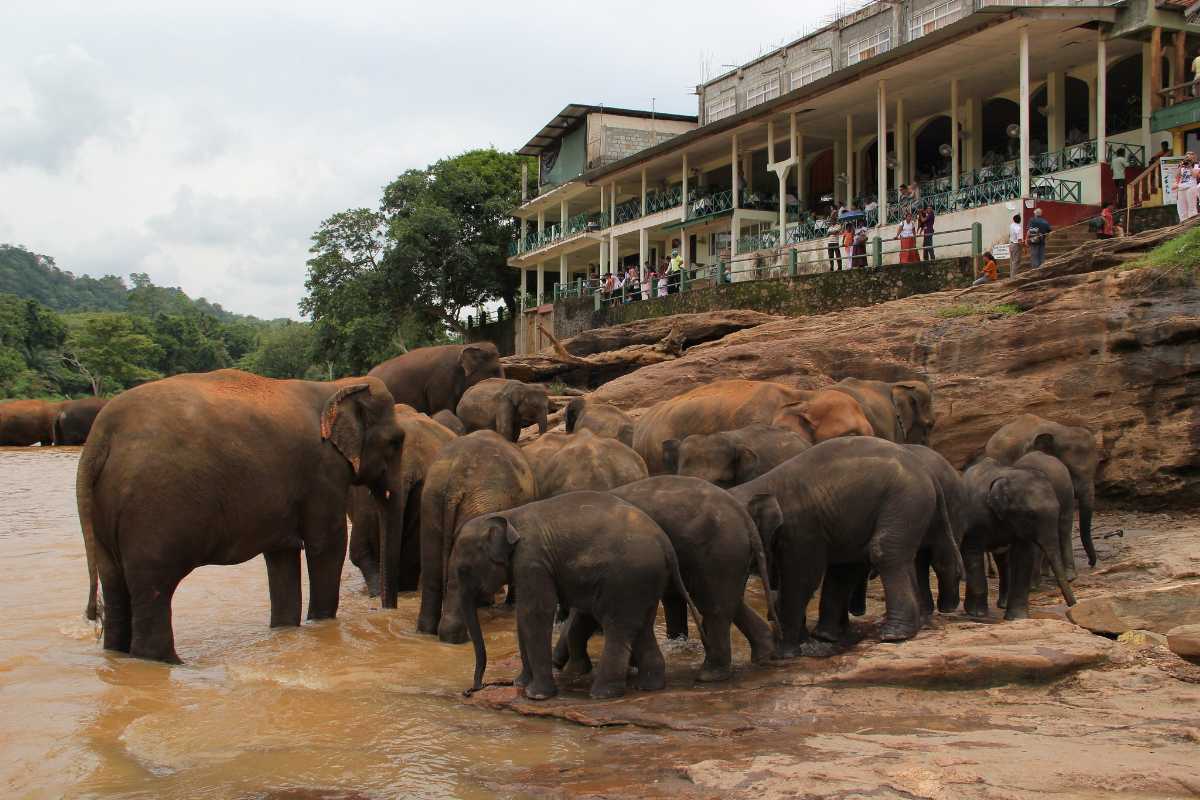 Situated at Pinnawala, a village near Kegalle, Pinnawala Elephant Orphanage is unarguably the most well-known elephant orphanage in Sri Lanka. Founded in 1975 by the Sri Lanka Department of Wildlife Conservation to provide shelter for orphaned baby elephants in Sri lanka that were found in the wild, it currently houses around 100 elephants of all ages. Although the orphanage is sometimes mired in controversy, it nevertheless has been a fantastic centre for conservation of these majestic animals.
Visitors at Pinnawala Elephant Orphanage can watch the elephants roam freely about, bathe and frolic in the river, which is usually at 10 AM and 2 PM. Occasionally, they can also observe the calves being bottle-fed, or even feed the elephants themselves. Souvenir shops in the vicinity sell innovative elephant-themed products, including paper made from elephant dung.
Timings: 8:30 AM – 5:30 PM
Entry Fee: LKR 3000 per adult and LKR 1500 per child aged 3 to 12 years, for foreigners. Tourists from SAARC countries have a special fee—LKR 800 per adult and LKR 400 per child aged 3 to 12 years.
2. Millennium Elephant Foundation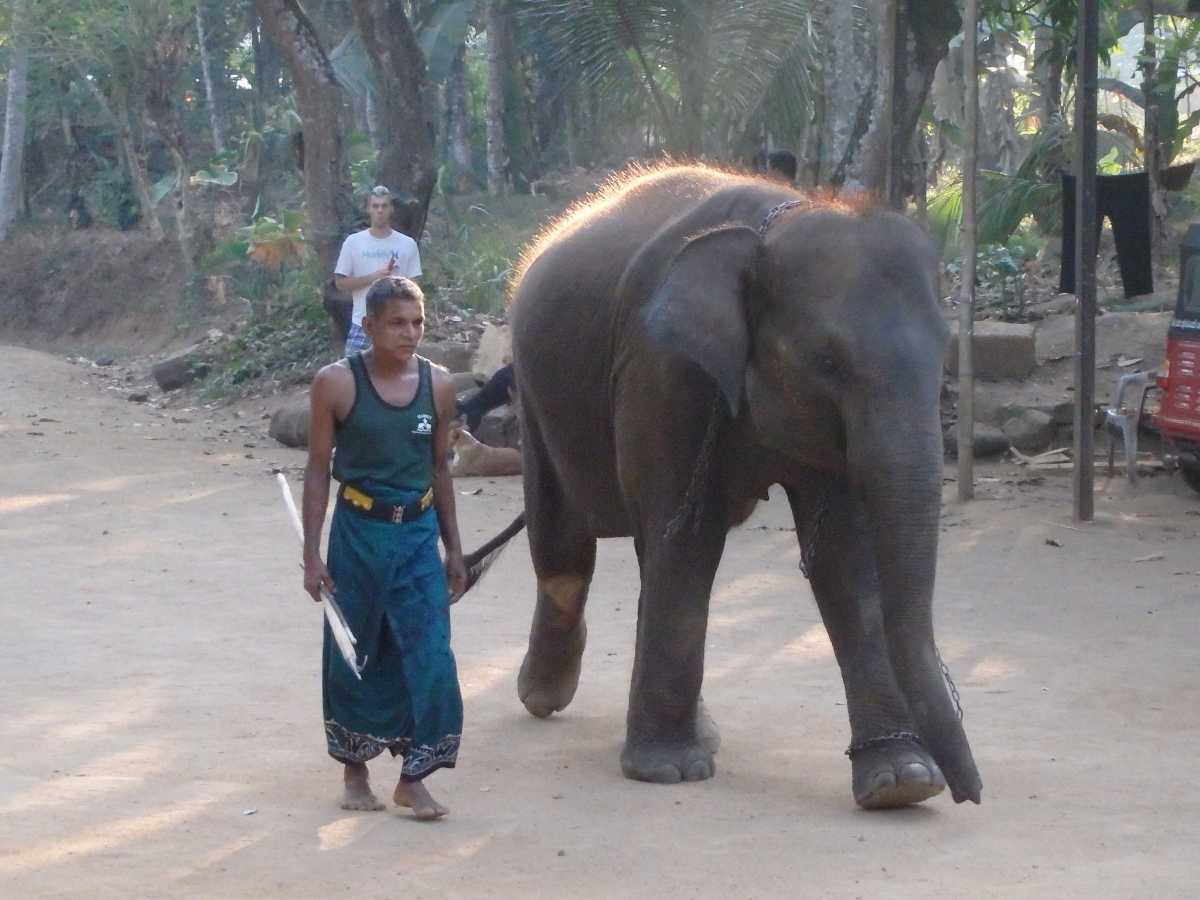 Millennium Elephant Foundation is a non-profit and family-run organization that rescues elephants in Sri Lanka that have been held captive and looks after them. Established in 1999, the foundation is presently caring for eight elephants. Donations from visitors and volunteers fund it.
The highlight of the Millennium Elephant Foundation is that it offers an Elephant Walk Experience, a unique opportunity to interact with the elephants in Sri Lanka. The tour includes a walk with an elephant at the foundation and an opportunity to bathe it in the river; local guides and experts educate visitors about Sri Lankan elephants. This fun yet informative tour lasts around two to three hours, with an option to include a three-course meal at the Colonial House, a restaurant.
The foundation also has a museum, souvenir shop and an elephant dung paper factory at its premises. Although it offers elephant riding too, it is trying to discontinue it due to the harm inflicted upon the animals during the activity. Apart from the tour, one can volunteer at the foundation for a day and night.
Timings: 9 AM – 4 PM
Entry Fee: LKR 1000 per person. The fee, including the Elephant Walk Experience, is LKR 5000; the package is LKR 6000 with meals included. The volunteer program costs LKR 8500. The entry fee for children aged 3 to 12 years is at half the regular price.
3. Udawalawe Elephant Transit Home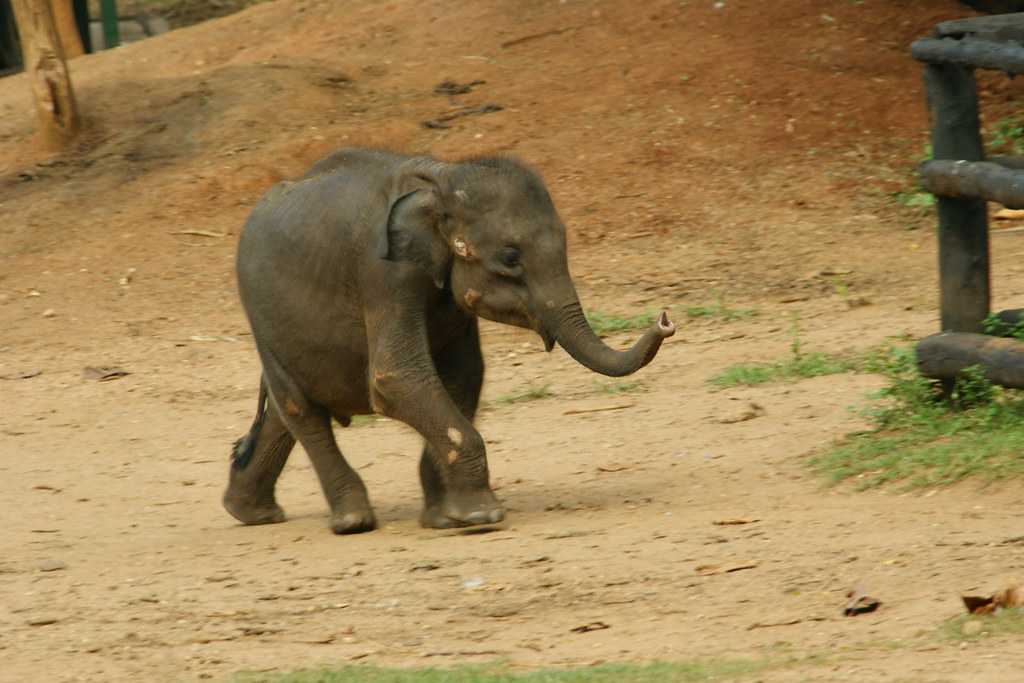 Udawalawe Elephant Transit Home is a rehabilitation centre for orphaned baby elephants in Sri Lanka, located at the Udawalawe National Park. The home was founded in 1975 where the elephant calves are taken care of and then released when they can live on their own in the wild.
Udawalawe Transit Home allows visitors to witness and photograph the adorable elephants during the feeding times at certain hours of the day, which is an enjoyable and genuinely touching experience. The transit home accepts donations of milk powder. However, touching, feeding and posing with the elephants are not permitted. You can also visit a souvenir shop whose proceeds go to the elephants' care, and a museum displaying interesting information about elephants in Sri Lanka.
While an option to volunteer here is not available, the transit home has a foster-parent program; foster parents need to pay a monthly fee to cover the expenses of the elephant's complete rehabilitation.
Timings: The transit home is open to visitors only at the feeding hours, which are at 9 AM, 12 PM, 3 PM and 6 PM. The feeding times last for approximately 30 minutes.
Entry Fee: LKR 500 per adult and LKR 150 per child.
4. Elephant Freedom Project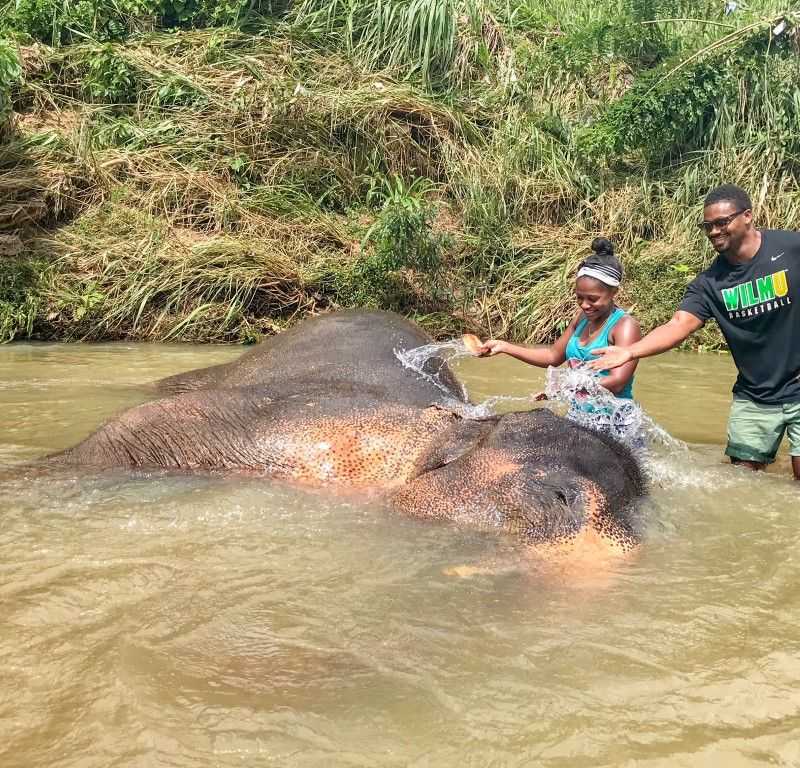 Elephant Freedom Project is a family-run elephant conservation project at Kegalle, sheltering rescued elephants in Sri Lanka; it is currently housing one elephant.
The shelter conducts educational and exciting half-day and full-day visits, where one can wash and walk with the elephant, and drop in at the nearby dung factory. You can also choose to stay for 1, 2 or 3 weeks at the shelter for a full-fledged volunteering experience, participating in daily tasks and even trying your hand at cooking Sri Lankan food.
Timings: 9:00 AM – 5:00 PM
Entry Fee: LKR 6500 per person for morning or afternoon visit, and LKR 10500 per person for a full-day tour. The fees for volunteering are LKR 50,000 for one week, LKR 90,000 for two weeks, and LKR 1,20,000 for three weeks.
Do's and Don'ts
1. Do not opt for the elephant rides even if they are available as it is harmful to the elephants.
2. Do consider donating to these organizations for the care of elephants in Sri Lanka as they are mostly dependent on funds from tourists.
3. Do follow the safety instructions stated by the guides during the visit.