Dubai
is a massive desert destination with splendid infrastructure and modern architecture. Travelling to Dubai with kids or any destination requires some planning and making sure that they are entertained is also a task. Kids tend to nag and get antsy if they get bored or there's nothing that keeps them occupied. Dubai is much more than just stunning cityscapes and attractions which adults would find interesting. It has places that would keep your kids engrossed and will help channelize their energy.
If you're travelling to Dubai with your kids, here's everything you need to know about taking your kid along and having a great time in their company.
Top Places to Visit in Dubai with Kids
Head to attractions that kids would rejoice in. While some of the places will interest you, some are sincerely dedicated to kids. Check out the list of places to visit below!
1. Dubai Fountain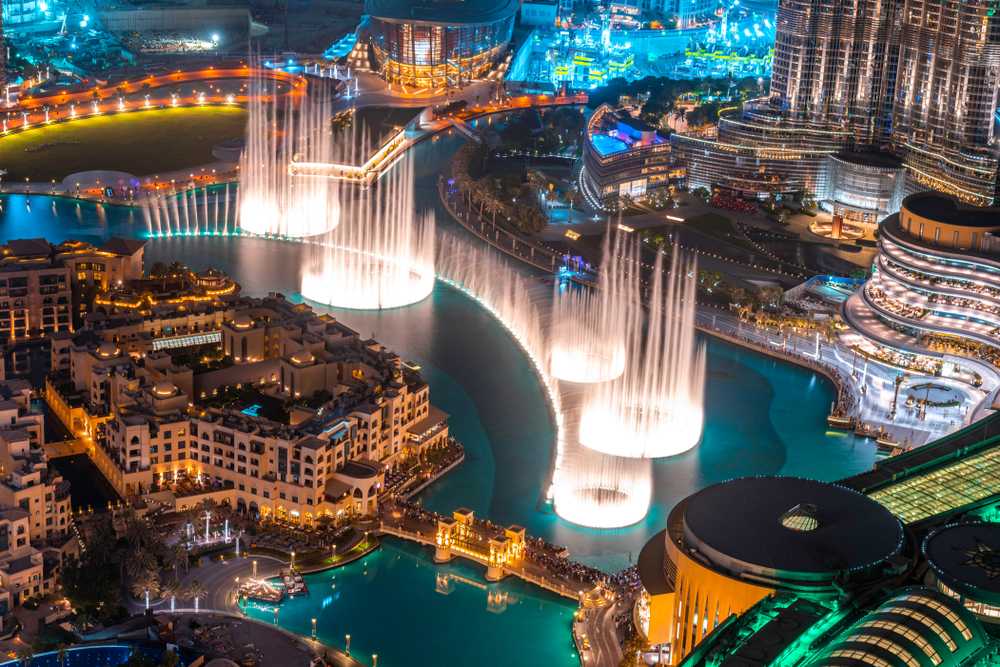 The combination of symphonies, colourful lights, and glistening water fountains is sure to keep you gripped. The fountains performing to the live music beats and diverse melodies are a visual treat. The kids will love the water shooting fountains which are the largest performing fountains of the world.
Location: Fashion Parking, Dubai Mall, Sheikh Mohammed bin Rashid Boulevard, Dubai

Take your kids to the tallest building in the world and give them a view of the entire city. Go up to the 125th floor of the skyscraper and show your kids the most magnificent view of the world. Kids are bound to enjoy the enchanting beauty of Dubai from such a height. The striking views, the lit-up buildings, and the beautiful sight will make them wonder in awe.
Location: 1 Sheikh Mohammed bin Rashid Blvd - Dubai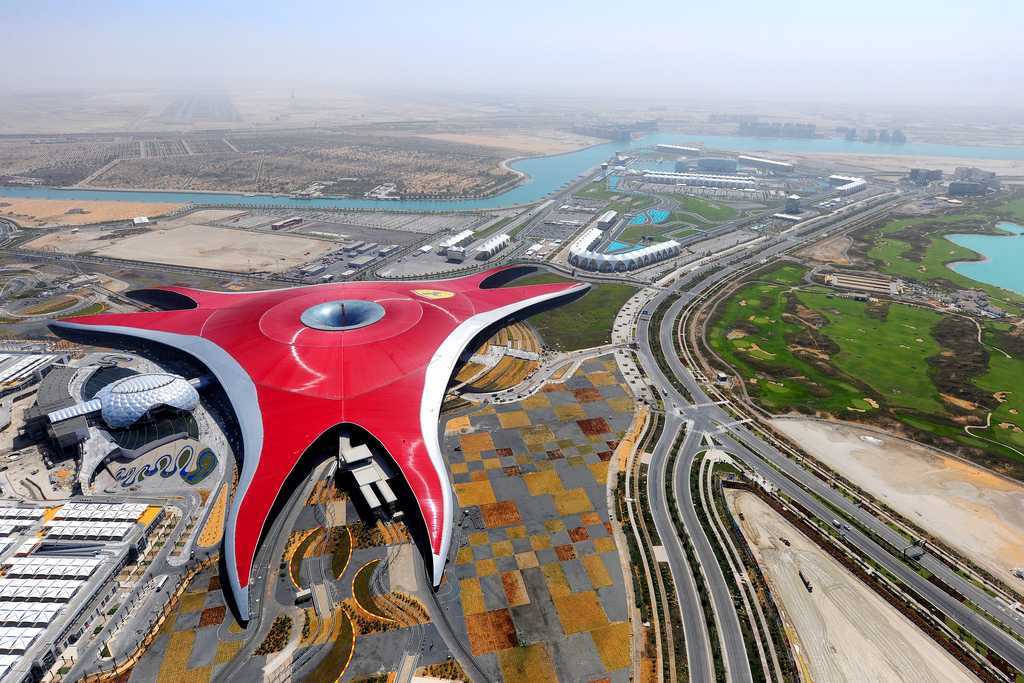 If your kids are fascinated by cars, Ferrari World is just the right place for them too. Encircling the Ferrari themed park, it is filled with thrilling rides and roller coasters that your kids are bound to have the time of their lives. Kids can indulge in go-karting, thrilling rides like the world's fastest roller coaster- Formula Rossa, Tyre Twist, Turbo Track and RC Challenge. Kids would also love to visit the Ferrari shopping store where they could pick souvenirs and toys for themselves.
Location: Yas Island - Yas Dr St - Abu Dhabi
4. Dubai Miracle Garden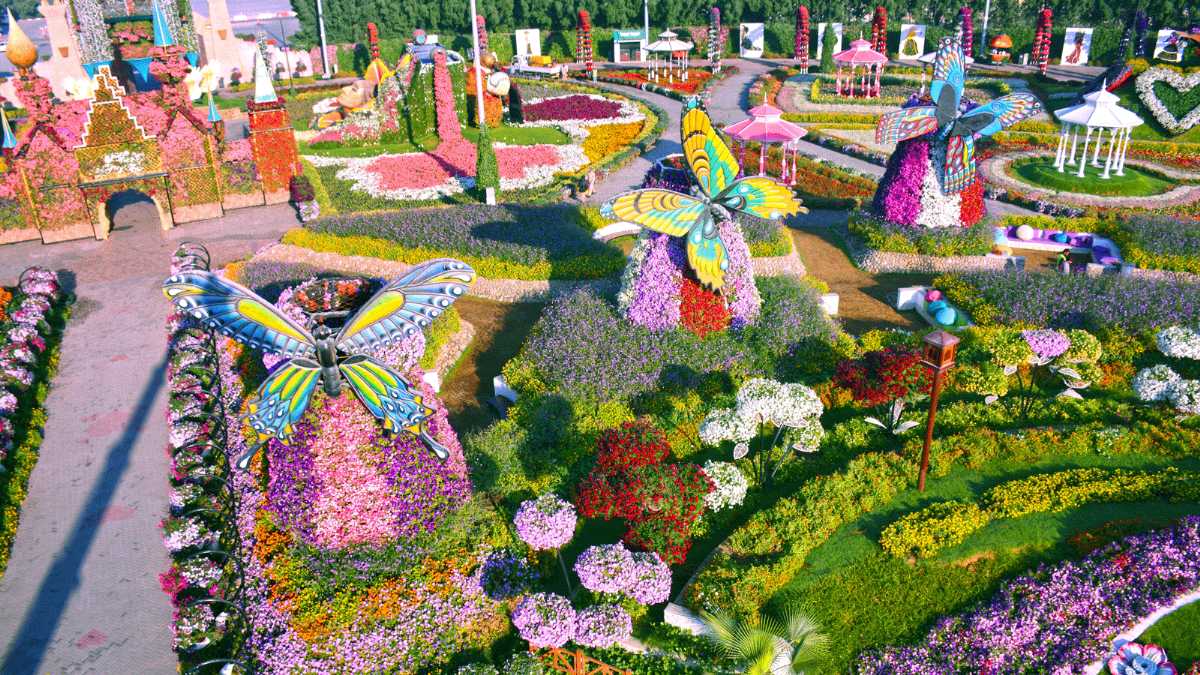 The Miracle Garden is home to more than 250 million plants and 50 million flowers. It is a 72,000 square meter flower garden. It houses a major attraction which is the Dubai Butterfly Garden which holds more than 15,000 diverse butterfly species. It will leave the kids mesmerized by the beauty of the garden and its species. If you're visiting Dubai with kids, then this colourful flower haven is a must-visit.
Location: Al Barsha South 3, Dubai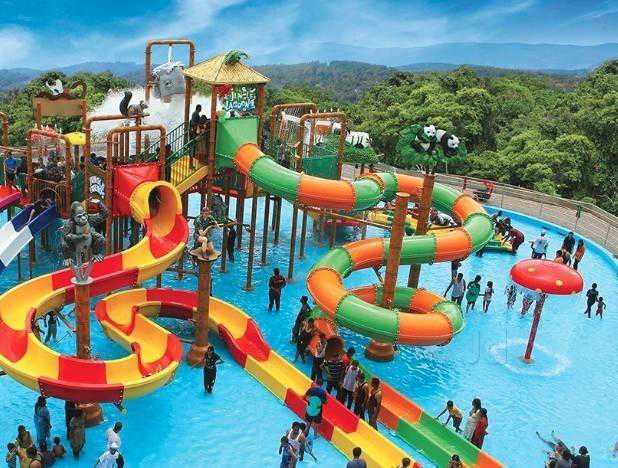 Kids love a little splash! And there's no better place to experience it than in Aquaventure Waterpark. The park has a plethora of activities and water rides to indulge in. The thrilling rides are sure to keep your kids engaged. It is the largest water park in the city.
Location: Atlantis The Palm - Crescent Rd - Dubai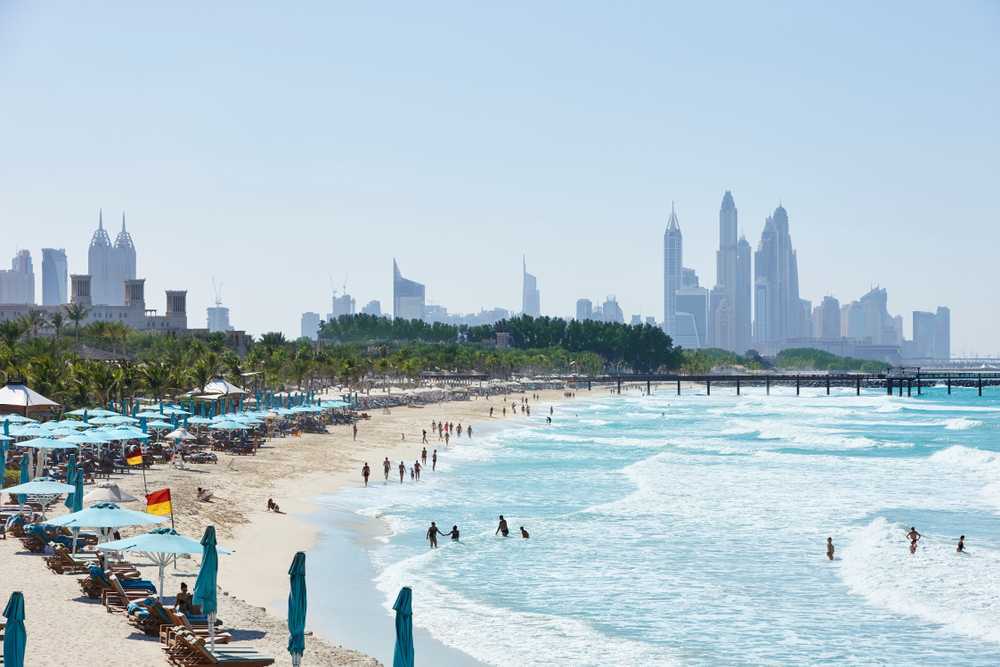 If you thought Dubai is all about modern architecture then you're mistaken. Jumeirah Beach is a must-visit destination with your kids. Sit by the beachside and unwind. The kids will enjoy making sandcastles and hitting the beach waters. Jumeirah Beach has a list of watersports and adventures like the Banana ride, fly fish and Donut ride. These rides are rare to find. Make sure you experience these rides with your kids.
Location: Jumeirah Beach, Dubai - United Arab Emirates
7. The Global Village


Dubai Global Village offers entertainment, shopping, and leisure under one roof. As the name suggests, it is a global village enclosing cultural experiences and will be a hit if you're visiting Dubai with kids. It has a plethora of stalls and pavilions representing 75 countries of the world. The heritage, culture and culinary flavours from several parts of the world is something you must expose your kids to. Other than this, it has rides and slides for kids and adults. It has a variety of entertainment and shopping options that will surely be enjoyed by the kids.
8. Bounce

Promising complete entertainment, Bounce is an entertainment zone where kids will enjoy the bouncy rides on interconnected trampolines, Fun Zones, and Trampoline walls. You can spend the day here. It ensures excitement and thrill to the fullest. People of all age groups thoroughly enjoy it here.
Location: Building no 32, 4B Street, Al Quoz 1, Dubai
9. Legoland


The ultimate theme park, Legoland is a thrilling, enjoyable experience for your kids. You can explore the Lego Factory, Lego City, Lego Kingdoms, Lego Miniland, and Lego Technic Twisters. Don't miss out on the dragon coasters and the underwater submarines with fun challenges at Legoland.
Location: Sheikh Zayed Road, opposite to Palm Jebel Ali, Dubai, United Arab Emirates
10. Edutainment Experiences
Make your trip an amalgam of educative and amusing experience for the kids. Give them a learning experience at play with these edutainment events and places in the city.
11. Dubai Aquarium and Underwater Zoo


One of the best experiences when visiting Dubai with kids is the underwater zoo and the 'World's Largest Acrylic Panel'. It is home to some of the most magnificent creatures of the world, including the giant crocodile and sharks. It's undoubtedly the greatest place to explore marine life and teach your children about diverse Flora and fauna. It is a walk through the 48-meter long tunnel with the aquarium on all sides.
Location: The Dubai Mall, Doha Street, Dubai, United Arab Emirates
12. Dolphinarium


Take your kids to the dolphinarium to witness the dance of the dolphins. Your kids can interact and learn about the stances and behavior of dolphins here along with enjoying the fun show hosted at the dolphinarium. It will be a moment to remember for your kids and they will take back a lot of insights from the interactions.
Location: Riyadh Street, Inside the Creek Park Gate 1, Dubai, United Arab Emirates
13. Jam Jar


Let your kids learn about art and explore the facets of it at Jam Jar. They can learn about the city's artistic developments and several cultural programs. It also holds educational with a hint of art at regular intervals. Don't miss out on this one!
Location: Unit H74, Alserkal Avenue, Al Quoz 1, Dubai, United Arab Emirates
14. Children's City


If your offspring is curious about science, space and anatomy, head to children's City. Visit this place in Dubai with kids as it is an insightful and unconventional experience that is rare to find across the world. Along with learning, there are amusement facilities as well. It houses a Planetarium, a Resource Center, Global Exhibition Section, Earth Science Gallery, a Nature Center, and a special Toddler's Area. Children up to 15 years will have the best time at Children's city.
Location: Located at Gate 1, Creekside Park, Al Riyadh Street, Dubai, Abu Dhabi.
15. Motiongate


If your child is a movie buff or is curious about films, head to Motiongate. It is a gateway to the golden era of Hollywood with real-life sets staged at Motiongate. Your child will discover the illusion of filmmaking, theatrical opening shows and the characteristic executive offices of a working movie studio. Along with this, the primary animation movie experience at Motiongate from the most spectacular motion pictures- DreamWorks Animation, Columbia Pictures, and Lionsgate. It will be an experience to remember.
Location: Park and Resorts - Sheikh Zayed Road - Dubai - United Arab Emirates
Kid-Friendly Eateries and Restaurants in Dubai
1. Cafe Ceramique


Is your child a budding Picasso? Head to Cafe Ceramique to let your kids undertake an artistic experience while they munch on their favorite food. The menu is well-curated keeping kids in mind. From finger food and snacks like chicken nuggets burger manias, pizzas, french fries to other appetizers, all convenient dishes are available.
Location: Town Centre Mall, Jumeirah, Dubai, Abu Dhabi
2. Rainforest Cafe


Rainforest Cafe is a unique dining, shopping, and amusement experience. Kids are bound to enjoy the rainforest backdrops with crocodiles, thunderstorms, butterflies and other species on display. It is sure to keep them attracted and engaged for a couple of hours while you can shop and make them binge on appetizers like burgers or popcorn shrimp with fries while they play around the rainforest zone.
Location: Ground Level, Dubai Mall, Downtown Dubai, United Arab Emirates
3. Chilli's


Chilli's is a fun and friendly place that is surely suitable for kids. The colorful ambiance, the world of art set up in the vicinity and the delicious food is undoubtedly a child pleaser. The lively atmosphere will keep them gripped to both their food and the activities happening around so you need not worry to keep your child entertained. They are sure to find something for themselves here.
Location: Al Mariah Mall - Ground Floor - Hamdan Bin Mohammed St - Abu Dhabi - United Arab Emirates
Kid-Friendly Hotels in Dubai
Of course, when travelling to Dubai with kids, they would enjoy a hotel that would keep them entertained with enjoyable spots and play-rooms. Having such facilities at hotels also turns out to be relaxing for the parents.
1. Jumeirah Beach Hotel


What makes it so ideal for the kids is a kids club which the hotel bears. With multiple play zones spread across the club, free to access anytime during the day. With safety locks on sliding doors, garden suites, it makes it a perfect stay with your children. The sea views from each room are sure to thrill your kid.
Address: Jumeirah Street, Dubai, United Arab Emirates
2. Atlantis, The Palm


With a building resembling a Disneyland kingdom, it is sure to lure the kids into a magical world. The hotel has a toy shop, Aquaventure water park and The Lost Chambers Aquarium where the kids will thoroughly enjoy themselves. With such facilities and free access, parents are bound to love the hotel for their kids.
Address: Crescent Road - Dubai - United Arab Emirates
3. JA Palm Tree Court


Surrounded by gardens and waterfalls, the hotel vicinity will enchant the kids. Not just this, it has a line-up of watersports, inflatable water park, and donut rides. It has children pools, a kids club, and camel ride arrangements. Along with the kids, the adults can also enjoy a game of golf in the nine-hole golf course. The hotel is a package deal as it keeps both kids and adults engaged.
Address: JA Golf Resort, Exit 13, Sheikh Zayed Road, Mina Jebel Ali - Dubai - United Arab Emirates
Preferable Travel Means
The Dubai Metro is a comfortable and economical transport means to opt for. Reserved compartments for women and families make it easier to carry your kids around.
If you're hesitant to take the metro, taxis are a viable commute option to travel with your families. Your ride will extend comfort for your kids and it is relatively easy to travel with luggage in a taxi. It is not too expensive either.
Precautions when Visiting Dubai with Kids
Dubai isn't a very pleasant location when it comes to the weather. It turns humid since it's a desert state, so avoid the summer with kids.
The shopping malls and larger spaces tend to be chilly due to air conditioning temperatures. Moving back and forth these spaces makes kids prone to fever. Make sure you take necessary health precautions.
It is better to opt for bigger hotels while travelling with younger kids. They make your stay more comfortable, they have babysitting services and zones to engage them.
The sun can turn out to be fatal all throughout the year with a risk of heatstroke to both your kids and yourself. Carry adequate hats, caps, sunglasses, tan creams for kids.
Otherwise, Dubai is a safe country. It has lesser crime rates, it is safer for women and is not as conservative as you think it is. Follow these travel suggestions and you're sure to have a relaxing vacation along with your toddlers.