If you think
Dubai
produces the best experiences on land and sea – touring the incredible
Burj Khalifa
, extravagant Dubai Mall stretches of clean, brown deserts, tranquil sea cruise, and a lot more – you are wrong. Dubai also produces the best experience in the sky. Enter skydiving. What's more adrenaline pumping than being thrown down from a plane at 13,000 feet above sea level and freefalling at 120 miles/hour? Fulfil your dream to fly by engaging in this intense activity on your next trip to Dubai. Here's what you need to know. With both indoor and outdoor options available, skydiving in Dubai is taken to another level. It is one of a kind experience that you won't encounter anywhere else in the world.
Types of Skydiving in Dubai
1. Outdoor Skydiving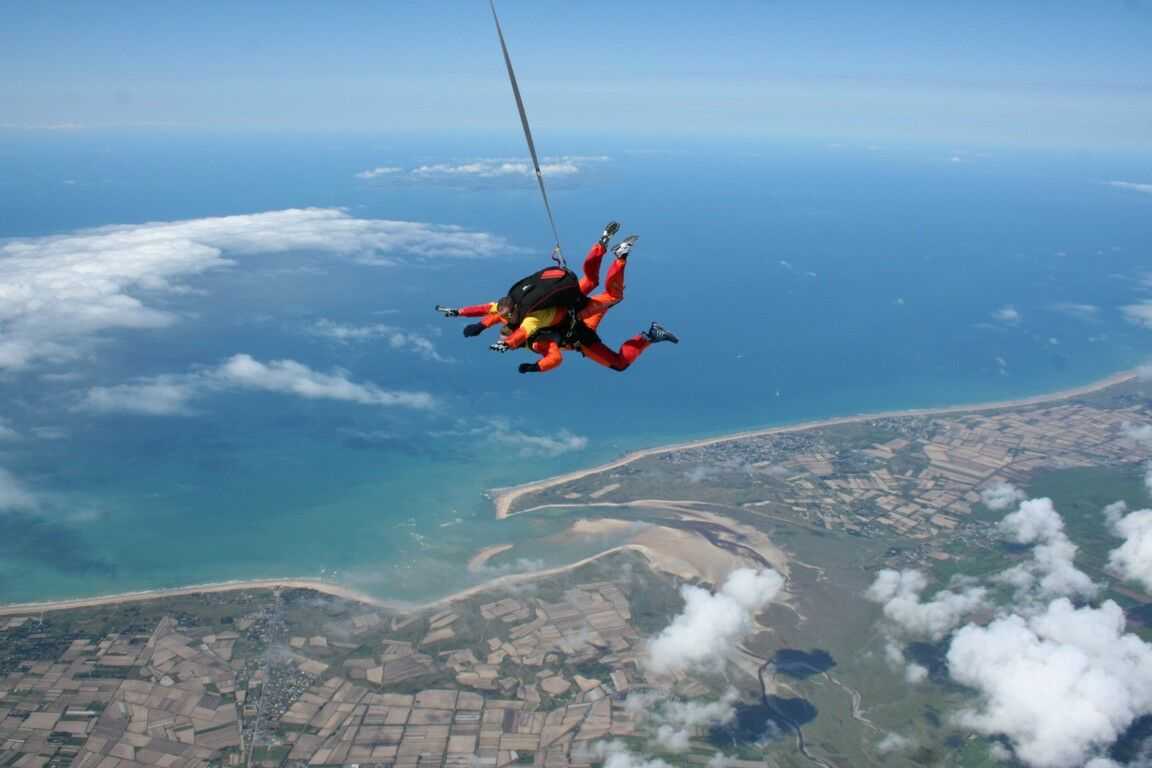 As the name suggests, outdoor skydiving takes place in the open. If you are a beginner, you will be a part of tandem skydiving, which means you'll be strapped to a professional skydiver during your jump. If you have a skydiving license, only then are you allowed to jump solo.
Once you are registered, equipped with all the safety measures and explained the whole process, you'll be taken up in the sky at a height of 13,000 ft. This is where all the action will begin. You'll take the leap of your life along with the professional instructor while another professional diver records your whole experience. You'll freefall for the first 60 seconds. As soon as you reach the height of 6000 ft your parachute will be deployed. Next up, simply enjoy the breathtaking view from up there for the next 4-5 minutes before you land on the ground (safely).
Operators for Skydiving in Dubai
SkyDive Dubai is the only outdoor operator for skydiving in Dubai. With world-class trainers, divers, and safety measures, SkyDive Dubai are excellent at the work they do.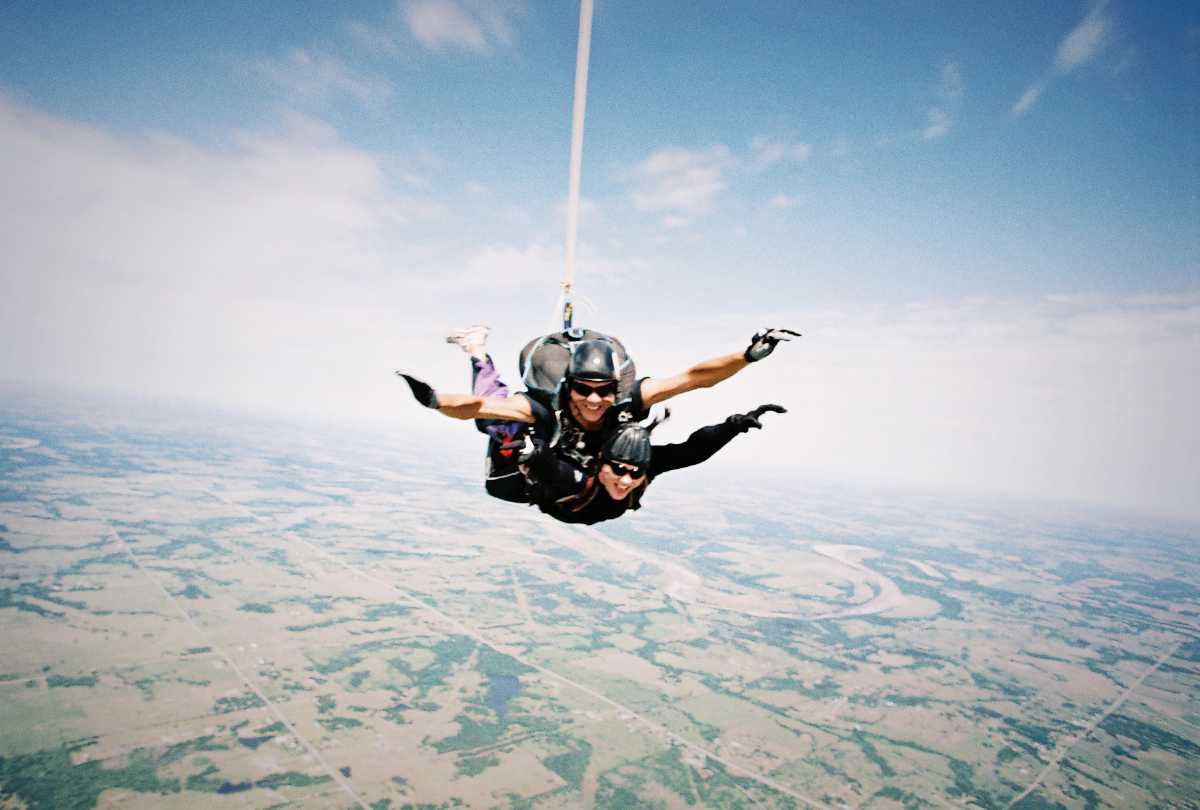 Locations of Outdoor Skydiving in Dubai and Price
1. Palm Zone:
A more premium location, The Palm Zone drops you just above the azure blue waters surrounding Palm Island. Here you will get to view the amazing Dubai skyline and prominent attractions of the city such as
Palm Jumeirah
Island, Burj Al Arab, Atlantis Hotel, and more.
Price: AED 2199
Address: Al Seyahi St - Dubai
2. Desert Zone:

Dubai lets you have the unique experience of the ocean on one side and desert on the other. Located just outside the city, on
Al Ain
Rd, the Desert Zone offers incredible views of the endless desert of the city. You'll see stunning sand dunes and the Dubai skyline in the distance.
In addition, you can also learn licensed professional solo diving at both locations
.
Price: AED 1699
Address: Al Ain Road - Dubai
For timings and bookings: https://bookings.skydivedubai.ae/Slot/GetSlotsForDate
Few Rules and Tips for outdoor skydiving in Dubai:

1. The diver must be at least 18 years old to be able to skydive
2. No one should be under the influence of alcohol or drugs.
3. One should be in a reasonable state of health with diseases.
BMI requirements:
Male - Weight: 100.0 kg or less. BMI - maximum of 30.0
Female - Weight: 90.0 kg or less. BMI - maximum of 27.5
2. Indoor Skydiving in Dubai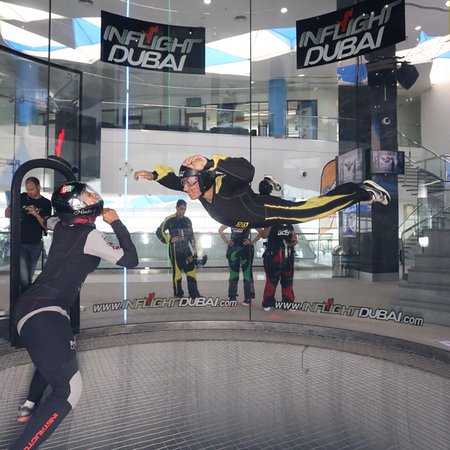 If you didn't know this, you can have a skydiving experience indoors as well, thanks to the development of technology. Prepare to defy gravity without having to jump out of a plane. A relatively new concept, this is ideal for those who don't want to shell out a large sum for outdoor skydiving or are too scared to try it.
The Experience
You'll be put into the world's first double vertical wind tunnel. With the help of powerful fans and air conditioners, you'll be floating in air 3 meters from the ground. Covered with acrylic glass, the tunnel is completely safe. A freewill simulation and state-of-the-art facilities will make you feel like you are skydiving in real life.
Indoor Skydiving Operators and Price: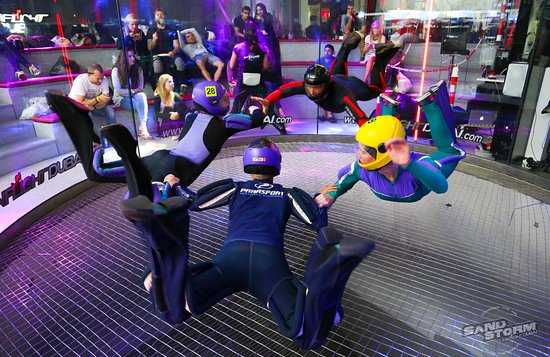 1. InFlight Dubai:
Inflight Dubai's tunnel is sized at 16.5 diameters and is one of the largest in the world. Located at a prime spot near the desert zone of Skydive Dubai, divers can combine the fun of outdoor and indoor skydiving. They also host sports competitions from time to time. Make sure to check out their website (http://inflightdubai.com) for more details.
Price:
AED 262 for 2 mins
AED 497 for 4 mins
AED 706 for 6 mins
AED 889 for 8 mins
AED 1,048 for 10 mins
Address: E 66, Skydive Dubai Desert Campus The ideal time for first-time flyers is 2 to 6 minutes. You will learn the basics of indoor skydiving and also enjoy the whole experience.
2. iFly Dubai:
iFly Dubai is the first indoor skydiving place to open in a mall. With 10ft Fly Chamber Diameter, the tunnel is part of The PlayMania, an entertainment complex. In addition to indoor skydiving, you can also enjoy indoor skiing, bowling, aqua park, football, bowling, and more.
Price: AED 220 for 2 mins
Address: Third Floor, Play Nation Area, City Centre Mirdif, Ghoroob, Sheikh Mohammed Bin Zayed Road.
Few Rules and Tips for Indoor Skydiving in Dubai:
1. The minimum age for the diver should be 3 years
2. Weight barrier: Under 180 cm: 105 kg max.
Over 180 cm: 115 kg max.
Skydiving in Dubai is an enthralling experience whether you choose to dive indoor or out in the open. With excellent trainers and equipment offered at a cheaper price than other cities, get this adventure checked on your bucket list the next time you visit the City of Gold.