Dubai is the only constant name you'd hear in every list that is even remotely regarding shopping. Millions of tourists flock every year in awe of the shopping lifestyle. Well, what can we say, the people here take shopping very seriously? Over here, you'll witness many new malls being inaugurated every year. Despite many claiming shopping in Dubai is expensive, it really isn't. The shopping malls in Dubai are famous for its extravagant interiors and all the luxury brands that it provides. With at least a new mall opening every year here, it is no wonder why people go gaga over shopping here. There are sales in malls almost every other month,
'Dubai Shopping Festival'
an entire festival dedicated to shopping is held at the beginning of the year, and every mall provides different kinds of entertainment. The malls are usually open from 10 in the morning to 10 at night. During Ramadan, Eid, and other public holidays, you can even expect the shopping hours to extend till 12:00 AM.
Here is a list of places for the ultimate experience of Shopping in Dubai:
Malls in Dubai
1. Dubai Mall: The Ultimate Shopping Mall of Dubai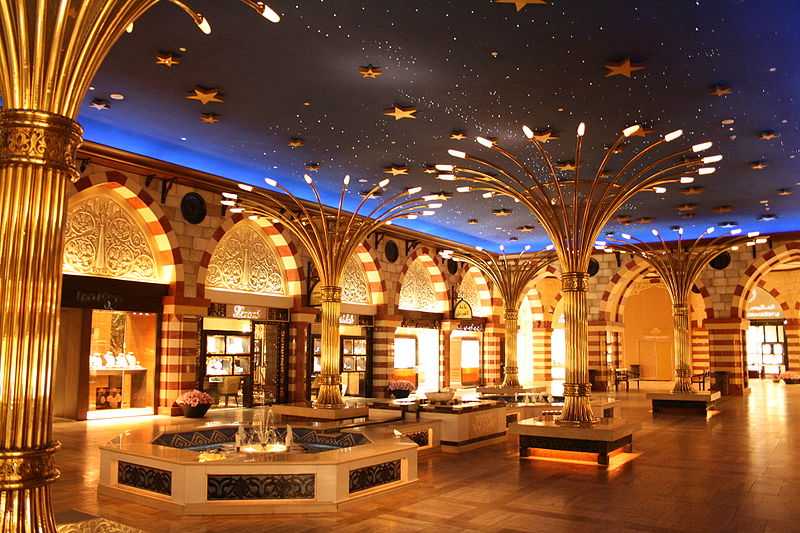 The iconic Dubai Mall is the largest shopping mall in the world. Located next to the tallest building in the world, Burj Khalifa, and most popular hotels in Dubai, this mall truly breaks every record in the world, having the largest candy store in the world 'Candilicious', the largest choreographed fountain show, the biggest indoor aquarium, and an indoor underwater zoo. It also has an inbuilt souk, selling beautiful European jewellery, an indoor Ice-Rink, an indoor theme park 'Sega Republic', the famous 'KidZania', a haunted house, a cinema, and over 1,200 shops and retail stores and 150 cafes and restaurants. Like the Louvre, if you wish to enjoy this mall, store by store and avail all of its experiences excluding the various eateries, it may take you one entire week or even more than that! It's malls like this one, which gives Dubai its much-acclaimed title of 'The Ultimate Shopping Destination' in the world.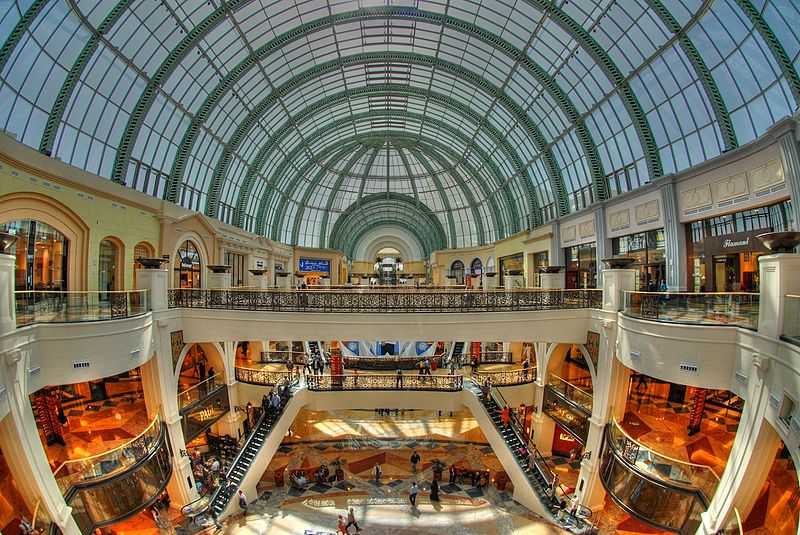 Yet another huge mall surrounded by posh hotels, this is the World's first shopping resort and one of the largest in the city. Mall of the Emirates has 560 international brands, more than 630 high-end stores, the largest Carrefour in the city and its own 'Fashion Dome', which houses major global designer brands. It has prominent fashion brands, bookshops, banks and beauty lounges apart from the restaurants and two food-courts. You can also enjoy regular exhibitions held at the fashion dome by the top fashion designers of the world. Ski-Dubai, world's largest indoor themed ski resort, is a popular attraction. There's a café inside SkiDubai which serves its famous hot chocolate, and truly having a hot chocolate in the freezing -4 degrees inside is a heavenly feeling. This place for shopping in Dubai also has its famous DUCTAC theatre which hosts various plays, dance shows, and stand-up comedians.
3. Ibn Battuta Mall: The Ultimate Dubai Shopping Experience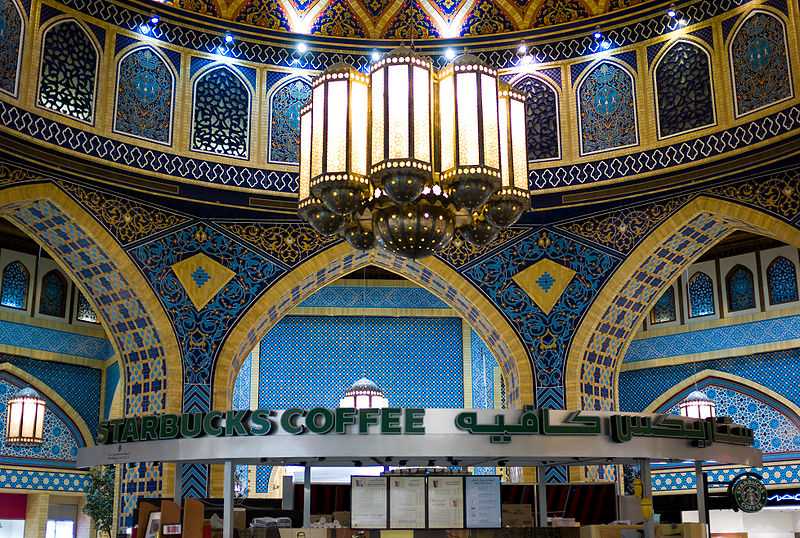 The concept of this entire mall is based on Ibn Battuta's travels and is the world's largest themed mall. The mall celebrates his achievements and discoveries, so there are different courts located in different areas that resemble the places he travelled such as China, Persia, Egypt, Tunisia, India. This is perhaps the only mall where you'd be able to cover every single store since the mall has only one floor. Multiple cafes and restaurants are spread throughout the mall, with some even placed at an outside providing splendid views. It houses the only IMAX cinema in the nation and most of the affordable yet popular brands.
4. Deira City Center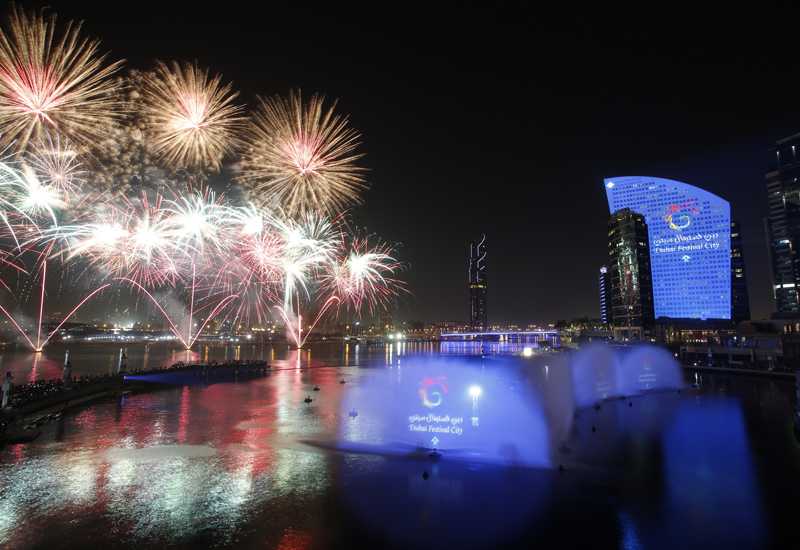 If Burjuman is one of the premier malls in the emirate, then DCC, as we call it, is the first proper shopping mall in the city, hence, making it a locals choice for shopping in Dubai. It is located in Deira, a prime and one of the oldest regions in Dubai. DCC still bustles and is easily one of the busiest malls during the weekends. Home to many brands and the electronic giant Sharaf DG, it also houses the VOX movie theatre, Magic Planet, and a bowling city.
5. Burjuman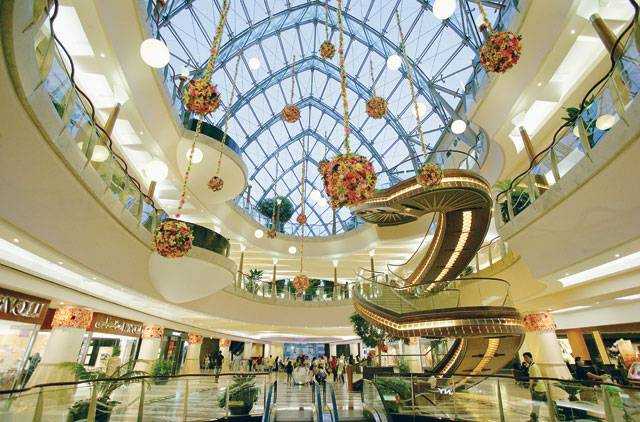 Burj Dubai is practically the hub of Dubai, so it is only convenient that this mall is strategically located here. Talking about convenience, it is easily accessible by the metro, bus and of course taxis. It is connected by both, red and green, metro lines. One of the premier malls in Dubai, Burjuman has recently undergone a renovation and now caters to all your needs, and has more brands than ever. With roughly two floors dedicated to restaurants and cafes, it is ideal for the ones with a healthy appetite. It has the UAE's only Saks Fifth Avenue centre.
6. Mirdif City Center
MCC is relatively newer than the lot. Located in the sophisticated locality of Mirdif, this new mall has already become quite popular with the residents as it houses some of the most iconic and affordable brands. The mall has something suitable for all kinds of budget, and when the mall has the sales, the entire Dubai comes here to shop. It also has baby changing rooms, and most importantly the entire mall is eco-friendly. MCC offers varied entertainment choices, such as IFly which is an indoor skydiving centre, Sky Trail and Climbing Wall, Little Explorers which is primarily for kids, Soccer Circus Dubai, AquaPlay, Vox Cinemas and Magic Planet.
7. Dubai Festival City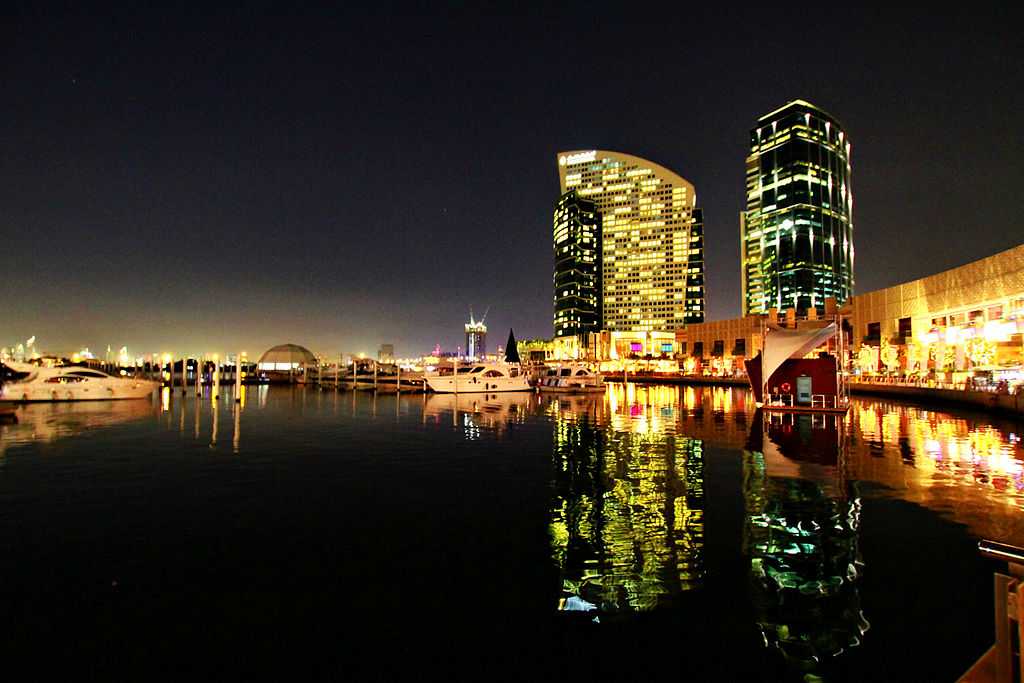 This mall, a personal favourite, is one of the largest and is still undergoing Dh 1.5 billion renovation. Though DFC has most of the famous brands, is still comparatively quiet. It has the largest Aldo store in the world, one of the largest IKEA stores in the region, an exclusive Ferrari store, a bowling centre, the famous New York restaurant Serendipity, the only Mint Velvet store to exist outside the U.K, and the only Hard Rock Café in the country. Apart from all the shopping brands and various eateries, the best part about DFC is that it faces the historic creek. Visitors can just stay outside and gaze at the creek and imagine the older, less hustling lifestyle of people, and when they look up, they can witness the bridges and the iconic Dubai Skyline, providing a beautiful contrast. During the cooler months, an everyday mini 'fair' is also held in front of the creek with lots of games and small stalls of food, accessories, and souvenirs. One of the highlights of DFC is the fountain show, similar to the one in Dubai Mall, however, it simultaneously also presents the incredible Laser show in the evenings. This is a wholesome experience when it comes to shopping in Dubai.
8. Outlet Mall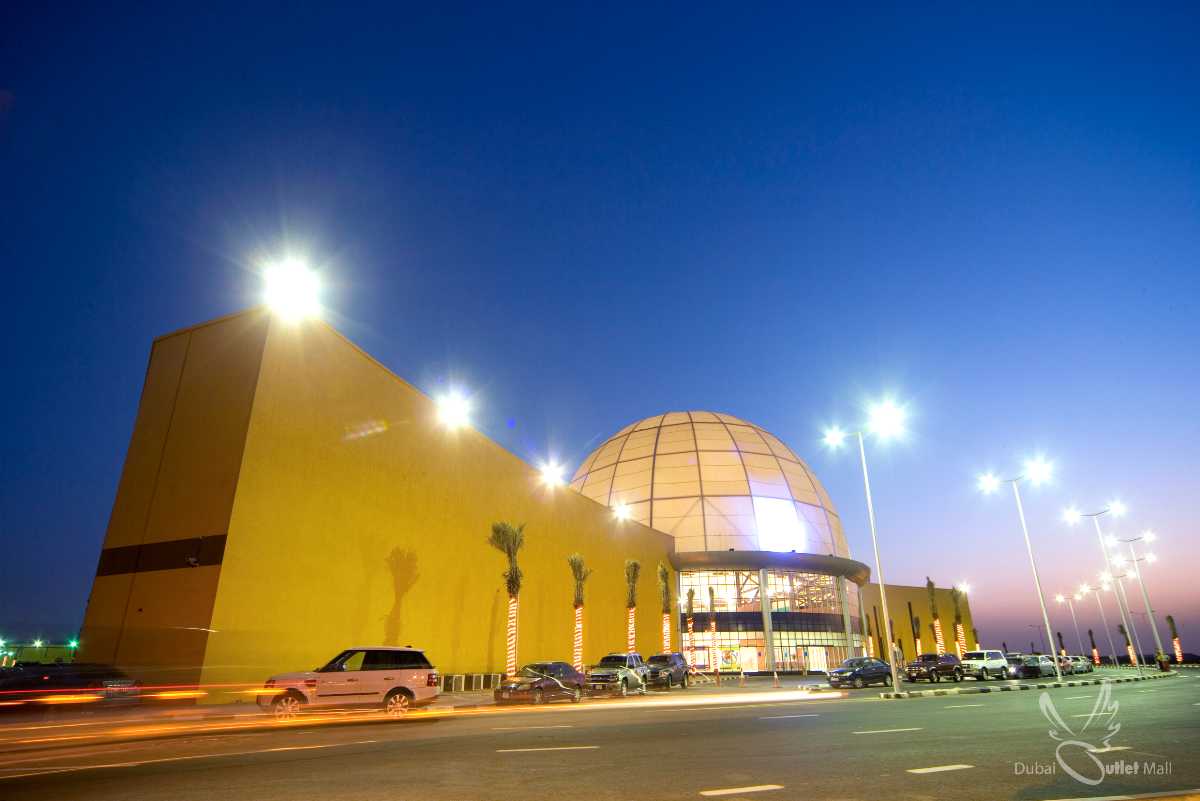 Unlike others, this mall is not situated in the city, but in the outskirts of Dubai. Perhaps this is why it is relatively less crowded. However, this hidden treasure is one of the favourites among the residents' thanks to the sale it provides. The 'Outlet' themed mall, offers Warehouse/ Factory sale and always has 40%-90% off any time of the year. Sale season is a big deal at this mall, and you'll see the entire city flocking to the mall during the sale season, as it ensures unbelievable discount on all the major fashion brands, perfume brands, sports brands and many others. Housing more than 240 stores, various eateries, and a play area, it also has the largest Chuck-E-Cheese in the country.
Souks in Dubai
Souk is an Arabic word which means 'market'. Prior to the lavish malls in Dubai, there were souks that were used to buy things. Naif souk, is the oldest souk in Dubai, which was earlier used as a market-place by the Bedouin tribes to trade camels. Now Naif Souk is one of the busiest souks in Dubai. When traders from around the world would come here, they'd unload their stuff at these souks. Which explains why most of the souks are located on either side of the creek. Many other souks are however spread all over the city. These souks too are mostly open till 10:00 AM to 10:00 PM, but few shops within these souks may close down for lunch. The narrow streets bustle with shoppers and have a very vibrant atmosphere. Bargaining is a common rule in these souks, wear a comfortable outfit and carry lots of water and sunscreen to accommodate your shopping spree.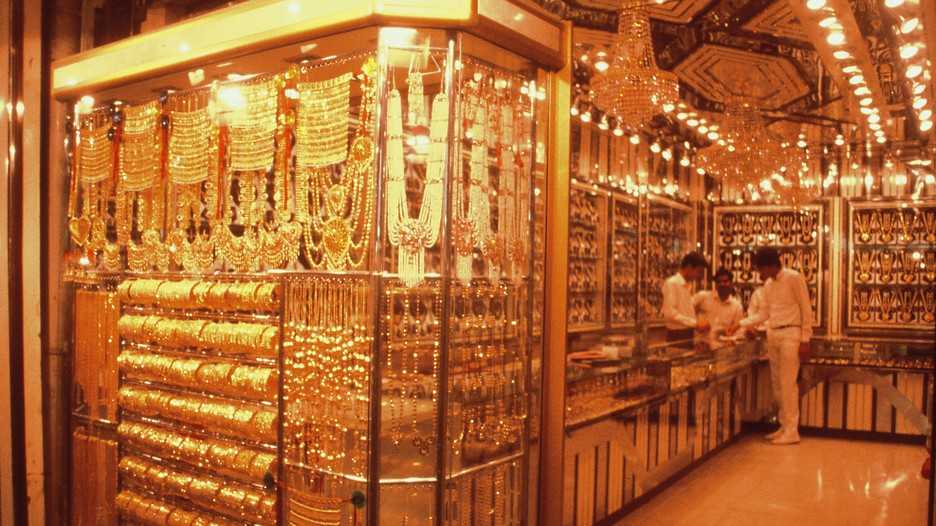 This is perhaps the most popular souk in Dubai, with nearly millions of tourists flocking in the narrow streets of this ever enchanting souk. Here articles made of gold, such as necklaces, bangles, earrings, brooches, of 22 and 24 carats. World's largest certified Gold Ring is on display here. Designs showcased vary from modern to traditional, from fancy to conservative, from sturdy to delicate; one just needs to look at all designs to decide which the best is. Though the souk is an ideal place for window shopping, if you know the art of bargaining, the gold souk might just be your favourite place. Located near the Dubai Creek and open till 10:00 PM, it is easily accessible from the metros, taxis, and buses.
10. Spice Souk
Located right next to the Gold Souk, this street is one of those whose aroma would last in your mind forever. Filled with colourful spices, such as cinnamon, saffron, cloves etc., coming in from various countries around the world.
11. Souk Al Bahar at Madinat Jumeirah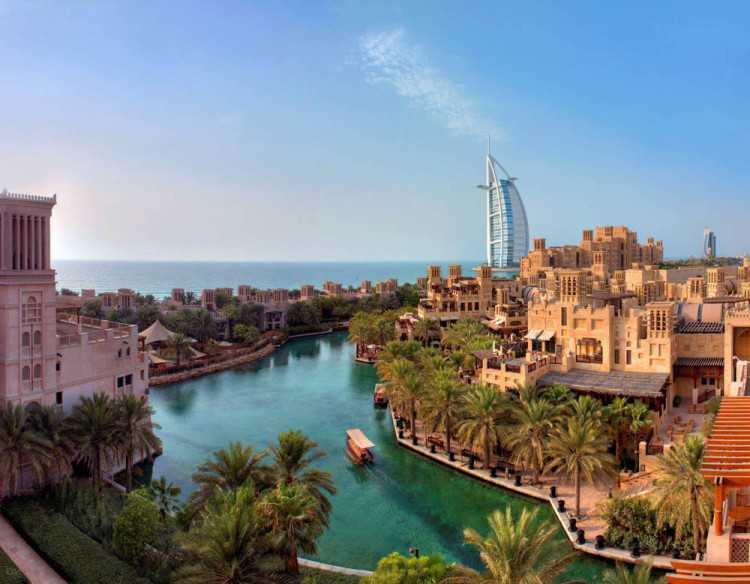 This is a contemporary styled souk, nestled between the five-star hotels Mina a Salam and Al Qasr. This is a retake on the traditional souk, it is a modern souk with modern architecture but with the traditional souk styled stalls and the narrow lanes. A popular tourist attraction, the stalls, and stores sell paintings, souvenirs, sculptures and design houses among others. Outside, various restaurants and cafes surround the beautiful human-made creek. With the seven-star hotel Burj Al Arab in the view, it is no surprise that there are long waiting for lines at night for the restaurants, because who wouldn't want to sit by the creek with their meal, witnessing the enchanting moonlight and the glowing Burj Al Arab The souk also offers dhow rides along the creek making your experience even more romantic.
12. Perfume Souk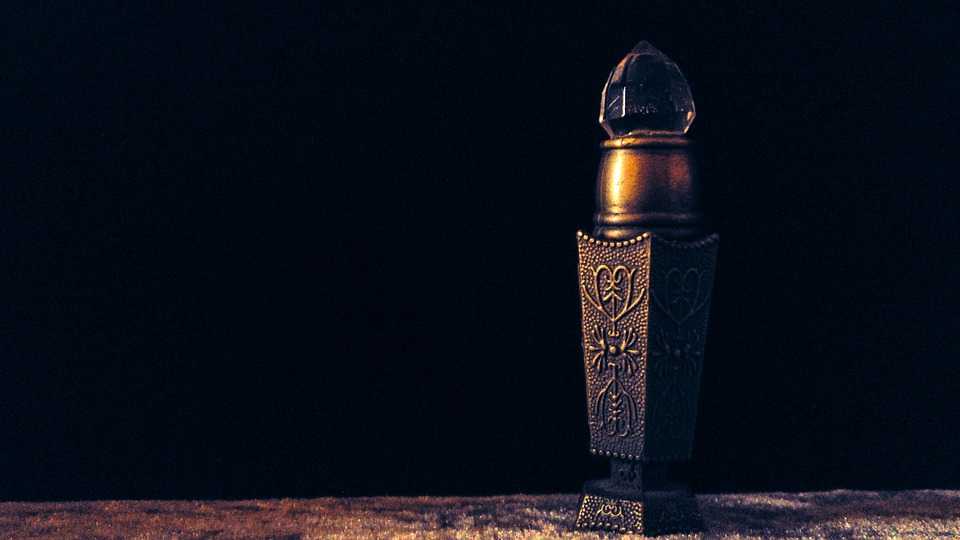 Though you can buy perfumes from even the independent stores in the malls, if you want variety, then this is your place. This souk too provides aroma, but one that is much stronger and tantalising. This street is a collection of Perfume shops, in Sikkat al Khail Roads, Deira. It has the traditional Arabic ittars and also the latest collection of perfumes. Some shops even offer to create your personalized fragrances! This souk is well-priced, and bargaining is a custom here whether you want to buy perfumes, ittars, incense sticks and more.
13. Old Souk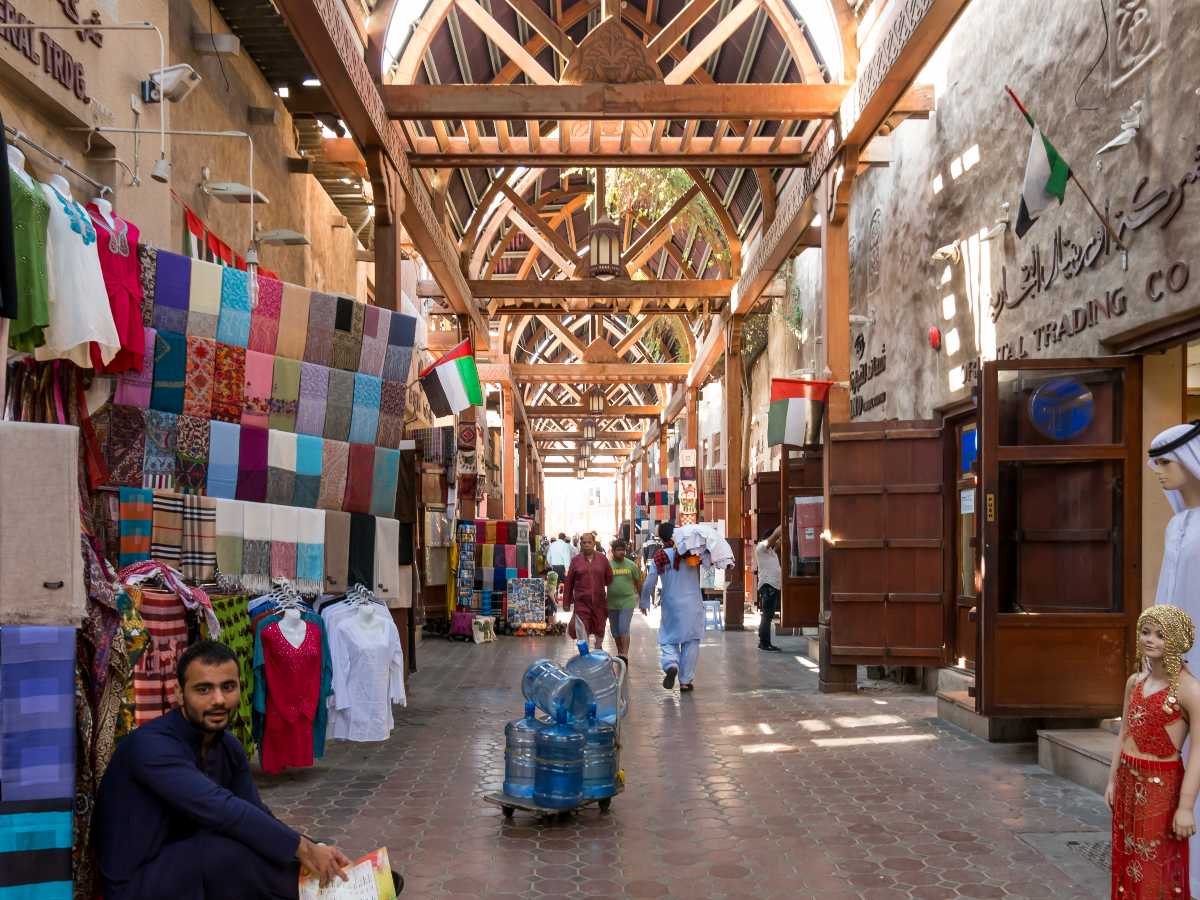 Also known by Textile Souk and Cosmo Souk, lies on the other side of the creek, Bur Dubai. It offers a range of fabrics, garments, footwear, souvenirs and other goods. It is easily accessible by the metro, taxis, and buses. However, to have a unique experience, come shop in the souks mentioned above, located on the other side of the creek, Deira, and take a water-taxi or an arba to come to this side of the creek and visit Old Souk.
14. Meena Bazaar
This souk is dedicated to the Indian minority which is a prominent one in Dubai. It is a marketplace, a hub for people to meet, and there are shops for Indian furniture, Indian jewellery, Indian spices among others. It also has those cheap electronics repairing shops, which is uncommon in Dubai. A visit to Meena Bazaar is sure to make you believe that you are in a street of India. In addition to being a marketplace, Bazaar is also home to the only two temples in the country, dedicated to Lord Shiva and Lord Krishna. It is accessible by the metro, buses, and taxis.
15. Naif Souks
One of the oldest souks of Dubai, this was initially a camel market where the Bedouin tribes would come to buy/sell camels and various other necessities. Now it has evolved into a proper air-conditioned souk, selling almost everything under the sun from souvenirs to handbags, and from leather to jewellery.
16. Fruit and Vegetable Souks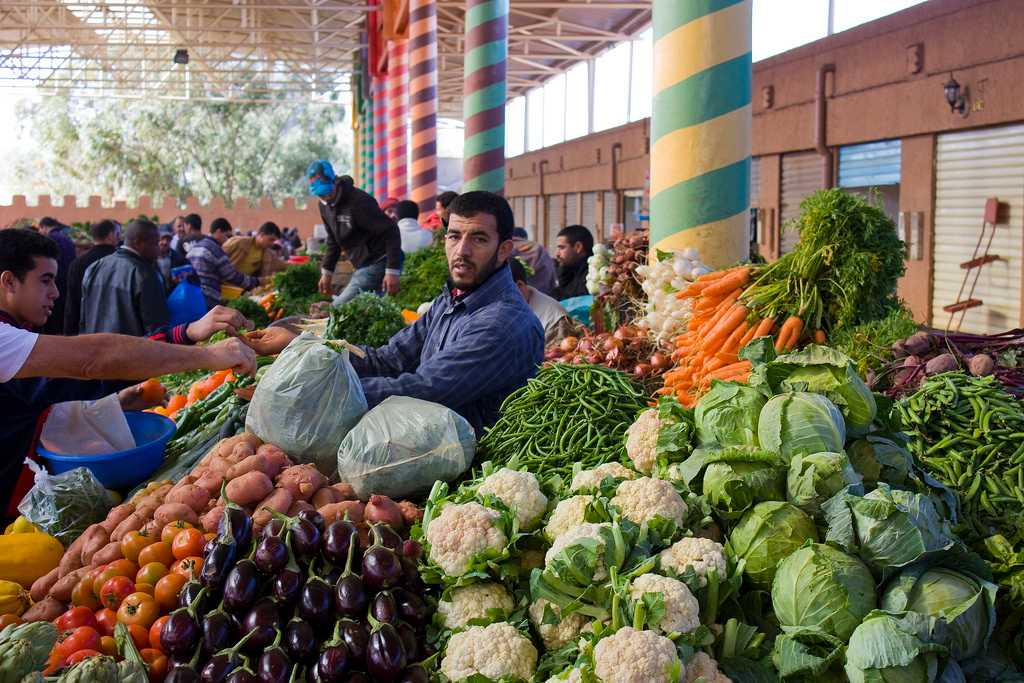 Situated in Ras Al Khor, Emirates Road, this souk is ideal if you wish to purchase fresh and best quality fruits and vegetables in bulk. There awaits dozen of stalls for you with different varieties of foodstuff and at the best rate. You can even hire men with trolleys to accommodate you with your shopping spree. This souk is known for the fresh produce and great savings.
Things to Buy in Dubai
Pashmina shawls, which is made of 100% silk and cost around DHS 250 (approximately INR 4500). Available in many different colours and varieties, pashmina shawls are extensively sold in Deira Souk.
Gold is also one of the foremost things to buy here, along with rugs, carpets, electronic, dates and leather.
Arabic perfumes and different varieties of spices are also few things that tourists adore.
It is also an ideal place to buy loads of chocolates. Almost all the international brands of chocolates are available here, with different varieties and you can even buy multiple packs of them because almost always they'd be on sale!
Arabic dates and nuts
The vast options for shopping in Dubai make the Emirate a 'Global Shopping Destination'. Dubai has many malls with many brands that suit all budget requirements. And if that doesn't satisfy your needs, then go for a stroll in one of many souks, which welcomes you to affordable things. There's something for everyone in this city, and maybe that is why this city is known to the world as, Dubai: The shopper's paradise.