Alserkal Avenue is an arts and culture district located in Al Quoz, Dubai. Started as an industrial unit with several warehouses, the district has now been transformed into a major arts and cultural forum. The Alserkal District accommodates several houses for local and global artists, art galleries, museums, performing platforms, design studios and exhibition halls. The place is a perfect amalgamation of engineering and creative spaces and at present has more than 94 warehouses.
When in the Alserkal District ?
The arts district functions with an aim of encouraging present-day art and to create a productive community. Spread across 50,000 square feet of land, it is a designed warehouse which signifies creativity and talent of the arts men and local folk. You can have a good time at the art galleries, art spaces, studios, project spaces, theatre and even have a good meal in the cafes. The creative expression of artwork and knowledge in abundance is what you will find when in UAE's first art district. The place is the perfect abode for different personalities, artists, workers, creative souls and art junkies alike.
The district highlights and shows the interdependent relationship between art and fashion, kinetics and art and how technology and latest updos are important for survival.

You can explore music and photography or try to understand the folk culture if edgy art events and pop-up galleries are not your thing. You can also enjoy a movie or documentary in the small theatre that the district has to offer.
The area surrounding this arts hub is as colourful and full of unique gems as it is on the inside. You can engage in adventure activities like rock climbing and indoor climbing or play in the sports centre. The vicinity has a trampoline park and a 24-fitness gym to add up to its fun and thrill as well. You can also cycle around or get yourself clicked against the graffiti walls or coloured trucks and backgrounds.
General events that might interest you!

Exclusive events take place in the Alserkal Avenue during Ramadan or Eid which includes special iftaars and food cuisines such as Arabic and Japanese.
The events which occur around the corner include photobook shows which is like a photography display, Do-it-yourself or DIY shows, cross-cultural paintings exhibitions, documentary production and editing technique classes, sessions of footage mixing, solo-exhibitions, canvas arts, abstract sculptures and unique catering and dining during prominent festivals in the town.
The arts avenue often takes up one topic/issue at a time and deliberates and holds panel discussions, auctions and talk shows.
Must-Visit Places when in the District of Art
Though beautiful and interesting throughout, the Alserkal Avenue has certain special galleries and museums that are worth giving a visit.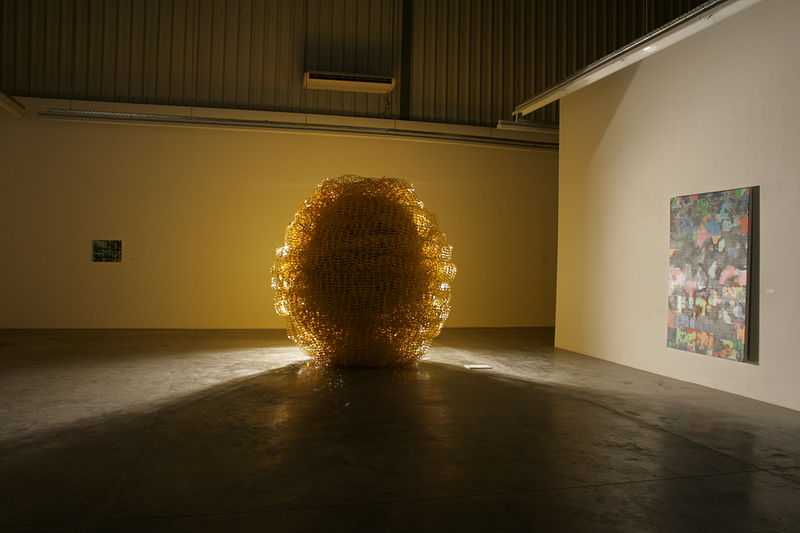 1. Ayyam Gallery
is one of the firsts gallery to open up in 2008 by a Syrian artist. Considered to be a big and bold gallery, it revolves around the issues of terrorism, war and identity.
2. Third Line
is the oldest contemporary art space and is highly large and spacious. It represents Iranian-middle Eastern art.
3. Carbon 12
is an active art gallery which came to the avenue in the year 2009 and brought along many other exhibitionists and artists to Al Quoz district. It recently held its 50th exhibition and aims at educating and engaging public. It occasionally holds talks and publication launches.
4. Junction
is a performing arts space with open platform for various comedians, poets, dancers, actors and musicians. It provides a display of talent and culture combines.
5. Mad
, aka, MECHANICAL ART DEVICES GALLERY is a perfect display of art and mechanics combines. It uses the latest technology and machines, and exhibits a series of watches, cars, bikes, robots and flying creatures.
6. Grey Noise
is a conventional arts gallery which was originally founded in Bangalore and now is based in Dubai. It focuses on local and contemporary art practices from South Asia and Middle East and is run by its Pakistani owners. The best part about this gallery is that you will always find someone to guide and explain you through the gallery.
7. The Fridge
is a growing collaborated performing arts centre which focuses on innovation and talent. Situated in the warehouse no. 5, ?The Fridge? is open to various singers, musicians, acrobats, dancers as well as to artists performing concerts, rock, classical and pop.
Discovering food in the quirky district!
Amidst your trip in the vast Alserkal Avenue, getting tired after visiting exhibitions and galleries is obvious. You can find a couple of food joints in and around the arts district and these little-cosy cafes and restaurants are just-perfect to stop by, rest, grab a bite or two and get going!

1. The A-4 Cafe
situated in the avenue is not just a cliché café but also a co-working space with projector and cinema rooms. It has a free wi-fi and worth trying snacks and coffee. It is also a great place for holding meetings.
2. Mizam Chocolate Maker
is another famous place in the avenue. They are famous for their chocolates, gourmet bars, cocoa beans and the factory where you can watch everything- from making to packing of the yummy chocolate bars!
3. Wild and the Moon
is the go-to place for all health freaks situated near the arts hub. Famous for its healthy dishes and delicacies. This café serves fresh fruits and vegetable juices and smoothies. It has a live fruit counter and also has tasty snack-bars.
4. The Moon
is another restaurant-café surrounding the Alserkal district and is themed all organic and raw. The place serves raw, plant-based food and drinks. Turmeric latte at the café is a must try.
5. Tom & Serg
located on the Sheikh Zayed Road in Al Quoz is another famous café famous for its coffees. The place is also widely visited by the local crowd because of its smoothies, vegan food, eggs and the lovely flavours.