Shawarma is the favourite go-to food when it comes to alleviating hunger. Shawarma is one of the world's most famous and loved Street food. It has pieces of meat (lamb or chicken, commonly) stuffed in a roll where the meat has been grilled for almost all day long. Shawarma continues to be famous all throughout the world, focused mainly on the Arabian peninsula. Different countries have come up with their own versions of it, but that of Arab nations completely stand out for being the original one.
Shwarmas in Dubai
Dubai's shawarmas are cheap as compared to other Arab nations while unfailing in their endeavour to bring the right taste to the food. Shawarma have found references in all walks of life, from movie references as shown in the movie 'Avengers? to the Indian food market itself. Dubai's shawarmas are juicy and have the right balance of condiments where the right amount of meat matters just as much as from which part of the chicken is the meat coming from. The texture and the bold flavours of the Shawarma of Dubai make it a sizzling fantasy for any foodie out there. The pitta roll is stuffed with grilled chicken bathed beautifully in garlic sauce and mayonnaise.
Here is a list of 11 places to try best Shwarmas in Dubai:
1. Al Mallah
Al Mallah continues to be one of the most famous places in Dubai if one wants to try out Shawarma. It has three outlets around the city, and the staff is considered very polite and friendly. They also serve out falafel sandwich just in case one wants to send their taste buds in a frenzy.

Location: Satwa, Mamzar, Al Qusais
Cost: AED 8 per chicken shawarma
Timings: Daily from 07:00 AM to 02:00 AM on weekends from 09:00 AM onwards
2. Al Ijaza Cafeteria
This isn't the best place if you're in a rush for it's crowded almost all the time. Al Ijaza is a very casual and frank cafeteria. The best part is the way Al Ijaza takes orders of customers: If one wishes not to sit inside, one can honk, and someone will come out and take their order.

Location: Jumeirah 1
Cost: AED 6 per chicken shawarma
Timings: Daily from 09:00 AM to 03:00 AM and on Friday, from 11:00 AM to 03:00 AM
3. Al Safadi
Ever thought about having a glimpse of
Lebanon
while sitting in Dubai? Al Safadi does just that. It is a more formal kind of restaurant where families and friends come together and sit down and chat as they snack. It is known as one of the most popular Lebanese spots in town. Their shawarma is delicious and authentic. With three different locations in the UAE, this spot is quite accessible to many people.

Locations: Al Safa, Trade Centre, Al Rigga
Cost: AED 10 per chicken shawarma
Timings: Daily from 08:00 AM to 02:30 AM
4. Belad Al Sham

Belad Al Sham is a surprise to the eye. From outside, the shop may look completely insignificant but once the consumer steps in, he or she can smell the roasting chicken and thank themselves for stepping in. The quality of the ingredients is great, and they have different varieties of chicken shawarma including a Mexican shawarma plate. It's more expensive than your usual shawarma, but said to be worth the price.
Locations: Al Barsha, Al Qusais
Cost: ED 28 per chicken shawarma
Timings: Daily from 08:00 AM to 12:00 AM
5. Mr. Shawarma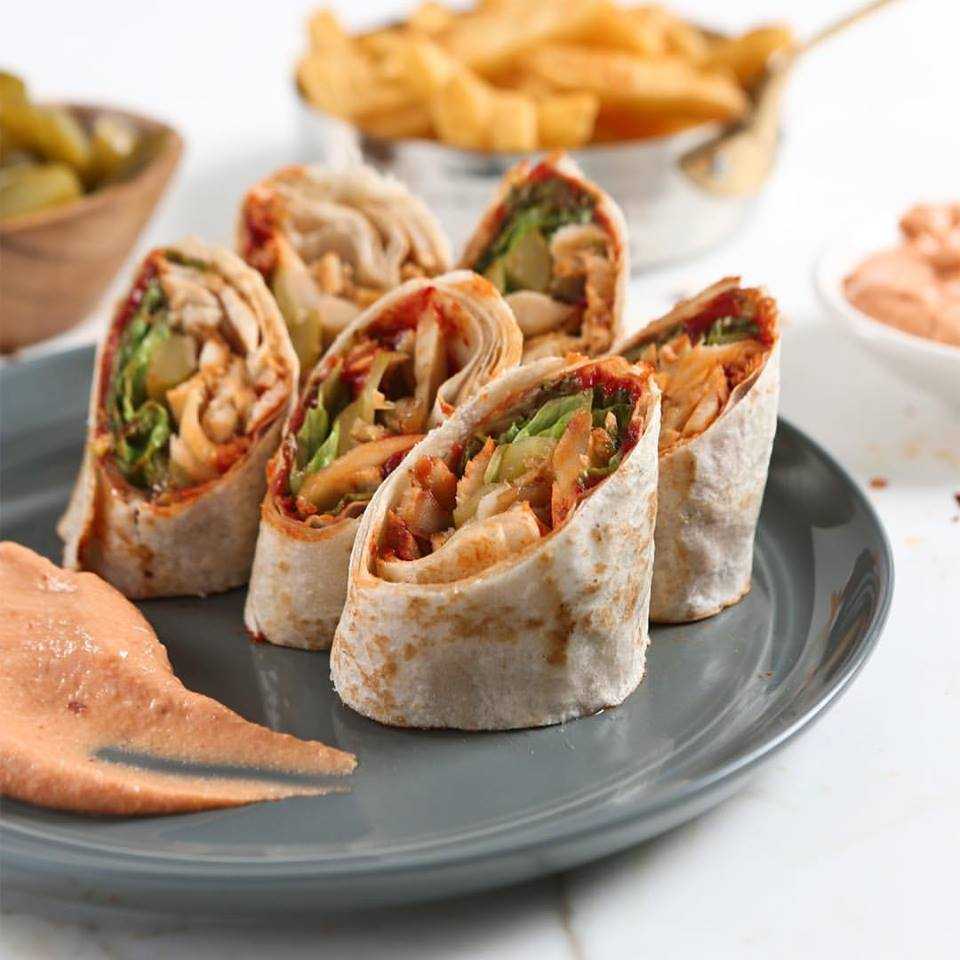 The name says it all. This shop is small and compact while making no restrictions upon the quality of Shawarma served. The shawarma is tasty and affordable. Customers can choose between a variety of bread like French bread, Iranian bread, Lebanese bread, etcetera to be used in their Shawarma to provide a customizable experience.
Location: Hor Al Anz, Near Post Office
Cost: AED 28 per chicken shawarma
Timings: Open 24 hours
6. Set Al-Sham
Set Al-Sham proves to be a great place for those living in and near the Silicon Oasis area to enjoy delicious chicken shawarma.

Location: behind Silicon Oasis, Near Dubai Outsource Zone, Academic City
Cost: AED 6 per chicken shawarma
Timings: Daily from 08:30 AM to 12:30 PM
7. Hallab

Lebanese food has made its stronghold at the very heart of Dubai and Hallab is just another example of that. This is a very loved Lebanese food shop in Dubai. Their Shawarma
are different as there's more upper crust in them as compared to a normal Dubai Shawarma and hence the experience is unique. However, since they're so famous and their Shawarma is so different, it sells out quite fast, so it's advised to get there early.
Locations: Dubai Mall, Shaikh Mohammed Bin Rashid Blvd, Mall of the Emirates, Garhoud near the Creek. Cost: AED 12 per chicken shawarma
Timings: Daily from 08:00 AM to 11:00 AM
8. Istanbul Flower
Turkey isn't just sitting back and watching other countries make their own version of Shawarma. Istanbul Flower provides shawarma which is different and unique simply because of the fact that it has a Turkish tinge added to it. It's more than ten years old and also one of the most famous Turkish restaurants operating as of now in Dubai. Their Shawarma is highly enjoyed by people who are looking for something different in terms of Shawarma eating experience.
Locations: Near Safest Way in Al Safa, Dubai Marina Cost: AED 46 per chicken shawarma
Timings: Daily from 08:00 AM to 11:00 AM.
9. Strawberry Corner Cafeteria
This gem of a cafeteria is present where the old Pakistani consulate once stood in Bur Dubai. It's acclaimed by many people, both locals and tourists, with many going as far as saying that it's one of the best they've tried in a very long time.
Locations: Opposite Madina Supermarket, by the old Pakistani Consulate, Mankhool
Cost: AED 5 per chicken shawarma
Timings: Daily from 08:00 AM to 02:00 AM
10. JJ Chicken
As the name suggests, JJ Chicken is a very casual place which is recommended to grab quick bites if one is in a rush. The Shawarma meat is fresh and well-grilled, making it a good choice for many teenagers who want to hang out with their friends and not focus too much on formalities. They also deliver food so one can easily sit back at home and enjoy what they have to offer.

Locations: Al Barsha 1, Trade Centre, Kite Beach, Dubai Marina
Cost: AED 12 per chicken shawarma
Timings: Daily from 12:00 PM to 12:00 AM
11. Picnic Restaurant
This Satwa cafeteria makes amazing chicken. It's a good place to visit with the family. Their Shawarma is fresh and flavourful. Great place to try after a late night out with friends or family.
Location: Opposite Fakhree Center, Near Satwa Roundabout, Satwa
Cost: AED 12 per chicken shawarma
Timings: Daily from 08:00 AM to 02:00 AM
These were a few exotic places where one can try out the juicy shawarmas which Dubai has to offer. However, there's no need to be biased towards other shawarma vendors. Dubai's Street food never fails to amaze, and a tourist may stumble upon a lesser known shop which gives a tough competition to a well-established restaurant!
Written by Abdullah Haider