Low on budget but love travelling? Step aside, hotels from the days of yore! With crunched timelines and the high costs of hotel bookings, backpackers' hostels in India are growing to be a very popular concept among young travellers in India. Gone are the days when hostels used to be an alien concept. Travellers these days like the convenience and low cost associated with backpackers hostels.
So first of all what exactly is a backpacker's hostel?
Reading the above two lines you would have guessed that it is a decent accommodation on a minimal budget particularly for people who love to travel. It generally has all basic amenities, bunk beds, community halls etc. In recent times, Wi-Fi or wireless internet has also become a required and popular feature.
These hostels are a microcosm of the global village as you often find travellers from diverse regions, nationalities, beliefs and backgrounds milling about. It is a melting pot of civilizations and hotbed for cultural exchange and sharing travel information, stories and experiences. In terms of the sheer experience and price, it beats any other form of accommodation hands down.
Lets read up about some backpackers' hostels in India which have grown to be travellers' favourites!
1. Zostel: The Largest Chain Of Backpackers Hostel In India
Zostel is a growing to be a haven for budget travellers and Backpackers in India. With their inexpensive tariff, air-conditioned dorms and hot water supply, the backpackers seem to be really loving their stay in Zostel. They have their branches in Delhi, Varanasi, Jodhpur, Jaipur, Mumbai, Goa, Pushkar, Ooty, etc. with much more in the pipeline.
Zostel provides travellers with everything they require and more, all within their budget. Yes, you heard that right! Zostel not only provides a bed to sleep in, a restroom to relax in but also free WI-FI, cable connections, game rooms, tea and coffee facilities, AC for the hot places, Lockers, housekeeping, a guest kitchen for travellers who like to cook and much more. They also keep organizing interesting get-togethers, travel-talks, parties and other social events.
The best part about Zostel is that you can cancel your booking until one day before your stay. The price range is affordable for the amenities and awesome environment that they provide. The price range for a stay at the dormitory begins at INR  600 and go up to INR 2000 for private rooms.
For more information on Zostel kindly refer to the links given below:
2. The Madpackers Hostel
The Madpackers Hostel of New Delhi was recently voted the best hostel in India by the review website Hostelworld. Its USPs include a library and a rooftop terrace with real grass. It offers a cosy stay to all its occupants, complete with a complimentary breakfast. The prices range from around INR 600 and over for dorm rooms, and INR 2000 for a private room.
3. Bunkyard Hostel
Bunkyard Hostel's appeal lies in its idyllic location along the lakes of the beautiful city of Udaipur. It is near to all the tourist attractions of the city. The hostel offers authentic local cuisine in its restaurant and has music-themed dormitories to zing up your stay by playing a variety of genres like jazz, reggae etc. The terrace hosts many events like yoga, social nights, and chai sessions at sunsets offering many opportunities to interact and relax with fellow travellers. The dormitories generally charge upwards of INR 499, while the private rooms cost around INR 2000.
Book Now
style="display:block"
data-ad-client="ca-pub-5717511220391650"
data-ad-slot="4127160122"
data-ad-format="auto">

4. Backpacker Panda
After having established its first hostel in Goa, Backpacker Panda has expanded to both big and small cities across the country including Manali, Udaipur, Mumbai, Jaipur etc. It has received great reviews from its customers for its comfortable ambience and services including – hot showers, WiFi, laundry services, kitchenette, secure lockers etc. They also provide bicycles on hire in some locations. A full refund can be availed on cancellation prior to 24 hours before check-in unless it is a group booking.The room rates differ across locations, but are extremely affordable and are in the range of around INR 300 to INR 800.
5. Youth Hostels: It started here!
This is probably where the trend of backpackers' hostels in India kicked off. These hostels are run by the Youth Hostel Association of India. Convenient for single backpackers and especially youth, these hostels are affordable, comfortable and has warm and kind staff. These youth hostels are spread out to almost all the parts of India namely: Delhi, Manali, Ladakh, Port Blair, Goa, Darjeeling, Hyderabad and the list goes on and on. The best part is that they even organise various treks and tours to all parts of the country. Their prices range from INR  300 – INR 2000 depending on whether you want to stay in a dormitory or a room, with or without an AC. For more information, kindly refer to a blog written by one of our own bloggers and we hope it helps.
Youth Hostel Association of India – Holidify Blog
You could also refer to the official page of the Youth Hostel Association of India:
6. The Hostel Crowd
Not to say that we are saving the best for the last, but the Hostel Crowd group offers one of the most quirky, fun and cool accommodation in Goa and Kerala. They are very popular among tourists. Each hostel is uniquely designed, and also promotes sustainable living standards. You can chill in hammocks at the Jungle Hostel in Vagator, or have your mug-shots taken at Prison Hostel in Anjuna, both in Goa. Also enjoy some mean parties here. The Maritime Hostel (Kochi), Summer Hostel (South Goa) are also other popular hostels run by this chain. The dorm beds start at a mere INR 350, while the private rooms are available at around INR 1200.
7. Mustache Hostel: A Quirky Backpacker Hostel to Chill-out
With a quirky name and amazing ambience, these backpackers hostels are located in Jaipur, Agra, Udaipur, Varanasi Rishikesh, Pushkar, and Jaisalmer. The place includes game rooms to play, terrace to go up to at night, garden to just sit and relax, a kitchen for those who love to cook and other basic comforts such as WI-FI, lockers, hot showers etc. It is rated quite high in security and cleanliness. There's an Indian touch to everything, and overall it's a very beautiful hostel.
The price of this hostel is normally displayed in dollars. The price of the rooms begins from $9 which in Indian rupee is almost equal to INR  600. People have reviewed it to be worth the price.
Their official link where you can book the hostel is:
Book Now
style="display:block"
data-ad-client="ca-pub-5717511220391650"
data-ad-slot="4127160122"
data-ad-format="auto">

8. Vedanta Wake-up! – Backpackers hostels in South India
One of the best backpackers hostels in India, travellers visiting South India seem to swear by it and rightly so.  The hostel also provides WI-FI, books, games, etc. True to their name, these hostels also provide a touch of ethnicity with works of literature and musical instruments made available for the guests. It has been set up in Kanyakumari located in Tamil Nadu and five places in Kerala namely Alleppey, Kovalam, Fort Kochi, Thekkady and Varkala. The price range is between INR 300 to INR 1500. This hostel helps bring tourists closer as they have many fun activities such as barbeque nights, musical nights etc.
The hostels are closely located to the beach, cafes, restaurants etc making sightseeing and other needs accessible. The link provided below is the official link. If you are travelling South, I would highly recommend a stay here.
9. Le Pension, Jaipur
Le Pension is a budget hostel in Jaipur with all the requirements to feel at home. It is away from the main city so if you're looking for a quiet place to just relax and stay away from all the hustle and bustle, this is perfect. Le Pension is a French word meaning Bed and Breakfast. The hostel is clean, reasonable and pleasant to stay in. Meeting all the other travellers and making friends is one of the many aims of Le pension.
Priced at just INR 400 per person it offers breakfast and other amenities such as WI-FI, books, games, magazines and even a terrace that has a cafe called Cafe Machaan for people who need some alone and peaceful time just lazing around and sipping on your tea. It is considered as one of the best hostels to stay at by all the other tourists.
10. Jugaadus Eco Hostel, Amritsar
Jugaadus mean people who can make the most out of little. This hostel, situated at one of the most famous tourist places in India, teaches tourists how to maintain their budget and teach them a little about the Punjabi culture. It mainly aims at motivating people to be eco-friendly. The hostel has furniture and other items made completely from reusable items like the tables are made of reusable tyres, Bamboo dustbins and trays, reuse of plastic bags and plastic bottles etc. They are currently aiming at getting solar panels too.
They charge INR 400 per person and have recently even made an offer of Stay for 4 nights and get the 5th one free, Stay for 10 days and get 3 nights free. So, all of you travellers who are dying to visit Punjab and learn its culture go ahead and enjoy your stay.
11. Social Rehab, Bangalore
Located in Bangalore, Social Rehab is one of the best backpacker hostels in India. The hostel is clean and safe, they offer dorms of 6 as well as private rooms. It provides free WI-FI, T.V, games, books and guides. They also have a kitchen to cook whatever you want, from 8 AM to 11 AM every day. Self-service complimentary breakfast is provided and the best part is they allow you to completely rest and laze around in bed on Saturdays and Sundays, as breakfast is offered until noon.  They also offer discounted trips to Hampi, Goa, Kerala etc.
The tariff is as follows:
Bunk bed in a female dormitory costs INR 700- INR 800 per person
A twin private room costs INR 2275 
A bunk bed in a dormitory of 6 costs INR 700- INR 800 per person
12. KMVN and GMVN
Kumaon Mandal Vikas Nigam covers the Himalayan part of Uttar Pradesh to popular hill stations like Nainital and Almora. The KMVN provides the best accommodation to stay at in the whole of the Kumaon area. Reliable and neat, this is one of the best places for travellers to the Kumaon region. The small hill stations like Nainital has nice tourist spot and one of its most famous signatures is the lake that stretches to almost 2km. It provides a Tourist Rest House in the Kumaon region some of which are: Almora, Kashipur, Nainital, Tanakpur, Binsar etc.
The price starts from INR 2400 for a standard room and goes up to INR 4000 for a deluxe one. The room offers food, room service, laundry etc.
Garhwal Mandal Vikas Nigam formed on 31st March 1976 offers guest houses, rest houses, tents and tourist Bungalows all over Garhwal Himalayan Region. The rooms are neat and clean, and though a little expensive is totally worth the price with a lot of peace, quiet and amazing service. Their branches of accommodation spread over too many places some of which are: Adi Badri, Agarkhal, Badrinath, Dehradun, Gangotri, Uttar Kashi etc.
The prices of the dorm rooms are INR  300, Economy room costs INR  600 and deluxe rooms cost INR 850 at Adi Badri.
The other guest houses depending upon the place have prices starting from INR 1000 that can go up to INR 4000.

style="display:block"
data-ad-client="ca-pub-5717511220391650"
data-ad-slot="4127160122"
data-ad-format="auto">

13. The Mudhouse Experiential Hostel, Tirthan Valley
The Mudhouse Experiential Hostel in Tirthan Valley of Himachal Pradesh is a mud house built with traditional materials like stone, mud and wood. It is a hostel for artists and backpackers who want to live in a cabin in the hills and build conversations with diversely talented people from across the country. Trek, go fishing and breathe in fresh air amidst pine trees and clear skies.
Address: Jibhi, Tirthan Valley
The tariff starts at INR 500 per night
14. GoStops Hostel
A backpackers hostel in India which is slightly on the higher side in terms of price is also one of the most awesome places to stay at. They first started off in Varanasi and have expanded to Delhi, Udaipur, Bir, Dalhousie and Udaipur. The hostel offers WI-FI, Billiard, Tennis and other games, hot showers, lockers, library, BBQ, TV, Kitchen, AC and need I say more because I can go on and on.
The prices vary in both the places. In Varanasi, the dorm costs around INR 600 including Breakfast and separate room costs INR 2000.
In Delhi, the dorm costs around INR 1000 and the room costs INR 3000 including Breakfast. So, if you don't mind paying a little extra for amazing services then this is the place for you.
15. Electric Cats
The Electric Cats Bed & Breakfast is a centrally located hostel in Bengaluru, very close to Indiranagar, one of the city's most popular hubs. The rates begin at a mere INR 500 per night here and have dormitory style rooms available. The stay includes a complimentary breakfast, and have all amenities for a comfortable stay. The hostel has a cafe and a beautiful terrace for relaxing as well.
Book Now
16. CrashPad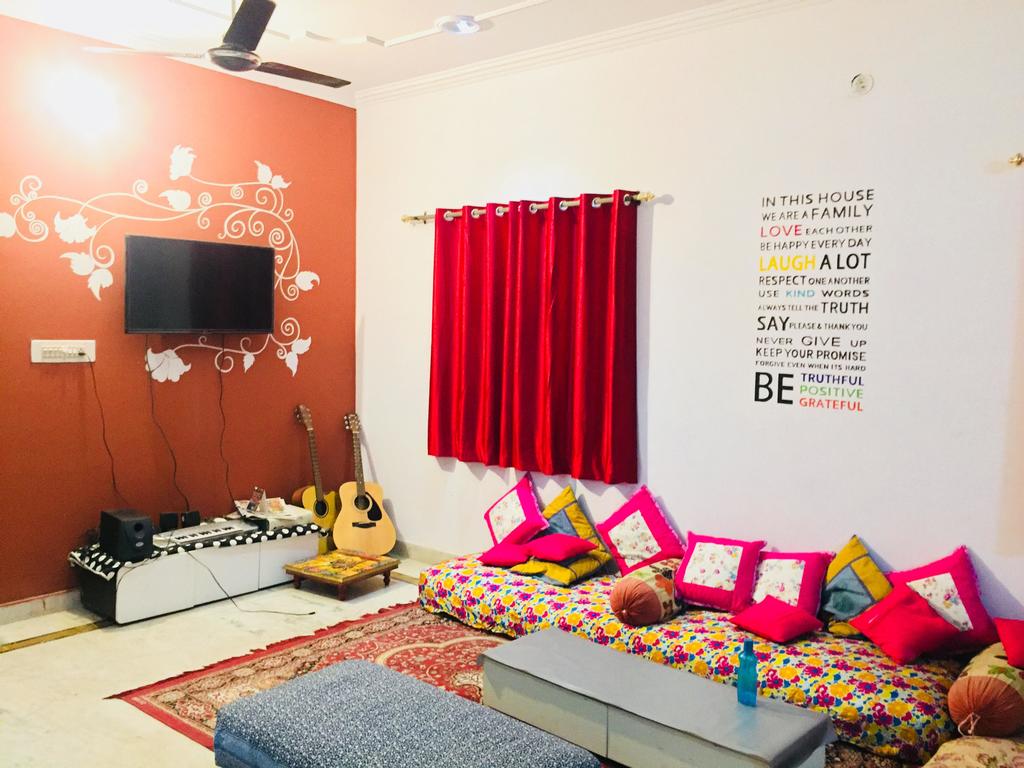 CrashPad has hostels across 3 popular tourist cities of Rajasthan – Jaipur, Jodhpur and Jaisalmer. It offers both dorms and private rooms for travellers, and the rooms are generally themed to depict a popular city in India. Apart from having all modern facilities, these hostels are conveniently situated close to tourist attractions in the city. In addition, you might even get to see peacocks while sitting on the terrace of the hostel in Jaipur! The room prices range from around INR 299 for dorm rooms and INR 1000 for single rooms.
17. Ecology Hostel
An-eco friendly hostel nestled among the Himalayan mountains in Leh, Ecology Hostel is a community run affair that strives for sustainability through reducing carbon footprints. Priced modestly at below INR 1000, this hostel offers a relaxed and simple atmosphere, with basic amenities. Traditional and home-cooked meals are available. It offers a spectacular view of the snow-clad mountains and the Shanti Stupa.
Book Now
style="display:block"
data-ad-client="ca-pub-5717511220391650"
data-ad-slot="4127160122"
data-ad-format="auto">

18. The Lost Tribe Hostel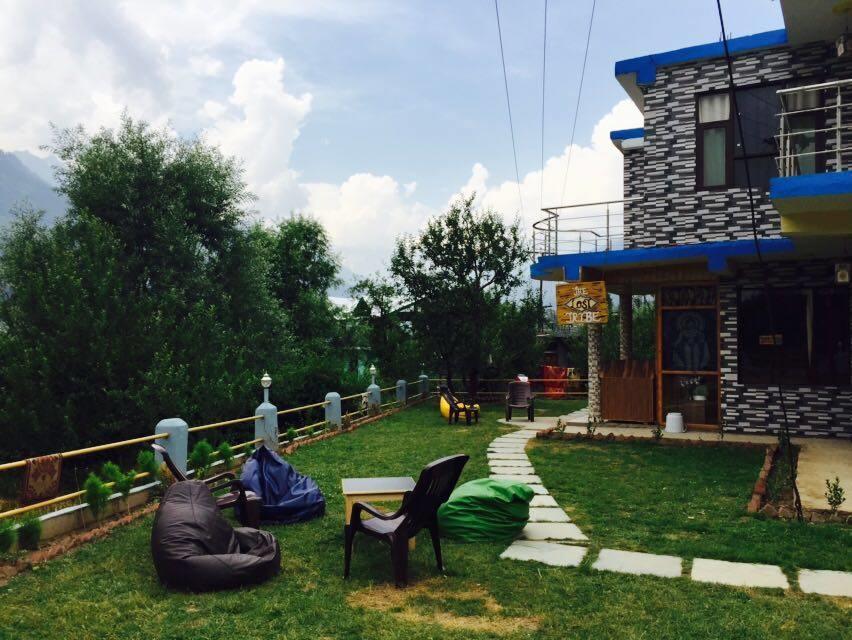 Surrounded by mountains and apple orchards, The Lost Tribe Hostel offers a serene and quiet experience. It is the perfect getaway spot for those who wish to unwind amidst nature, hear the sound of rivers running and waterfalls, and wake up to breathtaking mountain views. They provide both dorms and rooms and start at around INR 500. Rooms are equipped with all modern amenities for a comfortable stay. Meals are also available.
Book Now
19. Horn Okay Please
Recently established in 2017, Horn Okay Place is located in the posh Bandra region of  Mumbai.  A beautiful 100-year-old heritage bungalow has been renovated in a modern style to accommodate the travellers and provide them with a unique as well as comfortable stay, with all amenities. Rooms are priced at around INR 900 for dorms, and INR 2000 for private spaces.
20. Red Door Hostel, Goa
Planning a trip to Goa and looking for a budget but a comfortable place that is somewhere close to the beach? A backpacker hostel to the rescue, Red Door hostel is just the place for you! It is located 3 minutes away from the very famous Anjuna Beach and easy to identify because of its signature 'The Red Door'. The hostel is located in a place that is surrounded by restaurants, shops etc so you don't have to go miles for a meal or shopping. On Wednesday the very famous 'Flea Market' is the main attraction of Anjuna Beach. You can expect to find clothes, slippers, instruments and also 'Silver' ornaments.
The hostel also provides all the necessary and luxury items including WI-FI, locker, Laundry and kitchen. There is a big lounge and garden for the people who want to just relax and sit out with a cup of coffee. It has dorms as well as private rooms. A clean environment with kind hosts and friendly company.
The prices begin at INR 550 for a 6-bed dorm room and increases up to INR 750 for a 3-bed dorm room with private rooms costing INR 1000 – INR 1250 depending on whether it is a basic room or a deluxe one.
Address: 651/4, Dmello Vaddo, Anjuna, Goa
Book Now
Know of more Backpackers hostels in India that are helping travellers make some crazy memories? Tell us in the comments section below!