Lanterns
Lanterns are now synonymous with the Mid-Autumn Festival. Gorgeous paper, cloth, and plastic lanterns are hung outside homes and stores all over Chinatown and the Singapore River. They come in a range of colours and sizes, right from traditional coin-shaped medallions to mythical dragons, lions, butterflies, ducks, and even popular characters from TV shows like Pikachu, Hello Kitty, and SpongeBob SquarePants! They are painted with bright colours and messages of prosperity and are hung from high poles. Lantern painting competitions are held in the streets too; in some competitions, visitors are tasked with finding the answers to riddles written on the lanterns. Wish-making lanterns are set afloat by dewy-eyed couples, in hopes of sealing their romance forever. Flying sky lanterns are sent off into the night sky towards the moon, giving the sky an ethereal, starry glow. The reflection of the lanterns on the waters of the Singapore River, and the twinkling lights floating to the heavens above look breathtaking. This visual feast is a must-watch!
Mooncake
Celebrations at the Mooncake Festival are incomplete without mooncakes – delicious wheat flour pastries filled with nuts, lotus seeds, red bean paste, fruits, and eggs. Round in shape to symbolize reunion and togetherness, mooncakes are a staple during the Mid-Autumn Festival in Singapore and are made in homes and bakeries alike. Meant to be shared with the entire family and distributed to friends as a symbol of gratitude, these mouth-watering pastries are available in a variety of flavours as well - Singapore is popular for Durian-flavoured mooncakes so give that a try!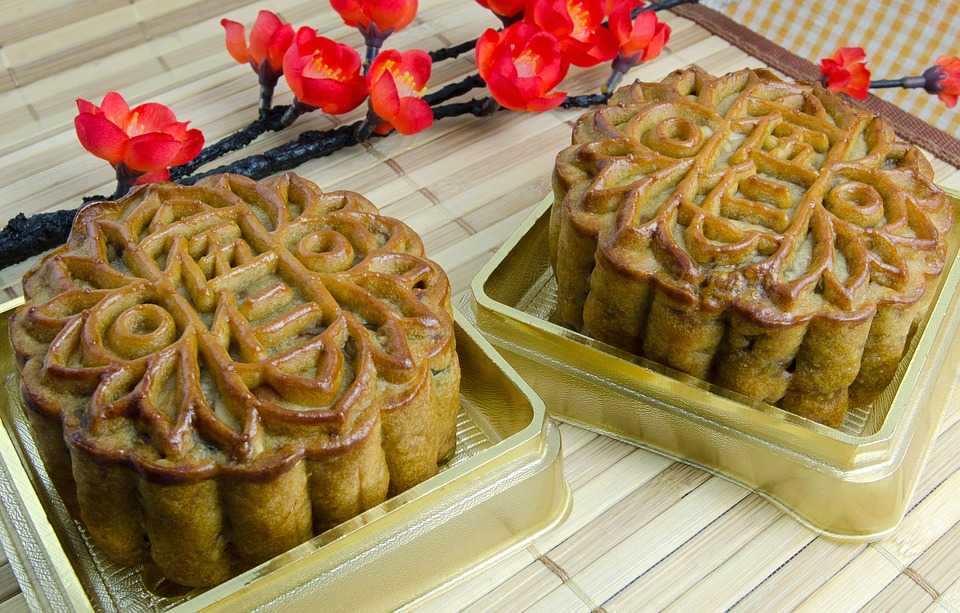 Food
Family meals are an important part of the Mooncake Festival. Fresh fruits like pumpkins, grapes, pomelos, peaches, pears, and pomegranates are offered to the gods and shared with visitors – visit the street food stalls to try the scrumptious seasonal fruit salads! Sip on traditional cassia wine or tea, and munch on soy bean-infused snacks, walking through the decked-up streets of Chinatown during the festival.
Matchmaking
As the entire family comes together, the Mid-Autumn Festival celebrates romance and marriage too. Women pray to the moon goddess to bless them with a long-lived marriage, while men proposition their loved ones with moon poems and songs. Courtship games are also held in Chinatown. Let romance pervade the air and indulge in the festivities at this festival!
Games and Other Activities
Traditional children's games are played during the festival, including variations of tag and toad jumping. Almost a hundred years old, these games are enjoyed by adults and kids alike – street games, singing competitions, and karaoke are popular in Chinatown during this time. At night, the entire community gets together to gaze at the beauty of the full moon and sing songs.