Stone Lions:
A remnant of the Sung Dynasty of imperial China, two magnificent stone lion statues stand guard at the entrance of the Chinese Garden. They are believed to have a protective eye over the area and are made of grained marble.
Bridge:
Bridges are an integral part of an imperial building – they are seen as a link between this world and the next. Also known as Bai Hong Qiao or 'White Rainbow Bridge' this stunning structure is modelled after the Seventeen-Arch style of the Summer Palace bridge in Beijing. Comprising of thirteen arches, a walk across this bridge gives a great view of the rest of the Garden.
Pagodas:
The garden houses three pagodas that are open for visitation for those who wish to climb to the top and enjoy the scenic view. Two of these Pagodas are three storeys high whereas the third pagoda is named Cloud- piercing pagoda is as tall as 7- storeys high. Inspired by the Linggu Temple in Nanjing China, this pagoda is a true masterpiece.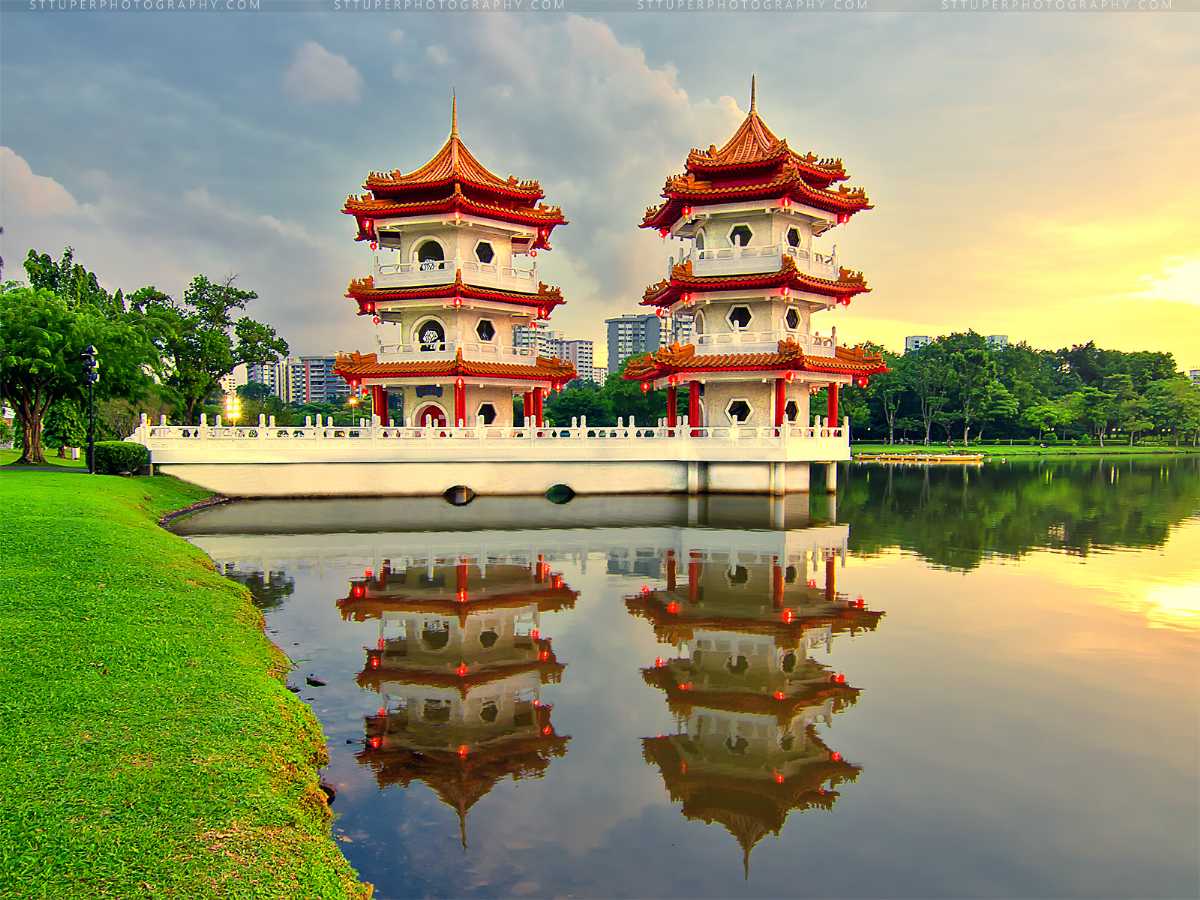 Main Arch Building:
Built in typical imperial style, this arched building is home to two vast courtyards – Early Spring Courtyard and Garden Courtyard. Home to traditional Chinese herbs and flowering plants, the main building is a gorgeous photo-op on the outside and a tranquil oasis on the inside. The Fishes Paradise pond in the middle adds charm to the scene.
Stone Boat and Tea House:
The Stone Boat is a floating paradise in the middle of the central lake, atop which rests the Tea House. Shrouded in tapestries and ceramic pottery, the winding two-storey design is modelled after Peking's Summer Palace. This is a great rest stop to sip a calming brew after a refreshing walk in the Garden.
Pavilion, Plateau, and Tower:
A breathtaking display of the Chinese love for harmonious symmetry, the Pavilion, Plateau, and Tower are part of an intricate arrangement at the Garden. Plants, rocks, fountains, streams, and winding pathways twist their way around these structures, bringing together a blissful union of nature and traditional architecture. This area is great for meditation and contemplation.
East Entrance:
Built as an alternative entrance to facilitate travel from the Chinese Garden MRT Station, the East Entrance opens to a gorgeous red bridge that takes visitors to the main building. Miniature versions of the stone lions are also found here.
Garden of Abundance:
This garden houses several 100-year-old Pomegranate trees that cover the entire garden. However, hidden between these trees is the main attraction of this garden- the zodiac statues. The twelve zodiac sign statues pull the curious-minded to this garden and are the perfect place for pictures and lounging on the stone benches around them.