Gearing up for the grand celebration
The residents of Little India connect to their motherland as they come together to celebrate Deepavali in Singapore. Prior to the day of the festival, people clean their houses and redecorate them to start afresh and welcome the Goddess Lakshmi into their humble abodes. They shop for new ethnic wear, buy greeting cards and sweets, and adorn the entrance of their houses with brightly coloured rangolis. The rooftops and the facade of the houses are decked with brightly coloured fairy lights and garlands. It is also a common practice to tie a string of eleven mango leaves at the front door of the houses since it is believed that it draws in positive energy and shuns evil. Women get their hands covered with beautiful patterns using henna dyes.
The big day
On the day of Deepavali, people wake up early in the morning and take a ritual oil bath to cleanse themselves of all impurities. Post the cleansing ritual, they dress up in their best attire which is mostly new colourful clothes that they purchase prior to the festival and avoid black colour which is considered inauspicious. People in Singapore make it a point to visit Little India where the Indian community of Singapore and Indian foreign workers gather to offer prayers and do festive shopping. The streets of Little India are decorated with flower garlands and glittering tinsel.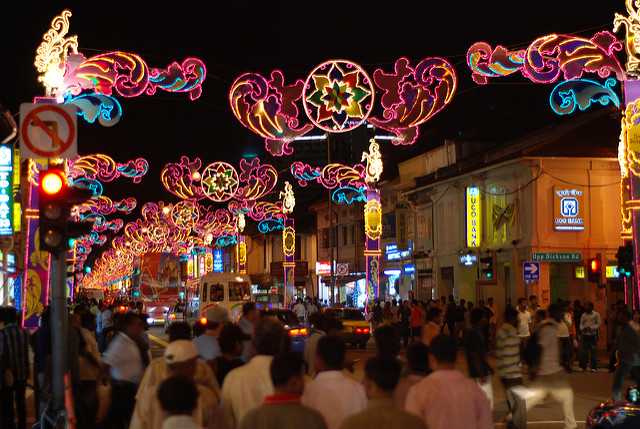 Celebrations of Deepavali in Singapore features the Silver Chariot procession held twice in the lead up to Deepavali. In this procession, the devotees tow a silver chariot that houses an effigy of the goddess Sri Drowpathai Amman all the way from Sri Mariamman Temple in Chinatown - the oldest of its kind in Singapore to Little India.
Decoration
People also decorate the entrance of their houses with rangoli or Kolam, which is the art of floor painting using rice grains or powdered rice and colour powder. Diyas are placed on it and everywhere on the house so that Goddess Lakshmi can find her way around and bless the household. The main door of the house is decorated with 11 mango leaves as the Hindu believe that this lead arrangement attracts positive energy and repels evil.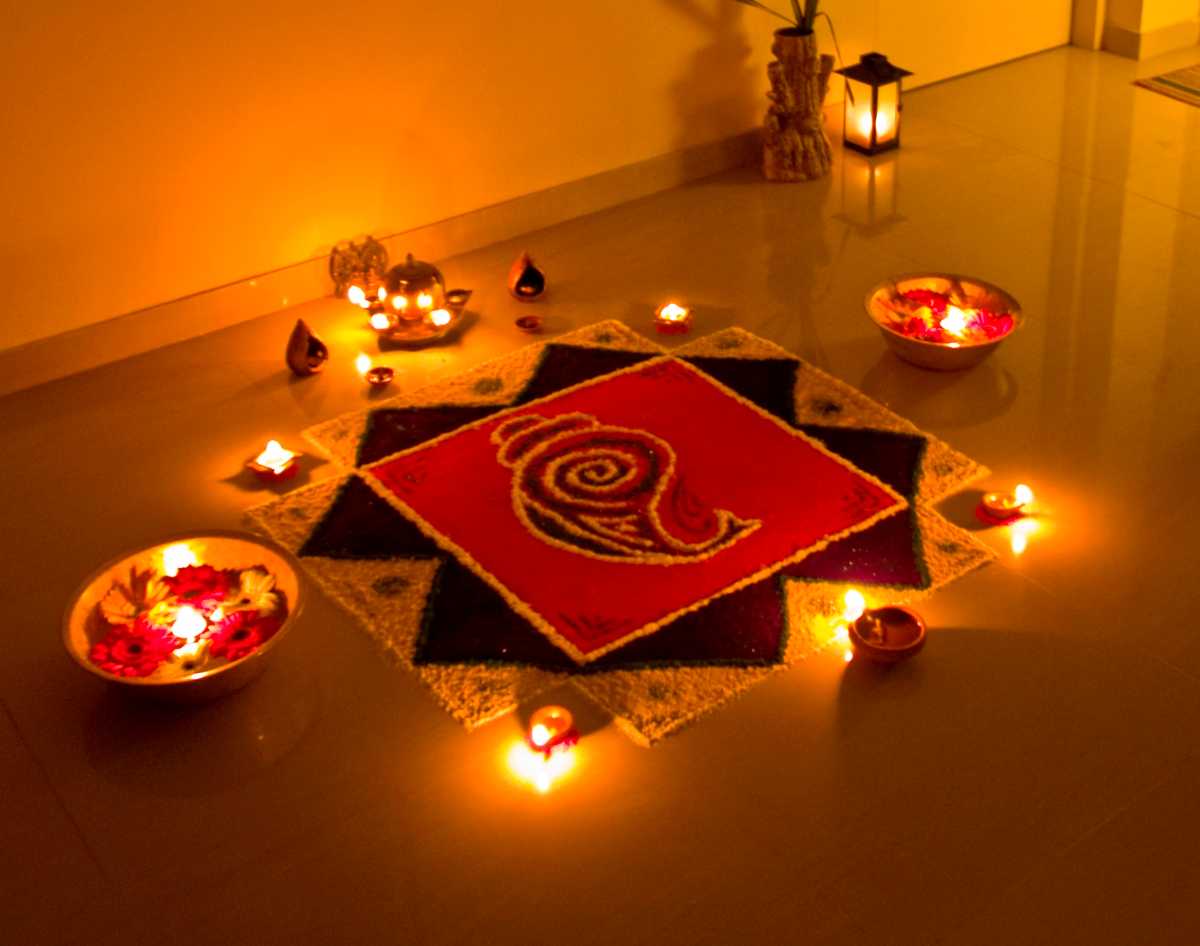 Food
On the day of Deepavali in Singapore, Hindus cook traditional dishes at home to devour with family and friends. The popular dishes include the non-vegetarian delicacies such as tandoori chicken, prawn sambal and fish head curry and sweets such as Halwa, burfi and laddoo and vegetarian dishes such as dosa, idlis and naan. One can find these dishes at restaurants in Little India as well.