The kingdom of
Bhutan
is widely known for its deep-rooted traditions and cultural aesthetics. One of the things that make this nation stand out from other developing nations is their dress code behaviour.
The traditional attire for men and women known as Gho and Kera
were introduced around the 17th century by the unifier of Bhutan as a nation-state, 'Ngawang Namgyal' to display their unique identity. It was made mandatory for Bhutanese citizens to wear their traditional outfits in an attempt to promote and preserve Bhutanese heritage.
Bhutan National Dress - Dress Code in Bhutan
The
Driglam Namzha
is the official dress code behaviour of Bhutan. It dictates the norms regarding how the public should be dressed and sets behavioural expectations during formal events as well. The norm is widely accepted across the whole nation, and the citizens tend to adhere to it. A deeper connection towards the land and a sense of belongingness amongst the fellow citizens emerged out of this practice. With the aim to integrate a sense of community, the national dress code continues to be applicable for Bhutanese.
Here are 8 Bhutan Dresses of Men & Women:
Gho
Kera
Kira
Toego
Wonju
Rachu
Khata
Kabney
1. Gho
The men in Bhutan adorn themselves in a knee-length, robe-like cloth which is wrapped around their bodies and nicely secured with a belt. Known as 'Gho', this outfit forms a pouch-like area in the upper part and is used for storing various things- traditionally betel nuts but now mobile phones! It is highly worn during formal occasions and large gatherings.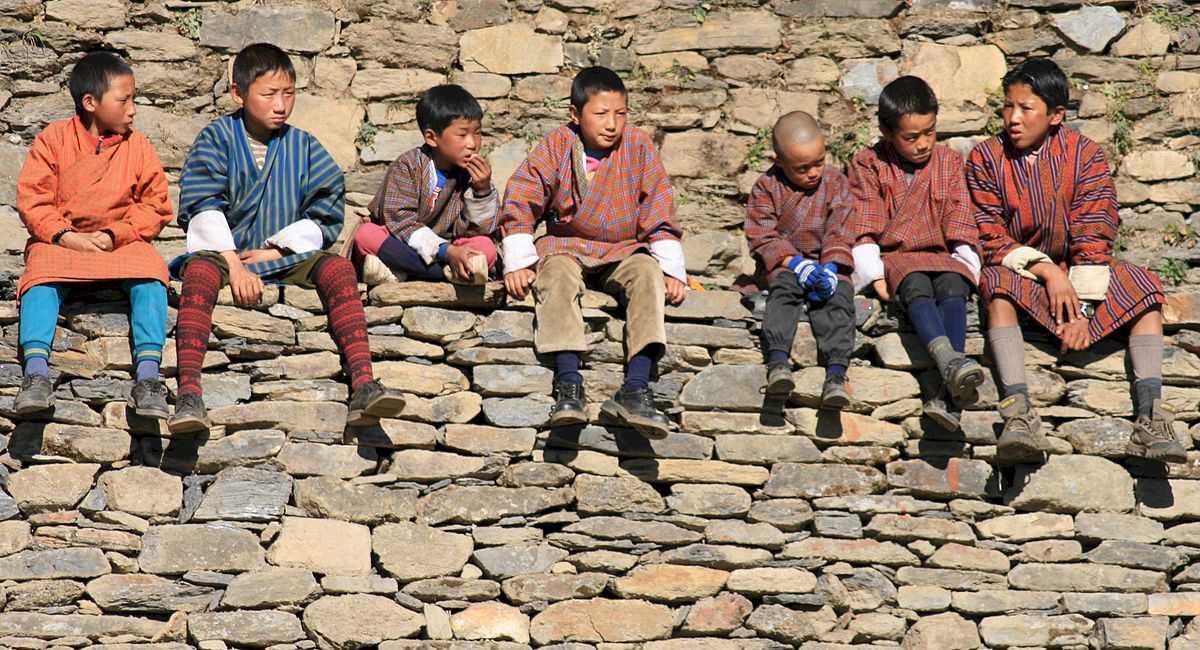 2. Kera
A woven cloth belt, 'Kera' is used by the Bhutanese to tighten their outfits. It is an added accessory to their overall attire which enhances their look. With plenty of designs, colours and patterns to choose from, Kera is widely available in Bhutan to compliment the dressing style of both men as well as women.

3. Kira
The womenfolk in Bhutan can be spotted in an apron like a dress, called 'Kira'. This traditional outfit is a long ankle-length dress. Super comfortable and easy to be dressed in, women prefer to wear this outfit most of the time. Hand-woven, bright coloured Kiras with intricate patterns and embroideries are worn by them on special occasions.

4. Toego
Toego, a stylish piece of clothing, adds on to the look of the women's attire. It is a short jacket like a garment and is worn by the women to compliment 'Kira'. It usually differs from the pattern, fabric and colour of the long robe taking the whole attire a notch-up!

5. Wonju
Kira is wrapped around a long-sleeved blouse called 'Wonju'. It is available in a wide range of materials- cotton, silk, etc. for the women to choose from. Just like Toego, these blouses come in different patterns and colours as well.

6. Rachu
A Rachu, a long scarf, is worn by females as a mark of respect while attending formal gatherings or visiting temples. It is worn just over the Toego and goes well with the overall outfit. It is usually red in colour with different patterns and designs.

7. Khata
A traditional ceremonial scarf, Khata is highly worn by people in nations that practice or have a strong influence on Tibetan Buddhism. A Khata is relevant in almost all ceremonies from celebrations of birth to mourning in a funeral. It is usually made of silk and is commonly available in colours such as white and yellow gold.

8. Kabney
Apart from these distinct pieces of clothing, the Bhutanese man can be spotted wearing a different colour 'Kabneys', commonly known as scarves.
The colours of these Kabneys vary from person to person and are allotted to them with respect to the rank or position they entail in the nation. On the occasion of meeting higher authorities or on important national events, every Bhutanese is expected to adhere to this protocol. The majesty of Bhutan adorns a yellow coloured scarf. Being the highest authority of the nation, his Kabney is quite distinct.


The council of ministers are supposed to wear orange scarves.

The highest judicial authority, the judge, is designated the green coloured kabney while the district administrator wears a scarf of red colour with white strips. The common folks of Bhutan are assigned the white coloured kabney. It is a commonly available scarf that becomes a part of the everyday clothing attire for many of the Bhutanese men.

Such demarcation of kabney concerning the status of the authoritative power of the men is considered as an act of recognition. While every man can be spotted wearing a gho, their distinct position in the nation can only be established by identifying their kabney.
What to Wear in Bhutan
In temples or religious places, remove shoes and headgear and wear clothing that expresses respect for the sacred nature of the site and the culture of the country. Make sure your body is covered and no skin is seen especially while visiting Dzongs.
The land of Bhutan has marked its distinct presence in the world by promoting national integrity via their garbs. Bhutan as a nation is so deeply rooted in traditions that the centuries-old practice is still followed with the same sense of pride and dignity as before. To be able to create a unique sense of identity and to continue cherishing it to date is simply astonishing! Now that you're familiar with the dress conduct in Bhutan, what are you waiting for?
If you're planning to visit Bhutan anytime soon and wanna experience their culture from a grass root level, then you know what all to shop for! Blend in with the community and explore the land of Buddhism all adorned in never worn before traditional attires.
Written by Alisha Jain