As a nation with a strong cultural hold and rich traditions, Oman is a country that welcomes foreigners and tourists with open arms. At Oman, the traditional souqs and the sparkling malls both offer you completely different shopping experiences! Take your pick and pamper yourself with Oman's finest goods!
Souqs
Experience shopping in Oman the local way by going to any of Oman's vibrant souqs! The souqs offer you a glimpse of traditional Oman, with traders and shop owners sitting on the floor with their goods stacked from the floor up to the ceiling. The souqs are the best place to shop for souvenirs like the Bedouin jewellery, silver khanjars, incense burners and frankincense. The musky smell of Arabian incense will follow you through all the souqs in Oman, as will the collection of beautiful dates and sweet halwa. Don't forget to haggle, as it is part of the souq culture! Compare prices with other shops in the souq before negotiating with your favourite trader! Indulge yourself in household goods, traditional clothing, textiles and more as you navigate through the mazes that are the Omani souqs.
As a sign of respect to the culture and customs of Oman, it is best if female tourists cover their shoulders and knees while shopping at the souqs. Below is a list of the best souqs in Oman.  
1. Nizwa Souq
Opening Hours: Saturday-Thursday: 9 AM to 4 PM, Friday: 8 AM to 11 AM
Address: Nizwa City Center, Next to Nizwa Fort, Nizwa
2. Al Husn/Haffa Souq
Opening Times: Sunday - Saturday: 9 AM to 11 PM
Address: Al Husn Souq, Sultan Qaboos Street, Salalah 211
3. Muttrah Souq
Opening Times: Saturday to Thursday: 9 AM-1PM and 4 PM to 9 PM, Friday: 9 AM-1PM
Address: Muttrah Souq, Mutrah Corniche, Muscat
4. Ladies Souq Ibra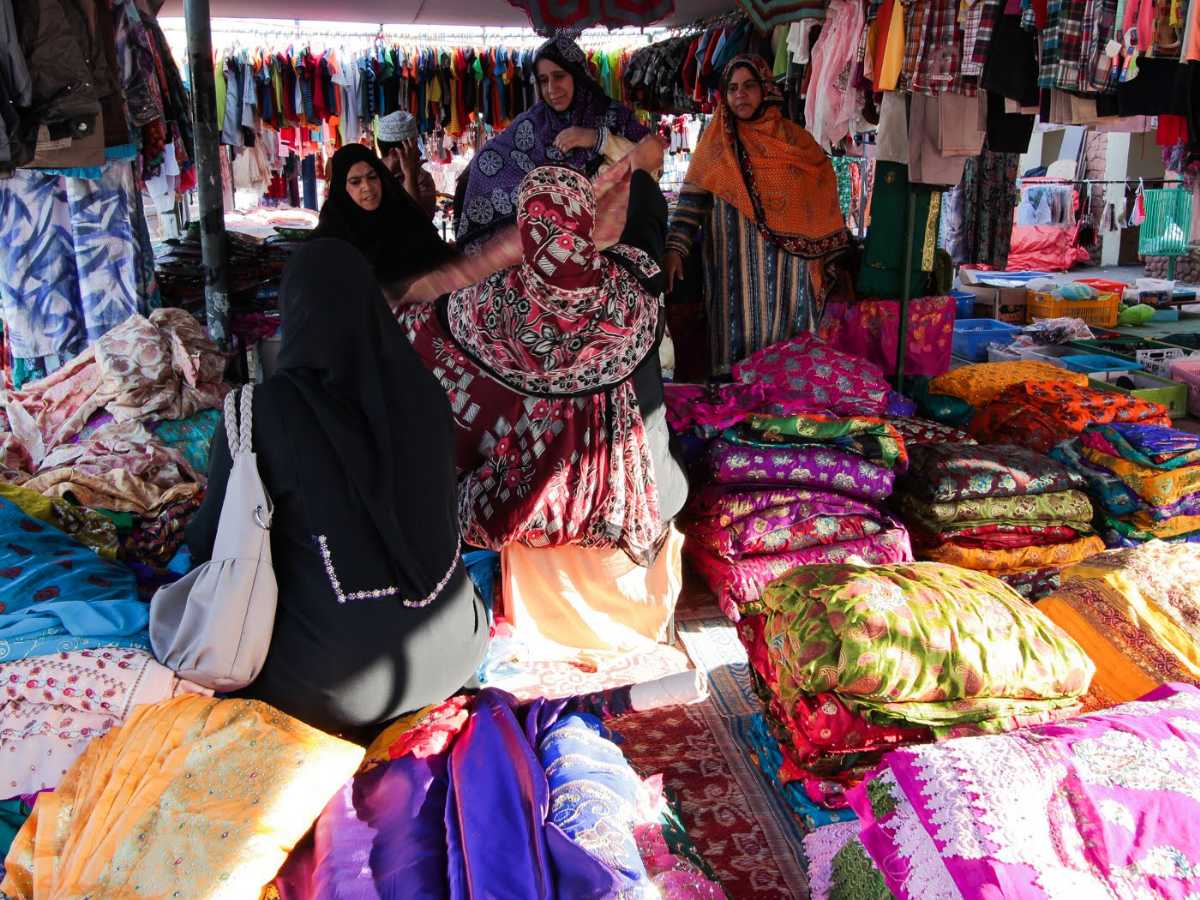 Every Wednesday, in the desert town of Ibra, the region transforms into one of the brightest and most colourful souqs in the Middle East. This occurs because Wednesdays are Women-only market days! Men are not allowed to step foot inside the market as Wednesdays are dedicated to women merchants to sell their goods to other women. Women from all over the Bedouin area come to the souq to sell jewellery, textiles, makeup, home décor, souvenirs and much more! Dressed in beautiful hijabs and abayas, the women are kind, courteous and very welcoming to foreigners. In another part of the souq, there are women selling dates, goat's milk, honey and cheese.  A refreshing shopping experience as male traders dominate all the other souqs in Oman.
Opening Times: Every Wednesday, 9 AM- 4 PM
Address: Ibra Souq, Ibra, Ash Sharqiyah Governate 
Shopping Malls
Oman's shopping malls offer you the country's modern take on shopping, with fully air-conditioned stores, internationally branded shops, plenty of boutiques, food courts and entertainment areas. The architecture of each mall is brilliantly designed and aesthetically pleasing. Take a break from all the sightseeing and splurge in the beautiful malls of Oman!
5. City Center Muscat
Opening Timings: Saturday to Wednesday:  10 AM to 10 PM, Thursday & Friday: 10 AM to 12 PM
Address: City Center Muscat, Sultan Qaboos Highway, Muscat
6. Salalah Gardens Mall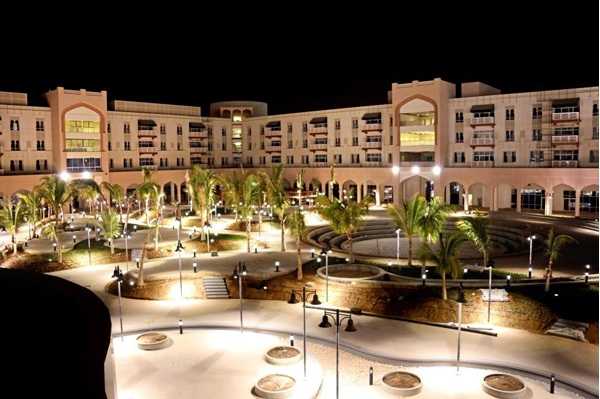 Salalah Gardens Mall is the largest shopping mall in all of Salalah, as it's built on an area of 86,075 sqm. The mall offers a wide variety of shopping, entertainment as well as dining options and also has its own hotel, Salalah Gardens Residences.  The architecture of the huge mall stays true to its Omani culture, while the inside has a quite modern finish. The mall overlooks a huge garden, where many events, festivals and activities take place throughout the year.  The mall also has its own 3-screen multiplex cinema, a souq, as well as a large hypermarket. There's also an entertainment area for your kids, as well as a large courtyard in the garden for you to enjoy! The Salalah Gardens Mall is the ideal shopping location for the whole family!
Opening Timings: Saturday & Sunday: 10 AM to 1 PM, 5 PM to 10 PM
Address: Salalah Gardens Mall, Al Wadi Street, Salalah 211 
7. Oman Avenues Mall
Opening Timings: 8 AM - 11.45 PM
Address: Oman Avenues Mall, Sultan Qaboos Street, Muscat 
Other Markets
8. Muscat Fish Market
Opening Timings: 6 AM to 10 PM
Address: Port Corniche, Muscat 113  
9. Rozna Muscat
Opening Timings: Saturday to Thursday: 9 AM to 5 PM
Address: Muttrah Corniche | Next to Muttrah Souq, Muscat 113
10. Omani Heritage Gallery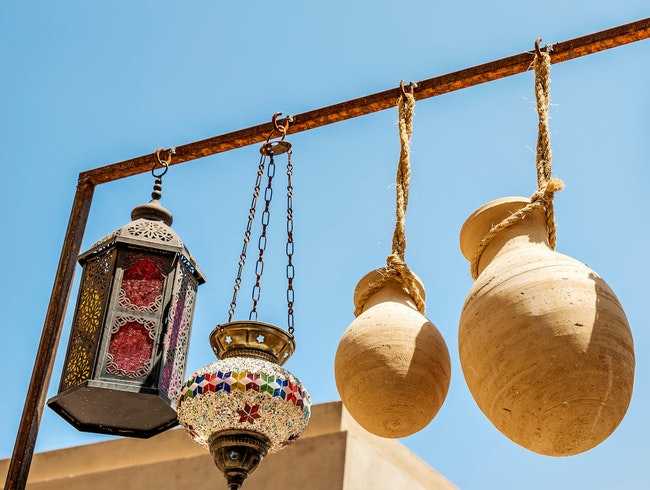 The Omani Heritage Gallery is the best place to shop for products handmade products, which are made in Oman. It is a non-profit organization, which encourages local artists to create traditional artefacts, keeping the culture of Oman alive and running. The local artisan's craft, weave, paint and sculpt stunning items. The store has antique silver bookmarks and is especially known for its beautifully embroidered cushions.  to showcase and sell at the gallery.  Although prices are quite high, these products are of the utmost quality. Other than souvenirs and decorative household items, there are also products for daily use such as handbags, wallets and jewellery.
Opening Timings: Saturday to Thursday: 10 AM to 8 PM
Address: Jawharat Al Shatti Shopping Center, Muscat
11. Amouage
Opening Hours: Sunday to Thursday: 8:30 AM to 4:30 PM
Address: Rusayl, close to Muscat International Airport, Muscat 
12. Jawahir Oman
Opening Timings: Saturday-Thursday 9 AM-1 PM, 4:30 PM-9 PM
Address: Al Wilaj Street, Muscat
So there you have it, all the information you need on Oman's top places for the best shopping experience! Make sure to check out a few of these, as they all give you a different taste of this beautiful Arab country.