As a nation with a strong cultural hold and rich traditions, Oman is a country that welcomes foreigners and tourists with open arms. At Oman, the traditional souqs and the sparkling malls both offer you completely different shopping experiences! Take your pick and pamper yourself with Oman's finest goods!
Souqs
Experience shopping in Oman the local way by going to any of Oman's vibrant souqs! The souqs offer you a glimpse of traditional Oman, with traders and shop owners sitting on the floor with their goods stacked from the floor up to the ceiling. The souqs are the best place to shop for souvenirs like the Bedouin jewellery, silver khanjars, incense burners and frankincense. The musky smell of Arabian incense will follow you through all the souqs in Oman, as will the collection of beautiful dates and sweet halwa. Don't forget to haggle, as it is part of the souq culture! Compare prices with other shops in the souq before negotiating with your favourite trader! Indulge yourself in household goods, traditional clothing, textiles and more as you navigate through the mazes that are the Omani souqs.
As a sign of respect to the culture and customs of Oman, it is best if female tourists cover their shoulders and knees while shopping at the souqs. Below is a list of the best souqs in Oman.
1. Nizwa Souq
Within the realms of the Nizwa fort is one of the oldest and most renowned shopping spots in Oman, the Nizwa Souq. Covered with stalls of all kind; tailor shops, jewellery stores, hardware stores, date stalls, pottery etc., the Nizwa Souq has it all! There are even live cattle and goat markets held at the souq every Friday! The buildings of the souq are quite interesting as it is a mix of both traditional and modern architecture. The beautiful sandy coloured buildings give the Souq a unique and enchanting look. Everywhere you look, you will see beautiful pottery, gorgeous silver jewellery and of course a wide variety of dates. An extensive part of the souq is also dedicated to a collection of exotic fruits and vegetables, as well as meat and fresh seafood.

Opening Hours:
Saturday-Thursday: 9 AM to 4 PM, Friday: 8 AM to 11 AM
Address:
Nizwa City Center, Next to Nizwa Fort, Nizwa, Oman
2. Al Husn/Haffa Souq
As the largest and oldest souq in Salalah, the Al Husn Souq is also the busiest. Famous for its immense collection of aromatised frankincense, the souq also sells beautiful handicrafts and breathtaking silver jewellery. The best location in Salalah for exquisite souvenirs and traditional clothing, some of the best purchases you can make are the iconic silver daggers (named Khanjars), traditional coffee pots (named Dallah), tasselled turbans, and of course the incredible frankincense. The local merchants sell frankincense coals, burners, essential oils, lotions and perfumes. You can even try some frankincense honey and ice cream! At one corner, you will see the extraordinary Gold Souq, here you can order the type of jewellery you want, and the goldsmiths will make it for you! The most popular accessories at the gold souq are the gold Salalah beads. The best time to visit the Al Husn Souq is at night as the lights give the souq a bustling and romantic vibe!

Opening Times:
Sunday - Saturday: 9 AM to 11 PM
Address:
Al Husn Souq, Sultan Qaboos Street, Salalah 211, Oman
3. Muttrah Souq
The most popular tourist shopping spot in the whole country, The Muttrah Souq in Muscat is designed much like a traditional Arab market, except for its, timber roofing. The souq is packed with little vibrant shops and stalls, selling everything from Bedujewelleryy to frankincense to myrrh. The whole souq is like a maze, and it's really easy to get lost amongst the tangled streets full of wooden handicrafts and little alleyways selling gold. Walking into the souq, you will smell the aromas of frankincense as well as Arabian perfumes. The souq is liveliest at night, with lamps lighting the wooden walls of the buildings and crowds of tourists haggling with the shop owners. The locals call the souq 'The Market of Darkness' due to its tiny streets and alleys, which block daylight. Muttrah also has its own Gold Souq, with alleyways full of gold and silver jewellery. There are also stalls selling the famous Omani sweet Halwa, as well as a handful of spices. All in all, the Muttrah Souq is a disorienting yet fun shopping experience!

Opening Times:
Saturday to Thursday: 9 AM-1PM and 4 PM to 9 PM, Friday: 9 AM-1PM
Address:
Muttrah Souq, Mutrah Corniche, Muscat, Oman
4. Ladies Souq Ibra
Every Wednesday, in the desert town of Ibra, the region transforms into one of the brightest and most colourful souqs in the Middle East. This occurs because Wednesdays are Women-only market days! Men are not allowed to step foot inside the market as Wednesdays are dedicated to women merchants to sell their goods to other women. Women from all over the Bedouin area come to the souq to sell jewellery, textiles, makeup, home décor, souvenirs and much more! Dressed in beautiful hijabs and abayas, the women are kind, courteous and very welcoming to foreigners. In another part of the souq, there are women selling dates, goat's milk, honey and cheese. A refreshing shopping experience as male traders dominate all the other souqs in Oman.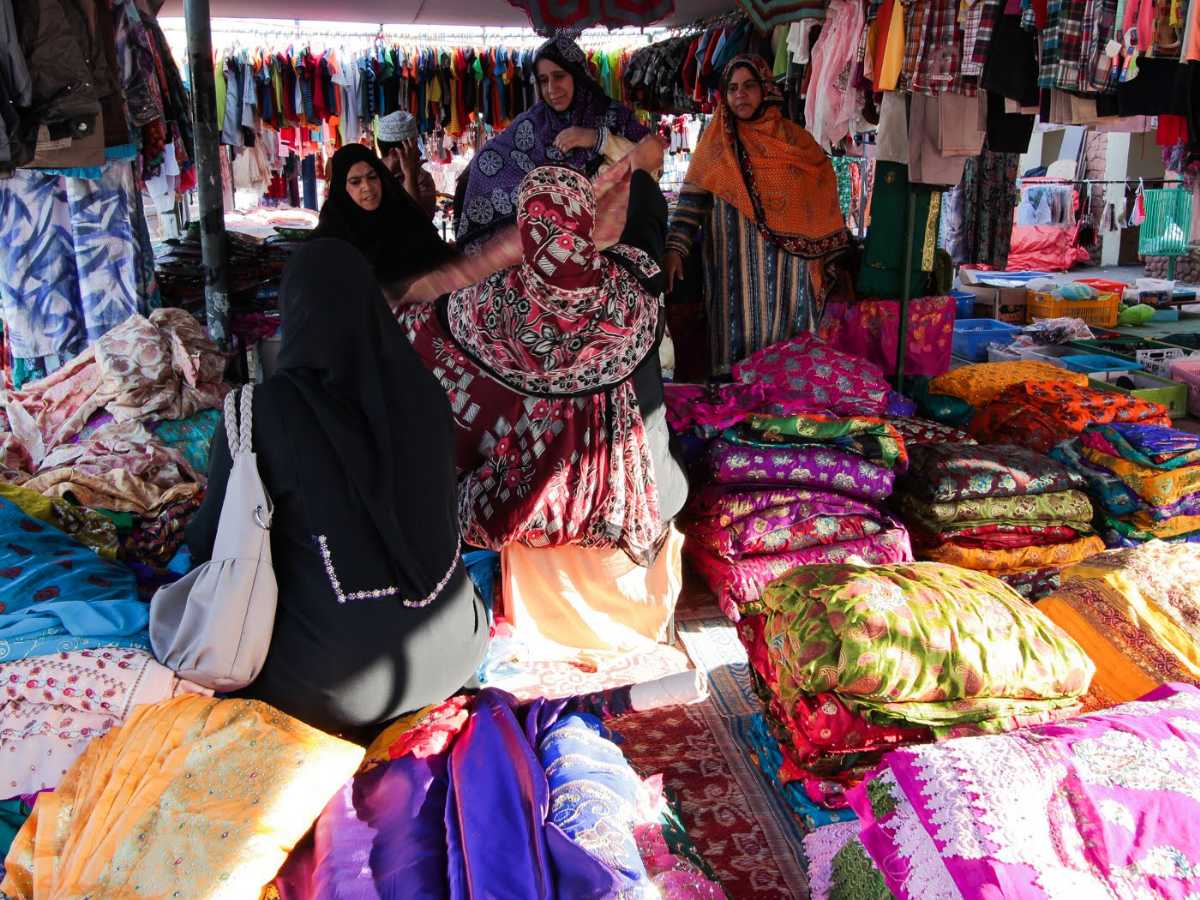 Opening Times:
Every Wednesday, 9 AM- 4 PM
Address:
Ibra Souq, Ibra, Ash Sharqiyah Governate, Oman
Shopping Malls
Oman's shopping malls offer you the country's modern take on shopping, with fully air-conditioned stores, internationally branded shops, plenty of boutiques, food courts and entertainment areas. The architecture of each mall is brilliantly designed and aesthetically pleasing. Take a break from all the sightseeing and splurge in the beautiful malls of Oman!
5. City Center Muscat
City Center Muscat is one of Oman's grander malls, with over 147 retail stores for you to indulge yourself in. There are extensive collections of clothing brands, electronic stores, home décor, cosmetics and jewellery shops to choose from! City Center Muscat has something for the whole family. There are also restaurants, cafes and fast food options throughout the mall, as well as a movie theatre if you wish to take a break from shopping. Moreover, there's an entertainment area for kids, full of fun and games, so they don't get bored. All in all, Muscat City Center has everything you need to make your shopping experience more enjoyable.

Opening Timings:
Saturday to Wednesday: 10 AM to 10 PM, Thursday & Friday: 10 AM to 12 PM
Address:
City Center Muscat, Sultan Qaboos Highway, Muscat, Oman
6. Salalah Gardens Mall
Salalah Gardens Mall is the largest shopping mall in all of Salalah, as it's built on an area of 86,075 sqm. The mall offers a wide variety of shopping, entertainment as well as dining options and also has its own hotel, Salalah Gardens Residences. The architecture of the huge mall stays true to its Omani culture, while the inside has a quite modern finish. The mall overlooks a huge garden, where many events, festivals and activities take place throughout the year. The mall also has its own 3-screen multiplex cinema, a souq, as well as a large hypermarket. There's also an entertainment area for your kids, as well as a large courtyard in the garden for you to enjoy! The Salalah Gardens Mall is the ideal shopping location for the whole family!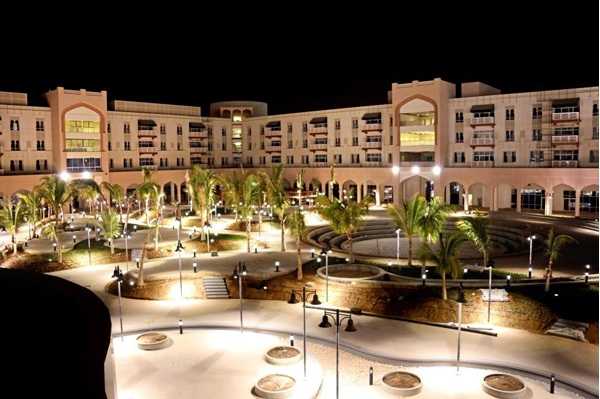 Opening Timings:
Saturday & Sunday: 10 AM to 1 PM, 5 PM to 10 PM.
Address:
Salalah Gardens Mall, Al Wadi Street, Salalah 211, Oman
7. Oman Avenues Mall
Another major shopping mall is the Oman Avenues Mall, which is the largest mall in Oman. The mall has fashion stores of high-end brands, a variety of fine dining options, as well as heaps of entertainment and fun! The architecture of the mall is stunning and unique, making your shopping experience beautiful and eventful. This mall is popularwithg locals and tourists, as they come together to splurge and indulge in what the Avenues Mall has to offer.

Opening Timings:
8 AM - 11.45 PM
Address:
Oman Avenues Mall, Sultan Qaboos Street, Muscat, Oman
Other Markets
8. Muscat Fish Market
If you're interested in the authentic experience of buying seafood, the Muscat Fish Market is a must-visit! Located in Muscat's main port, Mutrah looks like a fishing village as fresh seafood is delivered to the market daily. There is a huge variety of fish at the market; tuna, squid, kingfish, prawns and much more. You can almost taste the salt in the air because of the freshness of the fish coming right out of the sea. The floors are wet so make sure you're wearing the right shoes, so your feet don't get dirty. The market is very vibrant. Prices for fish are haggled here at the market, so you will hear a constant buzz from the crowds and the fishermen. If you're looking to buy some fish, the fishermen will happily clean it and slice it for you. The best place to get the freshest seafood making the shopping is an experience in itself!

Opening Timings:
6 AM to 10 PM
Address:
Port Corniche, Muscat 113, Oman
9. Rozna Muscat
Rozna Muscat is a shop run by a woman named Salama and offers you the most beautiful handcrafted items. If you're looking for a calmer shopping experience, then this is the right place for you. Although the items in the shop are a little pricier than in most souqs, they are all made by Salama and are of excellent quality. A heaven for those who have a passion for interior design, the fabrics and household items in this shop are so unique and beautiful; you won't be leaving this place empty handed!




Opening Timings:
Saturday to Thursday: 9 AM to 5 PM
Address:
Muttrah Corniche | Next to Muttrah Souq, Muscat 113, Oman
10. Omani Heritage Gallery
The Omani Heritage Gallery is the best place to shop for products handmade products, which are made in Oman. It is a non-profit organization, which encourages local artists to create traditional artefacts, keeping the culture of Oman alive and running. The local artisan's craft, weave, paint and sculpt stunning items. The store has antique silver bookmarks and is especially known for its beautifully embroidered cushions. to showcase and sell at the gallery. Although prices are quite high, these products are of the utmost quality. Other than souvenirs and decorative household items, there are also products for daily use such as handbags, wallets and jewellery.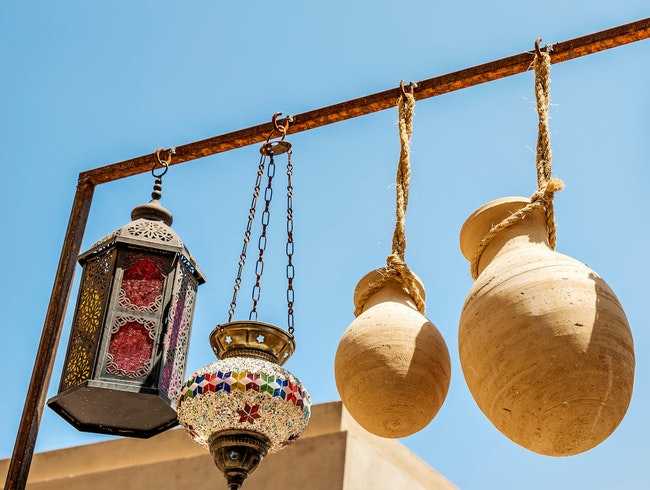 Opening Timings:
Saturday to Thursday: 10 AM to 8 PM
Address:
Jawharat Al Shatti Shopping Center, Muscat, Oman
11. Amouage
Amouage is a luxury fragrance company, which is well known for its exotic fragrances all over the world. The Amouage factory in Muscat is one of the perfume shops in Oman, which offers luxury perfumes of all types. The scents and fragrances vary from very light to extremely strong. The shop owners show you how they create perfumes and allow you to smell them too. You can see all the ingredients that go into the perfume; they are all natural products. You can even see the filling and packaging process of the perfumes. The free tour that takes you along this process is free, and you will get complimentary dates and coffee too! A different and knowledgeable shopping experience! If you're interested in perfumes, you will enjoy a visit here.

Opening Hours:
Sunday to Thursday: 8:30 AM to 4:30 PM
Address:
Rusayl, close to Muscat International Airport, Muscat, Oman
12. Jawahir Oman
This gorgeous jewellery shop was established in 1977 and has built a brand name for itself due to the extravagant and meticulous details on its jewellery. They also have a variety of handcrafted silver jewellery that makes for great gifts! All of their jewellery is one of a kind, making them a luxurious buy! They also have handmade coral necklaces, spiked bangles, floral pendants all made in authentic Omani designs. A must-visit, even just for window-shopping!



Opening Timings:
Saturday-Thursday 9 AM-1 PM, 4:30 PM-9 PM
Address:
Al Wilaj Street, Muscat, Oman
So there you have it, all the information you need on Oman's top places for the best shopping experience! Make sure to check out a few of these, as they all give you a different taste of this beautiful Arab country.