Aside from beautiful desert terrain, the Sultanate of
Oman
has gorgeous beaches that are well-kept and blessed with crystal clear water. It is home to lots of fascinating marine life, more specifically turtles and dolphins. Dolphins can be sighted in shoals frolicking in the waves of Oman's waters, playing with each other and communicating through whistles. They're known for being playful and jumping out of the water to our delight.
The dolphin shoals are most commonly seen in
Muscat
and Musandam Governorate, although they can also be seen in Al Sharqiyah South Governorate, Dhofar region and Al Wasta. Marina Bandar Al-Rawdha in Muscat hosts plenty of tour operators offering sighting tours. There are many types of dolphins that visit Oman. The most commonise the Indian Ocean dolphin, the Rissos dolphin, the common bottlenose dolphin, the striped dolphin, the long-beaked common dolphin, and the Indo-Pacific Humpback dolphin. Dolphin watching is a popular tourist attraction in Oman. They can leap up to 9 feet in the air and twirl multiple times before returning to the water.

Imagine spending your morning on Oman's breath-taking waters with your family, watching these majestic ocean creatures swimming below your boat and jumping out of the water to say hello! Here are the best places to watch dolphins in their natural habitat:
1. Bandar Al Khayran
This location is an idyllic river valley located 20 kilometres from Muscat. It has several types of intriguing rock formations, exotic islands, saltmarshes and long, narrow inlets of pristine waters. It's also called Al Khiran by some locals. It's a lovely beach to spend an afternoon, and if you swim far enough into its waters, it is home to many friendly dolphins. Many tour operators bring their boats close to catch these majestic creatures in action.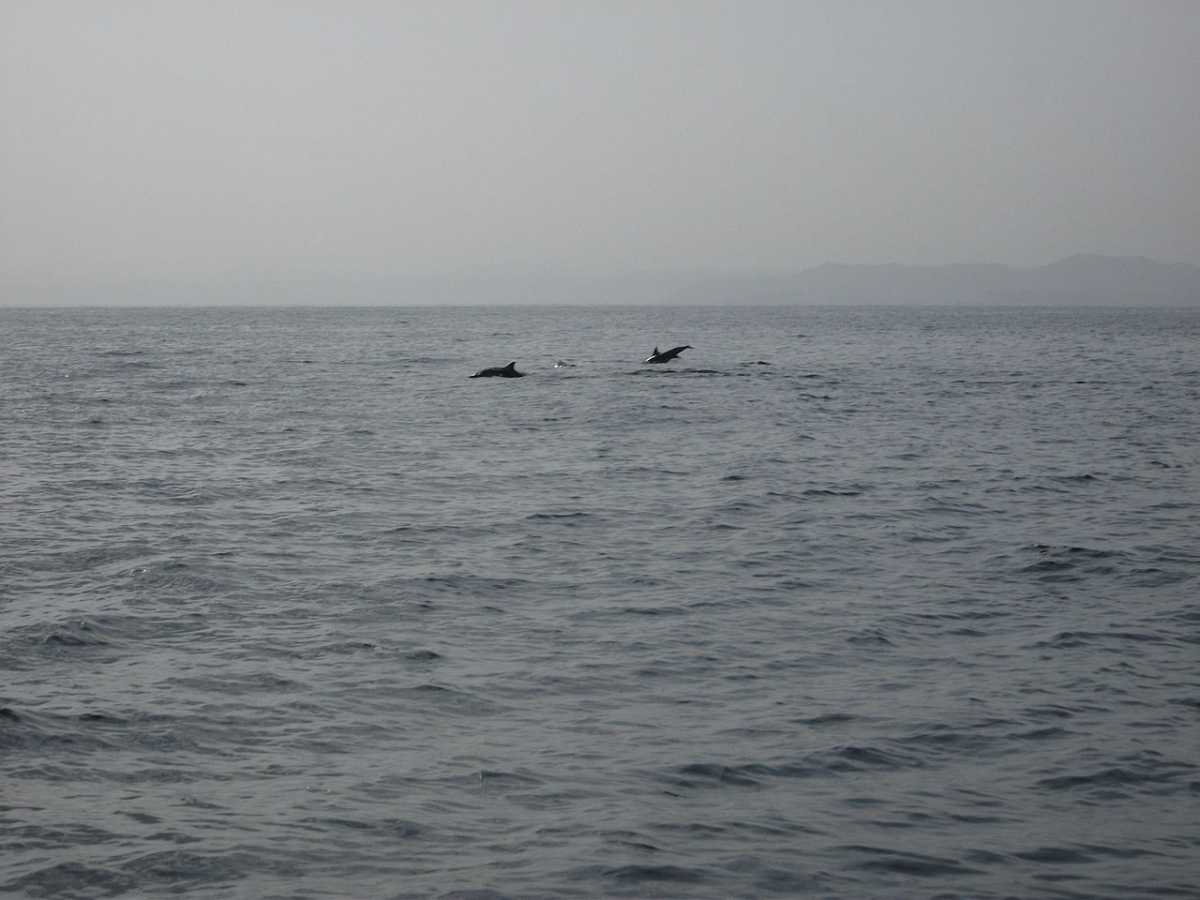 2. Duqm Beach
This beach in Al Wasta Governorate was once a sleepy fishing village. Today, it has become a commercial location with Crown Plaza and The Park Inn by Radisson Hotel located close by. Duqm Beach has the second largest dry dock in the Middle East and it has a booming gas industry. The beach has soft sand that practically melts under your bare feet as you walk across its calm shores. If you're lucky, you can look far into the waters and see dolphins swimming on the horizon.
3. Masirah Island
Masirah Island is known for its diverse environment and vibrant marine life. It's surrounded by smaller islands such as Kalban, Marsis and Chanazi. This island in the Al Sharqiyah Governorate can be reached through a local ferry called Alyasoora. This ferry carries people, cars, and goods from the mainland to the island. The island is home to many species of turtles that lay eggs on its shores and energetic dolphins that can be seen from the shores.
4. Dhofar Beaches
Dhofar is the southernmost region in Oman. It's got lots of beautiful beaches such as Al Maghsayl and Al Hafah that are known for water sports like diving, snorkeling and water skiing. Dhofar boasts of exciting lagoons and, if you're lucky, wild flamingos wandering the wilderness. There are also plenty of caves to be explored. The ice-blue waters of Dhofar host plenty of dolphin shoals.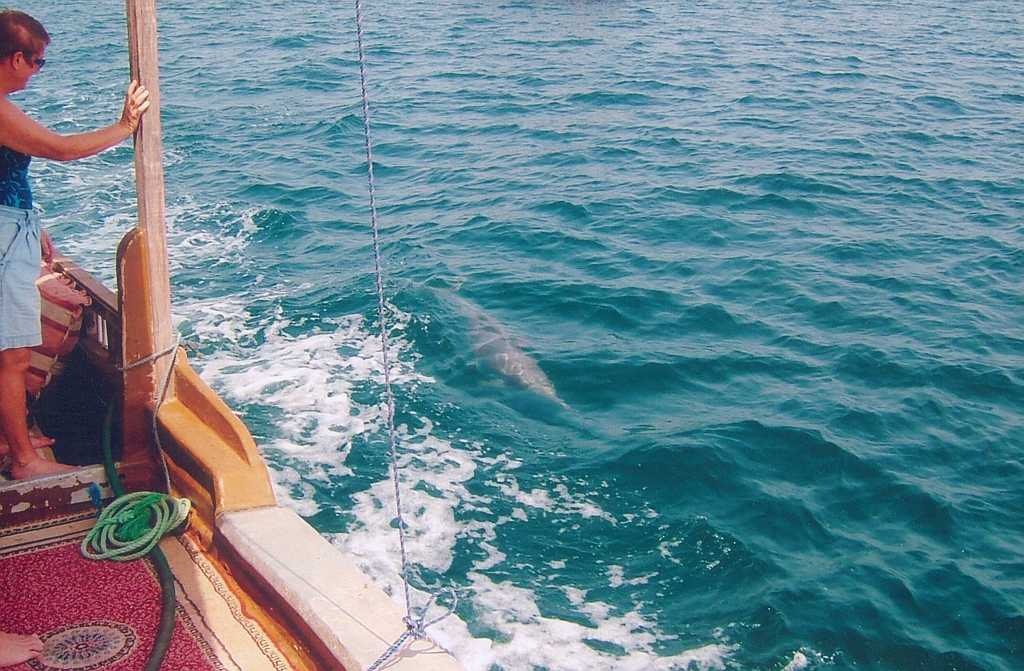 5. Isole Al Hillanayat
This is an island located 40 kilometres from the Dhofar coast. It's got plenty of untouched fisheries, making it an amazing location for explorers. The island is inhabited with friendly locals who rent out equipment for a great variety of water sports. However, reaching the island can be tricky. The waters are dangerous for unskilled boatmen and it can be a tiring and physically challenging journey.
6. Bandar Khayran Reserve
This natural reserve can be reached by a forty-minute boat ride from Marina Bandar Al-Rawdha in Muscat. It is a popular diving spot with over twenty frequented locations that provide an amazing view of the reserve's coral reef. There's a lush mangrove-filled lagoon as well. The beach has perfect waters for boating and camping, and when the sun is high up in the sky, you can make out dolphins leaping in the air.
Tips
The best time to go dolphin watching is between the months of October and May. They're less likely to be spotted or leap out of the water on cloudy days, so it's recommended to go dolphin watching on bright, sunny days. Dolphin tours are usually conducted in the mornings between 8 AM to 12 PM. Prices range between OMR 15-20 for adults and OMR 7-10 for children below the age of 12. The tours can be between two to three hours along with open boats that provide a 360-degree view of the azure ocean around you. Most packages include pick-up and drop to your hotel, along with snacks and refreshments. Ask your tour operator about all the packages available as many packages include dolphin sighting, turtle sighting, and snorkelling as well.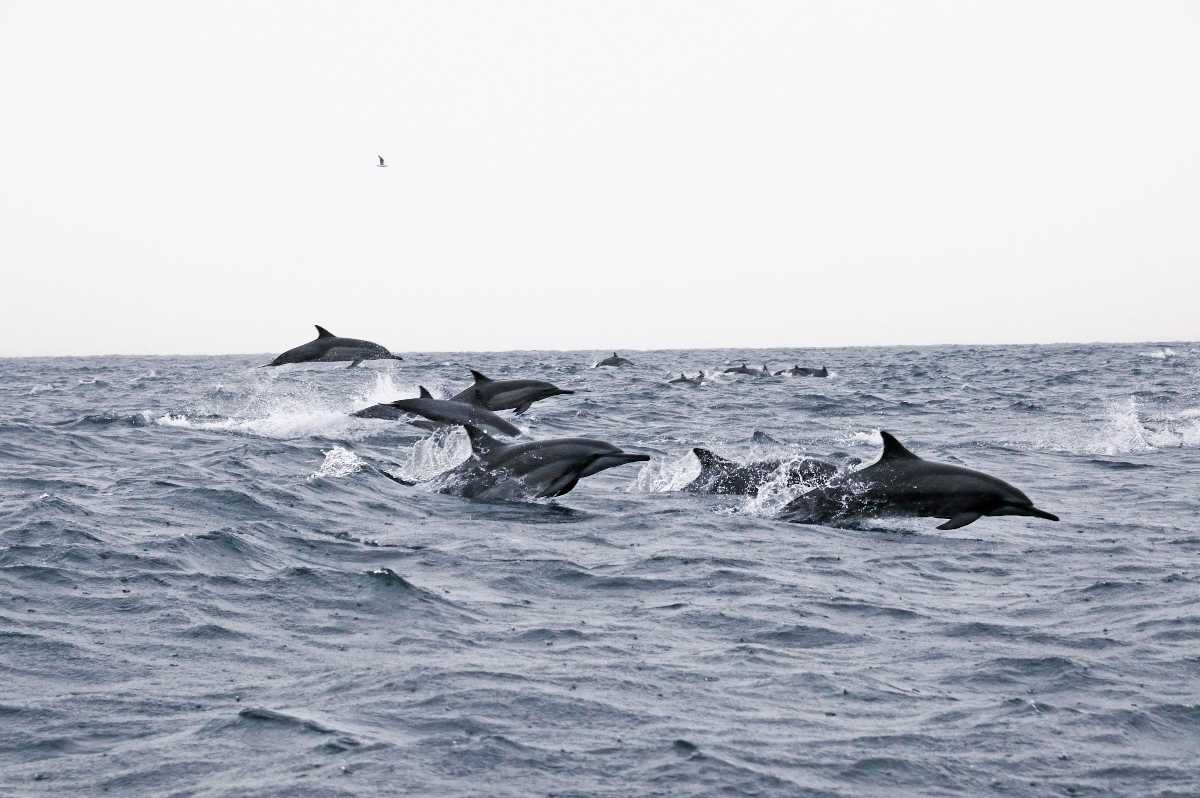 Dolphin watching is usually a day-long activity that ends with giggles for the whole family on watching these majestic creatures leap from the water. Both children and adults are sure to have fun spotting dolphins in Oman's pristine waters. Go on - book your next tour now!