Most people remember
Vietnam
for its delicious pho, memorable coffee, or those adorable straw hats but few know that this quaint country was once a French colony. Yes, that's right! Up until the First Indochina War in 1945, Vietnam was under French rule for almost six decades. All these years later, the French may have left but their immense influence remains. Here's a round-up of 11 buildings showcasing some of the best French architecture in Vietnam 
1. St Joseph's Cathedral, Hanoi - Vietnam's Notre-Dame Cathedral
The
oldest church in Hanoi, St Joseph's Cathedral
can be found on Nha Tho Street in Hoan Kiem District,
Hanoi
.  Construction of this church began in 1886 with the intention of resembling
Notre Dame in Paris
. It was built on the site of Bao Thien Pagoda, a sacred Buddhist temple during the pre-French colonial era that was later demolished. The façade of the cathedral consists of two square towers that are over 103 feet tall. Built in the Gothic Revival (Neo-Gothic Style), its exterior walls are made of granite stone slabs with stained glass windows, huge bells, and pointed arches. The first Christmas of this cathedral was celebrated in 1887 and since then, it is immensely popular during the holiday season and has even become a popular venue for couples to take their wedding photos.
2. Hanoi Opera House, Hanoi - Vietnam's Palais Garnier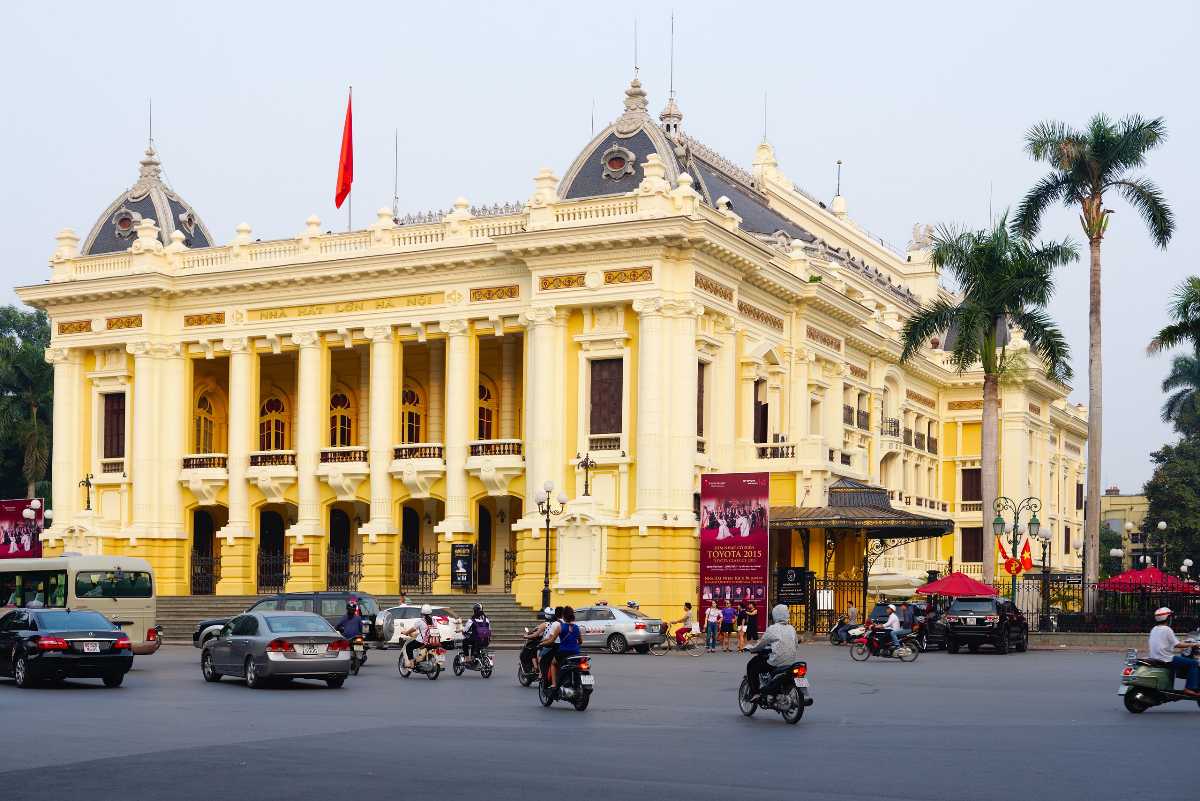 Also called the Grand Opera House, the
Hanoi Opera House
was erected by the French administration sometime between 1901 and 1911. It was modelled after
Palais Garnier, one of the oldest opera houses in Paris
. It once hosted French and Italian musicians performing the majority French audience. During the struggle for independence, Hanoi Opera House was used as a meeting spot for the Viet Minh (National Liberation Front). In 1946, the National Assembly of the Democratic Republic of Vietnam held their first meeting here.
The opera house stands tall at 115 feet, spanning around 2,600 square metres. The front façade holds neo-classical shuttered windows and wrought iron balconies while the inside has a white marble staircase, chandeliers, Corinthian columns, and charming murals. It includes three floors that can host around 600 people in the audience. It also has 18 makeup rooms and a library. In 2011, the opera house was declared a national relic.
3. Presidential Palace, Hanoi - Yellow Building with Classic French Colonial Architecture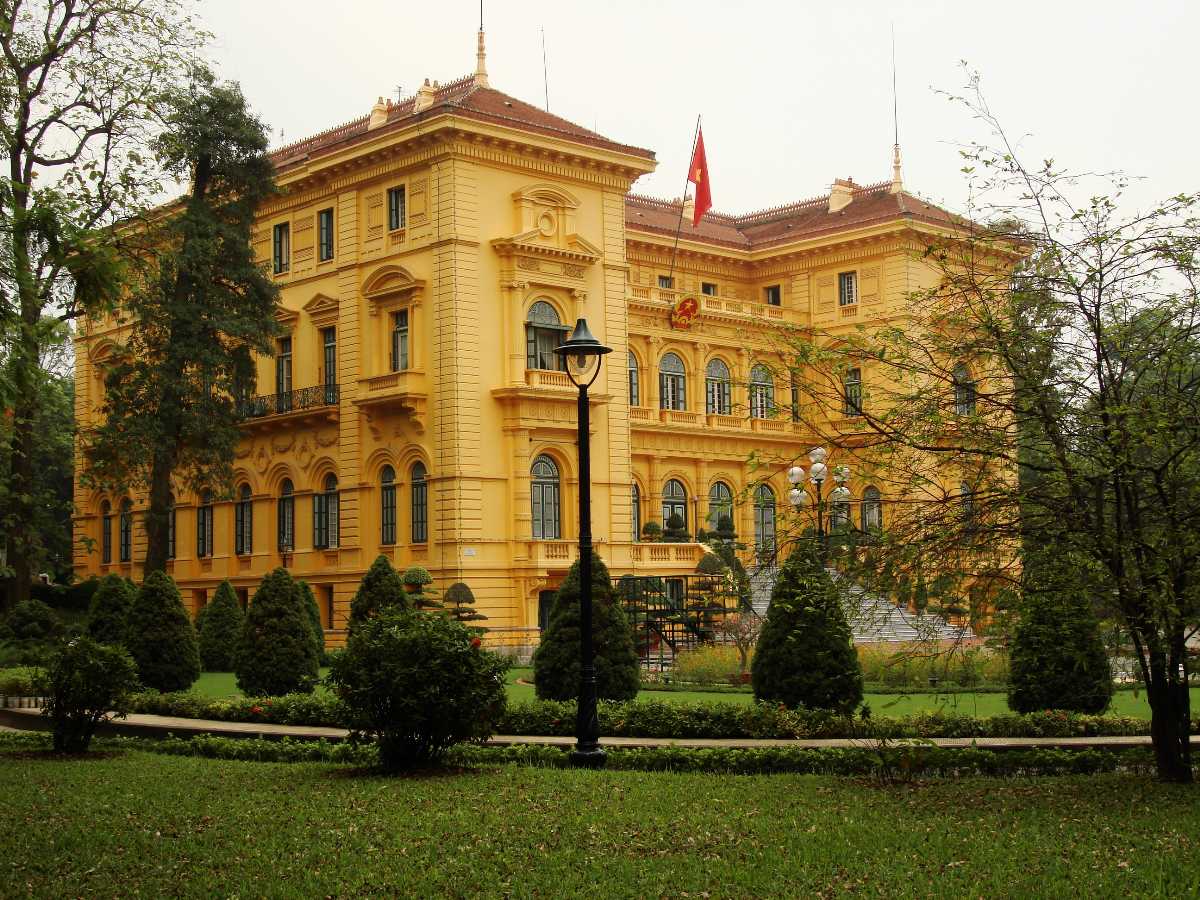 The
Presidential Palace in Hanoi
was built sometime between 1900 and 1906 to house the French Governor General of Indochina. Located in Hanoi, this palace was constructed by architect Auguste Henri Vildieu who modelled it according to European aesthetics. When Vietnam achieved independence in 1954, the palace was offered to President Ho Chi Minh as an official residence, but he refused for symbolic reasons although he continued to host state guests there. This three storey, yellow building has 30 rooms, an orchard, a pond, and a long boulevard flanked by lush gardens on each side. Aside from the wrought iron palace gates, other elements of French architecture in the Presidential Palace Hanoi are classical columns, quoins, aedicules and pediments, and a grand staircase. It continues to host government meetings and political gatherings today, so unfortunately it isn't open to the public, but you can always explore the gardens and
Ho Chi Minh's adjacent stilt home
for a fee of around VND 25,000. The gardens are very well-maintained and make for a calming afternoon in the bustling
Old Quarter of Hanoi
.
4. Hilton Hanoi Opera - Luxury Hotel with Classic French Architecture in Vietnam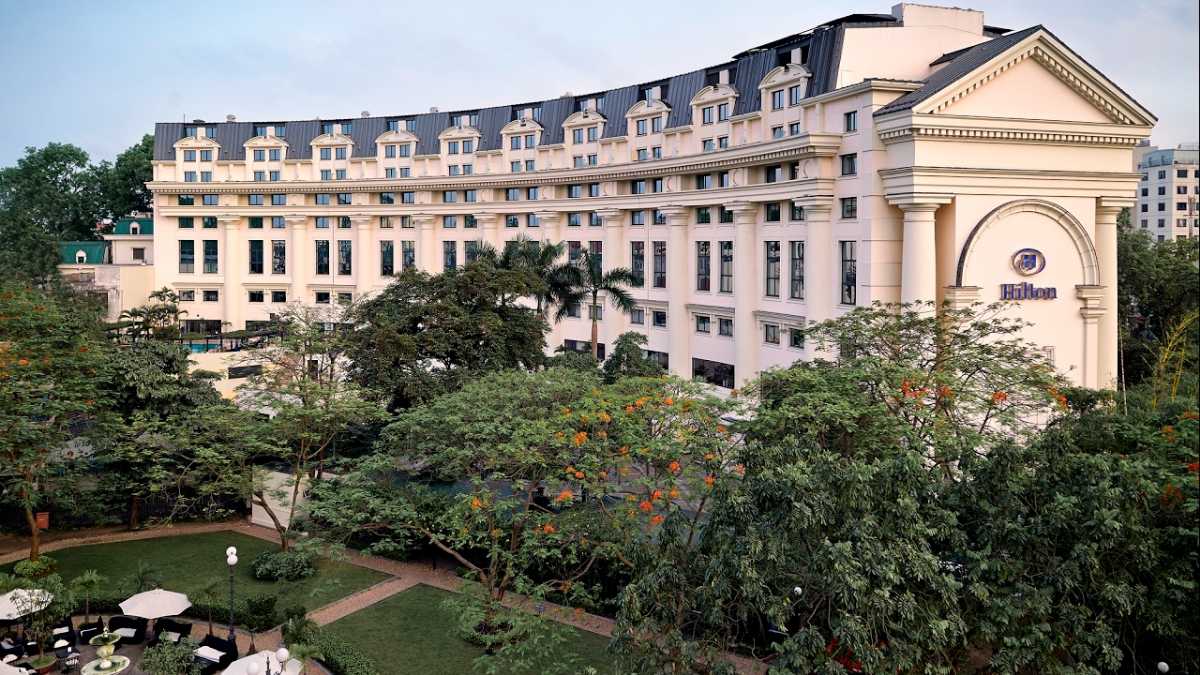 The Hilton Hanoi is an award-winning landmark hotel in the French Quarter of the city, just steps away from the Hanoi Opera House. Built in 1998, each room of the Hilton Hanoi features a pleasant natural palette of browns, blues, and reds. They include amenities like bathtubs or showers, minibars, flat-screen TVs, and free Wifi. The property also has a spa, hot tub, fitness centre and multiple meeting rooms. The outside façade mirrors the tall pedestals and yellow paint of the nearby Hanoi Opera House. The hotel is often unfortunately confused with
Hoa Lo Prison
, a prison used by French colonists and later, North Vietnam, for political prisoners. It was sarcastically called Hanoi Hilton by American prisoners of war and was demolished in the 1990's. Today, the prison's gatehouse has become a museum. 
5. National Museum of Vietnamese History, Hanoi - Combination of French and Chinese Architecture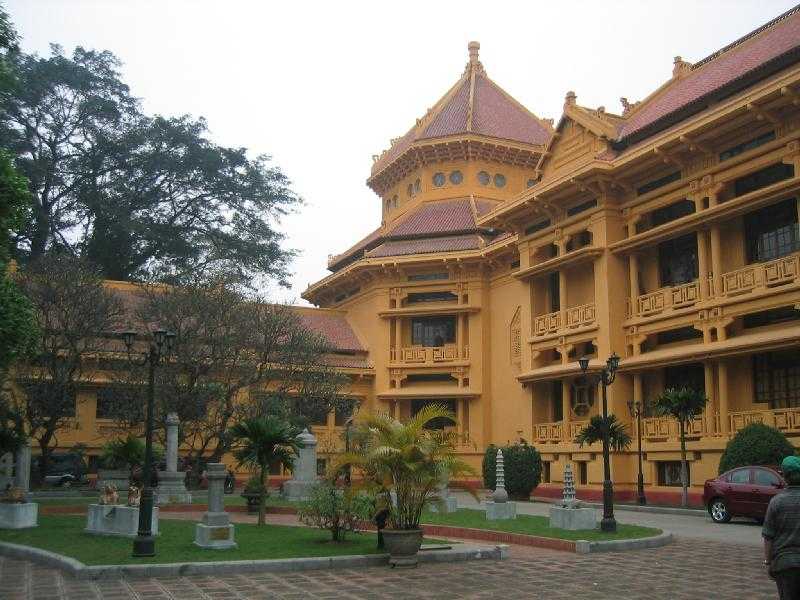 Once a research institute during French rule called the French School of the Far East,
the National Museum of Vietnamese History in Hanoi
was acquired by the government in 1958 and expanded into a museum that covers eastern arts and national history. It is home to more than 200,000 exhibits dating from prehistory up to the founding of the Democratic Republic of Vietnam. The National Museum is spread across Site One, a colonial-era building, and Site Two, formerly known as the Vietnam Museum of Revolution. The National Museum of Vietnamese History is located in a pagoda-shaped edifice, incorporating French and Chinese architecture. It has a natural ventilation system from the double walls and balconies. It saw a seven-year renovation in the 1930's due to visible deterioration of the outside walls. Today, you'll get to entry though an impressive two-storey pavilion opening out to the many exhibits. You can find the museum on 1 Trang Tien Street near the Hanoi Opera House.
6. Notre-Dame Basilica, Ho Chi Minh City - Iconic French-Styled Cathedral in Saigon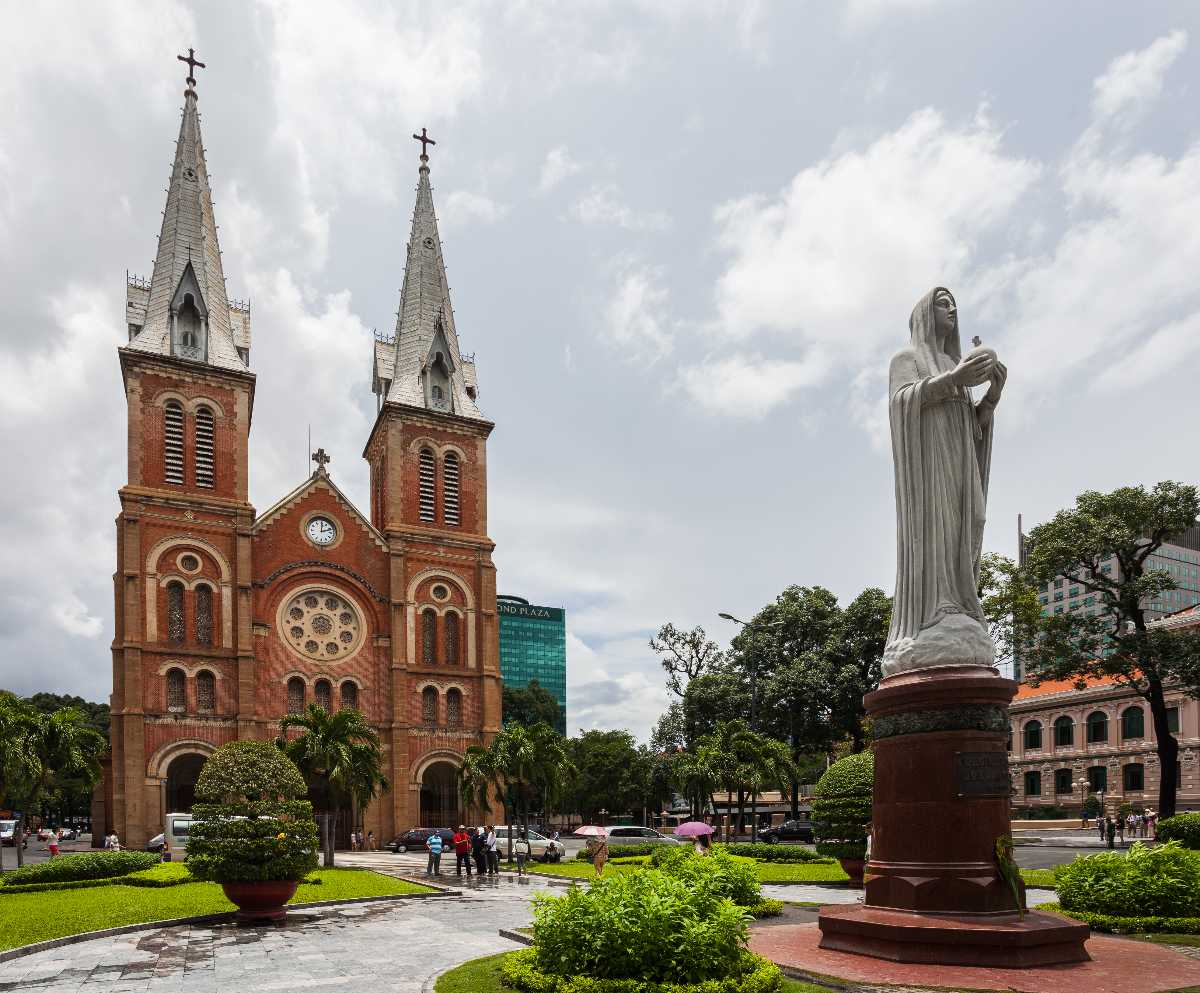 Officially called Cathedral Basilica of Our Lady of The Immaculate Conception,
Notre-Dame Cathedral Basilica of Saigon
is a cathedral in downtown
Ho Chi Minh City
. The first stone of construction was laid by Bishop Lefebvre in 1863 and the cathedral was completed sometime between 1870 and 1880. It received the name, Saigon Notre-Dame Cathedral, with the installation of the granite Peaceful Notre Dame statue in 1959, imported from Rome, and the Vatican declaring it the chief cathedral of Saigon. Today, it contains two imposing bell towers at an astounding 190 feet, red bricks glinting in the sunlight. Notre-Dame Basilica stands at nearly 200 feet tall with granite plates inside the main entry gate to commemorate its history. The crosses atop each bell tower weigh at least 600kgs each. The cathedral reportedly contains over 50 glass squares from the Chartres province of France. 
7. Central Post Office, Ho Chi Minh City -  Iconic City Landmark Exhibiting French Influence on Architecture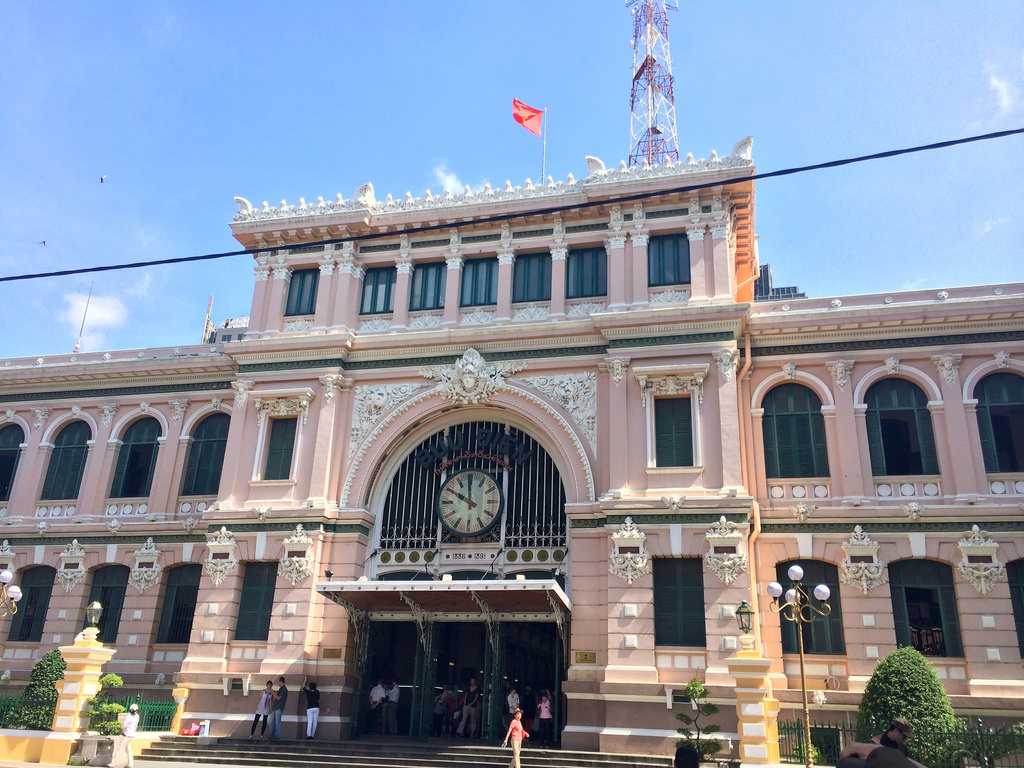 The
Central Post Office of Saigon
can be found adjacent to the Notre Dame Cathedral. Constructed between 1886 and 1891, it possesses distinctly French and Gothic architectural influences. Although it is sometimes credited as the work of Guateve Eiffel, it was actually designed by Alfred Foulhoux. In terms of architecture, the building has arched windows and wooden shutters, looping arches and marble floors reminiscent of the 19th century architectural style. The bright yellow building has a white trim, making it an elegant addition to the street full of beautiful colonial-era structures. A large clock features prominently at the entrance, and once inside, you'll get to see domed ceilings and metal arches. There's even a wing branching out of the office that sells souvenirs and postcards. 
8. Saigon Opera House, Ho Chi Minh City - Vietnam's Opera Garnier
A counterpart to Hanoi Opera House,
Saigon Opera House
was built in 1897, modelled like the Opera Garnier in Paris. It was designed by French architect Eugene Ferret, who drew all the inscriptions, décor, and furnishings and sent them from France to the Vietnamese builders. It features a tree-lined boulevard leading up to the entrance reminiscent of European design, and two seating levels inside that are capable of housing around 800 people. It was intended as a source of entertainment for French colonists and later, the middle-class during the World War years. Unfortunately, the audience declined with the growth of dance halls and night clubs in the city. Saigon Opera House continues to host performances today, most popularly the AO Show that blends Vietnamese elements with the Cirque du Soleil. The Opera House is only open to the public during such events.  
9. Nha Trang Cathedral, Nha Trang - the Stone Church of Nha Trang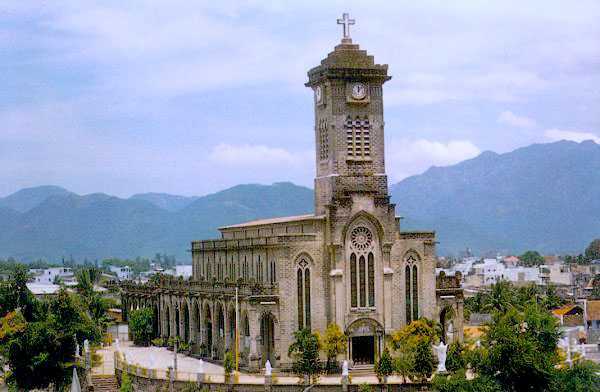 Formerly Christ the King Cathedral, Nha Trang Cathdral
is located in
Nha Trang
in central Vietnam. It is situated atop a hill that looks over Nha Trang Train Station and is an important attraction in this coastal city, serving the local Catholic community. The cathedral is made entirely of stone, decorated with intricate stained glass windows depicting the life of saints (several of them being French saints) and episodes from the life of Jesus. It has a clock tower surmounted by a crucifix. These three bells came from France in 1789. Other than this, hints of Vietnamese influences can be seen in the red light behind the crucifix, white light halo on St. Mary's statues, and blue light on the archway. To reach the cathedral, visitors can either use a 53-step stairway from Nguyan Street or a stone pathway from the city square.
10. People's Committee Building, Ho Chi Minh City - Historic and Iconic French Colonial Building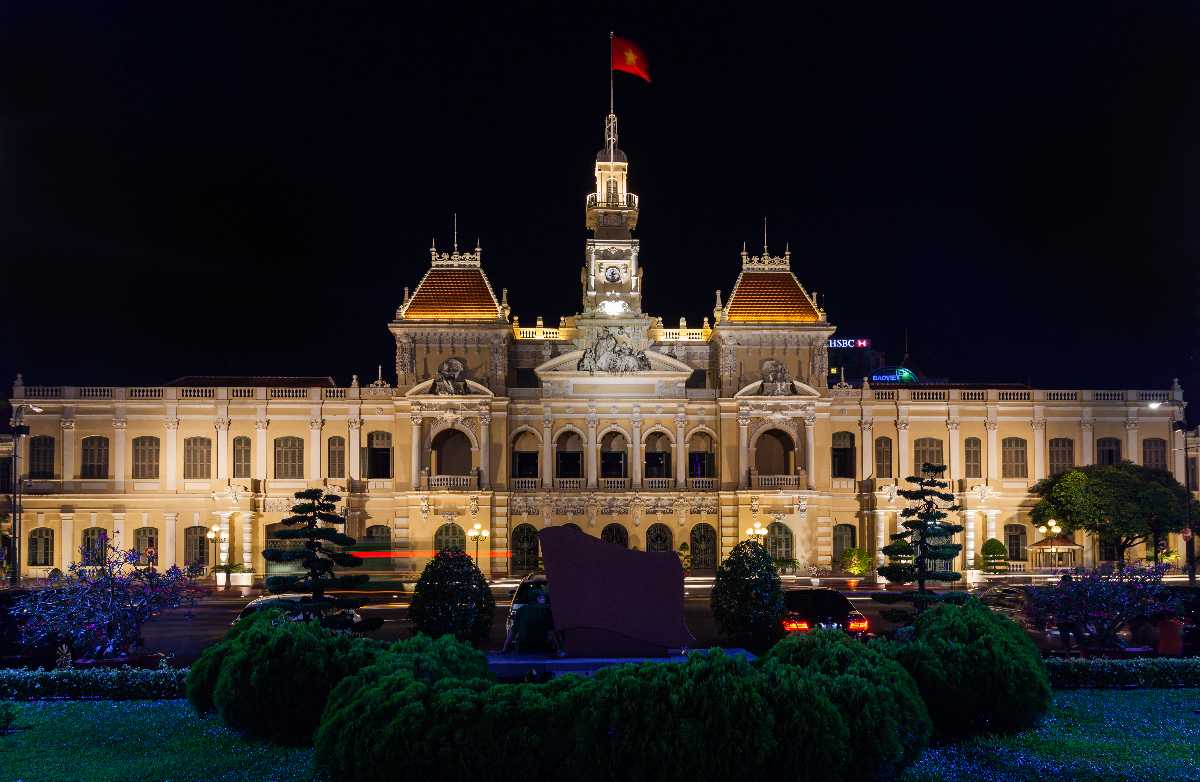 The
People's Committee Building
was built in Ho Chi Minh City in 1898, designed by famous French architect Femand Gardes. It was originally called Saigon City Hall, then Ho Chi Minh City Hall, and was finally renamed Ho Chi Minh City People's Committee in 1975. It can be found on Nguyen Hue Street boulevard, although it is not open to the public as it is a government building. The People's Committee Building is close to the Saigon Opera House and Notre Dame Cathedral in District 1. The old monument comprises three main buildings, the first being the highest of the three. Each building has an embossed statue – the left and right side buildings have women holding swords while the middle building has a woman and child. There are bas-relief on the walls which are characteristic of French architecture. In the small yard ahead of the building is a statue of political leader Ho Chi Minh that was constructed in 2015 to commemorate his 125th birthday. At night, this entire building is lit up with LED lights, making it quite a spectacle.
11. Tan Dinh Church, Ho Chi Minh City - the Pink Church of Vietnam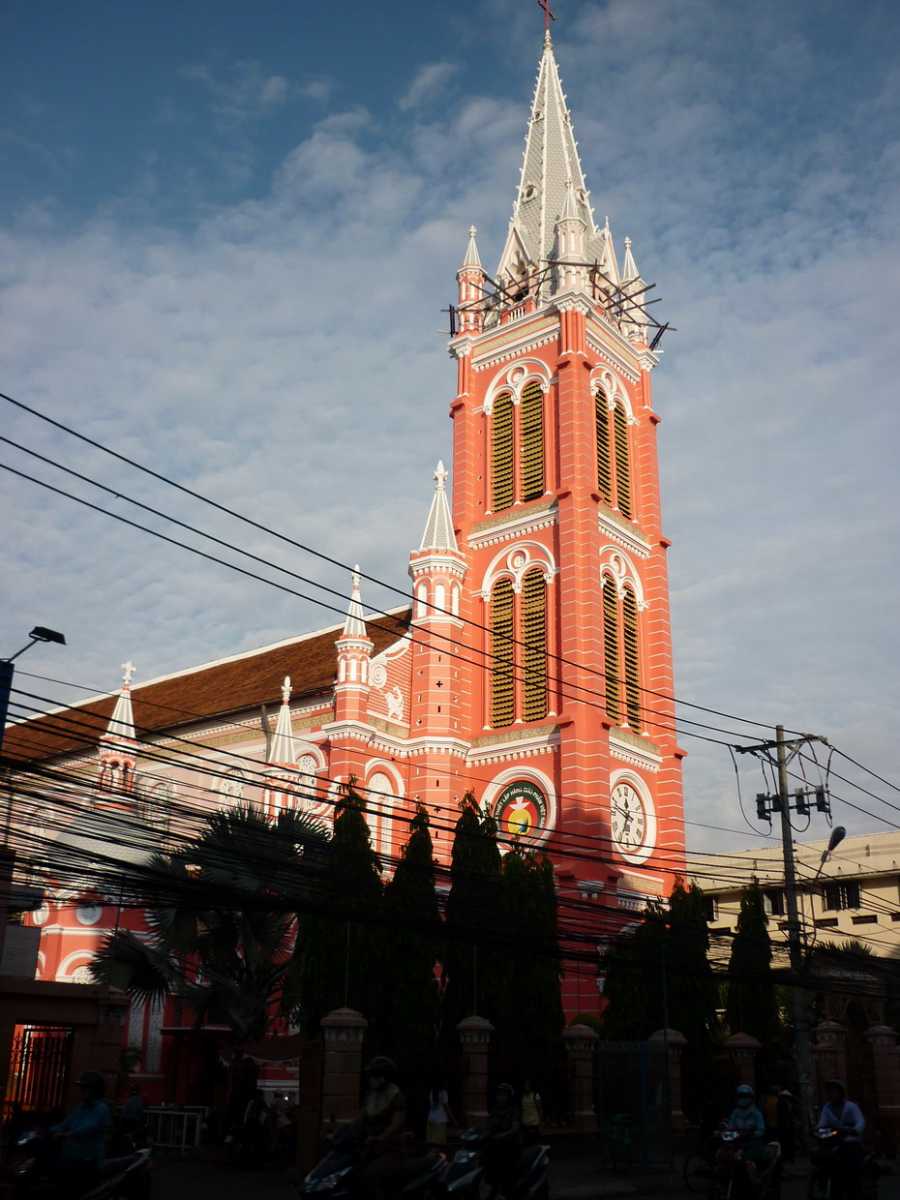 Located in the midst of the Tan Dinh fabric market of District 3,
Tan Dinh Church
was built in 1876 and belongs to the Roman Catholic Archdiocese of Ho Chi Minh City. It is the second largest church in the city after Notre-Dame Cathedral Basilica of Saigon. Tan Dinh Church is known for its incorporation of Gothic and Renaissance elements. Over 195 feet in height, it has two bell towers, and three beautifully carved Italian marble altars that came from a generous donation from a wealthy family in 1929. It is most prominent because of its eye-catching pink colour. It underwent renovations on its 100th anniversary in 1976. Tanh Dinh Church is a short taxi ride away from Vinh Nghiem Pagoda.
These are but a few examples of the wonderful French architecture in Vietnam. So pack your bags and book your tickets, and see if you can spot more of the French influence across the various buildings in the country.