Sri Lankan food is known for its flavourful combination of herbs, spices, rice, vegetables, and fruits. While seafood is an important part of the local cuisine, rice and curry are staple meals in Sri Lanka, with curries cooked in hot spicy flavors and coconut milk. The food in
Sri Lanka
is one combined with many different cultures and histories. It borrows its palette from neighboring countries like
India
, Bangladesh, and
Malaysia
. Vegetables are a staple food for Sri Lankans because agriculture is a dominant profession.
Food to Try in Sri Lanka
1. Sri Lankan Curries & Rice

One of the most famous dishes in Sri Lanka, curry occupies the heart and soul of the nation. The Sri Lankan curry comes in varied ranges with amazing flavors to deliver some spice and sourness to your palette. Usually, the curry is made by simmering all the spices and proteins along with water. Curry is generally paired with rice and fish and is the topmost delicacy in Sri Lankan cuisine. Some famous curries include Chilli fish curry, Devilled sweet and sour curry, fish and rice curry, Sri Lankan Dhal curry (parippu), etc.
2. Fish Ambul Thiyal (Dry Fish)

Fish ambul thiyal is a dry curry dish made by mixing spices and coating the fish with them. It is generally savored with mixed rice or steamed rice in Sri Lanka. It is one of the staple food of Sri Lanka since it is a coastal country.
3. Kukul Mas Curry (Chicken Curry)

Kukul mas curry is an authentic chicken curry that is common among households. The dish has fresh ingredients and tempered spices. Once the ingredients are mixed, they are combined with coconut milk to give it a rich and creamy texture. Generally served with rice, one may genuinely experience its taste with roti or paratha (bread).
4. Lamprais (Meat with Sambal Chilli)

Meat, rice, and sambal chili sauce make up this dish and represent the Sri Lankan touch. These ingredients are packed in a banana leaf and steamed. The separately cooked rice, the meat stock, and finally, the meat curry is served on the Banana leaf, providing a unique taste of flavors, including the steamy stroke of the banana leaf. Dutch cuisine influenced this dish; the meat blends with sweet spices such as clove or cinnamon.
5. Kottu (Sri Lankan Hamburger)

Kottu, also known as Kottu Roti, is another specialty of Sri Lankan cuisine. The dish is typically made up of rotis (bread) and is flavourful. The Kottu is prepared with the roti being fried and stacking up. The chef will again fry and begin chopping up the roti and flourishing the dish with various ingredients casually chosen by the one ordering the meal. The recipe is loved by all, as it serves several flavors packed within a single serving!
6. Hoppers or Appam

Hoppers, also known as 'appa' or 'appam'. This dish in Sri Lanka is usually made with a fermented batter. The recipe is processed in two ways, either steamed or pan-fried. The dough is made with rice flour and coconut milk with spices. The dish is equivalent to that of fresh pancakes. The hoppers can be sweet or savory; one of the local favorites is the egg hoppers. Egg hoppers with lemon juice, a 'sambol' of onions, and chilies & salt complete the dish. The egg hoppers are also the 'egg in the hole.' Overall, hoppers are a wholesome meal to fill your appetite and heart.
7. Polos (Green Jackfruit Curry)

Polos is a green jackfruit curry. The fruit is sliced and boiled until it turns soft. It is made by adding it to a mixture of onions, ginger, garlic, and a few spices. The final step is to add some coconut milk to it. This dish is typical in most restaurants and hotels around Sri Lanka.
8. Wambatu Moju (Eggplant Pickle)

Wambatu Moju is a basic eggplant pickle that usually acts as a side dish in Sri Lanka. However, the flavors that it adds to the recipe are lip-smacking! The eggplant is cut into small wedges and deep-fried. The crispy eggplant wedge is caramelized with green chilies, mustard seeds, chili powder, a spoonful of sugar, red onions, and vinegar. This pickle will ultimately burst into flavors as it steps into your mouth!
9. Kiribath (Milk Rice)

Sri Lankan cuisine is influenced by the South Indian cuisine of the Indian subcontinent, and thus it is no surprise that fish and rice are at the top of the list among the dishes in Sri Lanka. Kiribath is yet another special rice dish that is cooked along with coconut milk (thick). Kiribath is prepared with the typical procedure of cooking rice and adding coconut milk and a pinch of salt. The resulting dish is a creamy and rich rice dish that explodes flavors in one's mouth!
10. Gotu Kola Mallum Sambola (Pennywort Salad)

Vegetarian heaven is an appropriate description of the dish. Gotukola is a green leafy vegetable found in the Southeast Asian region. The Gotukola is sliced and mixed with grated coconut, shallots, tomatoes, and onions and finally garnished with lemon juice, salt, and pepper. Sambol is a term used to describe a dish eaten with raw materials. A Vegetable mash, this dish will make your stomach smile.
11. Parippu (Lentil Curry)

Parippu is also called spicy lentil curry. It is a flavorsome curry with red and yellow lentils, onions, spices, coconut milk, curry leaves, and garlic. This curry is mostly eaten with steamed rice but tastes best with roti (bread)!
12. Pittu (Funnel Cake)

Pittu is a funnel cake with a Sri Lankan touch. The cake is made traditionally by steaming it in bamboo; however, circular metal tubes are sometimes used. The specialty of the loaves is the combination of shredded coconut and flour, which helps the cake's texture. The steaming process furthers the taste, and is finally served with coconut milk (sweetened), making a fantastic dish!
Sri Lankan Desserts
13. Wattapalam (Coconut Pudding)

Wattapalam is a delicious coconut pudding made for special occasions. It is made of coconut milk, jaggery, eggs, and cashew nuts and flavored with cardamom, cloves, and nutmeg. Wattapalam is a steamed dessert, so it is also a healthy option.
14. Wood Apple

Wood Apple is a beautiful sweet dish available on the streets of Sri Lanka. Wood Apple has a hard shell and an almost pungent smell. The inside of a Wood Apple has a dark paste similar to fermented raisins. Wood Apple is usually combined with jaggery and water, giving it a sweet-sour taste that will be quite unique to your palette. This exciting dish has grabbed a lot of hearts and is a must-try in Sri Lanka! The Wood Apple dish is a famous street food in Sri Lanka.
15. Curd and Treacle

Curd and Treacle is famous for the simplicity, freshness, and authenticity it leaves behind. Created out of buffalo milk, it is creamy, thick, and served in terracotta bowls. Kithul treacle, also known as Palm Treacle, is made from the boiled sap of the Kithul palm. It is a healthy and great dessert to beat the heat.
16. Bibbikan (Coconut Cake)

Bibbikan is a coconut cake that is dark in color; it consists of semolina, raisins, jaggery, cashews, and shredded coconut. The cake is known for being incredibly moist and soft as it melts in your mouth.
17. Avocado Crazy (Avocado Pudding)

Avocado Crazy is also known as avocado pudding. This dessert has cream and lots of sugar infused into it. It is then frozen, with nuts added on top, and in some places, they add rum to the pudding as well!
Best Restaurants In Sri Lanka For Local Food
1. Chutneys

Chutneys Restaurant in
Colombo
is an authentic South Indian restaurant. The restaurant caters to dishes from
Karnataka
,
Andhra Pradesh
,
Tamil Nadu
, and
Kerala
. However, there is a dress code for men as they have to wear long pants.
Prices: The meals start from LKR 500 and average up to LKR 4000 for two.
Timings: Lunch: noon–2:30 PM and dinner: Daily 7:00 PM – 11:00 PM
2. The Lagoon

The Lagoon is considered one of the best places in Colombo for seafood, even though it is costly. The restaurant is famous for offering more than 150 types of seafood to its customers. Their specialty dish is the
Singapore
an chili crab meat.
Price: It costs approximately LKR 6000 for two.
Timings: The place opens from 12:00 PM to 2.30 pm in the afternoons and from 7 PM to 12.00AM in the night.
3. Bedspace Kitchen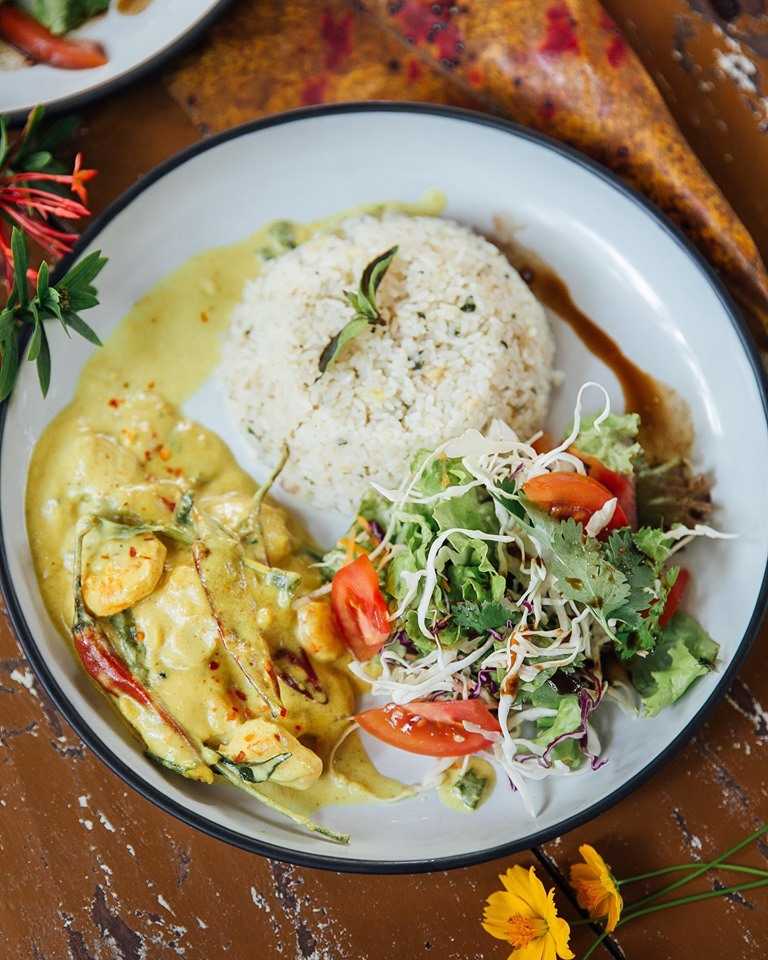 Bedspace Kitchen in Unawatuna has an open kitchen that serves vegetarian and non-vegetarian dishes and changes its menu almost daily. However, the specialties here are burgers, salads, wraps, and peri chicken. It offers a large variety of cuisines. The restaurant also offers such as special nights on Wednesdays, Fridays and Sundays, which have special menus.
Price: The price ranges from LKR 2000 to LKR 5000 average for two people.
Timing: Monday to Sunday, 8:00 AM to 10:00 PM
4. Ministry of Crab

Ministry of Crab in Colombo is the place to be if you are a crab lover, as the ministry of crab is the best place to try out different types of crab meat. The restaurant is also famously co-owned by legendary cricketers Mahela Jayawardene and Kumar Sangakkara. The Singapore-style crab meat in chili sauce, clay pot prawn curry, and fish cooked in creamy butter sauce are some of the must-try dishes here.
Price for two: Approximately LKR 6000
Timing: lunch is from 12:00 PM to 3:00 PM and dinner are from 6:00 PM to 10:30 PM.
Sri Lanka is one of the best places for people from across the world to experience a cuisine that is so unique that it is a mixture of multiple cuisines from its neighbors, and it is an unforgettable experience.