Hanoi
, the capital of
Vietnam
, has a rich cultural heritage offering its tourists with a wide variety of souvenirs to buy from the city. These products are endemic to the region and are a must-have for all the tourists visiting the city to keep as a memory.
Here is the list of items that you can buy from Hanoi:
1. Vietnamese Silk Products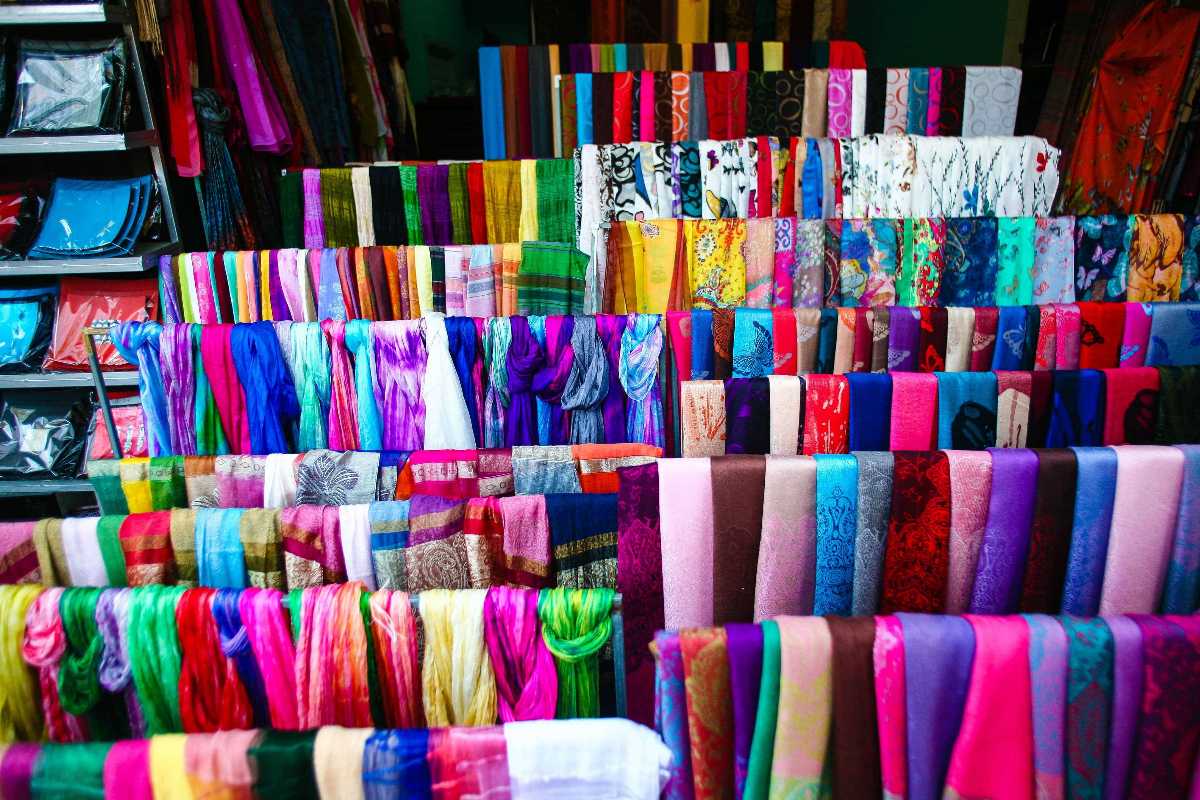 Vietnam is well known for its silk industry and silk products. The famous village of Van Phuc is famous for silk products and clothing. If you get a chance, you must visit this village of south Hanoi to get a glimpse of the traditional silk industry. There are a lot of local shops all through the streets of Hanoi, where you can buy silk clothing. Other silk items can include scarves, bags, wall hangings etc.
Price Range
Silk Fabrics - USD 6.5 to USD 21
Readymade items - USD 30 to USD 50 (per item)
Where to buy
Khai Silk: 113 Hang Gai, Haon Kiem
Duc Loi Silk: 77 Hang Gai, Haon Kiem.
2. Vietnamese Hand Embroidery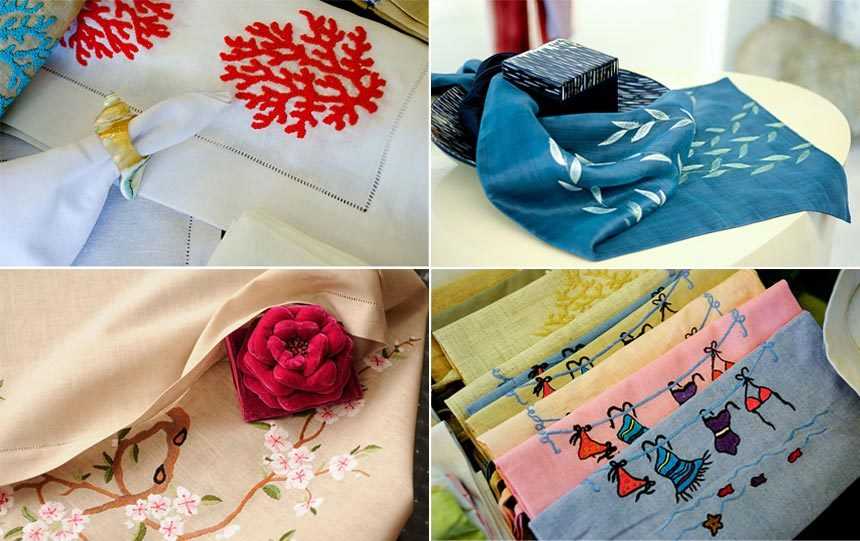 Vietnam is famous for its intricate hand embroideries. In terms of quality, skill, design and price; the local hand-embroidered products are a must-have. One can buy hand-embroidered bed sheets, quilts, pillow covers, handkerchiefs, napkins, table covers, bags etc. The wide range of hand-embroidered products are not only beautiful but also worth the price. Most designs are made on special Vietnamese cotton and linen. The traditional hand-made designs include flowers and dragons.
Price Range: USD 4.5 to USD 8 (depending upon the purchased item)
Where to buy
Tan My Designs: 61 Hang Gai Street, Hoan Kiem.
May Store: 7 Nha Tho, Hang Trong, Hoan Kiem.

3. 'Do' Paper Products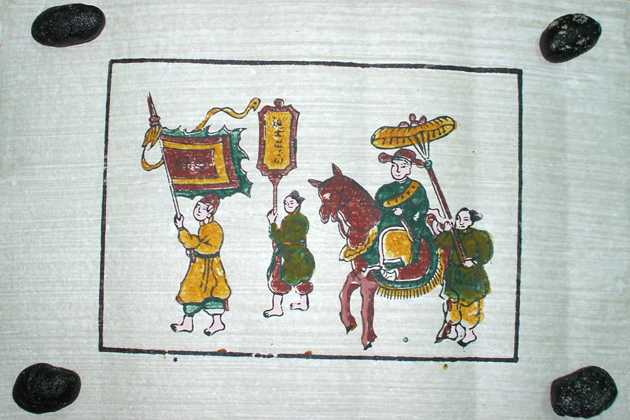 Another speciality of Vietnam is the famous 'do' paper made out of the bark of special kind of local tree - Rhamnoneuron. The famous
Dong
Ho paintings are made on this paper. Tourists can find a wide range of notebooks, greeting cards, paintings and stationery sets made especially out of this paper.
Price Range: USD 1 to USD 2 (per item)
Where to buy 
Craft Link: Van Mieu Dong Da, Ha Noi.

4. Lotus Tea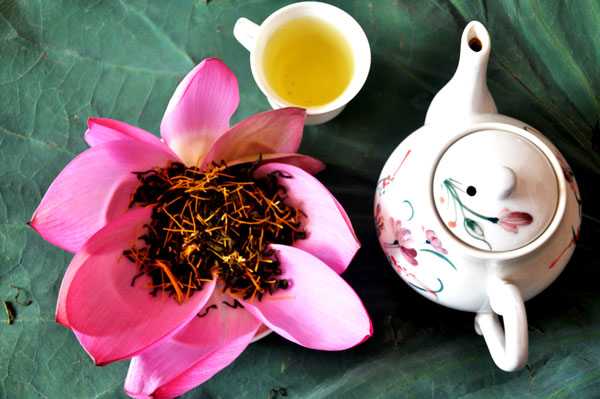 Lotus, the national flower of Vietnam, is found commonly all across the country with The
West Lake
having some great varieties of lotus. The tea makers of Vietnam are well known for creating lotus flavoured tea. For 1kg of tea, around 1500 lotus are used. Due to its complex procedure of creation, the lotus tea is pretty expensive. However, the taste of tea is all worth the price. The lotus-scented tea with vanilla flavour is enough to delight your taste buds.
Price Range: USD 220 to USD 352 (depending upon the purchased quantity of tea)
Where to buy
Huong Mai Cafe: 58 Ma May, Hoan Kiem.
Che Minh Cuong: 65 Cu Chinh Lan, Thanh Xuan.
5. O Mai (Sweetened fruits)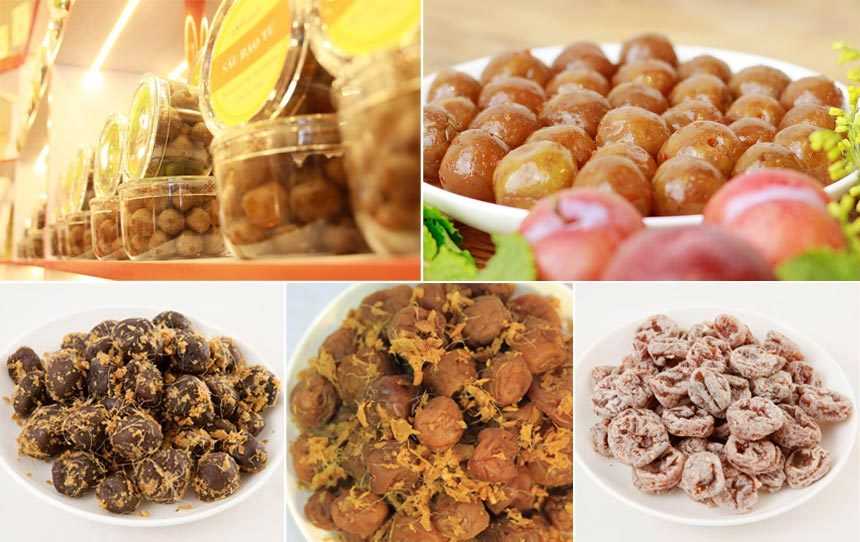 O Mai is a traditional dry fruit snack of Vietnam. The dry fruits are mixed with salt, sugar, lime, chilly to give a mixed flavour of sweet, salty and spicy. It is a crunchy snack, often offered to the guests by locals on festivals or auspicious occasions. Most common fruits used to make o mai are apricot, peach, plum, star fruit and tamarind. 
Price Range: USD 1.7 to USD 4 (per box of varying quantities)
Where to buy
Hong Lam Store: 11 Hang Duong Street, Hoan Kiem.
Tien Tinh Store: 21 Hang Duong Street, Hoan Kiem.
6. Ao Dai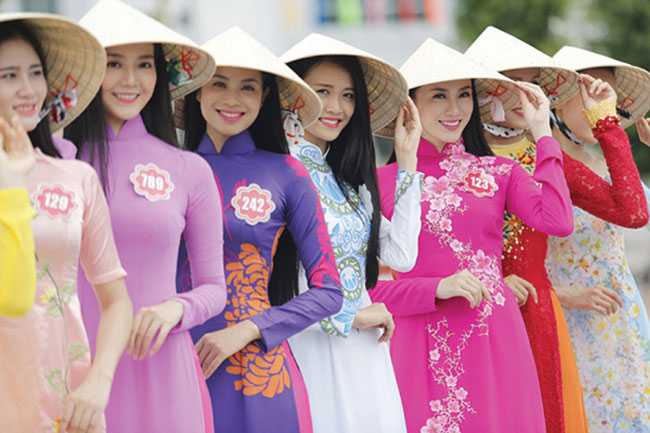 Ao Dai is a traditional Vietnamese dress, worn by men and women. The national costume of Vietnam is often bought by a lot of tourists as a souvenir to keep as a memory of the trip. Ao Dai set comes with a great variety of designs, colours, fabrics etc. People can buy readymade Ao Dai sets from stores or even get their own customised on choice.
Price Range: USD 30 to USD 70 (depending upon the chosen set)
Where to buy 
Ao Dai Vietnam: 40 Trang Thi, Hang Bong, Hoan Kiem
Ao Dai Designer Boutique: 23 Luong Van Can Street , Hoan Kiem.
7. Lacquerware and Ceramics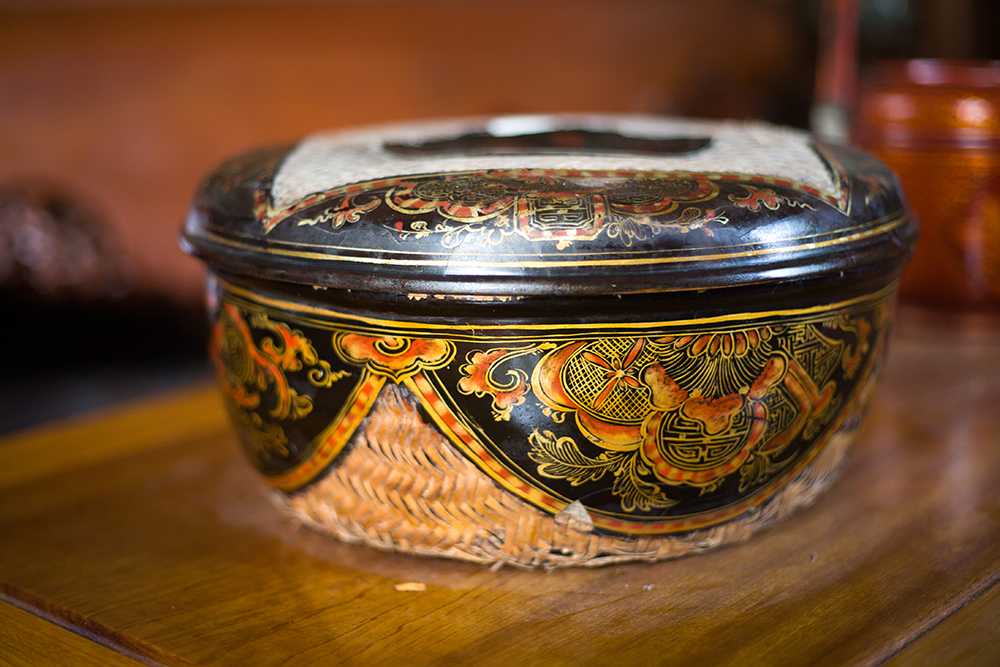 Lacquerware is one of the known specialities of Vietnam. From centuries, the traditional communities of Vietnam have engaged in the art of 'lacquerware' which takes about 100 days to finish. Tourists from all over the world buy jewellery boxes, trays, bowls, photo frames and vases. It is a great souvenir to be bought and taken back home as a token of memory from Hanoi. While shopping in Hanoi, for lacquerware, you need to be extremely cautious of the quality and design of the items. Be extra careful from frauds, selling cheap quality products.
Price Range: USD 8 to USD 55 (per item depending upon the kind of purchased lacquerware)
Where to buy
Marena Hanoi: 28 Nha Chung, Hang Trong, Hanoi Old Quarter.
Minh Tam: 2 Hang Bong, Hanoi Old Quarter.
8. Bamboo Products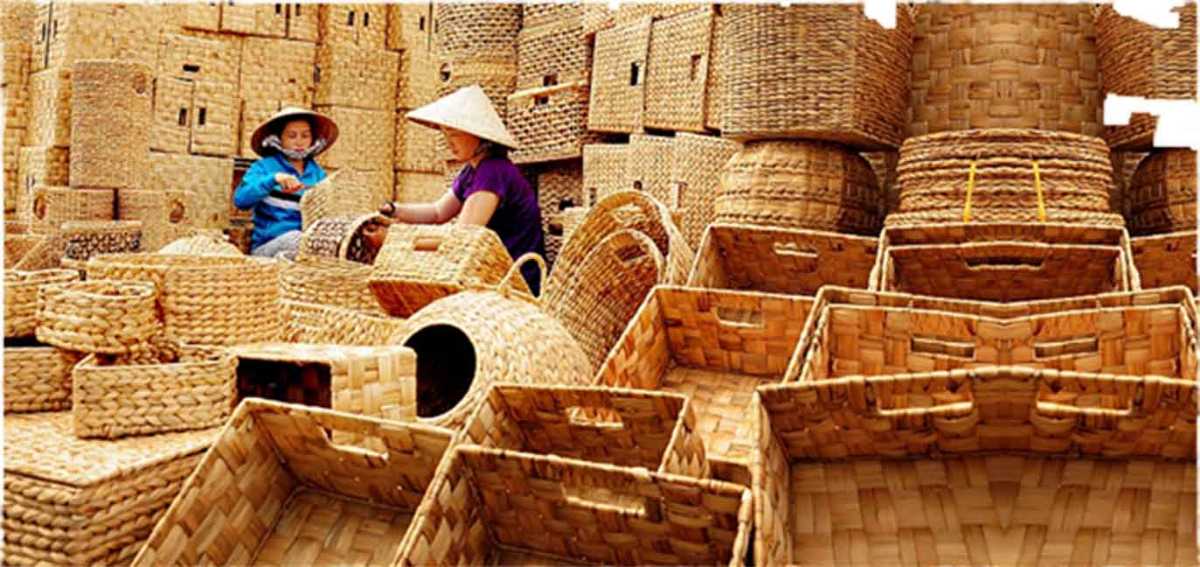 Bamboo is considered as one of the traditional plants of the Vietnamese culture. Being symbolised as the representative of the villages of Vietnam, bamboo plants and its products are spread all over the country. The tourists get ample of options to buy wide varieties of bamboo products from the streets of Hanoi. The products include; baskets, trays, bowls, furniture and decorative items. You will be amazed to see the beautiful bamboo souvenirs, intricately designed by the locals.
Price: Starts at USD 1 (depending upon the purchased product)
Where to buy 
Bamboo Village Shop: 108 Xuan Dieu Street, Tay ho district.
Bamboo Shop: 4B, Hang Hang street, Hoan Kiem
9. Traditional Ethnic Minorities' Souvenirs
Vietnam is known for its diverse traditional community, each reflective of their unique cultures and heritage. Tourists can buy a wide variety of products, hand-curated by these ethnic minorities. The products include; scarves, bags, clothing, textiles, paintings and ceramics. These items are portable and even worthy of being gifted to loved ones. 
Prices: Starts from USD 50 (per item)
Where to buy
Craft Link: 43 Van Mieu, Dong Da.
10. Non La

Non La is a traditional Vietnamese conical hat worn as a part of the traditional outfit by the locals. Made from palm leaves, the hat is a symbol of the rice-cultivating culture of the country. Most people prefer wearing Non La with Ao Dai to make up for a complete traditional look. The hats not only look beautiful but at the same time protect people from the heat of the sun and rainy weather. 
Price Range: USD 1.5 to USD 6 (per hat)
Where to buy
Souvenir Shops: Old Quarter Hanoi.
Dong Xuan Market
11. Magnet Dolls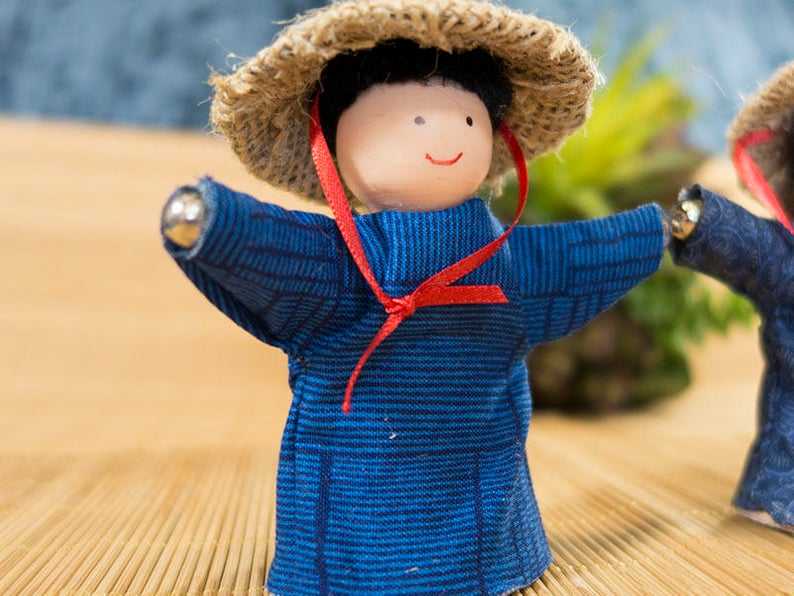 Magnet dolls are one such souvenir which are bought by lots of tourists visiting the country. The magnet dolls come up dressed in traditional Vietnamese dress with colourful prints and designs. These are a must-buy for children looking for beautiful and attractive toys. Being extremely portable, the tiny magnet dolls come in a lot of varieties, offering a great deal of choice to choose from.
Price: Starts at USD 1 (per piece depending upon the kind of magnet doll)
Where to buy
Markets like; Dong Xuan and Ma May have a lot of shops offering magnet dolls on sale.
12. Vietnamese Coffee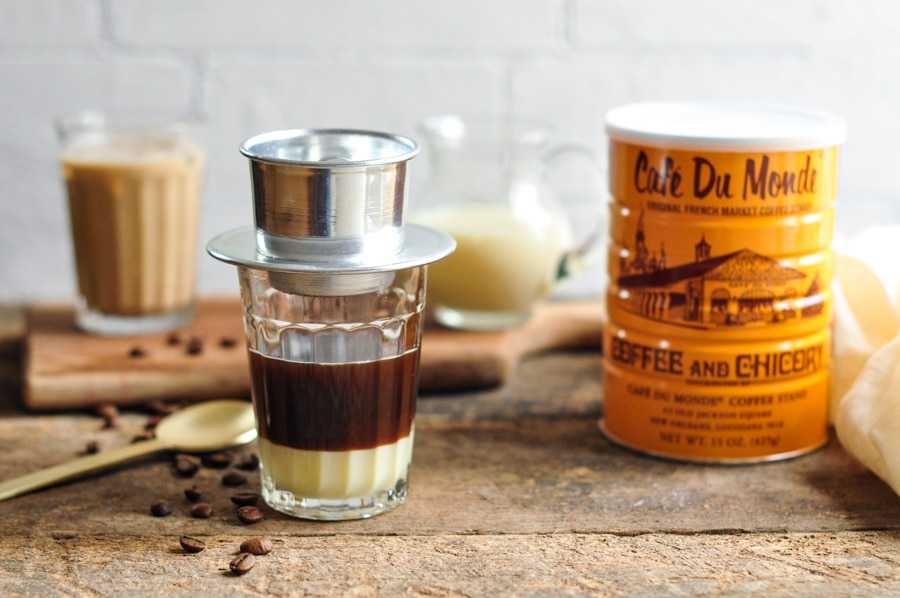 For all the coffee lovers out there, Hanoi has some great variety of coffee available at every nook and corner. Most people consume coffee with yoghurt, eggs, ice cream etc. The traditional Vietnamese coffee is known for its unique taste and strong aroma. The most famous variety of Vietnamese coffee is Weasel Coffee. These are served all across the cafes and restaurants in the city. Most tourists even prefer buying some raw coffee or coffee powder as a souvenir to carry home.
Price:  
Vietnamese coffee - Starts at USD 2.6 (per kg - depending upon the purchased variety and quantity of coffee)
Cafe coffee price range - USD 1 to USD 4
Where to buy
Kim Lai Coffee Shop: 99 Hang Buom Street.
Cafe Huong Mai: 42 Lurong Van Can.
13. Dried Seafood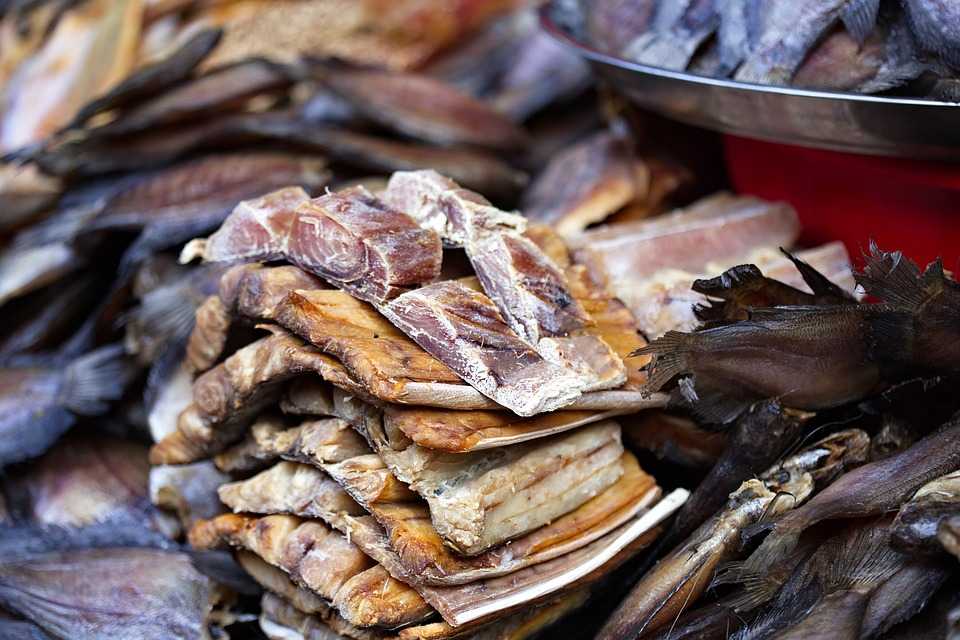 For seafood lovers, Vietnam has a lot of eatery options. Be it dining in at restaurants or eating seafood from the local stall; tourists have ample choices. Vietnam is known for another unique variation of seafood in the form of dried seafood. Dried squids, shrimps, prawns are available on sale at very reasonable prices. Most people eat them as it is like a snack while others prefer frying or grilling these dried snacks before eating. 
Price: Starts at USD 1 (per kg - negotiable prices)
Where to buy 
The Dong Xuan Market
Market at Old Hanoi Quarter
14. Vietnamese Green Bean Cake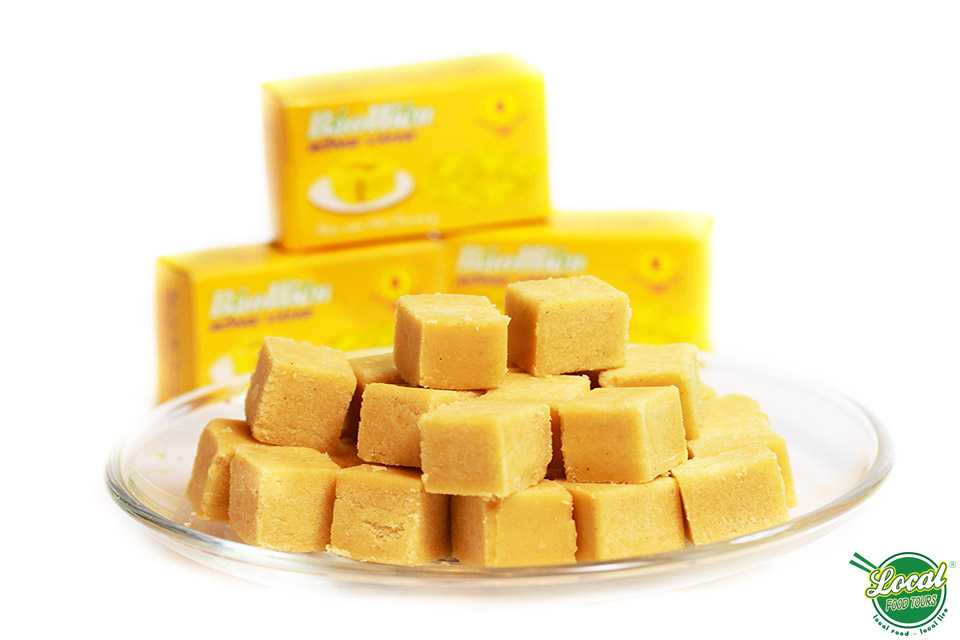 The traditional cake is one of the most common snacks for all the locals. The green bean cake is usually consumed with the local Vietnamese tea to enhance its flavours. Tourists can easily buy the traditional cake from bakeries, cafes and restaurants. The cake is considered as a healthy snack option available at pretty economical prices.
Price: Starts at USD 3 (The cake is also available in portions for sale at cafes and bakeries)
Where to buy 
General Agency Golden Dragon Bean cake: 27 Hang Giay, Hoan Kiem.
All the products mentioned above are a perfect buy for all the tourists visiting Hanoi and the beautiful country of Vietnam. Kept as a token of memory, all these souvenirs can be easily bought at an affordable price by the tourists. Hence, if you're planning to visit Hanoi, these products should not be missed by you.