Weekends are lit in Hanoi. Why? Well, every Friday, Saturday and Sunday the city of Hanoi has Weekend Night Markets on the bustling streets which are lit up with colourful lights and people of all kinds. Here is the list of the best night markets in Hanoi you must visit when you visit this bustling city. 
1. Old Quarter Night Market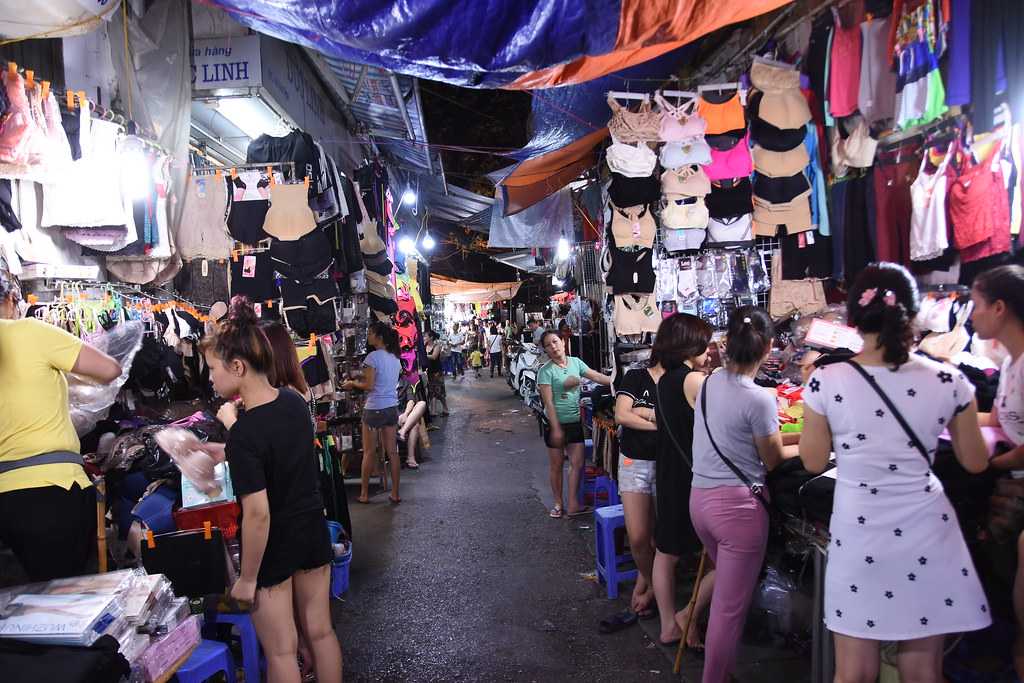 It starts from Hang Dao Street and goes on till the edge of the Dong Xuan Market. While it is a treat for tourists looking forward to street food and window shopping, it is also a paradise for photographers due to the vibrant lighting illuminating the streets and historical locations. It is a total feast for your eyes. You can get a variety of souvenirs to take away from Hanoi over here and the different types of street-side food will surely win over your taste buds. Food tour packages starting from INR 2,000 (VND 6.5 lakhs or USD 28.50) are available to go around the night markets in Hanoi and taste the best food.
Timings: Friday - Sunday, 06:00 PM - 12:00 AM
Address: Hang Dao Street, Old Quarter, Hanoi
How to reach: It is a 30-minute cab drive from the Noi Bai International Airport. Tourists from all around the globe visit the night market for its rush and vibrance. This said, there are a lot of things to do here.
What to Shop at Old Quarter Night Market in Hanoi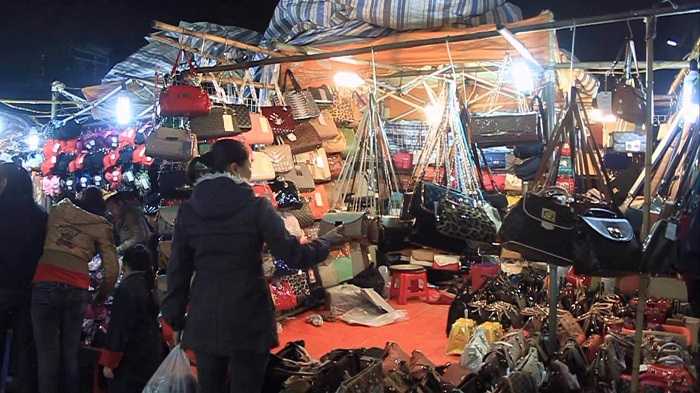 There are a plethora of options present at this night market. There are numerous shops selling a variety of items ranging from handicraft to clothing and ceramics to porcelain items. There are a lot of shops which offer a great number of souvenirs to take back from Hanoi. Going around the night market you find all kinds of things both new and some antique. For most tourists, this place is a heaven to take back souvenirs. The handicrafts sold here like bamboo dolls, handmade postcards, leather handbags, picture frames, necklaces, bracelets and keychains are very famous among tourists. Travellers who are in need of travelling essentials such as backpacks, waterproof jackets and other stuff must visit the market as these Vietnamese shops are known to be some of the cheapest places to shop. Haggling and bargaining are a must here.
Delicious Street Food at the Market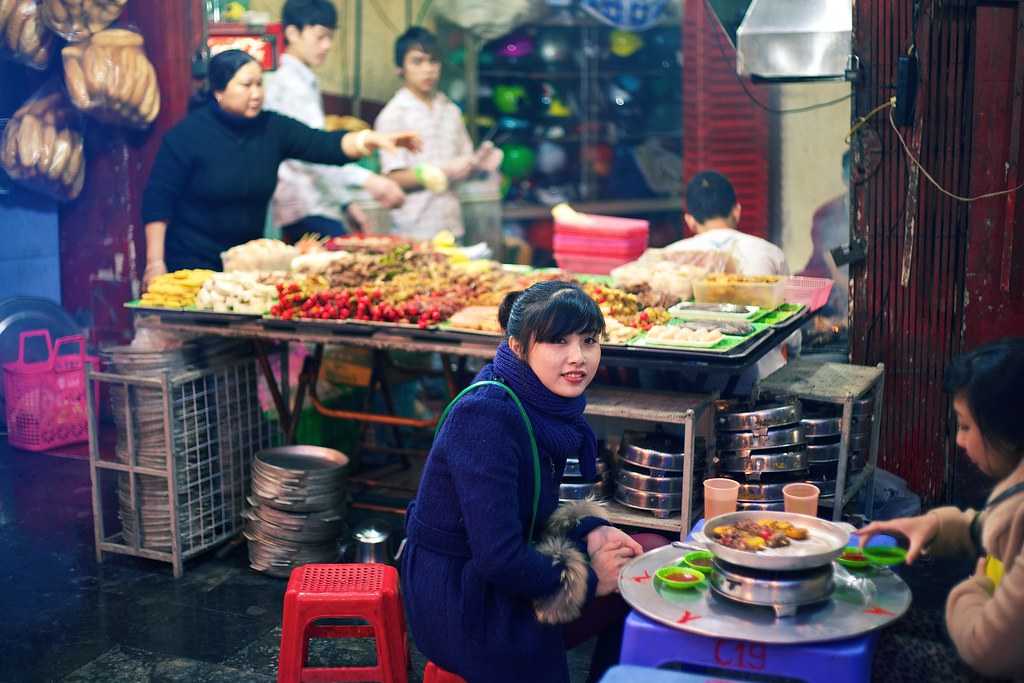 This iconic night market in Hanoi is just the right place for authentic and delicious Vietnamese street food. There are a lot of choices that you get to choose from and almost every cuisine from around the country can be found at one or the other vendor's stall. You'll get a lot of shops serving traditional Hanoi food like sweet soup, sticky rice, porridge with dough, pho and sweets like boiled sweet potatoes, boiled sweet corn, and sticky candy. These delicacies are priced very nominally and can be easily found. Apart from this, there are a lot of different cuisines (like Korean) which can also be enjoyed. Having food at the night markets is a must if you want to make your trip worthwhile and if are ever confused as to what to eat, ask the locals. They're very co-operative and friendly. In the end, if you want to enjoy a mug of chilled beer, head straight to Hang Bac Street or Ta Hien Street where you'll find very friendly locals and some of the cheapest beers in the whole of Asia. A mug of beer might cost you just about VND 12,000 (USD 0.5 or INR 35)
Note: When eating at crowded food stalls, watch out for pickpocketers.
Entertainment at Old Quarter Night Market


The Old Quarter Night Market in Hanoi gives you the exact weekend night chills and thrills that you need. There are live performances and artworks are on display. You can also enjoy Vietnamese opera, contemporary performances, reformed theatre and musical performances. Sometimes if you get lucky, you might even get a chance to watch international artists perform here.
2. Linh Nam - Hoang Mai Night Market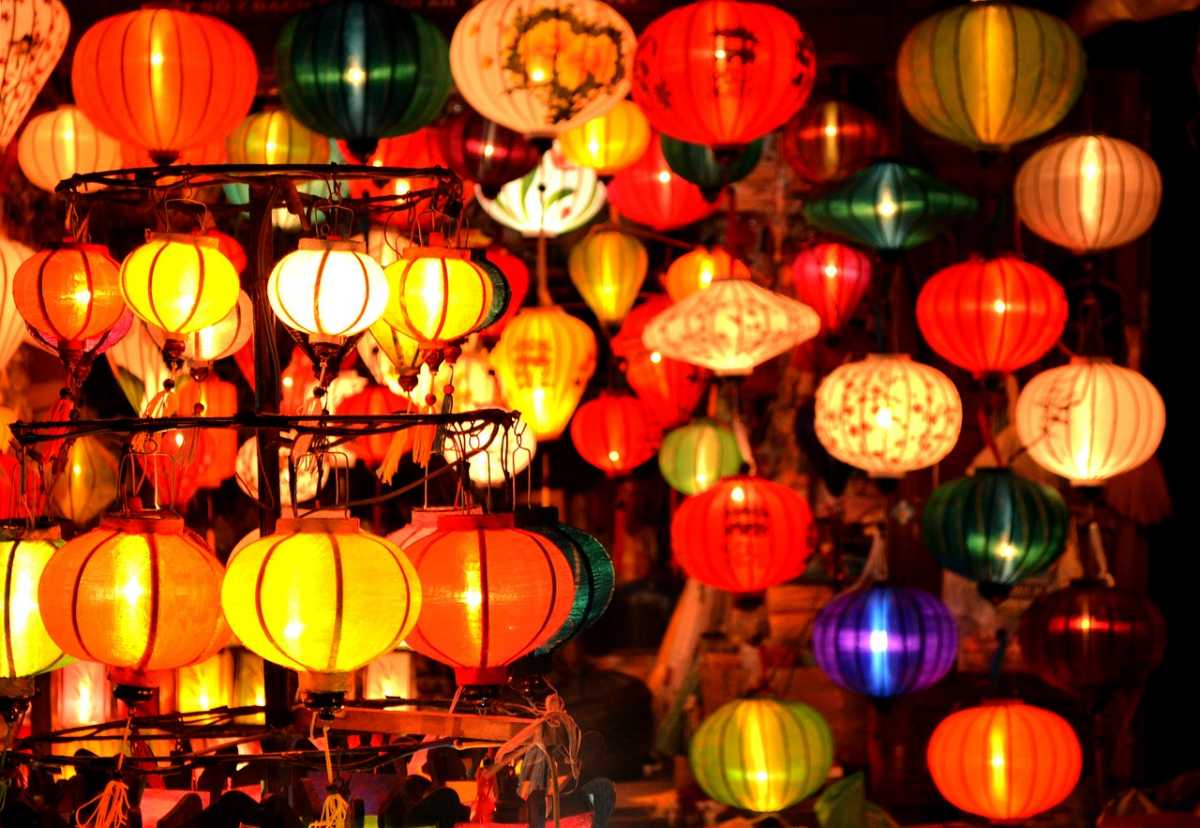 A 50-minute cab ride away from the airport, this market sells fruits and veggies during the day and clothes and cosmetics at night. You can get all the fancy clothing and cosmetics here. The price tags are pretty high and cost way above their original prices. Haggling is the best way to get what you want at the best price.
Address: Linh Nam, Vinh Hung, Hoang Mai, Hanoi, Vietnam
Timings: 08:00 PM to 01:00 AM
3. Phung Khoang - Thanh Xuan Night Market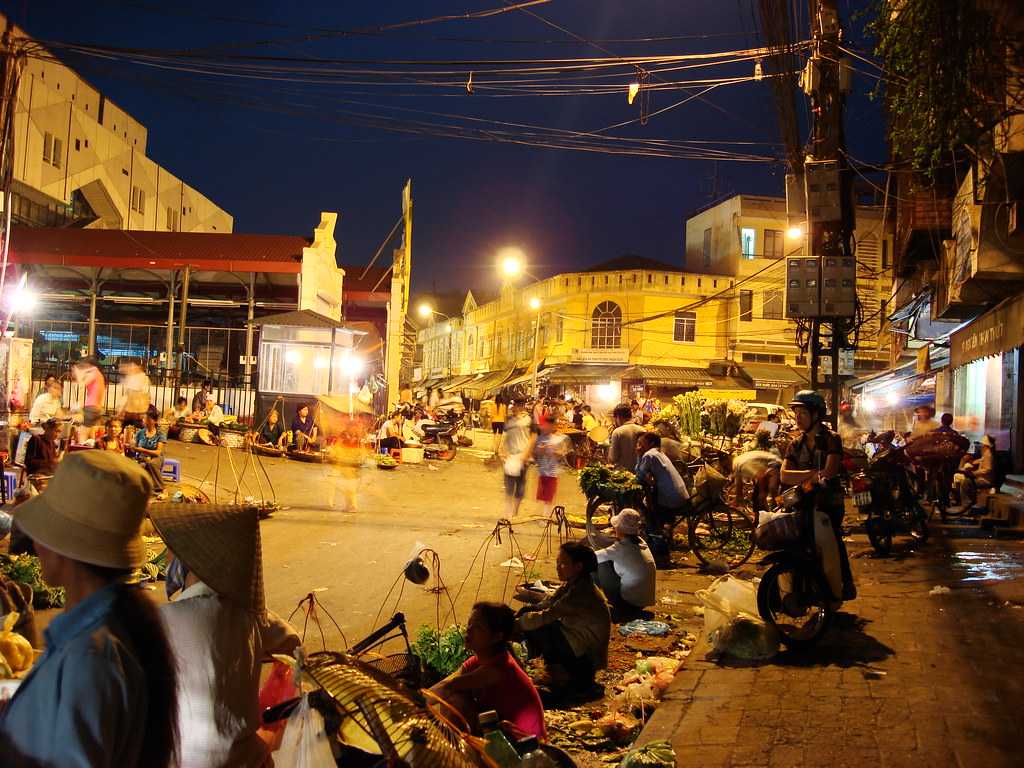 This night market in Hanoi is very famous among college-going students due to its cheaply priced clothes, footwear, accessories and cosmetics. A shirt might cost anywhere between VND 50,000 - 1,00,000 (USD 2.5-5 or INR 150-300) and a pair of jeans in the range of VND 1,20,000-2,50,000 (USD 5-10 or INR 350-700) it is a 40-minute cab ride away from the airport and remains open late till night.
Address: Phung Khoang, P. Van Quan, Tu Liem, Hanoi 100000, Vietnam
4. Dich Vong - Cau Giay Night Market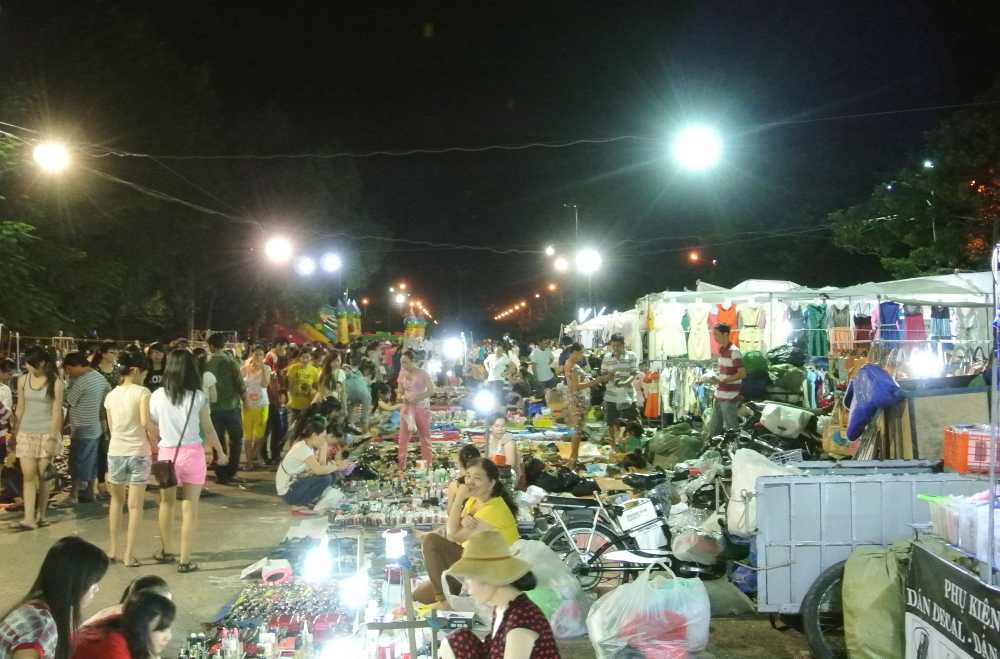 Almost 50-minutes away from the airport, this night market is exactly like the Phung Khoang and attracts the exact same customers. Here you can get a handbag for about VND 70,000 - 150,000 (USD 3-7 or INR 200-450) and a watch for VND 100,000 (USD 5 or INR 300)
Address: Hàng Đào, Hoàn Kiếm, Hà Nội 100000, Vietnam
5. Nha Xanh - Cau Giay Night Market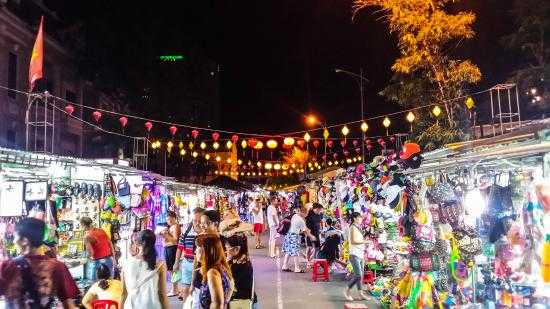 This is one of the cheapest night markets in Hanoi and most of its goods are imported from China. Therefore while buying one must surely check the quality of the product. It is also famous among students for a variety of cheap products it has in store. It takes almost a 40-minute cab ride from the airport to reach here.
Address: Phan Van Truong, Dich Vong Hau, Cau Giay, Hanoi 100000, Vietnam
6. Long Bien Night Market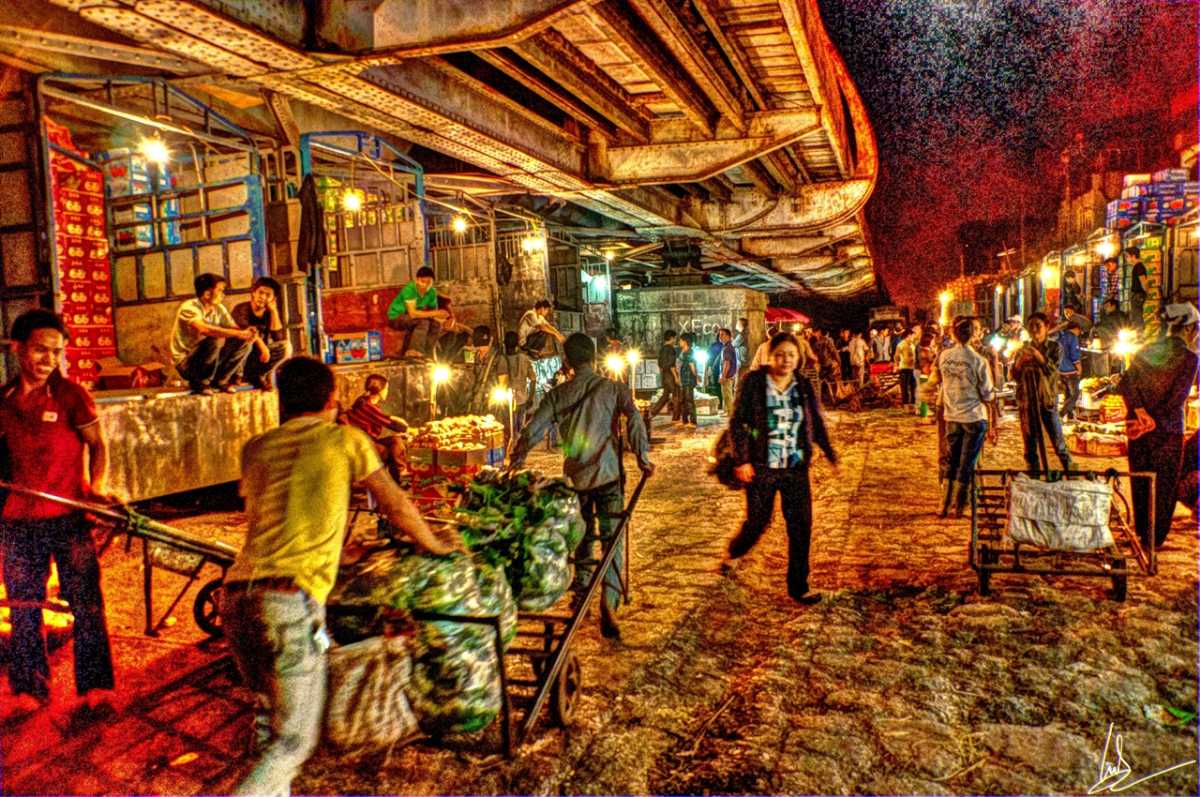 This a simple fruits and vegetable market which opens every night and stays open till the next morning. The people go through a lot of hardships and this is a prime locale for tourists in search of stories of a local's hardships. It is almost 40-minutes to reach here from the Noi Bai airport.
Address: No. 189 Hong Ha, Phuc Pho, Ba Dinh, Hanoi 119121, Vietnam
7. Quang Ba Flower Night Market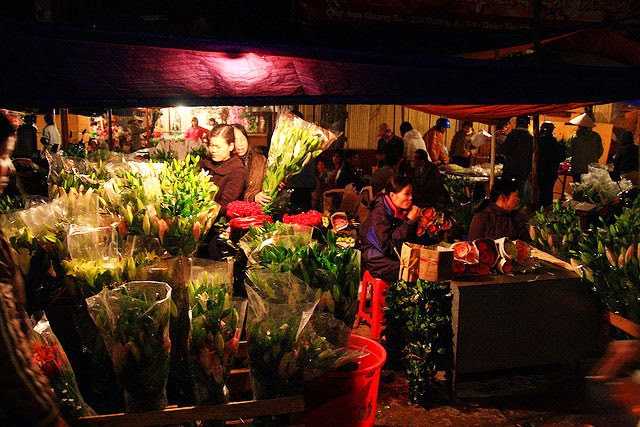 This is the biggest flower night market in Hanoi. It is open all day and closes by 2-3:00 am post midnight. This is the best place to see and buy a variety of different flowers grown in and around Hanoi some of which aren't even available elsewhere. This is a must go place for tourists just to see the beautiful variety of flowers out on display for sale.
Address: 236 Au Co, Quang An, Tay Ho, Hanoi 100000, Vietnam
Hanoi is a city buzzing with night markets that have a variety of goods to offer at really cheap prices. Being one of the tourist hotspots, this place is a must go when you're in Hanoi, Vietnam. Be it souvenirs or cheap clothes, footwear or accessories, food or chilled beer you get it all in these buzzing night markets in Hanoi.