The capital city of
Vietnam
,
Hanoi
is a city with age-old architecture, majestic temples and an amalgamation of Chinese, French and Asian cultures. The legendary city is a mystery with a lot of trade at the heart of the town. Naturally, due to its trade influences, it attracts a lot of tourists to either explore the trading cultures or the enigmatic streets.
Travelling is not a hassle in Vietnam because it is well connected. The hub being Hanoi is also easy to commute to and fro. Since most of the people prefer taking a flight, Hanoi has an international airport. It is the only airport in Hanoi and also the largest airport in North Vietnam. It is well managed and maintained. The airport adds to the cause of the increasing tourist influx.
Noi Bai International Airport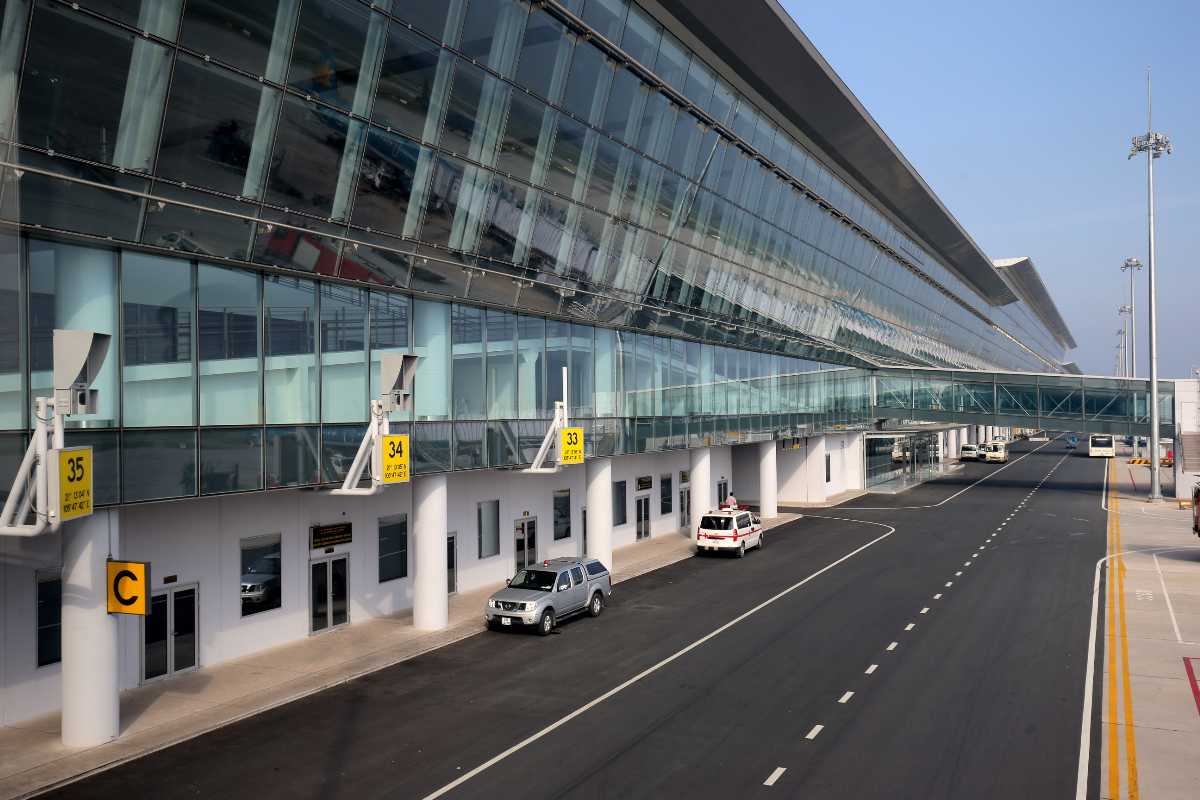 Initially, the airport had just one terminal (T1). But recently a new International Terminal 2 had opened at the end of 2014. The new terminal has expanded to offer additional facilities of 96 check-in counters, 17 boarding gates, ten self-service kiosks, and 250 plus flight information display systems. The domestic flights currently serve from Terminal 1.
There are around ten counters and kiosks for check-ins in the departure hall, plus four check-in islands, each of which has 24 check-in counters in Terminal 2. Terminal 1 has three galleries on the departure floor and about more than 100 check-in counters and three kiosk check-in counters.
Number of Terminals: Two
Distance from Hanoi city: 45 kilometres
Operating Airlines: Vietnam Airlines, Vietjet Airlines, Jetstar (plying to the domestic terminal) AirAsia, Hong Kong Airlines, Cathay Pacific, Pacific Airlines, Thai Airways, Lao Airlines, Tiger Airways and more( international terminal)
Transport
Getting to and fro Hanoi airport is accessible with the following transportation availability:
Taxi:
this standard mode of transportation can be a breezy but tricky option as there are 14 taxi brands. They work on a meter but are known a lot for scams and loots. It takes about an hour to commute via a cab. It is an easy option but an expensive one. It is recommended to take the Mai Linh taxi (the green cab) as that is one of the most reliable brands of cabs. It will cost you about USD 11- 15 (Rs 760-1050) approximately. For T2 terminal, one can book a taxi at the Arrival Hall on the first floor from either Hall C or E. ForT1 terminal you can book one in the Arrival Hall on the first floor of the East Wing.
Bus/ Coach:
It is an economical means of commute but a relatively time consuming one. It holds a capacity of 16 – 45 seats. These buses depart from Hanoi Airport to a station on Quang Trung street, which is about three kilometres away from Hanoi
Old Quarter
. Meanwhile, if you want to get dropped off on the way, all you have to do is instruct the bus staff to stop. It can cost about USD 2 (Rs 140) approximately to get to the old quarter.
If you are travelling with Vietjet or Jetstar, you get a bus facility from the airlines free of cost. It takes a trip to the city 30 minutes after the arrival. Booking can be made 24 hours prior or by telling the cabin crew, whichever facility is accessible.
To catch a bus, take one from the T2 terminal from Arrival Hall on the first floor west wing and east wing. For T1 terminal, from the Arrival Hall on the first floor- Hall C and Hall E for passengers travelling by the Jetstar bus.
Grab:
A Grab which is more like an Uber facility is available too. You will have to book one through the app and walk down outside the airport in Hanoi as these cars aren't allowed inside the airport premises. It is cheaper as compared to a taxi. It takes USD 10 (Rs 695) to get to the old quarters.
Travel between two terminals
Walking down between the two terminals can be tiring at times. There is a shuttle facility available which can be accessed in every 10-15 minutes. It is a free facility available outside the arrival hall of both terminal 1 & 2. The service is only available between 6 am to 1 am.
Services and Facilities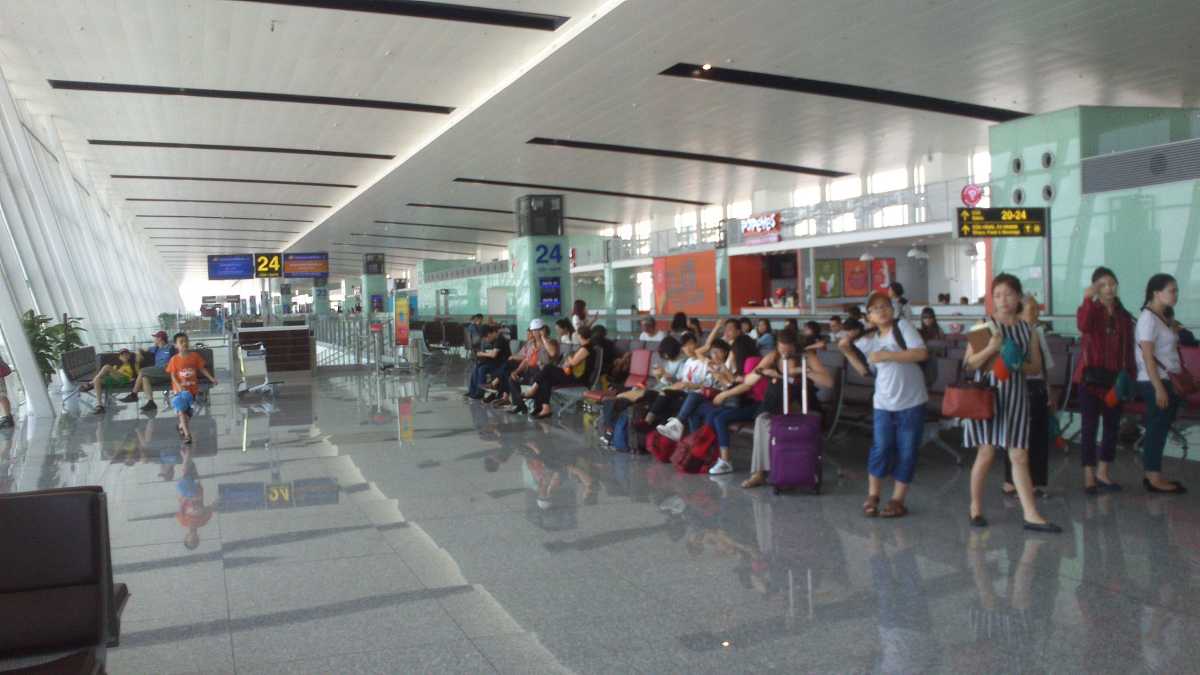 1. Medical and First Aid
In case of a medical requirement, there are three first aid rooms available at Hanoi airport. For terminal 2 it is available in the arrival and departure hall. For terminal 1 it is available in the arrival hall. They are well equipped with professional doctors and nurses available to be at your service in case of a medical emergency. In case of a requirement contact or enquire from any staff stationed at the airport near you. They will assist you through.
2. WI-FI
The biggest saviour and an essential facility that one needs these days are WI-FI. And guess what? It's free at Hanoi Airport. The network you need to connect to is- 'NoiBai Airport Free Wi-fi' which will further take you through a form which you can fill and get access to it.
3. Lounge
A lounge is available only at the T2 terminal. If you wish to relax while your transit, you can access the lounge, it has internet and computer access with a television and newspaper and magazines to read. There are some exquisite Asian cuisine dishes to treat yourself to when you are in the lounge. It is open 24/7 and located on the fourth floor of the T2 terminal.
4. Playroom and baby care rooms
Near gate 33 of T2 terminal, there is a child's playroom and ground to channelise your child's energy at the airport with some activities. Swings, slides, and seesaws are available.
To take care of your baby, there are baby care rooms to clean them and change diapers. These rooms are in T2 terminal on the west wing of the third floor.
5. SIM cards and telecommunication
In case of SIM card requirements and 3G packages, these services are readily available and are very cheap. Mobile Phone, Viettel, and Vinaphone are three popular networks in Vietnam used by most locals here. These are readily available at the arrival hall of T2 and Public hall of T1 terminal at their kiosks. The prices vary from USD 2 to USD 4.
6. Restaurants and Cafes
Of course, an airport can't do without eatery options. There are varied food and beverage options to choose from. There are Vietnamese cuisine places to eat as well as fast food options and some excellent cafes to sip a coffee and refresh yourself. The ones available here are Lucky Café, and Skyboss Cafe & Fastfood, Burger King, Star Cafe, Chill, and BigBowl, Bamboo Cafe & Fastfood, Fresh Garden, and Coffee PB's Boutique, Star Cafe, Popeyes, and Two Tigers spread across both terminals. They are stationed on the first and third floor of both terminals.
7. ATM and currency exchange
In the case of banking facilities and currency exchange, you can avail many bank services here as per your requirements. The ones available for ATM's are BIDV, Maritime Bank, and VP Bank and more. For currency exchange- BIDV, Maritime Bank, Vietinbank and Techcombank. For T2 terminal, they are placed on the west and east wing of the public side.
8. Shopping, souvenirs and duty-free
Last minute pick-ups and gifting facility services are here at Hanoi Airport. The duty free is called the NIA duty free with a lot of brands of apparels, perfumes, watches, and accessories available like Chanel, Dior, Lancome, Moschino, Bvlgari, DKNY, Kenzo and more. Also, liquors are available which are mostly branded. One can get duty free Cognac, Wine Whisky, Gin, Rum, and Vodka. T2 has them on the third floor of the departure lounge called Departure duty-free goods.
9. Souvenirs
For gifting, you can pick up the famous textile, handcrafts, fashion items and fine art to gift your near and dear ones. There are two souvenir shops in the central area on the third floor of T2 terminal, and for the T1 terminal, it is on the Departure lounge on the second floor in both hall A and B.
10. Information desk
For any assistance or guidance at the airport regarding flight schedules, baggage claim or immigration, or regarding Hanoi, the information desk is at your service 24/7 providing all the help you need. Two offices in the international airport are placed in a public hall on the third and first floor while the domestic terminal many counters in the open gallery on the first floor.
There are no hotels in Hanoi airport for transit stays, but there are many situated in and around. The information desk will guide you through the procedures in case of requirements too.
The Noi Bai International Airport in Hanoi will make it a very breezy journey despite being the only airport in the city, without much hassle. They have courteous staff, effective management and a pleasant environment at both terminals. It manages the tourist's inflow efficiently and plays a huge role to play in Vietnam's tourism.