Paragliding
in
Mumbai
is an adventurous activity garnering hype in recent times amongst the locals and tourists visiting Mumbai. Paragliding season starts after the monsoon in October and lasts until May. There are a few things one must keep in mind before going for paragliding. The sport requires little physical fitness as the glider will be needed to run before the gliding starts.
One must wear comfortable, non-baggy clothes and good sports shoes. The gliding other than being exciting can also be a little intimidating, so those with chronic medical conditions are advised to take note of all the concerns. However, paragliding is the best way for someone to overcome the fear of heights, and they are encouraged to build up some mental strength and courage and go for it.
Places for Paragliding in Mumbai
Kamshet
Kamshet near Mumbai is best known as an outstanding paragliding spot for those looking for some adrenaline rush and adventure. The starting location for a flight here is Tower Hill, which is reached after an after a few minutes walk from the base. It is in
Pune
-
Maharashtra
Highway. On the hilltop and at the bottom of the hills, one will find many operators offering tandem paragliding to the visitors. Soaring in the sky, here at Kamshet one gets a bird's eye view of the lovely paddy and sunflower fields on the ground and gliding amidst the hills is a wholesome experience.
The best time for paragliding in Kamshet is from October to May.
The general price for paragliding on weekends is INR 3000, and on weekdays it is INR 2500. If one wants to clicks pictures or video record during the paragliding, an additional charge of INR 500 is applied.
The age limit for paragliding is 12-65 years.
Best time of the day for paragliding is early in the morning or in the evening when the sun isn't shining right above your head.
1. Vasai- Paramotoring:
The best spot for paragliding in Vasai are Tokpada salt pans, Black Beauty at 960 feet and Sydney hill.
2. Juhu Beach Parasailing:
Juhu Beach is not only Mumbai's favourite tourist attractions but is also slowly becoming a sports hub amidst the Mumbaikars and the tourists.
Parasailing behind a boat on the sea here cost as low as 300 INR.
One will find many operators for the activity on the beach itself, and there's no pre-booking required.
Paragliding Operators at Kamshet
1. Kamshet paragliding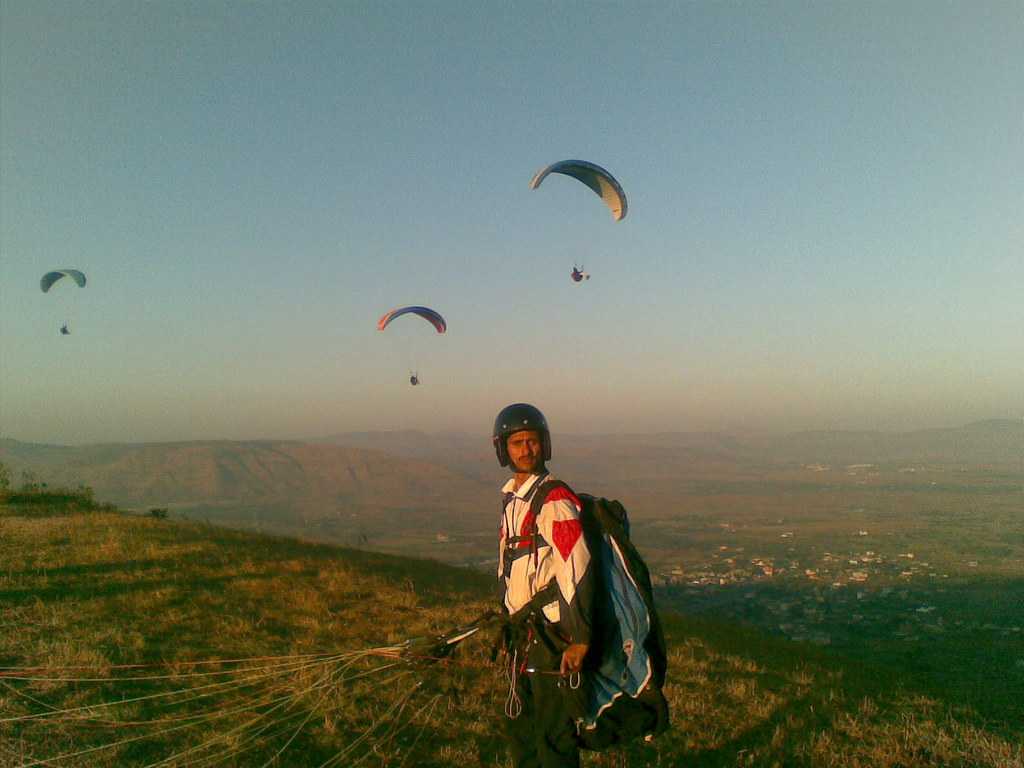 Packages: Joy Tandem ride is for those who want to enjoy the views while a trained pilot controls the parachute. It requires a few instructions, and the cost for paragliding is INR 2500 per head for a 10-minute ride.
Instruction Tandem is done under the supervision and guidance of the pilot while the person takes control of the parachute. The cost includes the training and gliding cost, which is INR 3950. The time of flight is 10-15 minutes.
Acro tandem is a lot more adventurous as the pilot performs stunts while the paraglider is on board. They perform stunts like ridge dancing, wing over etc. It is recommended for those who decide to take training or have already been trained in paragliding. It costs about INR 4500 for 15-20 minutes.
Flight height: 2200 feet above sea level.
Other spots which provide paragliding: Kamshet tower hills (Kusgaon hills), Karanjgaon hills and Pawna lake hills
Weight limit: 25 to 90 kgs
Contact: kamshetparagliding.in
Phone: 7038 071 071
Timings: 9:00 AM to 3:00 PM. Participants between the age group of 12-18 are allowed to do it under the guidance of a guardian.
2. Nirvana Paragliding
Address: Village Uksan, Vadivali Lake , Post Govithri, Kamshet , Taluka Maval, District Pune, Maharashtra.
Timings: 10:00 AM to 6:00 PM.
Price: They Charge INR 2700 for a flight of 25 minutes.
Contact: 022 2605 3724.
3. Indus Paragliding School
Address: 67, Village Bhajgaon, Kamshet - Kundali Road, Taluka Maval, Kamshet, Maharashtra.
Timings: 9:00 AM to 6:00 PM
Contact: 077981 1100
4. FlyKamshet Paragliding
It is one of the significant training schools for paragliding in Kamshet.
Timings: Open 24 hours.
Contact: 099706 80380, [email protected]
5. Space Apple
Space Apple organises paragliding and paramotoring training and joy ride at various locations around Vasai-Virar. They provide 7 to 10 minutes of flying on a paramotor for people above eight years of age with an experienced pilot.
Address: 1st Floor, Ish-Krupa, Gajbhat, Agashi Rd, Virar, Maharashtra.
Timings: 8:00 AM to 7:00 PM. The maximum weight limit: 85 kgs.
Contact: 098224 99281
Cost: Paragliding For one person is Rs. 4,500. However, going in a group of 2 to 3 costs Rs 2,500 per person and for 7 to 10 persons is about Rs. 1,750 per person, which is reasonable.
Other operators
Names of few Mumbai based paragliding operators:
1) Temple Pilots (Pune & Mumbai)
Contact: +91-9970053359, +91-9920120243.
Bookings: [email protected], [email protected], [email protected]
2) Wings and Flights (Pune & Mumbai)
Address: Institute of Paragliding & Paramotoring, Tupe Nagar, Opp Suzlon Head Office, Malwadi, Hadapsar, Pune, IndiaJennifer Menezes (Flying Coordinator/Administrator).
Contact details: +91 9850061929, 9822023790, [email protected]
3)Western Paragliding Association.
It is operated under a group of three people who organise paragliding trips in various locations of Mumbai.
Address: Clubhouse, 1st floor 9A Yasmin Manzil, Sai Hill Nagar, Kopri, Virar (E)
Contact info: 91-22-22035271, 91-9821626063, 91-9821219126.