Nepal is a beautiful place to visit during any time of the year, offering a visual treat to its visitors with its mesmerising landscapes and historical towns. Nepal in February is considered winter, but the place during this month is warmer than December-January, with clear skies and warm temperature during the daytime, making it the best time to explore around, beating the crowds. Read along to know more about the places to explore and activities to do in Nepal in February.
Weather of Nepal in February
In February, the winter starts giving way to the warmer spring season with clear blue skies and sunny days, providing the perfect condition to tour around Nepal, enjoy the panoramic views and go for treks and trails in the mountains. However the nights may be colder, with temperature ranging from 4-22 degree celsius, and even go down up to -5 degree Celsius at higher points. Pack your winter wear or thermal wear accordingly and look out for rooms with heater facilities.
Places to Visit & Things to do in Nepal in February
1. Sightseeing sans the crowds
February is considered off-season in Nepal, making it an ideal time to pay a visit and go for quieter sightseeing in
Kathmandu, Chitwan and Pokhara
- the golden trio of Nepal. These destinations are in the middle hills, hence having a moderate temperature.
The capital city of
Kathmandu
is the largest in Nepal, located in a valley. It is a diverse and historical place with ancient architecture, bronze sculptures, wooden carvings and pagoda-style heritage sites, along with modern amenities ranging from luxury hotels to night clubs and restaurants offering international cuisine.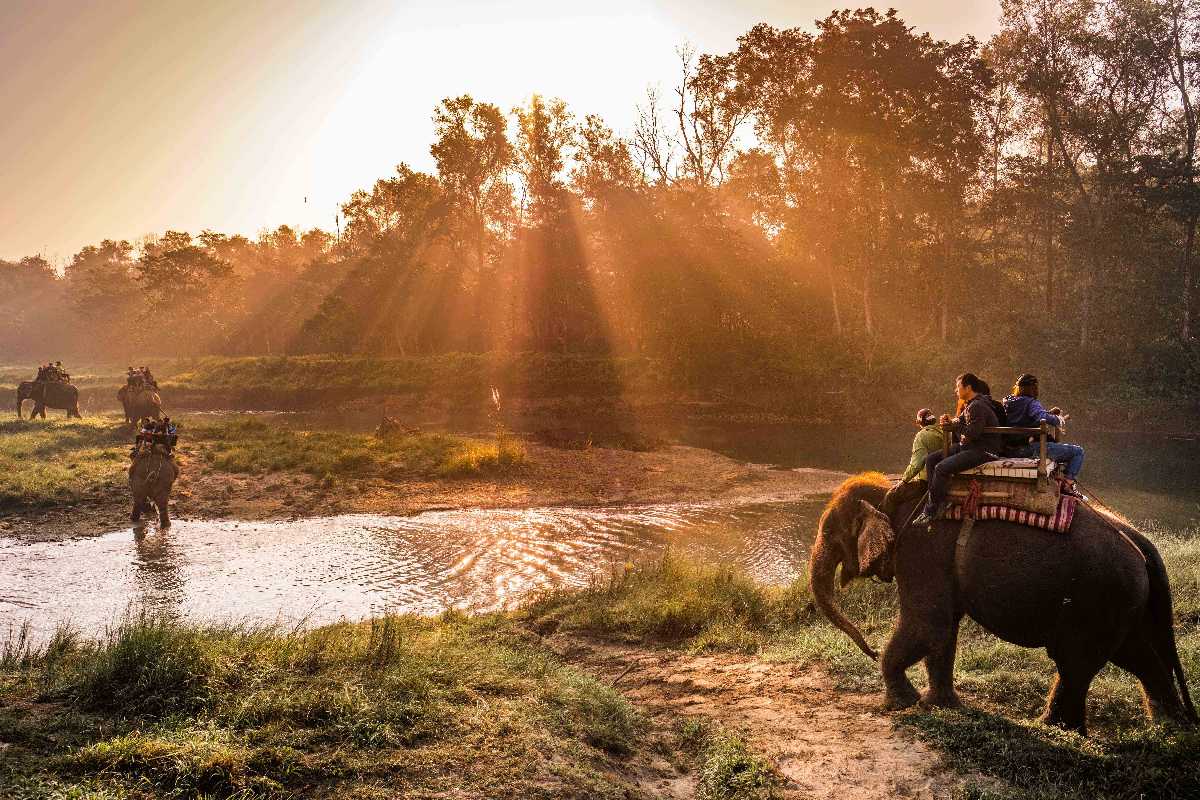 Chitwan
is known for its forests and mustard cultivation sites. The place is famous for its palaces, local shopping areas, and unique local food. Chitwan is also home to the Chitwan National Park, where you would find the last of the Royal Bengal tigers and One-horned rhinos species.
Pokhara
is the lake city of Nepal and is known as the 'gateway to Annapoorna' treks. It lies on the foothills of the Annapoorna range, the Himalayan peaks and located on the shores of the Phewa lake. The place is thus perfect for enjoying the picturesque landscapes and clicking great photographs. Pokhara is also the adventure zone of Nepal, offering multiple choices of activities from trekking to paragliding, and the starting point of numerous treks and trails to the Himalayas.
2. Low Altitude Trekking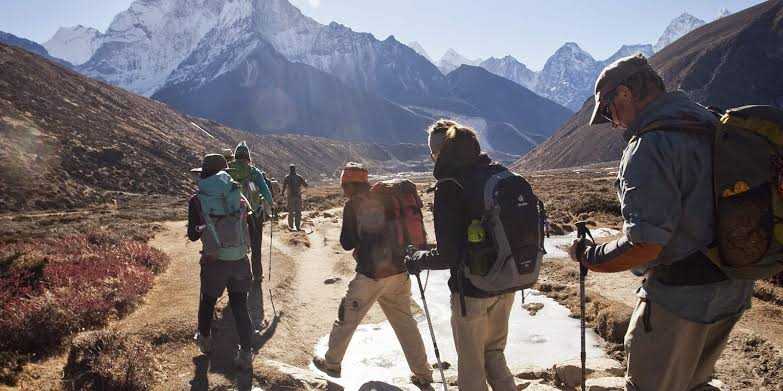 Since the higher parts of the Himalayas are snowbound and uncomfortably cold during Nepal in February, only experienced trekkers attempt high altitude trekking during this time. But treks at the lower altitude, in hills near Kathmandu, Chitwan and Pokhara can be enjoyed by all, due to the temperate weather. The popular trekking trails start from the tourist hubs of Thamel in Kathmandu, Lakeside in Pokhara or Lukla in the Everest region. Chitwan and Ghandruk Trek, Balthali Village Trek, Tamang heritage trail and the Namche Bazaar trek- are some of the short treks suitable for winter months, that does not involve high altitudes.
3. Adventure Activities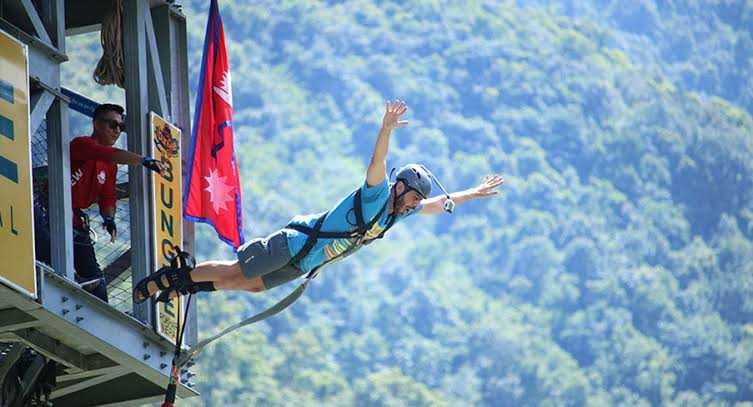 Nepal has recently started promoting adventure tourism in its top tourist destinations, so you would find a range of adventure activities wherever you are in Nepal. The popular adventure activities that you can opt for, during this season are Trekking, Hiking, Camping, Skydiving, water touch Bungee jumping, Paragliding, Mountain biking and cycling through the trails. Pokhara is the major adventure destination where you would find all these services, apart from ultralight flight over the mountains and ziplining. Lighter adventures include Wildlife spotting and jungle Safari in Chitwan, Boating, Rafting and Walking tours.
Events in February in Nepal
Maha Shivaratri
festival is one of the major festivals in Nepal, falling during the month of Falgun (either in February or March, according to the lunar calendar). Shivaratri, which means the 'night of Shiva', is an auspicious day to Hindus, particularly Shaivites (worshippers of Lord Shiva) who gather around at the famous Pashupathinath Temple in Kathmandu. As Maha Shivaratri is related with the night, devotees and saints stay up till late night praying and chanting, in celebration of the birthday of the Hindu mythological God. The festival is an incredible spectacle for onlookers, and a chance to observe religious rituals and cultural activities.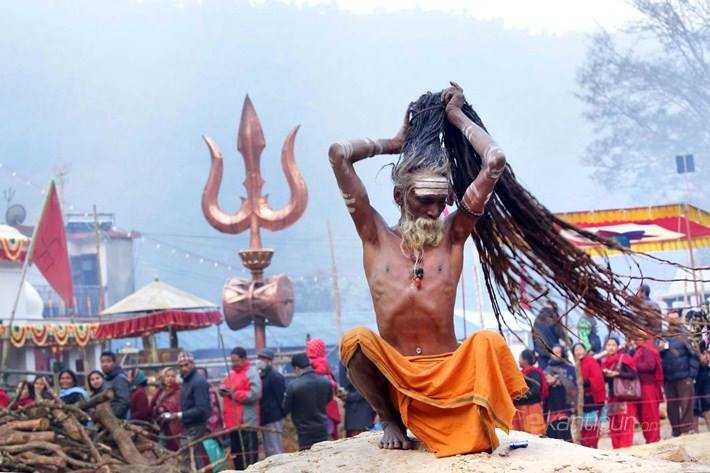 Travelling to Nepal in February has the advantages of having a less crowded and quieter sightseeing experience, easy access as well as discounts in hotels and services due to offseason, and the joy of enjoying the snow-clad landscape from a temperate zone. However the temperature drops to minus degrees at nights and accommodation at high altitudes remain closed, so you have to book your accommodation and pack your stuff accordingly so that you can enjoy your trip without any discomforts.