Spanning over an area of 147,181 square kilometres, the country of Himalayan origins,
Nepal
enjoys multitudes of picturesque landscapes. With mind-blowing trekking routes like
Kanchenjunga
and Annapurna among others, budget-friendly trips and strong impressions of Hinduism and Buddhism on everyday lives of people, Nepal has a lot to unfold. Being a popular tourist destination, Nepal has an efficient and well-managed airport network.
Here is a list of 9 airports in Nepal:
1. Tribhuvan International Airport, Kathmandu

This airport in Kathmandu started its operations way back in 1955. The air base has taken its name from a King of Nepal in 1964. It is a very busy airport that juggles tons of national as well as international flights on a single runway of 4390 feet length. The sheer amount of traffic and inadequate infrastructure has made it infamous for being the most perilous airspace in the world. Due to these difficulties much of the air traffic has to wait or divert to
India
or Bangladesh before landing in Kathmandu. There are three terminals, out of which two serves for the passengers. One is for VIP delegates from different countries.
Services: Radisson Hotel and Thai Airways have exquisite lounges on offer for their business class passengers.
Operating Airlines:
For International flights - Air Arabia, Air China, Air India,Bhutan Airlines, Biman Bangladesh Airlines, Cathay Dragon,China Eastern Airlines, China Southern Airlines, Druk AirEtihad Airways, FlyDubai, Himalaya Airlines, IndiGo, Korean Air, Malaysia Airlines, Malindo Air, Oman Air, Qatar Airways, Regent Airways, SalamAir, Saurya Airlines, Shree Airlines, Sichuan Airlines, Silk Air, Thai Airways, Thai Lion Air, Tibet Airlines Turkish Airlines, Yeti Airlines
For Domestic flights - Nepal Airlines, Himalaya Airlines, Buddha Air, Shree Airlines, Saurya Airlines, Simrik Airlines, Sita Air, Tara Airlines, Yeti Airlines.
Serves: Kathmandu, Nepal
Airport Codes: IATA – KTM, ICAO - VNKT
2. Lukla Airport (Tenzing Hillary Airport)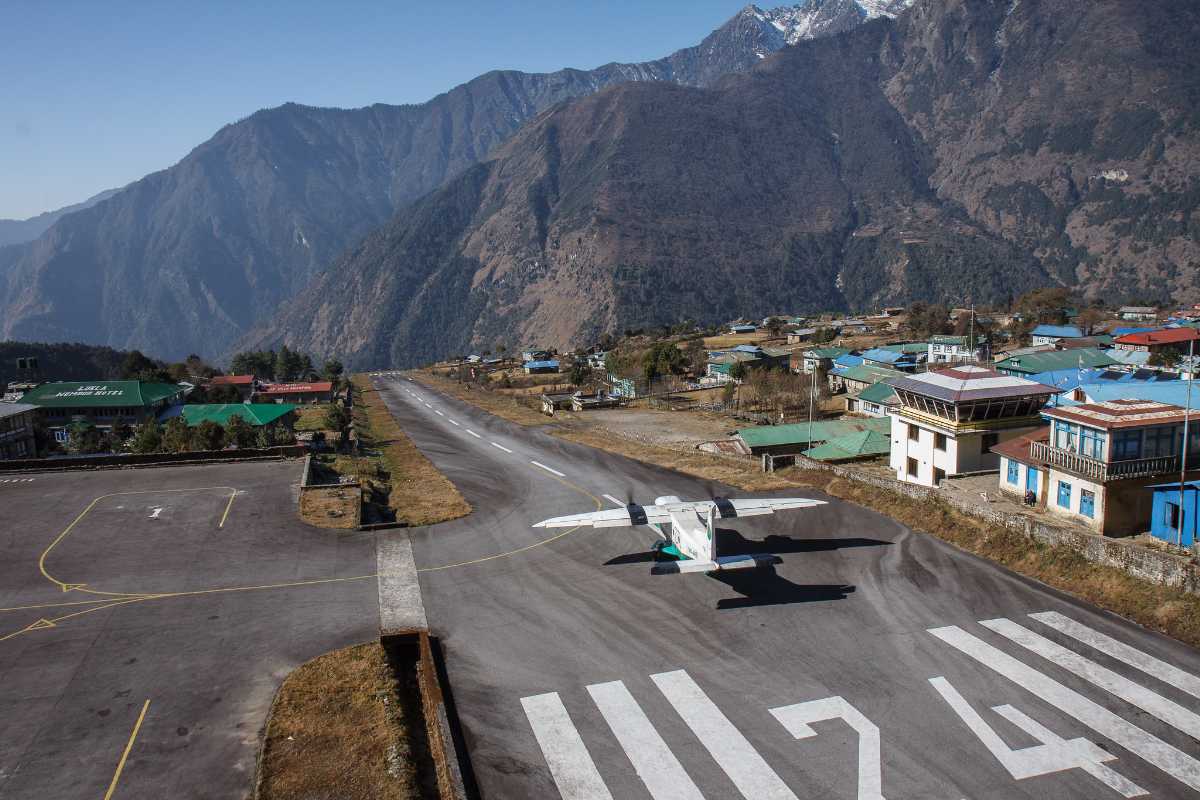 With a small runway length of 1729 feet, Lukla is one of the busiest domestic airports in Nepal owing to its popularity as the nearest airport to Mount Everest. Officially delivering services as Tenzing-Hillary airport, it was constructed in the leadership of Tenzing Norgay and Edmund Hillary in the 60s. It is regarded as the most dangerous airport in the world and it is rightly known so. Apart from a short runway, it has an elevation of about 9500 feet which results in two more problems – thin air and lesser landing time. Additionally, the landings must be in one go as the airport is surrounded by mountains. Minimal landing aids and inconsistent weather may further worsen the condition. Pilots have to undergo specialized training by the airport's staff and get licensed by them before they can perform flight operations at this airport.
Operating Airlines: Nepal Airlines, Sita Airlines, Tara Airlines, Summit Airlines
Serves: Lukla, Nepal
Airport Codes: IATA – LUA, ICAO - VNLK

Commenced way back in 1958, the airport serves to the small town of Pokhara with a meagre population of only a few thousand. In spite of serving a small town, it has a pivotal role in a diversion Airport to Kathmandu International Airport. With growing popularity as a tourist spot, the Nepal government has initiated its massive renovation as an international airport. The new runways will be 8200 feet long along with a breadth of 147 feet. There will also be multiple parallel taxiways. It is planned to kick start from 2021. It is a Civil Aviation Authority of Nepal undertaking and it interconnects Kathmandu and
Jomsom
with occasional flights to Manang.
Operating Airlines: Buddha Air, Sita Airlines, Nepal Airlines, Tara Air, Simrik Airlines, Yeti Airlines.
Serves: Pokhara, Nepal
Airport Codes: IATA – PKR, ICAO - VNPK
4. Simara Airport


From its commencement in 1958 Simara Airport is facilitating the air transport of Pipara which is about 16 Km from
Birgunj
. Birgunj has transnational trading routes to Indian cities like Raxaul,
Patna
and many more. Only Buddha Air interconnects other cities in Nepal. But for international travel, you must head over to Kathmandu International Airport. Buses, taxis and trains are present for rolling out to Kathmandu which is 71 km away. The length of runways is close to 4000 feet and is perched at an altitude of 450 feet. The airport is well managed by the Civil Aviation Authority of Nepal which is reflected in the warm behaviour of airport staff, tidy arrangements for seating and an overall well put up the system. It might not be the most exquisite of the airports in Nepal, but hey, sometimes a cheerful welcome withers away all worries.
Operating Airlines: Buddha Air, Nepal Airlines.
Serves: Jitpur Simara and Birgunj, Nepal
Airport Codes: IATA – SIF, ICAO - VNSI

Situated at about 1.6 km from Bharatpur, the main city of Chitwan District, this airport has a major inflow of passengers heading towards Chitwan National Park. With an 1158 m by 30 m solitary runway, all major domestic aircraft carriers are operating here. After much resentment received from the expats as well as locals, the Civil Aviation Authority of Nepal decided to add a terminal and upgraded the runway to handle medium-sized flights. Other attractions include nearby places like Tharu and Sauraha villages.
Operating Airlines: Buddha Air, Yeti Airlines, Simrik Airlines.
Serves: Bharatpur, Nepal
Airport Codes: IATA – BHR, ICAO - VNBP

Biratnagar Airport is one of the most pivotal airports in Nepal as it caters to the colossal and thickly populated city of Biratnagar. Few distinguishing features of Biratnagar include 5000 feet by 98 feet asphalt runway and facility for aircraft refuelling. Though Biratnagar is a major industrial hub, it opens up to many well-known tourist destinations. Earlier it was used by Nepali Air Force. The government of Nepal had announced to upgrade it to a multinational airport. The tests are successfully conducted since it has geared up for the same.
Operating Airlines: Buddha Air, Nepal Airlines, Sita Airlines, Yeti Airlines.
Serves: Biratnagar, Nepal
Airport Codes: IATA – BIR, ICAO - VNVT
7.Surkhet Airport


Being situated about a few miles from Birendranagar, it is also known as Birendranagar airport. Like most other airports in Nepal, it is also has a single runway. It mainly features the villages like Jumla, Mugu and Kalikot. Major attractions of these places are skiing slopes, serene Himalayan ranges and pristine rivers like Bheri and Bulbule Taal. Nepal Air Force earlier used the airport, but recently Government of Nepal along with Buddha Air initiated domestic flights from Surkhet. A daily flight from Surkhet to Kathmandu is also available.
Operating Airlines: Buddha Air, Nepal Airlines.
Serves: Birendranagar, Nepal.
Airport Codes: IATA – SKH, ICAO - VNSK
8. Nepalgunj Airport


Inaugurated way back in 1961, this airport rules the skies of Nepalgunj city in Banke district. This airport in Nepal is an important business hub for Mahakali, Rapti and Bheri. A significant percentage of passengers include tourists for Bardia National Park and Bageshwari temple. The airport is one of the busiest handling multitudes of flights on a single asphalt runway of 5000 feet by 98 feet. Flying Dragon airlines which are a common initiative of China and Nepal. Civil Aviation Authority of Nepal has introduced plans for upgrading it to an international airport.
Operating Airlines: Buddha Air, Nepal Airlines, Shaurya Airlines, Shree Airlines, Sita Air, Summit Air, Tara Air, Yeti Airlines
Serves: Nepalgunj, Nepal
Airport Codes: IATA - KEP, ICAO - VNNG
9. Jomsom Airport


This is one of the most treacherous airports in Nepal and also in the world. At about 8900 feet it sits on top of Kali Gandaki River canyon it connects the city of Jomsom to the rest of Nepal. It serves as a gateway to many tourist destinations including
Muktinath temple
which is a favourite choice of both Nepalese and Indians. It has an asphalt airstrip of 2400 feet length and 66 feet width. The air route to this airport is filled with snow-capped mountain ranges. If you happen to travel through this route on the right time of the day, the sun shining on the snow capped mountains will simply amaze you.
Operating Airlines: Nepal Airlines, Sita Air, Tara Air
Serves: Jomsom, Nepal
Airport Codes: IATA - JMO, ICAO - VNJS
Highest elevation with shorter runways makes some of the airports in Nepal spine-chilling. Though once you get off the runway, you can enjoy the serene mountain ranges interspersed on most of the air routes of Nepal. Many of the airports still serve only the domestic passengers, the Civil Aviation Authority and the government of Nepal are trying to upgrade many of them to serve tourists. To sum it up you will definitely have a fun time on the skies of Nepal.