Mount Everest, the tallest mountain in the world undoubtedly serves as an excellent campsite for the travellers and climbers. Known for its spectacular snow-clad peaks and the picturesque beauty, Mount Everest has two base camps located on its either sides. The South Base Camp is located in Nepal and reaches up to an altitude of 5,364 meters. The North Base Camp is located in Tibet and reaches up to an elevation of 5,150 meters. The climbers and trekkers utilise these campsites during their ascent and descent of Everest. The literal meaning of Base Camp is the starting point of the expedition. The soaring peaks have attracted various trekkers for many years due to their majestic charm. This trek is considered to be one of the most adventurous ones and hence can be easily spotted in the bucket lists of all the travel enthusiasts.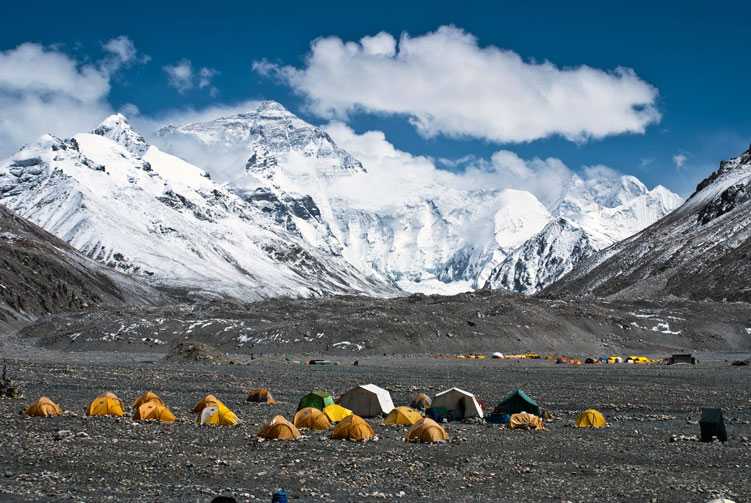 Unlike the South Base Camp, this base camp is easily accessible by vehicles and hiking is not necessary here. Although, travellers can enjoy trekking here that starts from Old Tingri, which takes approx. three days.
Permits and Trek Training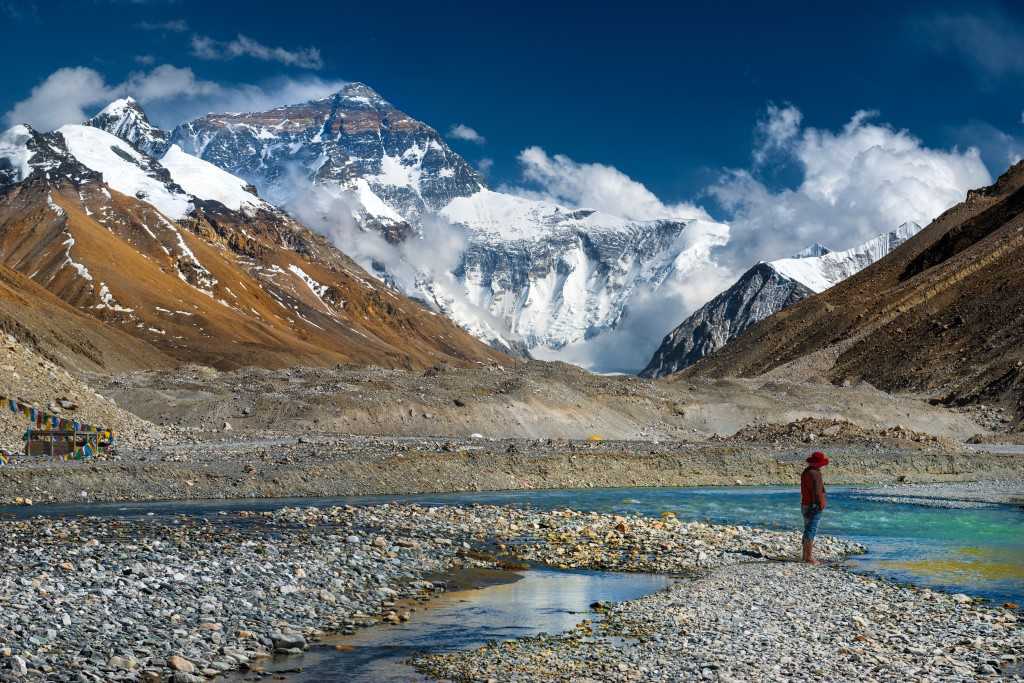 Unlike the Everest South Base Camp, this camp requires you to have a license from the Chinese Government apart from the necessary permit to visit Tibet. These permits can be arranged via the travel agencies in Lhasa. You can even customise a complete package including the permits, vehicle, driver and guide. Trekkers are not supposed to possess any previous technical climbing training for the camp. Although a decent fitness level topped with some prior experience will prove to be helpful. Indulge in basic cardio exercises to train your body and increase its strength and endurance.
Cost
While the exact price varies from company to company, the approximate expense for the Everest Base Camp can vary from
INR 35,000 to INR 80,000 per person.
Route and Duration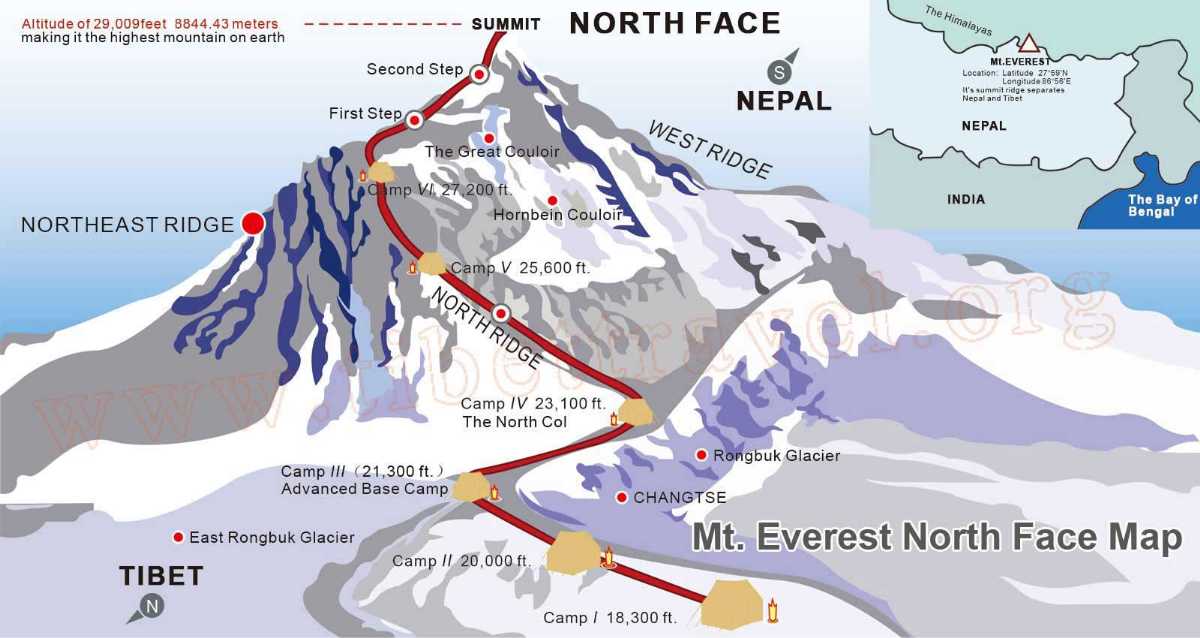 Once you reach Gonggar Airport in Tibet, you need to take a car and reach Lhasa. The Everest Base Camp is located southwest from Lhasa at a distance of about 800 kilometres. Due to the distance and elevation, it takes about 3-4 days to drive from Lhasa to the Basecamp. This distance can even be covered by a train from Lhasa to Shigatse, followed by a 12-hour van ride to the Basecamp. The elevation is about 5200 meters. The return way usually follows the path from Tingri to Zhangmu, which is easily accessible from Kathmandu.
The literal duration of the trek depends on the modes of transport taken. A usual Everest Base Camp trek takes about 8-12 days
Attractions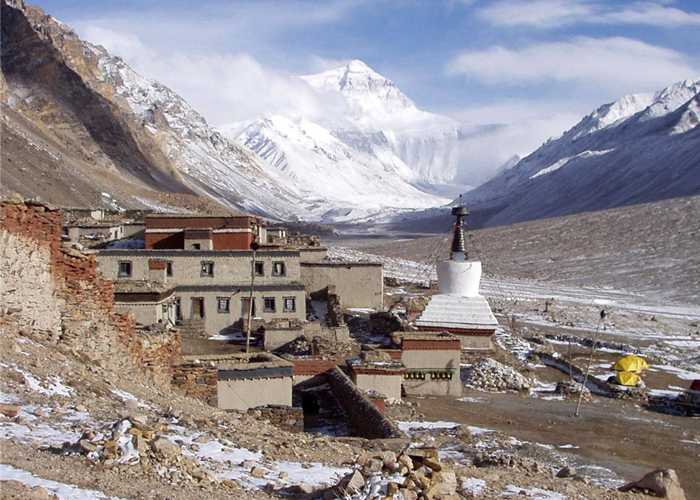 You can spot many tourist attractions while travelling from Lhasa to the Everest Base Camp. Major attractions that are usually included in the itinerary of the travellers are:
Yamdrok Lake
Gyantse
Shigatse
Sakya Monastery
Rongbuk Glacier
Rongbuk Monastery (also known as Rongphu Monastery): It is situated at about 8 kilometres north of the Base Camp. All travel agencies include this famous monastery in their schedules.

Best Time To Visit
Due to its location, Mount Everest experience climatic conditions similar to that of the Northern Hemisphere. The months from
March to May and from September to November
usually serves as the best time for the Everest Base Camp Trek. During this time, you can enjoy a clear view of Everest which adds on to the prolific experience. The months of June to August are a bit cloudy here while from December to January, the temperature dips drastically.
Accommodation and Food Facilities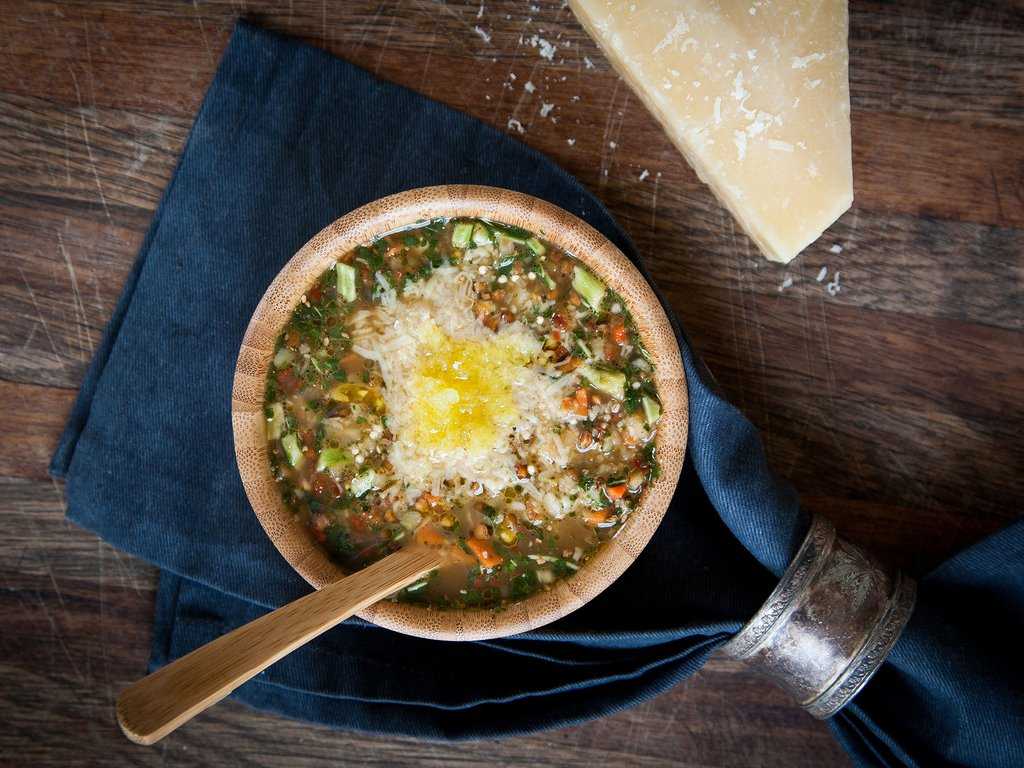 The tent hotels are the best option for accommodation that is located at about 5 kilometres from the Rongphu Monastery and 3 kilometres from the Everest Base Camp. These hotels are available from April to November and are equipped with all decent facilities. Each hotel usually has ten beds with quilts, outside toilets, running hot water, Chinese food and stoves to keep warm. It is advisable to charge your gadgets beforehand as there is low voltage available at EBC and the lights go off at midnight (when generators are turned off).
You will get simply cooked Tibetan and Western food near the monastery. The usual dishes include Butter tea and Tsampa (staple Tibetan dishes), noodles, fried dishes and rice. You can also procure the canned food available in the shops nearby.
Tips
1. If you experience acute altitude sickness, then descent immediately. Serious symptoms of altitude sickness include heavy breathing, severe headache, restlessness and sleeplessness.
2. To avoid blisters and shoe bites, opt for a comfortable pair of hiking shoes.
3. Carry important medicines.
4. Wear comfortable clothes. Also, carry some clothing items that can keep you warm like gloves and cap.
5. Use iodine tablets for purifying tap water. Try to drink only bottled water.
6. Keep your body hydrated and make sure to be slow and steady.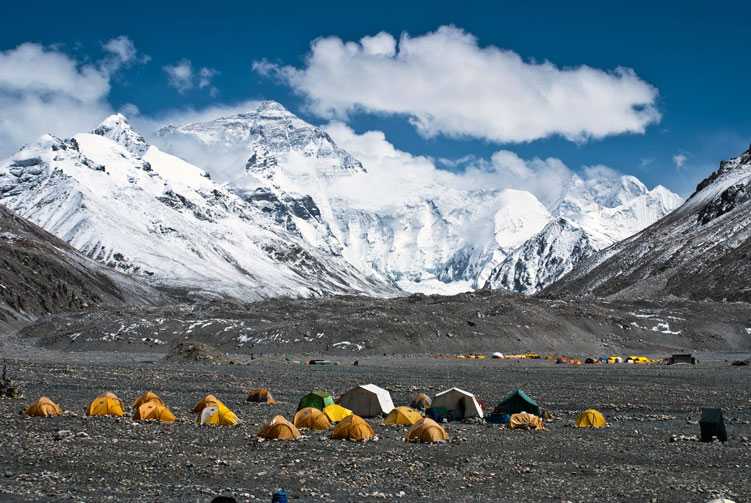 Indulge in this fantastic trek to witness the true glory of the magnificent Everest. The unique and thrilling experience will surely provide you with memories that are to be cherished forever!