Jeff Rasley, said that "If you are chasing angels or fleeing demons, go to the mountains" in his book - 'You Have to Get Lost Before You Can Be Found', about a mountain village in Nepal. If you want to do neither but still want to have a memorable summer vacation even then you must go to Nepal in April. The home to eight of the world's ten-tallest mountains will surely leave you spellbound. Here's all you need to know if you are planning to go there in April - 
Weather in Nepal in April
In April, the temperature in Kathmandu hovers between 10-25 degrees Celsius; in Pokhara, it lies between 15-30 degrees Celsius. The average temperature in the vicinity of Chitwan National Park is 32 degrees Celsius. Given these figures, it would be safe to assume that Do remember that the temperature drops by 6 degrees Celsius for 3000 feet you ascend in Nepal so prepare accordingly if you plan on going to higher-altitude areas.
Festivals in Nepal in April
If you want to visit Nepal to get a feel of the local culture and cuisine, then April is the best time to visit Nepal since there are a lot of festivals being celebrated in this month.
1. Ram Navami - 2nd April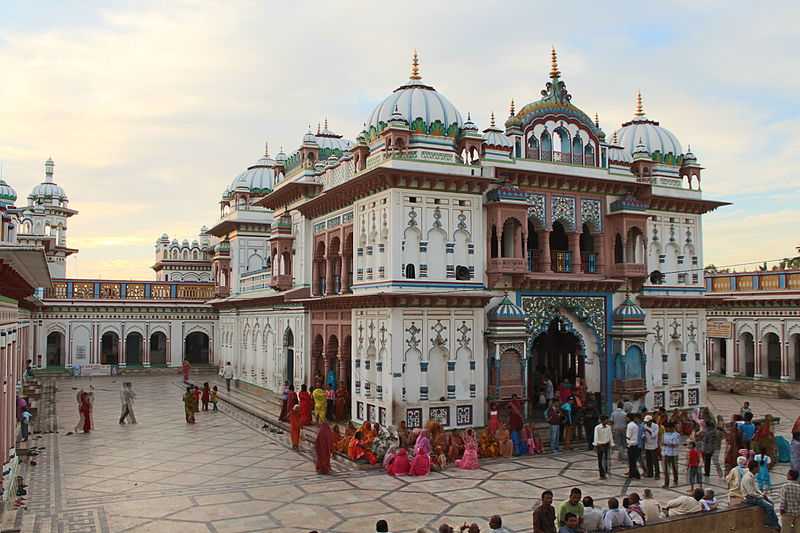 On 2nd April 2020, Nepalis will celebrate the birth anniversary of Lord Ram with a lot of gusto. Believed to be an incarnation of Lord Vishnu, Ram is a deity who is revered by the Nepali Hindu community and is considered to be the 'ideal man'. There are a number of temples dedicated to him in the outskirts of Kathmandu which include Bichangu Narayan and Budhanilkantha that host special celebrations on this day. The Ram Janaki temple in Janakpur, which is the birthplace of Sita witnesses thousands of visitors on this day.
2. New Year's Day - 13th April

The New Year's Day (Nava Barsha) according to the Nepali lunar calendar falls on 13th April this year. Their calendar is about 57 years ahead of the Gregorian calendar which is currently followed by most of the world. The country will be celebrating the beginning of the lunar year 2077 with a lot of joy and fervour. There are a  number of parties and carnivals hosted throughout the country on this day which you can be a part of.
3. Bisket Jatra - 13th April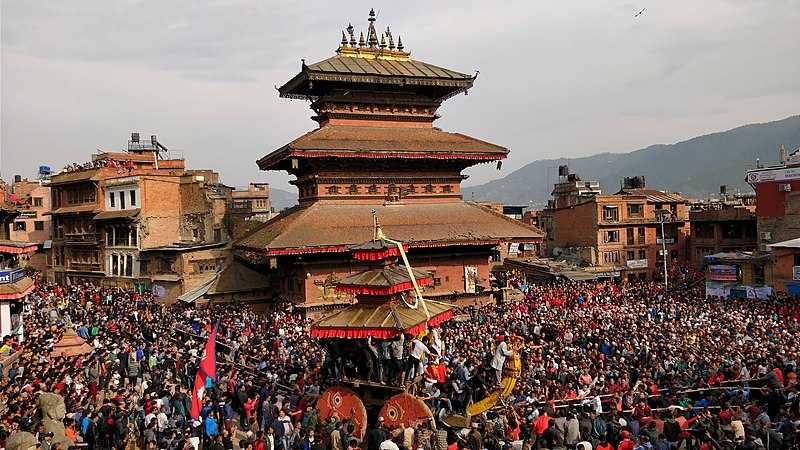 Bhaktapur hosts a week-long festival in Nepal in April which begins after the completion of a special ritual in the Bhairav Temple. Bhairav and Bhadrakali are placed on two chariots and the easterners and westerners of the town participate in a battle of tug-of-war before the new year commences.
4. Sindoor Jatra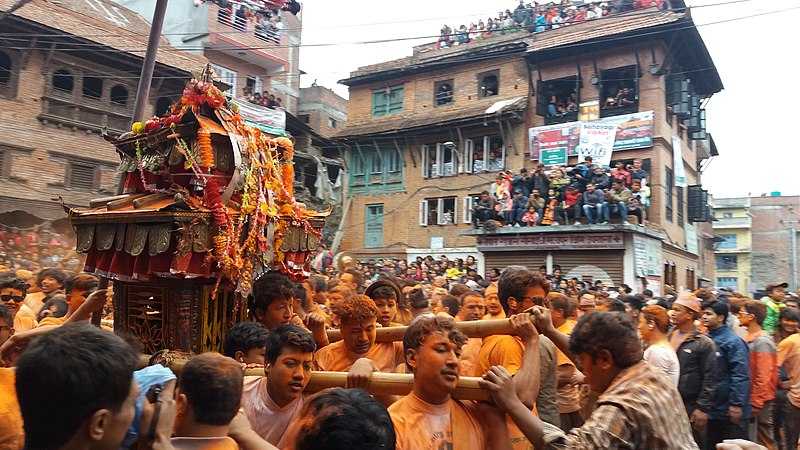 After the completion of the second day of the Bisket Jatra, male members from the Thimi region bring out a procession of 32 palanquins or khats. The special attraction is the khat carrying Lord Ganesha from the village of Nagadish. The procession or Jatra goes on till the wee hours of the next day before finally coming to a halt.
5. Bode Jatra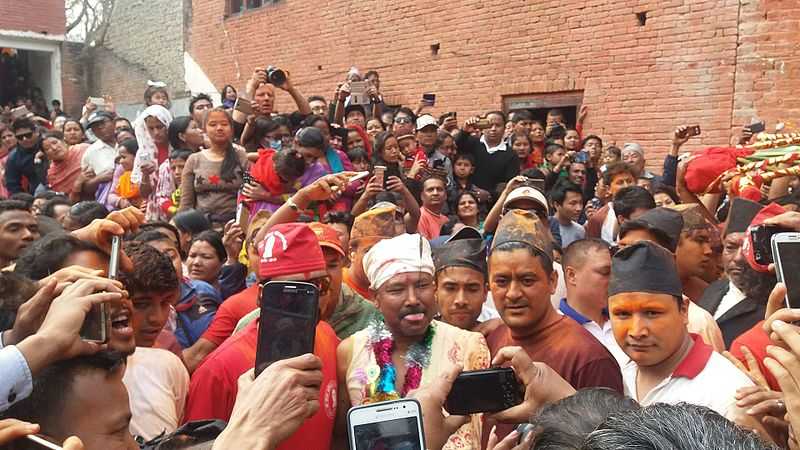 Balakhu is a village in the Thimi region which conducts a tongue-piercing festival at the Mahalakshmi Temple. Held on the new year's day this ritual is not to be witnessed by the faint-hearted. It includes the temple priest boring a hole in the tongue of a male member of the community, piercing a needle and carrying out a procession in the village with a rack of lamps.
Things To Do in Nepal in April
Besides participating in the festivities, you can try a host of other activities that Nepal has to offer during the summers
1. Adventure Sports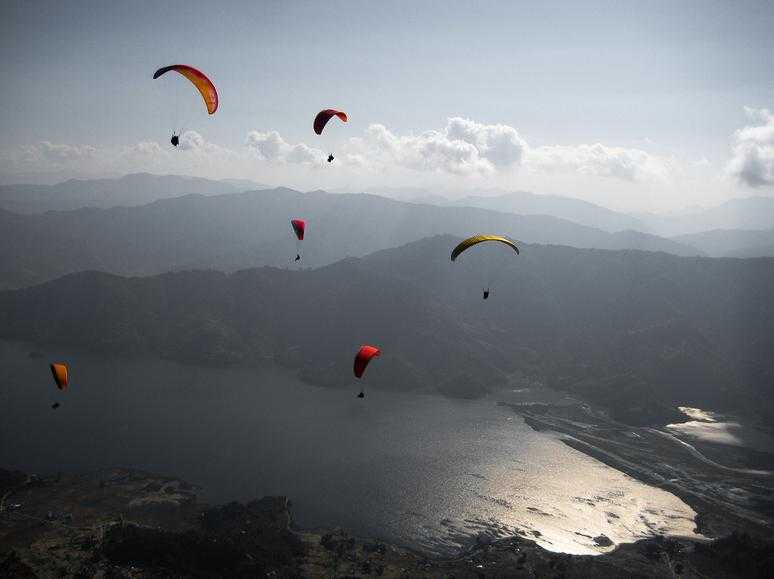 There are a number of adventure sports in Nepal in April that you can take up which include bungee jumping, paragliding, kayaking, rafting, etc. While Pokhara is the best destination for such activities, you can try a few when in Kathmandu too. The cost of taking up an adventure sport could range anywhere between 3000 -10000 INR.
2. Spiritual Tour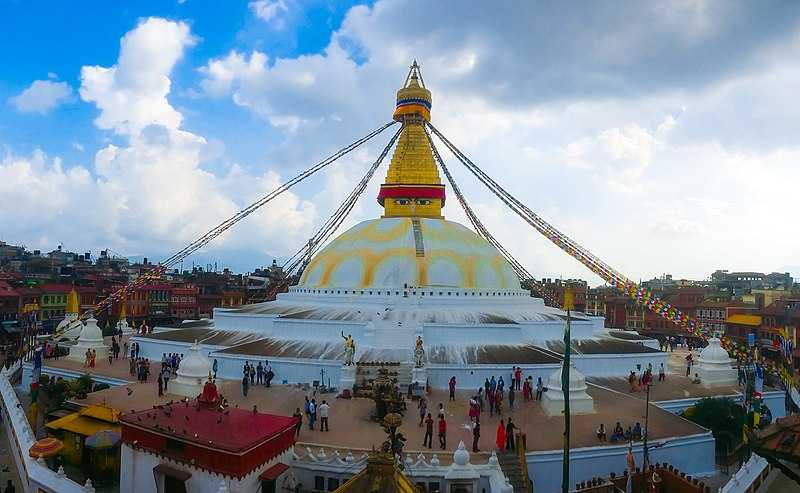 Nepal is known for its rich heritage as it is the home to temples and places of cultural importance. Places like Janakpur, Lumbini, and Pokhara and temples Pashupatinath, Boudanath, Mayadevi, and Tal Barahi are bound to give you a spiritual retreat. 
3. Nature Tours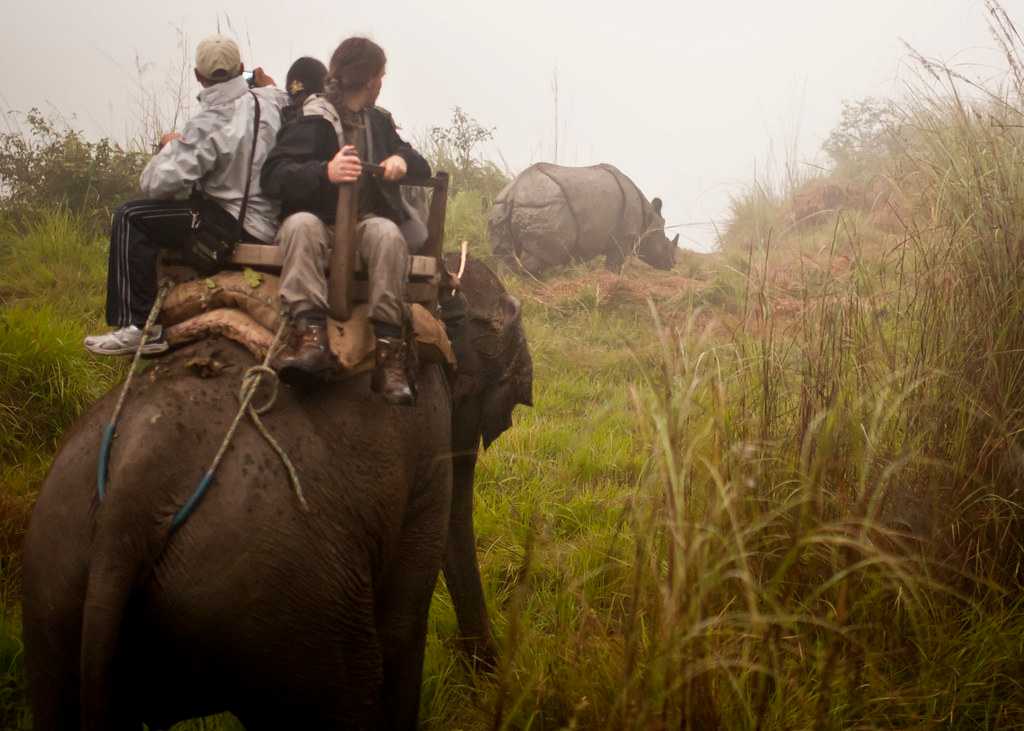 The Annapurna Circuit, Nagarkot, Chitwan National Park and Sagarmatha National Park are havens for nature lovers. You can plan a trek, hike or some plain-old camping in one of the numerous national parks Nepal has to offer.
Things To Carry For Your Nepal Trip
Given the conditions, it is best to carry summer clothing, sunglasses, first-aid kits, and anything else you might need to protect you from the sun.
Indian currency of denominations less than or equal to INR 100 is accepted in Nepal although it is advisable to carry some Nepalese Rupees too.
Documents you need - Passport/Voter ID Card/Govt. Employee ID Card (persons aged below 15 and above 65 can also use their Aadhar Card), Emergency Certificate and Identity Certificate issued by the Embassy of India in Kathmandu, Nepal.
Telecom operators such as Ncell, Nepal Telecom, and Smart Telecom offer cheap sim card plans bundled with data. You could buy one of these once you reach Nepal since international roaming charges are on the higher side in Nepal.
In all honesty, given the number of festivals and the holiday season in Nepal in April, most parts of the nation's tourism circuit are bound to be crowded during the summers. So plan your travel wisely and well in advance. There are numerous less-explored gems in Nepal such as the Khaptad National Park, Gorkha, and Janakpur that you can surely visit in case you want to avoid the touristy places.