We cry when we are sad, sleep when we are tired and dance when we are happy! It is true that dance is not merely a physical activity, but the emotion in itself. And more than an emotion, it is the identity of a country's culture and its traditions.
Dances in
Bhutan
, like every country in the world, has its unique forms and styles which define its culture. The dancers do not just perform to entertain the audience or to win an award, but they do it with all of their heart. Each dance form requires a meticulous effort and complete faith. So, what are all the unique dances of Bhutan and how is that different from the rest of the world is what this blog is all about! So, let's have a peek into the fascinating culture of the hill-locked country!
Cham: Traditional Dance of Bhutan
Cham Dance is the traditional dance of Bhutan. It involves a series of masked dances, which are usually performed by monks and laymen, wearing colourful costumes. These dances are vibrant and lively and are performed during
Tshechus
, the annual Bhutanese festival. The dances depict the life of Padmasambhava, the major Buddhist Guru who introduced Buddhism in Bhutan in the 8th Century. They are considered as a token of respect for Buddhism and the saints.
One person of the group, who is actually the leader of the group, plays an instrument called 
cymbal. 
This keeps track of the time and makes the performance more musical.
The following dances are part of Cham Dance:
1. Joenpa Legso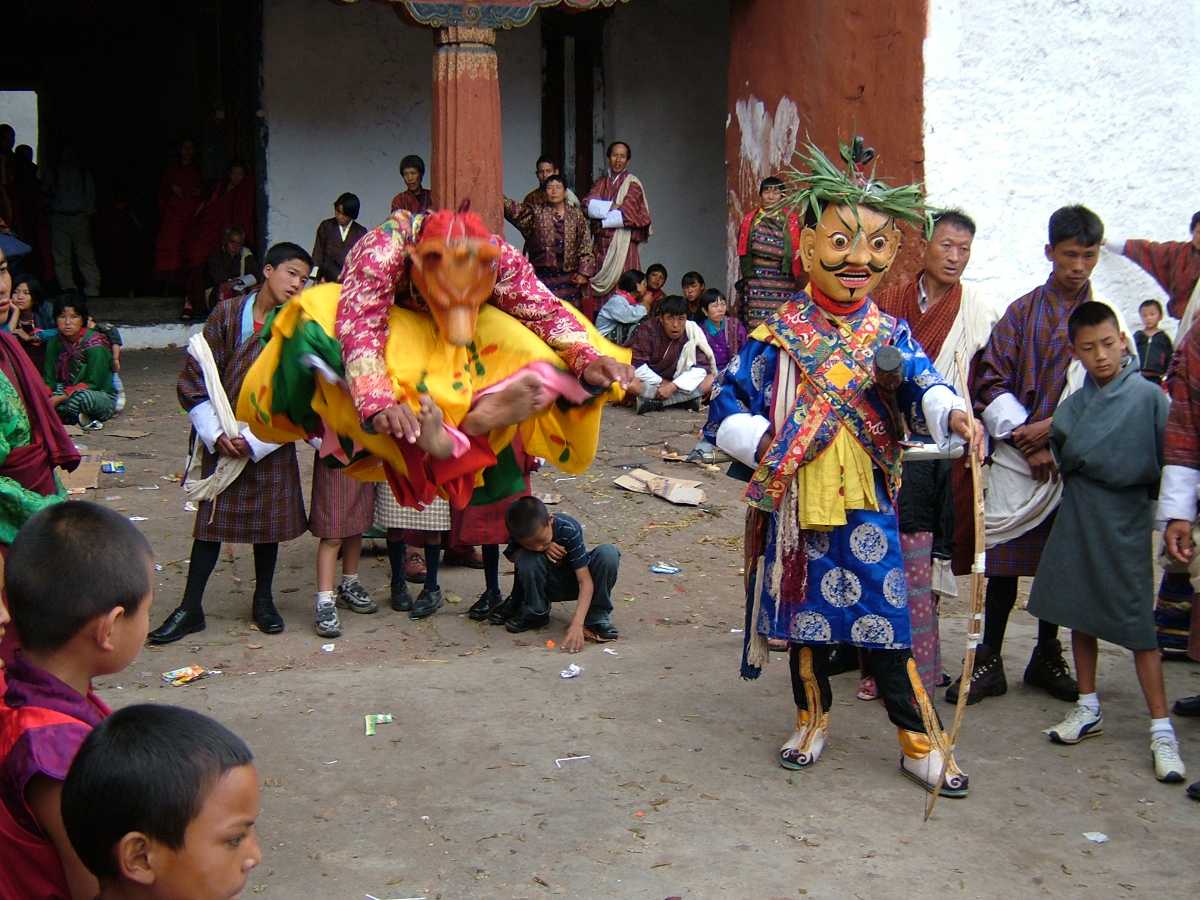 Joenpa Legso literally means "welcome". The welcome dance, Joenpa Legso is known to bless the audience and the entire ceremony with luck and charm. It sets the mood right for the rest of the ceremony to take place. Men and women carry traditional attire while performing this dance in Bhutan. Men wear "
gho
" and their shoes are called "
tsholham
". Women wear
"kira", "tego"
and
"wonju".
The dance style catches everyone's attention and gets appreciation by all people. Watching people performing live is truly a heartwarming experience.
2. Drametse Nga Cham
The most popular masked dance in Bhutan, Drametse Ngacham means "mask dance of the drums from Drametse". Drametse is a small village in Eastern Bhutan. It got its name from the fact that it originated from Drametse and the dancers perform wearing masks and drums are being played alongside.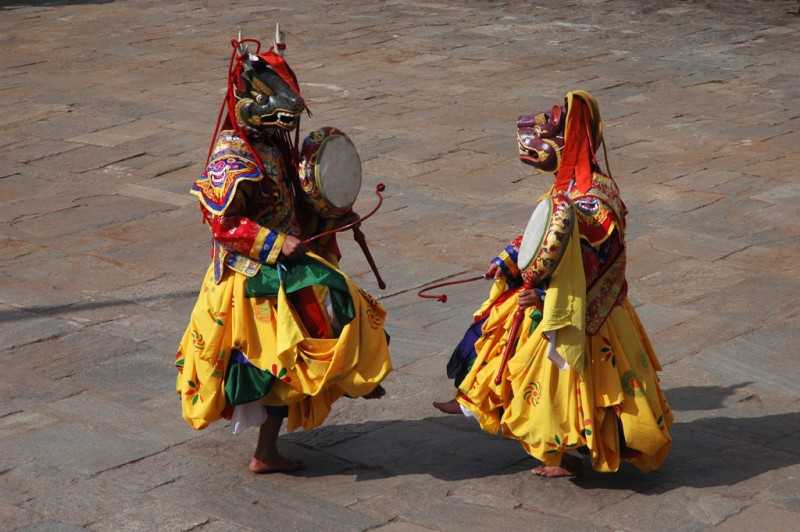 Drametse Festival is held 2 times a year and this dance is the highlight of it. People come from all parts of the country to attend this colourful celebration. It has a team of 16 male dancers and 10 musicians, who all come together to make the dance a huge success. The dancers wear silk robes and wooden masks of animals faces. Musicians play "
dung
" (which means trumpets), "
rim"
(which means cymbals) and "
nga"
(which means drum). In fact,
nga 
is played in three different techniques. One of them is playing 
bang nga 
(which means a large cylindrical drum). Another one is playing
lag nga
(which means a cylindrical hand drum) and the last one being playing 
nga chen 
(which means playing a drum using drumsticks).
These background sounds and the dance together makes for a very fascinating performance. This dance has become a part of Bhutan's culture and tradition, being performed for the last five centuries and although it started in Drametse, it is now performed in almost all parts of the country.
3. Pa Cham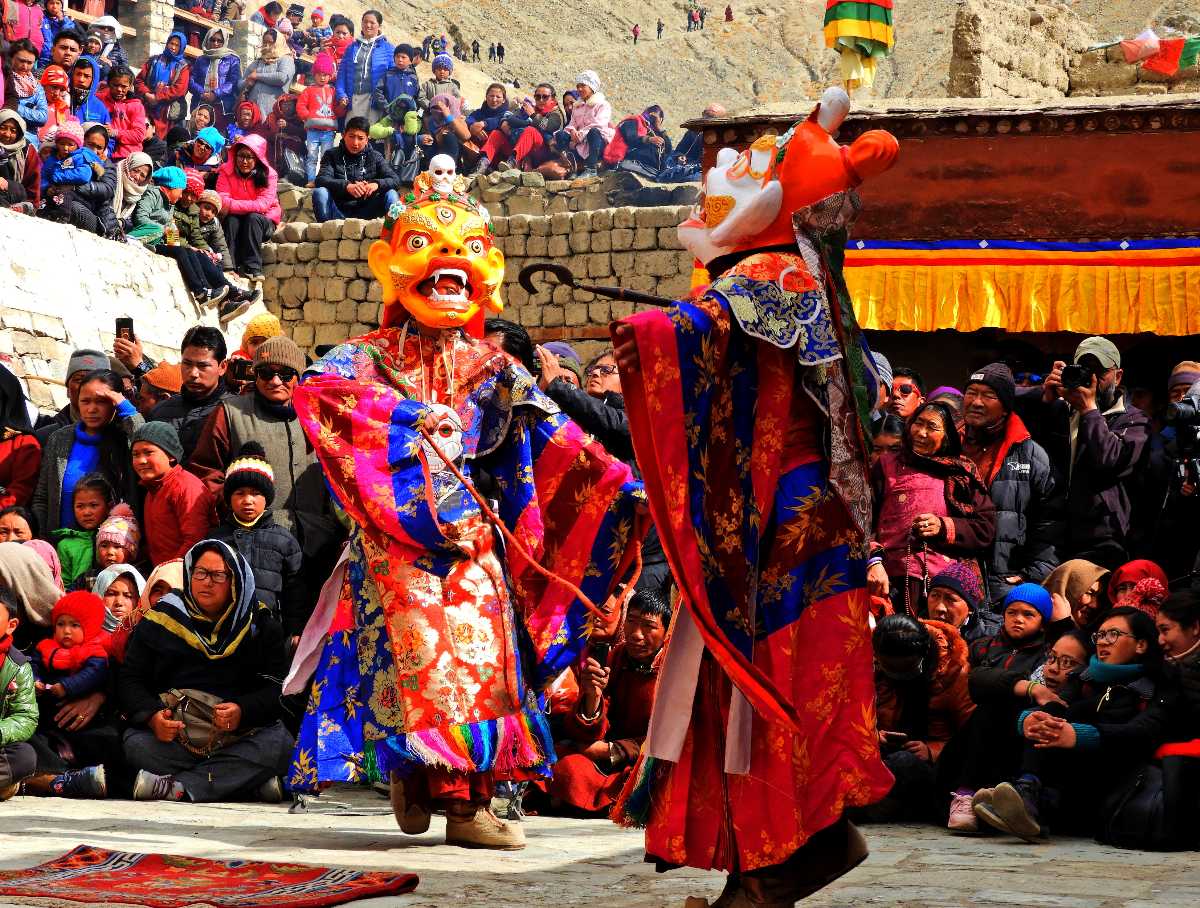 The dance of Powas (meaning heroes) and Pams (meaning heroines), Pa Cham is a dance of Bhutan being performed wearing colourful silk robes and a fancy crown on their heads. It is a major attraction in Tshechus and is performed in the memory of Guru Rinpoche. It is very vibrant and dancers also carry a small cylindrical hand drum while dancing.
4. Zhungdra
The royal dance of Bhutan, Zhungdra is a very slow and composed dance form, which is performed in the courtrooms. It is also performed in dzongs and monasteries, and a part of Tshechus as well. It is believed to be one of the oldest dances in Bhutan, originating from the early Buddhist saints. It is performed by women, who stand in a row and wear traditional attire. They also carry a handwoven scarf and dance together in a perfect rhythm. The dance is very religious and this is why no rapid movements are performed. The hand movements are very clear and slow. 
5. Boedra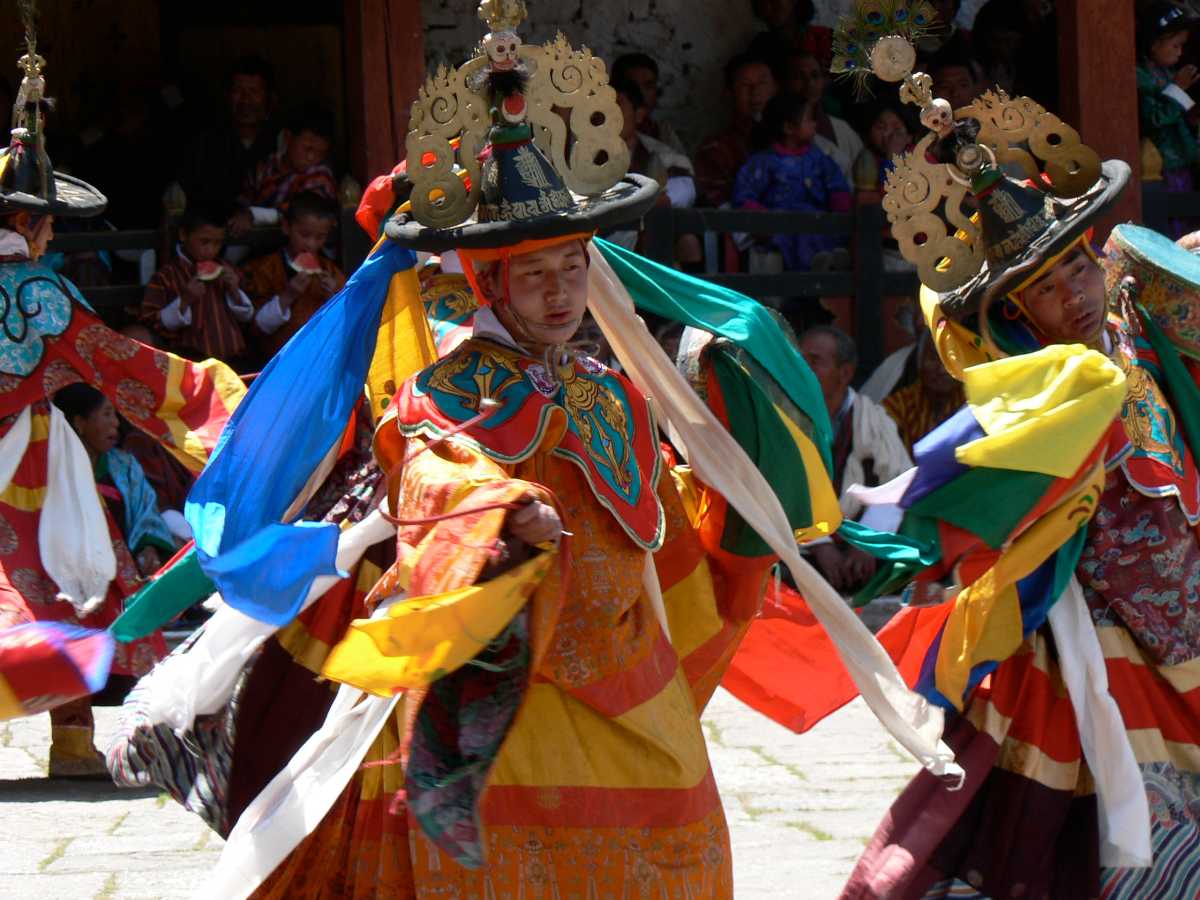 Another royal courtroom dance in Bhutan, Boedra is performed by a group of men and women, who stand together to form a circle. In some cases, it is performed separately by men and women. The dance moves are in accordance with the music of the song, and hence it does not have any fixed steps. The best part about this dance is that the audience does not know which step they are going to see next. Initially, Boedra was just a song performance. The dance steps were introduced much later. 
History of Royal Dances of Bhutan
Royal dances are the ones which are performed in front of the king and his family. Along with entertaining the courtroom audience, they have a religious significance as well. They are being performed by skilled dancers only, and no amateur is allowed to perform before the king. These dances require weeks of practice and after the performance, the dancers are awarded by the king.
The court dances were introduced in Bhutan during the period of Zhabdrung Ngawang Namgyel's leadership in the 17th century. Since then, the tradition continued and reached its apex under the rule of Jigme Dorji Wangchuck, the third king of Bhutan, in the 20th century. It is said that the king was very fond of dances and songs, due to which there were frequent performances in the court by the dancers. In fact, he used to bring the professional dancers with him during his journeys as well, who would perform for their king's entertainment.
Promotion of Cham Dance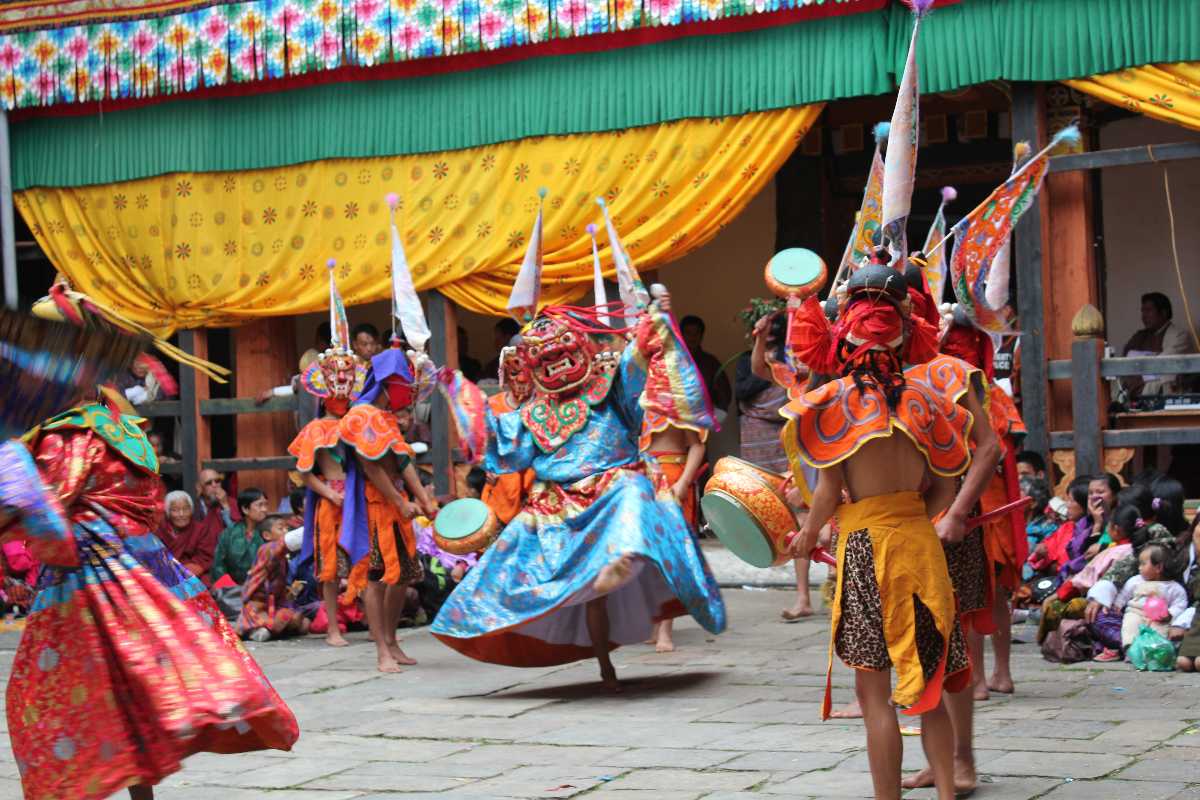 To preserve and promote the cultural dances of Bhutan, the Royal Academy of Performing Arts (RAPA) was established in 1954 by Jigme Dorji Wangchuck. Initially, it was established as the Institute of Performing Arts and in 1967, it got promoted to become RAPA. It is a government body and comes under the Department of Culture, located in
Thimphu
.
The academy trains young dancers in the various cultural dance styles. Not just dance, but traditional songs are also promoted and taught to the budding musicians. The dancers associated with the academy hold the cultural performances throughout the year on special requests. For Thimphu Tshechu, the dancers are taken from RAPA only. 
RAPA is basically working, without any motive of profit-making, to use the music and dance of Bhutan to promote its culture.
Thus, while dancing is an expression of emotion across the globe, dance in Bhutan is a way of worship and respecting their rich heritage. This is why it is gaining popularity worldwide, with people from far and near appreciating the vibrancy, energy and colours of these dances..