For many tourists, their stay in
Thailand
is not complete without riding the world's largest land animal and experiencing the beauty of nature in yet another way. Thailand provides numerous facilities for travellers to fulfil their wish.
Bangkok
, being the capital of the country, is one of the top destinations for tourists. One of the attractions in Thailand is the famous elephant ride in Bangkok. It is rumoured that the treatment of these elephants are unethical when it comes to some operators, so do a little research before choosing your preferred operator, and we've also made a guide that includes the
most ethical elephant sanctuaries in Thailand
. We have listed all the available options below. 
Here's a look at some of the famous operators for elephant rides in Bangkok.
1. Floating Market Bangkok Tour Agency
The agency provides a delightful experience by taking the visitors to Damnoen Saduak Floating Market. But the highlight of the journey happens to be the thrilling elephant ride in Bangkok through the jungle and canal to reach the market. The agency requires a booking of one day in advance for the half-day escapade. It further provides free hotel pickup and drop-off, given your hotel is located within the established pick-up area.
Departure: everyday
Various pickup locations: Asoke, Charoen Krung Road Soi 1-70, Chidlom, Chinatown, Khaosan Road, Pathumwan, Ploenchit, Pomprab, Pratunam, Petchburi Road from Soi 1 to Avani Atrium, Ratchathewi, Silom, Sathorn, Siam Square, Sukhumvit Soi 1-33 and Soi 2-26.
A meeting point can be arranged in case your hotel is outside the above mentioned pickup areas.

Prices: Group tour: adult's price- 1150 THB; child's price- 865 THB
For private tour prices, check out the official site of the agency.
Tour Itinerary:
6:00 AM-7:30 AM: Pickup of all people from their respective hotels at the time decided before the day of departure.
Depart from Bangkok to go to Ratchaburi province where the Floating Market is located.
Visit the elephant camp, followed by a ride through the jungle and canal. Mahout Masters take charge of all the rides.
Arrive at the Floating Market and explore the various items displayed by the vendors, including local food etc. on rowing boats.
Head back to Bangkok on a jetty pier.
2:00 PM-2:30 PM: Arrive in Bangkok and depart to the respective hotels.
Tour Inclusions:
Pickup and drop off facility
English speaking guide
Transportation in an air-conditioned vehicle
Elephant ride through the jungle
All booking fees and credit card charges
Tour Exclusions:
Lunch
Rowing boat: 150 THB per person (optional)
2. White Elephant Tour & Transport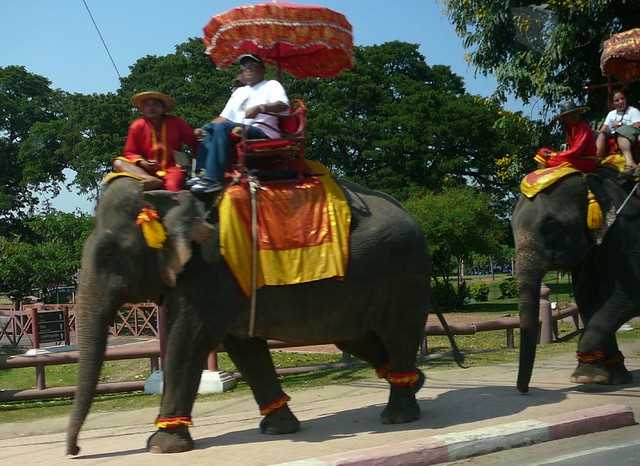 The agency offers innumerable tour options and packages for the visitors to enjoy in Bangkok. Attraction destinations include the famous temples of Bangkok,
Dream World
Amusement park,
Safari World
and Marine Park, among others. You can easily select a pre-made package that best suits you and your group.
If elephant riding is your priority, the River Kwai Day Tour (
Kanchanaburi
) is the ideal package for you.
Price: 1299 THB per person   
Elephant ride + Bamboo rafting: 800THB per person
Elephant ride + elephant bathing + bamboo rafting: 1400 THB per person
Tour Inclusions:
Hotel pickup and drop off facility
All entrance fees
Train ride on River Kwai bridge
Lunch
Tour Itinerary:
6:00 AM-6:30 AM: Pick up from the respective hotels. Depart to Kanchanaburi.
9:00 AM: Arrive in Kanchanaburi province; visit Thailand-Burma Railway and Allied War Cemetery
Noon- Lunch
1:00 PM: Death Railway Train journey/ elephant ride
2:30 PM: The journey back to Bangkok
6:00 PM: Arrive at Bangkok and transfer to hotels
3. Bangkok Best Travel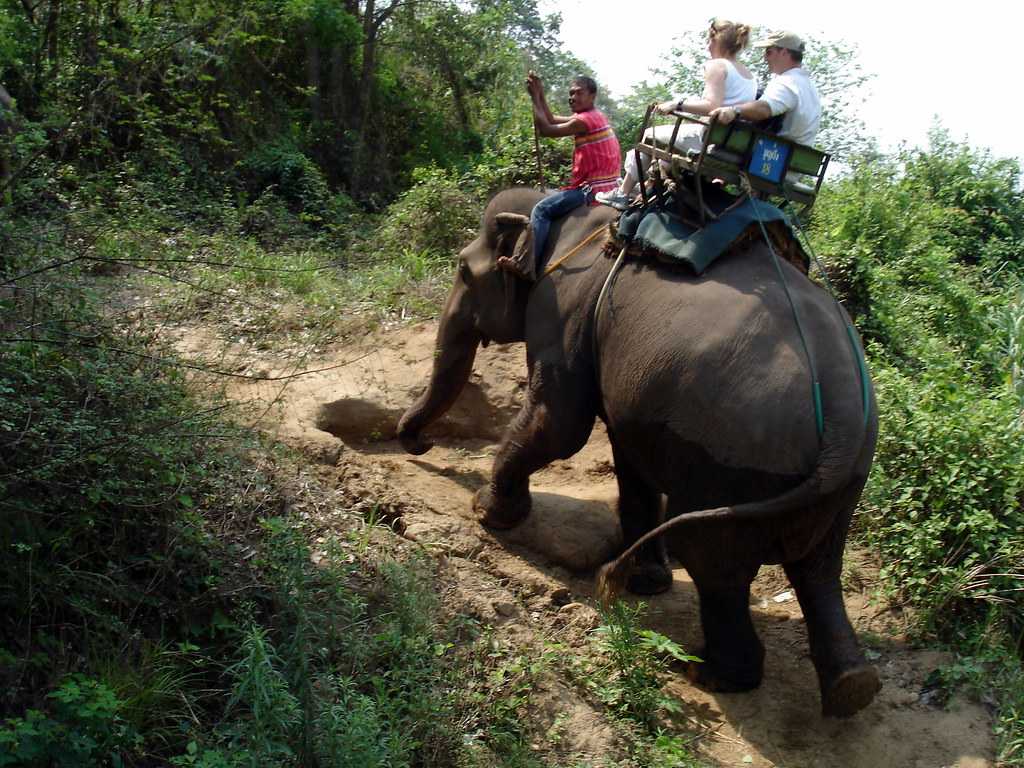 The agency offers several private guided tours and sightseeing travelling across popular destinations in Bangkok. The Floating market-tiger cub feeding and elephant ride in Bangkok and also elephant bathing - this could be the package for you if you are looking for an adventurous elephant ride.
Prices:
1 person - 8900 THB
2 persons - 5800 THB per person
3 people - 5200 THB per person
4 people - 4800 THB per person
5 people - 4300 THB per person
6 people - 3800 THB per person
7-9 people - 3300 THB per person
Tour Itinerary:
7:00 AM: Pick up from hotel
8:20 AM: Arrive at Damnoen Saduak floating market
8:20 AM: Cruise along the canals in a paddleboat towards the floating market
10:00 AM: Depart from the market to Damnoen Saduak Tiger Zoo (options of either cub feeding young tiger or spending time with a baby tiger and taking photos)
11:30 AM: Visit Don Rak War Cemetery
11:50 AM: Visit the bridge over the River Kwai
12:20 AM: Lunch
2:00 PM: Visit the elephant camp
3:00 PM: Bathe with the elephant in the river Kwai. You will be riding the elephant during this bathing session.
4:00 PM: Return to Bangkok
6:30 PM: Arrive at your hotel
Tour Inclusions:
Private vehicles
English speaking guide
Admission fee to the place you visit
Lunch
Ticket to elephant ride and bathing
Tour Exclusions:
Personal expenses
Optional tour
Ethical Elephant Sanctuaries in Bangkok
Some agencies and organisations find it the elephant ride in Bangkok unethical to be riding elephants for solely leisure experiences. They focus more on finding ethical ways of interacting with the elephants. Certain guidelines are given to check whether it is a sustainable elephant tour or not.
Interaction with the elephant is allowed. If the rider is loaded on to the animal's back with close to zero interaction, it is usually to hide the fact that the animal is not friendly and not in good spirits.
Many ethical companies won't allow elephant riding on a chair attached to the animal's back. Instead, they might offer an opportunity to walk alongside the elephant.
The general behaviour of elephants can also show signs of mistreatment. Ill-treated elephants tend to sway, bob their heads and pace back and forth.
A few such agencies are listed below:
4. Boon Lott's Elephant Sanctuary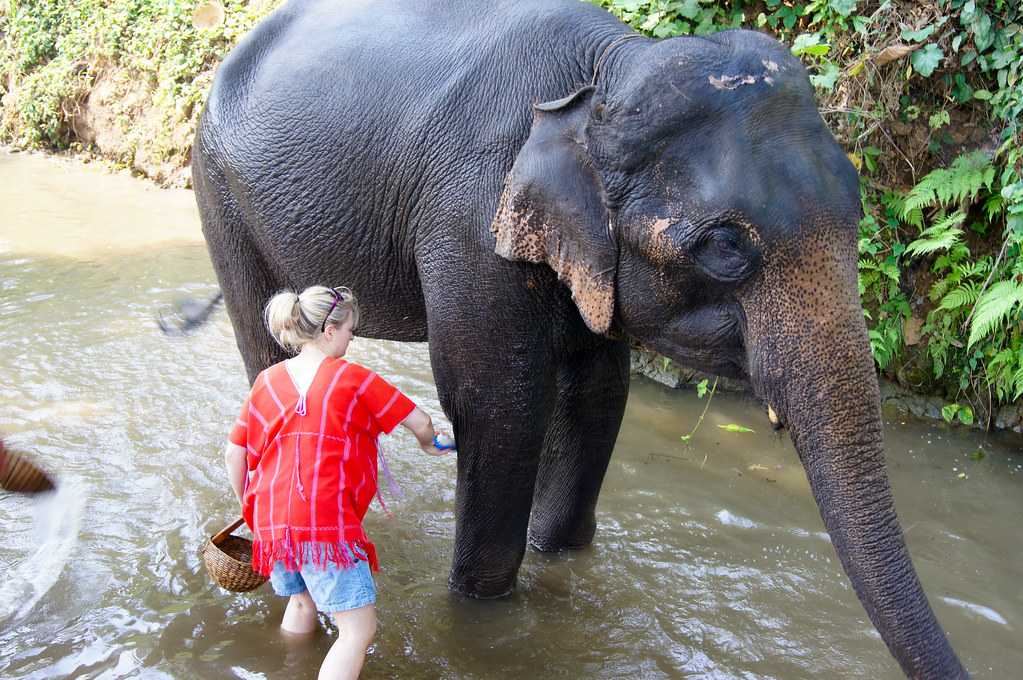 The sanctuary cares for retired (from circuses and temples) and rescued elephants in a 750+ acres forested area. It provides a homestay experience to the visitors who can help bathe the elephants and walk them to the release sites. They can also help the locals to gather food and perform other secondary duties.
Location: BLES, 304 Mu 5, Baan Na Ton Jan, Tambon Baan Tuek, Si Satchanalai
To check available dates or make reservation enquiries, visit the website of the agency.
5. Elephant Nature Park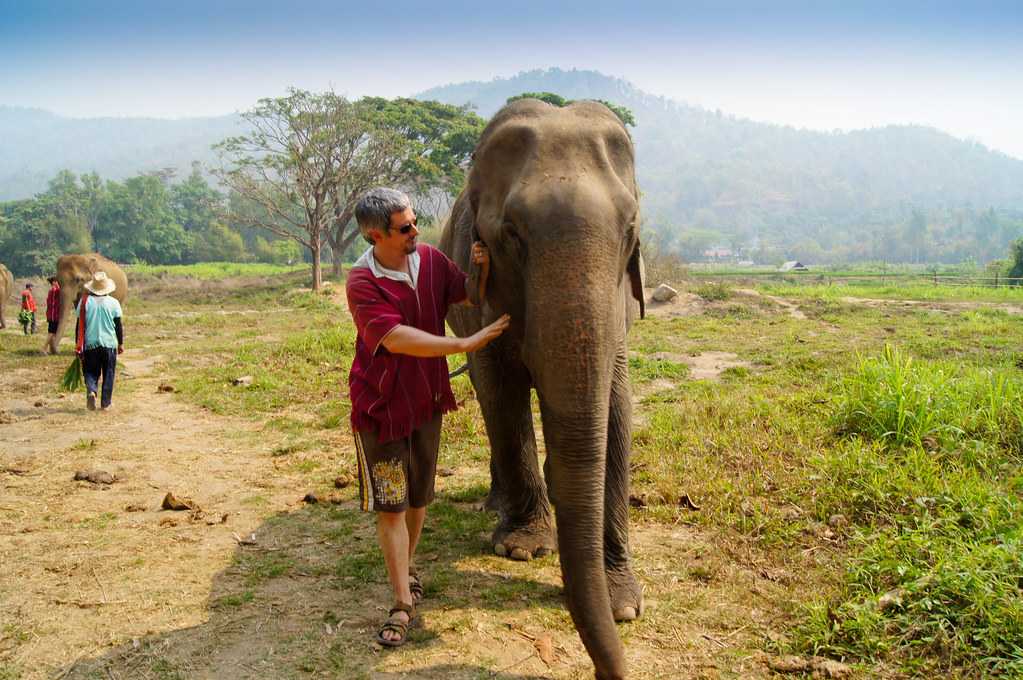 An elephant rehabilitation centre, it runs volunteer programmes where the visitor can contribute to the healing of the rescued elephants while learning about their past and present. Unlike the elephant rides in Bangkok, here you can interact with the elephants in their natural habitats. 
Location: Elephant nature park office, 1 Ratmakka Road, Phra Sing, Chiang Mai 
Office hours: Monday-Sunday-7:00AM- 5:00PM
6. Bees Elephant Sanctuary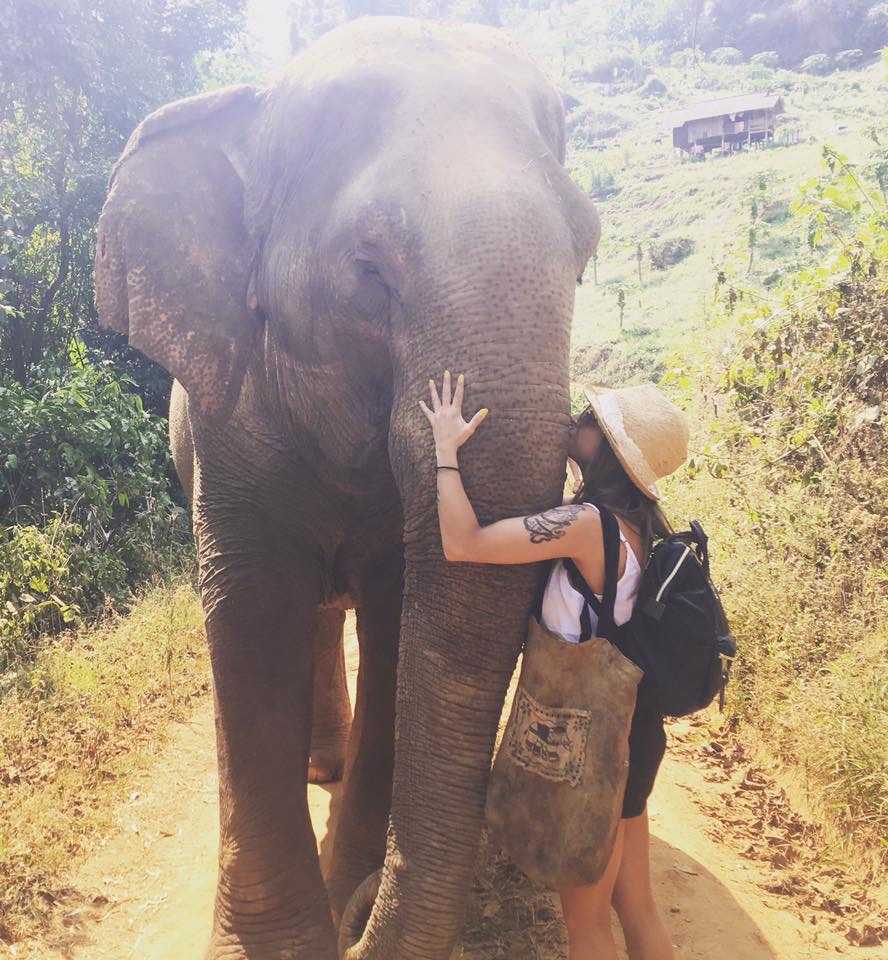 It is a retirement home for elderly elephants which runs volunteer programmes where the visitors can observe, clean and help take care of the animals. They may further perform other activities such as planting and cutting corn or grass for the elephants, etc.
Location: BEES Elephant Sanctuary, Burm and Emily, 34 M1, Ban Thung Yaw, Tambon Chang Keung Chlang Mai, Maechaem
Whether you wish to engage in the traditional elephant ride in Bangkok or volunteer at the sanctuaries taking care of them, Bangkok provides you with a single moment with these beautiful animals!